The Need for IoT Standards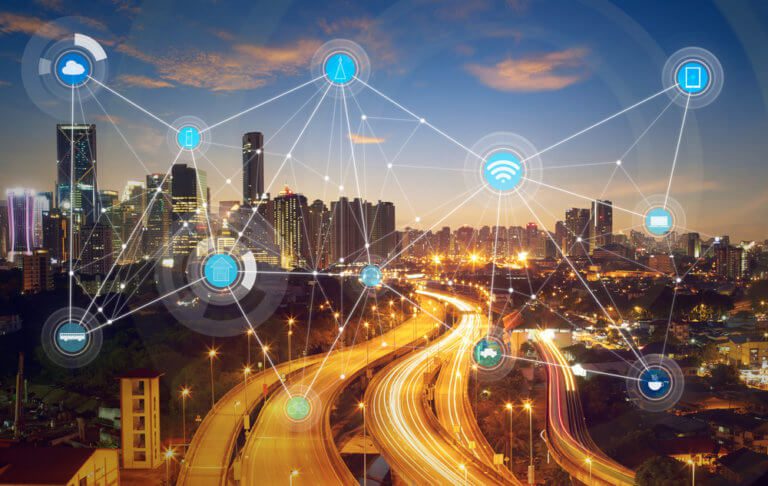 Imagine a world in which you can tell your phone you're leaving work, and your washing machine automatically starts the laundry at home so that it's ready for the dryer when you arrive. Or your oven begins preheating so that you can pop a pizza in when you get home. Or, on cold days, your car automatically starting and warming up for your drive home. Imagine coming home from the grocery store, and your hands are full. No worries! The camera above your door has recognized you, and your door has unlocked and is already swinging open for your convenience.
Actually, you don't have to imagine these scenarios anymore; they're happening now. It is estimated there will be 30 billion IoT connected devices by 2020 and 75 billion devices by 2025. But with all these devices from dozens of manufacturers exploding onto the scene, how will they all work together? Today, many of them don't—but it's essential that they do.
The Importance of Technical Standards
That's where technical standards come in. Standardizing products allows devices to work together, making the products easier to use and more appealing to end users. It also creates competition among manufacturers, which reduces prices and gives consumers a choice. But what's in it for the manufacturer?
Often, companies want to lock you into their products so that you solely use their brand. But most companies don't make every type of product. Door lock companies don't usually make dishwashers. Automotive product companies don't usually make medical devices. So, allowing devices to work together actually expands the market for the manufacturer without having to develop products outside of their specialization. It also allows for smaller niche products to work with more widespread ones. Beyond that, making devices more versatile and easier to use makes these devices more appealing in general so that all manufacturers sell more products. As for the price, the best way for companies to keep prices up is to produce newer, better and more innovative products, which benefits the consumer as well.
Spearheading IoT Standards for Interoperability and Security
Where do standards come from? For standards related to IoT, an organization has been created called the Open Connectivity Foundation (OCF). OCF is committed to consumers, businesses and industries to deliver a standard communication platform to ensure interoperability and security for IoT devices. These standards will span multiple industries, including smart homes, automotive, industrial, scientific and medical, to name a few.
OCF's goal is for devices from various manufacturers to operate together seamlessly and securely. Currently, OCF's membership includes roughly 400 member organizations, including major software companies, service providers and silicon chip manufacturers. OCF has developed specifications and is using an open-source platform called IoTivity (hosted by the Linux Foundation) that can be embedded in IoT devices. IoTivity is used to create middleware that will allow various clients and servers to communicate with one another. The communications occur in software, so the physical connections (e.g., Wi-Fi, Bluetooth, Zigbee, Z-wave, ethernet) aren't an issue.  
But OCF isn't just about interoperability. The latest release of the OCF platform incorporates PKI security. At a time when security is often taken for granted or is an afterthought for new technologies, OCF is committed to the highest level of security possible for such low-power limited processing devices. Why is this important? We may not think that hacking a lightbulb is a big deal, but the weakest link in a network is often the biggest target for hackers. Once they're in, they can cause irreparable damage. Therefore, every device on the network needs to be secured. Not to mention the fact that you probably don't want someone else to be able to unlock your doors, turn off your security devices or control your medical device or vehicle without your knowledge or consent!
Furthering IoT Standards Development with CableLabs and Kyrio
So where do CableLabs and Kyrio fit in? CableLabs has been in the business of developing standards and certifying products for the cable industry for the past 30 years. Kyrio, as a subsidiary of CableLabs, is reaching out to other industries to help develop new technologies. The combination of experience in standards development, as well as certification testing, makes CableLabs and Kyrio a natural fit with the OCF.
For the past few years, CableLabs and Kyrio have been heavily involved with OCF. Our involvement ranges from acting as a standing member of the board, to chairing the security working group, to participating in various working groups such as certification and interoperability testing. Kyrio is also one of seven authorized test labs (ATLs) in the world and have performed certification testing for several of the first devices to be certified. In addition to OCF certification testing, we also offer development support to manufacturers that need to get their implementations ready for certification.
You can learn more about certification testing with the Open Connectivity Foundation here or contact Kyrio today with your IoT support needs at labs@kyrio.com.