CableLabs Announces the Mobile Convergence Committee: User-Centric Networks of the Future Need a Fresh Look at Convergence
Over the next decade, we expect the industry to undergo a significant transformation as service providers deploy multiple access technologies and as new connectivity choices become available to users. To enable transparent, seamless connectivity for users and to efficiently leverage their assets, networks need to become more user-centric. User centricity will demand a more holistic architecture that converges the independent, siloed networks we currently use, thereby enabling a more seamless and optimized experience at home, at work, on the go and in the air. The time is now to put on an innovative lens to take a fresh look at convergence.
Although many people are focused on expanding from wired to wireless, and integrating existing wired and wireless networks, no single access method can address the needs of all users. Ideally, a converged network solution will enable our members to deliver the most efficient seamless experience while allowing them to keep up with ever-increasing demand for faster, more reliable, more secure connectivity—all in an effort to improve the way we live, work, learn and play and to unleash the next generation of applications and use cases.
This transformational shift toward user-centric networks as wireless and wireline technologies surge toward deployment, the CableLabs team, led by Chief Research Development Officer (CRDO) Mariam Sorond, formulated a clear vision of what network architectures and technologies for such a converged network should be.
"With the rapid adoption of new disaggregated architectures, open standards and cloud native technologies," Sorond said, "the timing seemed right to focus on a user-centric network architecture through the convergence of wireless and wired networks."
A well-defined set of architectures and requirements will provide a clear and consistent view and facilitate industry alignment and economies of scale. It will also provide guidelines for ecosystem partners to develop converged solutions and products, enabling our members to deliver on the vision of user-centric networks. To this end, Sorond has put together the Mobile Convergence Committee (MCC), the main objective of which will be to develop industry requirements for a network that will, in turn, bolster the convergence architecture and its specifications.
Currently, the MCC is composed of the following ten industry influencers and thought leaders:
We anticipate that MCC membership will expand to a total of 14 in the coming months.
"The advantages of convergent networks is clear, and it will strongly benefit our customers," said Nadia Benabdallah. "We will simplify the consumption of new services, regardless of the underlying infrastructure. With the adoption of the 'Network as a Platform' approach, we make the underlying networks invisible to our customers."
"The long-term vision for fixed mobile convergence is to deliver ubiquitous wired-wireless connectivity to our customers anywhere and on any device, delivered on cable's high-capacity and low-latency networks," Craig Cowden said. "This means that customers will carry their services, policies and identity with them wherever they go. The time for convergence is now, as we can leverage key building blocks like virtualization, network disaggregation, open interfaces, multi-access edge computing (MEC), automation, along with artificial intelligence (AI) and machine learning (ML) to manage network complexities. I look forward to chairing the Mobile Convergence Committee and working with a talented group of professionals."
"At Cox," said Tony Krueck, "our number-one guiding principle for considering retail wireless is to protect our core business. We believe the primary way to do that is through converged capabilities. Creating seamless connectivity and applications for our customers will become foundational to the future of our products and services."
"With Xfinity Mobile, Comcast has taken its leading connectivity experience outside the home and given our customers the ability to access the Internet from anywhere," said Tom Nagel. "As we look toward a future with more integrated experiences across all of our services, we are excited to work with CableLabs toward the virtualization and convergence that will help make that a reality."
"We believe that bringing together a common vision and strategy in wireless, cable infrastructure and—most importantly—customer experience is critical to moving the industry forward," said Luciano Ramos. "As members of CableLabs, we're very pleased to participate in the Mobile Convergence Committee to help simplify converged solutions and bring new experiences to customers."
"The industry has been talking about convergence for a long time", said Iyad Tarazi. "What's exciting about this CableLabs initiative is that the foundational technologies now exist for us to make this real, and the focus on the customer experience is the right guiding principle."
If you're interested in hearing more about the MCC, register for Envision by clicking below.
CableLabs Appoints 5G Pioneer Rakesh Taori as VP of Wireless
CableLabs is excited to announce the appointment of Rakesh Taori as its Vice President of Wireless. He will report to Chief Research and Development Officer, Mariam Sorond. In this role, Rakesh will drive CableLabs' efforts in the wireless and mobile area delivering on CableLabs' vision and strategy for putting the industry in the driver's seat in the future of connectivity.
"We are delighted to welcome Rakesh to CableLabs. His in-depth knowledge and vast experience in the wireless area will bring tremendous benefits to our members and the industry as a whole," said Sorond. "Rakesh brings a broad perspective across many technologies and platforms. As the industry embraces the principles of open standards, virtualization, and open interfaces, Rakesh's creative thinking will propel innovations at CableLabs towards disruptive networks."
Rakesh's appointment underscores CableLabs' commitment to attracting thought leaders from the wireless industry. His decade-long pioneering work in 5G, coupled with his first-hand experience in initial deployments equips him with a solid understanding of the opportunities. He provides a timely addition to CableLabs' ability to deliver innovations that will continue to place the industry at the leading edge of convergence and connectivity.
"I am thrilled to join CableLabs and I look forward to working with a team of world-class distinguished technologists and research engineers," said Rakesh. "Delivering ultra-high-speed ubiquitous broadband services to consumers securely, and monitoring, administering and operating billions of machines and objects in public and private networks will require unprecedented levels of innovations in wired and wireless technologies. CableLabs provides the ideal platform for inventing unified architectures that incorporate native support for coexistence and seamless delivery and helps the industry build and deliver innovative and efficient systems to serve these next-generation needs."
Prior to joining CableLabs, Rakesh was a Fellow of 5G Technologies with JMA Wireless (which acquired Phazr Inc.)—a 5G startup where Rakesh was a founding employee and served as the VP of systems and standards. At Phazr, Rakesh led the systems team that helped architect and build 5G infrastructure equipment, including Phazr's novel 5G base station—the industry's most integrated and compact form-factor 5G base station. At JMA/Phazr Rakesh also enabled and led several paid mmW 5G trials and pilot deployments with Tier-1 operators in the European Union and Japan.
Prior to JMA/Phazr, Rakesh amassed valuable experience and expertise while working with technology leaders including Samsung, Ericsson and Philips. Rakesh has served on the Wi-Fi Alliance Board for over 5 years, served as a vice-chairman of the IEEE 802.16 working group and held various leadership positions in several standards organizations. Rakesh holds more than 150 granted U.S. patents.
Subscribe to our blog to learn more about Rakesh's work in the future.
Leveraging Machine Learning and Artificial Intelligence for 5G
The heterogenous nature of future wireless networks comprising of multiple access networks, frequency bands and cells - all with overlapping coverage areas - presents wireless operators with network planning and deployment challenges. Machine Learning (ML) and Artificial Intelligence (AI) can assist wireless operators to overcome these challenges by analyzing the geographic information, engineering parameters and historic data to:
Forecast the peak traffic, resource utilization and application types
Optimize and fine tune network parameters for capacity expansion
Eliminate coverage holes by measuring the interference and using the inter-site distance information
5G can be a key enabler to drive the ML and AI integration into the network edge. The figure below shows how 5G enables simultaneous connections to multiple IoT devices generating massive amounts of data. The integration of ML and AI with 5G multi-access edge computing (MEC) enables wireless operators to offer:
High level of automation from the distributed ML and AI architecture at the network edge
Application-based traffic steering and aggregation across heterogeneous access networks
Dynamic network slicing to address varied use cases with different QoS requirements
ML/AI-as-a-service offering for end users

ML and AI for Beamforming
5G, deployed using mm-wave, has beam-based cell coverage unlike 4G which has sector-based coverage. A machine learned algorithm can assist the 5G cell site to compute a set of candidate beams, originating either from the serving or its neighboring cell site. An ideal set is the set that contains fewer beams and has a high probability of containing the best beam. The best beam is the beam with highest signal strength a.k.a. RSRP. The more activated beams present, the higher the probability of finding the best beam; although the higher number of activated beams increases the system resource consumption.
The user equipment (UE) measures and reports all the candidate beams to the serving cell site, which will then decide if the UE needs to be handed over to a neighboring cell site and to which candidate beam. The UE reports the Beam State Information (BSI) based on measurements of Beam Reference Signal (BRS) comprising of parameters such as Beam Index (BI) and Beam Reference Signal Received Power (BRSRP). Finding the best beam by using BRSRP can lead to multi-target regression (MRT) problem while finding the best beam by using BI can lead to multi-class classification (MCC) problem.
ML and AI can assist in finding the best beam by considering the instantaneous values updated at each UE measurement of the parameters mentioned below:
Beam Index (BI)
Beam Reference Signal Received Power (BRSRP)
Distance (of UE to serving cell site),
Position (GPS location of UE)
Speed (UE mobility)
Channel quality indicator (CQI)
Historic values based on past events and measurements including previous serving beam information, time spent on each serving beam, and distance trends
Once the UE identifies the best beam, it can start the random-access procedure to connect to the beam using timing and angular information. After the UE connects to the beam, data session begins on the UE-specific (dedicated) beam.
ML and AI for Massive MIMO
Massive MIMO is a key 5G technology. Massive simply refers to the large number of antennas (32 or more logical antenna ports) in the base station antenna array. Massive MIMO enhances user experience by significantly increasing throughput, network capacity and coverage while reducing interference by:
Serving multiple spatially separated users with an antenna array in the same time and frequency resource
Serving specific users with beam forming steering a narrow beam with high gain to send the radio signals and information directly to the device instead of broadcasting across the entire cell, reducing radio interference across the cell.
The weights for antenna elements for a massive MIMO 5G cell site are critical for maximizing the beamforming effect. ML and AI can be used to:
Identify dynamic change and forecast the user distribution by analyzing historical data
Dynamically optimize the weights of antenna elements using the historical data
Perform adaptive optimization of weights for specific use cases with unique user-distribution
Improve the coverage in a multi-cell scenario considering the inter-site interference between multiple 5G massive MIMO cell sites
ML and AI for Network Slicing
In the current one-size-fits-all approach implementation for wireless networks, most resources are underutilized and not optimized for high-bandwidth and low-latency scenarios. Fixed resource assignment for diverse applications with differential requirements may not be an efficient approach for using available network resources. Network slicing creates multiple dedicated virtual networks using a common physical infrastructure, where each network slice can be independently managed and orchestrated.
Embedding ML algorithms and AI into 5G networks can enhance automation and adaptability, enabling efficient orchestration and dynamic provisioning of the network slice. ML and AI can collect real time information for multidimensional analysis and construct a panoramic data map of each network slice based on:
User subscription,
Quality of service (QoS),
Network performance,
Events and logs
Different aspects where ML and AI can be leveraged include:
Predicting and forecasting the network resources can enable wireless operators to anticipate network outages, equipment failures and performance degradation
Cognitive scaling to assist wireless operators to dynamically modify network resources for capacity requirements based on the predictive analysis and forecasted results
Predicting UE mobility in 5G networks allowing Access and Mobility Management Function (AMF) to update mobility patterns based on user subscription, historical statistics and instantaneous radio conditions for optimization and seamless transition to ensure better quality of service.
Enhancing the security in 5G networks preventing attacks and frauds by recognizing user patterns and tagging certain events to prevent similar attacks in future.
With future heterogenous wireless networks implemented with varied technologies addressing different use cases providing connectivity to millions of users simultaneously requiring customization per slice and per service, involving large amounts of KPIs to maintain, ML and AI will be an essential and required methodology to be adopted by wireless operators in near future.
Deploying ML and AI into Wireless Networks
Wireless operators can deploy AI in three ways:
Embedding ML and AI algorithms within individual edge devices for to low computational capability and quick decision-making
Lightweight ML and AI engines at the network edge to perform multi-access edge computing (MEC) for real-time computation and dynamic decision making suitable for low-latency IoT services addressing varied use case scenarios
ML and AI platform built within the system orchestrator for centralized deployment to perform heavy computation and storage for historical analysis and projections
Benefits of Leveraging ML and AI in 5G
The application of ML and AI in wireless is still at its infancy and will gradually mature in the coming years for creating smarter wireless networks. The network topology, design and propagation models along with user's mobility and usage patterns in 5G will be complex. ML and AI can will play a key role in assisting wireless operators to deploy, operate and manage the 5G networks with proliferation of IoT devices. ML and AI will build more intelligence in 5G systems and allow for a shift from managing networks to managing services. ML and AI can be used to address several use cases to help wireless operators transition from a human management model to self-driven automatic management transforming the network operations and maintenance processes.
There are high synergies between ML, AI and 5G. All of them address low latency use cases where the sensing and processing of data is time sensitive. These use cases include self-driving autonomous vehicles, time-critical industry automation and remote healthcare. 5G offers ultra-reliable low latency which is 10 times faster than 4G. However, to achieve even lower latencies, to enable event-driven analysis, real-time processing and decision making, there is a need for a paradigm shift from the current centralized and virtualized cloud-based AI towards a distributed AI architecture where the decision-making intelligence is closer to the edge of 5G networks.
The Role of CableLabs
The cable network carries a significant share of wireless data today and is well positioned to lay an ideal foundation to enable 5G with continued advancement of broadband technology. Next-generation wireless networks will utilize higher frequency spectrum bands that potentially offer greater bandwidth and improved network capacity, however, face challenges with reduced propagation range. The 5G mm-wave small cells require deep dense fiber networks and the cable industry is ideally placed to backhaul these small cells because of its already laid out fiber infrastructure which penetrates deep into the access network close to the end-user premises. The short-range and high-capacity physical properties of 5G have high synergies with fixed wireless networks.
A multi-faceted CableLabs team is addressing the key technologies for 5G deployments that can benefit the cable industry. We are a leading contributor to European Telecommunication Standards Institute NFV Industry Specification Group (ETSI NFV ISG). Our SNAPS™ program is part of Open Platform for NFV (OPNFV). We are working to optimize Wi-Fi technologies and networks in collaboration with our members and the broader ecosystem. We are driving enhancements and are standardizing features across the industry that will make the Wi-Fi experience seamless and consistent. We are driving active contributions to 3GPP Release 16 work items for member use cases and requirements.
Our 10G platform complements 5G and is also a key enabler to provide the supporting infrastructure for 5G to achieve its full potential. CableLabs is leading the efforts for spectrum sharing to enable coexistence between Wi-Fi and cellular technologies, that will enable multi-access sharing with 3.5 GHz to make the 5G vision a reality.

CableLabs Presents: Mobility Lab Webinar Series
The CableLabs wireless R&D group has a charter to investigate new and emerging wireless technologies that will benefit our cable operator members, half of which also own mobile networks. As cable and mobile networks continue to converge, we've built a fully functional mobility lab. The aim of the mobility lab is to conduct validation, proof of concept, standards development and new technology assessments to support Multiple System Operator (MSO) use cases.
Mobility Lab Infrastructure
The mobility lab includes a variety of:
Radio Access Network (RAN) equipment including Citizens Broadband Radio Service Devices (CBSDs) and small cells operating in licensed bands with FCC approved experimental licenses
Multiple cellular virtualized and cloud core network solutions
Data Over Cable Service Interface Specification (DOCSIS) backhauled small cells
CableLabs and Kyrio offer a diverse lab environment with an anechoic chamber, shield room, RF tents, UE simulators and a 5,000 sq. ft. test house for testing real-world scenarios.
Mobility Lab Projects
The mobility lab hosts a wide variety of projects spanning from:
Low latency backhaul
Inter-EPC and PLMN handover
Wi-Fi calling
5G converged core
LAA and Wi-Fi co-existence
Wi-Fi mobility enhancements with ANDSF
The lab is being extensively used for analyzing Over-The-Top (OTT) aggregation solutions for cellular Wi-Fi convergence. We are also working on building test setups for different Citizens Broadband Radio Service (CBRS) use cases that could be important from our members perspective. Recently, we hosted an industry-wide SAS-CBSD interoperability event for the CBRS Alliance that included over 15 vendors and 60 participants to validate the baseline functionality of CBRS.
Want to learn more about CableLabs projects leveraging the in-house Mobility Lab?
We are hosting a "Mobility Lab Webinar Series" to showcase various lab activities and tests performed. The first webinar in the webinar series, "CBRS Neutral Host Network (NHN) using Multi-Operator Core Network (MOCN)", is scheduled for October 30th, 2018.
The webinar will provide:
An overview of network sharing, active network sharing, MOCN and CBRS
A CBRS NHN use case and its deployment scenarios
A CBRS NHN use case lab demonstration
Stay tuned for information on further webinars in the pipeline. In case of any questions/suggestions, please feel free to reach out to Wireless Architect Omkar Dharmadhikari or the Director of Wireless Mark Poletti. Register for the webinar by clicking below.
Wi-Fi Proactive Network Maintenance: Making Wi-Fi Frictionless, Invisible, and Reliable
The term Wi-Fi, coined by the Wi-Fi Alliance, is one of the most widely used and recognized technology terms in the world. That's understandable when you consider facts like these:
KPCBs Mary Meeker, in her highly regarded annual global internet survey, found worldwide Wi-Fi networks grew from 90 million in 2012 to 450 million in 2017—an incredible 500% growth in 5 years.
Rakesh Taori, VP Systems and Standards at Phazr, says their research shows over 90% of travelers rate the availability of Wi-Fi as their #1 amenity when choosing a hotel.
Hotels, retailers, corporations, and others dependent on Wi-Fi networks understand its importance and value to their businesses. They are concerned with their Wi-Fi's uptime availability and are eager to develop proactive network maintenance capabilities.
Proactive network maintenance (PNM) is a revolutionary philosophy. Unlike reactive or preventive maintenance, proactive maintenance depends on a constant and rigorous inspection of the network to look for the causes of a failure, before that failure occurs, and not treating network failures as routine or normal. PNM is about detecting impending failure conditions followed by remediation before problems become evident to users.
Multiple Systems Operators (MSOs) report that no standard exists currently to capture key performance data from residential Wi-Fi. Proprietary solutions exist, but the problem is they lock MSOs into deploying a specific agent onto the consumer premise equipment (CPE) and can be restrictive in terms of analytics availability. At CableLabs, we're determined to change that.
Promising Wi-Fi PNM Field Trial
We created a proof of concept Wi-Fi PNM-enabled Access Point, which we then tested in a field trial involving 10 members in 7 countries and hundreds of millions of data points. The captured data demonstrated our ability to identify Wi-Fi issues remotely, such as poor coverage and time-based channel degradation. With this proven architecture, we successfully lobbied the Wi-Fi Alliance to create a task group around Wi-Fi PNM.
Wi-Fi Data Elements Vision
We're working with the Wi-Fi Alliance and their members to create the global standard for KPI capture—called Wi-Fi Data Elements. These data elements form a standardized data model that encompass the key performance indicators (KPI's) of a Wi-Fi network. Our aim is the rapid collection of data necessary to respond to the dynamic nature of Wi-Fi in residential, small and midsize businesses, and operator-managed enterprise systems.
Data—both a lack of and an overabundance—is holding up efforts to enact Wi-Fi PNM: Traditionally, cable operators have taken an all-or-nothing approach when polling information from a residential gateway, which means all MIBs or other data objects are polled at once. This could mean polling over 400 objects. As a result, operators minimize the number of device contacts, perhaps as infrequently as once a day.
Wi-Fi is a very dynamic technology, requiring a rapid response: One way to deal with this infrequent polling is to focus the data collection on a few critical pieces of information. Sending this critical information through a framework that supports scheduled and asynchronous transmission of ONLY the critical information would support scalability.
The majority of Wi-Fi support issues can be addressed by a handful of KPIs: An efficient framework would be one where data can be analyzed at high resolution and then distributed to OSS systems at a lower resolution. In home networks, this transmission would only occur in an exceptional condition.
It's important to collectively evaluate all data: Wi-Fi troubleshooting can't be accomplished by looking at a single data point. WFA's release plan addresses a solution for scalable and efficient Wi-Fi PNM data collection with options for event-driven data distribution.
CableLabs would like to facilitate better use of the DOCSIS 3.1 PNM capabilities to improve the effectiveness of the Data Elements architecture by creating a single repository for all PNM data, regardless of the source. The Wi-Fi Alliance Data Elements standard furthers that vision by allowing all CPE vendors to supply the same data.
Subscribe to our blog for further updates here or at the Wi-Fi Alliance website to see how Wi-Fi Data Elements is moving forward to improve Wi-Fi availability through proactive network maintenance, making highly available Wi-Fi networks accessible for the millions of users depending on them.
2 Resolutions for World Wi-Fi Day 2017
It's World Wi-Fi Day! Really, given how much we work on Wi-Fi technology, every day is Wi-Fi Day at CableLabs. Since the rest of the world has decided to take note, it feels a bit like New Year's. So, how about a couple of resolutions?
In the coming year, we in the Wi-Fi industry should resolve to support the continued growth of Wi-Fi with two major initiatives:
1) Enhanced Wireless Spectrum Access
Spectrum, or the airwaves that wireless communication travels over, is the key ingredient for Wi-Fi. While CableLabs and others in the industry work hard to improve Wi-Fi technologies, it is all for naught if we don't have the wireless bandwidth to make it work. This is becoming more important as wireless use grows, putting pressure on the capacity we have today.
To stick with this resolution, we'll need the help of regulators around the world that control access to spectrum. For example, the latest Wi-Fi technology 802.11ac is known as "gigabit Wi-Fi" for the high performance it offers. Unfortunately, due to lack of spectrum, the full potential of this technology can't be realized.
To fix this, we must look at the 5 GHz frequency band. You probably have a router at home that is "dual band", meaning it uses 5 GHz. If you acquired it in the last year or two, it is likely 802.11ac ("gigabit Wi-Fi") capable. We need to open up more spectrum for Wi-Fi in the 5 GHz range to fully enable this technology. Particularly as wired broadband speeds continue to increase, we need to be sure that the final step to your wireless device isn't a bottleneck.
Progress on enabling Wi-Fi access to additional spectrum requires technical acumen, to ensure that Wi-Fi can share the airwaves without causing harmful interference to other services. That's where our team at CableLabs comes in.
In the US, the FCC is examining how Wi-Fi can share with transportation communications technology in the upper part of the 5 GHz band, an issue they have been looking at for over four years. We've studied this, and we believe spectrum sharing technology supports this proposal. It's time to move forward so that consumers can realize the full benefits of gigabit Wi-Fi.
CableLabs has applied our expertise to questions of spectrum sharing before, with a lot of success. In 2014, we did the behind-the-scenes work to open up the lower part of the 5 GHz band for Wi-Fi in the US. And just last month, the Canadian government followed this precedent.
2) Enable Reliable Coexistence Between Wi-Fi and Other Technologies
Though most people may not think too much about 5 GHz spectrum, those who do, probably think of it as Wi-Fi spectrum. That's understandable since there are literally billions of Wi-Fi devices out there. However, more accurately, it is unlicensed spectrum (or license-exempt, in Europe). Meaning, other technologies also use the same frequencies.
Unlicensed spectrum is becoming more popular, and new technologies are moving in. Those that have a similar usage pattern are likely to run into Wi-Fi. Therefore, these new technologies need to be designed to play nicely, just as Wi-Fi is designed to do with its listen-before-talk protocols. Coexistence between technologies in unlicensed spectrum is of paramount importance to ensure that consumers win from new wireless innovation.
The leading case in this area is, of course, LTE-U, which we've written about extensively. CableLabs worked diligently to surface problems with LTE-U coexistence technology and led industry-wide efforts in the Wi-Fi Alliance to develop tests that can verify how well LTE-U equipment shares spectrum with Wi-Fi before it hits the street. Industry collaboration is an effective means of addressing coexistence issues and mobile carriers have stated that they will stick with the results of that process. We have since seen LTE-U devices approved after going through the tests.
The LTE-U story is, for the most part, a good example of how industries can come together to protect consumers that rely on unlicensed spectrum. However, the level of collaboration seen since then has, unfortunately, diminished significantly. Specifically, there isn't visibility into how the industry-agreed coexistence tests are implemented and used. No LTE-U vendor has released the results of its coexistence tests, even though they are happy to tout that they have passed with flying colors. Transparency is important to validate coexistence performance and mobile carriers and vendors should be more forthcoming.
Beyond LTE-U, which is a proprietary and non-standard technology aimed at unlicensed spectrum, we have LAA-LTE, which is the global standard version developed at 3GPP. There's more reason for optimism around LAA coexistence since it uses listen-before-talk etiquette similar to Wi-Fi. But, when it comes to validating that optimism through coexistence tests, the work at 3GPP has been sorely lacking.
Just a couple of weeks ago, a key 3GPP working group produced what it deems to be final coexistence testing guidance associated with LAA (To read more download here). This work product does little to reassure consumers that rely on unlicensed spectrum. The guidance recommends only limited testing, which will not come close to approximating real-world technology interactions. Additionally, mobile carriers and vendors may not follow even this limited guidance since it is completely optional under the 3GPP specification. It is important that we get coexistence right since new technologies are coming,  MulteFire, eLAA, and 5G, that will also use unlicensed spectrum alongside Wi-Fi.
These are our two big World Wi-Fi Day resolutions. Help us celebrate World Wi-Fi Day by commenting yours below. Be sure to check out our blog posts "Solutions for Whole Home Wi-FI Coverage," Carrier Wi-FI is Now Certified Vantage" and "Multiple Access Point Architectures and Whole WI-Fi Home Coverage" to read more about how CableLabs is engaged in Wi-FI efforts and do our best to protect consumers, making new wireless innovations a win for everyone!
CableLabs Joins the CBRS Alliance
On April 28, the FCC finalized its rules for the Citizens' Broadband Radio Service (CBRS), opening 150 MHz of spectrum for shared use by commercial entities in the 3.5 GHz band (3.55-3.7 GHz). There will be 15 ten megahertz-wide (MHz) channels available at a granular census tract geography across the United States, suitable for LTE time division duplex (TDD).  80 MHz is reserved for unlicensed use and the other 70 MHz can be subject to an auction for licensed periods of three years. Should that not happen for lack of interest at that time then 150 MHz is available for unlicensed use until another opportunity for an auction in a year's time. This represents the first opportunity for the democratization of LTE for new innovative applications. Unlike spectrum for mobile networks which can be used to cover very wide areas, CBRS is designed for small cells in both inside and outside locations.
CableLabs has joined the CBRS Alliance founded by Google, Qualcomm, Intel, Nokia, Ruckus and Federated wireless to evangelize LTE-based CBRS technology, use cases and business opportunities for our members. We plan to help drive the technology developments necessary to fulfill our mission. The Alliance will also establish an effective product certification program for LTE equipment in the US 3.5 GHz band ensuring multi-vendor interoperability. Kyrio, a fully owned subsidiary of CableLabs, will evaluate the expansion of its current testing services to support the CBRS program.
The CBRS Alliance believes that LTE-based solutions in the CBRS band, utilizing shared spectrum, can enable both in-building and outdoor coverage and capacity expansion at massive scale. For example, cable operators could deploy small cells in their customers' homes to capture mobile data where it is used at much faster speeds than external LTE networks with owner economics. Outside small cells with higher transmit powers could cover busy streets and similar areas.
In order to maximize CBRS's full potential, the CBRS Alliance aims to enable a robust ecosystem towards making LTE-based CBRS solutions available.
The innovative shared spectrum model adopted by the U.S. Federal Communications Commission for the Citizens Broadband Radio Service (CBRS) constitutes a bold and historic shift in spectrum allocation.
For more information, see the CBRS Alliance web site.
Liberty Global and CableLabs Join MulteFire Alliance
Today, CableLabs is taking a significant step to drive the development of next-generation wireless technology. We are excited to announce that, along with our member Liberty Global, we are joining the MulteFire Alliance, an open consortium dedicated to making mobile technologies more widely available for use in shared, unlicensed spectrum.
MulteFire is based on 3GPP License Assisted Access LTE (LAA-LTE), which uses listen-before-talk etiquette to share spectrum in a manner similar to Wi-Fi. But unlike LAA, MulteFire will place control signaling entirely in the unlicensed band, breaking the reliance on licensed spectrum and mobile networks. This is a capability that we and others have proposed several times in 3GPP, as yet without successful adoption in that body. Our hope is that pursuing this technology in the Alliance will enable its rapid integration to global standards.
We see this step as the basis for renewed collaboration on next-generation wireless technology, which will become ever more important as we move toward 5G. Reliable coexistence, full transparency, and deep engagement with partners have long been central to our work on technologies that use unlicensed, shared spectrum. These same principles will continue to apply as we work with the MulteFire Alliance, 3GPP, the Wi-Fi Alliance, IEEE, and other groups going forward.
Below is the full copy of the joint press release that was issued today:
Liberty Global and CableLabs Join MulteFire Alliance
 Next-generation wireless technology gets major boost as two leading players in cable join forces with Wireless Consortium
London, United Kingdom and Louisville, Colo. – Sept. 21, 2016 – Today, Liberty Global, the world's largest international TV and broadband company, and CableLabs, the innovation-focused R&D lab for the global cable industry, announced that they have joined the MulteFire Alliance, an independent, diverse and international member-driven consortium dedicated to developing next-generation wireless technology. Through collaboration with the Alliance, Liberty Global and CableLabs can improve the wireless experience and make the technology more widely available to consumers.
"Wireless connectivity has become critically important for consumers," said Balan Nair, CTO of Liberty Global. "By joining the MulteFire Alliance, we are driving the future of wireless for our customers."
The main focus of the MulteFire Alliance is to ensure that next-generation LTE mobile standards are compatible with shared and unlicensed spectrum. This compatibility ensures that the next generation technology is more widely available and that it can coexist alongside Wi-Fi and other technologies. What also makes this technology unique is that operators without access to the licensed spectrum still will be able to use it, breaking down barriers to entry and opening the door to greater innovation.
"This step will arm the cable industry with a new wireless technology that builds on our success in providing Wi-Fi and mobile services and complements the industry's fixed broadband technology leadership," said Ralph Brown, CTO of CableLabs.
Currently, the MulteFire Alliance is working to adapt 3GPP-based mobile wireless standards for shared and unlicensed spectrum so that the technology is broadly available and fairly coexists with Wi-Fi and other technologies. MulteFire is based on 3GPP Release 13 License Assisted Access LTE (LAA) and Release 14 enhanced LAA (eLAA), which uses Listen-Before-Talk (LBT) etiquette to share spectrum in a manner similar to Wi-Fi.
Unlike LAA, however, which is anchored to licensed spectrum and must be used in conjunction with a mobile network, MulteFire will operate entirely in unlicensed or shared spectrum, so that operators without licensed mobile spectrum can utilize it. This "standalone" functionality has been proposed in the 3GPP standards body for both LTE and 5G. By building this capability in the Alliance, its member companies will enable its adoption in global standards and the corresponding broad benefit of wireless innovation.
"We appreciate that the Alliance is committed to transparency and collaboration, given the importance of unlicensed spectrum to broadband access," said Rob Alderfer, Vice President of Technology Policy at CableLabs. "As we move toward ever greater sharing of scarce spectrum resources, reliable coexistence across technologies is essential as we continue to innovate. It's what we believe is the most critical aspect of the Alliance, and one that will be important as the industry moves toward 5G standards."
"Operators in the cable industry are ideal partners in our effort to develop new wireless technology and we are pleased to have CableLabs and Liberty Global join us," said Mazen Chmaytelli, MulteFire Alliance president. "The Alliance is open for broad, global participation, and since one of our goals is to drive our work into global standards, we are establishing liaisons with 3GPP, CBRS Alliance and IEEE to keep them apprised of our progress."
Other members of the Alliance include leading technology suppliers such as Qualcomm, Intel, Nokia and Ericsson.  A full list of members can be found here.
About Liberty Global
Liberty Global is the world's largest international TV and broadband company, with operations in more than 30 countries across Europe, Latin America and the Caribbean.
We invest in the infrastructure that empowers our customers to make the most of the digital revolution. Our scale and commitment to innovation enables us to develop market-leading products delivered through next-generation networks that connect our 29 million customers who subscribe to over 59 million television, broadband internet and telephony services. We also serve 11 million mobile subscribers and offer WiFi service across seven million access points.
Liberty Global's businesses are comprised of two stocks: the Liberty Global Group (NASDAQ: LBTYA, LBTYB and LBTYK) for our European operations, and the LiLAC Group (NASDAQ: LILA and LILAK, OTC Link: LILAB), which consists of our operations in Latin America and the Caribbean. The Liberty Global Group operates in 12 European countries under the consumer brands Virgin Media, Ziggo, Unitymedia, Telenet and UPC. The LiLAC Group operates in over 20 countries in Latin America and the Caribbean under the consumer brands VTR, Flow, Liberty, Mas Movil and BTC. In addition, the LiLAC Group operates a subsea fiber network throughout the region in over 30 markets. For more information, please visit www.libertyglobal.com
About CableLabs
CableLabs is a non-profit Innovation and R&D Lab founded in 1988 by members of the cable television industry. With a strong focus on innovation, CableLabs develops technologies and specifications for the secure delivery of high speed data, video, voice and next generation services. It also provides testing, certification facilities and technical leadership for the industry.
CableLabs' mission is to enable cable operators to be the providers of choice to their customers. Cable operators from around the world are members. For more information, please visit www.CableLabs.com
Contacts:
Liberty Global
Matt Beake
Tel: + 00 44 208 483 6300
CableLabs
Aurora Sassone
Edelman for CableLabs
Tel: +1.415.619.1555
E: aurora.arlet@edelman.com
Wayne Surdam
CableLabs
Tel: + 1.303.661.3766
E: w.surdam@cablelabs.com
It's Only Wireless for THIS long
Why the underlying fiber network is critical to mobile communications. -- The explosion in popularity of the mobile game Pokémon Go has triggered unprecedented attention on virtual reality (VR) and augmented reality (AR). Many believe that Pokémon Go is just the first step into the fully-immersive VR and AR applications, which, from a bandwidth demand perspective, are on the high end of the Internet of Things (IoT) connections. By the end of this decade, analysts predict that 50 billion IoT sensors will connect to mobile networks consuming 1000 times as much data as today's mobile gadgets alone. Along with cloud, machine to machine, and new video streaming applications, the underlying network infrastructure that enables such constant high-quality connectivity is critical to ultimate user experiences. None of the existing radio access technologies will be able to individually provide the capabilities to effectively meet market demands. The next generation 5G mobile system is being designed specifically to support this vision of satisfying the increasing demand for higher data rates, lower network latencies, better energy efficiency, and reliable ubiquitous connectivity.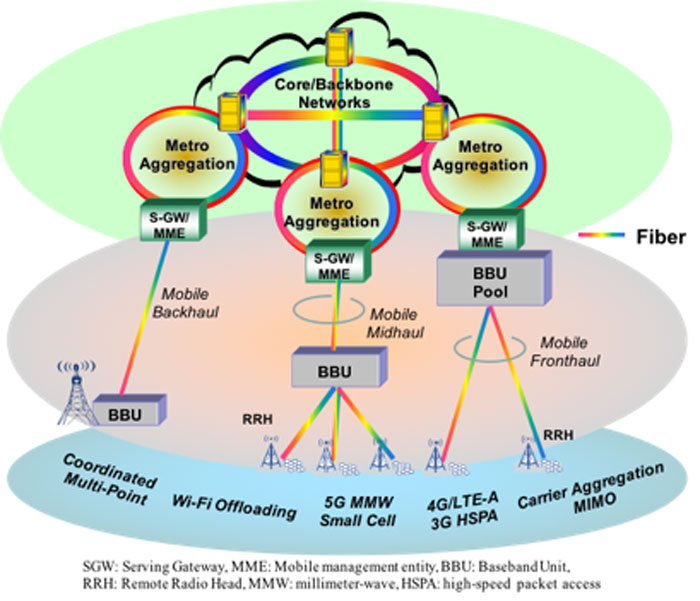 However, the success of 5G will not just be about new wireless technologies! The deployment of 5G technologies will be dependent on the ability of the wireline transport network connected to the radio access networks (RANs). This is because all the air bits will be transported from the wireline systems, most likely high-speed fiber optic networks. The network architecture and topology are evolving too (see Figure) and we expect to see a proliferation of small cells deeper in the network closer to the end-user. Small cells have a range of 10 to 200-meter cell radius within urban and in-building locations, to 1 or 2 km in rural areas. Centralized or Coordinated-RAN solutions, where the baseband units are placed together and share information at a centralized location, require the extremely high speed and low latency only available using fiber networks. The reality is… in mobile networks the bits are only air bits for a very short part of their life!
Historically, the transition to new mobile technologies has resulted in the need for a fourfold to fivefold increase in backhaul capacity. With the advancement from 3G to 4G, RANs reached a capacity of 1 Gb/s to 10 Gb/s per cell. If you consider the effective throughput for each user and the deployment of multi-antenna technologies, future 5G RANs will require ten times the backhaul capacity of today's networks. If 5G network technology is deployed at scale, wireless networks will have to xhaul (backhaul, midhaul, and fronthaul) massive amounts of data between cell sites and core networks.
Compared to alternatives like mm-wave self-backhauling, deploying optical fiber provides a superior technical solution due to bandwidth scaling, low and deterministic latency and jitter, and high system reliability. Optical techniques can also provide the leverage to enhance inter-cell coordination, achieve wide network coherence, and also decrease timing jitter in high order vector modulation and simplify remote radio head architecture. In this sense, fiber is not only the transmission pipe, it can integrate with wireless systems for end-to-end seamless networking purpose to affect network control and power efficiency, minimize latency, provide network system protection and restoration, and decrease digital data processing overhead.
Fiber and optical transport technologies are expected to play more and more important roles in the RANs to meet the aggressive performance goals of 5G. CableLabs is heavily involved in both the wireless and wireline portions of RANs. On the wireless portion, CableLabs is contributing to the ongoing formation of 5G technologies and network architectures including multi-gigabit wireless transmission over millimeter-waves and dense mobile and fixed wireless access. On the wireline portion, CableLabs is exploring new fiber optic technologies that increase capacity and lower latency, while also leveraging the unique characteristics of Hybrid Fiber Coax networks. Leveraging our expanded efforts toward university research, we are exploring the melding of wireless and wireline through collaboration with the National Science Foundation's Fiber-Wireless Integration and Networking (FiWIN) center led by Georgia Tech.
CableLabs Joins the UK 5G Innovation Centre
Why is 5G important? 5G, the next generation of mobile communication technology, will redefine communications services and their associated networks over the next five to fifteen years. Whereas the emphasis in the media at the moment focuses very much around the potential for Gbps radio services in the Millimeter frequency bands (mm-wave), one of the most intriguing aspects of the 5G goals is a target of one millisecond of latency for real time network control. This alone would have profound implications for the way that networks are designed and where the content resides. After all, there is no getting around the speed of light. New applications and services will be found for ultra low latency such as augmented reality with haptic feedback in real time, network control of robots and driverless cars.
The mm-wave small cells which will support multi-Gbps services will do so over distances of up to only a few hundred metres at the most. These small cells will require deep dense fibre networks. Therefore, I believe the combination of both mm-wave small cells and low latency will drive the agenda for fixed mobile convergence to be known as 5G. The cable industry is ideally placed here because of its asset position and its continuing deployment of higher and higher speed backhaul as well as its access to content.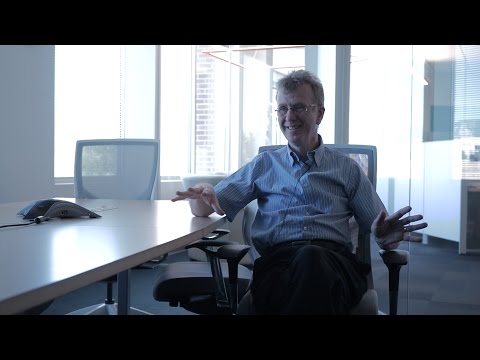 Why academic research?
CableLabs has increased its focus on innovation in 2016 by putting several supporting programs in place.  Under the leadership of Ike Elliott and Ron Reuss, we have doubled our funding of academic outreach focused on centres of excellence. As a key part of the academic program is 5G, we are supporters of NYU Wireless, under the leadership of Professor Ted Rappaport, which has pioneered the cellular use of mm-wave bands with the development of the associated channel model. This is helping to drive our 5G research, under Belal Hamzeh, in the analysis of the threats and opportunities for the mm-wave wireless local loop. However, because there is more to 5G than the importance of mm-wave, this drove us to join the United Kingdom's 5G Innovation Centre co-located at The University of Surrey.
UK 5G innovation Centre
The 5G Innovation Centre is one of the world's leading centres of excellence in 5G and the UK's largest academic research centre dedicated to the development of next generation mobile and wireless communications. It brings together leading academic expertise and key industry partners in a shared vision. The 5G IC houses 170 researchers and at its heart is a state of the art testbed for trialling emerging 5G ideas.
It is very difficult to cover here all their research activities so just let me give you a taste of their 5G Vision. There is a considerable amount of research into the air interface below 6 GHz to grow both the speed and capacity by 10x. Already some of their research here is likely to find its way into 3GPP - the mobile standards organization. However, at the heart of 5G is content.  Current IP protocols are rapidly becoming obsolete since they were designed for a world where communications were point to point oriented. Today, the internet focuses on the distribution and storage of content. To achieve 1mS latency and to improve the associated Quality of Experience, 5G networks will proactively move content closer to the user based on predictive algorithms. Already the 5G IC has shown success rates of 95% in this approach. Associated with this is a movement away from IP to perhaps Information-centric networking (ICN). This is an approach to evolve the Internet infrastructure away from a host-centric paradigm based on perpetual connectivity and end-to-end communications to a network architecture in which the focal point is "named information" (or content or data). These ideas will be at the heart of all networks in the next five to fifteen years. All of these are very active areas of research at 5G IC and CableLabs.
As part of our 5G IC membership, we will sponsor a PhD student while gaining access to the whole output of the centre. We have already identified several areas of interest to cable system operators for the PhD Student such as the use of shared spectrum in both licensed and unlicensed bands or software defined networks for 5G cores.  Key to our success in our association with the 5G IC, CableLabs will be working closely in a partnership gaining access to world class academic researchers as well as contribution to the industry consensus on 5G.