Wi-Fi CERTIFIED EasyMesh™ Update: Added Features for Operator-Managed Home Wi-Fi® Networks
It's been about a year since Wi-Fi Alliance released the Wi-Fi EasyMesh™ program and started certifying devices. Since then, the industry has been hard at work creating Wi-Fi EasyMesh products and working on what comes next. CableLabs is continuing its leadership work on the updated Wi-Fi EasyMesh certification program, and now we can all see the fruits of that labor.
The updated Wi-Fi EasyMesh protocol adds a number of essential features that operators and end-users need:
Wi-Fi EasyMesh Controller-centric collection of Wi-Fi CERTIFIED Data Elements™ diagnostic data from all connected access points (APs)
Enhanced backhaul security with SAE
Optimized use of available channels with coordinated channel scanning (including DFS channels)
Network traffic separation with virtual local area networks (VLANs), such as private and guest networks
Wi-Fi CERTIFIED Agile Multiband™ support for improved client connections
What's the Big Deal?
Since our last blog post about Wi-Fi EasyMesh, mesh APs have become almost as well known as antibacterial soap or friendship bracelets, albeit not yet as universally deployed. Many of these products work very well, especially those that have dedicated interconnection (backhaul) radios, as Wi-Fi® remains the easiest and most cost-effective way to connect these multi-AP systems.
So, what's the problem we're solving with this Wi-Fi EasyMesh update? Nearly all of the products not certified for Wi-Fi EasyMesh are opaque to an operator. When problems arise, the operator has little to no information available about what's going on behind the cable modem gateway, and the customer is left without assistance. The first version of the Wi-Fi EasyMesh protocol created the groundwork for this, whereby the Wi-Fi EasyMesh Controller (usually in the cable modem gateway) can set up and configure the other Wi-Fi EasyMesh APs. Now, the updated Wi-Fi EasyMesh protocol includes all the diagnostics information (aka, Wi-Fi Data Elements™) that an operator might need to get down to the nitty gritty and fix an issue.
Wi-Fi Data Elements, You Say…
In the blog post, "Data Elements and TR-181 – Connect to the PNM Data You Need," my colleague Josh Redmore explained what Wi-Fi Data Elements are and exactly why operators need them:
"The ultimate iteration of [remote Wi-Fi troubleshooting] is a fully automated proactive network maintenance system, where Wi-Fi issues are resolved before they impact your customer. When Wi-Fi becomes self-healing, customers enjoy seamless access to your services."
We can safely say that this is the Holy Grail of any operator-deployed Wi-Fi system, and the updated Wi-Fi EasyMesh protocol with Wi-Fi Data Elements support makes that possible in a standardized way.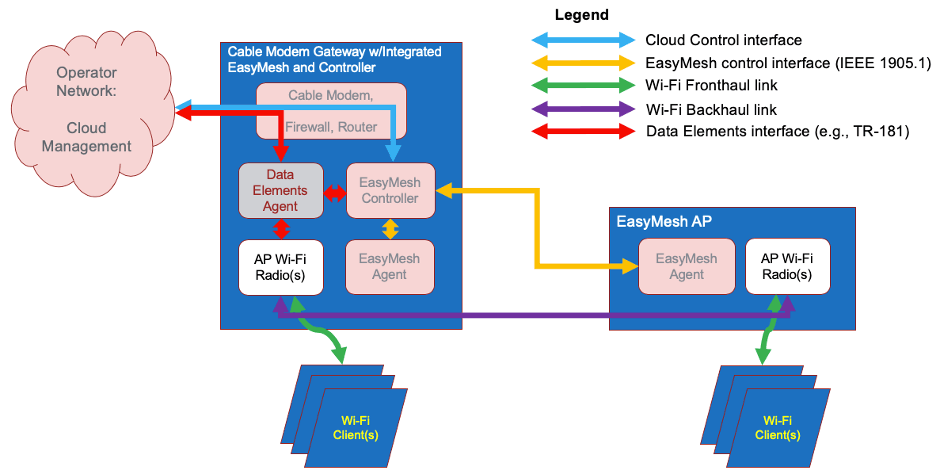 Figure 1: Example Wi-Fi EasyMesh and Wi-Fi Data Elements Network Topology
But Wait, There's More…
Remember all the major enhancements listed above in the Wi-Fi EasyMesh protocol update? What benefits do those bring?
SAE support in the backhaul brings more robust authentication mechanisms, increases cryptographic strength, disallows outdated legacy protocols, and requires the use of Protected Management Frames (PMF). It adds support for Simultaneous Authentication of Equals (SAE), which is resistant to offline dictionary attacks.
Coordinated channel scanning is a combination of two features that essentially allow the Wi-Fi EasyMesh Controller to get a complete picture of which Wi-Fi channels are overcrowded and which are free for use. It includes the ability to ask APs to scan specific channels, including DFS channels. The result is that the Wi-Fi EasyMesh network will be able to use the best channels available for each deployment—not only as first installed, but continually.
Network traffic separation continues Wi-Fi EasyMesh's support for multiple service set identifiers (SSIDs) per AP and even per radio. However, until now, all traffic for those SSIDs was intermingled. Now each SSID's traffic can be separated into VLANs. This upgrade helps operators take a step in the right direction toward traffic security.
Wi-Fi Agile Multiband™ support adds a number of features, including optional support for Fast Transition roaming with WPA2-PSK, improved guidance for clients to move to another AP in the network, tunneling of certain client-sent management frames (ANQP, WNM, Assoc) back to the Wi-Fi EasyMesh Controller, and support for association-disallowed attributes in beacons and probe responses from Wi-Fi EasyMesh Agents.
CableLabs' Early and Continuing Involvement
Wi-Fi connectivity is key for CableLabs' members, and CableLabs has been working closely on this Wi-Fi Alliance standard from the start. We were chosen to be the editor of the organization's test plan for both the first and second versions of the protocol, and we worked with Wi-Fi Alliance staff and vendors to develop the certification program. CableLabs continues to help lead and contribute essential technology to the Wi-Fi EasyMesh program.
Stay tuned for more press releases and blog posts to follow the progress of this new wireless technology.
Field Trial Results Show Wi-Fi CERTIFIED Vantage™ Devices Offer Significant Improvement to Network Performance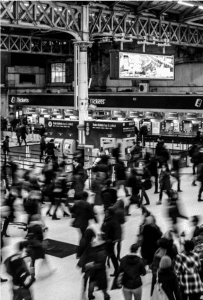 In a high-traffic, high-volume user environments such as subways, airports, and stadiums, maintaining a reliable connection and moving consistently across access points (APs) in a Wi-Fi network has always been a challenge for users and operators. A solution to this issue is now commercially available in the form of Wi-Fi CERTIFIED Optimized ConnectivityTM and Wi‑Fi CERTIFIED Agile MultiBandTM AP and client devices. These are core certifications to the WFA Wi-Fi CERTIFIED VantageTM program. These Wi-Fi Vantage TM devices contain features that optimize management and control frame transmissions, network discovery, authentication, and network transition. A field trial was conducted to measure the performance of a Wi‑Fi network using of Wi-Fi Optimized ConnectivityTM and Wi‑Fi Agile MultiBandTM devices embedded in a highly congested urban environment centered around a busy subway station. Results show the following improvements over non-Wi-Fi Vantage devices:
Optimized Network Discovery
Without Wi-Fi Vantage, the inefficiencies of network discovery and response messages can severely disrupt existing client connections and make it difficult for clients to attach to the network. The optimized network discovery features in Wi-Fi Vantage include suppression of, and broadcast of, probe responses by the AP and also include probe request deferral and suppression by the client. Field trial results show that the number of probe responses in a Vantage network were reduced by 76% on the 2.4 GHz radios and by 72% on the 5 GHz radios. This resulted in a probe response airtime usage reduction of 67% in 2.4 GHz and 44% in 5 GHz.
Optimized Authentication
Without Wi-Fi Vantage, clients can experience long reconnection setup times when moving back into a previously-joined network. With Wi-Fi Vantage, this re-connection setup time is reduced using Fast Initial Link Setup (FILS) Authentication. When FILS Authentication was tested in the Wi-Fi Vantage network, results showed that the connection setup times decreased by 76% (from 228 ms to 55 ms).
Fast Network Transition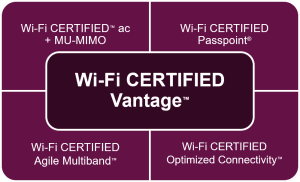 Without Fast Network Transition (FT), clients must perform a full Extensible Authentication Protocol (EAP) when roaming, possibly interrupting the end-user experience. With Wi-Fi Vantage, once a client device decides to roam to a different AP, band, or channel, the association and connection happen quickly and seamlessly.  Test results show that FT roaming improved client re-connection setup times by 84%, reducing it from 203 ms to 31 ms. In addition, Fast Network Transition can be deployed with, and will work alongside, FILS Authentication to further optimize client connections and roams.
A full-featured Wi-Fi Vantage network will benefit overall network performance and user experience, especially in high-traffic, high-volume environments. Some Vantage features may already be included in operator-managed Wi-Fi networks using vendor-specific implementation and nomenclature. Field trial results will allow operators to assess the value of a partial- or full-featured Vantage certified Wi-Fi network. CableLabs' joint leadership with the operator community (cable and mobile operators) created the vision and roadmap for the Wi-Fi Vantage program while partnering with the Wi-Fi ecosystem and will continue these efforts for the next generation of Wi-Fi Vantage.
For more information about this project or CableLabs' involvement please contact John Bahr (j.bahr@cablelabs.com) or Mark Poletti (m.poletti@cablelabs.com).
Wi-Fi Alliance Launches Wi-Fi CERTIFIED 6™ Certification Program
Wi-Fi 6 has been around for almost a year, in the news and on the shelves. Tuesday, however, marked a key milestone to the deployment of the next generation of Wi-Fi connectivity; the Wi-Fi Alliance has announced the launch of the Wi-Fi CERTIFIED 6 ™ certification program. Wi-Fi CERTIFIED 6™ provides the assurance that certified devices will interoperate and meet the industry-agreed standard requirements. With more than one billion Wi-Fi 6 chipsets expected to be shipped annually by 2022, interoperability is playing a crucial role to guarantee a proper operation of Wi-Fi networks and a seamless user experience.
Based on the IEEE 802.11ax standard, Wi-Fi 6 enhances the former Wi-Fi generations by delivering greater network capacity, improving performance in congested environments, increasing data rates, and improving power efficiency. IEEE 802.11ax Working Group started work on the next generation of Wi-Fi back in 2014. The former 802.11 standards focused primarily on delivering higher peak and aggregated throughput but with the rapid evolution of the Wi-Fi landscape, new use cases and challenges needed to be addressed. The exponential growth of Wi-Fi connected devices made it critical to focus on actual field conditions. 802.11ax, known as Wi-Fi 6, addresses the congestion and interference issues seen especially in dense deployments, to deliver higher average throughput per user. The targeted deployments include busy airports or train stations, public venues, mobile traffic offload, and apartment complexes. For Cable Operators this can translate to improved efficiency by serving multiple users at a higher average throughput in a residential environment or public hotspots.
Wi-Fi CERTIFIED 6™ key features
Wi-Fi CERTIFIED 6™ certification program includes a series of key features listed below:
Downlink and uplink Orthogonal Frequency Division Multiple Access (OFDMA) where the channel width is split in different sub-channels that allocated to different clients. OFDMA increases the system efficiency while decreasing the latency in dense deployment, making more efficient use of the available spectrum. This allows multiple users to be served simultaneously compared to Wi-Fi 5 and earlier where a single user is served one at a time.
Downlink Multiple User Multiple Input, Multiple Output (MU-MIMO) increases the system capacity. MU-MIMO was introduced in Wi-Fi 5 and is part of Wi-Fi 6 extends the capability to serve up to 8 users concurrently.
Quadrature Amplitude Modulation (QAM) 1024 increases the peak throughput by 25% in good conditions compared to Wi-Fi 5.
Transmit beamforming uses several transmit antennas on the access point to focus the signal to then destination station. This enables higher data rates at a longer range.
Target Wakeup Time (TWT) is based on a scheduler that allows devices to negotiate when and how often they will wake up to send or receive data. TWT improves battery life of devices, a feature required for Internet of Things (IoT) devices.
Basic Service Set (BSS) coloring allows for devices to recognize if incoming traffic is from an adjacent network, allowing devices to take measures to adapt transmissions to optimize intra-network activity.
Wi-Fi 6 certified devices must also meet 3 prerequisites:
Wi-Fi CERTIFIED N (Wi-Fi 4) and Wi-Fi CERTIFIED AC (Wi-Fi 5) certifications ensure a backward compatibility with former Wi-Fi standards.
Wi-Fi CERTIFIED Agile Multiband allows devices to make intelligent access point, band, and channel selection, improving efficiency and consistency on congested wireless networks.
Wi-Fi CERTIFIED WPA3 improves security standards for authentication, authorization and encryption, resolving some vulnerabilities issues of WPA2 that emerged over the past years.
The Role of Wi-Fi 6 in the 10G Platform
Earlier this year, CableLabs®  introduced 10G™, the cable industry's vision for delivering 10 gigabit networks. The 10G platform includes a collection of technologies enabling 10 Gbps symmetrical speeds, lower latencies, enhanced reliability, and security. In addition to the wired related technologies such as DOCSIS 4.0 and P2P coherent optics, the platform includes a set of wireless technologies as an integral part of the network (e.g. Dual Channel Wi-Fi™ and Low Latency Wi-Fi). With almost half of the Internet traffic initiated from Wi-Fi connected devices, the cable industry is devoted to developing and enhancing wireless networks for a seamless user experience.  Wi-Fi 6 increased capacity, lower latency, and higher throughput is supporting the necessary evolution of the wireless technologies to address the 10G roadmap.
Wi-Fi 6 is also addressed by Kyrio™, a subsidiary of CableLabs. Kyrios's Wi-Fi 6 test setup (based on Otoscope®) provides a lab environment for controlled testing. In addition, the Kyrio test house is equipped with Wi-Fi 6 devices to simulate a real-world experience and characterize Wi-Fi 6 performance in a residential environment.