Behind the Tech: Near Future. Diverse Thinkers Wanted.
During Summer Conference, we released Diverse Thinkers Wanted, the fourth Near Future film—this one about the ways we'll all be working a few years from now. Just like the previous three films, Diverse Thinkers Wanted highlights how advancements in cable technology can affect the way we interact with other people and the world around us—but this time in a professional capacity. The film explores multiple future technologies that can eventually help us become better, faster and smarter versions of ourselves, enhancing our creative problem solving, time management and collaboration skills.
On-Call Mixed Reality
Our eyeglasses and other wearables will be outfitted with connected mixed reality (MR) tech that can display a variety of useful and timely information about everything we see. This will give new meaning to the term "plugged in" at work. 
Public Light Field
Public Light Field technology will allow multiple users to sign in and share information in a virtual 3D space or take part in private discussions through a secure channel if they need to. Thanks to this tech, working from home or another location will be easier than ever.
 Autonomous Taxi Fleet
We envision a future, just a few years away, where a connected autonomous taxi service is instantly available to safely take you from point A to point B no matter where you are. Beats trying to get an Uber during rush hour!
Layered Videoconferencing
The traditional video telepresence solutions available today will be enhanced with MR and holographic technologies that will allow you and your team to be exponentially more productive, leaving less room for misunderstandings and more room for creativity.
Earpiece AI
Next-generation AI applications can help you make the right decisions more quickly than ever. They can continuously listen for context and adapt to your needs as time goes by. Eventually, these tools will know what you need when you need it, without your explicit instructions. This tech will be very handy when you're in a time crunch.
Holo-rooms
Holo-rooms are gathering spaces that include the latest holographic tech such as light field displays, light field rooms and volumetric light field tables. They're perfect for running "virtual" meetings where all the participants feel as if they're in the same room even if they're miles apart.
Alternative Interfacing
Future innovations will allow you to do things you've never been able to do before, such as moving virtual objects with the gaze of your eyes. This type of tech can revolutionize the workforce by creating exciting new opportunities and even entire new fields of work.
Affordable Light Field Units
As light field technology becomes more mainstream, it will become more affordable, allowing manufacturers to create a variety of products for use at home, work and in public places, such as museums and bus stops. Soon, it will become one of the most effective ways to convey information.
The Near Future. Diverse Thinkers Wanted: 10 Fun Facts
This week, at our Summer Conference, we released a short film titled The Near Future. Diverse Thinkers Wanted. The fourth installment in our Near Future series focusing on light field technology, mixed reality and AI, the film highlights how our broadband networks and increased connectivity keeps everyone in the workplace seamlessly connected and more creative. Here are ten fun facts about our film:
The autonomous cars in the film appear to have no steering wheel. This was achieved by using real cars with steering wheels and producing carefully mirrored shots: the set, costumes, props and stage direction were all mirrored, and the shot was then flipped in post-production, creating a realistic autonomous car driver-side with no steering wheel.
The lead actress ran so much in the film that she had to use two sets of shoes to avoid blisters. In shots that showed her feet, she used her costume's business shoes; in other shots, she used running shoes.
The opening chase scene from the café to the cars took more than 20 takes to get everything shot properly from every angle. Both actors were exhausted but happy to add a chase scene to their acting experience.
The café in the film does not exist. Every table, chair, cup, painting and every other prop was brought into an empty retail space that was built (art designed) as a café. Two days after it was built, the whole thing was taken down, leaving only an empty retail space again.
The holographic video content in the autonomous car assumes that the windshield glass works with the dashboard element to generate the media. The producers initially thought that glass light field technology was "too sci-fi," but it passed due to the availability of existing glass displays.
One day of shooting happened at a college, and parking had to be coordinated on narrow campus grounds. While one of the red "autonomous" cars was being parked, it hit a concrete corner of an outdoor seating area, which ripped through the metal of the car's passenger side door. Nobody was hurt, and thankfully the car scene had already been shot.
The set for the quadriplegic was actually an office kitchen that was converted into a home space. Every item in the office kitchen was taken out, and every prop—including tables and chairs in the background, and item on the wall of the set—was brought in and designed to look like a home. After shooting, it was all torn down and the office kitchen was put back together exactly as it was.
Several quadriplegics were auditioned for the part, but the actor who got the part is not disabled. He said that being able to move only his eyes and face was one of the hardest acting challenges he's ever had.
The Holo-Room was designed and mostly constructed beforehand. It was designed to be moved piece by piece into an office space for quick construction. It was moved in and built in 1 day and then torn down.
The film was shot entirely in San Diego, marking the first time a Near Future film had no scenes filmed in the Bay Area.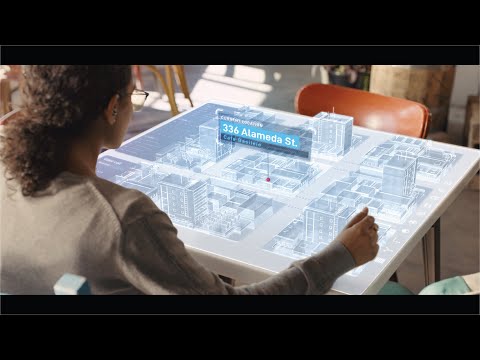 Just Released: A New "Near Future" Film Takes a Look at How Innovation Will Affect the Way You Work
This week, CableLabs released the fourth installment in its Near Future series. Titled The Near Future: Diverse Thinkers Wanted, this short film explores the aspect of life that takes up most of our time and energy: work. Have you ever wondered what a typical day at the office might be like in a decade? Will a 9-to-5 workday still exist, or will the technology of tomorrow redefine the concept of work as we know it? Let's take a closer look.
The Future Vision
The film's narrative is centered on Nikki, an ambitious go-getter who's about to deliver an important presentation. But as often happens in the world of business, things don't go exactly as planned and Nikki is faced with a number of seemingly insurmountable challenges.
Fortunately, she has all the tools she needs to not only solve every problem but to do so without ever slowing down. On-call mixed reality apps and helpful light field displays provide the information she needs. An autonomous taxi is always there to take her anywhere she wants to go. Layered videoconferencing solutions and holographic telepresence technology help her maintain continuous contact with her team. And an ever-present AI assistant takes care of everything else, from confirming appointment details to booking a holo-room, in seconds.
Thanks to all this advanced tech at her fingertips, Nikki has the opportunity to be her best, most creative and efficient self, and to make smart, calculated decisions without ever losing focus. Not everyone's workday will resemble Nikki's, but this kind of technological advancement is certain to have a profound effect on the way we approach our daily tasks, conduct meetings and solve problems in the near future, no matter what line of work we're in.
Technologies That Will Help Us Get There
The technology shown in the film will shape the way we think about work in the future. Powered by a multi-gigabit super network of tomorrow, it will create a more efficient, productive and creative work environment that will help us perform at our best. For example, technology can be used to:
Manage our time better: Picture a world where you don't waste half your morning resolving calendar conflicts or worrying about logistics. How much more would you be able to get done in a day? According to Accenture, technologies such as Nikki's ear-piece AI assistant are projected to increase labor productivity by up to 40 percent, enabling you to make more efficient use of your time.
Access the information we need, whenever we need it: A lot of workplace slowdowns occur because of missing or inadequate information. How much more productive do you think you'd be if all the information you ever needed was readily available to you? In the film, Nikki's eyeglasses have built-in mixed-reality tech that overlays street addresses and other data on top of everything she sees, allowing her to make critical decisions on the go.
Collaborate more efficiently, from anywhere: To accommodate a more talented and diverse workforce, businesses around the world are seeking advanced remote collaboration solutions that allow their teams to seamlessly interact as if they're physically present at the same location. In the film, we explore a few ideas about how this might work, including layered videoconferencing technology that combines traditional video with mixed and virtual reality, public light field tables and holographic telepresence systems (holo-rooms), where Nikki's entire team gathers to work on a common project.
Enhance our skills and abilities: According to the World Economic Forum, 65 percent of children now entering elementary school will hold jobs that currently don't exist. This is partially due to technologies like alternative interfacing, which gave Nikki's coworker the ability to manipulate virtual objects with the movement of his eyes. This type of new and exciting technology will drive the need for more interesting and fulfilling jobs—and redefine the nature of work as we know it. 
Focus on creative solutions: According to McKinsey, 50 percent of current work activities are automatable, and the demand for skills like creativity, critical thinking, decision making and complex information processing is projected to grow 19 percent in the United States by 2030. Outsourcing some of the boring and mundane tasks—such as double-checking locations, hailing a cab or booking a room—to machines will free up more of our brainpower for a whole new level of creativity and imagination.
Although we're not yet in Nikki's world, we're well on our way. The 10G platform will set the foundation for many of these technologies, enabling app developers and entrepreneurs to innovate without worrying about the speed, capacity and latency restrictions they had to deal with in the past. Take a look for yourself! You can view the film in its entirety below.
Cable and Education: Welcome to the Classroom of the Future
In August we released the third installment of our vision videos: "The Near Future. Ready for Anything." In the video, we imagine a future where kids use technology to learn and solve problems and can't wait to come back to school on Monday. Skeptical? You won't be after you see what their classrooms might look like in the near future. Cutting-edge technology powered by multi-gigabit super networks will expand their learning environment beyond the physical walls of the school as far as their imagination goes, making education a fun, collaborative and truly enjoyable experience. Take a look for yourself!
Head-Mounted Displays: AR/VR
AR and VR technology has been gaining some traction in the last few years among gamers, but education is one area where it can really shine. No kid would ever fall asleep at their desk wearing a sleek head-mounted display! They can interact with virtual and real-life objects at their own pace, explore and discover new worlds alongside their classmates and be back in time for lunch. Now that's a class trip we'd all look forward to.
Video Wall
We call it a wall, but this technology breaks down boundaries like no other. It creates a collaborative environment where kids from different schools and countries can interact in real time. How fun would it be to learn a new language or work on a common project with your peers who are hundreds of miles away? The learning opportunities are endless. Low latency networks powered by the cable industry are the key to making this concept a reality.
Artificial Intelligence Media
It's a friend. It's a guidance counselor. It's a teacher. A future AI-powered assistant can take on all these roles and more. An invaluable addition to anyone's day, it can interpret its owner's feelings and predict his or her needs at the right time. When it comes to education, it can be a great resource for information, giving our kids the right tools to become the best they can be.
Internet of Things
We're already seeing the benefits of having multiple connected devices in our homes, but that's just a start. IoT technology, such as sensors and other devices, connected to one powerful network has the potential to transform the way we learn, giving us the information we need when we need it. Imagine how much faster your class experiment will go if you could collect and interpret data in an instant? And that's just one possible application out of many others.
Light Field Table
Fans of sci-fi will be excited to see this tech in the classroom! What if you could see digital chemistry elements suspended in the volumetric space right before your eyes? They are holographic, so you can conduct virtual experiments with simple hand gestures. All the future scientists and engineers will agree, this is one fun lab class you won't want to miss.
Light Field Holodeck
Put all your other collaboration tools away, because this one is a game-changer. A light field holodeck can project media into volumetric virtual classroom or workspace where everyone can meet using their photorealistic avatars. Participants can work and communicate with each other as if they are in the same room even if they are miles apart in real life. With enough bandwidth, this will become the collaboration tool of the future. You can read more about how we're enabling this technology here.
There's one requirement all these innovations have in common: a powerful broadband network. To make this vision a reality, we need multi-gigabit networking solutions that can support seamless life-like experiences. CableLabs, along with our members and partners, is working to bring these ideas to life, one innovation at a time. Check out our "Behind the Technology. The Near Future. Ready for Anything. " video in its entirety here: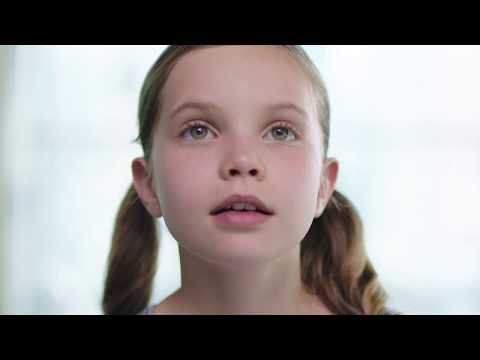 10 Fun Facts about our Film The Near Future. Ready for Anything.
"Ideas without execution are a hobby, and true innovators are not in the hobby business." -- Phil McKinney
This week at our Summer Conference we released a short a film titled The Near Future. Ready for Anything. The third in our Near Future series focusing on virtual reality and AI, the film highlights how our broadband networks and increased connectivity will play a crucial role in the innovations of the future in the field of education.
Here we outline 10 fun facts about our film:
To cast the lead role, a casting agency started with 50 young women. The producers listened to readings from the top 25 and Callbacks were done for the top 10, 5, 3, 2 and finally, the star of the film, Violet Hicks, was chosen for the role of Millie.
The video-wall scene was created by constructing two separate classrooms next to each other with a large glass pane for the shared wall. After the scene was shot, both classrooms were torn down, including carpet, walls, and window tint, all in the same day.
The rainbow cut-outs on the school wall were actual school art projects. All other classroom items on the walls, including the desks and chairs were ordered from a props company specifically for the film.
Cookie the robot from The Near Future. A Better Place. makes a cameo appearance in the background of one of the classrooms.
To get the AI Agent to appear to float on the moon, the actress stood on a green painted Lazy Susan-like disk, and two technicians manually spun her around on it as she was being filmed. The green disk was removed in post-production and replaced with visual effects, and the actress was shrunk down to the appropriate size for the scene.
The name, Dot, is a take on the first smart watch, Spot, from 2004.
The garden scene was shot at an elementary school in Mill Valley where gardening is a part of the curriculum.
The Light Field scene at the end required a very specific office layout. Several offices were scouted over several weeks and one was finally found in a high-rise in downtown San Francisco.
That same Light Field scene took about 20 takes to get all four actors to choreograph their parts properly, on top of having no reference to the holodeck media they should be seeing.
Prior to filming The Near Future. Ready for Anything., the film's camera technician had just finished work on Jurassic World, and has worked on every film in that series since the first Jurassic Park in 1999. The amount of green screen work and visual effects in the film required his expertise.
Now, sit back, relax and see if you can spot all 10 in our video: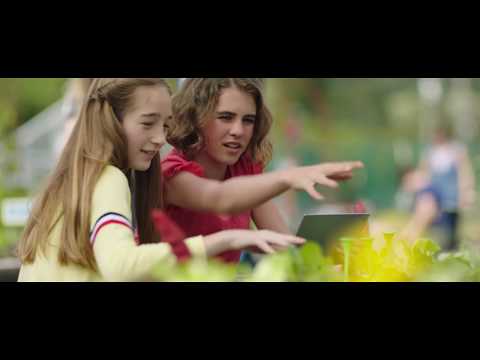 You can learn more about the integral role the cable industry is playing in the innovations of the #nearfuture by clicking below.
CableLabs Unveils its Vision of the Future of Education
According to a 2018 national Education Week survey, the majority of education leaders report that digital technologies are an important supplemental resource used to personalize the learning experience based on each student's strengths, weaknesses and preferences.
How can children be prepared for a work environment that looks nothing like today? How can subjects be taught that don't yet exist? And how can students be well equipped for future problems that are currently unknown? In order to be prepared for this vision of the future, education needs to teach a lifelong love of learning.
Today, CableLabs is here to invent a better future. We created the Near Future film series to serve as an inspiration for innovators. As the industry-leading provider for broadband, we want to guide those creating technologies and experiences supported by the broadband platform. Our vision uses network technologies to help create a compelling learning environment for students of all ages. The technologies make environments more creative, collaborative, and personal, always leaving the students wanting to come back for more and ready for anything.
Now, take a peek into our vision of the Near Future...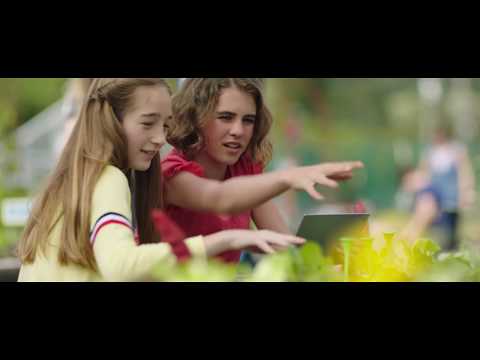 Cable's Role in the Future of Connected Healthcare
A version of this article appeared in S&P Global Market Intelligence in August 2017. You can find the original here.
The connection between cable and healthcare may not be immediately obvious to the casual observer. CableLabs has a vision of the potential future of healthcare in five to ten years' time that is based on the massive and ubiquitous broadband connectivity that will be available in this time frame. This vision is captured in our video that you can watch at The Near Future Network. After reflecting on this vision, the connection becomes more evident.
Today, in addition to connecting hospitals and clinics, the cable network infrastructure reaches 93% of U.S. homes. This enables cable services to contribute in an increasingly important role in healthcare. Cable operators are able to deliver a cost-effective bundle of broadband, telephone, and television services that meet the connectivity and business needs of hospitals and clinics. In addition to connecting hospitals and clinics, cable companies are offering gigabit speeds to residential customers, completing the connection to the home. Connected healthcare is very important for areas of the country that lack medical resources. For example, GCI, the largest Internet provider in Alaska, is taking the lead in connected healthcare by providing remote Alaskan villages with telemedicine through their ConnectedMD program.
Connecting hospitals and clinics is only the beginning. Remote patient monitoring is becoming an increasingly important aspect in addressing the growing costs of healthcare. The results of a year-long remote patient monitoring pilot from Geneia showed a savings of over $8,000 per monitored patient annually. This kind of remote patient monitoring relies on a robust broadband connection to the home. In September 2015 Cox Communications acquired Trapollo to offer remote patient monitoring significantly reducing the cost of delivering care to patients with chronic ailments.  Also in September 2015, Kaiser Permanente announced a pilot of My Pregnancy. A TV app on the Xfinity X1 platform; the app provides timely information for expectant mothers to access clinically validated Kaiser Permanente content.
The demand for healthcare services continues to grow thanks to the reality of an increasing demographic of individuals over the age of sixty-five. Currently, that group makes up 15% of our population, but by 2040 it will be nearly 22%.  Coupled with the rising cost of providing healthcare services in hospitals, connected healthcare makes more sense and "cents" than ever. It is well known that treating chronic conditions comprises the highest percentage (as much as 80%) of U.S. healthcare expenditures. Using remote patient monitoring to stay on top of chronic conditions and anticipating potential crises avoids unnecessary ER visits and improves patient outcomes.
Connectivity transcends industries and the issues faced by healthcare are massive, therefore the time for collaboration has arrived. One example of this kind of collaboration with the healthcare industry is cable's work with the Center for Medical Interoperability (CMI). The West Health Institute study, The Value Of Medical Device Interoperability, estimated that more than $30 billion in annual health care savings could be realized by solving medical device interoperability. CMI was formed to address this problem and is modeled after the CableLabs centralized research and development laboratory. Cable brings its expertise in device interoperability, device security, and certification to the healthcare industry through its participation in CMI's specification development efforts.
Another example of industry-wide collaboration is our participation in the Open Connectivity Foundation (OCF) which is spearheading network security and interoperability standards for IoT devices. Through OCF, CableLabs and the cable industry is working to increase IoT security to address the associated risks to both the network as well as the privacy of subscribers. CableLabs not only has a board position at OCF, we chair the OCF Security Working group.
The cable industry will have an increasing role in the future of connected healthcare due to their high-capacity, fiber-rich networks that are able to connect patients and providers. CableLabs recognizes this and on April 12th and 13th we produced two back-to-back Inform[ED] Conferences that brought together cable industry technologists with health information management professionals to continue the conversation. Although healthcare IT will become increasingly complex in the future, cable's solutions are simple, easy to deploy and scalable across the entire healthcare system.
--
Subscribe to our blog to read more about connected healthcare and the innovations we are working on. We hope to inspire the healthcare industry to help us make our vision a reality.
10 Fun Facts about The Near Future. A Better Place.
"Innovate with Purpose" – CableLabs President and CEO Phil McKinney
This week at our Summer Conference we released a short a film titled The Near Future. A Better Place. The second in our Near Future series focusing on virtual reality and AI, the film highlights how our broadband networks and increased connectivity in the home play a crucial role in the innovations of the future of healthcare and telemedicine.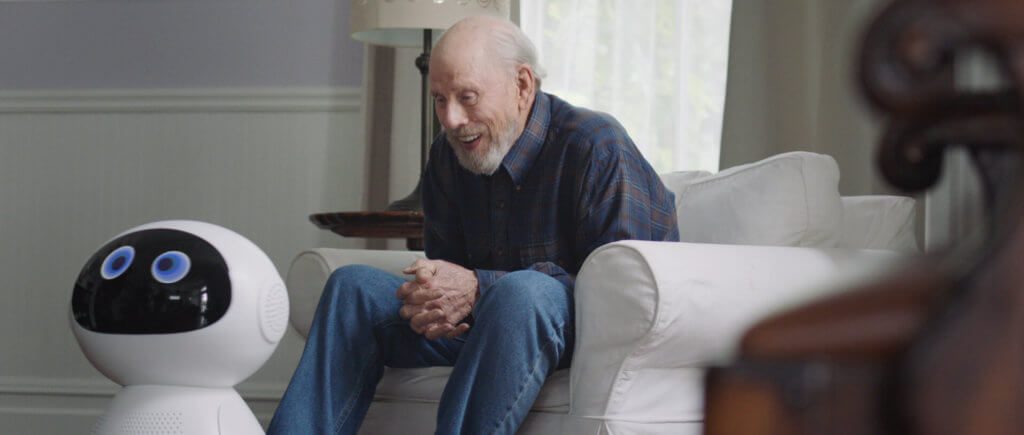 Exclusive from the team that created The Near Future. A Better Place, here are 10 fun facts about our film that will both inspire you and blow your mind:
The star of the film, Rance Howard. He has been acting for over 70 years and has appeared in over 250 films and tv shows.
Rance had never cast a fishing lure before this film.
To create Cookie the robot an art director designed and 3D printed the head and body. A robotics expert programmed the wheels and head motors, two operators remote controlled Cookie's performance on set, two animators designed and created the performance of the eyes, a voice actor read for the voice, and a sound engineer synthesized the voice.
The Ollie bus is a real autonomous car created by Local Motors and is mostly 3D printed. Multiple Olli's were not available, so a special effects technique was used to create the shot with three Olli's.
All photos with Rance are his personal photos with an actress standing in for his wife, except for one where his real wife appears.
A medical technologist expert from the Mayo Clinic was consulted to ensure the nanobots technology was realistic and not too sci-fi.
The hospital was created in the office space of an architecture company in downtown Oakland, CA.
The producer's dog was hired to work with Cookie on set and she gave a stellar performance.
To create the video wall in the living room, a separate wall was built, painted, and designed over an existing wall in the house and removed after shooting.
The Super8 remembering-wife shot was created by bringing in hundreds of flowers that were placed in the existing foliage and then removed after shooting.
Now, grab a coffee and watch out for these in our video below: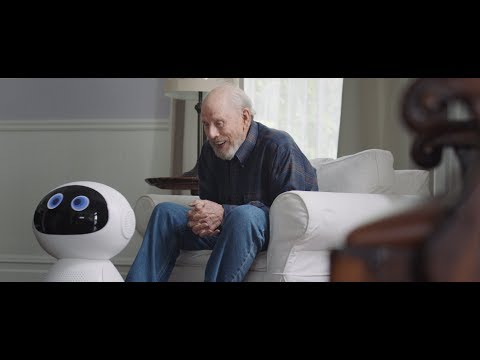 --
You can learn more about the integral role the cable industry is playing in the innovations of the future here.
CableLabs Unveils its Vision of the Future of Healthcare
Independence. It's one of the most important elements of our lives. But with age comes the struggle to maintain our independence and this is one of the greatest fears amongst those who are aging.
One of the greatest fears of 'adult kids' relates to letting their parents continue to live independently. Our parents want to be cared about, but fear being cared for. It's an age-old dilemma.
There are more than 75 million baby boomers in the U.S.

The number of Americans over 80 will double, from 6 million to 12 million, in the next two decades. 

97% of people would prefer to live the rest of their lives at home, rather than move into residential care.

By the age of 80, 3 out of 5 American households consist of a single person.
CableLabs' vision of the near future merges technology with connectivity to enhance the living experience of those who deserve it most- our elderly. The secure delivery of high-speed data, video, voice and next-generation services enable seamless connectivity and the platform for building a better experience. A better place.
Take a peek into our vision of the Near Future...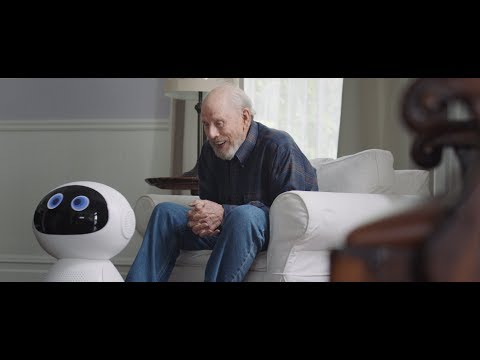 NCTA & CableLabs Hosted The Near Future Conference & Delighted the Crowd
Today's event brings together innovators who will share with you the near future. A future that will build upon networks that we as an industry are already building.
- CEO and President of CableLabs Phil McKinney, The Near Future 2017
What does the near future look like? Make no mistake - it's already (virtually) here. It unfolded before our eyes on April 27, 2017, at Union Market Dock 5 in Washington DC at the first Near Future forum. Co-sponsored by NCTA (The Internet and Television Association) and CableLabs, the immersive experience was created to showcase next generation technology enabled by the cable industry.
Attended by a mix of technology professionals, visionaries, policy experts, and media leaders, the event featured a wide range of speakers and live demos. These included virtual, mixed and augmented reality, an 'intelligent agent' (AI precursor), an autonomous vehicle, and next gen (non-VR) video exhibits exploring the four pillars of human technological interconnectivity - the way we live, work, learn, and play. All of which are powered by cable broadband.
The day opened with NCTA President and co-host Michael Powell declaring it the "un-conference". Rather than scripted interviews and lengthy speeches, audience members were invited to interact with some of the awe-inspiring technologies that massive bandwidth and computational power make possible. Attendees could fly over city landscapes using their arms and legs with Birdly, explore a model of Local Motors' 3D printed self-driving shuttle bus named Olli, fly through space with Positron's egg-shaped Voyager Platform, explore 3D buildings and cities with Taqtile's 3D "HoloMaps", or interact virtually with a holographic projection of a Holocaust Survivor in real time.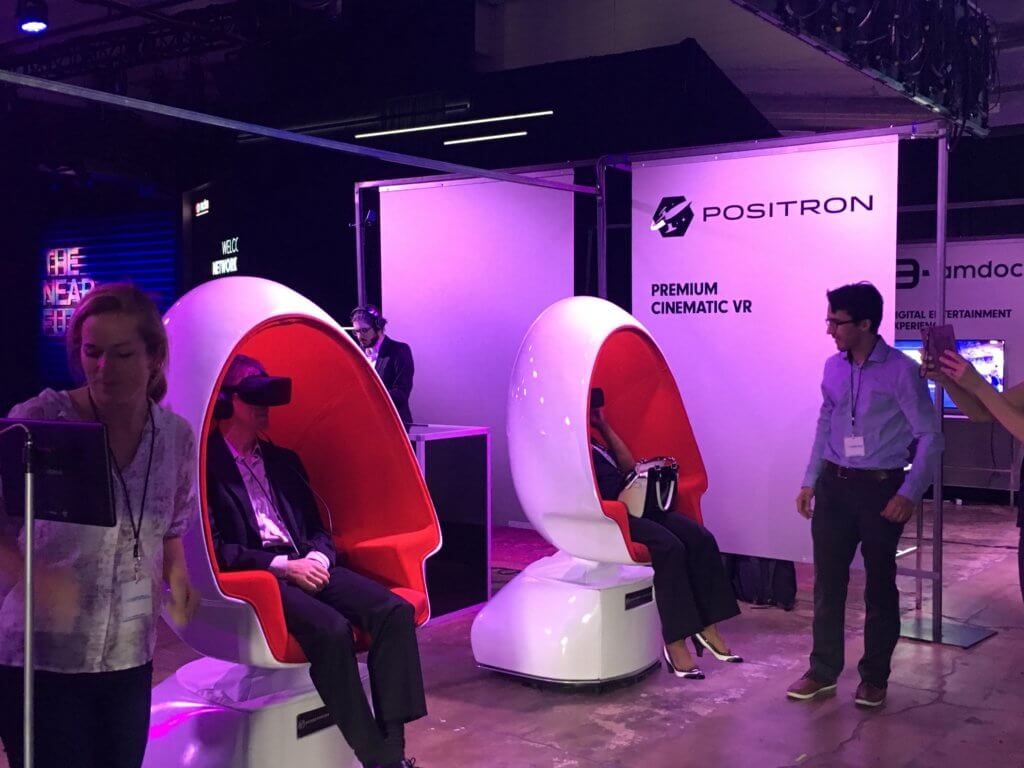 The highlights of the day included conversations with the visionary thinkers at the forefront of these emerging platforms. Beginning with PLAY, Google VR Senior Engineer Paul Debevec waxed poetic about cinematic virtual reality technology and light scanning to digitize humans. This technique was used in some of Hollywood's biggest blockbusters and the first ever 3D presidential portrait. He went on to explain that the digital faces created for movies, television, and video games are now so sophisticated that photorealistic environments in virtual reality will soon be available.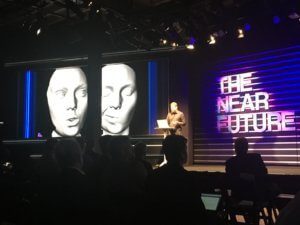 Ted Schilowitz, a futurist for 20th Century Fox, emphasized that society is more ready for VR than ever due to our reliance on smartphones for everyday tasks like memory and directions. Senior Vice President of Technicolor/MPC Timothy Dodd highlighted the potential of mixing virtual reality and game engines, changing the color of a Camaro on screen and video in real time with no latency.
Taking us to WORK, Eric Yan, CEO of Zoom, explained how VR will transform video conferencing and the remote workplace by enhancing collaboration and engagement among team members. Ricardo Poupada, CEO of 5th Wall, a virtual and augmented reality marketing studio, talked about how immersive VR will revolutionize the human experience in everything from retail to real estate to medical services to entertainment.
Chief Technology Officer of IBM Watson, Rob High, invited the audience to go back to school in the LEARN segment. He demoed a future classroom, where, through the power of AI, instructors transformed into the greatest thinkers throughout history. In the same vein, David Traum, director of Natural Language Research at USC Institute for Creative Technology, spoke about students learning history in real time from real people, using the virtual reality Holocaust survivor as an example.
In the LIVE segment, Dr. Wyatt Decker, Emergency specialist and VP at the Mayo Clinic, emphasized the need for 3D printing, virtual reality, genomics, robotics, and data mining to revolutionize the medical industry - creating low-cost patient-friendly solutions in the process. He used the examples of biomimicry of robotic limbs for amputee patients, 3D printed organs, and functional MRI's. Audience members watched in wonderment as a video was shown of a patient having brain surgery while playing the piano. This allowed surgeons to stay away from the structures involved with the piano playing while removing her brain tumor. To read more about the connection between cable and healthcare read our blog post: Cable Connects with Health Care by CableLabs CTO Ralph Brown. 
The Near Future emphasized that broadband is the catalyst for innovation in services and apps. The demos and speakers all highlighted the amazing technology we have in the present and the future possibilities of the high-speed, low latency networks that connect our homes, businesses, and mobile devices. The spirit of the forum was reiterated by host Kym McNicholas at the closing of the event: "The key is to be proactive, not reactive. Don't let what you don't know get in the way of innovation. It's this out of the box thinking that makes the impossible, possible."
This conference was based on our Near Future video. 
--
For more information on cable broadband, policy, and network innovation outpacing application innovation check out this Insights paper we wrote on the gigabit evolution and read this interview with CEO & President of CableLabs Phil McKinney. If you'd like to know more about the Near Future event visit TheNearFutureNetwork and NCTA's Twitter feed @NCTAitv. You can watch the conference in its entirety below.