What Do Loonshots, Prisons and the FCC Have in Common? Meet the 2019 Summer Conference Speakers and Find Out!
CableLabs Summer Conference 2019 is now less than a month away, and we're very excited to introduce you to the incredible individuals who will share their life experiences and professional expertise during the first 2 days. This year, we've brought together a diverse group of best-selling authors, founders, industry leaders, distinguished technologists—and even one innovative prison system entrepreneur who knows a whole lot about determination, perseverance and second chances. Join us to hear their stories and see for yourself how simple—but brilliant—ideas are generated, nurtured and brought to life. Check out the complete conference schedule.
Keynote Speakers
Safi Bahcall, Author of Loonshots
Day 1 @ 9:30am
Do you ever wonder why interesting ideas are sometimes dismissed in favor of safer, mediocre ones? Turns out, it has a lot to do with team dynamics and corporate structures. In his Wall Street Journal bestselling book, Safi Bahcall explores the concept of "loonshots"—or crazy radical ideas that lead to monumental breakthroughs—and how we can adjust our team behavior to allow them to flourish. In the words of Nobel Laureate Daniel Kahneman, this book—appropriately titled Loonshots—is "not to be missed by anyone who wants to understand how ideas change the world." 
Catherine Hoke, Entrepreneur, Author and Speaker
Day 2 @ 9:30am
Catherine Hoke is a radical entrepreneur who has found ways to use failure as a catalyst for change and innovation. After touring some of the most notorious prisons in America, she discovered that many of the inmates possessed strong entrepreneurial and business skills, just waiting to be put to good use. And that's exactly what she did! Catherine founded two successful non-profits, Prison Entrepreneurship Program and Defy Ventures, aimed at helping incarcerated people get the education they need to change their lives and reduce recidivism overall. As a result, more than 5,000 people have graduated from these programs, many of whom even earned MBA certificates. Catherine later founded a for-profit venture called Hustle 2.0, delivering life-transforming education to millions of Americans who went through the justice system.
Michael Powell, President and CEO of NCTA
Day 2 @ 4:15pm
Michael Powell not only understands innovation and technology, he spent decades of his life promoting and regulating its progress—first as a chairman of the Federal Communications Commission (FCC) and later as the president and CEO of NCTA. He's also served as chief of staff of the Antitrust Division of the Department of Justice, policy advisor to the Secretary of Defense and armored cavalry officer in the U.S. Army. During his career, he had a front-row seat to the digital revolution of the 1990s and early 2000s, overseeing the proliferation of the Internet, cell phones, Wi-Fi and other pivotal technology we can't live without today. Join us to learn about his take on the future of innovation.
For a full list of speakers, please visit our Summer Conference page, where you'll also find a detailed agenda, registration information and a vendor application for demonstrating your own product.
Spots are filling up fast and next week is your last chance to register!
Collaborate, Share and Learn at Summer Conference 2019
With the beautiful Colorado summer fast approaching, we're ramping up preparations for our  annual three-day Summer Conference in Keystone—a place we like to call "Faster, Together." It's where professionals from all corners of cable gather to reflect on the state of the industry, sneak a peek into the future and exchange ideas on how to get there faster.
Join us this summer and find out how you can:
Get on the same page with the cable community
The agenda is packed with insightful keynotes, panel discussions and product showcases designed to give you a sense of what's happening around the industry. The event sessions cover two tracks: innovation and technical. On the innovation side, you'll learn more about emerging technologies and find out how your company's roadmap measures up with industry trends. On the technical side, you'll delve deeper into how things work and how the global industry can join forces to overcome its current technical obstacles.
Step out of your comfort zone
Many of us are goal-oriented introverts by nature. Great for hitting deadlines, but it's time to take a break from the office and open your mind to new ideas, even if they come from people who have nothing to do with your line of work. Or do they? In the past we've invited speakers from all walks of life—writers, illustrators and even poker players—to share success strategies that you can easily apply in your career.
Build valuable business connections
Tap into a powerful network of operators, vendors, startups and industry experts who share a vision of the connected future built on advanced cable technologies. Every session, project meeting or coffee break is a potential networking opportunity.
It doesn't matter if it came from the mind of a Fortune 500 CEO or a maverick innovator with big dreams, every great idea deserves a moment in the spotlight. Book a slot in Tek Stadium™ to showcase your company's product and get invaluable feedback from hundreds of industry professionals.
Attend exclusive meetings
Attend project meetings that are focused on new technologies and getting them widely deployed sooner. Project meetings are for cable operator members only. 
New Decade, New Possibilities
We're excited to announce that starting in 2020 we are launching an all-new annual event—with a new purpose, agenda and location—to serve the growing needs of the cable community in the new decade and beyond. And since at CableLabs innovation never stops, we're going bigger and bolder than ever before!
This also means that this year's Summer Conference will be our last. Don't miss your opportunity to attend this event—be sure to click below to learn more information and be notified when registration opens!
Event Info
Where:
633 Tennis Club Rd, Dillon CO
Hosted by: CableLabs
When: August 5-7, 2019
Introducing #Fiterator3: CX, Edge Compute, and Cybersecurity
In late 2017, we graduated three incredible startups from the second Fiterator cohort. While we continue to collaborate with them and help them gain traction within (and outside of) our industry, they're busy making over 40 deals happen - so it's time to look into the future and introduce the 2018 Fiterator cohort!
We're really excited about the technologies our new cohort brings to the table this year, ranging from identity security to AI-enabled VR/chat support to a twist on cloud computing. The teams are also pretty badass, and what's even more exciting is how they are going to impact member companies and their customers. We've been hard at work vetting the technology, teams, and business models of these startups - and we're excited to introduce them.
We proudly present Fiterator 2018:
Summer Conference 2018: Register For Our Game-Changing Event
This year marks our 30th anniversary here at CableLabs. Join us at our Summer Conference 2018 August 5-8 in Keystone Co and help us celebrate while you learn, mix with your counterparts from around the world and enjoy spectacular Colorado.
We've put together a special conference this year to mark our momentous milestone with some game-changing innovations, presentations, demos and an impressive line-up of speakers. We'll discuss enormous efficiency increases, from both technical and business perspectives, to help the global cable industry join forces and become bigger, sharper and faster, together. Keynote speakers include:
Annie Duke: As a World Series Poker Champion, author and National Science Foundation Fellow, Annie leverages her experience in the science of smart decision making to excel at a variety of pursuits. She brings her background in cognitive science and poker together to understand how we make decisions, the obstacles that prevent us from making our best decisions and how to create practical solutions that make decision making more rational.
Brad Shaw: Chief Executive Officer of Shaw Communications and a 30-year veteran, Brad will share how his company has disrupted the industry and redefined how a cable company can thrive in a fast-changing environment. Brad sits on our Board of Directions and his valuable input contributes to many of our innovations.
Tim Urban: Creator of the stick figure illustrated blog, Wait But Why, Tim is one of the internet's most popular writers. Elon Musk is such a big fan that he asked Tim to interview him about his companies, resulting in the in-depth Elon Musk Blog Series. His Why Procrastinators Procrastinate presentation was the most-watched TED talk of 2016.
Agenda
We know many of you come to "take a peek at the future" and you'll be covered. Take a look at the agenda to get an idea of the hot topics, from 5G rollouts to crushing latency in networks to Micronets to Blockchain, and much more. Don't miss our CTO Roundtable, with members from Europe and the US, giving their take on technologies from DOCSIS 3.1, IP video and next-generation architectures.
CableLabs subsidiary UpRamp works with some of the brightest emerging technology companies in the world. They will introduce you to 6 such companies who are changing the landscape of our industry. We know you're a hard crowd to impress, but these 6 companies will grab your attention and get your creative wheels turning. We will also be introducing the companies in the 2018 UpRamp Cohort.
Connect with our Speakers
You told us you want to connect on a deeper level with some of our presenters, and we're introducing a new app which will allow you to set up a 15-minute meeting with anyone on our schedule. It's a great opportunity to form bonds and get all your questions answered by our expert presenters. Watch this space to get more info. Or better yet, sign up now for the conference, and get early access.
What's a Party without a BBQ?
CableLabs subsidiary Kyrio will host a Colorado-style BBQ on Monday, August 6 at Keystone Stables, with transportation provided. Come out, meet your fellow attendees and help us celebrate our 30th.
CableLabs Member? Stay the Extra Day
On August 9, we are hosting our Behind the Curtain event at our Louisville, Colorado labs. Not a part of our regular program, but this event is something extra you shouldn't miss. You'll get a chance to see and hear about the disruptive technologies we're working on behind closed doors. It's a perfect chance to view demonstrations, get involved, and collaborate with us on positioning and rollouts of these exciting new technologies.
Register now to reserve your space for our special 30th anniversary Summer Conference 2018. We can't wait to see you in Keystone!
The Rise of Autonomous Bots and Vehicles
I live in Los Altos, California, a small town in the heart of Silicon Valley. I've been an early adopter of autonomous bots and vehicles—voluntarily and involuntarily—for over 5 years.  I'm talking about a new class of appliances, I call them "Autonomous Citizens," that have both permission and ability to move autonomously completing tasks in my home, at work or in my community.
When these autonomous creatures first showed up in my world, I was in awe and had some trepidation, but today I live with them without a great sense of novelty -- they do their thing and I do mine. It's weird to admit this, knowing the rest of the world isn't having such a "First World" experience.  But, given my journey so far, I believe it will be less than a decade before the rest of the world feels the same way.
I predict, autonomous citizens, in many shapes and sizes, will become as ubiquitous as our smartphones. (Keep in mind smartphones were just coming to market about a decade ago and now we can't live without them). This emerging technology, which relies heavily on advancements in networking, sensors, A.I., big data and new materials, can solve many big problems, but will also create new ones.
This makes Autonomous Bots & Vehicles an area ripe for innovation and the topic of our next Innovation Boot Camp, a 3 ½ day immersive innovation training April 24-27, 18 in Sunnyvale, CA. Here, I'd like to share a couple of funny stories to help illustrate what's happening in this space and why this emerging technology is on our radar at CableLabs.
When the Autos Moved In…
Years ago, an inspired group at Google created a moonshot innovation challenge to eliminate "death by car."  A worthy endeavor, given car accidents caused 40k deaths in the US and 1.3M Internationally in 2016 alone. The number of injuries, some permanent, are 10x higher. Google decided to make a big bet and the Google X autonomous vehicle project (now called Waymo) moved their headquarters into an unmarked building near my home.  And soon after, my new neighbor became ground zero for the automated vehicle revolution.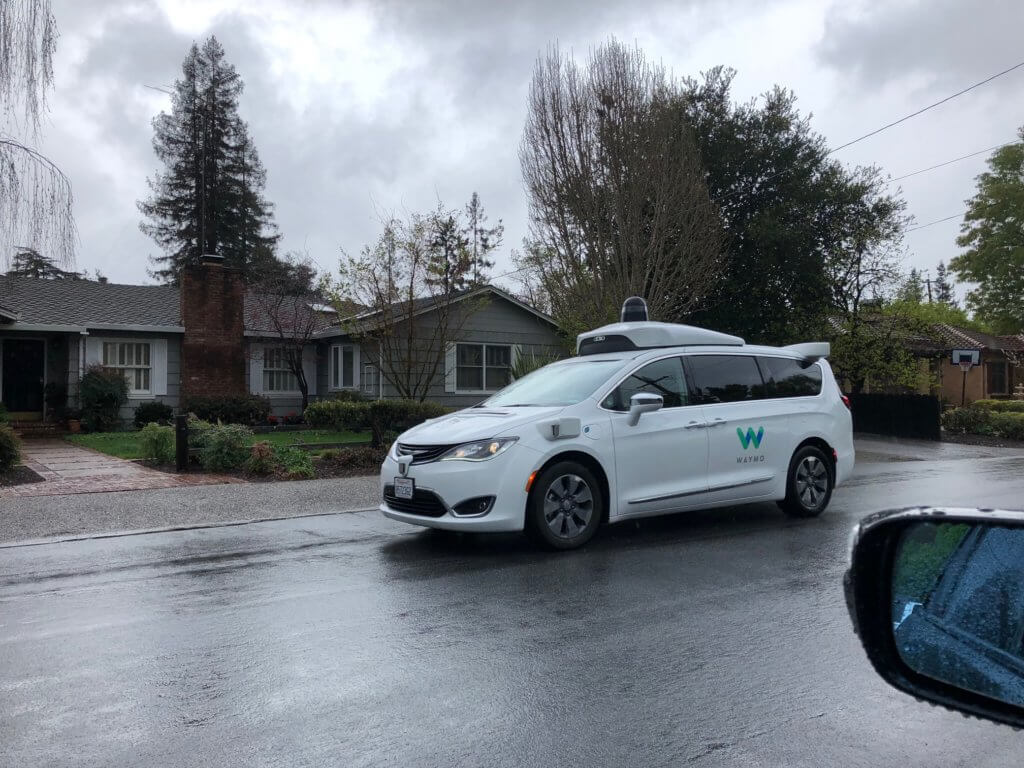 Waymo started testing these autonomous vehicles in my community about 5 years ago, and I have personally driven in front of, behind, and next to self-driving cars of various shapes and sizes. At first on a weekly basis, and now almost every single day since.  You may be surprised to hear, I have no concern walking or riding my bike around them anymore. Many people in my community, myself included, will privately admit that we have provoked the vehicles many times just to see how they would react (tailgating, lane drifts, cut offs, etc. ). I don't recommend doing this, but it was just part of our collective curiosity phase!
Auto Observations and the Lost Ticket
I could share so many annoying, strange and funny stories about autonomous cars, but one stands out. A couple of years ago, only a few blocks from my home, a Mountain View police officer pulled over one of these vehicles and found no driver at the wheel. The officer had no idea who to ticket for driving too slow on a major street. This occurrence made local front-page news and was the talk of the town. Ultimately, the ticket and a major hand-slap found its way to Google, and rogue testing of vehicles without human assistance was outlawed on our roads. Citizens breathed a sigh of relief upon hearing this news, and multiple car companies (all testing cars in my area) now only conducted their testing with drivers at the ready—just in case. In April 2018, this will change, and unmanned vehicles can be permitted by the California State DMV.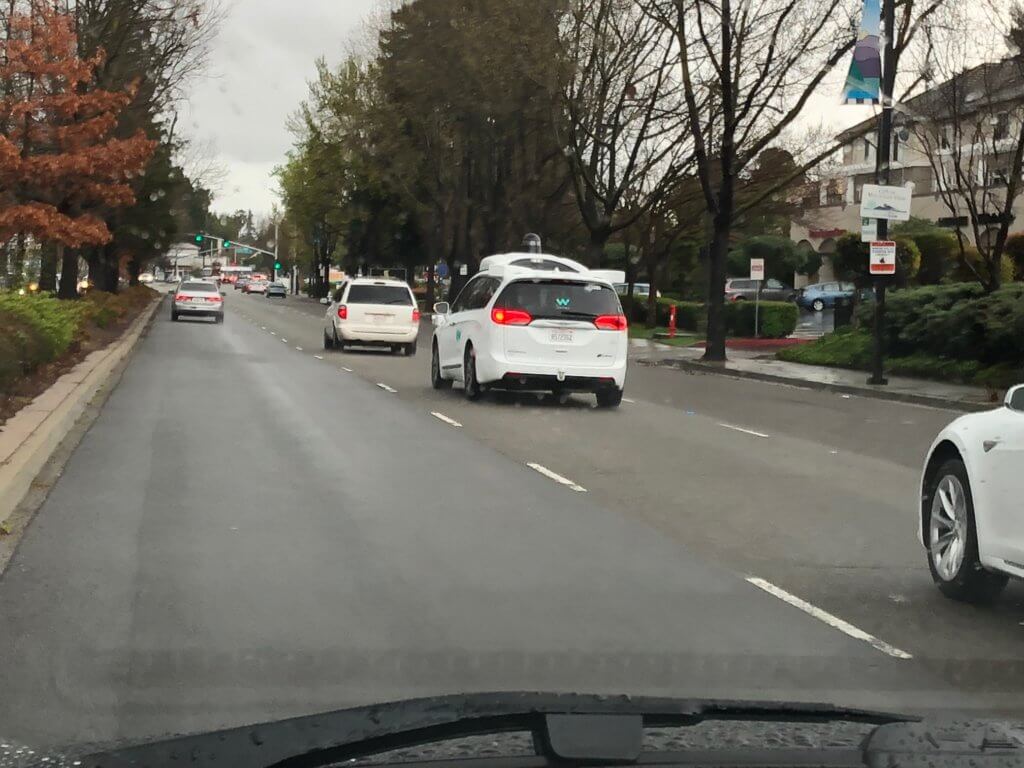 On a more personal level, I come across the Waymo vehicles every day and have luckily never seen a collision or close call. Reports show that the number of times human assistance is required is very low, especially for the Waymo Cars.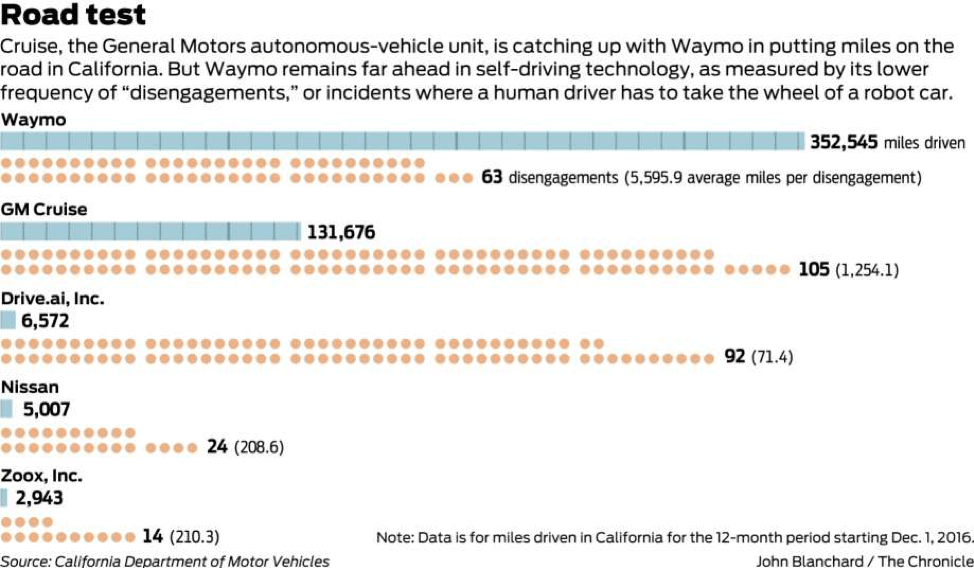 I notice that autonomous vehicles drive with far more respect and consideration than most human-driven cars on the road. However, they can be annoyingly slow to turn and will follow the speed limit rigidly, even despite the flow of traffic—when drivers are bending the rules a bit.  However, just as this blog was in development, a woman in Tempe, AZ was walking her bike at night across a multi-lane road (no crosswalks in sight) and was struck by an Uber autonomous vehicle which had an assistance driver sitting behind the wheel on a test run.  Sadly, this woman died from her injuries and the accident is under investigation.  I was heartbroken for all involved in this tragedy.  Uber and Toyota Motors both halted testing until the investigation is complete.
Waymo and others continue to test in our area as they utilize different technologies, perhaps more mature. I won't pretend, my trepidation has risen on this news -- were the sensors blocked, networks too slow, not reliable or untrained for this scenario?  To me, this is like the early days of flight.  I expect many innovations are possible to help protect pedestrians and assistance drivers avoid such horrors in the future, and I know the industry will learn from it and press on.
Bot to the Future
As a career innovator and witness to many exponential market climbs and disruptions, I believe that the autonomous bots and vehicles space is an area ripe for innovation opportunity, challenges, and deceptive disruption. As you can see from the CableLabs Emerging Technology Timeline, it's on our radar. New control points for networking, communication, entertainment, commerce and business are up for grabs with these new Autonomous Citizens. And it's not just on the roads, soon we will have Nanobots in our bodies, autonomous gardening bots in our yards, delivery drones and other services bots in our homes and offices.
For example, my home has 2 long haired pets, "Mr. Fluffy" our long haired cat and "Buddy" our Golden Retriever Dog, with non-stop shedding driving me crazy. So, a couple of years ago I became an early adopter (and champion) of autonomous bots in the home and brought a Roomba home to help with my sanity and drive my animals crazy 😊.   It took a few weeks for our new "Autonomous Citizen" to map the place and build a cleaning schedule optimized for the level of shedding of our beloved pets.  After a while, we got used to each other and for many months had an almost dander free home.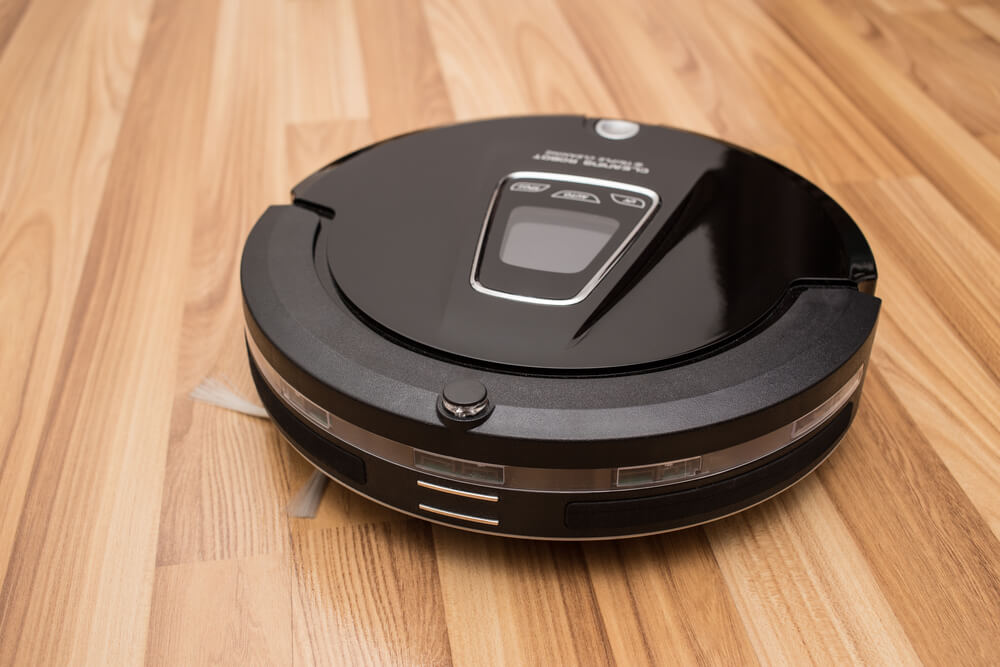 Then one day our Roomba went missing and all that remained was a base station with it's blinking light and beacon calling the Roomba back home day after day, week after week. Tragically the Roomba has never returned. And, we have looked everywhere for it, now assuming it drove out our front door accidentally, perhaps one of our teens or their friends left the front door open without noticing. My kids, insist the cat let the Roomba out instead 😊. Again, my trepidation about these bots rises and I wonder could my home network and sensors have been more alerting or sensitive to such a scenario, or perhaps a "Find my Bot" App should be developed.  That's the way of innovation! I expect new solutions will come to market to ease the transition to this new class of appliances in our lives, much like the adoption of dishwashers, toasters and coffee makers.
Bots at Bootcamp!
If you find this emerging technology as compelling and as ripe for innovation as I do, join us at CableLabs' Innovation Boot Camp, April 24-27, 2018, in Sunnyvale, California.  Early bird pricing ending soon, sign up ASAP.
You do not need to be an expert in the autonomous bots and vehicles to participate. Focusing on the topic simply allows us to build a learning lab of real-life situations as you apply new techniques for generating breakthrough ideas through our tours, workshops and coaching. And there is no better place to explore this emerging technology than in the heart of Silicon Valley.
Got a great autonomous bot or vehicle story?  Then add a comment, we'd love to hear!
About the Author
Michelle Vendelin is CableLabs' Director of Innovation Services. She is instrumental in facilitating innovation sprints and coaching innovation at CableLabs. She is the producer of the Innovation Boot Camp, CableLabs' bi-annual immersive innovation training, featuring daily keynotes and workshops with Phil McKinney, CEO of CableLabs and best selling author/podcaster.
12 Things We Learned at Summer Conference 2017
Last week, at our annual Summer Conference in the picturesque Rocky Mountains, 350 cable operators representing North America, South America, Europe, Asia and Australia gathered together to explore cutting edge technology products. From VR to AI to autonomous vehicles, President and CEO Phil McKinney introduced several ways CableLabs is set to enhance our quality of life through broadband networks and wireless connectivity.
Not only did we witness the world premiere of our groundbreaking vision video The Near Future. A Better Place, we made some new connections and learned plenty along the way. So, without further ado, here are some of our biggest takeaways from our best Summer Conference yet...
Innovation requires dedication every day.
Creativity is important. Making time to think creatively can pay large dividends. Just as a person would strengthen their physical muscles, we must also tone our creativity "muscles". We do this by abandoning the status-quo and pushing ourselves out of our comfort zones.
Make a fool of yourself, work with the unexpected, give things away, realize you can't do it alone and ask the unasked.
Don't be afraid to fail. Perfection is overrated and often holds you back from innovating something truly amazing.
Share your innovation early. You will inspire others and they will inspire you to improve in unusual and meaningful ways.
Try to be conscious of your biases. They might keep you from listening to someone with a good idea (or a critical warning).
Artificial intelligence will soon power everything in our home from robots to mobile devices to holograms. AI will know everything when it comes to the details of a patient's treatments so that people can remain in the comfort of their own home.
There's been nearly 100 years of history with wireless technology starting in 1918 with Germany's wireless telephony experiments on military trains.
Not all innovation comes from Silicon Valley. UpRamp announced 4 new fiterator companies featuring technology in AI, IoT, P2P CDN, and Cybersecurity from places including Pittsburgh, Pennsylvania, Alexandria, Virginia and Madrid, Spain.
AI capabilities should not be outsourced and should live close to the business units. It's not simply a problem of the technology stack, but how AI can be paired with intuition to make better business and product decisions.
It's an amazing time to rethink wireless. The Internet of Things will force us to reimagine what a wireless network could and should be.
Rain doesn't stop a Kyrio BBQ!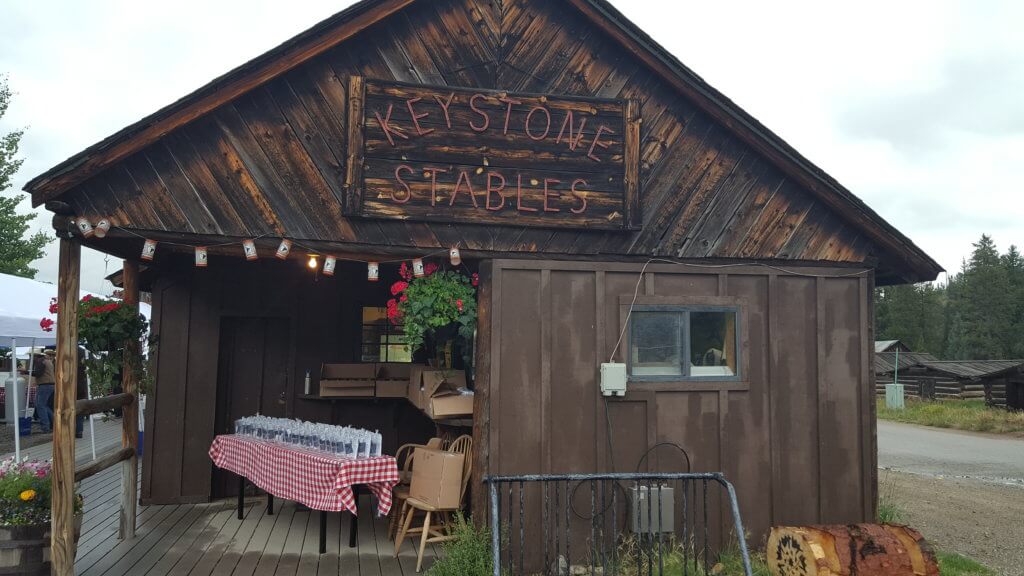 CableLabs is the innovation lab for the global cable industry focused on innovation with purpose. Watch our video here and check out our Buzzfeed article "10 Ways Tech will Change your Life in the Near Future" to learn more.
Leave a comment below to let us know how the technology of the future inspires you and what you learned from our 2017 Summer Conference.