Converged Carriers, Femtocells and Spectral Efficiency: Rethinking the Traditional Outdoor Small Cell Deployment
With the release of any new generation, or "G," in the cellular world, the goal is always to outperform the previous generation when it comes to spectral efficiency—that is, how many bits you can pack into your slice of airwaves. To telecom nerds, this is expressed as bits per second per hertz (bps/Hz). Going from 3G to 5G, peak spectral efficiency skyrockets from 1.3 bps/Hz with 3G, to 16 bps/Hz with 4G LTE , to 30 bps/Hz with LTE-A, and to a truly eye-watering 145 bps/Hz with 5G (in the lab).
And it makes sense: Spectrum is an expensive and limited resource. Operators pay billions for every MHz they can acquire.
Not What It Seems
Unfortunately, the reality of spectral efficiency in deployed mobile networks is far less stratospheric. A 2017 study pegged spectral efficiencies for a live LTE network at roughly 1 bps/Hz on average with a peak of about 5.5 bps/Hz. So where did all that spectral efficiency go?
The short answer is that it ran smack into a wall. Literally! In 2016, ABI Research Director Nick Marshall said that "more than 80 percent of all traffic [is] originating or terminating indoors," and we serve the vast majority of that traffic with outdoor cells.
The Inertia of Tradition
In the push toward 5G, we hear a lot about network densification. So far, given the amount of effort going into changing the siting rules, it sounds like the plan is to deploy more outdoor cells to help increase spectral efficiency in 5G networks. In a recent RCR Wireless News article, the headline read "US outdoor small cell antenna shipments to grow by 75% in 2018: Study" citing a study by EJL Wireless Research.
Putting aside the immense issues facing the economics of that approach (more on that in the next blog post covering our TCO analysis), it still relies on an architecture of deploying outdoor cells to handle a largely indoor traffic load. It still puts literal barriers in the way of increased spectral efficiency.
Airtime Perspective
Let's quantify this issue a bit to make sure we have a shared perspective on the system capacity impact of using outdoor cells to handle indoor traffic because it's a big deal.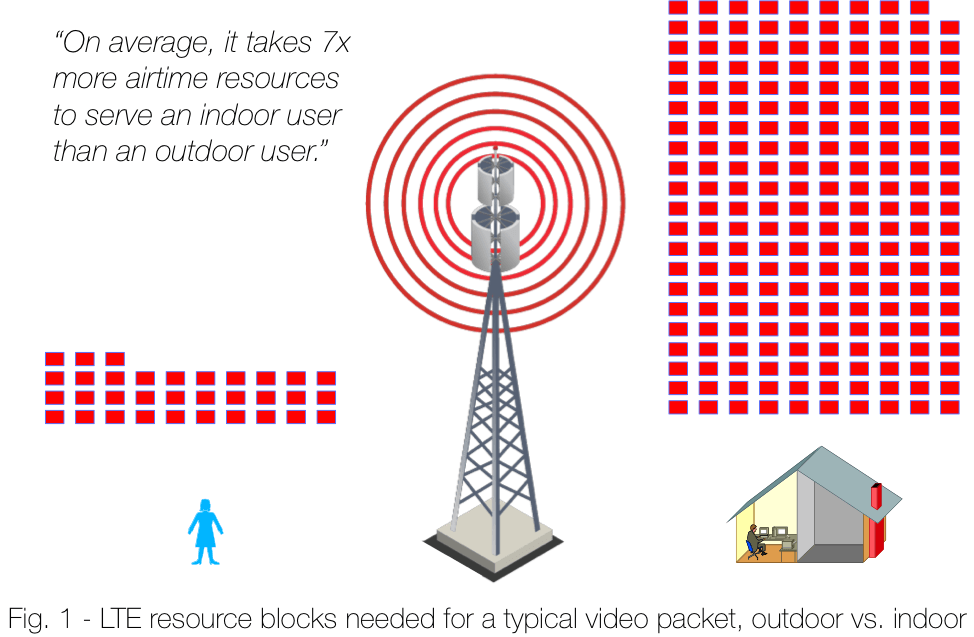 Sending a typical video packet from an outdoor cell to an outdoor user takes 33 resource blocks, whereas sending that same frame to a deep indoor user can take 209 resource blocks (1500B IP packet, I_TBS 3 vs I_TBS 19, TM2 with 2TRx)! On average, it takes seven times more airtime resources to serve an indoor user than an outdoor user.
Given the inefficiency, why are we still trying to cross the walls?
User Behavior
It's probably not news to anyone that indoor penetration is costly. A common industry view says that when a user is indoors, his or her data should be served by Wi-Fi to offload the burden on the cellular network. Industry reports are produced every year showing that large amounts of traffic from mobile devices are offloaded to Wi-Fi networks (e.g., ~80 percent in 2017).
However, as the industry moves toward unlimited data plans, and as mobile speeds increase, the incentives for seeking out Wi-Fi for offload are diminishing. A recent CableLabs Strategy Brief (CableLabs membership login required) provides empirical data showing that Wi-Fi data offload is declining as adoption of unlimited data plans increases. The trend, across all age groups, shows increased cellular data usage. So as demand for cellular data is going up, an increasing portion is going to be crossing the walls.
There are a number of long-held complaints about the Wi-Fi user experience. I won't enumerate them here, but I'll point out that as the incentives to offload data to Wi-Fi are weakened, even the slightest hiccup in the Wi-Fi user experience will drive a user away from that offload opportunity at the expense of your cellular system capacity.
Introducing Low-Cost Femtocells
There's a growing breed of operator that has both cellular operations and traditional cable hybrid fiber coax (HFC) infrastructure—a big wired network and a big wireless network (Note: here I am talking about full MNOs with HFC/DOCSIS networks, not MVNOs. MVNOs with HFC/DOCSIS networks will have different goals in what optimizing looks like). For these operators, the carrots of convergence dangle in all directions.
Over the past couple of years, CableLabs has ramped up efforts to solve the technology issues that have traditionally hindered convergence. Latency concerns for backhaul or vRAN fronthaul can be resolved by the innovative Bandwidth Report project. CableLabs leadership in the TIP vRAN Fronthaul project is making latency-tolerant fronthaul protocols a reality. Timing and synchronization challenges presented by indoor deployments are months away from commercialization, thanks to CableLabs' new synchronization spec.
The summation of these projects (and more on the way) provides a suite of tools that converged operators can leverage to deploy mobile services over their HFC/DOCSIS network.
Enter the femtocell deployment model. Femtocells aren't new, but with the new technologies developed by CableLabs, for the first time, they can be done right. Gone are the days of failed GPS lock, poor handover performance, and interference issues (topics of our 3rd blog in this series). From a spectral and economic viewpoint, femtocells over DOCSIS are poised to be the most efficient deployment model for 4G evolution and 5G cellular densification.
Wi-Fi Precedence
Take Wi-Fi as a guide to how femtocells can improve spectral efficiency. Modern Wi-Fi routers—even cheap home routers—regularly provide devices with physical link rates approaching 10 bps/Hz. That is a huge gain over the sub-1 bps/Hz achieved using an outdoor cell to serve an indoor user. In such a scenario, the benefits are myriad and shared between the user and the operator: The user experience is dramatically improved, the operator sees huge savings in outdoor system capacity, and it all occurs with more favorable economics compared to traditional small cell strategy.
When selectively deployed alongside home Wi-Fi hotspots, indoor femtocells give the converged operator the chance to capture the majority of indoor traffic with an indoor radio, freeing the outdoor radio to better serve outdoor traffic.
More Discussion to Come
In this post, I talked about the spectral efficiency problems of traditional outdoor small cell deployments and how a femtocell deployment model can address them. Next time, I'll discuss a total cost of ownership (TCO) model for femtocells over a DOCSIS network, both full-stack and vRAN-based solutions.
And don't take my word for it! Stay tuned to the CableLabs blog over the next couple months for more discussions about cellular deployments over a DOCSIS network.
A Super-Fast, Super-Connected Wireless Future Requires a Balanced Spectrum Policy
This article was originally published by Morning Consult on Aug. 9, 2018. You can find the post here. 
Recently, the Senate Commerce Committee held a hearing on the race to 5G, exploring how we can harness the power of wired and wireless broadband to drive transformative communications innovation, and what the government can do to support and accelerate industry efforts. Testimony from a range of ecosystem players – mobile, cable, satellite, and equipment suppliers – made clear that the 5G vision of ultrafast speeds, minimal latency, and expanded coverage across the country will be delivered by a variety of new technologies that will transform our connected lives.
Getting there will require policymakers to unleash wireless bandwidth – the spectrum – that will enable this new world.
At the hearing, industry representatives agreed that the future of connectivity will require access to robust licensed, unlicensed and shared spectrum. Unlicensed spectrum in particular, as Charter Communications Inc.' Craig Cowden pointed out, will play a key role in the delivery of 5G.
Unlicensed spectrum is open to all and is already intensively used for Wi-Fi, which Americans rely on for broadband access. The central role of unlicensed spectrum will continue in our 5G future, as the growth of Wi-Fi continues and new technologies are developed. It is therefore essential that policymakers include unlicensed spectrum in any 5G discussion, and that Congress and the FCC work to expand this wireless bandwidth.
Wi-Fi and unlicensed spectrum already are central to Americans' everyday lives. Wi-Fi carries the majority of all internet traffic now, with 3 billion Wi-Fi devices being deployed this year alone. Last year, over 60 percent of all mobile data traffic was offloaded from cellular networks onto Wi-Fi. Internet of Things devices, which will reach over 11 billion this year, rely on Wi-Fi more than any other connectivity technology. It is a ubiquitous element of our modern economy – e-commerce, medical services, transportation and finance, among other sectors, are all dependent on Wi-Fi connectivity.
Wi-Fi added more than $525 billion in economic value to the U.S. economy just in 2017, according to one estimate. In the coming years, Wi-Fi is expected to grow further, offering increased reliability, lightning-fast gigabit speeds, and seamless secure connectivity. The cable industry – including my organization, CableLabs – is working hard to improve Wi-Fi and other unlicensed technologies for consumers in support of the 5G vision.
There is now a specific opportunity to give this innovation a boost through spectrum, in particular, the 5 gigahertz frequency band. Parts of the 5 gigahertz band are already used by Wi-Fi, and it is home to many new wireless innovations. But to fully enable these latest technologies, the spectrum available for unlicensed services in this frequency range must be expanded upward, into the 5.9 gigahertz range. When this happens, industry can and will rapidly put this spectrum in the hands of consumers.
The 5.9 gigahertz band is our country's best near-term unlicensed spectrum opportunity for several reasons. First, it offers sufficient bandwidth to support wireless innovation through a wide range of technologies and services. Second, since it is an outgrowth of already heavily-used frequencies, it is easily adopted by wireless equipment – a rare opportunity in spectrum allocation, where it usually takes years to get new bandwidth into the hands of consumers. Third, the band is largely unused and has been for the past 20 years. No other spectrum opportunity has fewer existing services to consider.
Having spectrum available that promotes innovation and connectivity is critical to our connected future. Making the unlicensed 5.9 gigahertz frequency band available for new wireless services now would represent one significant step forward in the global race to 5G.
Interested in learning more? Take a look at our Inform[ED] Insights by clicking below. 
Meet CableLabs Tech Policy Whisperer Rob Alderfer
Spectrum is the bandwidth in the sky that has fueled our wireless technology revolution. However, there's been a lot of talk about spectrum shortages recently. With an essential resource in such high demand, the focus has become how do we free up more spectrum and make the best of what we have? Now, meet the man shaping technology policy and standards to meet these challenges.
Rob Alderfer is Vice President of Technology Policy at CableLabs. An expert in wireless spectrum, Rob is responsible for CableLabs' technology policy and standards strategy. His team has been instrumental in the development of wireless spectrum and broadband policy, as well as cybersecurity and energy efficiency standards.
Rob has been involved in communications technology policy for over a decade. Before joining CableLabs, he was the Chief Data Officer for the Federal Communications Commission's Wireless Bureau, where he guided United States wireless broadband policy. While at the FCC, Rob engaged regularly with the Chairman and other senior Commission leaders as a trusted advisor on spectrum policy and data analysis. Previously, he was an analyst at the White House Office of Management and Budget and was responsible for the development and implementation of communications policy and programs across two administrations.
Outside of CableLabs, Rob serves as chair of the Telecommunications Policy Research Conference (TPRC) program committee, the world's foremost communications policy research conference. He is also a partner with Social Venture Partners of Boulder County, helping non-profits deliver strong results. When not preparing policy, you may find him enjoying beautiful Colorado with his family, hiking, biking, and skiing.
Now, watch the video below to learn more about the man working on freeing up spectrum for broadband use.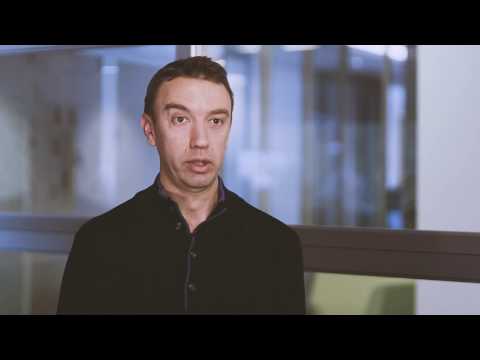 You can read more about what Rob's working on in his blog posts and Inform[ED] Insights: "Cable: 5G Wireless Enabler" and "Cable Broadband Technology Gigabit Evolution." Subscribe to our blog to learn more about CableLabs and spectrum in the future.
We Need a Spectrum Festivus for the Rest of Us
Season's greetings! As we get our annual lists together, here's one I bet you forgot: Spectrum. But, I'm sorry to tell you, without spectrum that shiny new iPhone X won't live up to its potential.
Spectrum is the fuel for our wireless communications revolution. It is the bandwidth in the sky – literally, we're talking about airwaves - and without it, our devices suffocate. We now have more mobile phones than people, and the "things" in the Internet of Things number in the billions, with more to come. With all of that growth, we are running out of spectrum space!
How to get more?
Well, it's complicated. Spectrum is apportioned by the government, so ultimately we need regulators to make more space for us. It's a pretty technical job, and CableLabs has been involved in pushing that forward for years, particularly for Wi-Fi and other innovative technologies. But, it is a job that's never done, because we keep seeing more wireless growth. So there's much more for the government to do here. And we have ideas… are you listening, Washington, Ottawa, Beijing, and Brussels?
But, there's an industry role here too.
With the spectrum we have, we need to make the best use of it – and that will be true regardless of how much more spectrum governments make available. That's up to us to figure out, especially in Wi-Fi spectrum, which is also home to many other technologies. That's right, we have to learn to share. This is done through technical standards, which set the rules of the road so that we all play nicely with each other. As more technologies are developed – LTE-U was just the beginning - and with more and more devices sharing the spectrum, playing nicely is going to become ever more important.
So, this holiday season, spectrum sharing is caring. Happy holidays!
You can learn more about spectrum by watching our video below: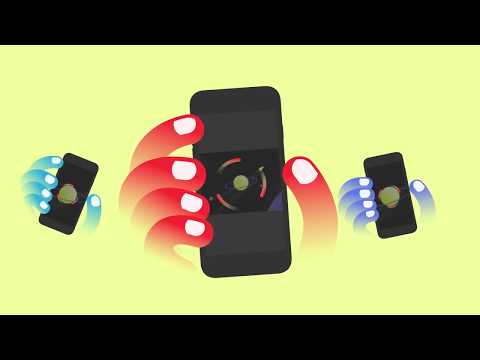 Momentum Builds for 3.5 GHz Mobility in 2018
What is the 3.5 GHz Citizens Broadband Radio Service?
Last year, the U.S. allocated 150 MHz of spectrum for fixed and mobile broadband use under the newly-created Citizens Broadband Radio Service (CBRS) in the 3550-3700 MHz band. To put 150 MHz of bandwidth into perspective, this is roughly equivalent to the total spectrum that each of the Big 4 U.S. wireless operators have licensed to date.  With 10 MHz channels, this is ideal for LTE TDD and small cells with transmitter powers of 1W/10 MHz EIRP for indoor use and as high as 50W/10 MHz EIRP in rural locations. This is great for MSOs who have the key locations, backhaul and power where people use data, either inside buildings or outside via their external cable infrastructure. For example, in metro areas, MSOs can place 10W/10MHz EIRP small cells on cable strands for great coverage. It is the first time that fixed operators will be allowed to use LTE in unlicensed spectrum.
CBRS is the world's first three-tier spectrum sharing framework in which one or more Spectrum Access Systems (SASs) will actively manage 1) incumbents, 2) priority access licensed (PAL) users, and 3) general authorized access (GAA) users. Basically, the SAS will tell the Access Points, called CBRS Devices (CBRDs), which channels to use to avoid interference to other users in a given geographical area. CBRS contains both licensed spectrum, with seven PAL channels, and unlicensed spectrum, with eight GAA channels, in over 73K census tract areas across the US. The PAL license period is three years with an initial right to renew for a further three years. In areas where the auction for PAL is unsuccessful, all this spectrum becomes available as unlicensed (GAA).
Incumbents in the band include shipborne radars operated by the Department of Defense and receive-only fixed-satellite service earth stations. Wireless Internet Service Providers (WISPs), utilities, and other terrestrial users currently in the 3650-3700 MHz segment are required to transition from 50 MHz of spectrum to 150 MHz of CBRS. The main issue for use of 3.5 GHz in the coastal regions of the U.S. is the detection of shipborne radars used by approximately 30 U.S. naval carriers. However, these ships are normally stationed globally. To detect the arrival of one of these ships on either the East or West coasts of the U.S. requires building an Environmental Sensing Capacity (ESC) – a radar detection network. The ESC will inform the SAS which channels the radar is located on in a given area so that current users are moved to adjacent channels. Normally, the radars will only occupy one or two channels over a relativity small geographical area containing the current location of the ship. The rest of the spectrum is available to all.
Momentum for 3.5 GHz
The U.S. wide commercial timeline for 3.5 GHz use is dictated by the availability of the SASs, ESCs, commercial grade network equipment, and capable end-user devices. The recent Mobile World Congress (MWC 2017) in Barcelona, Spain showcased  the status of many of these time critical components. CableLabs hosted its own workshop there, inviting several of the key players in the 3.5 GHz space.  Many companies on the show floor demonstrated their readiness for 3.5 GHz.
Of course, the guarantee of success is not only the availability of technology but also the willingness of key players to adopt and bring consensus support for the opportunity - particularly for a U.S. specific band where wide adoption is key. In particular, this is key for the most important component of the technology – the smart phone. Recently, Verizon committed to 3.5 GHz in an interview with FierceWireless.
Equally, T-Mobile, Sprint and AT&T are eyeing LTE deployment in the 3.5 GHz band. All four of the US mobile network operators are members of the CBRS Alliance which is driving the LTE TDD use of this band for mobile.  CableLabs was one of the first organizations to join to help set the direction of CBRS for our members. Charter and Comcast are now also members bringing key MSO support.
The collection of these mobile operators and the larger MSOs with interest in 3.5 GHz will help create the interest among the tier one handset vendors, such as Apple and Samsung, to support this band. Actually, at MWC 2017, Sony has already announced the support of band 42 in their new handset for Asia which supports the first 50 MHz of the CBRS band. One terminal research web site, The Global Mobile Suppliers Association (gsacom.com), claims that the new Samsung Galaxy 8 in April will also support band 42 at its launch. This is compelling since it means the engineering "tweaking" of the handset antennas has largely been solved. Beside these antennas, the silicon support of 3.5 GHz has already been achieved by Qualcomm in their latest Snapdragon modem released in October of last year. All of this bodes well for 2018 and handset support of the new CBRS band 48.
Outside the key handset issue, it is expected that the SASs and ESCs will be up and running at the end of 2017, promising full spectrum availability across the U.S. in 2018. The PAL auctions are expected towards the middle to end of 2018, but in the meantime operators will have access to all the spectrum as GAA.
Again, there was no shortage at MWC 2017 of the availability of Access Points (CBRDs) both for indoor and external use from the likes of AirSpan, Accelleran, Juni, Nokia and Sercom. And, I am sure I missed others there as well.
On the SAS side, Federated Wireless and Google are probably the leading SAS providers at the moment. However, besides Federated and Google, other WinnForum members which were successful in gaining licenses from the FCC in the first phase include Amdocs, Comsearch, CTIA, Keybridge and Sony. The WinnForum is driving the standards for the SAS and SAS to SAS interconnections. Again, here CableLabs is also a member.
Customer Propositions
BGR found last year that the average speed of LTE in the U.S. was only 10 Mbps, placing us at number 55 in the World with Singapore at number one with an average speed of 37 Mbps according to OpenSignal's data. Here the customers needs are met by external macro-cellular networks which lose speed as they pass thru walls. However, locating small cells inside buildings, where 80% of mobile data is consumed today, can offer speeds as high as 570 Mbps if all of the GAA spectrum (80 MHz) is used with 4x4 MIMO. Even with access to just two channels, 20 MHz, this will offer 7 times faster than the average LTE network here according to CableLabs testing with 2x2 MIMO. But why stop there? We can aggregate 3.5 GHz and WiFi to reach a potential 1.4 Gbps.
CableLabs' UpRamp Fiterator® has already identified one company, Trinity Mobile Networks, which uses Multipath TCP to aggregate both WiFi and Macro cell LTE networks to combine the speed of both. While in 2015, SK Telecom in Korea launched "Giga cells" which combines their WiFi network with LTE to reach 1.17 Gbps speeds in Android phones.
And Finally, One Last Thought
3.5 GHz offers the potential for US operators to offer 5G connection speeds years before 5G! All of this bodes well for an exciting 2018 for 3.5 GHz and for our members to take advantage of this spectrum for both mobile and fixed plays. Remember everything is wireless and wireless is everything!
Next Generation Video: Beyond 4K
4K Video has captured the attention of consumers, retailers and television manufacturers. Next generation video is not just about 4K, though. Improving the video experience goes beyond resolution itself.
CableLabs operates a Video Quality Lab at its Louisville, CO facility where various formats of video streams have been analyzed, compared, and tested in a controlled environment. I have produced a short video that explains factors beyond 4K such as bit depth, color space and high dynamic range that we encourage you to view.
Technical advances offer a new standard for bit depth. Previously 8 bits, the anticipated de facto standard will increase to 10 bits, which will reduce the undesirable phenomenon of color banding for a cleaner consumer experience.
Regarding color space, television manufacturers are anticipated to adopt the ITU Standard of BT.2020 that increases the size of the color gamut.
Finally, high dynamic range, recently introduced to motion pictures, increases the peak luminance output, so that the brighter portions of the video increase in intensity while maintaining detail in the dark portions of the video .
Experience these new video technologies during this 3-minute video segment.
Daryl Malas is Principal Architect in the Application Technologies Group at CableLabs.
Approaches to Increasing Wireless Spectrum
At the 2014 Cable Show, one of the hottest topics was Wi-Fi. It doesn't take long to realize how important access to this suddenly precious resource really is: Studies indicate that the number of wirelessly connected devices will triple by 2020, to a mind-blowing 30 billion devices.
[Related: Wireless Spectrum Infographic]
And with each new device that connects, less space is available in the wireless spectrum. The FCC recently voted to increase usable wireless spectrum in the 5GHz band, but this is a small fraction of what will be needed to support the growing wireless culture.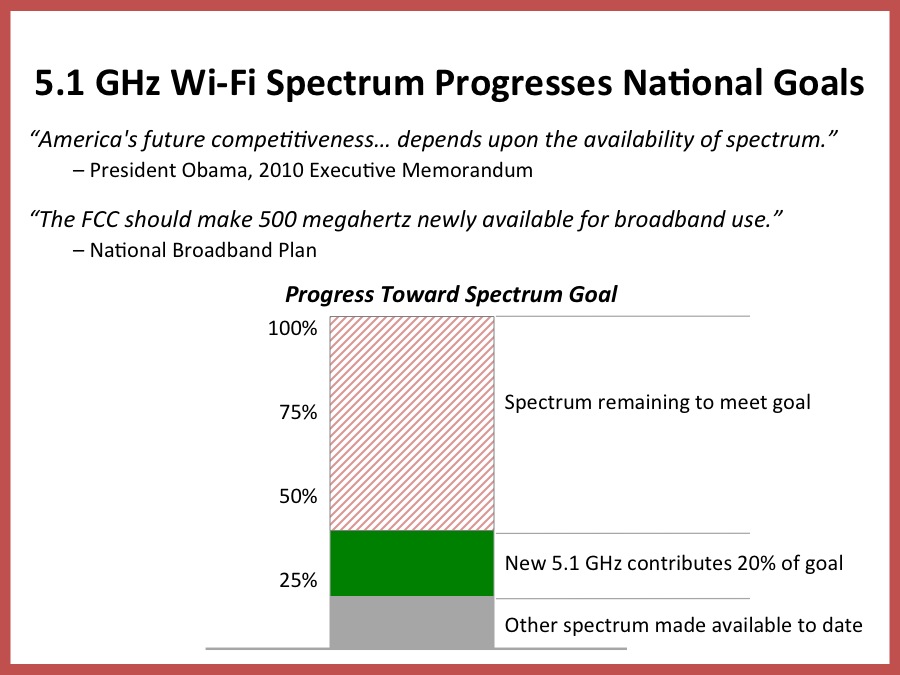 How do we get to a point where there is plenty of spectrum for everyone?  There are multiple approaches.
Reallocating Spectrum
Historically, the government has sought to meet new wireless needs by reallocating spectrum from one service to another. The idea has generally been that each service needs its own exclusive spectrum in order to avoid interference, and as technology changes the FCC needs to shuffle the spectrum portfolio.
For those that can remember all the way back to 2009, the digital television transition was an example of this – the FCC recaptured some spectrum used for TV broadcasts and repurposed it for wireless broadband.  Believe it or not, this process started about 15 years earlier – so reallocation takes time. Not exactly ideal in a world where technology seems to evolve daily.
The FCC already sees new opportunities for further reallocation of TV spectrum to broadband – but hopes to speed it up this time by creating a new two-sided market for spectrum. In essence, they will buy spectrum back from broadcasters in order to put it in the hands of our smartphones and tablets.
The FCC hopes a one-time-only auction will incentivize broadcasters to relinquish licensed spectrum in exchange for presumably very large sums. They get cash in their pocket for giving up space that was under-used, more wireless spectrum is available, and everybody's happy – right?
Possibly. There are a lot of unknowns at this point. Some questions were answered at the May 15 meeting of the FCC, but not everyone can be happy all of the time. Hopefully things will move faster than the last 15-year process, even if keeping up with wireless growth is a near-impossible task.
Sharing Spectrum
Another approach to meeting wireless demand is to open up new spectrum by sharing it among many services, rather than shifting spectrum from one service to another. This is possible because wireless technology has come a long way. Wi-Fi is a great example – it is a fundamentally "polite" technology, since it listens to the airwaves before it transmits. It was built to share.
Without the need to shift services from one band of spectrum to another, spectrum sharing lends a greater ability to keep up with wireless growth. And since a lot of that growth is occurring over Wi-Fi, that's a real opportunity. The FCC's action in March to expand Wi-Fi access to part of the 5 gigahertz (GHz) band is a case in point. And there's more that can be done in 5 GHz, and in other bands like 3.5 GHz.
But the value of spectrum sharing depends on the specifics. We still need to protect against interference, but we also need to be sure that we're not overly protective and discourage productive use of the spectrum. We don't want Wi-Fi jamming military naval radars, for example, but neither do we want Wi-Fi to be confined to Kansas. (No offense to Kansas.)
It's a balance. And CableLabs is doing the R&D to ensure that the right balance is struck.
Increasing Wi-Fi Spectrum: A Roadmap
Ultimately, it will take a combination of approaches to achieve the national goal of wireless spectrum growth.
When CableLabs helped the FCC with research to increase the 5GHz band, there was a concerted effort around interference issues. This collaborative research will serve as the technology roadmap for interference issues surrounding both reallocation and sharing of Wi-Fi spectrum. It's critical that spectrum policy moves forward quickly and effectively to benefit everyone who uses it – and that's all of us.
Rob Alderfer is a Principal Strategic Analyst for CableLabs, where he guides technology policy and strategy across the industry.
FCC Votes to Expand Wireless Spectrum: A Win for Wi-Fi
Today is a big day for Wi-Fi and everyone that uses it – which is, of course, all of us. Our Wi-Fi is about to get twice as good. How? By doubling the size of the Wi-Fi pipe.
The FCC voted today to double the amount of wireless spectrum that Wi-Fi uses in the 5 gigahertz (GHz) band. That's 100 megahertz (MHz) of newly useful Wi-Fi bandwidth.
You might have heard of 5 GHz – it's the globally harmonized home for the latest Wi-Fi technology: 802.11ac, also known as "gigabit Wi-Fi" for its incredibly fast broadband speed. 802.11ac is beginning to hit the market in force – the MotoX and latest Samsung Galaxy smartphones, among many other devices, have it already. Pretty soon, 802.11ac will be in just about everything.
The only problem with gigabit Wi-Fi is that regulations prevented it from reaching its full gigabit potential.
Until today.
It has taken a lot of work by many dedicated people to get to this moment. A little over a year ago, the FCC proposed a number of ways to increase Wi-Fi bandwidth. Additional spectrum is needed to support the continued growth of wireless broadband, which we have written about, and is a central feature of the Administration's technology policy and the National Broadband Plan.
[Related: CableLabs' Work on Wireless Spectrum]
A strong desire to make progress in wireless policy is not enough, however. Success requires attention to detail. In the context of 5 GHz, that means understanding how Wi-Fi can share the airwaves with the other wireless services that use the same spectrum.
That's where CableLabs comes in. In collaboration with colleagues at the University of Colorado, we developed a sophisticated simulation of potential interference between Wi-Fi and a satellite phone system that uses part of the 5 gigahertz band. This analysis served as the technology framework for today's FCC action.
"The FCC vote to expand Wi-Fi access in the 5 GHz band is a great step forward for wireless broadband," said Phil McKinney, president and chief executive officer of CableLabs. "This action substantially increases  Wi-Fi capacity, making gigabit Wi-Fi speeds possible. CableLabs' insights on spectrum sharing, including sophisticated simulation of how Wi-Fi will interact with other services using the same spectrum, played a key role in helping the FCC move forward."
Cable operators will put this new bandwidth to good use, along with the rest of the Wi-Fi community. But to be clear, today's win for Wi-Fi is just the beginning. Regulators in other nations should take note and consider how to fully enable the global gigabit Wi-Fi standard. And the FCC has more work to do as well: Today's newfound 100 MHz of Wi-Fi bandwidth, while significant, is only 20% of the national goal for new wireless broadband spectrum.
What's next, then? A framework for spectrum sharing between Wi-Fi and nascent connected vehicle technology would be a good place to start.
To be continued …
Rob Alderfer is a Principal Strategic Analyst for CableLabs, the global research and development consortium of the cable industry, where he guides technology policy and strategy across the industry. He was the Chief Data Officer of the Wireless Telecommunications Bureau at the Federal Communications Commission from 2010 to 2012, leading data-driven wireless policy to encourage investment and innovation in wireless broadband. Previously, he was responsible for overseeing communications policy and programs on behalf of the Administration at the White House Office of Management and Budget.