CableLabs Specifications Move From De Facto to De Jure
The Merriam-Webster online dictionary defines de facto and de jure as follows:
de facto | di-ˈfak-(ˌ)tō – actual, exercising power as if legally constituted
de jure | (ˌ)dē-ˈju̇r-ē – by right, based on laws or actions of the state
In law and government, de facto describes practices that exist in reality, even though they are not officially recognized by laws, whereas de jure describes practices that are legally recognized, regardless of whether the practice exists in reality.
De facto is commonly used to refer to what happens in practice, in contrast with de jure, which refers to things that happen according to law.
The CableLabs® DOCSIS® series of specifications have been de facto standards for the cable industry for over 20 years. In parallel, CableLabs has contributed its specifications to de jure telecommunications industry standards bodies, specifically the International Telecommunications Union (ITU-T), the European Telecommunications Standards Institute (ETSI), and the Society of Cable Telecommunications Engineers/International Society Broadband Experts (SCTE/ISBE).
In the past, creating a de jure standard was a lengthy process involving the reformatting of the specifications into the standards body's document template, proofreading the reformatting for any errors, submitting the reformatted content as a contribution, and taking it through the standards body's standardization process. These steps could take many months or even years. Because CableLabs' specifications are living documents under strict document control (and may have a certification program linked to revisions under this document control), the official de jure standards body's copy can quickly become out of date. To keep the copy up to date, the process of reformatting, proofreading, submitting, and going through the standards process, has to be repeated with every revision. This reality has led to the unfortunate result that the official de jure standards have been consistently out-of-date.
However, with the SCTE/ISBE publication of the DOCSIS 4.0 standard, now all three of the relevant de jure telecommunications industry standards bodies simply normatively reference the CableLabs specifications, either directly as is the case with SCTE/ISBE and ITU-T, or indirectly as is the case with ETSI. This simplifies the revision process to one of updating a few normative references and approving them. The process of updating these de jure standards has therefore become a much more streamlined activity and the official de jure standards can remain in sync with the CableLabs specifications.
One might ask, "Why does this matter?" Quite simply, it is a matter of law versus fact, as the definitions of de facto and de jure make clear. Regional governments ("the law") globally prefer to recognize standards that result from the due process of a de jure standards body rather than a potentially proprietary solution coming from a single manufacturer or industry consortia. The standards process will vet these solutions and typically come with an Intellectual Property Rights (IPR) policy by which all participants must abide. Now that all of the relevant de jure standards bodies have adopted this practice cable operators around the world can confidently purchase products compliant with the CableLabs specifications, knowing that they are also fully compliant with any of the official standards from the aforementioned standards bodies.
In effect, ITU-T, ETSI, and SCTE/ISBE have all recognized that the CableLabs DOCSIS specifications are not only the de facto global standard, but also the de jure global standard. There is no longer is any gap between the facts and the law.
Specifications Aren't Pretty…But They Are Necessary
Over 22 years ago, my first project at CableLabs was to prepare the DOCSIS® 1.0 Radio Frequency Interface (RFI) specification as a contribution to the International Telecommunication Institute-Telecom Sector (ITU-T). After working in various industries, I found the telecommunications industry to be an exciting new world. During my first week, I started a list of acronyms at the back of my notebook, and it was only the first sip of the alphabet soup I was about to devour.
A far cry from the two-page technical bulletins I previously prepared, CableLabs' specifications were quite different. They were under strict document management control, with engineering changes (ECs) processed against issued versions in order to revise the specs. Learning the entire process took time, even with the help of great coworkers.
I also learned that CableLabs' specifications are innovation-focused and designed to get products to market quickly. Interoperable devices that adhere to common specifications enable consumer choice, widespread deployment of new technologies, and lower per-unit cost due to industry-scale economics.
CableLabs' specifications are driven by the collaborative working relationships between members, vendors and CableLabs' staff within project-specific  working groups. They address most aspects of cable access networks, including cable modems, set-top boxes, cable modem termination systems (CMTSs), remote-PHY and remote-MACPHY devices, optical devices, telephony and aspects of mobile base stations—all of which operators use to provide their customers with a wide range of products and service offerings.
Some advantages of current products built to our specifications include but are not limited to:
Operator choice, in addition to price competition within a given marketplace
Increased speed and security, as well as backward compatibility
Advancements in network devices (e.g., wired, wireless, security) and their related functionality
Simplicity in debugging problems in the lab/field as specifications define the expected behavior
As part of a publication support team working with strong engineering support, we recently published the DOCSIS 4.0 suite of specifications allowing cable operators to ultimately achieve 10 Gbps speeds downstream and 6 Gbps upstream. We've come a long way in over three decades! It's been a privilege to see how many advancements have been produced in that timespan by CableLabs, together with its members and vendors, and just how much our efforts have changed the telecommunications world.
Do my four grandkids know and understand how CableLabs' specifications development has helped them recently with online learning, or enabled my youngest granddaughter's participation in her virtual kindergarten graduation—all by creating and supporting the best broadband services available? No, but that's OK because we're here working to continuously develop an innovative foundation for an ever-improving future for them.
A Step Towards Better Wi-Fi
CableLabs is excited about the publication of the Wi-Fi Multi Access Point (AP) Specification draft by Wi-Fi Alliance®. With the release of this draft specification, the Wi-Fi industry is moving towards greater interoperability and coordination between APs from different vendors. The Wi-Fi Multi Access Point (AP) Specification defines the control protocol, as well as the underlying data objects, that will allow access points to talk to each other using a common language. This topic is near and dear to our hearts, so we at CableLabs helped develop this specification and are contributing to the forthcoming Multi-AP certification program.
Need for Multiple APs in the Home
As my previous blog post, Multiple Access Point Architectures and Wi-Fi Whole Home Coverage explains, Wi-Fi is an integral part of just about every home today. As consumers, we expect ubiquitous high-speed coverage wherever we are in our home. However, as both home sizes and client device counts increase, the traditional Wi-Fi setup using a single AP in a home, is increasingly incapable of meeting these expectations. This is especially true for buildings that contain signal interfering materials in the walls, floors and/or ceilings (e.g. HVAC metal ducts, mesh wire supported plaster, brick, and concrete).
To address this problem, many people try to build their own high-performance network in their home by deploying multiple access points.
An access point is a device that creates a wireless local area network, or WLAN, usually in an office or large building. An access point connects to, or is packaged together with, a wired router, switch, or hub via an Ethernet cable or via another Wi-Fi signal, and projects Wi-Fi to a location in your home or business. (How large this location is depends on many factors, but is called the coverage area).
One drawback to the solutions currently available is vendor lock-in. Once you've chosen a brand, you're stuck with that brand and its proprietary chatter between APs. This is because, until now, there has been no standard AP coordination protocol. As the idea has grown in popularity in recent years, moving from the enterprise networks we use at work to the APs we use in our homes, vendors have created their own protocols along the way.
To help standardize the interface between APs, the Wi-Fi Alliance Multi-AP specification defines procedures for:
Onboarding and automatic configuration of new APs
Control and management of the APs
Client steering mechanisms that allow the system to move Wi-Fi clients to the best AP and band (2.4 GHz or 5GHz) to ensure fast connection speeds
These standard procedures enhance the capabilities of the APs, allow vendors to innovate and focus on other cool features and enables a better customer experience. To the end user, this means:
Adding new APs to enhance coverage in your house is easier
Your cable operator can help remotely ensure that the system is working correctly
Your devices seamlessly move from one AP to another as you move around your house, maintaining the highest quality connection
Specifications move the industry forward
Standard interfaces are great; they make the internet work. As an idea gains popularity, to help keep the industry from splintering, defining a standard way of doing it becomes more and more valuable. Standards do just that - they provide a common way to do things, a reference to certify equipment against and help grow new technology ecosystems. CableLabs contributes to specifications in many standards development organizations, including Wi-Fi Alliance, Wireless Broadband Alliance, Broadband Forum, IEEE and MoCA.
Along with the release of the new Wi-Fi Multi-AP draft specification, Wi-FI Alliance is working toward introducing a certification program based upon the specification. To take a deeper dive, you can download the draft Multi-AP Technical Specification on the Wi-Fi Alliance Specifications page here.
CableLabs has been working on multiple APs in the home solutions since 2015 with numerous R&D projects. Subscribe to our blog to stay current with our work on Multi APs.
CableLabs® New Remote PHY Specifications expand DOCSIS® Network deployment options
DOCSIS technology continues to extend the usefulness of the hybrid fiber coaxial network and increase its global adoption. Distributed Architectures for DOCSIS networks are emerging that provide significant scale advantages and flexible deployment options supporting for both DOCSIS 3.0 and DOCSIS 3.1 networks. Distributed DOCSIS deployments are beginning today in some markets based on the earlier C-DOCSIS specifications.
New Specification Release
CableLabs is documenting several different Distributed CCAP Architectures (including Remote PHY and Remote MAC-PHY) and will release the set of technical reports and specifications throughout this summer.
Last month, CableLabs publicly issued the Remote PHY family of specifications. Theses specifications are also known as MHAv2 as these are an evolution from the original Modular Headend Architecture specifications.
The Remote PHY technology allows for an integrated CCAP to be separated into two components: the CCAP Core and the Remote PHY Device (RPD) and describes the interfaces between them. One of the common locations for an RPD is the optical node device that is located at the junction of the fiber and coax plants, while the CCAP Core stays at the headend. A CCAP core can control and setup data paths with multiple RPDs situated in multiple fiber nodes.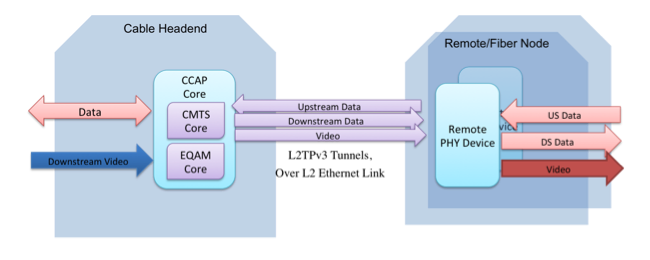 What is Remote PHY?
The Remote PHY technology uses pseudowires between a CCAP Core and a set of RPDs. The CCAP Core contains both a CMTS Core for supporting DOCSIS data transport and an Edge QAM Core for supporting video transport. The CMTS Core contains the DOCSIS MAC (signaling functions, downstream and upstream bandwidth scheduling, and DOCSIS framing) and the upper layer protocols. Remote PHY supports both DOCSIS 3.0 & 3.1 Specifications. The EQAM Core contains all the video processing functions that an EQAM provides today.
The RPD contains mainly PHY related circuitry, such as downstream QAM and OFDM modulators, upstream QAM and OFDM demodulators, together with pseudowire logic needed to connect to the CCAP Core. The RPD platform is a physical layer converter device whose functions are to convert downstream DOCSIS data, MPEG video and out-of-band (OOB) signals received from a CCAP Core over a digital fiber network such as Ethernet or passive optical network (PON) to analog RF for transmission over the coaxial cable; and to convert upstream RF DOCSIS, and OOB signals received over the coaxial cable to digital for transmission over Ethernet or PON to a CCAP Core.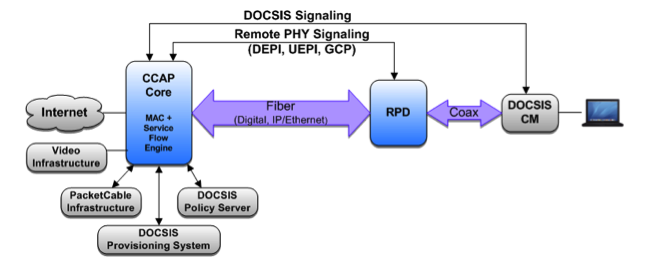 The CableLabs Remote PHY technology is detailed by six specifications and one technical report (describing the overall architecture) including:
The System Specification that describes System level requirements such as initialization sequences and security.
The R-DEPI and R-UEPI specifications that describe the downstream and upstream pseudowires and the L2TPv3 control plane.
The GCP specification that defines a protocol used for configuration of Remote PHY Devices (RPD).
The R-DTI specification that defines the timing interface between the CCAP-Core and RPD.
The R-OOB specification that defines support for the SCTE55-1 and 55-2 out of band data for video applications.
What's Next?
These specifications define the technology to provide guidance to vendors building solutions for the Remote PHY architecture. Vendors have begun architecting ASIC designs, device platforms and software to implement the RPD and CCAP-Core devices. The OSS requirements for managing these devices are also being specified at CableLabs and will be released as an additional specification later this summer. These distributed architectures of course support standard DOCSIS 3.0 and 3.1 modems and gateways no differently than integrated architectures.
The main options under the umbrella of Distributed CCAP Architectures are the Remote PHY and the Remote MAC-PHY technologies. CableLabs' work is in progress to document the Remote MAC-PHY architecture. This work will culminate in a technical report which will also be released this summer.
Investigating Distributed CCAP Architectures
The work around Distributed CCAP architectures (DCA) is of interest to many CableLabs members in North America, Europe and Asia. Cable operators are investigating DCA for the various gains they bring including:
Maximizing DOCSIS 3.1 Channel capacity
Simpler operations with digital fiber/Ethernet transport
Higher Efficiency of Digital Optics vs. Analog Optics (wavelengths, reach, cost)
Helps hub/headend facilities issues around space, power, and cooling as operators move towards Fiber Deep architectures or consider further Node Splits
Consistency with FTTx deployments which will include remote architectures for reach and wavelength management
Fits with the SDN/NFV initiatives operators are considering across access networks
These integrated & distributed HFC technologies have parallels, and similar features and benefits, to wireless infrastructure architectures such as Macro-cells, small-cells, Distributed Antenna Solutions, and Cloud-RAN with Remote Radio Units. These Distributed CCAP Architectures fit well in different deployment scenarios and all work cohesively together to support the varying capacity and demand in the areas where their deployments provide the best solution.
As operators look to optimize their network deployments in each of their cable plants in each of their markets it will be very interesting to see how and where these distributed CCAP technologies will be deployed in each operator's HFC networks. It is indeed an exciting time to be working on the access network technologies and being part of the evolution it is going through.
Karthik Sundaresan is a Principal Architect at CableLabs, responsible for the development and architecture of cable access network technologies. He is primarily involved in the DOCSIS family of technologies and their continued evolution.