Cable Broadband: From DOCSIS 3.1® to DOCSIS 4.0®
In 1997, CableLabs released the very first version of Data Over Cable Service Interface Specification (DOCSIS ® technology) that enabled broadband internet service over Hybrid Fiber-Coaxial (HFC) networks.  Ever since, we've been making improvements, greatly enhancing network speed, capacity, latency, reliability and security with every new version. Today, cable operators use DOCSIS 3.1 technologies to make 1 Gbps cable broadband services available to 80% of U.S. homes, easily enabling 4K video, seamless multi-player online gaming, video conferencing and much more. Although there is still a significant runway for DOCSIS 3.1, CableLabs has been hard at work developing the next version – DOCSIS 4.0, which was officially released in March of 2020 and further advances the performance of HFC networks. Let's take a look.
First, let's talk about upstream speeds. DOCSIS 4.0 technology will quadruple the upstream capacity of HFC network to 6 Gbps—compared to the 1.5 Gbps that is available with DOCSIS 3.1. While current cable customers still download significantly more data than they upload, upstream data usage is on the rise. In the near future, advanced video collaboration tools, VR and more, will require even more upstream capacity. DOCSIS 4.0 also provides more options for operators to increase downstream speeds, with up to 10 Gbps of capacity. It has been designed to support the widespread availability of symmetric multigigabit speed tiers through full-duplex and extended-spectrum technologies that move us closer to our 10G goal.
In addition to faster speeds, DOCSIS 4.0 will also deliver stronger network security through enhanced authentication and encryption capabilities and more reliability due to the Proactive Network Maintenance (PNM) improvements. It is a great leap toward 10G, setting the stage for a series of subsequent enhancements that will all work together to help us build the future that we always dreamed of.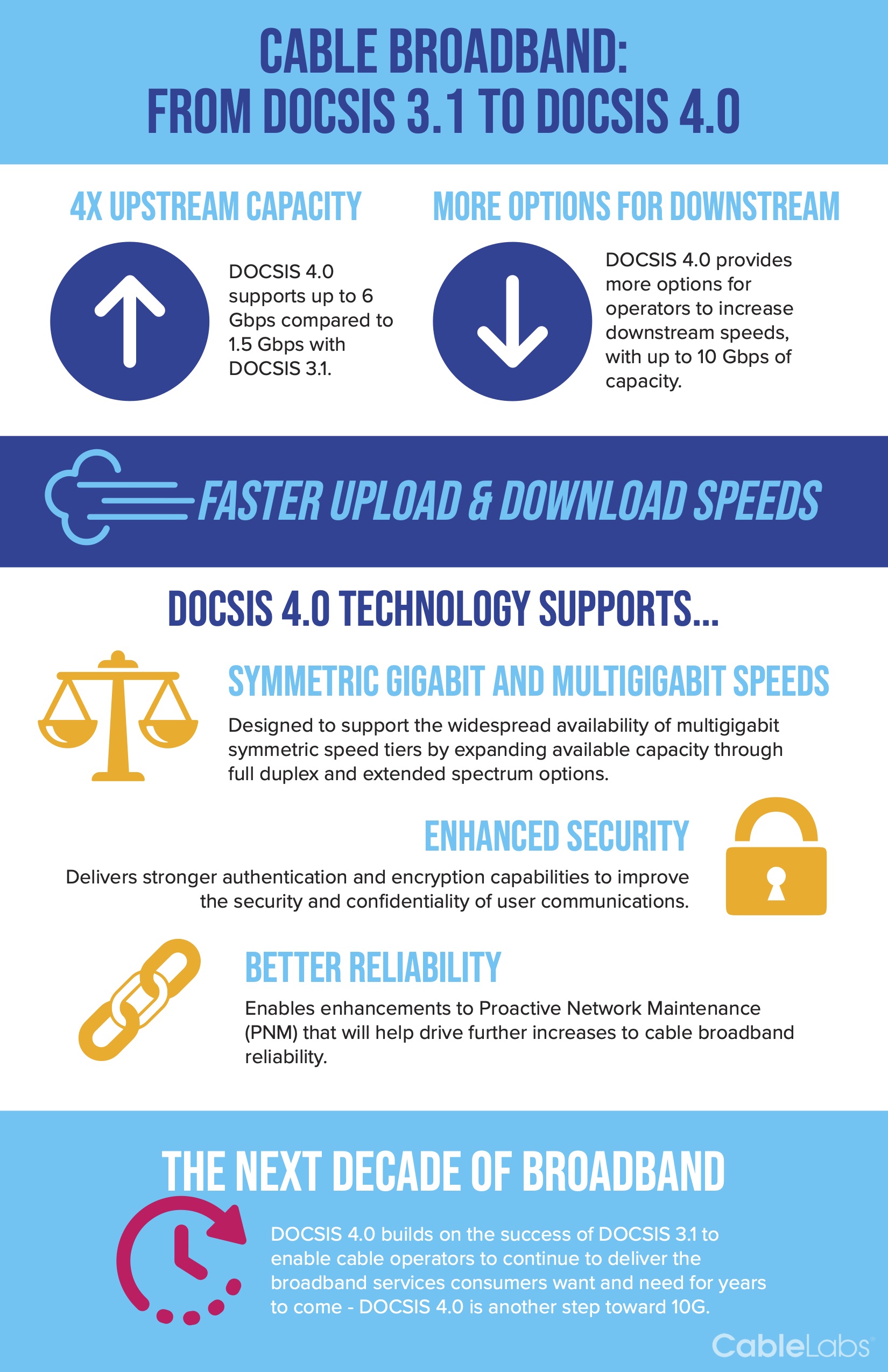 Managing Network Quality and Capacity With Proactive Network Maintenance
You probably know that Proactive Network Maintenance (PNM) is about finding and fixing problems before they impact the customer to ensure highly reliable and available cable broadband services. But the other side of PNM is about managing the capacity or bandwidth available in the network. PNM may have started with the former concept in mind, but the latter is becoming more important as we rely on higher amounts of capacity at the edge. As the world adjusts to life during the COVID-19 pandemic, access network capacity is becoming even more critical. PNM is an important toolset for network capacity management, and CableLabs is helping operators manage network quality and capacity together.
Network condition impacts network capacity. Network impairments, a broad class of failures and flaws in the ability of a network to carry data, have to be addressed before they lead to service failure. The DOCSIS® protocol is a method for sending data over multiple radio frequencies in hybrid fiber-coax networks, and comes with several resiliency mechanisms, like profile management, that help service continue in spite of impairments, to a point. These impairments in the cable plant may impact a few or all frequencies. Impairments that impact specific frequencies may or may not be able to be compensated for, on those frequencies. If severe, the impairment may impact the data carried on those frequencies entirely, leading to correctable or even uncorrectable data errors. If not severe, profiles may be able to adjust to lower modulation orders to allow less data to be reliably carried than otherwise. Impairments that impact a larger amount of frequencies of course have a greater impact on the bandwidth the network can carry. In any case, impairments impact the capacity that the operator can get from the access network.
For example, consider that operators often place upstream bandwidth into lower frequencies, near where radio and electrical interference can enter the network through damaged cable or loose connectors. Upstream profiles can help make these frequencies useful when otherwise impaired; PNM can help operators find, work around, and fix ingress issues before they impact service. If the cable is damaged in multiple places (or say water gets into the cable due to wind causing it to move and get lose or damaged) then multiple frequencies can be impacted. But DOCSIS mechanisms help services be robust to these problems, and PNM can alert the operator to the problem, allowing a proactive fix.
PNM is a practical set of tools for network operators to manage network conditions, which becomes even more important as we move toward higher utilization of the access network capacity. As demand for bandwidth increases at the edge, PNM becomes an important network capacity management tool for network providers. The difference between a perfect network and one with flaws felt by customers begins to shrink. PNM begins to be an imperative; it is "table stakes" for maintaining communications services and managing the capacity of the network.
For almost all of us, we share our connection to the internet and our communication services whether fiber or coaxial cable is the final connection to the home. Over the years, DOCSIS has grown to provide much higher data rates over a shared medium, in addition to adding resiliency. Cable Modem Termination Systems (CMTSs) enable the network resources to be shared efficiently, so that we all have access to better communications through economies of scale, allowing us all to take advantage of the capacity available. Service providers can manage the network capacity with a number of methods to make sure service needs are met, PNM being one of those mechanisms.
CableLabs has been working with these issues in mind for some time. In July of 2019, I wrote on the subject of 10G and reliability, pointing out that higher bandwidth solutions closer to the customer will be required for 10G. Then, in August, I wrote on the subject of reliability from a cable perspective and pointed out that the impairments addressed through PNM impact capacity. So, we see that reliability and network capacity are closely coupled. As we move toward higher bandwidth services, expand the utilization of frequencies and further push the limits of technology, reliable and sufficient bandwidth become highly coupled. Therefore, so do the tools that network providers use to manage these service qualities. CableLabs is working on solutions to help operators succeed in this reality.
Increase Upstream Reliability and Capacity with Optimized Profiles
Network usage patterns have shifted in unprecedented ways in the last few months with vast swaths of the population staying at home. A substantial increase in network traffic has been observed from homes with people collaborating for work and children learning over the Internet with online school sessions and material. The access networks have seen a transition of the peak weekend levels of traffic become the new normal throughout the week.
In this time of network traffic increase, reliability and capacity are increasingly important. Upstream reliability is fundamental to the network experience as seen by the end user in the home. For DOCSIS 3.1 and 4.0 networks configuring profiles is the key to maintaining a reliable channel while simultaneously optimizing capacity. Profiles define the modulation orders used on the channel, with higher modulation orders allowing for more bits of information to be communicated per modulation symbol.
In a previous blog post, we  discussed downstream profile management. In this blog, we focus on upstream profile management which differs from the downstream due to the structure of the Hybrid-Fiber-Coax (HFC) plant and the nature of bursty transmissions from a cable modems (CM).
In the downstream direction, there is one location from where the signals enter the HFC plant, specifically the cable modem termination system (CMTS) in the headend. The operator has control of the signal at that point and along the network, to ensure it reaches every CM. From the head end to the CM, the RF signal fans out in a star topology network in a point to multipoint (P2MP) fashion. It is the opposite on the upstream/return path: the RF signals enter the plant from every home that is attached to the plant, and all of those signals combine together as they travel to the headend. Typical of all P2MP networks, the noise from every device on the network gets combined as it travels upstream and is finally received on the upstream port at the CMTS. This is known as the noise funneling problem, as shown in the diagram below. Thermal noise at the amplifiers and fiber optic link noise are common sources of upstream noise. Other noise sources which ingress into the upstream path include impulse noise from loose connectors, unterminated splitters or taps, cracked cables, common path distortion due to corroded connectors, clipping distortion etc.
Thus, in the upstream, the noise from every house and every network element gets accumulated and is seen at the upstream receiver on the CMTS. Now a CMTS receiver can measure the received modulation error ratio (RxMER) for each CM, see some example measurements from a live network in the diagram below. In the upstream, this signal to noise signature for each of the CMs (that are sharing the upstream channel) starts looking very similar, as they all share the same noise across the channel with slight differences due to the signal levels itself. This means common profiles can be designed for many CMs experiencing similar noise conditions.  Most CMs will be able to use a common profile. For CMs which suffer more noise, they can be put into a different profile optimized for their particular noise environment. The modulation orders within a profile can vary appropriately across the spectrum as per the noise levels in that part of the spectrum.
The upstream Profile Management Application (PMA) can automate this design of the profiles on various upstream channels across various segments in the cable plant. Reading the upstream RxMER from the CMTSs on the network, processing the RxMER information with intelligent algorithms to create profiles, and then configuring the newly optimized profiles on the CMTS are the primary functions an upstream PMA solution accomplishes. Configuring optimized profiles brings solid reliability to the upstream network connection and also increases the capacity in parts of the spectrum which can accommodate higher modulation orders.
Many cable operators across the world are now turning on upstream OFDMA channels and leveraging the upstream PMA capability to automate the creation of profiles for their D3.1 upstream OFDMA channels.
If you are interested in discovering more details about upstream or downstream PMA, or setting up a field trial, please feel free to contact us to receive more in-depth information.
Cable-centric Reliability
No doubt our cable industry has a unique culture of working and innovating together to solve technical issues. But there are best practices from other communities which we can build from; these practices inform how we can continue to develop toward more reliable services. By "reliable," as it relates to service, I mean reliable, available, and resilient services, which result from reliable, available, resilient, repairable, maintainable, and highly performing cable networks, not to mention operations focused on the customers' needs. On the other hand, specifically used, reliability refers to the probability of not experiencing failure, whereas availability refers to the expected proportion of time that something is working as intended. These are very related, but very different things. You can read more here. But when we speak generally about reliability, often many of these like concepts are relevant.
What is Unique About Cable Relating to Reliability Concepts?
For one thing, DOCSIS® networking is unique. Each version of DOCSIS technologies improved performance, but also increased the robustness of the services it supports. Error correction, profile management, pre-equalization, echo cancelers, and other technologies have enabled this performance extension, but also these advantages create separation from the impairment and service failures, allowing for maintenance before service is impacted.
Another unique advantage is Proactive Network Maintenance (PNM). The advantages of DOCSIS technologies are what make PNM possible. We use data to find impairments in the network that, left untreated, will eventually impact service. This capability affords operators the opportunity to find and remove impairments early, before the network is further damaged by degradation, and service is impacted severely. Networks can be maintained well, but also services remain available while the network is experiencing failure.
Cable operators and vendors in cable have analog radio frequency (RF) expertise with a digital mindset. The cable industry knows RF, and that knowledge has helped it get the most out of the physical layer of the network. That deep understanding of the network's physical layer is why mitigating network failure modes is second nature, and the industry has the needed skills.
Then there's the industry's "laser focus." Pushing fiber out deeper into the network can improve reliability and availability, but current technology does lack some of the PNM advantages. There is work to do, but the capabilities are there for us to develop.
What Are the Best Practices We Can Re-use?
Designing communication networks for reliability carries many best practices and experience.
The ability to understand and mitigate failures before deployment – We have defined PNM use cases based on the measurements we've been able to define in the DOCSIS specifications. Now, we must extend that work to link to failure modes, effects, and criticality analysis, and root cause analysis, to inform technology choices, measurements for management, and design for reliability.
Condition based maintenance – Maintenance optimization research is clear that in any practical situation it is almost always more cost efficient to base maintenance on condition information rather than age information.
Prognostics and Health Management (PHM) – A newer field of reliability, PHM is a lot like our PNM. PHM is a research field of study using data sources (e.g., vibration in mechanical systems, or charge time in batteries) to determine the remaining useful life of a component or system. PNM is a clear cousin to that field, so we can certainly share and gain benefit from that work.
Certification testing – Certifying cable modems (CMs) has improved the PNM responsiveness of CMs, and the same can be true about cable modem termination systems (CMTSs) as that part of the network begins to align.
Maintenance optimization – Service reliability and availability, in addition to network reliability and availability and robustness, are important focuses for the industry; they relate, but are distinct and important in their own. The network can fail while service continues to perform at a high level, so maintenance can be better planned in this situation.
Thoughts for the Future of Cable
More options mean more standardization – Adding more options to the technology choices allows operators to better meet the unique needs of their customer base. However, keeping it all standardized increases operability and repairability so that service is highly reliable and available.
Each feature needs measurements – As we add options and features to cable technologies, each option needs special measurements to assure that the feature can be managed properly. DOCSIS 4.0 technology is full of options, so we'll need a critical eye on each to make sure those options can be operated reliably.
Pushing the limits of technology requires more diligence on PNM – As we rely on tighter tolerances and more complexity on issues like upstream noise, echo cancelation, and error correction, we need more information about how those perform, and more diligent PNM practice relating to them.
Impairments relate to capacity and network resilience – As capacity becomes a stronger focus, the impact of impairments on that capacity becomes more important, so cable network reliability is entwined.
As we push higher capacity to the edge, redundancy must come with it – With more capacity comes more critical services, and more impact to the lives of customers. A failure becomes more impactful as a result. Then, as the cost of a failure increases, large failures become more expensive, driving the need for more network resiliency, and thus more redundancy.
Strong Foundation, Strong Future
Building on a strong foundation of PNM and DOCSIS technologies, the cable industry has the right culture and technology foundation to take communications to a reliable future. We have lots of work to do, but we're on the right path to do it. Here we go!
The 10g platform is going to provide reliable service. As the cable industry embarks on the development of 10G services, there is a lot of work ahead, but we already have a strong foundation of experience and technology to build upon.
The 10 Gbps goal is about performance. But it must come with low cost, high quality, and sufficient reliability. 10G services have to be easy to install reliably, remain stable and robust against cable plant variations and conditions, and provide a wealth of service flexibility so that services remain reliable under a broad set of use cases.
The Road to 10G…
At CableLabs, we've taken big leaps toward 10G with DOCSIS® 4.0, including Full Duplex DOCSIS, and with cable modems (CMs) which will be capable of 5 Gbps symmetrical service in the near future. To fully arrive at 10G, we need to enable 10 Gbps downstream speeds. To accomplish that, we'll need to expand our use of available spectrum, and we'll likely need to use that spectrum in a highly efficient manner. Pushing higher bandwidth solutions deeper into the network and closer to the edge customers will be required, too. We have a lot of innovation ahead of us to get to the 10G future.
…Is Paved with Innovation
Invention often begins with an initial solution that is later repeated for verification, then validated further. That initial solution then needs to be scaled; in other words, it needs to be made repeatable, at a low cost, and with sufficient reliability.
Fortunately, DOCSIS networking is a technology with many reliability traits integrated. Data are delivered reliably due to Forward Error Correction. Profile management can control the data rate to allow the best performance possible, but not push performance to low reliability. Adjustments to the connection between the cable modem termination system (CMTS) and CM assure reliable transmission continues under constant environmental and network changes. And Proactive Network Maintenance (PNM) assures that plant conditions are discoverable, and that they can be translated into maintenance activities that can further assure services stay reliable at low cost. The cable industry is starting on a solid foundation.
Consider one possible direction we could take on the road to 10G. As we begin to expand the frequencies that DOCSIS uses, we may need improved error correction, better profile management, or better CMTS-to-CM coordination to assure reliable services continue at expected levels. However, pushing these limits might also mean new failure modes in the plant, or greater service sensitivity to existing failure modes, thus increasing the importance of PNM. Operators should up their PNM game now, understanding that it will be an even more important element to assure a reliable 10G future.
A Super Highway in Many Directions
Because of this strong reliability foundation in cable technologies, particularly DOCSIS, we can build our 10G future with reliability in mind. Rather than simply extending our boundaries and hoping that our existing methods to assure reliable services will be sufficient, we can define solutions that bring reliability with them. By focusing simultaneously on increased performance, lower operational costs, and reliable services, we can evolve into an effective, desirable 10G future for the world.
Also, by thoughtfully choosing the technologies to develop, we can create degrees of freedom and opportunities to enhance reliability while developing 10G. This is the right approach for the industry to take because reliability can only be built into a service, not added later. By choosing to develop solutions now that expand our options for reliable services, we can enable operators to have full control of their services. To make it work reliably, PNM will be there, and so will a few other advantages to come.
Network Operator Perspectives on NFV priorities for 5G
Today, twenty-three network operators published a white paper to guide the industry on priorities for NFV to deliver the industry vision for 5G systems: "Network Operator Perspectives on NFV priorities for 5G". The network operator co-authors include Bell Canada, BT, CableLabs, CenturyLink, China Mobile, China Unicom, Colt, Deutsche Telekom, KDDI, KT, NTT, NTT DOCOMO, Orange, Portugal Telecom, Rogers, SK Telecom, Sprint, STC, Swisscom, Telecom Italia, Telefonica, Telenor, and Vodafone. As managing editor for this white paper, I worked closely with colleagues from these leading organizations to document some key consensus requirements that we want the 5G standards community to take into account in their upcoming specification work.
We believe the evolved 5G network will be characterized by agile resilient converged fixed/mobile networks based on NFV and SDN technologies and capable of supporting network functions and applications encompassing many different networks and services domains. The breadth of foreseen 5G use cases and environments implies high scalability, ultra-low latency and ability to support a massive number of concurrent sessions, as well as ultra-high reliability and security. To achieve these ambitious goals, Network Slicing, Cloud-native design principles, End-to-end Service Management, Edge Computing, RAN Cloudification, Multi-site/domain Services, NFV License Management, Security, Reliability, and Scalability are important enablers as outlined in some detail in this paper.
In an era of increasingly stretched resources, it is vitally important for standards development organizations and open source communities to avoid re-invention and wasteful duplication of effort. Hence, an important message is to encourage reference to the extensive body of foundational NFV specification work already published by the ETSI NFV Industry Specification Group over the past four years as the basis for 5G.
As managing editor, I believe this white paper should be used as guidance for the wider industry on how NFV should be used to realize 5G use cases.
What is CableLabs Doing in this Space?
The cable network will provide an ideal foundation for 5G because it is ubiquitous and already supports millions of Wi-Fi nodes in places where the majority of wireless data is consumed. It has high capacity for both Access and Backhaul. It is highly reliable and has low intrinsic latency because it is based on optical fiber which penetrates deep into the access network feeding wideband coaxial cables reaching all the way to the end-user premises. Moreover, it is a multi-node remotely powered access topology ideally suited to support the connection of the large number of small cells close to homes and businesses that will be needed for 5G.
A multi-faceted CableLabs R&D program is addressing the key technologies required for 5G around NFV and SDN that we are executing on behalf of our cable operator stakeholders. For example, CableLabs is progressing an intensive study of virtualized provisioning of the cable access network to enable programmability, our NFV/SDN reference platform is based on OPNFV and we are looking ahead to support 5G using an end-to-end virtualized architecture that includes low latency edge compute nodes located at the cable head-end. In addition, we are seeking to accelerate NFV/SDN interoperability through CableLabs' Kyrio subsidiary which has built an interoperability lab where vendors can work together with operators to toward their NFV and SDN solutions.
By Tetsuya Nakamura, Principal Architect, Strategy & Innovation, CableLabs