NFV for Cable Matures with SNAPS
SNAPS is improving the quality of open source projects associated with the Network Functions Virtualization (NFV) infrastructure and Virtualization Infrastructure Managers (VIM) that many of our members use today. In my posts, SNAPS is an Open Source Collaborative Development Resource and Snapping Together a Carrier Grade Cloud, I talk about building tools to test the NFV infrastructure. Today, I'm thrilled to announce that we are deploying end-to-end applications on our SNAPS platform.
To demonstrate this technology, we recently held a webinar "Virtualizing the Headend: A SNAPS Proof of Concept" introducing the benefits and challenges of the SNAPS platform. Below, I'll describe the background and technical details of the webinar. You can skip this information and go straight to the webinar by clicking here.
Background
CableLabs' SDN/ NFV Application Development Platform and OpenStack project (SNAPS for short) is an initiative that attempts to accelerate the adoption of network virtualization.
Network virtualization gives us the ability to simulate a hardware platform in software. All the functionality is separated from the hardware and runs as a "virtual instance." For example, in software development, a developer can write an application and test it on a virtual network to make sure the application works as expected.
Why is network virtualization so important? It gives us the ability to create, modify, move and terminate functions across the network.
Why SNAPS is unique
Creates a stable, replicable and cost-effective platform: SNAPS allows operators and vendors to efficiently develop new automation capabilities to meet the growing consumer demand for self-service provisioning. Much like signing up for Netflix, self-service provisioning allows customers to add and change services on their own, as opposed to setting-up a cable box at home.
Provides transparent API's for various kinds of infrastructure
Reduces the complexity of integration testing
Only uses upstream OpenStack components to ensure the broadest support: SNAPS is open source software which is available directly from the public OpenStack project. This means we do not deviate from the common source.
With SNAPS, we are pushing the limits of open source and commodity hardware because members can run their entire Virtualized Infrastructure Manager (VIM) on the platform. This is important because the VIM is responsible for managing the virtualized infrastructure of a NFV solution.
Webinar: Proof of Concepts
We collaborated with Aricent, Intel and Casa Systems to deploy two proof of concepts that are reviewed in the webinar. We chose these partners because they are leading the charge to create dynamic cable and mobile networks to keep up with world's increasing hunger for faster, more intelligent networks tailored to meet customers' needs.
Casa and Intel: Virtual CCAP and Mobile Cores
CableLabs successfully deployed a virtual CCAP (converged cable access platform) core on OpenStack. Eliminating the physical CCAP provides numerous benefits to service providers, including power and cost savings.
Casa and Intel provided hardware and Casa Systems provided the Virtualized Network Function (VNFs) which ran on the SNAPS platform. The virtual CCAP core controls the cable plant and moves every packet to and from the customer sites. You can find more information about CCAP core in Jon Schnoor's blog post "Remote PHY is Real."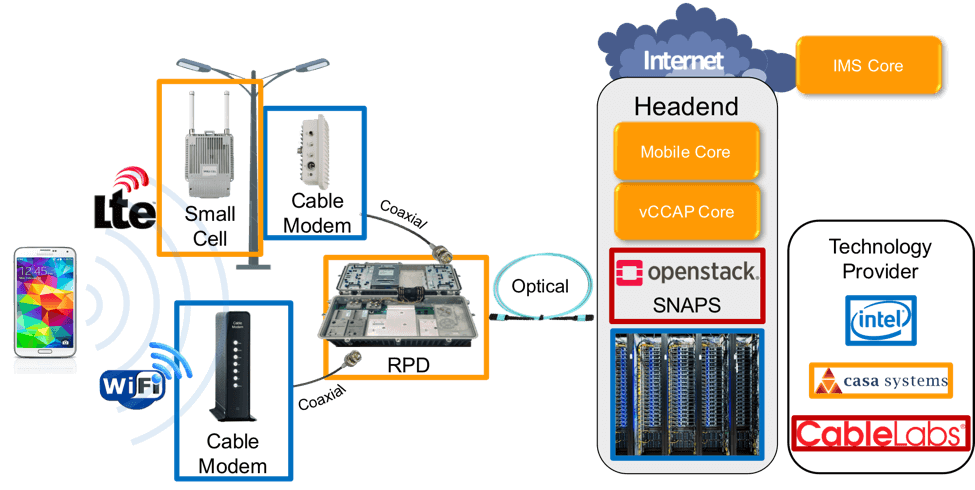 Advantages of Kyrio's NFV Interop Lab
For the virtual CCAP demo, the Kyrio NFV Interop Lab provided a collaborative environment for Intel and Casa to leverage the Kyrio lab and staff to build and demonstrate the key building blocks for virtualizing the cable access network.
The Kyrio NFV Interop Lab is unique. It provides an opportunity for developers to test interoperability in a network environment against certified cable access network technology. You can think of the Kyrio lab as a sandbox for engineers to work and build in, enabling:
Shorter development times
Operator resources savings
Faster tests, field trials and live deployments
Aricent: Low Latency and Backhaul Optimization
With Aricent we had two different proof of concepts. Both demos highlighted the benefits of having a cloud (or servers) at the service provider edge (less than 100 miles from a customer's home):
Low latency: We simulated two smart cars connected to a cellular network. The cars used an application running on a cloud to calculate their speed. If the cloud was too far away, a faster car would rear end a slower car before it was told to slow down. If the cloud was close, the faster car would slow down in time to prevent rear-ending the slower car.
Bandwidth savings: Saving data that will be used by several people in a closer location can reduce the amount of traffic on the core network. For example, when someone in the same neighborhood watches the same video, they will see a local copy of the video, rather than downloading the original from the other side of the country.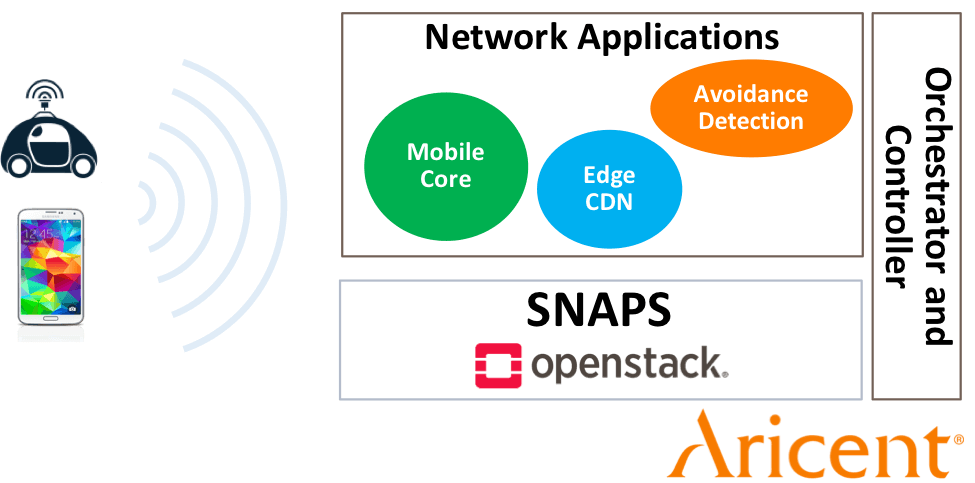 The SNAPS platform continues CableLabs' tradition of bringing leading technology to the cable industry. The collaborations with Intel, Aricent and Casa Systems were very successful because:
We demonstrated end-to-end use cases from different vendors on the same version of OpenStack.
We identified additional core capabilities that should be a part of every VIM. We have already incorporated new features in the SNAPS platform to better support layer 2 networking, including increasing the maximum frame size (or MTU) to comply with the DOCSIS® 3.1 specification.
In addition to evolving these applications, we are interested in collaborating with other developers to demonstrate the SNAPS platform. Please contact Randy Levensalor at r.levensalor@cablelabs.com for more information.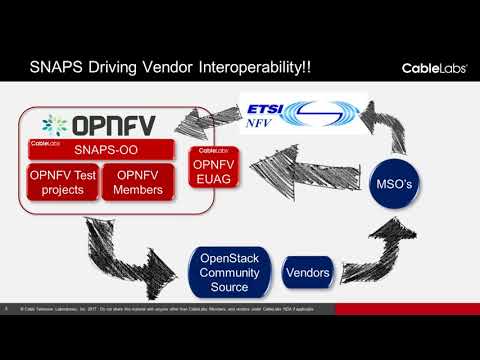 Don't forget to subscribe to our blog to read more about how we utilize open source to develop quickly, securely, and cost-effectively.
SNAPS-OO is an Open Sourced Collaborative Development Resource
In a previous blog, I have provided an overview of the SNAPS platform which is CableLabs' SDN/NFV Application development Platform and Stack project. The key objectives for SNAPS are to make it much easier for NFV vendors to onboard their applications, provide transparent APIs for various kinds of infrastructure and reduce the complexity of integration testing.
I am thrilled to share our latest SNAPS success.  We have written an OpenStack API abstraction library that also contains many automated tests and we have contributed it to the Open Platform for NFV (OPNFV) project at the Linux Foundation.  OPNFV is a project where service providers and network vendors collaborate to improve the capabilities and adoption of open source Network Functions Virtualization (NFV). Our results have also been shared at NFV World Congress, SDN World Congress, OPNFV Summit [video], Open Networking Summit (ONS) [video] [pdf] and the Big Communications Event (BCE).
The Rationale for our Approach
CableLabs has deep expertise developing specifications by following a collaborative, iterative approach.  In many ways, the open source software development process mirrors many of these specification development processes.  In the open source communities, CableLabs provides source code and feedback coming from our integration and debugging activity.  In fact, CableLabs contributions are included in key open source projects such as OpenStack and OpenDaylight.  In this way, we are making it easier for vendors to use open source projects to build solutions for the benefit of the entire ecosystem.
We have generated practical knowledge and insights through our hands-on experience of building and operating an active SDN/NFV application development lab.  And we took vendor neutrality to the next level by basing our software stack on purely open source solutions and based on the OPNFV reference configuration.  We did not use versions of OpenStack, OpenDaylight, etc. that have been tested and customized by a vendor.  This allowed us to interact with a much larger community for new features and fixes.
The CableLabs team supported by vendors and services providers has moved our project into OPNFV as "SNAPS-OO", based on the idea that it is an Object Oriented way to work with our SDN/NFV Application development Platform and Stack.  The project was quickly accepted and is now being used by the release testing team to verify each OPNFV build.  With the integration of SNAPS-OO into the OPNFV FuncTest project, our contributions are now part of the release criteria and suite of tests that will be used at the upcoming OPNFV PlugFest next month.
Some of the benefits that SNAPS-OO delivers are:
Ease of use for new developers
A rich library of example applications and test suites
Support for accessing multiple secured clouds
Automated cleanup of the NFVI when updates are applied
Quick identification of component failure(s)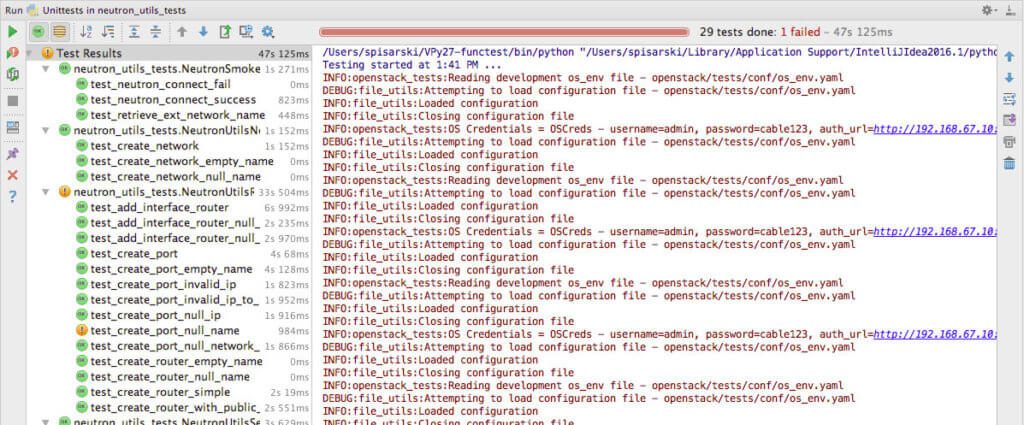 As a result of this open source approach, and in just a few weeks since SNAPS-OO was released, we have seen a significant increase in the level of contributions and adoption.
Next Steps
Continue to expand the capabilities supported by SNAPS-OO.
Encourage additional OPNFV projects to use SNAPS-OO.
Use SNAPS-OO and other tools to run much more sophisticated SDN/NFV workloads.
Share SNAPS-OO with more open source communities.
How SNAPS-OO Benefits Our Membership
SNAPS-OO is helping to improve the quality of the open source projects associated with the NFV infrastructure and Virtualization Infrastructure Managers that many members are using today and plan to use in the future.  SNAPS-OO can be used to validate that the infrastructure is installed properly and it will be playing a key role in the Kyrio NFV Interoperability lab.  Future NFV development provided by vendors will benefit from the use of SNAPS-OO.  With the variety of workloads that we will be running on our SNAPS platform, we will be able to specify a single configuration that can run future NFV workloads alongside other cloud hosted applications.
OPNFV's Inaugural Plugfest Hosted by CableLabs
OPNFV's first Plugfest was held at CableLabs' facility in Louisville, CO. This event, which focused on deployment and integration of OPNFV as well as Virtual Network Function (VNF) applications, was open to both OPNFV members and non-members.
A key goal of the Plugfest was to fortify OPNFV's already unique testing projects and infrastructure (functional and performance) across new use cases from OPNFV members and other interested parties.  Forty one participants from nineteen organizations--including three non-members--from around the world attended. They brought their key NFV use cases and the technologies needed to bring them to fruition. Many commented that the in-person collaboration was a major benefit.
OPNFV began eighteen months ago as an effort to ensure that open source projects such as OpenStack, OpenDaylight and others can be integrated into a carrier-grade environment that fully supports the performance and availability requirements of service provider networks.
Accordingly, OPNFV, along with CableLabs and Kyrio, hosted the plugfest to help establish testing criteria and find testing solutions to ensure NFV interoperability.
Mitchell Ashley, President and General Manager of Kyrio said, "Kyrio was founded by CableLabs to bring innovations and expertise to the market.  Our experienced engineers are thought leaders in NFV. We congratulate OPNFV on its inaugural plugfest! It supports our mission to guide the community in virtualizing network services."
The Plugfest used the test functionality first methodology and then measured results accordingly. The Functest (function testing) and Yardstick (system measurement) projects were heavily represented, along with the the Storperf (storage performance) and CPerf (controller performance) projects. In particular, the Cperf project is doing extensive SDN controller integration on various installers.
Additionally, all of the installer groups (Apex, JOID, Fuel and Compass) were represented and members extensively used these installers on different platforms (including on-site community labs that were generously provided by Huawei and Intel).
The Plugfest focused on the installation of NFVI and of VNFs (such as vIMS and vEPC) on multiple hardware platforms using multiple installers. In many instances, these combinations were attempted for the first time, and with OPNFV's testing infrastructure in place, new VNF were benchmarked much more quickly than would otherwise be possible.
In addition to all the real-time interop testing of NFV infrastructure and applications, the Plugfest included several well-attended and valuable breakout sessions on OpenDaylight, the Functest and Yardstick testing projects, and a session on the entire OPNFV testing ecosystem. Many of the lessons from these sessions were immediately applied in the lab. All lessons from the entire Plugfest will be fed back into OPNFV Certification & Compliance Committee efforts.
As we look to the future, we hope to expand future Plugfests to multiple geographic locations. This will allow OPNFV to test our multisite applications. We will also concentrate on new use cases made possible by the Colorado release. As with this Plugfest, OPNFV will continue to reach out to other communities to get a broader spectrum of users involved in NFV application development.
Harmonizing NFV Information Modeling Through Industry Collaboration
Last week CableLabs hosted a ground-breaking industry workshop to encourage harmonization of Information Modeling for network function virtualization. The event was organized by the ETSI NFV Industry Specification Group and brought together the leading Standards Development Organizations (SDOs) and Open Source communities. Participating organizations included 3GPP, ATIS, Broadband Forum, DMTF, ETSI NFV, IETF, ITU-T SG15, MEF, OASIS/TOSCA, Open Cloud Connect, ONF, OpenDaylight, OPNFV and TM-Forum. Over 90 of the world's key experts participated.
Each organization outlined its work on information modeling and its relevance to the NFV goals. A collaboration plan was agreed to address the challenges and opportunities identified with a goal of achieving harmonization by the end of this year. CableLabs will be actively involved in this collaboration effort via our leadership roles in ETSI NFV and open source communities.


Some of the participants in the workshop
What is the benefit of NFV information modeling harmonization?
Harmonization of NFV information modeling enables consistent and open APIs for efficient evolvable integration across the entire ecosystem including software defined networks (SDN) and NFV. The motivation for NFV is to realize significant business benefits including rapid service deployment, CAPEX/OPEX reduction, service elasticity, and multi-vendor inter-operability. It is very important to ensure end-to-end network service automation because different groups own different parts of the overall model leading to the potential for fragmentation and increased complexity if automation cannot be applied efficiently and without manual intervention.
Service providers need to deploy the software on top of a distributed cloud environment as their end goal and timeline is important. To accelerate NFV realization and demonstrate model validation through the whole lifecycle management of virtualized network functions (e.g. virtual CPE), it will be helpful to collaborate with open source communities.
What is CableLabs doing in this space?
CableLabs has been working in the open networking and virtualization space for about three years and we have a number of NFV and SDN R&D projects in progress on behalf of our cable operator stakeholders. In particular, we are working on information models and data models for virtualizing the Converged Cable Access Platform (CCAP) and customer premises equipment (CPE). We are also looking at how virtualization can be applied in the home network to simplify operations, reduce costs and improve customer experience. As part of those projects, we have a number of our own developers actively developing prototypes which we are contributing to open source projects such as OPNFV and OpenDaylight.
The vendor-agnostic, non-profit environment at CableLabs is unique and ideally suited to collaborative R&D, especially open source development. We have implemented software-based network platforms at our Sunnyvale and Louisville locations and we will continue to be actively involved in both open source communities including OPNFV and OpenDaylight, and the ETSI NFV through our R&D activities and vendor-neutral testing.
Tetsuya Nakamura is a Principal Architect in the Strategy and Innovation Group at CableLabs.
An Invitation to Hack in Dallas
During the past couple months, CableLabs has been engaged with The MEF Forum in planning of the first-ever Lifecycle Service Orchestration Hackathon. The LSO Hackathon as mentioned in this press release will take place alongside the MEF's GEN 15 conference in Dallas from Nov 16 to 18.
The LSO Hackathon will bring together software developers and networking experts in the same room to collaborate and develop APIs and Java code needed to configure, activate and manage MEF services.
Contributing to the LSO Hackathon will benefit several Virtualization and Network Evolution projects that we have recently initiated at CableLabs. The various virtualization projects are aimed to accelerate virtualization technology in the cable industry through knowledge sharing, prototype, open source code development, testing and standards development.
CableLabs Virtualized Business CPE (vBCPE) project is developing information and data models and open standard APIs that can be used by applications to dynamically provision MEF services to small, medium and large enterprises. Our approach involves using open source software platforms and our initial focus is using Open Daylight (ODL) SDN controller.
In 2015 CableLabs migrated its work on the vBCPE project to two open source projects: Open Platform for NFV (OPNFV) Connectivity Services LSO and OpenDaylight (ODL) UNI Manager plug-in.  For folks not familiar, OPNFV and ODL are relatively new open source projects initiated and run by the Linux Foundation. OpenDaylight is a modular, scalable open source SDN controller platform. OPNFV is creating an open source platform to accelerate NFV products and services by integrating OpenDaylight with OpenStack, an open source operating system platform for cloud compute, storage and networking resources.
The OPNFV Connectivity Services LSO project is developing open standard application programming interfaces (APIs) that can be used by business services applications or orchestration software to configure and activate a virtual private line. With the UNI Manager plug-in project, we are creating a software module that can reside inside the ODL controller and will enable OpenDaylight to configure physical and virtual network resources to establish virtual private line service.
During the LSO Hackathon, CableLabs will make the OPNFV Connectivity Services LSO project API software and the ODL UNI Manager plugin software available to participating software developers to evolve and improve. Our goal is to come out of the event with a more complete set of APIs and plugin for ODL controller. The APIs and plugin that will be developed during the Hackathon will be contributed back to the open source community and to MEF projects as well.
Hackathon events like this will speed up development and shorten iteration cycles while receiving faster feedback. Also this type of event shows the great value and promise of SDN and NFV. For developers interested in participating in the LSO Hackathon, please sign up here and I look forward to seeing people in Dallas on November 16.
OPNFV Builds Momentum With First Code Release
Today sees the first OPNFV release known as 'Arno' (OPNFV releases are named after rivers) which OPNFV has been busily creating since the community was launched last September. In my blog celebrating the OPNFV launch I outlined the importance of open source to stimulate innovation and accelerate progress on implementation. At CableLabs we are very keen on the open source approach because it enables the industry to collaborate to build common features while avoiding duplication of effort. This enables everyone to focus on product development and service creation. We have been eagerly awaiting this first release as it provides the foundation for our virtualization projects and we will be proposing to bring in our Virtual Business CPE APIs for the next OPNFV release.
The initial scope of OPNFV is focused on the NFV Infrastructure layer of the ETSI NFV Architectural Framework as shown below: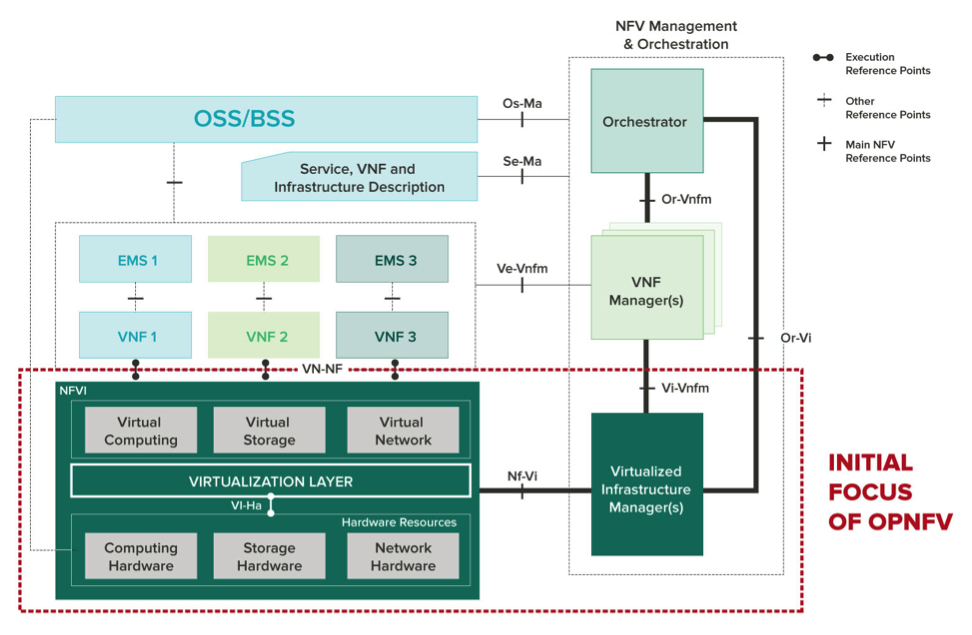 OPNFV Scope
Bounding the scope of OPNFV to the NFVI in this first phase has enabled this new global community to focus on rapidly creating a software development framework and for the participants to get to know each other and build awareness around this new topic through deeper involvement in a smaller set of projects.
We congratulate the OPNFV community on this achievement. The community has solved a lot of open source integration problems and created and debugged toolsets that would otherwise have had to be done independently and repeatedly in different labs. OPNFV is proving the value for the industry to work together to do the heavy lifting once.
There was a lively debate at the first OPNFV Hackfest in Prague on whether it was better to include more features in the initial release but to allow more time for development, or to release earlier with fewer features. We argued for early release to enable the industry to become familiar with the tools and to start to accrue learning as quickly as possible. This release will result in more developers becoming familiar with the OPNFV platform more quickly and to contribute to future OPNFV releases as well as their proprietary innovation on top of the platform.
The OPNFV Arno release enables the industry to create NFV integration platforms according to a common baseline thereby accelerating collaboration and shared learning. Full details of what's included in the Arno release can be found on the OPNFV website, but as a quick summary, it includes the base Operating System (Linux CentOS), SDN Controller (OpenDaylight Helium) and Infrastructure Controller (OpenStack Juno).
CableLabs considers open source and formal standards processes to be complementary and we are actively involved in both. We actively contributed to the OPNFV 'Pharos' Testbed infrastructure project including contributing governance documents based our vendor-neutral test and certification experience. We are involved in the new OPNFV Certification & Compliance Committee and we are building OPNFV reference platforms at our Sunnyvale-CA and Louisville-CO locations to integrate and validate our collaborative open source development on behalf of the cable industry. We will be providing feedback to OPNFV and the ETSI NFV ISG as well as contributing our own code.
The next few months are going to be very exciting as we begin to see the ETSI NFV ISG Architectural Framework brought to life through the efforts of the OPNFV community and we'll be able to share insights on NFV performance and interoperability because we'll all be using a common infrastructure configuration.
Don Clarke is a Principal Architect at CableLabs working in the Virtualization and Network Evolution group.