The Near Future. Diverse Thinkers Wanted: 10 Fun Facts
This week, at our Summer Conference, we released a short film titled The Near Future. Diverse Thinkers Wanted. The fourth installment in our Near Future series focusing on light field technology, mixed reality and AI, the film highlights how our broadband networks and increased connectivity keeps everyone in the workplace seamlessly connected and more creative. Here are ten fun facts about our film:
The autonomous cars in the film appear to have no steering wheel. This was achieved by using real cars with steering wheels and producing carefully mirrored shots: the set, costumes, props and stage direction were all mirrored, and the shot was then flipped in post-production, creating a realistic autonomous car driver-side with no steering wheel.
The lead actress ran so much in the film that she had to use two sets of shoes to avoid blisters. In shots that showed her feet, she used her costume's business shoes; in other shots, she used running shoes.
The opening chase scene from the café to the cars took more than 20 takes to get everything shot properly from every angle. Both actors were exhausted but happy to add a chase scene to their acting experience.
The café in the film does not exist. Every table, chair, cup, painting and every other prop was brought into an empty retail space that was built (art designed) as a café. Two days after it was built, the whole thing was taken down, leaving only an empty retail space again.
The holographic video content in the autonomous car assumes that the windshield glass works with the dashboard element to generate the media. The producers initially thought that glass light field technology was "too sci-fi," but it passed due to the availability of existing glass displays.
One day of shooting happened at a college, and parking had to be coordinated on narrow campus grounds. While one of the red "autonomous" cars was being parked, it hit a concrete corner of an outdoor seating area, which ripped through the metal of the car's passenger side door. Nobody was hurt, and thankfully the car scene had already been shot.
The set for the quadriplegic was actually an office kitchen that was converted into a home space. Every item in the office kitchen was taken out, and every prop—including tables and chairs in the background, and item on the wall of the set—was brought in and designed to look like a home. After shooting, it was all torn down and the office kitchen was put back together exactly as it was.
Several quadriplegics were auditioned for the part, but the actor who got the part is not disabled. He said that being able to move only his eyes and face was one of the hardest acting challenges he's ever had.
The Holo-Room was designed and mostly constructed beforehand. It was designed to be moved piece by piece into an office space for quick construction. It was moved in and built in 1 day and then torn down.
The film was shot entirely in San Diego, marking the first time a Near Future film had no scenes filmed in the Bay Area.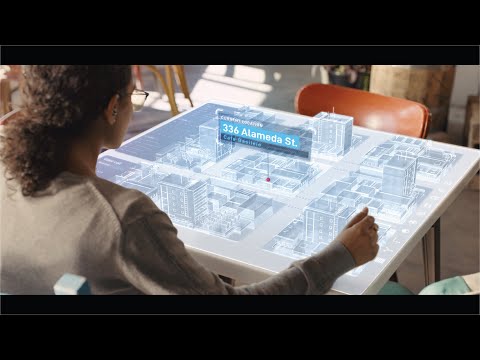 Just Released: A New "Near Future" Film Takes a Look at How Innovation Will Affect the Way You Work
This week, CableLabs released the fourth installment in its Near Future series. Titled The Near Future: Diverse Thinkers Wanted, this short film explores the aspect of life that takes up most of our time and energy: work. Have you ever wondered what a typical day at the office might be like in a decade? Will a 9-to-5 workday still exist, or will the technology of tomorrow redefine the concept of work as we know it? Let's take a closer look.
The Future Vision
The film's narrative is centered on Nikki, an ambitious go-getter who's about to deliver an important presentation. But as often happens in the world of business, things don't go exactly as planned and Nikki is faced with a number of seemingly insurmountable challenges.
Fortunately, she has all the tools she needs to not only solve every problem but to do so without ever slowing down. On-call mixed reality apps and helpful light field displays provide the information she needs. An autonomous taxi is always there to take her anywhere she wants to go. Layered videoconferencing solutions and holographic telepresence technology help her maintain continuous contact with her team. And an ever-present AI assistant takes care of everything else, from confirming appointment details to booking a holo-room, in seconds.
Thanks to all this advanced tech at her fingertips, Nikki has the opportunity to be her best, most creative and efficient self, and to make smart, calculated decisions without ever losing focus. Not everyone's workday will resemble Nikki's, but this kind of technological advancement is certain to have a profound effect on the way we approach our daily tasks, conduct meetings and solve problems in the near future, no matter what line of work we're in.
Technologies That Will Help Us Get There
The technology shown in the film will shape the way we think about work in the future. Powered by a multi-gigabit super network of tomorrow, it will create a more efficient, productive and creative work environment that will help us perform at our best. For example, technology can be used to:
Manage our time better: Picture a world where you don't waste half your morning resolving calendar conflicts or worrying about logistics. How much more would you be able to get done in a day? According to Accenture, technologies such as Nikki's ear-piece AI assistant are projected to increase labor productivity by up to 40 percent, enabling you to make more efficient use of your time.
Access the information we need, whenever we need it: A lot of workplace slowdowns occur because of missing or inadequate information. How much more productive do you think you'd be if all the information you ever needed was readily available to you? In the film, Nikki's eyeglasses have built-in mixed-reality tech that overlays street addresses and other data on top of everything she sees, allowing her to make critical decisions on the go.
Collaborate more efficiently, from anywhere: To accommodate a more talented and diverse workforce, businesses around the world are seeking advanced remote collaboration solutions that allow their teams to seamlessly interact as if they're physically present at the same location. In the film, we explore a few ideas about how this might work, including layered videoconferencing technology that combines traditional video with mixed and virtual reality, public light field tables and holographic telepresence systems (holo-rooms), where Nikki's entire team gathers to work on a common project.
Enhance our skills and abilities: According to the World Economic Forum, 65 percent of children now entering elementary school will hold jobs that currently don't exist. This is partially due to technologies like alternative interfacing, which gave Nikki's coworker the ability to manipulate virtual objects with the movement of his eyes. This type of new and exciting technology will drive the need for more interesting and fulfilling jobs—and redefine the nature of work as we know it. 
Focus on creative solutions: According to McKinsey, 50 percent of current work activities are automatable, and the demand for skills like creativity, critical thinking, decision making and complex information processing is projected to grow 19 percent in the United States by 2030. Outsourcing some of the boring and mundane tasks—such as double-checking locations, hailing a cab or booking a room—to machines will free up more of our brainpower for a whole new level of creativity and imagination.
Although we're not yet in Nikki's world, we're well on our way. The 10G platform will set the foundation for many of these technologies, enabling app developers and entrepreneurs to innovate without worrying about the speed, capacity and latency restrictions they had to deal with in the past. Take a look for yourself! You can view the film in its entirety below.
2019 Tech Innovation Predictions
Now that 2019 is here, it's time to share my tech innovation predictions for the year. Watch the video below to find out what you can expect to see in 2019.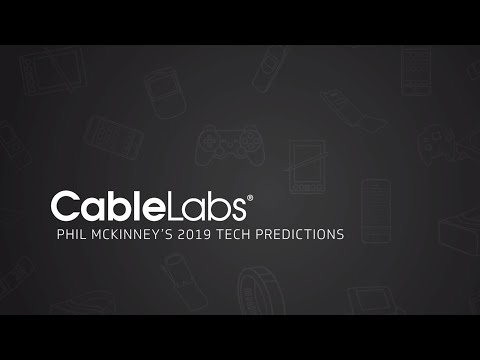 What are your innovation predictions for 2019? Tell us in the comment section below. Best wishes for a great new year!
 --
Subscribe to our blog to see how CableLabs enables innovation.
A Look into the Near Future
CableLabs has done something surprising for an Innovation and R&D Lab. They have released a short film that provides a vision of possibilities arising from the high speed low latency networks that will connect our homes, businesses and mobile devices in the not too far distant future.
Portraying a number of vignettes in the life of a family, the video illustrates the impact of new technologies on a range of human interactions. These include holographic based education, autonomous vehicles, augmented and virtual reality gaming, collaborative work and much more.
The film, produced from the vision of the CableLabs innovation team, offers a compelling view into the technology driven transformative shifts that could occur over the next five years.
Filming was not a trivial task. To properly illustrate each technology, special effects were required in most of the shots. The visual FX company, FirstPerson, was brought on to the team to 3D map each set in preparation for post production. After shooting was completed, the FX team was tasked with matching the 3D generated maps to the real locations, bringing the virtual reality technology to life.
To see the film and more, go to www.thenearfuture.network