CableLabs Announces the Mobile Convergence Committee: User-Centric Networks of the Future Need a Fresh Look at Convergence
Over the next decade, we expect the industry to undergo a significant transformation as service providers deploy multiple access technologies and as new connectivity choices become available to users. To enable transparent, seamless connectivity for users and to efficiently leverage their assets, networks need to become more user-centric. User centricity will demand a more holistic architecture that converges the independent, siloed networks we currently use, thereby enabling a more seamless and optimized experience at home, at work, on the go and in the air. The time is now to put on an innovative lens to take a fresh look at convergence.
Although many people are focused on expanding from wired to wireless, and integrating existing wired and wireless networks, no single access method can address the needs of all users. Ideally, a converged network solution will enable our members to deliver the most efficient seamless experience while allowing them to keep up with ever-increasing demand for faster, more reliable, more secure connectivity—all in an effort to improve the way we live, work, learn and play and to unleash the next generation of applications and use cases.
This transformational shift toward user-centric networks as wireless and wireline technologies surge toward deployment, the CableLabs team, led by Chief Research Development Officer (CRDO) Mariam Sorond, formulated a clear vision of what network architectures and technologies for such a converged network should be.
"With the rapid adoption of new disaggregated architectures, open standards and cloud native technologies," Sorond said, "the timing seemed right to focus on a user-centric network architecture through the convergence of wireless and wired networks."
A well-defined set of architectures and requirements will provide a clear and consistent view and facilitate industry alignment and economies of scale. It will also provide guidelines for ecosystem partners to develop converged solutions and products, enabling our members to deliver on the vision of user-centric networks. To this end, Sorond has put together the Mobile Convergence Committee (MCC), the main objective of which will be to develop industry requirements for a network that will, in turn, bolster the convergence architecture and its specifications.
Currently, the MCC is composed of the following ten industry influencers and thought leaders:
We anticipate that MCC membership will expand to a total of 14 in the coming months.
"The advantages of convergent networks is clear, and it will strongly benefit our customers," said Nadia Benabdallah. "We will simplify the consumption of new services, regardless of the underlying infrastructure. With the adoption of the 'Network as a Platform' approach, we make the underlying networks invisible to our customers."
"The long-term vision for fixed mobile convergence is to deliver ubiquitous wired-wireless connectivity to our customers anywhere and on any device, delivered on cable's high-capacity and low-latency networks," Craig Cowden said. "This means that customers will carry their services, policies and identity with them wherever they go. The time for convergence is now, as we can leverage key building blocks like virtualization, network disaggregation, open interfaces, multi-access edge computing (MEC), automation, along with artificial intelligence (AI) and machine learning (ML) to manage network complexities. I look forward to chairing the Mobile Convergence Committee and working with a talented group of professionals."
"At Cox," said Tony Krueck, "our number-one guiding principle for considering retail wireless is to protect our core business. We believe the primary way to do that is through converged capabilities. Creating seamless connectivity and applications for our customers will become foundational to the future of our products and services."
"With Xfinity Mobile, Comcast has taken its leading connectivity experience outside the home and given our customers the ability to access the Internet from anywhere," said Tom Nagel. "As we look toward a future with more integrated experiences across all of our services, we are excited to work with CableLabs toward the virtualization and convergence that will help make that a reality."
"We believe that bringing together a common vision and strategy in wireless, cable infrastructure and—most importantly—customer experience is critical to moving the industry forward," said Luciano Ramos. "As members of CableLabs, we're very pleased to participate in the Mobile Convergence Committee to help simplify converged solutions and bring new experiences to customers."
"The industry has been talking about convergence for a long time", said Iyad Tarazi. "What's exciting about this CableLabs initiative is that the foundational technologies now exist for us to make this real, and the focus on the customer experience is the right guiding principle."
If you're interested in hearing more about the MCC, register for Envision by clicking below.
Mobility Lab Webinar #3 Recap: Inter-Operator Mobility with CBRS
Today we hosted our third webinar in the Mobility Lab Webinar series, "Inter-Operator Mobility with CBRS." In case you missed the webinar, you can read about it in this blog or scroll down to see the recorded webinar and Q&A below.
Background
Multiple service operators (MSOs) may be motivated to provide mobile services using the new 3.5 GHz spectrum introduced with Citizens Broadband Radio Service (CBRS). However, because CBRS operates low-power small cells to provide localized coverage in high-traffic environments, MSOs may rely on mobile virtual network operator (MVNO) agreements to provide mobile service outside the CBRS coverage area. In this scenario, MSOs will be motivated to:
deliver a seamless transition,
minimize the transition time between the home CBRS network and the visitor MVNO network, and
maximize device attachment to the home CBRS network.
For inter-operator roaming, mobile operators use one of the two 3GPP roaming standards—Home Routing (HR) or Local Break Out (LBO)—to support the transition between a home network and roaming partner visitor networks. The international or domestic roaming agreements between home and visitor operator networks require the two networks to share roaming interfaces, as dictated by the 3GPP-defined roaming models. Because mobile operators are motivated to keep their subscribers on their network as long as possible to minimize LTE offload, they have little incentive to provide open access and connection to MVNO partners. Thus, the CBRS operator and host MVNO operators may have different and opposing motivations.
Our Webinar: Inter-Operator Mobility with CBRS
The "Inter-Operator Mobility with CBRS" webinar provides key findings that may assist MSOs in evaluating the implementation of the two roaming models for CBRS use cases with regards to:
inter-operator mobility using network-based triggers for connected and idle modes,
sharing of roaming interfaces,
Public Land Mobile Network (PLMN) configurations, and
higher-priority network selection timer.
The webinar also discusses the alternative solutions to network-based transition, such as:
device transition controlled with an external server and
enhancing dual SIM functionality.
You can view the webinar, webinar Q&A and technical brief below:
If you have any questions, please feel free to reach out to Omkar Dharmadhikari. Stay tuned for information about upcoming webinars by subscribing to our blog.
Mobility Lab Webinar #3: Inter-Operator Mobility with CBRS
The emergence of spectrum sharing with Citizen Broadband Radio Service (CBRS) has unlocked opportunities for new entrants including traditional multiple service operators (MSOs) to provide mobile service. CBRS networks will use low power small cells which inherently provides short distance coverage and thus target deployment in high traffic areas. Operators will likely have to rely on macro-cell network coverage to compensate for mobile service outside CBRS network coverage. Mobile Virtual Network Operator (MVNO) agreements are a common solution to support this strategy. Mobility and roaming between MSO-owned CBRS network and mobile network operator (MNO) owned licensed LTE network could potentially become a hurdle for MSOs with the need to share roaming interfaces and the need to have mobility parameters configured on both networks.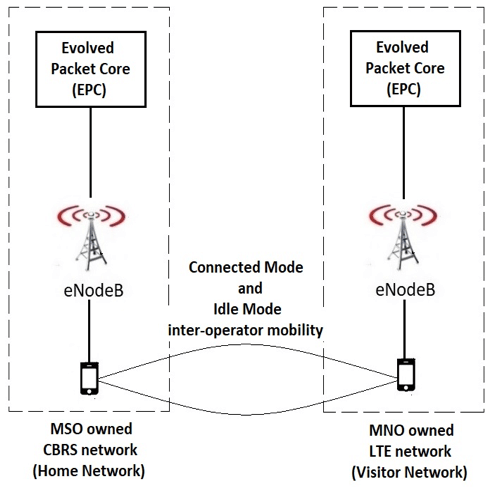 Inter-operator mobility with CBRS can be achieved with two 3GPP standardized roaming models for inter-operator mobility, each posing different challenges, benefits and tradeoffs to MSOs:
Home Routed (HR)
HR is ideal for MSOs who have a strong relationship with an MNO where sharing multiple interfaces and configuring mobility parameters is not an issue. HR benefits MSOs by enabling seamless connected mode mobility for subscribers while transitioning between the two operators but incurs high latency with user traffic being routed back to the home network.
Local Break Out (LBO)
LBO is ideal for MSOs who desire the least dependency on the MNO and plan to offer only data services with CBRS. Voice service offering with LBO implementation can degrade user experience because service disruption is expected during network transition with no S10 interface sharing. LBO, however, offers efficient routing in terms on bandwidth and latency as the user traffic is serviced by the visitor network.
CableLabs conducted testing to analyze requirements for the two 3GPP based roaming models with regards to network infrastructure, roaming interfaces, mobility configuration and mobility triggers. The testing documents key findings and observations that could assist MSOs to evaluate the benefits and challenges offered by the two roaming models.
Register for our Webinar
CableLabs is hosting another webinar as part of the "Mobility Lab Webinar Series" on "Inter-Operator Mobility with CBRS", scheduled for April 16th, 2019.
The webinar provides:
An understanding of 3GPP based network implementations for roaming used for inter-operator mobility along with their benefits and tradeoffs
An overview of inter-operator mobility testing at CableLabs
A brief description of alternate implementations that could overcome challenges faced with 3GPP based network Implementations for roaming
A lab demonstration of connected mode handover using Home Routed (HR) model between MSO owned CBRS network and MNO owned licensed LTE network
In case you missed our previous webinars, you can find them below:
First Impressions of the Mobile World Congress in Barcelona
CableLabs is hosting its first tour of Mobile World Congress (MWC) here in Barcelona, Spain. The MWC is the World's largest mobile congress with attendance likely to top over one hundred thousand people from two hundred countries. It's the place to be seen in the mobile world, which today is more than about handsets and networks. All the largest companies in telecom are here making major announcements.
I began the day scouting with the team to make sure that our tour would visit the best companies and technologies. It was an amazing day of observing technological breakthroughs that I would like to share.
1GBps Mobile
Let's first discuss speed. Many of the world's largest telecom vendors are presenting LTE technologies that will enable 1Gbps to your mobile phone - -that is if you are the only user in a cell close to the base station. To achieve these speeds, the headsets will need four antennas integrated into them. This is now possible with frequencies as low as 2.1 GHz in order to achieve 4x4 MIMO. It also means that you need to combine 3 mobile carriers with 256 QAM. What does that mean in a real world situation in a few years' time? Well, the average speed today of LTE in the US of circa 10 MBps and these new technologies will take this to circa 60Mbps in a few years time with all the associated improvements in cellular backhaul. Qualcomm is making all this technology available in their new X16 Chip, which is being used by companies such as Ericsson, Nokia, Huawei and the rest - all here at MWC.
5G
5G is based on the evolution of LTE with the use of millimeter waves to extend frequency operation of today's wireless systems from sub-6GHz to 100GHz. Ericsson was demonstrating a 15GHz system with an 800Mhz channel bandwidth to support users with up to 20Gbps. Because of the smaller physical size of antennas at these millimeter wave frequencies, it is possible to build arrays of these for 256x256 MIMO and to steer these pencil-like beams to individual users. There are expectations of commercialization of this type of technology as early as 2020.
5G - IoT
5G is more than about speed. The evolution of LTE will support the aggregation of small channels for massive IoT applications which require relatively small bandwidths.
5G - 1mS Latency
One of the most exciting aspects of 5G is the requirement to support 1mS latency. Today's mobile networks have latency of typically 60-100mS. Why is this new requirement important? The distance from the touch of an object to the sensation in your brain is approximately 1mS. With this target of low latency, it would be possible for people to see and react to events in real-time for critical control operations. Real-time control of cars driving at high speed would be possible across networks with no traffic lights!
It is not all 5G – WiFi 802.11ax
Qualcomm was demonstrating 802.11ax pre-standard WiFi. This takes the advances for LTE technology to WiFi to support multi-users in complex environments such as offices to maintain speeds in scheduled applications.
LTE coming to WiFi soon - MuLTEfire
Qualcomm is developing a new technology called MuLTEfire which will support LTE in the 5GHz WiFi with Listen Before Talk (LBT) as a good neighbor to WiFi. MSOs could then support LTE based services without the need of an anchor mobile carrier. Qualcomm has formed the MuLTEfire alliance for likeminded members to exploit LTE in the WiFi bands. Today this includes companies such as Intel and Ruckus.
3.5GHz mobile is on its way
The FCC is opening the 3.55-3,7GHz (LTE bands 42 and 43) within the next few years. People will be able to access up to 150MHz of free mobile spectrum for small cells. Qualcomm has formed an alliance with Ruckus to demonstrate a 3.5GHz LTE small cell base station in a dongle connected into what looked like a Google OnHub. 3.5GHz presents great opportunities for CableLabs MSO members seeking to become mobile operators.
And finally:
If you told me as little as a few years ago that anyone could become a mobile operator in the near future, enjoying free spectrum with a base station on a dongle and a package core network on a laptop, or virtualized in the cloud, I would have not believed you. What I saw at MWC on the first day makes me feel that this well be real within the next 3+ years! CableLabs is uniquely positioned to work with our Members, some of who are gathered here, to drive innovation to make this happen.