5 Ways to Raise Innovation Leadership
The need to innovate now is greater than ever. Yet, many leaders admit that they just don't have the time or they don't practice innovation consistently enough as an individual or with their team. With an accelerating stream of start-ups and popular well-funded competitors challenging the set-top box, connectivity methods, and business models of the cable industry, we must rise up together and win the innovation game! It will take our individual and collective commitment to delivering great value with our networks, entertainment &  connectivity solutions today. We also need to raise our commitment to innovation leadership in order to place the cable industry at the forefront of the connected experience with purposeful innovations for decades to come.
With all this in mind, here are 5 ways for you and your team to innovate at new heights: 
1. Check Yourself: Transformation always begins with self-awareness. Contemplate these questions as an innovator and correct any tensions that may arise:
How important is innovation in my role, my team or company?
What would another level of innovation in my role, team or company look like?
Am I or is my team regularly discovering, developing or delivering innovation to my customers inside or outside my company?
Do I really know my customer's challenges, problems, gaps or missed opportunities that are the ripest for innovation?
What idea or innovation has been on the back burner for way too long?
2. Ask better questions: Let's start with the most obvious question: "Do you know what questions need to be asked to spark game-changing innovation and influence others to see the value you see?"
Why ask better questions?  So, you can:
Help your organization make great decisions
Challenge your team to see beyond the status quo
Anticipate business challenges
Understand your customers when they are not always clear about what they want
Wondering how to start?  I invite you to formulate or seek out questions that help you challenge beliefs and assumptions about and assumptions about what's true or possible, consider the most expansive form of your idea and to empathize with others in order to solve real problems and innovate with purpose.
3. Build Innovation Grit: Coming up with breakthrough ideas is really hard. It's even harder to stay resilient when the "antibodies", or resistors, to change cut you off all your attempt. Innovation has taught us that most great ideas were first impractical, impossible or down right stupid before they became the NEXT big thing or even just the next important thing. As humans, we'd like to think we are fully adaptable, but in reality, we are comforted by the status quo and certainty overall. It requires a special mindset, commitment and a lot of perseverance (grit) to see an innovation through.
Did you know Innovation Grit must be developed consciously or your idea will be lost to the innovation graveyard, due to the antibodies AGAIN!?
4. Practice, Practice, Practice: To master anything, you must practice! So, let's check in on your innovation practice:
What are the daily, weekly, monthly, quarterly or yearly innovation practices you apply consistently, and with ever increasing competency?
Are these practices truly generating more ideas, more value or more impact?
If you were going to be 10x times more innovative 6 months from now, what practice would you need to START or re-commit to NOW?
5. Accelerate Change: If you noticed tensions, gaps or challenges in the above, and you KNOW it's time to make a change, then take action and/or find an innovation mentor, coach or training program to help you accelerate the learning curve, focus your attention and get back in the game with the kind of intensity we need right now for the Cable Industry!
I invite you to consider our upcoming Innovation Boot Camp Intensive:
At boot camp, you will learn a framework for successful innovation and how to generate breakthrough innovation, BY DOING IT, in an immersive, intimate and accelerated way. Our upcoming boot camps are October 23-27, 2017 in Boulder, CO or April 23-27, 2018 in Silicon Valley.
We keep each boot camp small, so you get plenty of time and attention with our experts. These include CableLabs CEO and renowned innovator Phil McKinney, author of "Beyond the Obvious – Killer Questions that Spark Game-Changing Innovation," as well as creator of the award winning, nationally syndicated radio show/podcast "Killer Innovations". You will leave Boot Camp with more strategic questions and the confidence when you return to work.
You will learn about the innovation myths that need to be busted and great strategies to deal with the antibodies who may kill your best ideas or slow down their progress. With a team of battle tested innovators challenging you to transform your mindset, build creative confidence, grit and ultimately innovation impact in any role.
So there you have it, 5 tangible and accelerated ways to RAISE your Innovation Game: Check in on your current state of innovation, move your attention to killer questions, find new ways to overcome "antibodies" to your innovations, commit to a regular innovation practice AND when you are ready, go DEEP at Innovation Bootcamp - or go home!
Interested in reading about what Innovation Bootcamp is really like? Check out my blog post about our previous Boot Camp here and watch the video below. Don't hesitate to contact me with any questions. Our topic area for exploration and innovation will be "Health in the Home" where we examine opportunities in home health care, wellbeing and aging in place.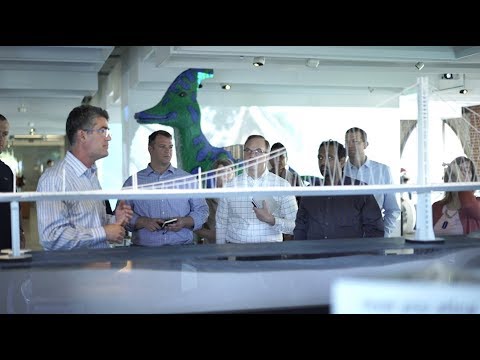 Discover how CableLabs supports the cable industry to stay on the forefront of innovation here.
5G For All: The Need for Standardized 5G Technologies in the Unlicensed Bands
Wherever you turn in the wireless ecosystem today, 5G is the buzzword and the popular kid on the block… well, at least in some blocks. 3GPP, a third generation partnership project that defines specifications for GSM networks and radio access technologies, is working on developing the 5G standards at an accelerated pace, thus emphasizing the importance of 5G in the evolution of mobile networks. But, what is missing in the picture, is an equal emphasis and urgency in developing standardized 5G solutions for the unlicensed bands.
--
According to the FCC:

Unlicensed Spectrum: "In spectrum that is designated as "unlicensed" or "licensed-exempt," users can operate without an FCC license but must use certified radio equipment and must comply with the technical requirements, including power limits, of the FCC's Part 15 Rules. Users of the license-exempt bands do not have exclusive use of the spectrum and are subject to interference."

Licensed Spectrum: "Licensed spectrum allows for exclusive, and in some cases non-exclusive, use of particular frequencies or channels in particular locations. Some licensed frequency bands were made available on a site-by-site basis, meaning that licensees have exclusive use of the specified spectrum bands in a particular point location with a radius around that location."
--
The unlicensed spectrum has a history of delivering connectivity to the masses at unparalleled scales and economies. Taking Wi-Fi as a proxy for the unlicensed spectrum, by 2020, it is expected that the total shipment of Wi-Fi devices will have a user base of nearly 12 billion devices and the total shipments of Wi-Fi devices will surpass a whopping 28 billion. (Note: world population is forecasted to be 7.7 billion in 2020!).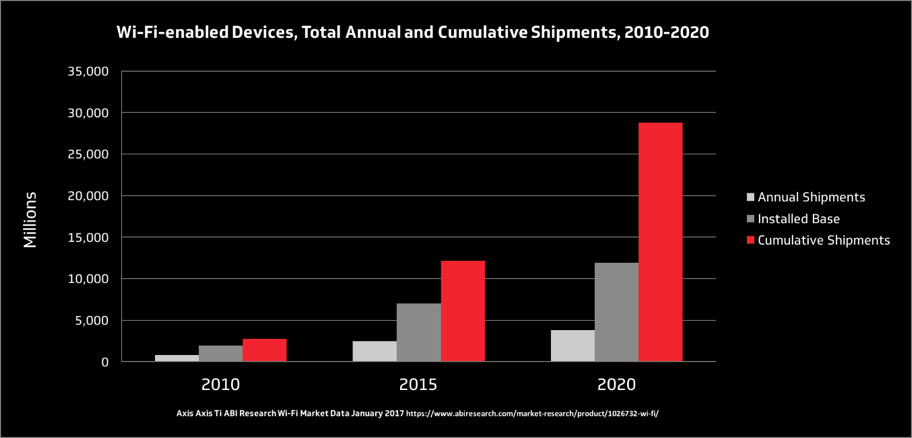 One of the fundamental drivers of the success of Wi-Fi is its use of unlicensed spectrum because the innovation enables the availability of Wi-Fi for everyone with a significantly lower cost and complexity of deploying a wireless network. Additionally, unlicensed spectrum plays a critical role in the success of licensed spectrum technologies. In 2016, 60% of mobile traffic was offloaded to the unlicensed spectrum. This means that mobile networks had to increase capacity by 250% if offloading to unlicensed spectrum was not viable. However, the user experience when switching between mobile networks and Wi-Fi has not been ideal due to a lack of interoperability.
3GPP is now looking at enabling 5G technologies in the unlicensed bands; specifically, 3.5 GHz, 5 GHz and 60 GHz. The study led by Qualcomm was approved in March of 2017, with the results expected to be handed off to 3GPP in June of 2018 for review. While this is exciting news for fans of unlicensed spectrum, it comes at a slower pace than its licensed spectrum counterpart. It is expected that 3GPP will finalize the licensed spectrum Non-Standalone (NSA) 5G enhanced mobile broadband specifications by March of 2018, thus enabling 5G network deployments in early 2019.
Although the schedule is not ideal, it is a step in the right direction. The popularity of the unlicensed spectrum (2.4 GHz and 5 GHz) has driven high levels of congestion. With the continuous increase in user demand, spectrum depletion is a real risk. Fortunately, the 60 GHz spectrum offers a huge swath of underutilized spectrum that is ripe for deploying 5G standalone networks within it. The 60 GHz band has 14 GHz of available spectrum (57 GHz – 71 GHz), which on its own is larger than all the licensed spectrum that is being considered for 5G networks, including licensed spectrum for 2G/3G/4G mobile networks!
We have addressed the business case for 5G technologies in the unlicensed band, but what's in it for the end user?  The ability to make high-speed low latency wireless networks widely available has the potential to significantly disrupt what's possible in our everyday lives, such as in education, healthcare, transportation, commerce, the way we work, entertainment, and most importantly, the way people connect with each other. Additionally, the availability of high-speed low latency wireless networks enables a new platform for innovation, on which applications we have yet to think of will be developed. The possibilities are endless and limited only by our imagination. As an example, take a look at our short video The Near Future: A Better Place here.
Harnessing the capabilities of 5G technologies and coupling it with unlicensed spectrum so that users can enjoy a seamless wireless experience across licensed and unlicensed bands is one of those truly rare instances where 1 + 1 = 3. What we cannot afford is to not drive standardized 5G technologies in the unlicensed band at a fast pace, because we would miss out on what the coupling of 5G and unlicensed spectrum has to offer.
--
You can find out more about what CableLabs is doing in this space by reading our Inform[ED] Insight on 5G here. Subscribe to our blog to find out more about 5G in the future.
IoT Security – Insight on Trends, Challenges and the Road Ahead
The Internet of Things (IoT) industry isn't part of the "Near Future" - it's already here and growing rapidly. The Wall Street Journal hails IoT as the next Industrial Revolution and, according to Cisco, there are currently 4.9 billion connected devices today with an expected 12 billion by 2020. The fully matured result of this rapid growth is a $6 trillion industry.
AT&T's Cybersecurity Insights Report surveyed more than 5,000 enterprises around the world and found that 85% of enterprises are in the process of or intend to deploy IoT devices. Yet a mere 10% of those surveyed feel confident that they could secure those devices against cyber attacks.
The big question that emerges as individuals think deeper about the the implications of almost every device being connected is: "How do we keep our devices secure?"
To further our discussion on IoT Security from our Insight paper, we talked to Kyrio's Director of Business Development, Security Services, Ron Ih, to get expert insight into one of the most pressing questions in tech today...
What is the most important IoT security trend we are seeing this year?
As consumers and businesses adopt more IoT devices and threats continue to multiply, securing those devices easily and at scale has become a daunting task. We are seeing more specialized security tools and processes specifically for IoT devices this year, specifically the use of digital certificates and public key infrastructure (PKI's) to enable a more secure onboarding process.
"'Onboarding' is the process by which a new device is connected and added to the network and the local IoT ecosystem. Onboarding includes the process for authentication, authorization, and accountability of that new device." -- A Vision for Secure IoT
Digital certificates are issued and signed by a reputable source, often referred to as a Certificate Authority or Root of Trust. Like a digital identity card, devices exchange digital certificates to cryptographically authenticate each other's identity and origin. In other words, authentication credentials allow you to prove you are what you say you are. As the IoT Security Informed Insight explains, "not only do digital certificates increase security, they enable a better customer experience (e.g. no PIN to enter.)"
The cryptographic signatures within the certificates cannot feasibly be forged or re-created unless you have the proper private key at the source. You can read more about the authentication process, digital certificates and PKI's here.
What are the main challenges facing the IoT industry today?
The challenges are multifaceted, but the three most common I see are:
While many companies are beginning to explore solutions, most device makers do not have security experts and are unprepared to manage security complexities
Device manufacturers and security companies have traditionally operated in two quite separate worlds.
Device manufacturers operate in a world of physical devices, often on the scale of hundreds of thousands, even millions of devices the manufactured each year. Tightly managing inventory, bill of material costs, and just in time delivery are essential to remaining competitive.  Device manufacturers work with firmware and small footprint applications, often with limited compute power and storage. Security can be limited to that which is only essential, in order to keep costs down and delivery times short. This market is generally characterized by tens of thousands of small to medium sized companies that individually might not drive very high volumes, but in aggregate ship billions of devices.
Security companies have traditionally operated in the world of enterprise computing, networking, and web servers and web applications. These accounts are typically characterized by large corporations with IT groups and staff or consultants that specializes in security. Generally, these are large companies, banks, data centers, health care providers, etc. where there may not be a physical product, but valuable data that is stored in vast database servers. The data enables services and usually involves personal and/or financial information that must be protected.
As you can see, this can result in a large mismatch between what a device maker needs, and what a security company is equipped to provide, resulting in the two parties talking past each other. As a result, device security often doesn't get implemented properly. This is not because the device maker doesn't want to do it, but because they are not effectively guided on HOW to do it.
In the pressure to meet product schedules and quarterly earnings, device security is often omitted or left as an afterthought because it currently takes too much effort and cost to understand and implement it
People often hear that cost is the reason for not implementing security, but misinterpret where that cost lies. There is indeed strong pressure to lower BOM costs, but the larger cost is often in the staff a company needs just to understand security itself. Whether it is allocating brain cycles from existing staff or new hires, headcount is generally one of the largest costs a company incurs. Understanding takes brain cycles. Brain cycles = time. Time = money, big money.
If we are to address the IoT security issue effectively, we need to address the time aspect of implementing security.
Although IoT has existed for some time now, the market pressure to go wireless leaves devices more vulnerable to attacks
Autonomous networked devices have existed for quite some time already, but have primarily been implemented on wired networks on a relatively limited scale, using general purpose computers. However, with the relentless march of Moore's Law, microcontrollers have advanced to the point where even a very small, inexpensive chip can operate a full TCP/UDP network stack in addition to managing a wireless radio. This high integration and lower cost have driven the market towards the adoption of small, wirelessly connected autonomous devices. In addition, the convenience of wireless connectivity has increased the scale of adoption to levels that are orders of magnitude greater than we have ever seen before.
Every device that is connected to your network is effectively a user on that network. Would you let a human user onto your network without verifying their identity? If you wouldn't do that, why would you let a "device" do it? I put "device" in quotes because, in a network environment, you can't always be sure if something claiming to be a device actually is what it says it is.
The justification for omitting security I often hear is "there is nothing important on that device". That is the data center way of thinking about it where you are protecting what is directly on the system where security is implemented. My response is usually this, "You are absolutely correct. No one cares about what's on the device. They care about the network it's connected to." That usually gets them to rethink their position. Insecure devices provide a foothold on the network to attack higher value devices or capture sensitive data.
How can companies work to ensure better security in their IoT products?
Businesses need to stop looking at security as a burden
Instead, businesses should leverage security as an opportunity to improve customer experience and revenues. Consumers don't buy security for security's sake, they buy products that make their lives easier and more convenient. If a product is secure, it improves the customer experience.
A holistic approach to security must be addressed at the design stage of a device
To bring products to market faster, it's easy to fall into the trap of a "sell now and we'll patch it later" mentality. It's nearly impossible to predict every security issue that may arise, so manufacturers need to consistently ask themselves: "How would this feature play out over time?" and "How do we do this in a way that's scalable and secure over time". Retrofitting security midway through the product lifecycle generally doesn't work nearly as well and often sets you up for failure.
Businesses must understand what "security" actually means and look for solutions that are easily digestible if they don't employ security experts
Device makers need to understand what security actually means and what it is. Just because you use encryption, doesn't mean your device is secure. The biggest element of security is not encryption, but authentication: identify who you are communicating with and be able to verify it.
--
As IoT devices gather more information about us and our daily lives, consumers and businesses must pay more attention to the security risks and vulnerabilities. As Chris Connors, the General Manager of Internet of Things Offerings at IBM, states: "This means that device manufacturers, application developers, consumers, operators, integrators and enterprise businesses all have their part to play to follow best practices."
You can find more information on IoT security here. Don't forget to subscribe to our blog for more information on IoT in future blog posts.
CableLabs Announces an Open Source LoRaWAN Network Solution
The Internet of Things (IoT) is a growing industry comprised of a massive number of devices that connect to each other to benefit our lives. Examples of these include the Nest thermostat, security cameras, Amazon's Alexa, and Apple Watch. Refrigerators can talk with the internet to order milk and Fitbits tell you when to step more to meet your daily exercise goals.
A new area of IoT involves the use of sensors designed to last for years on a single battery transmitting information periodically over long distances. The infrastructure to support all of these connected devices is commonly referred to as a Low Power Wide Area Network (LP-WAN).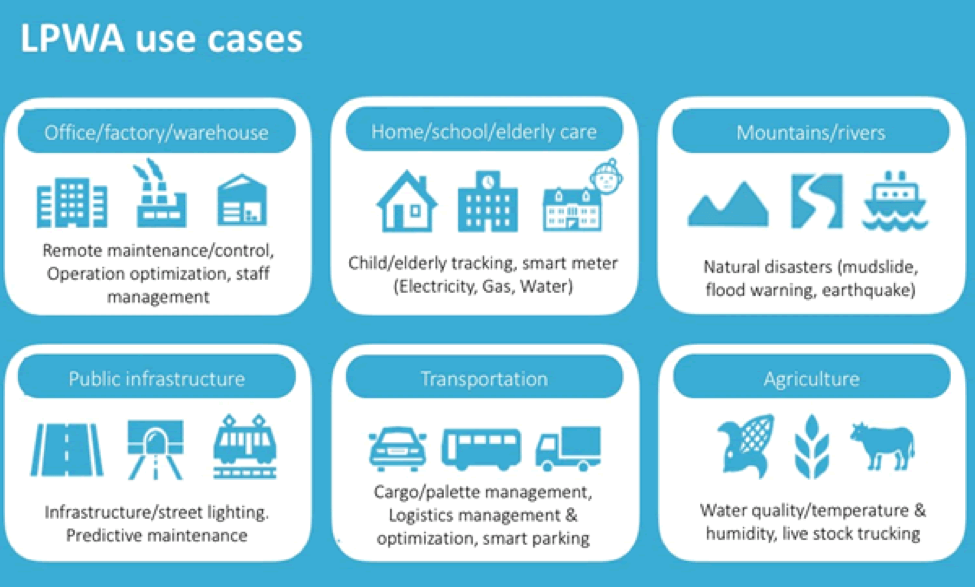 LP-WAN networks are designed to cover large geographical areas and minimize the amount of power required for sensors to interact with the network. There are many solutions available to enable this network, including Ingenu, Sigfox, LoRaWAN, 3GPP and Weightless.
CableLabs is pleased to announce an open-source LoRaWAN solution. LoRa is a semi-proprietary solution as it is owned and licensed by Semtech, and a closed consortium (i.e. LoRa Alliance) develops the LoRaWAN specification around the Semtech solution architecture.
Once the consortium concludes a revision of this effort, they make it publicly available. Ingenu and Sigfox are examples of fully proprietary solutions with closed development and ecosystems. In an effort to be more open, they have software development kits available for sensor manufacturers to create sensors for their networks. Of course, these are merely examples of many more solutions emerging in this space. All of them are attempting to create their own advantage and benefits for network providers and consumers. We attempted to highlight some of the more commonly known solutions available, but these are not meant to be preferential or endorsed by CableLabs and are not an exhaustive listing.
LoRaWAN is a long range, low power wireless protocol that is intended for use in building IoT LP-WAN networks. IoT devices send small data packets to any number of "gateways" that may be in the several-kilometer range of a sensor via the LoRaWAN wireless protocol. The gateways then use more traditional communications such as wired Internet connections to forward the messages to a network-server which validates the packets and forwards the application payload to an application-server.
CableLabs chose to develop a LoRaWAN open-source solution because we believe it is a good compromise between proprietary and open solutions, and it provides many of our members an opportunity to compete in the low power wide area (LPWA) space.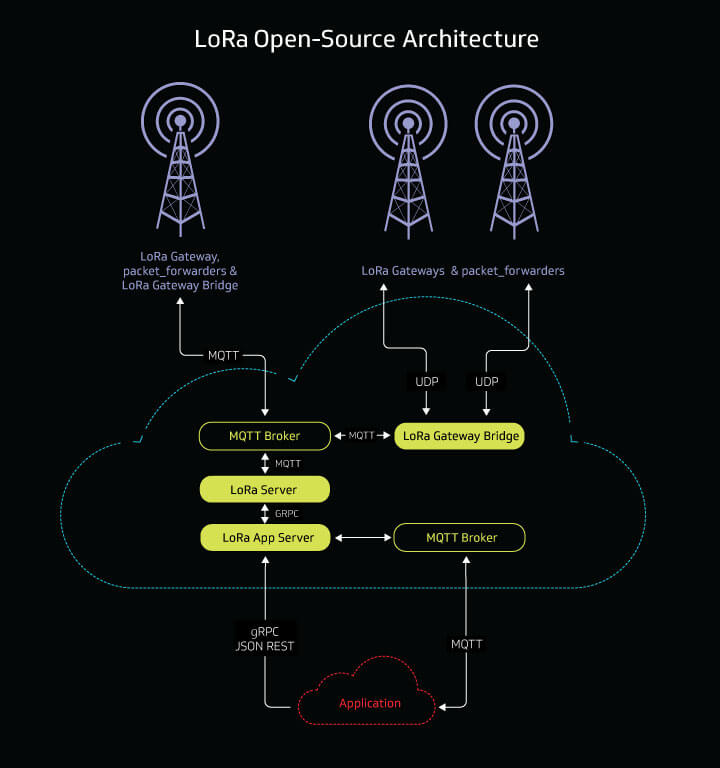 In the past, CableLabs has often developed solutions specific to the cable industry, but we believe open-source provides consumers a great benefit as it will spur growth in an industry intended to enrich our lives. This enrichment comes through devices intended to inform us of many things. For example, many of us have driven by a city park during a rain storm and noticed the sprinkler system running. This is a waste of water and further impacts our climate. What if we had soil moisture sensors that could communicate with a sprinkler controller to inform it when it requires water? This could save countless gallons of water, which is extremely valuable, especially in drought-stricken regions.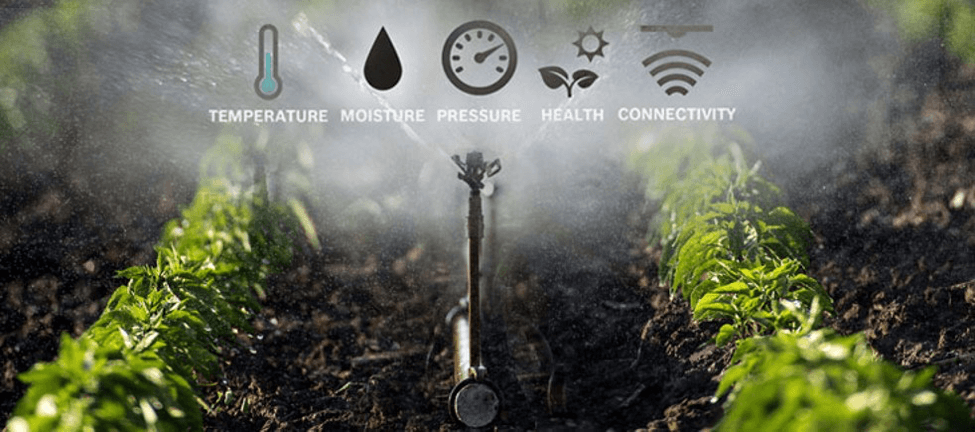 Another example could be to inform a loved one when an aging relative has taken their pills for the day, gets out of bed or sits in a chair too long. All of these are examples of the benefits of sensors enabled by LP-WANs.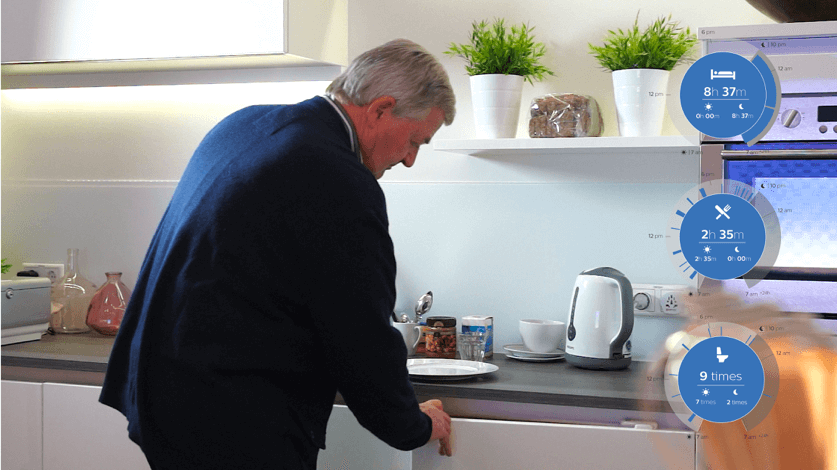 In order for us to realize these benefits, LP-WANs need to be deployed broadly across national and international regions. This will enable the use of many sensors across these same regions. As we make use of the sensor data, it will enrich our lives with information to make better choices, ensure higher quality results and guide us towards a better future. By making a portion of this network available for open-source, our goal is to lower the barrier for the cable industry and other industry participants to enable these solutions for consumers and governments. Together we can truly change the world, and it should not be limited by costly barriers.
-
More information on the CableLabs LoRa server, including documentation and code repository, can be found here.
With a strong focus on innovation, CableLabs develops technologies and specifications for the secure delivery of high-speed data, video, voice and next generation services. Don't forget to subscribe to our blog to read more about our innovative technologies in the future.
CableLabs in Hong Kong: Insights from APOStech 2017
CableLabs participated in the 2nd Annual APOStech conference in Hong Kong July 4-6, 2017 and it was a huge success!
APOStech is designed to unite executives and key stakeholders from the video and broadband industries across the Asia Pacific region to discuss technology innovation and trends that are defining the future of the connected consumer. Over 180 participants from 88 companies around the globe were in attendance, giving CableLabs the opportunity to speak with current members and establish new relationships with other cable operators in the region.
Aravind Venugopal, Vice President with Media Partners Asia (MPA), set the backdrop for the conference by providing an overview of the explosive growth of broadband, pay tv and mobile services in Asia. MPA just released projections anticipating 30 million new broadband homes in Asia over the five year period from 2017-2022 (excluding China). Nearly half of this growth (45%) will occur in India. Pay tv subscribers will increase nearly 30 million, from 244 million to 271 million over this same period (again, excluding China).  SVOD subscribers will jump from 54 million to 108 million over the course of the 2017-2022 period.
Among the highly informative learnings from APOStech:
Only 1 in 10 homes in the Philippines have broadband with an average download speed of 4 Mbps – with the growth of over 2 million additional broadband homes forecast by 2020.
100 million of the 275 million homes in India do not have a television.  Broadband represents an opportunity for these – and all other – homes.  In the Indian economy, prepaid services are dominant, including for broadband and pay tv.  Service providers need to think in terms of monthly, weekly and even daily prepaid services.  National MSOs have 12% of the broadband market – with the incumbent telecom provider (BSNL/MTNL) reaching 66% of the broadband market.
In Korea, 58% of pay tv subscribers prefer cable television, this in a country with intense video competition from three national telecom networks (LG, KT and SK Broadband).
4K content is expanding across Asia – particularly in China, Hong Kong, Indonesia, Japan and Singapore.
I delivered an overview of Gigabit Broadband Competition in the U.S. – the technologies innovated by CableLabs and its members by which cable operators are now delivering gigabit speeds globally (Click here to see my slide show presentation). I focused on the impact of collaboration across the global cable community in advancing broadband technologies at scale and the competitive leadership this strategy provides to cable operators and their customers by way of enhancing the user experience in the home and workplace.
Jeff Chen, CableLabs SVP of Global Technology, and I hosted an invitation-only event for cable operators attending the APOStech conference. Representatives from 9 MSOs participated – allowing for an in-depth overview of CableLabs and the opportunities provided for its members. Five MSOs across four countries (China, India, Korea and the Philippines) expressed substantial interest in progressing relationships with and learning more about CableLabs, extending invitations for 1:1 meetings with company executives.
We met with four of our members at the conference:
We were introduced to senior representatives from seven additional MSOs:
CableLabs' continued expansion in Asia advances its strategy of world-wide collaboration on technology and innovation for the benefit of the global cable community and the customers they serve.  From one member in Asia five years ago, CableLabs has grown to 12 members across Asia and Australia, including: Beijing Gehua CATV Network, Chongqing Cable Networks, Guangdong Cable Network, Henan Cable Network, J:COM, Jiangsu Broadcasting Cable Information Network, nbn, PT Link Net, Shenzhen Topway Video Communication, StarHub, Taiwan Broadband Communications and WASU Digital TV Media Group.
Coincidence or not, CableLabs gained its 60th member on Monday, July 10 following APOStech, Henan Cable, serving Henan Province in China with 4 million video subscribers and 400,000 broadband subscribers.
--
CableLabs is committed to expanding membership and support across Asia and beyond. With 60 members in 35 countries in Asia, Australia, Latin America, North America and Europe, CableLabs provides the opportunity for operators to collaborate with innovators worldwide. Please contact us to discover the value membership in CableLabs.