2020 Tech Innovation Predictions
Now that 2020 has arrived, it's time to share my tech innovation predictions for the year. Watch the video below to find out what you can expect to see this year.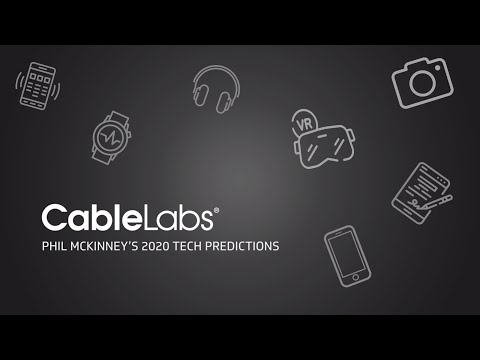 What are your innovation predictions for 2020? Tell us in the comment section below. Best wishes for a great new year!
 --
Subscribe to our blog to see how CableLabs enables innovation.
Immersive Media Experiences Reaches New Milestones
In April this year, CableLabs joined Charter Communications, Light Field Lab, OTOY, Visby, and Cox Communications to establish the Immersive Media Experiences Alliance™ (IDEA). The primary purpose of this endeavor is to develop a set of royalty-free standard specifications for immersive media formatting and distribution. This month, several significant milestones were achieved:
IDEA released its first set of draft specifications for public review,
CableLabs hosted the Light Field and Holographic Display Summit, and
IDEA demonstrated the first Immersive Technology Media Format™ (ITMF) content across multiple display types
IDEA Releases Draft Specifications
Based on OTOY's ORBX format, the Immersive Technology Media Forma (ITMF) is a display-agnostic interchange format for conveying light field imagery to a variety of display types, including light field displays. IDEA has released three draft specifications so far to document this media format: the Scene Graph Specification, the Container Specification and the Data Encoding Specification. As noted, these are draft specifications and there is still work to do in the areas of display profiles, live action capture and representation, as well as media-aware network streaming.  We encourage interested stakeholders to join IDEA and help shape the future of immersive media.
CableLabs Hosts the Light Field and Holographic Display Summit
This year's Light Field and Holographic Display Summit, produced by Insight Media, was hosted by CableLabs in Louisville, Colorado in early October. The two-day event covered not only display technology but the entire light field and holographic ecosystem. CableLabs, as a founding member of IDEA, is very interested in facilitating the acceleration of this ecosystem and envisions the 10G cable network technologies will enable the delivery of holographic experiences to consumer's homes.
The agenda was full of many interesting sessions and thought-provoking panels representing 22 different companies in this space, including talks from these IDEA founders:
Pete Lude, Chairman of IDEA and CableLabs IDEA Board Director, provided an overview of Light Field Immersive Media and an introduction to the Immersive Digital Experiences Alliance.
Jon Karafin, CEO of Light Field Lab, presented an overview of the latest developments in light field display technologies.
Ryan Damm, CEO of Visby, discussed how to get real-world footage onto these next-gen displays.
Jules Urbach, CEO of OTOY, addressed synthetic media development and formats.
Curtis Knittle, VP of Wired Technologies at CableLabs, discussed how cable 10G networks are evolving to carry light field data.
The takeaway from the summit was that there is significant activity, interest, and exciting developments in this space, both for commercial as well as military applications. As we heard Tony Werner, President of Comcast, exclaim during the most recent SCTE CableTec Expo General Session, "Holographic displays are coming sooner than we may think"! Comcast, along with Liberty Global Ventures, Samsung, Verizon Ventures, and others were recently part of a $28 million round of funding raised by Light Field Lab.
IDEA Demonstrates First ITMF Content Across Multiple Display Types
One of the main objectives of the IDEA Immersive Technology Media Format (ITMF) is to make it display-agnostic so that it can be created and stored in one format and rendered out to support multiple types of displays, including traditional 2D flat panels, virtual reality head-mounted displays, and glasses-free light field displays. Only months after IDEA was launched, members of IDEA demonstrated this concept with content created in the ITMF format and played out on an Oculus Go VR headset, a standard 2D television, and a 3D TV with active glasses.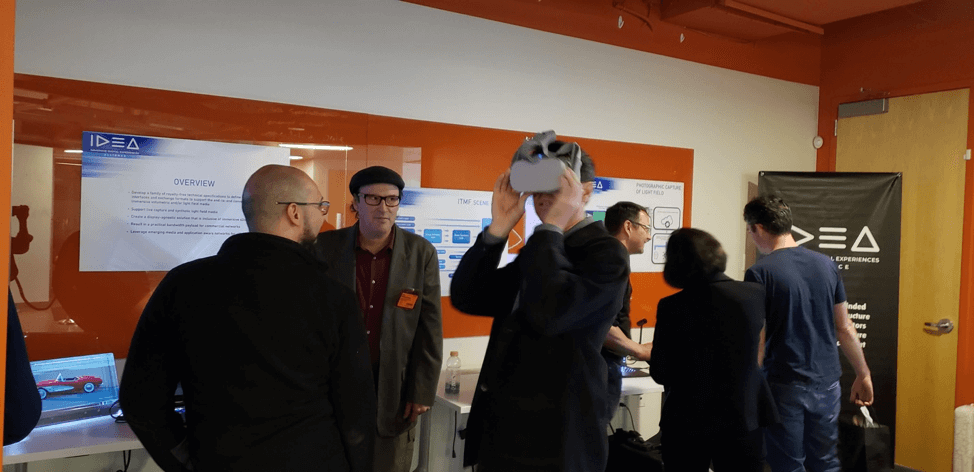 Although the Immersive Digital Experiences Alliance has only been established for a few months, these milestones demonstrate exciting progress in this space. And the alliance is just getting started! IDEA welcomes service providers, content producers, technologists and creative visionaries to join IDEA and define the media and distribution formats of the future.
Innovation Journeys: 10G is new. We have been working on it for years.
You may have noticed that CableLabs is focused on innovation. One of our goals is to be recognized as the leading industry innovation lab in the world but talking about our innovation can be a bit tricky. Our job is to deliver innovation for the worldwide cable industry, but we can't really talk about what we are working on now. We need to keep that secret for our member companies (cable operators) until the technology is ready to launch.
Our CEO, Phil McKinney has talked about how innovation is messy. Where you start may not be where you end up. I want to tell you about the path that led to one of our most important innovations--and part of our 10G platform. Low latency.
Our Low Latency Journey
We started on this journey over four years ago, with a challenge question (Focus in the FIRE methodology): What applications will drive a need for 60Mbps+ of sustained Internet bandwidth? That led to ideation sessions that unearthed the usual suspects: Internet of Things (billions of sensors, but each with such low bandwidth that they still don't add up to much), 4K streaming video (good try, but still only 15Mbps or less), "Big Data" (sorry, not really a candidate for consumer households). Those applications didn't quite answer the question.
But the emergence of 360° immersive video looked promising. Experiencing some of the earliest 360° video at the beginning of 2014 (shot on 6 Go-Pro's, manually stitched) on a low-resolution Oculus Development Kit Virtual Reality headset got us thinking about where the technology might lead. Six 4K videos, streamed to the headset met the challenge of over 60Mbps, although compression gains would reduce the bandwidth and resolution increases would increase it.
Rather than "geeking out" on the technical possibilities, we followed advice from Phil: "Talk to consumers!" In February of 2015, we did primary research, bringing 50 varied members of the public into CableLabs to try out "immersive video content." Rather than just focusing on virtual reality (VR) headsets, we constructed some other ways of consuming the content, such as immersive multi- 4K TV displays, ultra-wide projectors, tablets and regular TVs. We needed to understand whether "regular humans" (not geeks) would like these technologies.

The consumer research was massively informative. We shared the insights with our member companies at the time and realized that this ecosystem was likely to take off. We stepped back and tried to work out other mass-market use cases for VR.
Digging Deeper
We pivoted. We started to look at the possibilities of transforming how people communicate, and the ability to have holographic telepresence using digital human technology to perform digital headset removal. We don't really want to talk to another person and see that person with a headset on; we want to see other people eye to eye and have them see us eye to eye. To prove the point, later in 2015 and into early 2016 we developed eye and mouth tracking capabilities that we added to a wireless VR headset and developed a digital human avatar of one of our staff.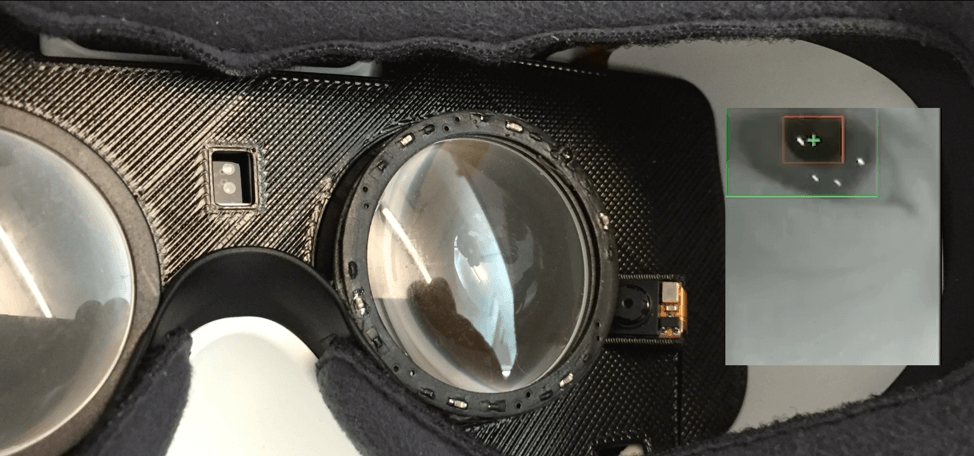 We linked the head, eye and mouth tracking to real-time control of the digital avatar.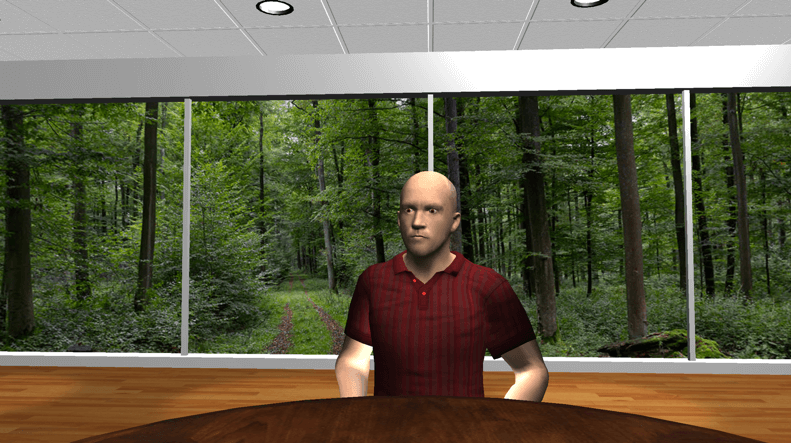 And in May of 2016 we demonstrated this to our board of directors.
What we found was a compelling application that others companies such as Microsoft, High Fidelity and more recently Facebook were starting to identify and investigate.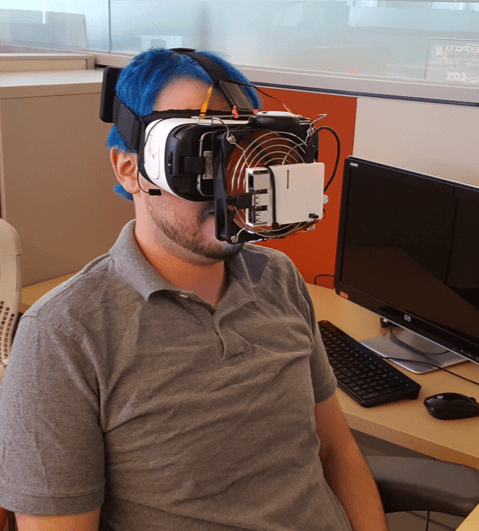 We also found that realistic digital human avatars take LOTS of compute to render in real time, and that required a tethered PC. Even as mobile processors get faster and more capable, PC graphics will always be faster and more capable, due to their power budget. Phones get hot when you try to render realistic humans. To get to mass-market adoption, we need to go wireless and move the PC out of the home.
No Less Than a Revolution
VR needs incredibly low latency between head movement and the delivery of new pixels to your eyes, or you start to feel nauseated. To move the PC out of the home, we need to make the communications over the cable network be a millisecond or less round trip. But our DOCSIS® technology at the time could not deliver that.
So, we pivoted again. Since 2016, CableLabs DOCSIS architects Greg White and Karthik Sundaresan have been focused on revolutionizing DOCSIS technology to support sub-1ms latency. Although VR is still struggling to gain widespread adoption, that low and reliable DOCSIS latency will be a boon to gamers in the short term and will enable split rendering of VR and augmented reality (AR) in the longer term. The specifications for Low Latency DOCSIS (as a software upgrade to existing DOCSIS 3.1 equipment) have been released, and we're working with the equipment suppliers to get this out into the market and to realize the gains of a somewhat torturous innovation journey.
Low latency is a key component of our 10G initiative. You can read more about the importance of latency here, and gain access both to a technical brief (members only) and to a detailed report (members only) on Wi-Fi latency in retail Wi-Fi routers.
10G Platform: Coming to Homes, Offices and Cities Near You
In just 2 years, the cable industry has made an unparalleled technological leap by increasing availability of 1 gigabit broadband Internet from only 4 percent to 80 percent of U.S. households. Today, we're excited to announce that this accomplishment is just the first step toward realizing cable's 10G vision in the next decade.
Is 10G Technology a Future Vision or Can I Get It Today?
10G is not a single technology; it's the cable broadband technology platform that can handle more data from more devices 10 times faster than today's fastest cable broadband networks. But network speed isn't the only feature of 10G. Its reduced latency, enhanced reliability and security features will open doors to a myriad of new immersive digital experiences and other emerging technologies that will revolutionize the way we live, work, learn and play.
The foundation for 10G technology already exists. The capacity of the cable networks that now deliver 1 gigabit speeds to more than 100 million homes across America will be incrementally expanded over the next few years. Plus, cable's footprint will allow for deployment of new technologies on a massive scale, bringing multi-gigabit speeds to more homes and businesses globally.
Limitless Possibilities Powered by the 10G Platform
The cable industry has a track record of delivering on its promises. A few years ago, when we were talking about the impact of 1 gigabit speeds on the connectivity industry, we envisioned a world of lag-free 4K streaming, blazing fast upload and download speeds, and smoother gaming—experiences that are now available to 93 percent of U.S. cable customers.
The 10G technology promise, however, takes us into a whole new realm of possibilities that will impact every aspect of our lives:
How We Work—Telecommuting is already favored by many businesses around the world, but the new 10G platform-powered remote presence technology will make this practice commonplace. Coworkers will be able to securely and effectively collaborate via distance VR, video walls and realistic light field displays from various locations, maximizing productivity and minimizing business expenses.
How We Learn—10G technology will enable the advancement of many emerging technologies, such as head-mounted displays, that can be used in the classroom to integrate VR with real-life objects. This technology can help our children engage with the physical world, distant cultures and the entire universe in new and interesting ways, revolutionizing our approach to education.
How We Live—The data capacity and enhanced security of multi-gigabit networks will give rise to a new wave of remote diagnostics technology. Doctors will be able to remotely monitor their patients' vitals in real time, providing better care, quality of life and peace of mind to the elderly and their families.
How We Play—10G networks' capacity and speed also comes with one-tenth the latency, making sluggish connections a thing of the past. Gamers will be able to enjoy a truly seamless, life-like experience with more control and zero lag time. Plus, very low-latency networks can boost innovation and open more opportunities for VR/AR applications in other areas of our life.
Based on the double-digit bandwidth usage growth that we continue to see every year, we know our customers and the industry are ready for the next step in network innovation. The 10G platform will enable creators and innovators to fulfill their dreams while providing reliability and security that consumers can trust. We believe that 10G is the next leap into the future, and we're already well on our way there.
To support the rollout, Intel will deliver 10 gigabit ready technology from the network infrastructure to home gateways. To learn more about the technologies enabling the 10G platform click on the link below.
Eighty politicians walked into a lab... That's not the start of a joke, it was actually the start of our week here at CableLabs! We were excited and honored to host state representatives and senators from across the U.S. on Monday, and to show them the exciting innovation happening in the cable industry.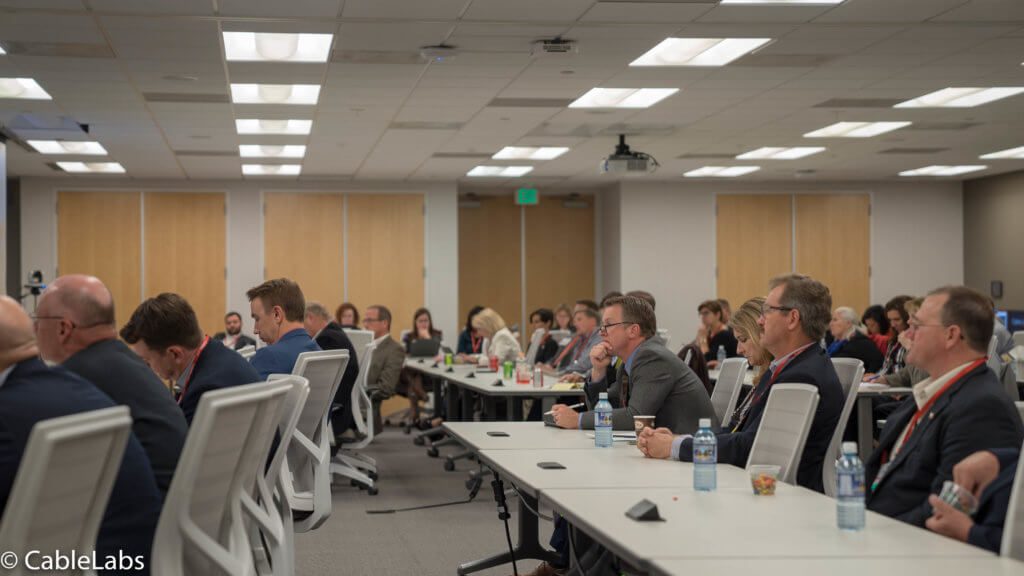 Our day was all about innovating the future of connectivity. We started by talking about the deployment of gigabit networks, which now reach the majority of Americans, and we showed them the research that makes these services a reality over the existing hybrid fiber coaxial networks of the cable industry. We talked about the importance of wireless connectivity and spectrum research, since everyone connects to broadband via Wi-Fi, and a majority of CableLabs' members are also mobile operators. We focused on cybersecurity – an increasingly important area, given the growth of connected ('IoT') devices – and what we are doing to help as part of the broader Internet ecosystem. And finally, no visit to CableLabs would be complete without experiencing the applications that ride over gigabit networks – immersive media, virtual reality, and the holographic effects of light fields were a highlight, and are featured in our latest Near Future film.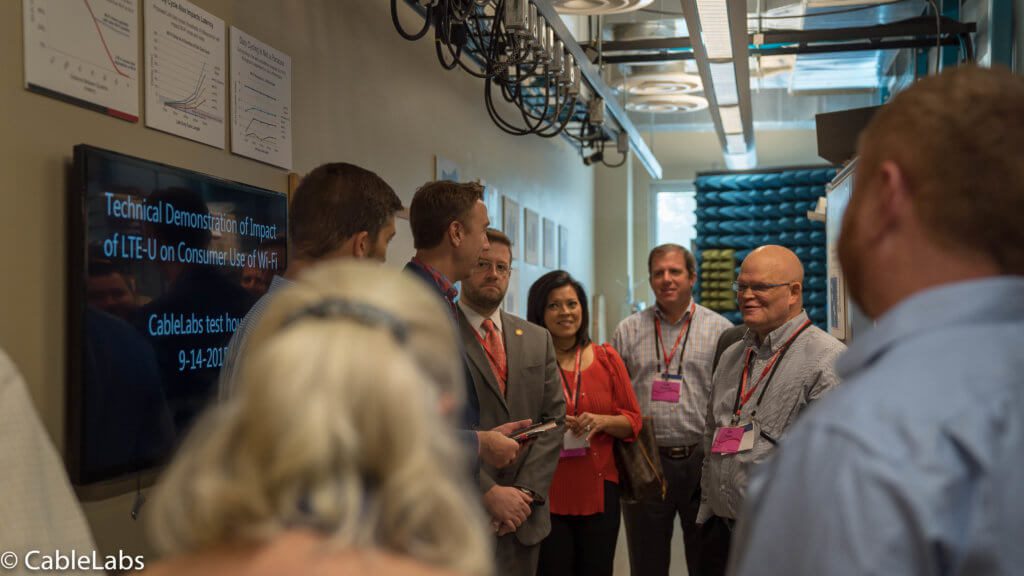 So, what do you get when you have eighty politicians in the Labs? Lots of questions! How should we think about 5G? What can we do to extend broadband service to areas that don't have access? How can we realize the educational possibilities that come with broadband?
All great questions, and at a high level, the answer is that there is no one single technology solution. That is why CableLabs is pushing the envelope of performance on cable, fiber, and wireless, and other technologies, bringing next-generation connectivity to consumers.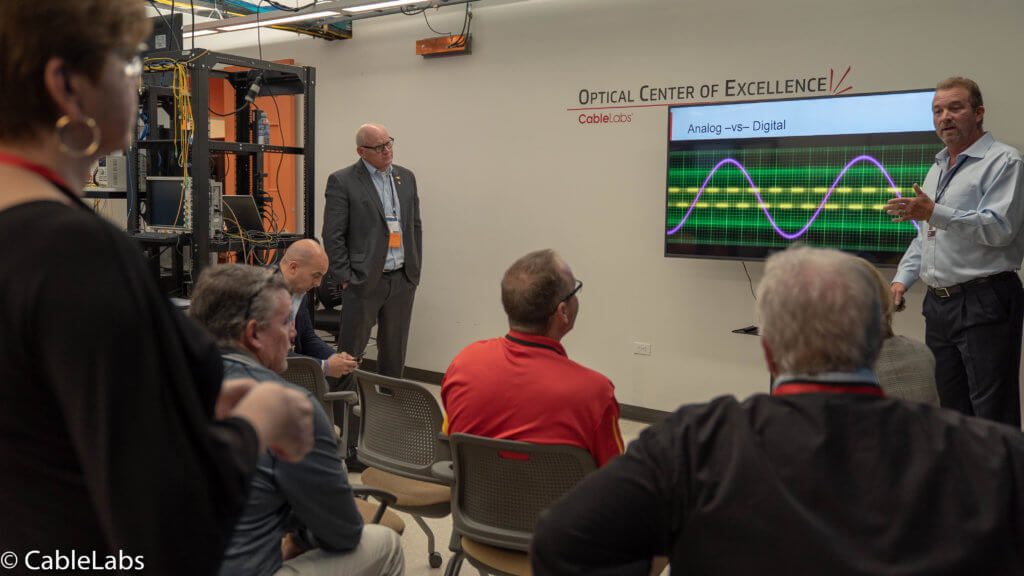 But, there is a common thread for policymakers: The innovations we develop at CableLabs are all at least three years away from being realized in the market. The policy environment can help to put new technologies into the hands of consumers through stable, predictable, and consistent policy that is conducive to investment and risk-taking. Since there is that interaction between technology policy and innovation, we appreciated the opportunity to host a great group of elected representatives this week.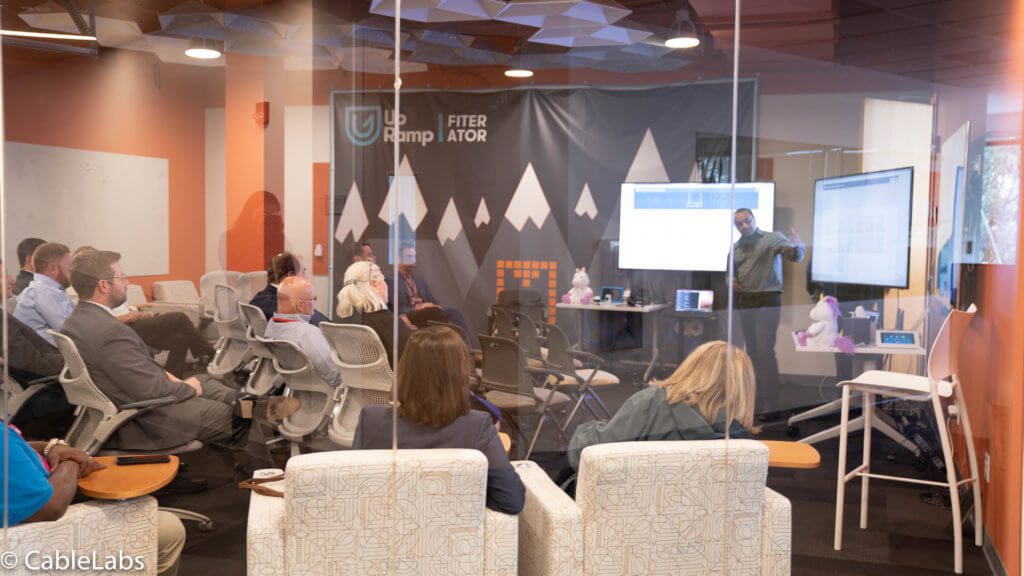 CableLabs is the global innovation hub for the cable industry and provides leaders across the globe with technology insights on which to base decisions of significance.
To learn more about Rob and CableLabs tech policy work, please click here.
Technology in Your Everyday Life: Why You Should Pay Attention to Innovation
If you were around 30 years ago, you may recall using a payphone, writing a check, or strolling down the street with your Walkman. All of those conveniences of 30 years ago don't seem all that convenient today. In just three decades, the span of CableLabs' entire existence, we went from analog to digital, from payphones to smartphones, from libraries to the internet. Now we wake up every day ready for the next big thing.
While you may get excited about the latest new device or app you probably don't give much thought about what lies behind the next big thing. So long as the device or app works why should you care?
Reason #1: Cybersecurity
Like it or not, your life is online. This comes with many benefits, like convenience and accessibility, but also a few risks.
When CableLabs was formed in 1988, a huge chunk of our innovation efforts focused on television and improving the viewing experience. Fast forward to today: your TV is now connected to your network, just like your phone and a myriad of other smart devices you can't live without. Many of them have digital eyes and ears, a.k.a. cameras and microphones, that aren't secure. That's why a lot of our work today centers on cybersecurity. Whether you're streaming a YouTube video or making an online payment, it's very important to use secure devices.
Cable operators have a long history of successfully defending against attackers seeking to steal your service, customer data and video content. We've enabled cable-based security technologies to be leveraged in the wider internet ecosystem, including in Wi-Fi hotspots, smart grid devices and medical communications through our subsidiary Kyrio. The cable industry also provides broad-based technology thought leadership on security through substantial contributions to the Internet Engineering Task Force (IETF), the Messaging, Malware and Mobile Anti-Abuse Working Group (M3AAWG), Wi-Fi Alliance and the Broadband Internet Technical Advisory Group (BITAG), among other leading technical bodies.
Reason #2: Networks
You may not realize it, but bandwidth and network speed have become just as important as your other utilities. You can't have the next big thing without them.
Just like we don't care about electricity unless the lights go out, we don't pay attention to how much data we use until it's gone. We download and upload all day long without giving it much thought unless there is congestion somewhere on the network. As new bandwidth-hungry technologies, such as VR/AR, AI, and autonomous vehicles, become more mainstream, the demands on network bandwidth will increase. One of CableLabs' main focus areas is building better and faster networks capable of supporting these new and future technologies.
Reason #3: Sustainability
Technology and its byproducts affect our planet, so how we innovate and use technology is just as important as the benefits it provides.
Recycling is great, but we can all do more. CableLabs' unique position within the communications industry gives us an opportunity to drive policy priorities that focus on greener, more energy-efficient products. Through technological development and voluntary energy agreements with manufacturers, our industry has achieved rapid energy efficiency gains—proof that we can drive sustainability. That's great for business and even better for our planet.
These are just a few of the many reasons to stay on top of technology and innovation trends. We've been doing it for the last 30 years! Please watch our Near Future videos and click below to visit our 30th Anniversary site to learn more about CableLabs and how our technology affects your everyday life.
Come Along for the Ride: Innovation Boot Camp
Innovation is difficult. A full 95 percent of consumer products fail. Plus, the innovation process is highly unreliable, so we need every advantage we can get. In just three and a half days at the CableLabs Innovation Boot Camp, my team and I found a way to change all that. Yes, they were long days, and we had to make efficient use of that limited time. But 95 percent? We considered that an opportunity!
My part of the project pitch—the ultimate goal of Innovation Boot Camp—started off with a statistic that was just as surprising as that 95 percent figure, which was the number of people who could seriously benefit from the use of autonomous vehicles—if they were made to be safe. About 15 percent of the world's population is disabled, and many of them could benefit from autonomous vehicles in some way (but also could be more easily harmed by them). Then again, everybody could significantly benefit from automated vehicles, so that percentage rises to 100 with a little change in perspective! Doing a bit of research and framing a problem with real statistics is something I learned a long time ago in high school debate. But it's a corner I often cut, as I think many of us do. Innovation Boot Camp reinforced that important aspect, which is critical to solving an important problem.
As for our pitch—it went very well! We got fantastic feedback, and the Q&A session afterward quickly generated further great ideas. A key feature of the boot camp was Phil McKinney teaching attendees about innovation antibodies. I listen to his podcast regularly, so I had heard of the concept before. But it was during Innovation Boot Camp that I realized those antibodies were real—and they were inside me! I'm not talking about autonomous bots in my system, and I'm not referring to the autonomous vehicles and robotics at the core of our focus at Innovation Boot Camp. Rather, to me, innovation antibodies mean that I could talk myself out of taking the needed risks to execute on innovation. Thankfully, I recognized their presence, so I could deal with them directly— an important step! I really came away with confidence that I could overcome those innovation antibodies. Our successful pitch demonstrated that nicely. But just the evening before, I wasn't so sure.
I remember preparing for our final pitch. We had driven our project far in just a few days, and we had successfully followed the innovation process. We were coached on what elements belonged in our pitch to sell it well, and we were learning about the hard part: execution. Our idea had merit! (Of course, every team at Innovation Boot Camp could confidently say the same thing.) We knew to focus on the "why."
Executive Director of UpRamp Scott Brown gave us great pointers; I'm sure he was proud of us! But even as the teams were getting ready to frame their pitches and were forming their use case stories, we were also learning from Ryan Wickre and Scott Thibeault about design practices, and how excellent companies like Frog Designs solve tough design problems.
Learning is a constant at Innovation Boot Camp. Our dinner one night was a live Q&A session at the Computer History Museum. After looking over the technology that touches our topic area for our innovation project (autonomous vehicles), we enjoyed a live session with a few seasoned entrepreneurs who shared a lot of wisdom with us:
That evening was all about gaining both knowledge and wisdom! When I first arrived at Boot Camp, I knew almost nothing about autonomous vehicles, but after that evening, I knew more than enough to innovate in that market space. And I was already learning the steps required to innovate well. We were motoring!
As my team prepared its pitches, I thought about the time we spent enjoying food and drinks with our target market: the early adopters. When it comes to focusing ideas on an innovation area, I learned just how important it is to know the target market. And that takes having real, frank conversations with those users. Our coaches and subject matter experts found actual early adopters in Silicon Valley and steered them to us so that we could ask them questions. What we learned that night heavily influenced our innovation project and convinced me that not knowing a target market is a highly significant innovation mode of failure.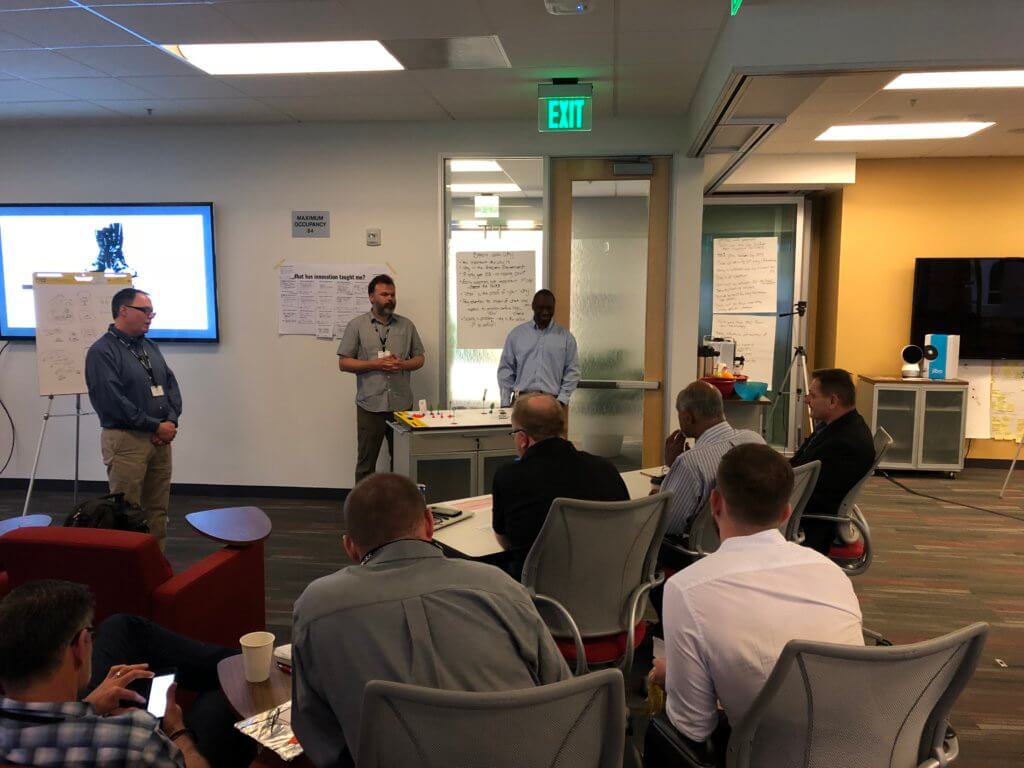 While talking with early adopters of robotics, drones, and autonomous vehicles, my team and I learned a great deal that helped us focus the chaos of ideas we'd brainstormed earlier. We spent most of that day learning how to innovate and rank our ideas. It's amazing how quickly you can generate excellent ideas for problem-solving. Bringing our individual ideas to the team, grouping them, enhancing them, and developing them from that point resulted in some exciting opportunities! Although I had some experience going through this process, Innovation Boot Camp introduced me to concepts such as the scamper method, as well as proven methods for ranking ideas.
Idea generation and ranking were reinforced throughout the boot camp. Think of it as driver's education for innovation. Each day, Phil McKinney told us to get our books out to generate and rank ideas about an identified problem. Framing the problem was also important, and having some skills reinforced on that first step was essential. This kind of daily practice takes only a few minutes, but it brings great value!
Zero to sixty in no time! We were already talking to innovation experts on the first day of boot camp, even getting a presentation from Aditya Kaul through a remote presence robot. We toured autonomous vehicle research facilities. Time went by quickly, even though the days were long. Innovation Boot Camp started exactly the way you'd expect: a rapid learning experience that established a strong foundation from which to innovate. We saw:
The challenges of the autonomous vehicle space
Learned what companies were working on, and understood where their biggest challenges were
And at the same time, we were already learning about framing, ideation, ranking, and execution—also known as the FIRE process
When the Boot Camp began, I wondered what it would be like. Was I going to learn enough about autonomous vehicles to actually come up with a good idea? Was I going to learn anything new that would help me step up my innovation game? Could I find a way to take what I learned back to my team and bring more value to CableLabs and its members? Was I going to crash?
As I received my certificate on the final day, I knew my time wasn't wasted, and the return on my investment was high. I had a wonderful time! But it wasn't just because the food was great or because the location was right. The event staff were fabulous, the topic was interesting, the content was solid, and my team members were fantastic. Our coaches really drove us to success; Lori Lantz, Dan Smith, Christian Pape, and Lisa Warther were great leaders. And Michelle Vendelin was the event master; she guides us and made the whole experience highly valuable! Although the process alone was completely worth the investment, the project outcome was hugely valuable too. I grasped a few new skills, I learned a process I can reference later, and I got some great ideas worth pursuing after the event. I can confidently replicate what I learned, and in fact, I've already done that in my job and in my personal life!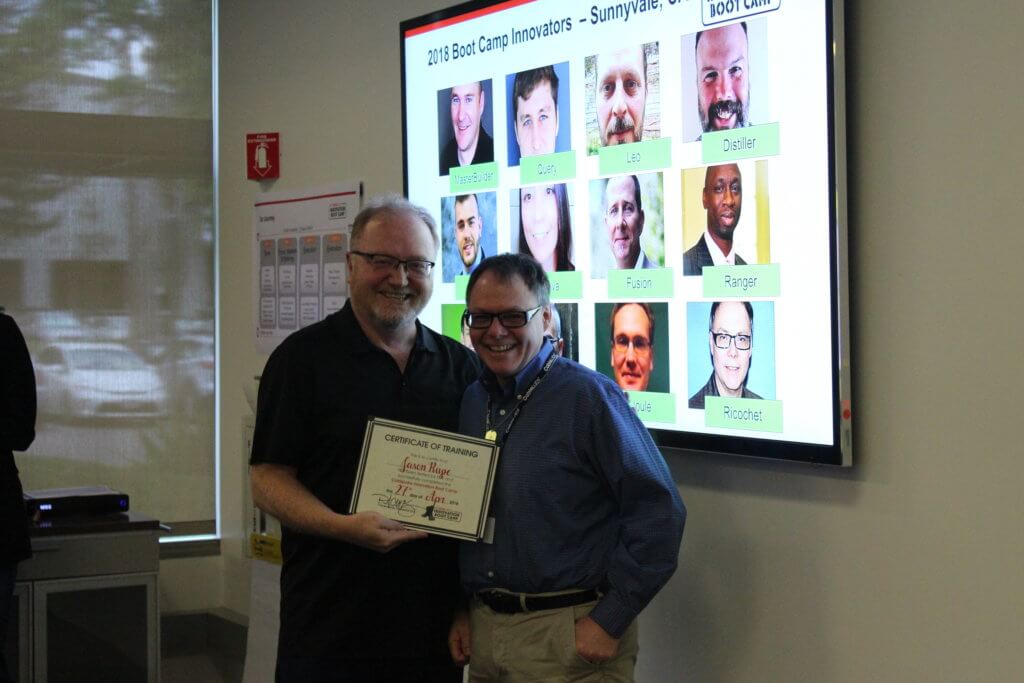 That 95 percent failure rate for innovation is low-hanging fruit. I can now assuredly do my part to lower that failure rate. Off to the races!
Our next Innovation Boot Camp is September 25-28 in Louisville, Colorado. The topic is Connected in Extreme Weather and Natural Disaster. Register now and don't miss the opportunity to learn a framework and new methods for Innovation that is repeatable and has led to incremental and breakthrough innovation for past attendees. 
The Rise of Autonomous Bots and Vehicles
I live in Los Altos, California, a small town in the heart of Silicon Valley. I've been an early adopter of autonomous bots and vehicles—voluntarily and involuntarily—for over 5 years.  I'm talking about a new class of appliances, I call them "Autonomous Citizens," that have both permission and ability to move autonomously completing tasks in my home, at work or in my community.
When these autonomous creatures first showed up in my world, I was in awe and had some trepidation, but today I live with them without a great sense of novelty -- they do their thing and I do mine. It's weird to admit this, knowing the rest of the world isn't having such a "First World" experience.  But, given my journey so far, I believe it will be less than a decade before the rest of the world feels the same way.
I predict, autonomous citizens, in many shapes and sizes, will become as ubiquitous as our smartphones. (Keep in mind smartphones were just coming to market about a decade ago and now we can't live without them). This emerging technology, which relies heavily on advancements in networking, sensors, A.I., big data and new materials, can solve many big problems, but will also create new ones.
This makes Autonomous Bots & Vehicles an area ripe for innovation and the topic of our next Innovation Boot Camp, a 3 ½ day immersive innovation training April 24-27, 18 in Sunnyvale, CA. Here, I'd like to share a couple of funny stories to help illustrate what's happening in this space and why this emerging technology is on our radar at CableLabs.
When the Autos Moved In…
Years ago, an inspired group at Google created a moonshot innovation challenge to eliminate "death by car."  A worthy endeavor, given car accidents caused 40k deaths in the US and 1.3M Internationally in 2016 alone. The number of injuries, some permanent, are 10x higher. Google decided to make a big bet and the Google X autonomous vehicle project (now called Waymo) moved their headquarters into an unmarked building near my home.  And soon after, my new neighbor became ground zero for the automated vehicle revolution.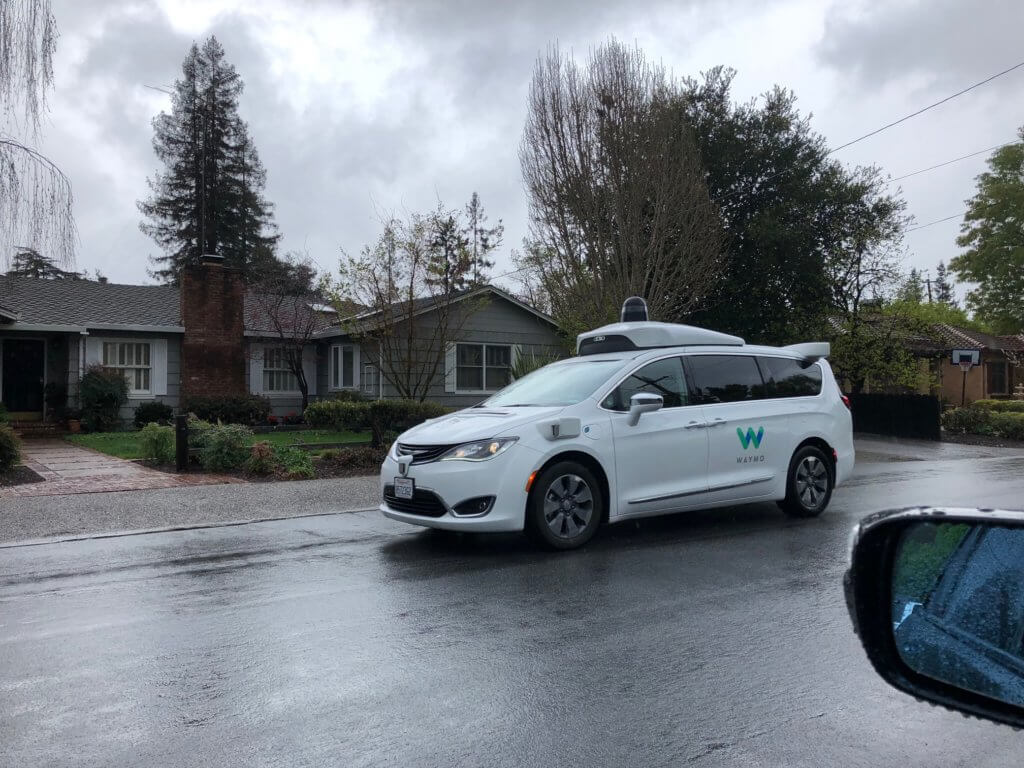 Waymo started testing these autonomous vehicles in my community about 5 years ago, and I have personally driven in front of, behind, and next to self-driving cars of various shapes and sizes. At first on a weekly basis, and now almost every single day since.  You may be surprised to hear, I have no concern walking or riding my bike around them anymore. Many people in my community, myself included, will privately admit that we have provoked the vehicles many times just to see how they would react (tailgating, lane drifts, cut offs, etc. ). I don't recommend doing this, but it was just part of our collective curiosity phase!
Auto Observations and the Lost Ticket
I could share so many annoying, strange and funny stories about autonomous cars, but one stands out. A couple of years ago, only a few blocks from my home, a Mountain View police officer pulled over one of these vehicles and found no driver at the wheel. The officer had no idea who to ticket for driving too slow on a major street. This occurrence made local front-page news and was the talk of the town. Ultimately, the ticket and a major hand-slap found its way to Google, and rogue testing of vehicles without human assistance was outlawed on our roads. Citizens breathed a sigh of relief upon hearing this news, and multiple car companies (all testing cars in my area) now only conducted their testing with drivers at the ready—just in case. In April 2018, this will change, and unmanned vehicles can be permitted by the California State DMV.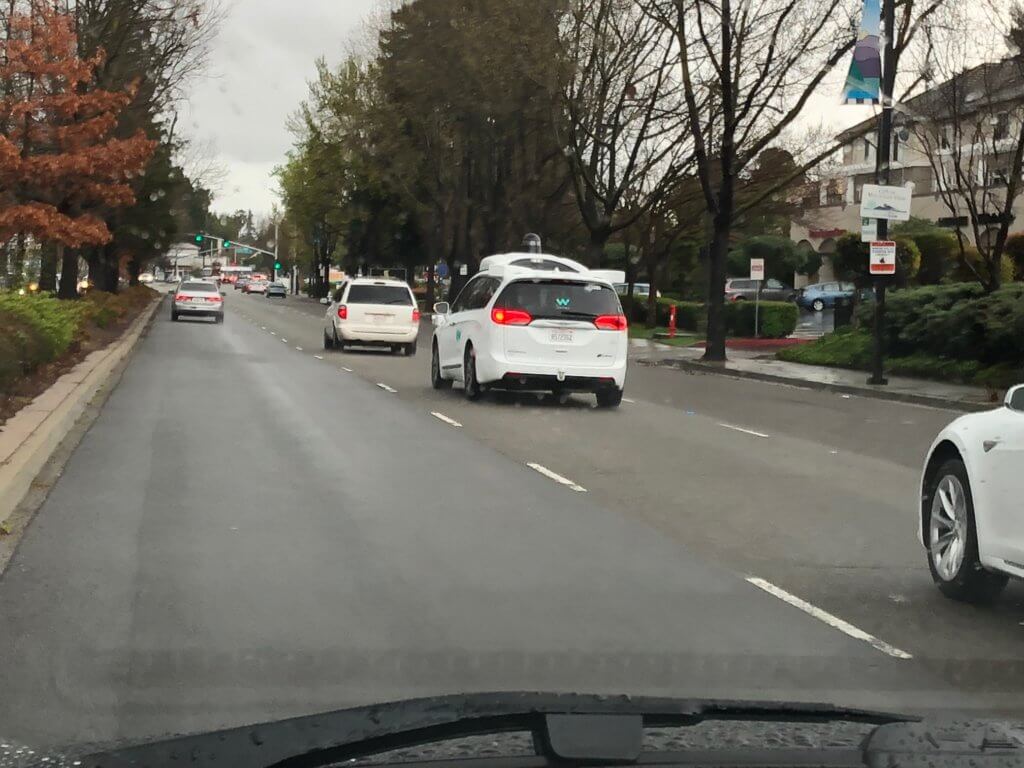 On a more personal level, I come across the Waymo vehicles every day and have luckily never seen a collision or close call. Reports show that the number of times human assistance is required is very low, especially for the Waymo Cars.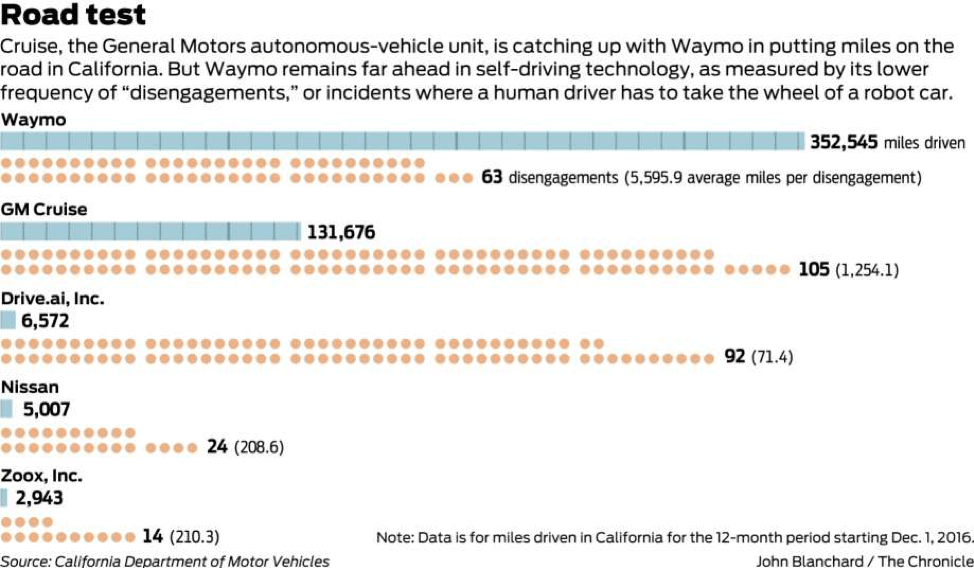 I notice that autonomous vehicles drive with far more respect and consideration than most human-driven cars on the road. However, they can be annoyingly slow to turn and will follow the speed limit rigidly, even despite the flow of traffic—when drivers are bending the rules a bit.  However, just as this blog was in development, a woman in Tempe, AZ was walking her bike at night across a multi-lane road (no crosswalks in sight) and was struck by an Uber autonomous vehicle which had an assistance driver sitting behind the wheel on a test run.  Sadly, this woman died from her injuries and the accident is under investigation.  I was heartbroken for all involved in this tragedy.  Uber and Toyota Motors both halted testing until the investigation is complete.
Waymo and others continue to test in our area as they utilize different technologies, perhaps more mature. I won't pretend, my trepidation has risen on this news -- were the sensors blocked, networks too slow, not reliable or untrained for this scenario?  To me, this is like the early days of flight.  I expect many innovations are possible to help protect pedestrians and assistance drivers avoid such horrors in the future, and I know the industry will learn from it and press on.
Bot to the Future
As a career innovator and witness to many exponential market climbs and disruptions, I believe that the autonomous bots and vehicles space is an area ripe for innovation opportunity, challenges, and deceptive disruption. As you can see from the CableLabs Emerging Technology Timeline, it's on our radar. New control points for networking, communication, entertainment, commerce and business are up for grabs with these new Autonomous Citizens. And it's not just on the roads, soon we will have Nanobots in our bodies, autonomous gardening bots in our yards, delivery drones and other services bots in our homes and offices.
For example, my home has 2 long haired pets, "Mr. Fluffy" our long haired cat and "Buddy" our Golden Retriever Dog, with non-stop shedding driving me crazy. So, a couple of years ago I became an early adopter (and champion) of autonomous bots in the home and brought a Roomba home to help with my sanity and drive my animals crazy 😊.   It took a few weeks for our new "Autonomous Citizen" to map the place and build a cleaning schedule optimized for the level of shedding of our beloved pets.  After a while, we got used to each other and for many months had an almost dander free home.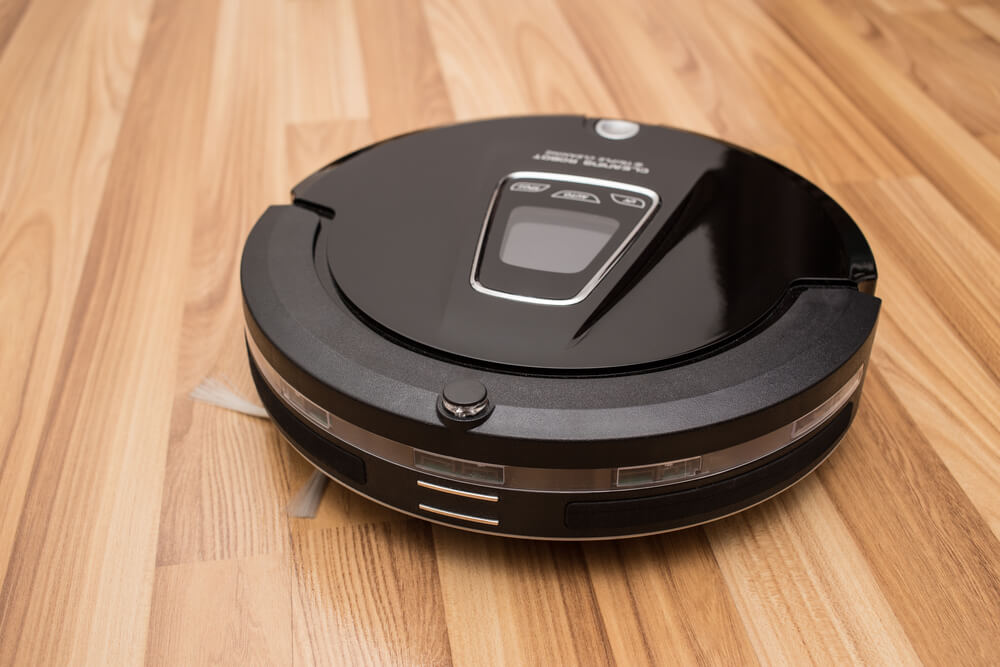 Then one day our Roomba went missing and all that remained was a base station with it's blinking light and beacon calling the Roomba back home day after day, week after week. Tragically the Roomba has never returned. And, we have looked everywhere for it, now assuming it drove out our front door accidentally, perhaps one of our teens or their friends left the front door open without noticing. My kids, insist the cat let the Roomba out instead 😊. Again, my trepidation about these bots rises and I wonder could my home network and sensors have been more alerting or sensitive to such a scenario, or perhaps a "Find my Bot" App should be developed.  That's the way of innovation! I expect new solutions will come to market to ease the transition to this new class of appliances in our lives, much like the adoption of dishwashers, toasters and coffee makers.
Bots at Bootcamp!
If you find this emerging technology as compelling and as ripe for innovation as I do, join us at CableLabs' Innovation Boot Camp, April 24-27, 2018, in Sunnyvale, California.  Early bird pricing ending soon, sign up ASAP.
You do not need to be an expert in the autonomous bots and vehicles to participate. Focusing on the topic simply allows us to build a learning lab of real-life situations as you apply new techniques for generating breakthrough ideas through our tours, workshops and coaching. And there is no better place to explore this emerging technology than in the heart of Silicon Valley.
Got a great autonomous bot or vehicle story?  Then add a comment, we'd love to hear!
About the Author
Michelle Vendelin is CableLabs' Director of Innovation Services. She is instrumental in facilitating innovation sprints and coaching innovation at CableLabs. She is the producer of the Innovation Boot Camp, CableLabs' bi-annual immersive innovation training, featuring daily keynotes and workshops with Phil McKinney, CEO of CableLabs and best selling author/podcaster.
Today marked the beginning of the 2018 Consumer Electronics Show (CES) in Las Vegas, Nevada. Owned and produced by the Consumer Technology Association (CTA), with over 170,000 attendees from 150 countries and more than 3,900 exhibiting companies, CES is one of the world's largest tech trade shows and serves as the global stage for next-generation innovations. Showcasing jaw-dropping technology in areas like VR and smart homes, most of the products or marketplaces at CES 2018 are serviced or impacted by the cable industry: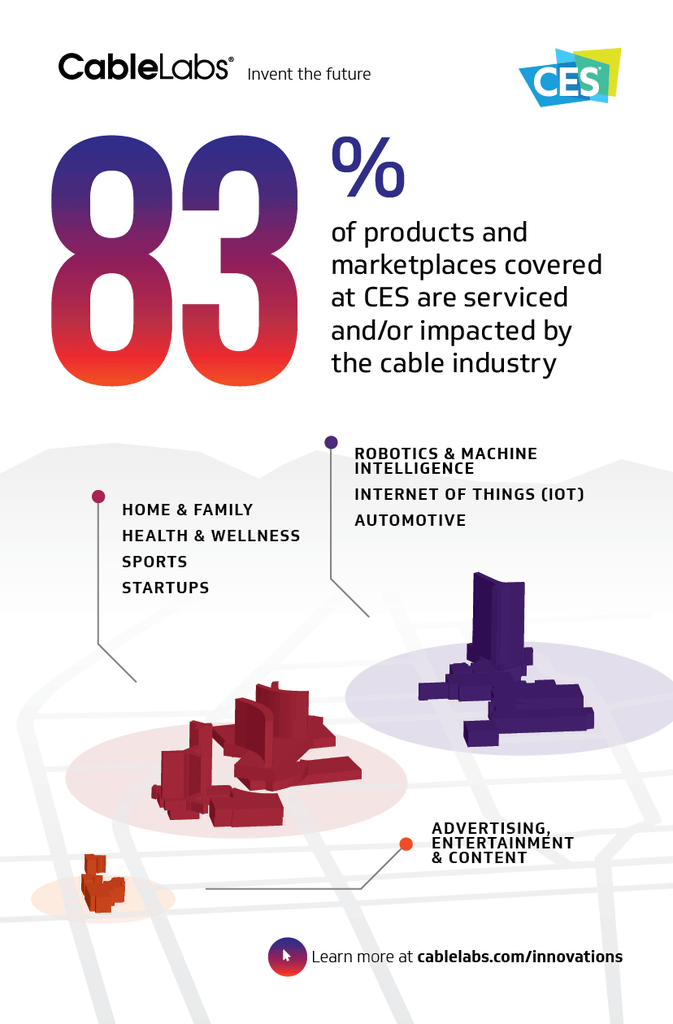 Follow us on twitter to catch up on the latest news and highlights from CES 2018.
--
Want to know more about the technology trends of 2018? Watch CableLabs President and CEO Phil McKinney's "2018 Tech Innovation Predictions."
2018 Tech Innovation Predictions
Now that 2018 has begun, it's time for me to give my innovation predictions for the year. Watch the video below to find out what you can expect to see in 2018 and which trends are over-hyped.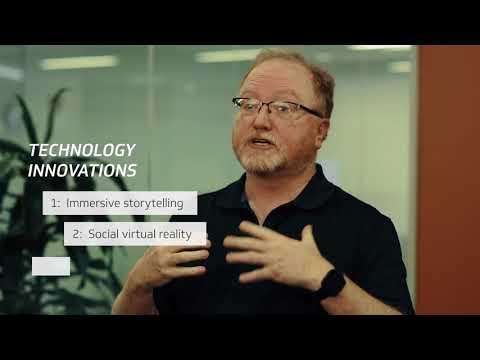 What are your predictions for 2018? Tell us in the comment section below. Best wishes for a great new year!
 --
Subscribe to our blog to see how CableLabs enables these predictions to come to life.