The Golden Gigabit Internet Age
Over the past year, a quiet revolution in broadband services has been happening, thanks to investments cable operators are making around the globe: gigabit services are available to tens of millions households for the first time ever. Already, over half of households in North America can buy a 1 Gbps service from their cable operator, and the percentage is growing rapidly. This shift is driven by a new technology making it economically feasible for operators to provide gigabit services in most areas. And the technology is not limited to a single gigabit – it is capable of much higher speeds over time.
The technology? DOCSIS® 3.1. This innovation is now being quickly deployed by operators.
While the broad availability of gigabit services may have escaped notice, there is even less awareness of the potential for DOCSIS technology to provide higher speeds. With existing DOCSIS specifications and comforming vendor gear, operators could use DOCSIS to:
Provide shared, downstream capacity of over 15 Gbps
True downstream speed tiers of 10 Gbps or more for individual households
How can DOCSIS provide that much speed?
The technology is actually already in the DOCSIS 3.1 specifications. However, getting to these speeds will require an evolution of DOCSIS silicon, along with some outside plant improvements. Here is the roadmap: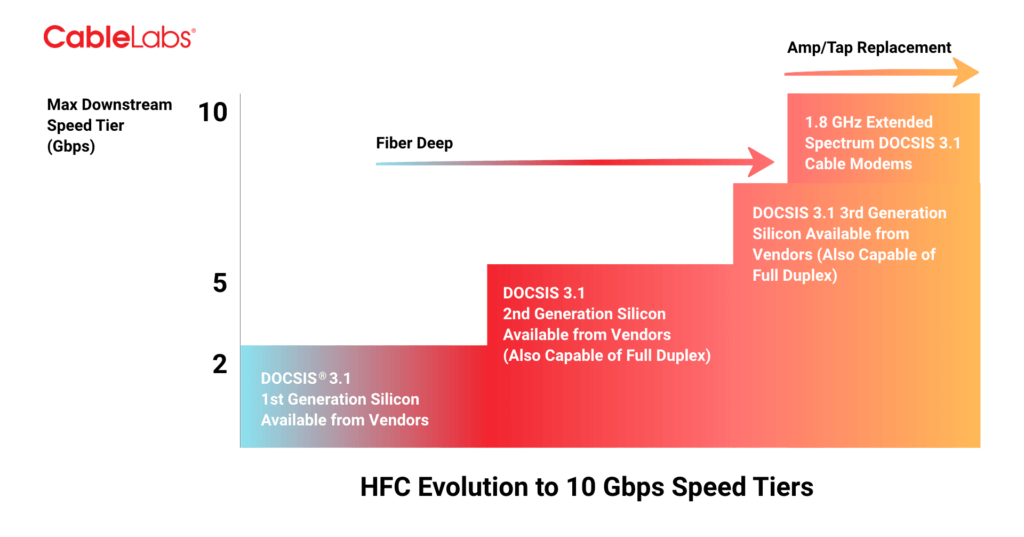 As you can see, the first generation of DOCSIS 3.1 silicon has been available for deployment for over a year, and it enables downstream speed tiers of roughly 1-2 Gbps. As demand materializes for higher speed tiers, operators may ask silicon providers for a second and third generation of DOCSIS 3.1 silicon. Each new silicon generation supports broader frequency ranges for DOCSIS, possibly up to the full DOCSIS 3.1 limit of about 1.8 GHz. At the 1.8 GHz range limit, over 1.5 GHz of spectrum can be used for downstream DOCSIS 3.1 channels. At 10 bits per Hertz that is more than 15 Gbps of total capacity.
Expanding Spectrum
Most operators are using 1 GHz of spectrum (or less) in their networks today. If an operator wanted to use spectrum as high as 1.8 GHz in a high-demand neighborhood it can push fiber to within 800 feet of many homes, and install taps that can pass the full 1.8 GHz of spectrum.
Thanks to the work of our CableLabs members, homes in the tens of millions are gaining access to 1 gigabit services for the first time ever. With more homes enjoying gigabit and even higher speeds, there will be a growing market for application developers and artists to develop immersive entertainment and interactive network services such as those in our Near Future video series. Radiologists working from home will be able to move massive files back and forth from medical centers. Grandparents will join their grandchildren in virtual family rooms for a game of virtual Uno. Immersive holographic movies will stream to a new generation of entertainment devices. And this is only the beginning.
If you have been yearning for a gigabit service at your home, check with your local cable operator – gigabit services may already be available to you. And, if you want to learn more about the DOCSIS roadmap to 10 Gigabit services, please subscribe to our blog.

DOCSIS® 3.1 Products Are Getting Real!
Is the cable industry ready to deliver multi-gigabit broadband? Can the industry effectively compete in the market against fiber? Can the existing HFC plant scale to support the spectrum requirements of next generation services? The answer to all these questions is a resounding YES! as shown at CableLabs during a DOCSIS 3.1 demonstration day held late last month in Colorado.
A healthy ecosystem of twenty-two vendors came together to demonstrate the capabilities and readiness of DOCSIS 3.1 technology on a range of products including cable modems, Converged Cable Access Platforms (CCAPs), and test and measurement equipment.
Demonstrations included
Multi-Gbps Speeds
Multiple vendors demonstrated the ability of DOCSIS 3.1 devices to deliver Multi-Gbps speeds, showcasing downstream capacities up to 4.6 Gbps on the downstream and 800 mbps on the upstream using various combinations of bonded OFDM (OFDMA for upstream) and SC-QAM channels.
Fluid Transition – Backward Compatible, Upgradable, Flexible
ARRIS showcased the capability of DOCSIS 3.1 CCAPs to support both DOCSIS 3.1 and DOCSIS 3.0 cable modems using their E6000 platform, which is currently deployed in the field for DOCSIS 3.0 and can be upgraded via a software update to support DOCSIS 3.1 services.
Casa Systems also showcased their CCAP, which is also currently deployed in the field and can be upgraded via a software update to support DOCSIS 3.1 services.
Vendors showcased a variety of spectrum configurations including downstream OFDM transmissions spanning from 96 to 384 MHz, and upstream transmissions operating with different upstream plant configurations including 5-42 MHz, 5-85 MHz and 5-204 MHz.
Greater Spectral Efficiency
Futurewei and Broadcom showcased DOCSIS 3.1 downstream signals operating at 4096 QAM increasing efficiency by 50% compared to DOCSIS 3.0 technology at 256 QAM, and also showcased 4096 QAM upstream signals increasing efficiency by 100% compared to DOCSIS 3.0 technology at 64 QAM.
Cisco showcased the ability of a DOCSIS 3.1 CCAP to support multiple modulation profiles, which highlights the ability of DOCSIS 3.1 technology to maximize spectral efficiency based on HFC network characteristics.
Future Scalability
Futurewei showcased the optional feature of DOCSIS 3.1 devices to support 16384 QAM, increasing downstream efficiency by 75% compared to DOCSIS 3.0 technology at 256 QAM.
CableLabs is now open for DOCSIS 3.1 device certification testing
The success of the DOCSIS 3.1 demonstrations was not a surprise. CableLabs has been running a series of DOCSIS 3.1 interoperability events (interops) since last December. These events provide the opportunity for manufacturers to work together on interoperability, development, and compliance; and over the course of these events, manufacturers have continued to demonstrate increases in product maturity.
In addition, CableLabs has been holding DOCSIS 3.1 technology dry run events since June to provide additional development opportunities and to evaluate product readiness for certification and field testing through joint test execution.
As was previously announced, CableLabs is now open for DOCSIS 3.1 device certification testing: as soon as products demonstrate readiness through the Dry Run process, certification testing can begin. CableLabs certification programs provide verification of specification compliance; and in the interest of advancing DOCSIS 3.1 device readiness as rapidly as possible, CableLabs will work with device manufacturers in the DOCSIS 3.1 device certification testing process until they can demonstrate this compliance.
The advances in DOCSIS 3.1 device maturity are also born out by the fact that Cable operators have also announced field deployments of DOCSIS 3.1 services as early as Q4 2015.
This is good news for all concerned: DOCSIS 3.1 technology with its support for up to 10 Gps downstream and up to 1 Gps upstream, along with improved network and spectrum efficiency, will enable a new generation of services and applications including advanced video technologies, virtual and augmented reality, tele-existence, etc. DOCSIS 3.1 technology also reduces network latency, and so dramatically improves responsiveness for sophisticated applications such as gaming and rich web experiences.
For cable operators, DOCSIS 3.1 technology provides a flexible migration path for their current HFC deployments since it is backward compatible with legacy DOCSIS devices.
DOCSIS 3.1 technology is living up to its promise to deliver best-in-market speeds to the broadest population of consumers.
DOCSIS 3.1 Demonstration Day Vendor Participation
Arris
Askey
Averna
Broadcom
Casa Systems
Castlenet
Cisco
Comsonics
Excentis
Futurewei
Humax
Intel
Keysight Technologies
Netgear
Pace
Rohde and Schwarz
Sagemcom
ST Microelectronics
Technicolor
Trilithic
Ubee
Viavi
Comcast's DOCSIS 3.1 Gateway was also included in the demonstrations.
Matt Schmitt, Vice President of Lab Services, CableLabs, also contributed to this article.
Belal Hamzeh is Director of Network Technologies at CableLabs.
Approaches to Increasing Wireless Spectrum
At the 2014 Cable Show, one of the hottest topics was Wi-Fi. It doesn't take long to realize how important access to this suddenly precious resource really is: Studies indicate that the number of wirelessly connected devices will triple by 2020, to a mind-blowing 30 billion devices.
[Related: Wireless Spectrum Infographic]
And with each new device that connects, less space is available in the wireless spectrum. The FCC recently voted to increase usable wireless spectrum in the 5GHz band, but this is a small fraction of what will be needed to support the growing wireless culture.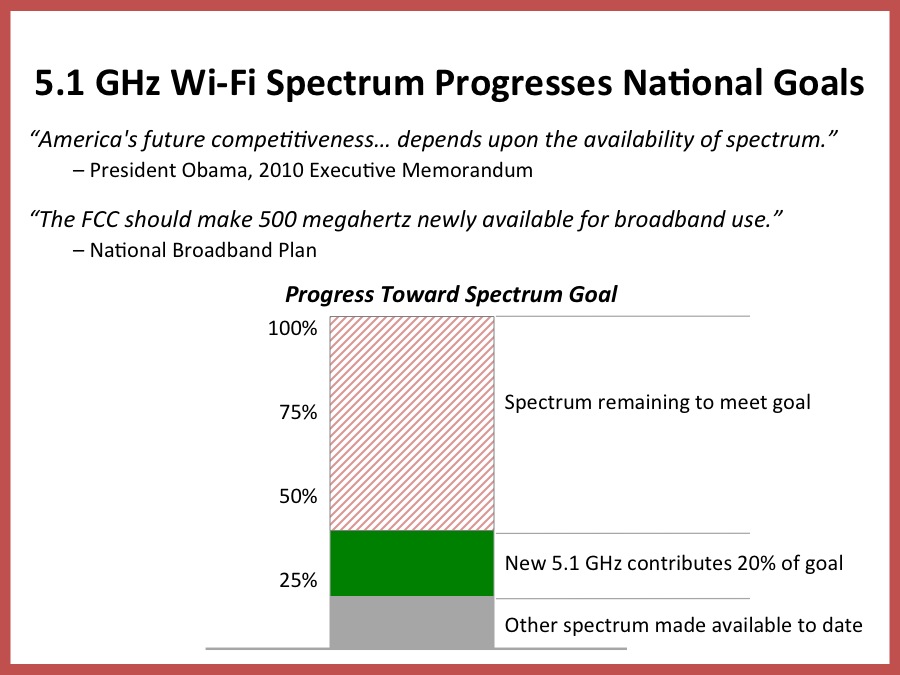 How do we get to a point where there is plenty of spectrum for everyone?  There are multiple approaches.
Reallocating Spectrum
Historically, the government has sought to meet new wireless needs by reallocating spectrum from one service to another. The idea has generally been that each service needs its own exclusive spectrum in order to avoid interference, and as technology changes the FCC needs to shuffle the spectrum portfolio.
For those that can remember all the way back to 2009, the digital television transition was an example of this – the FCC recaptured some spectrum used for TV broadcasts and repurposed it for wireless broadband.  Believe it or not, this process started about 15 years earlier – so reallocation takes time. Not exactly ideal in a world where technology seems to evolve daily.
The FCC already sees new opportunities for further reallocation of TV spectrum to broadband – but hopes to speed it up this time by creating a new two-sided market for spectrum. In essence, they will buy spectrum back from broadcasters in order to put it in the hands of our smartphones and tablets.
The FCC hopes a one-time-only auction will incentivize broadcasters to relinquish licensed spectrum in exchange for presumably very large sums. They get cash in their pocket for giving up space that was under-used, more wireless spectrum is available, and everybody's happy – right?
Possibly. There are a lot of unknowns at this point. Some questions were answered at the May 15 meeting of the FCC, but not everyone can be happy all of the time. Hopefully things will move faster than the last 15-year process, even if keeping up with wireless growth is a near-impossible task.
Sharing Spectrum
Another approach to meeting wireless demand is to open up new spectrum by sharing it among many services, rather than shifting spectrum from one service to another. This is possible because wireless technology has come a long way. Wi-Fi is a great example – it is a fundamentally "polite" technology, since it listens to the airwaves before it transmits. It was built to share.
Without the need to shift services from one band of spectrum to another, spectrum sharing lends a greater ability to keep up with wireless growth. And since a lot of that growth is occurring over Wi-Fi, that's a real opportunity. The FCC's action in March to expand Wi-Fi access to part of the 5 gigahertz (GHz) band is a case in point. And there's more that can be done in 5 GHz, and in other bands like 3.5 GHz.
But the value of spectrum sharing depends on the specifics. We still need to protect against interference, but we also need to be sure that we're not overly protective and discourage productive use of the spectrum. We don't want Wi-Fi jamming military naval radars, for example, but neither do we want Wi-Fi to be confined to Kansas. (No offense to Kansas.)
It's a balance. And CableLabs is doing the R&D to ensure that the right balance is struck.
Increasing Wi-Fi Spectrum: A Roadmap
Ultimately, it will take a combination of approaches to achieve the national goal of wireless spectrum growth.
When CableLabs helped the FCC with research to increase the 5GHz band, there was a concerted effort around interference issues. This collaborative research will serve as the technology roadmap for interference issues surrounding both reallocation and sharing of Wi-Fi spectrum. It's critical that spectrum policy moves forward quickly and effectively to benefit everyone who uses it – and that's all of us.
Rob Alderfer is a Principal Strategic Analyst for CableLabs, where he guides technology policy and strategy across the industry.