Coherent Optics 101: Coming at You at 0.69c
Welcome back to the CableLabs 101 series! In our previous post, we discussed the basic components of a typical hybrid fiber-coax (HFC) cable network infrastructure and the role of DOCSIS® technology in data transmission over the coaxial portion of the network. Today, we'll focus on the fiber portion of the HFC network, as well as the coherent optics technology that's widely considered to be the hyper-capacity future of internet connectivity.
What Is Coherent Optics Technology?
Cable's HFC networks are "fiber-rich," which means they're composed mostly of fiber—a bundle of very thin, hair-like strands of glass or plastic wire. Fiber is light, durable, and most importantly, capable of transmitting a lot of data over very long distances incredibly quickly. Light travels through a vacuum at 186,282 miles per second, a universal constant that scientists denote as "c." Although light traveling through fiber optic cable moves a little slower than that (69 percent of the speed of light in a vacuum, or 0.69c), it's still incredibly fast at over 128,000 miles per second. That's fast enough for a single burst of light to circle the earth more than five times in a single second.
Until recently, signals in a typical HFC network were transmitted over fiber using analog technologies: an electrical radio frequency signal would be converted to an analog optical signal, transmitted over fiber optic cables, and then converted back to an electrical signal at the fiber node. With the advent of Distributed Access Architecture technologies, which will help cable operators cost-effectively add more capacity to their networks, that same fiber is being re-used to carry digital signals rather than analog ones.
The digital fiber technology being deployed today in access networks uses an "on-off keying" approach, in which a transmitter rapidly turns the laser on and off to send a signal; each pulse can signal a single bit of digital information (a 1 or a 0). Coherent optics adds further dimensions to the optical signal to carry more information simultaneously: rather than just pulsing the light on and off, it uses other properties of light (e.g., amplitude, phase and polarization) to carry multiple bits with each burst of information rather than just one bit. That can increase the data-carrying capacity of a single fiber by as much as 70 times, compared with non-coherent technology.
How Has This Technology Evolved?
Coherent optics technology is not new. It's been used for over 10 years in long-haul fiber networks that span thousands of miles between cities and countries. More recently, as the cost of coherent optics technology has come down and speeds have gone up (from forty to now hundreds of gigabits per second) it has seen growing deployment in metropolitan or regional networks. The one remaining frontier has been the access network—such as in a cable HFC network, which has a large number of relatively short links, requiring a very low-cost solution.
It was for this reason that CableLabs embarked on an effort to define the use of coherent optics for cable access networks: to define requirements specific to access networks, thereby promoting interoperability, scale and competition. All this reduces the cost of this technology to the point at which it could be used widely to grow the capacity of cable operator fiber networks.
This vision was realized with the publication of our initial Point-to-Point (P2P) Coherent Optics specifications (released in June 2018), which defined how to send 100 Gigabits per second (Gbps) on a single wavelength, and how to send up to 48 wavelengths on a single fiber. That was followed by our version 2 specifications (released in March 2019), which defined interoperable operations at 200 Gbps per wavelength, doubling the capacity of the network. And both specifications included support for another key technology called Full Duplex Coherent Optics, which doubles the capacity of each fiber yet again while enabling the cost-effective use of a single fiber rather than the normal fiber pair.
How Does This Technology Affect Me and My Future?
When you think about current technology trends and predictions for the future, you'll notice a common thread. Future innovations—like holograms, 360° virtual reality (VR), artificial intelligence and so on—will all require super high-capacity, low-latency networks that can transmit a ton of data very, very quickly. We're not talking about just long-haul networks between cities and countries, but everywhere.
This is why cable companies started investing in the expansion of their fiber infrastructure and fiber optic technology decades ago. By focusing on "fiber deep" architectures—a fancy term for bringing fiber closer to subscribers' homes—and using technologies such as coherent optics to mine even more bandwidth out of the fiber that we already have in the ground today, we can ensure that our cable networks continue meeting the requirements of current and future innovations. Thanks to those efforts, you'll be able to one day enjoy your VR chats in "Paris," work in a "holo-room" and much, much more.
A Fiber-Rich Cable Network: What Does It Really Mean?
Cable networks are fiber-rich, and cable operators have long invested in deploying more fiber deeper into their networks. A fiber-rich environment enables greater capacity, increased speeds and more flexibility to support a range of access technologies. Although cable broadband networks are typically composed of both fiber optic and coaxial cables, most cable customers are surprised to learn that the vast majority of the distance that an internet packet travels is over fiber.
In simple terms, a cable network is composed mostly of fiber that connects the interconnection border gateways to the regional hubs to the optical nodes. The remaining short distance—from the optical node to the customer's home and then to each individual device in the home—is where the internet packet travels over coaxial cable and home Wi-Fi.
Let's take a look at a simple real-life example, illustrated below. When a cable customer in Vancouver, Canada, makes a video call to a cable customer in Ames, Iowa, the data starts its journey over Wi-Fi to the home router and then travels about a quarter of a mile from the router to the nearest optical node via a coaxial cable. From that point, the data is converted to a fiber-optic signal that carries it for about 2,499 miles—or 99.96 percent of the total journey—to another neighborhood optical node in Ames. The remaining half-mile or less from the node to the other customer's home is again transmitted over coax and Wi-Fi. As you can see, less than 1 mile (1.5 kilometers) of the data's 2,500-mile (3,200-kilometer) journey between Vancouver and Ames is transmitted over coax and Wi-Fi—the rest is all fiber!
You can download the infographic here. Interested in learning more about cable networks in the future? Subscribe to our blog.
DOCSIS® Network vs. Fiber Backhaul for Outdoor Small Cells: How Larger Footprint of DOCSIS Networks Lowers TCO in the Outdoor Use Case
In our recent blog post, we talked about how, from a total cost of ownership (TCO) perspective, DOCSIS networks triumph as either backhaul or fronthaul over traditional fiber backhaul for the indoor use case. In this blog, we bring that TCO analysis to a more intuitive, outdoor use case: a head-to-head comparison between TCO of DOCSIS backhaul and fiber backhaul, both of which serve the same set of outdoor small cells.
The basic idea here is: leverage the existing real estate of DOCSIS networks for additional use cases beyond residential/business services. This approach applies to the markets where DOCSIS networks already have a larger footprint than the fiber on the ground. We have seen data points suggesting that there typically is 3~5X more coax cable than fiber in major North American metro markets. This enables a large subset of small cells to be deployed on cable strands or at a short distance from the cable strands, using short drops.
Through primary research, one of our members with dual operations (cable + wireless) confirmed that from a small cell radio planning perspective, they exhaust all cable strand mounting options first, before looking into the gaps for additional sites. This is the key differentiator for DOCSIS technology vs. fiber, where most of the backhaul connections require either new build or premium lease rates.
In this TCO analysis, we showed >50% reduction in TCO for an outdoor use case of backhauling small cells when served by DOCSIS networks compared to a more traditional deployment served by fiber. 
But, Is DOCSIS Network the Right Solution for Small Cell Backhauling?
The short answer is – YES.
There are two major requirements associated with any small cell deployment –
Site acquisition/preparation/construction/powering
Backhaul with certain capacity/latency/timing synchronization
These two requirements are intertwined since we need to choose a site where backhauling option/s are available and, to the extent possible, cost-effective.
In terms of site (1st requirement) with ready access to backhaul, MSOs have 2 offers on the card:
Firstly, co-siting small cells with existing MSO owned/operated WiFi hotspots which are already served by DOCSIS backhaul.
Secondly, leveraging existing cable infrastructure, and in particular aerial plant i.e., cable strands, that takes out a lot of steps (and cost) from the small cell deployment process. Using existing infrastructure eliminates/lightens the need for permitting and site acquisition, preparation/construction and also powering. Along with site access (typically covered by existing pole-line attachment agreements) and power, cable strand deployments also come with readily accessible DOCSIS links as backhaul.
Figure 1 below shows a typical strand-mount small cell installation, consisting of a small cell gateway and a 4G/LTE-A small cell as reported in the technical paper prepared for SCTE-ISBE 2018 Fall Technical Forum by Dave Morley from Shaw Communications Inc./Freedom Mobile. The small cell gateway here contains a DOCSIS 3.1 cable modem and power supply.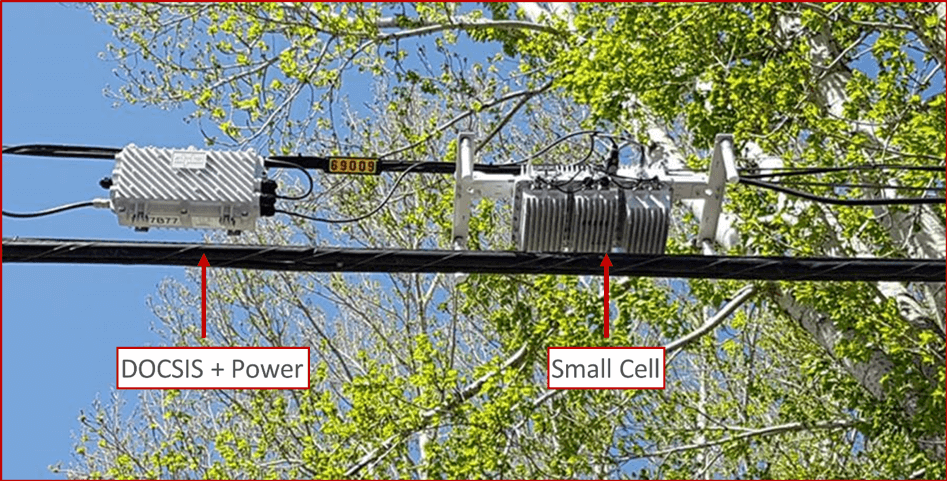 Figure 1: Typical Strand Mount Small Cell @ Shaw Communications Inc./Freedom Mobile
In terms of backhaul specifications (2nd requirement), Belal Hamzeh and Jennifer Andreoli-Fang from CableLabs® have articulated how DOCSIS technologies, with recent developments, fulfills all three fundamental backhaul needs around capacity, latency, and timing in the technical brief titled DOCSIS Technologies for Mobile Backhaul (CableLabs members only). In that paper, the authors have argued that, depending on the mobile operator's defined SLA, even DOCSIS 3.0 can support backhaul capacity needs. And, significant downstream capacity improvement can be added with DOCSIS 3.1 and significant upstream capacity improvement can be added with Full Duplex DOCSIS.
Regarding latency, control and user plane latency is expected to improve significantly, achieving ~1-2ms latency with the pipelining/Bandwidth Report (BWR) technique across DOCSIS and mobile technologies. Finally, DOCSIS 3.1 already has the mechanism to natively distribute IEEE-1588 timing over the network. With recent CableLabs work on a DOCSIS synchronization specification, DOCSIS 3.1 will also be able to achieve the stringent phase precision as required in LTE TDD/5G networks.
Therefore, in summary, DOCSIS meets the requirements associated with small cell deployment, triggering the need to compare its TCO with traditional fiber based TCO when either one can provide the backhaul for a set of newly deployed small cells in a target market. 
Deployment Scenarios We Looked At
For TCO analysis, we considered a hypothetical market covering 100 sq.km. with 290K housing units (HU) and ~700K people in it. There will be 640 outdoor small cells deployed in the market with 150Mbps/50Mbps max DL/UL throughput per cell (20MHz 2*2 LTE cell). For simplicity, using 1:1 mapping between radio and backhaul throughput, we considered peak backhaul capacity of 150Mbps/50Mbps per small cell.
However, since the peak data rates are required/achieved only under ideal conditions, the average DL/UL throughput during the busy hour is much lower, typically 20-25% of the peak rates. We considered the average throughput to be 20% of the peak, thus forming a small cell cluster comprised of 5 small cells that results in 128 total small cell clusters in our market. Each of these clusters is served by a single cable modem capable to handle 150Mbps/50Mbps.
We have 2 identical scenarios: Scenario A, with fiber backhaul and Scenario B, with DOCSIS backhaul, both serving the same market with 128 clusters i.e. 640 total small cells.
TCO Analysis and Key Takeaways
In this analysis, for both scenarios, we assumed the need for 3 types of backhaul connectivity to bring the small cells online – new build (both scenarios), existing cable strand/MSO WiFi Hotspots (scenario B only), and short drop (~300ft) to site/pole from nearby network (both scenarios).
In our base case, for the 2 scenarios, we applied the following breakdown among types of backhaul connectivity required:
The distribution of backhaul connectivity type used in our base case is informed based on primary research and market observations. Obviously, there is no one size fits all and this is a key area to assess when an operator analyzes potential TCO savings in a target market. Scenario B's attractiveness largely depends on the ratio (2/3rd in our base case) of existing cable strand/WiFi hotspots that an MSO can leverage to deploy small cells.
The cost difference between new build and short drop does not come from site acquisition/ preparation/ installation because that need will be identical for both types. However, backhaul lease amount (/month) is different for these two types in our 100% Opex based model for backhaul cost.
Though configurable in our model, our default TCO term is 7 years. Also, we calculated the TCO per user passed and focused on the relative difference among scenarios to de-emphasis the overall cost (in dollars), which will differ by markets, the scale of deployment and supplier dynamics among other things.
According to our base case assumptions, we see the following:
TCO in DOCSIS BH scenario has the potential to be >50% cheaper than the TCO in fiber BH scenario
The major difference in TCO between the two scenarios come from Opex. This is because, all 3 key Opex contributors – site lease, site utility cost, and backhaul lease are significantly higher (3~5X) in scenario A than in scenario B.
There also is a major difference in Capex between the two scenarios. This is largely because, site acquisition/preparation in scenario A costs more (2~2.5X) than the same category of Capex in scenario B, due to the advantage DOCSIS holds for leveraging more existing sites.
We allocated 20% of DOCSIS network upgrade (from low split to mid split) cost to the DOCSIS scenario. If we take this out (since DOCSIS network upgrades will happen anyway), the Capex associated with plant upgrade cost in scenario B will be gone, making it even more attractive from TCO perspective.
As mentioned earlier in Table 1, the TCO analysis outcome is primarily dependent on base case assumptions for the distribution of BH connectivity types. If existing cable strand/WiFi hotspots can handle 80% of small cell sites, then, instead of ~50%, the TCO for scenario B will be reduced by ~60%. On the contrary, if that ratio drops down to 50%, then TCO reduction in scenario B will also come down to ~40%.
In an upcoming strategy brief (CableLabs member operators only), we intend to share more details on our methodology, assumptions and breakdown of observed results (both Capex and Opex) along with a full sensitivity analysis.
Conclusion
As we also mentioned in our previous blog (on indoor use case), it's self-evident that a DOCSIS network-based deployment would have favorable economics compared to a fiber-based model just by virtue of its larger footprint/incumbency alone. When we throw in additional advantages such as lower power requirement/utility charges, that gap only widens. Our TCO model introduced here quantifies that perceived benefit and numerically shows the cost savings in serving outdoor small cells via DOCSIS. This sort of use case strengthens our view that DOCSIS technology has a huge role to play in 5G deployments.
Subscribe to our blog and stay tuned as we continue to explore how to leverage DOCSIS network for mobile deployments. In our next blog post of this series, we intend to look at the DOCSIS networks' ability to support advanced features such as CoMP.
TCO of DOCSIS® Network XHaul vs. Fiber BackHaul: How DOCSIS Networks Triumph in the Indoor Use Case
In our recently published blog post, we demonstrated why indoor femtocells have reemerged as an attractive deployment model. In particular, indoor network densification has huge potential for converged cable/wireless operators who can leverage their existing Hybrid Fiber Coax (HFC) footprint to either backhaul from full-stack femtocells or fronthaul from virtual Radio Access Network (vRAN) remote radio units.
In the second blog in our series, we shift the focus from system level benefits to making the business case. As we walk through our TCO model, we will show a 40% to 50% reduction in Total Cost of Ownership (TCO) for an indoor deployment model served by DOCSIS networks compared to a more traditional outdoor deployment served by fiber. Yeah, that is big, so let's break down how we got there.
Why DOCSIS Networks?
Before jumping into the TCO discussion, let's revisit the key motivations for using DOCSIS networks as a tool for mobile deployments:
Broad-based availability: In a Technical Paper prepared for SCTE-ISBE 2018 Fall Technical Forum, a major Canadian MSO pointed out that there typically is 3~5X more coax cable than fiber in its major metro markets. In the US too, per FCC's June 2017 statistics, nation-wide cable Household Passed (HHP) stands at 85% (115M units), whereas fiber HHP stands at 29% (39M units)
Gigabit footprint: As of June 2018, over 63% of US homes have access to gigabit service over cable. In other markets cable operators are pushing ahead with gigabit buildout as well
Ease of site acquisition: No permitting, no make ready, limited installation effort.
Evolving mobile-friendly technology: Ranging from latency optimization to timing/synchronization techniques and vRAN support for non-ideal fronthaul links like DOCSIS networks.
Scenarios We Looked At
For TCO comparison, we looked at the following 3 deployment scenarios:
Scenario 1: Outdoor small cell served by leased fiber backhaul

This is the traditional solution for deploying small cells. For our TCO model, we treated this as the baseline.
Scenario 2: Indoor femtocell/home eNodeB served by residential/SMB DOCSIS network links as backhaul.

In this scenario, we modeled the deployment of a full-stack femtocell in residential customer homes and small to medium businesses (SMB) served by the converged operator's DOCSIS network. A converged operator here refers to a cable operator that deploys both DOCSIS network and mobile networks.
Scenario 3: Indoor vRAN Remote Radio Unit (RRU) served by residential/SMB DOCSIS network links as fronthaul

Scenario 3 is essentially scenario 2 but using vRAN. In this case, the virtual base band unit (vBBU) could be deployed on general purpose processors (GPP) servers in the distribution hub site with low-cost radio units deployed in DOCSIS gateways at the customer premise, or SMB location.
Apples to Apples
To build the TCO model, we start with a representative suburban/urban area we want to model. In our case, we used a 100 sq. km area with a total of 290k households (HH). At 2.4People/HH (the US average), our modeled area covered roughly 700K people.
Next, we considered that this area is already served by 10 outdoor macrocells, but the operator needs to boost capacity through network densification.
Under Scenario 1, the operator deploys 640 outdoor small cells that cut existing macro cells' traffic load by half and boost the spectral efficiency (and therefore capacity) across the network. To create an apples-to-apples comparison of system capacity under all three scenarios, we applied the concept of normalized spectral efficiency (SE) and kept that consistent across the three scenarios. For SE normalization, we added up weighted SE for different combinations of Radio Location-User Location (e.g. In-In, Out-Out, Out-In) in each scenario.
In the end, we used the normalized SE to find the appropriate scale for each scenario to achieve the same result at the system level, i.e. how many femtocells/vRAN radios will be required in indoor scenarios (2 & 3) so the system capacity gain is comparable to the traditional deployment in scenario 1.
Work Smarter, Not Harder
Crucially, converged operators know who their heavy cellular data users are and among them, who consistently use the network during non-business hours, i.e., most likely from their residences. As an example, a CableLabs member shared empirical data showing that the top 5% of their users consume between 25%~40% of overall cellular network capacity on a monthly basis.
So as a converged operator, if you want to prevent at least 25% of network traffic from traversing through walls, you can proactively distribute home femtocells or RRUs to only the top 5% of your users (assuming their entire consumption happens indoor).
In our model, we used the following approach to get the scale of indoor deployment for scenarios 2 and 3:
Therefore, theoretically, if only 2.5% of subscribers start using indoor cellular resources, we can achieve the same SE improvement in scenarios 2 and 3, as observed under scenario 1's fiber outdoor deployment.
However, we know assuming 100% of heavy users traffic is consumed at home or indoors is unrealistic. To account for a combination of real-world factors including that indoor doesn't mean only at your residences, that some of those heavy user locations may not be serviceable by a DOCSIS network, and/or some users may opt out from using a home femtocell/RRU we boosted that percentage of the subscriber base we modeled using femtocell/RRU deployments to 12.5% (or roughly 35K units) to make sure that we can definitely capture at least 12.5% of cellular traffic in scenario 2 and 3.
Our Analysis and Key Takeaways
For the TCO model assumptions, we gathered a wide range of input from a number of CableLabs operators and vendors. In addition, we validated our key assumptions with quite a few Telecom Infra Project (TIP) vRAN fronthaul project group's members.
Though configurable in our model, our default TCO term is 7 years. Also, we calculated the TCO per user passed and focused on the relative difference among scenarios to de-emphasis the overall cost (in dollars), which will differ by markets, the scale of deployment and supplier dynamics among other things.
According to our base case assumptions, we see the following:
TCO in scenarios 2 and 3 can be around 40%~50% cheaper than the TCO in scenario 1.
For scenario 1, Opex stands out as it involves large fees associated with outdoor small cell site lease and fiber backhaul lease.
Scenario 2 commands a higher Capex than scenario 3, largely because of higher (~2X) unit price per full-stack home femtocell (vs. home RRU) and the need for security gateway, which is not required in scenario 3.
Scenario 3's Opex is nearly double (vs. scenario 2 Opex), as it requires a significantly higher DOCSIS network capacity for the upstream link. Yet, notably, despite the increased DOCSIS network capacity used by a vRAN deployment, the TCO is still the most favorable.
We allocated 20% of DOCSIS network upgrade (from low split to mid split) cost to DOCSIS network-based use cases (scenarios 2 and 3). If we take those out (since DOCSIS network upgrades will happen anyway for residential broadband services) the TCO of these indoor use cases get even better compared to the fiber outdoor case (scenario 1).
Other key sensitivities include monthly cost/allocated cost of the XHaul, number of small cell sites within a small cell cluster, radio equipment cost, and estimated number/price of threads required for vBBU HW to serve a cluster in the vRAN scenario.
In an upcoming strategy brief (CableLabs member operators only), we intend to share more details on our methodology, assumptions and breakdown of observed results (both Capex and Opex) along with a sensitivity analysis.
What Do These Results Mean?
To us, it was always a no-brainer that a DOCSIS network-based deployment would have favorable economics compared to a fiber-based model. The TCO model introduced here confirms and quantifies that perceived benefit and points out that for network densification, there is a business case to pursue the indoor femtocell use case where market conditions are favorable.
Subscribe to our blog because our exploration of DOCSIS networks for mobile deployments isn't over. Coming up next we explore a similar TCO model focused on outdoor deployments served by DOCSIS backhual. Later we will shift back to technology as we look at the DOCSIS networks ability to support advanced features such as CoMP.
Inform[ED] Video: Full Duplex Coherent Optics over Fiber Networks
Last week, CableLabs Distinguished Technologist Steve Jia posted a blog "Doubling up on Fiber Capacity: A Winning Strategy for Full Duplex Coherent Optics." In that blog, Steve describes how the CableLabs Full Duplex Coherent Optics innovation doubles the bi-directional capacity of each cable access network fiber, multiplies the capacity of each existing access network fiber by over 200 times and simultaneously makes Coherent Optics technology well suited for deployment in many more cable access network fibers.
Watch our Inform[ED] video below to learn more about this groundbreaking technology.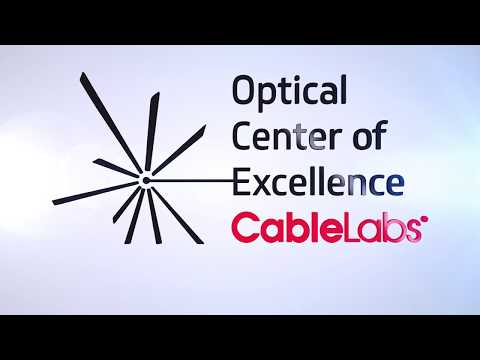 Full Duplex Coherent Optics has the potential to have a huge impact on operator networks. Don't forget to subscribe to our blog to learn more about coherent optics in the future.
Doubling up on Fiber Capacity: A Winning Strategy for Full Duplex Coherent Optics
During our 2017 Winter Conference, CableLabs announced the launch of the point-to-point (P2P) Coherent Optics specification project, potentially multiplying the capacity of each existing cable access network fiber by over 100 times and possibly indefinitely deferring new fiber builds on existing routes. Now, a new CableLabs innovation, Full Duplex Coherent Optics:
Doubles the bi-directional capacity of each fiber
Multiplies the capacity of each existing access network fiber by over 200 times
Simultaneously makes Coherent Optics technology well suited for deployment in many more cable access network fibers
Why CableLabs Began the Coherent Optics Project
Most cable operators have a somewhat limited fiber count between the headend and the fiber node, so maximizing the capacity provided by this scarce resource has real economic advantages for cable operators.  Getting more capacity out of the existing fibers can eliminate the need to dig more trenches to lay more fiber. This allows operators to best leverage the existing fiber infrastructure to withstand the exponential growth in capacity and services for residential and business subscribers.
Transport Methodologies
There are two fundamental topologies to achieve bidirectional P2P coherent transport:
According to a recent operators survey, 20 percent of existing cable access networks use a single-fiber topology. That means that downstream and upstream transmission to nodes takes place on a single strand of fiber. It is estimated that over the next 5 years, this number will grow to 60 percent. Therefore, bidirectional transmission over a single fiber is needed for coherent signals to support single-fiber topologies and to facilitate the redundancy of optical links.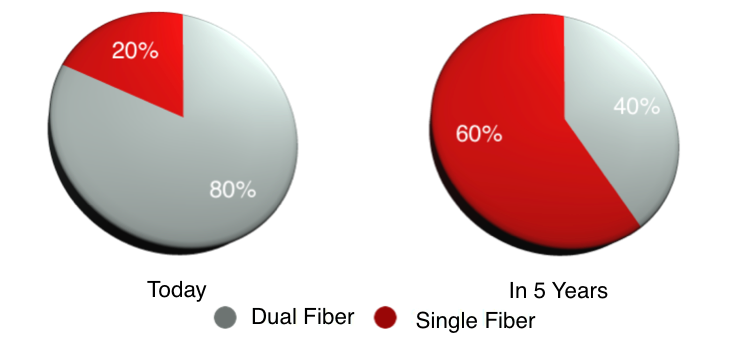 The Dual-Fiber Approach
Today, achieving bidirectional transmission in an optical domain with a single laser requires two fibers. This is the standard practice using today's coherent optical technology. One laser in a transceiver performs two functions:
as the optical signal source in the transmitter
as the reference local oscillator signal in the receiver
Because of the use of the same wavelength from the same laser, a second fiber must be available for the other direction—one fiber for downstream and a second fiber for upstream.

The Single-Fiber Approach
The second typical approach is to use a single fiber but transmit at different frequencies or wavelengths, similar to the upstream and downstream spectrum split that we implement in our HFC networks. To accomplish this frequency/wavelength multiplexing approach, two lasers operating at different wavelengths are needed. Wavelength multiplexers and demultiplexers following a wavelength management and allocation strategy are needed to combine these different wavelengths over the same fiber. The second laser ends up costing a lot more than money—increasing power consumption, operational complexity, and transceiver footprint.

CableLabs' Full Duplex Coherent Optics Approach
CableLabs proposes an alternative method to achieve full duplex coherent optics. We leverage two optical circulators on each end in a special configuration. The circulator is a low-cost, passive, but directional device—much like a traffic roundabout for cars, but this is an optical roundabout. Instead of using two fibers, a single fiber is connected for bidirectional transmission. Most importantly, instead of using two lasers, a single laser is employed for single-fiber coherent systems.

How Does It Work in a Cable?
Many scenarios in cable focus on the access environment with limited transmission distances. Unlike backbone and metropolitan coherent optical networks, access networks don't require multiple directional optical amplifiers in cascade. By definition, the introduction of directional components hampers bidirectional transmission.
When dealing with coherent signals, we have much higher Optical Signal to Noise Ratio (OSNR) sensitivity and higher tolerance to the impairments from the spontaneous Rayleigh backscattering than intensity-modulated systems. In addition, the threshold of the stimulated Brillouin scattering (SBS) nonlinear effect is much higher because of the nature of phase-modulated signals on the reduction of optical carrier power and the increase of effective linewidth.
With this new dimension of direction-division multiplexing (DDM) in the optical domain, any coherent wavelength can be used twice, once in each direction, thus doubling the whole fiber system capacity. This full duplex implementation is not bandwidth-limited. It works for 100G, 200G and future 400G. It is also not wavelength-selective. It works for short wavelengths and for long wavelengths, and it would cover not only the entire C-Band but, with different optical sources, the entire fiber spectrum. All these features have been experimentally verified in CableLabs' Optical Center of Excellence (OCE) over distances of up to 100 kilometers.
Impacts/Benefits of Full Duplex Coherent Optics
Full duplex coherent optics will significantly increase the value of the currently-deployed fiber infrastructure. It has been implemented in an elegant way, without the requirement of redesigning new chips for digital signal processing. This scheme can be seamlessly incorporated into the ongoing CableLabs' P2P Coherent Optics specification effort, which will be issued in mid-2018.
Dr. Alberto Campos, a CableLabs Fellow, also contributed to this article.
--
Interested in learning more about our point-to-point (P2P) Coherent Optics specification project? A follow-up video containing more information on the technology will be posted next week. Click below to join our working group.
CableLabs Goes Down Under
In a bit of alright, CableLabs recently welcomed Australia's National Broadband Network (nbn) – as our 56th member — and our first in Australia.  CableLabs now has members across five continents — adding Australia to Asia, Europe, North America and South America.
Established by the Australian government in 2009 to design, build and operate Australia's new broadband network, nbn is unique among CableLabs members as a Layer 2 network which wholesales access to Retail Service Providers (RSPs).  With the nbn network currently passing 4.6 million premises, approximately 50 RSPs are providing service to 2 million end user customers.  nbn plans to extend its network to 12 million premises by 2020 – and will serve 8 million end user customers through its RSPs.
nbn is unique in another fundamental way.  It is comprised of several heterogeneous network technologies, including fixed networks employing HFC, DSL and fiber (FTTx), together with wireless networks (fixed and satellite).  Through a strategy titled "Multi Technology Mix," nbn is a "network of networks" which integrates and optimizes these technologies to maximize speed of rollout, optimize economic return and enhance flexibility. This flexibility is at the heart of nbn's strategy to provide access to fast broadband to all Australians as soon as possible.
By the end of 2018, nbn will deploy DOCSIS 3.1 in its HFC network, joining a growing number of CableLabs' members across Canada, Europe and the U.S. who are deploying DOCSIS 3.1 multi-gigabit technology.  These deployments will help deliver new customer experiences that are faster and more efficient. Examples of the improved experience include:
10Gbps downstream and up to 1Gbps upstream network capacity
Improved responsiveness for applications such as online gaming and video streaming
Ability to transmit up to 50 percent more data over the same spectrum, on existing HFC networks
Increased cable modem energy efficiency through advanced energy management protocols
For more information about nbn, please visit http://www.nbnco.com.au/corporate-information/about-nbn-co.html.
A Re-Cap of FTTH Connect 2016
FTTH Connect was held earlier this summer in Nashville. Representing CableLabs and educating the audience about initiatives within the larger cable industry, Steve Burroughs, Curtis Knittle and I spoke at several sessions. In this short video, Steve, Curtis and I will share what we discussed and observed.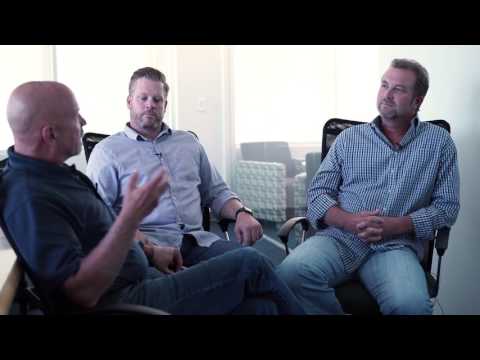 ---
Video Transcript
Curtis Knittle: I'm Curtis Knittle from the Wired Technologies Group here at CableLabs. I'm sitting here with Mr. Steve Burroughs (Lead Architect) and Mr. Jon Schnoor (Senior Engineer).
How do you think your activity went at FTTH Connect?
Steve Burroughs: I thought it went really well. We had a good turnout. The numbers that were projected by the the moderator actually were exceeded by about twenty-five percent. We had a lot of questions afterwards and I thought, by and large, we conveyed a lot of information and it was well-received.
Curtis: How do you think it went for you, Jon?
Jon Schnoor: It went very well.  It was good to be there representing the cable industry.
Curtis, how did we get into the position this year by having so much presence? What's the history of this?
Curtis: That's a good question. It all started pretty much back in 2014. I gave a presentation and I was basically the only cable operator to do such a presentation and so that was 2014.
In 2015, we had you guys. We had two speakers there doing a panel and we realized based on the feedback from 2014 & '15 that people were clamoring for more information. So this year we proposed a cable track and even a cable keynote.  This year we had a total of seven speakers talking on anything from future technologies like 100-gig EPON to provisioning.  Of course, the operator keynote was really key to providing some good information for the attendees.
Jon: Guy McCormick, Vice President at Cox Communications. The cable industry was represented by an actual keynote at the show.
Curtis: What kind of things did you talk about Steve?
Steve:  We had four people on our panel. And my particular area was addressing one of the needs that comes up with deploying FTTH that is not often thought of.  Deploying fiber is a lot more than just trenching and managing layer two protocols and OLTs and ONUs but there's also some higher layer aspects that rely on the access network. In this case, I was speaking about provisioning. And I addressed some of the things that CableLabs is developing at this time that is moving the dependency of the provisioning methods on the access network -- which is currently DOCSIS.  I'm making it more independent so I talked about a more modern mechanism that's access network-independent for provisioning the devices that are going to be attached -- whether it's via fiber or DOCSIS. And I also addressed dynamic service provisioning, which is going to take advantage of SDN as well as NFV -- ultimately replacing some of our older virtualization mechanisms.
Curtis: How about you, Jon?
Jon: I spoke about fiber parity in the cable industry. And so we're talking about phone services, internet services and video services and providing those services over fiber -- full fiber networks and fiber-to-the-home (FTTH) implementations. The idea is whatever we're doing in an HFC in a cable network, a traditional cable network, we need to be able to do the same things in an all-fiber network. I spoke about the parity between the fiber network and the HFC network and how do we get there from a fiber perspective.
Curtis: Creating the same services in the same experience.
Jon: Exactly.
Steve: I understand you also led a session?
Curtis: Yes, I did. I did two sessions. One session was on the 100 gigabit Ethernet Passive Optical Networking (EPON) and the standardization activities that are underway right now. And then I had another session that was the operator perspective on fiber-to-the-home.
Our motivation really was to give more exposure to fiber-to-the-premise (FTTP) whether that's home or businesses, give more exposure to the cable industry in what's actually happening because historically I think that show has been mostly telco and municipalities. We're now trying to ramp up some of the cable presence so that vendors and other operators and whoever is involved in the industry can actually start giving some thought to what the cable industry needs as well.
Cable Makes Its Mark at FTTH Connect
Over the past two years, members of the CableLabs Optical Technologies team had the privilege to speak at the Fiber-To-The Home (FTTH) Council's yearly FTTH Connect event. FTTH Connect annually attracts many thought leaders from both the vendor and service provider communities.
One observation we made while attending FTTH Connect was the growing appetite of FTTH Connect attendees to learn more about cable industry initiatives and solutions. Not only were the presentations well attended, but in one instance the Q&A session lasted for 30 minutes past the allotted time. Presentations provided FTTH perspective in a cable network, motivation for fiber deployments to complement the HFC network, PON traffic modeling, and supporting cable's triple play services with fiber home run implementations. This appetite for more cable knowledge was somewhat surprising but welcome.
The impetus for CableLabs' involvement was not only to show the world that the cable industry is pushing FTTH solutions, but also to introduce the FTTH community to CableLabs as a leader of innovation and R&D solutions. CableLabs has introduced several solutions to provide a means and support strategies of operators for pushing fiber deeper into the HFC network, including FTTH. These solutions include DOCSIS Provisioning of EPON (DPoE), Triple Play over PON and the group of specifications based on the Distributed CCAP Architecture.
Based on the show in 2015, we set out to increase our contributions at the 2016 FTTH Connect event. We proposed an entire cable track to the FTTH Council and were unanimously approved. We then set out to offer cable's story at this year's conference. It begins with Guy McCormick, Senior Vice President at Cox Communications, who will be one of the shows keynote speakers. Cox Communications is one of the most forward-thinking cable companies in the world, and they have an aggressive strategy around FTTH deployments. Jon Schnoor will discuss how we achieve fiber parity with cable services to that of the HFC access network. Steve Burroughs will present how to move beyond technology specific provisioning and work toward an access network agnostic infrastructure through virtualization. Curtis Knittle will explore next generation PON solutions that will establish 100 Gbps EPON and include an operator's perspective on their transition to FTTH including challenges, technology tradeoffs, operational challenges and solutions. Curtis Knittle is also hosting a panel regarding FTTH in cable, that will explore an operator's perspective.
If you're planning to attend FTTH Connect 2016, be sure to attend the cable industry sessions to see what is cool and interesting!
Cable Information Architecture
Passive Optical Networking – for the Next Generation
Service providers invest billions of dollars in their access networks. Ideally, the deployed technology meets consumer demand for many years, allowing service providers to avoid costly upgrades before fully recovering their investments. In addition to technology longevity, service providers also like to see technology evolution, a next generation, to borrow an overused technology term, to ensure future consumer demands can be met by staying within the same technology family. Nowhere is the next generation moniker more prevalent than in the development of passive optical networking (PON) standards.
Both the ITU-T and IEEE are creating next generation PON standards. The ITU has approved two documents from their G.989 series defining Next Generation PON 2 (NG-PON2), and a third document is currently undergoing final comments. The NG-PON2 architecture settled on a time and wavelength division multiplexing (TWDM) method which stacks four wavelengths in a coordinated manner onto a single fiber, with each wavelength delivering 10 Gb/s. Total NG-PON2 TWDM-PON capacity is therefore 40 Gb/s. Since the ONU only receives one wavelength, the bit rate received by a single ONU is capped at 10 Gb/s. In such a solution, the dynamic bandwidth allocation (DBA) would likely be independent for each wavelength. Multiple vendors have reported demonstrating the TWDM-PON solution. A four-wavelength TWDM-PON is illustrated in the figure below.


40 Gb/s Time and Wavelength Division Multiplexing (TWDM) PON.
Is a 100 Gb/s Solution on the Horizon?
The IEEE 802.3 Working Group has recently formed a Study Group to develop objectives for the next generation of Ethernet Passive Optical Networking (NG-EPON). Several key technology decisions await the NG-EPON Study Group: (1) number of wavelengths, (2) bit rate per wavelength, (3) transceiver tunability, and (4) channel bonding. Faced with the same consumer demands and industry competition as other access network technologies, the NG-EPON Study Group could relatively easily define a four-wavelength, 10 Gb/s-per-wavelength PON to put it on par with NG-PON2, shown above. However, alternative solutions are being investigated by NG-EPON participants that would take PON technology multiple steps beyond, and presumably allow consumer demand to be met for many years into the future. For example, using advanced modulation techniques to provide 25 Gb/s per wavelength, combined with four multiplexed wavelengths on a single fiber, could yield the first 100 Gb/s PON solution. By incorporating channel bonding, a concept popularized by CableLabs and the cable industry in the DOCSIS® 3.0 specifications, an NG-EPON ONU would be capable of receiving one or more wavelengths, potentially receiving 50 Gb/s or more. In a channel-bonded solution the DBA will closely coordinate upstream transmissions on one or more wavelengths simultaneously. Are the optical transceivers tunable? That is another of the many important technology decisions yet to be made. A channel-bonded, time-wavelength division multiplexed PON is shown in the diagram below.


Channel-bonded, time and wavelength division multiplexed 100 Gb/s PON.
With a keen eye on vendor implementation schedules and interoperability, the increased capacity of NG-EPON ONUs and OLTs could be staged according to a timeline that aligns with consumer demand and service provider requirements, alleviating the need to develop yet another next generation standard (next-next generation?).
These technology decisions will begin to take shape within the NG-EPON Study Group (and subsequent Task Force) starting at the September 2015 802.3 Interim meeting. Anyone with the desire to contribute is welcome to attend. Perhaps the ITU-T will also investigate these same approaches for NG-PON2, ultimately resulting in another step toward a converged optical access solution (See the OnePON blog regarding a converged optical access initiative).
In his role as Vice President Wired Technologies at CableLabs, Curtis Knittle leads the activities which focus on cable operator integration of optical technologies in access networks. Curtis is also Chair of the 100G-EPON (IEEE 802.3ca) Task Force.