Meet the CableLabs Experts Speaking at the All-Virtual SCTE•ISBE Cable-Tec Expo® 2020
This year, our colleagues at SCTE•ISBE are taking full advantage of the power of connectivity to make one of the biggest industry events completely virtual—and FREE—to all attendees. The first-ever SCTE•ISBE Cable-Tec Expo® Virtual Experience (sponsored by Charter Communications, Comcast and Cox Communications) is scheduled for October 12–15, 2020, and we're very excited to be a part of it. We'll have a virtual showcase starting on October 9th, and we've arranged for multiple speakers and moderators from CableLabs to participate in this year's event, covering a broad range of topics from AI to fixed-mobile convergence to the future of 10G, and much more.
The theme of SCTE•ISBE Cable-Tec Expo®2020 is Imagine the Possibilities, and it's all about exploring the future of our increasingly connected world. This topic resonates with many of our experts here at CableLabs who are working on advancing cable network technologies to meet the needs of current and future generations. We'd like to introduce you to a few of them.
Phil McKinney | President and CEO of CableLabs
Session: CEO Welcome, Chairman's Welcome and Opening General Session
When: October 12 @ 11:00 AM–1:30 PM EDT
Author, innovation guru and CableLabs CEO Phil McKinney will kick off the General Session by introducing the participants and setting the overall objective for the 2020 Cable-Tec Expo.
Steve Goeringer | Distinguished Technologist
Session: The Cable Industry and Fraud: What It Is and What To Do About It
When: October 12 @ 1:00–2:00 PM EDT
Steve will moderate a discussion about the evolution of cyber fraud and how operators can prevent, detect and respond to attacks within the parameters of the privacy law.
Karthik Sundaresan | Distinguished Technologist
Session: Latency Labors: Solving for the (Super Low) Requirements of What's Coming
When: October 12 @ 1:00 PM–2:00 PM EDT
In the Latency session, Karthik will offer well-needed focus on how latency can be represented quantitatively, including metrics for describing latency behavior and methods of collecting those metrics.
Greg White | Distinguished Technologist of Next-Generation Systems
Session: Latency Labors: Solving for the (Super Low) Requirements of What's Coming
When: October 12 @ 1:00 PM–2:00 PM EDT
Greg will moderate a four-part workshop that focuses on latency and ways to lower latency to meet consumer demand for seamless digital experiences, such as multiplayer online gaming and workplace collaboration tools.
Debbie Fitzgerald | Immersive Experiences and Technology Policy, CableLabs
Session: The 10G Platform: Powering the Smart Home of the Future
When: October 12 @ 1:30 PM–2:00 PM EDT
What was once only imagined is now becoming reality with applications such as VR/AR, holographic devices and other high-tech high-bandwidth technologies in the home. Debbie Fitzgerald and key players that were involved with the Mediacom 10G Smart Home showcase project will discuss technological challenges and future opportunities.
Craig Pratt | Lead Security Engineer
Session: Customer-Facing Security Mechanisms: Keeping People Safe Without Compromising Their Experiences
When: October 12 @ 3:00–4:00 PM EDT
Craig will cover the WFA Easy Connect specification, which integrates into the CableLabs Frictionless Onboarding System to keep Wi-Fi connections secure.
Curtis Knittle | Vice President of Wired Technologies
Session: The HFC Future: 10G, FDX and Extended Spectrum
When: October 13 @ 9:30–10:30 AM EDT
Curtis will join his colleagues from CommScope and Comcast for a three-part workshop on future-proofing cable's HFC networks on the path to 10G and beyond.
Max Pala | Principal Architect of Security
Session: Evolving Security Tools: Advances in Identity Management, Cryptography and Secure Processing
When: October 13 @ 9:30–10:30 AM EDT
Security, PKI and encryption expert Max Pala will cover the latest developments in quantum computing as a possible means to break public key cryptography.
Karthik Sundaresan | Distinguished Technologist
Session: An Upstream Path Forecast: OFDMA Ahead
When: October 13 @ 1:00 PM–2:00 PM EDT
Karthik will join the OFDMA session to talk about the work with NOS to develop an upstream Profile Management Application.
Mark Poletti | Director of Wireless
Session: Current Events in CBRS for Cable
When: October 13 @ 1:00–2:00 PM EDT
Mark will join experts from Celona and Charter to examine the opportunities offered by the FCC's decision to make the Citizens Broadband Radio Service (CBRS) spectrum band available for unlicensed use in private LTE/5G networks.
Jason Rupe | Principal Architect
Session: Proactive Network Management: Cool Tools to Identify and Eliminate Impairments
When: October 13 @ 1:00 PM–2:00 PM EDT
As an expert in Proactive Network Management, Jason will take a look at profile management in DOCSIS® 3.1, including ways to sidestep LTE interference in the middle of an OFDM channel.
Kyle Haefner | Senior Security Engineer
Session: Applying AI in the Home to Improve Consumer Experiences
When: October 14 @ 3:00–4:00 PM EDT
Kyle will share recent academic work to classify devices and learn their behavior, so that the network can identify devices—and determine when they're operating outside of their norm.
Jennifer Andreoli-Fang | Distinguished Technologist
Session: The State of Converging Access and 5G Mobile Networks: What's Happening, and What Matters?
When: October 15 @ 10:00–11:15 AM EDT
Jennifer will kick off the workshop with a look at transport convergence between mobile and DOCSIS® technology, including major MSO deployments in North America and Europe.
Robert Cruickshank | Proactive Network Management Advisor
Session: Powering 10G: What It Takes and How to Do It
When: October 15 @ 1:00–2:00 PM EDT
A recognized expert in early cable technology development, Robert will examine data coming from a Gridmetrics pilot program to measure, monitor and track the availability and stability of voltage in the last mile of the access network's power grid.
Matt Schmitt | Principal Architect
Session: I'd Like a (Network) Slice, Please: Current Events in Multi-Network Convergence
When: October 15 @ 1:00 PM–2:00 PM EDT
Matt will talk about CableLabs' Convergence Lab and new business opportunities beyond
residential broadband, including mobile fronthaul/backhaul, business-grade Ethernet and
remote OLT.
You can always count on SCTE•ISBE Cable Tec Expo to bring together thousands of tech's most ambitious minds, including leading innovators, technologists and visionaries. This year is no different. In fact, now it's even easier to register and join from the comfort of your own home or workplace office. Although you can expect some deviation from the usual event proceedings due the virtual format, all the main event sessions are generally still in place, including the thought-provoking General Session, Innovation Theater presentations, Interactive Sponsor Showcase and, of course, the educational heart of the event—the Fall Technical Forum. You can learn more about all the CableLabs speakers here or review the full agenda on the SCTE•ISBE Cable-Tec Expo® site. Visit CableLabs and Kyrio at the Interactive Sponsor Showcase. We hope to "see" you at the Expo!
See the Future Now With 4Front: Register for Our 2021 Event
Mark your calendars now because 4Front 2021 is coming next June! Thanks to work behind the scenes, the event's visionary lineup is coming into even stronger focus. A unique cross-industry event that will bring together leaders and innovators from around the world to exchange ideas and explore how technology will shape the future, the inaugural 4Front conference was scheduled June 23-24 in Aurora, Colorado. However, because of health safety concerns stemming from the COVID-19 pandemic, CableLabs decided to postpone the event until June 15-16, 2021.
The 4Front 2021 event has already gained two notable recommitments among thought leaders, including artificial intelligence pioneer Rana el Kaliouby, founder and CEO of MIT-spinoff Affective. Under el Kaliouby's guidance, Affectiva has developed a technology that analyzes faces for emotional nuances. The technology is being used in a wide range of content testing, video recruitment and mental health applications.
Also joining 4Front 2021 is Shoshana Zuboff, a noted author and futurist who predicted in the 1980s that computers would revolutionize the workplace. In her latest book, The Age of Surveillance Capitalism: The Fight for a Human Future at the New Frontier of Power, she proposes that technology users are raw materials for manufacturing and sales systems, as part of a new surveillance economic order.
Meanwhile, 4Front's futuristic conversation continues in the present, through a series of podcasts available on Spotify, Google Podcasts and Apple Podcasts starting July 28.
The podcasts will feature 4Front visionaries who will reveal how they envision technology's role in building a better, safer and more connected future. Imagine holographic displays that drive workplace productivity and literally bring a new dimension to education in the classroom. Or immersive virtual reality games the whole family can play. Or new video applications that will allow patients to see specialists a thousand miles away.
The first trio of podcasts will explore the future of education and the workplace.
Education innovation expert Ai Addyson-Zhang will discuss her passion for incorporating social media and creative technologies to drive student remote learning.
Mike Hess, founder and executive director of the Blind Institute of Technology, will talk about his mission to bring blind and visually impaired IT and tech professionals into the workforce.
Spark Mindset CEO and Founder, Lawrence Wagner, will discuss what he sees in the workplace now, and what could change in the future.
More podcasts exploring entertainment and healthcare innovations will follow in the coming weeks so make sure to tune in and stay in the forefront of innovative thinking so that you're prepared for the 4Front conference next June.
What Do Loonshots, Prisons and the FCC Have in Common? Meet the 2019 Summer Conference Speakers and Find Out!
CableLabs Summer Conference 2019 is now less than a month away, and we're very excited to introduce you to the incredible individuals who will share their life experiences and professional expertise during the first 2 days. This year, we've brought together a diverse group of best-selling authors, founders, industry leaders, distinguished technologists—and even one innovative prison system entrepreneur who knows a whole lot about determination, perseverance and second chances. Join us to hear their stories and see for yourself how simple—but brilliant—ideas are generated, nurtured and brought to life. Check out the complete conference schedule.
Keynote Speakers
Safi Bahcall, Author of Loonshots
Day 1 @ 9:30am
Do you ever wonder why interesting ideas are sometimes dismissed in favor of safer, mediocre ones? Turns out, it has a lot to do with team dynamics and corporate structures. In his Wall Street Journal bestselling book, Safi Bahcall explores the concept of "loonshots"—or crazy radical ideas that lead to monumental breakthroughs—and how we can adjust our team behavior to allow them to flourish. In the words of Nobel Laureate Daniel Kahneman, this book—appropriately titled Loonshots—is "not to be missed by anyone who wants to understand how ideas change the world." 
Catherine Hoke, Entrepreneur, Author and Speaker
Day 2 @ 9:30am
Catherine Hoke is a radical entrepreneur who has found ways to use failure as a catalyst for change and innovation. After touring some of the most notorious prisons in America, she discovered that many of the inmates possessed strong entrepreneurial and business skills, just waiting to be put to good use. And that's exactly what she did! Catherine founded two successful non-profits, Prison Entrepreneurship Program and Defy Ventures, aimed at helping incarcerated people get the education they need to change their lives and reduce recidivism overall. As a result, more than 5,000 people have graduated from these programs, many of whom even earned MBA certificates. Catherine later founded a for-profit venture called Hustle 2.0, delivering life-transforming education to millions of Americans who went through the justice system.
Michael Powell, President and CEO of NCTA
Day 2 @ 4:15pm
Michael Powell not only understands innovation and technology, he spent decades of his life promoting and regulating its progress—first as a chairman of the Federal Communications Commission (FCC) and later as the president and CEO of NCTA. He's also served as chief of staff of the Antitrust Division of the Department of Justice, policy advisor to the Secretary of Defense and armored cavalry officer in the U.S. Army. During his career, he had a front-row seat to the digital revolution of the 1990s and early 2000s, overseeing the proliferation of the Internet, cell phones, Wi-Fi and other pivotal technology we can't live without today. Join us to learn about his take on the future of innovation.
For a full list of speakers, please visit our Summer Conference page, where you'll also find a detailed agenda, registration information and a vendor application for demonstrating your own product.
Spots are filling up fast and next week is your last chance to register!
ANGA 10 Gigabit and Beyond: Powering the Future of Cable
For the 15th consecutive year, thousands of network operators, service providers and vendors from around the globe will gather in Cologne, Germany, for ANGA COM Exhibition and Conference, June 4–6, 2019. Widely known as Europe's leading business platform for broadband operators and content providers, ANGA COM is organized by ANGA Services GmBH, which represents the interests of more than 200 companies in the German broadband industry that provide service to more than 40 million customers. This year's event is a 3-day deep dive into key topics such as gigabit networks, smart homes, Internet of Things (IoT), Wi-Fi, network virtualization, big data, streaming, cloud TV and 5G.
With more than 500 exhibitors and 20,000 participants from 75+ countries expected to attend, this year's list of confirmed participants includes many of our members, together with our partner industry organizations, such as Society of Cable Telecommunications Engineers (SCTE), NCTA and other representatives from the cable community. And, for the first time, ANGA COM is engaging the startup community and will have a featured exhibition area where CableLabs subsidiary UpRamp will be talking to potential Fiterator companies.
10G Gigabit and Beyond: Powering the Future of Cable
On June 4, from 11 a.m. to 12:15 p.m. CEST, CableLabs COO Chris Lammers will kick off the technology track by discussing the cable industry's 10G platform—a collection of technologies providing faster speeds, lower latency, higher reliability and greater security. He will be joined by some of the most influential names in cable, including Cisco Fellow and CTO of Cable Access John Chapman, General Manager of Intel's Connected Home Strategy and Technology Office Robert Ferreira, Vodafone's Director of Deployment Frank Hellemink and Liberty Global VP of Technology Bill Warga. The discussion will be moderated by SCTE·ISBE President and CEO Mark Dzuban. They will talk about the latest 10G developments and answer your burning questions.
Gigabit Broadband: Springboard for 10G
As the suite of technologies that will deliver Internet speeds 10 times faster than today's networks, the foundation for 10G already exists—the hybrid fiber coaxial network currently offering 1 gigabit speeds to much of the United States and Europe. Panelists will discuss how cable networks have ramped up their services to offer 1 gigabit (gigabit-per-second download speed) service across 80 percent of the United States—up from just 5 percent in 2016, with similar growth seen in Europe.
Not convinced we need 10 gigabit or even 1 gigabit speeds? Based on the double-digit bandwidth growth that we continue to see every year, we know that customers are ready for the next step in innovation and, thanks to a consistent cadence of network updates, cable operators are ready too.
10G Platform: Cable's Technologies Make It Real
The 10G standard's promise of faster speeds, lower latency, higher reliability and greater security will enable a wide variety of new services and applications that will change the way millions of consumers, educators, businesses and innovators interact with the world. Learn which technologies power the 10G platform and what's coming next:
Network Convergence: Opening Up New Business Opportunities
Experience 10G with network convergence and the rollout of 5G! The 5G standard requires multiple small cells (radio equipment), and—because those small cells require an efficient way to communicate with one another and the core network—cable can provide the perfect infrastructure. Learn more about technologies like Mobile Xhaul and Fronthaul vRAN that allow the wireline network to efficiently carry traffic back to the mobile network.
Improved Wi-Fi = Happy Customers
In recent years, the cable industry has devoted substantial resources to developing and enhancing wireless technologies for a seamless experience. Learn about the technologies and policy initiatives that increase Wi-Fi speed and reliability for whole-home pervasive coverage and consistent throughput, allowing consumer devices to enjoy the full benefits of advances—in speed, reliability, security and latency—in the coax and fiber portions of the network.
Event Information
Where: Koelnmesse, Cologne, Germany
When: June 4–6, 2019
Why: Learn the ins and outs of the 10G platform
See the ANGA COM 2019 agenda here for more information.
CableLabs Sponsors FCBA/IAPP "Data Is King"
Many of today's most popular consumer products and services are powered by the exponential growth in the generation, collection and use of personal data, enabled by ever-increasing broadband capacity, processing power and storage. These products and services provide consumers with unparalleled personalization, efficiency and convenience. However, the technologies and practices surrounding personal data also create new dimensions of risk to individuals, institutions and society alike.
In response, governments both in the United States and around the world are under increasing pressure to develop new legislation and regulatory models to address these growing concerns. In the past year alone, we have seen the implementation of the European Union's sweeping General Data Protection Regulation (GDPR), the passing of the California Consumer Privacy Act, and multiple hearings in the U.S. Congress stemming from numerous data breaches and other scandals involving the potential misuse of consumers' personal data. Here at CableLabs, we recognize the interplay and potential impact of emerging privacy regulations on the direction of next-generation Internet applications.
In that spirit, CableLabs sponsored "Data Is King" – U.S. Privacy Developments and Implications for Global Markets and Technology Development, a recent event co-hosted by the Federal Communications Bar Association (FCBA) Rocky Mountain Chapter and the IAPP Denver/Boulder KnowledgeNet Chapter. The event gathered luminaries from across the policy and technology spectrum to explore trends and recent developments in privacy law and regulation, as well as the potential impact that these policies will have on the products and services of tomorrow.
The event was kicked off by Martin Katz (Chief Innovation Officer and Senior Advisor for Academic Innovation and Design at the University of Denver and the Executive Director at Project X-ITE). Katz discussed the existing gaps and fragmentation in today's U.S. privacy regime and highlighted the drawbacks of the EU's approach to comprehensive personal data protection legislation (GDPR). In Katz's view, such an approach creates a significant and costly compliance regime that can stifle new startups and small businesses, and more generally, innovative new products and services. He emphasized that any comprehensive U.S. federal regime should recognize and seek to minimize compliance costs and ensure room for innovation while protecting consumer choice, trust and accountability.
Tracy L. Lechner (Attorney and Founder at the Law Offices of Tracy L. Lechner) moderated the first panel session, focused on trends and recent developments in privacy regulations domestically and internationally, with the following panelists: Beth Magnuson (Senior Legal Editor of Privacy and Data Security at Thomson Reuters Practical Law); Dale Skivington (Compliance and Privacy Consultant, Adjunct Professor at the University of Colorado, and Former Chief Privacy Officer at Dell); Erik Jones (Partner at Wilkinson, Barker, Knauer); and Scott Cunningham (Owner at Cunningham Tech Consulting and Founder of IAB Tech Lab).
The panelists agreed that the general position of industry has evolved from a preference for best practices with agency oversight to a recognized need for U.S. federal legislation. This shift has been spurred by a desire for a common compliance framework in light of developing differences in state laws and diverging international privacy regimes. The panelists emphasized that changing privacy regulatory requirements has forced organizations to make frequent and costly IT overhauls to ensure compliance that arguably create little to no value for consumers. For instance, GDPR's expansive definition of "personal data" created a herculean project for large organizations to take the foundational step of identifying and classifying all the potentially covered data. The panelists agreed that state attorneys general could have a valuable and thoughtful role in enforcement, but they also believe that specific requirements should be standardized at the federal level and be based on an outcome- or risk-based approach, unlike GDPR's highly prescriptive approach.
Mark Walker (Director of Technology Policy at CableLabs) led a second-panel discussion, focused on the interplay of privacy regulation and technology development. The panel featured Walter Knapp (CEO at Sovrn), Scott Cunningham and Danny Yuxing Huang (Postdoctoral Research Fellow at the Center for Information Technology Policy at Princeton University). Walker framed the panel discussion in historic terms, highlighting the privacy concerns generated through the widespread availability of the portable camera in the late 1800s, through the emergence of electronic eavesdropping capabilities in the 1960s and, more recently, through the broad adoption of RFID technology. For each of these examples, public concern drove legal and regulatory changes, but more fundamentally, the privacy "panic" subsided for each technology as society became more familiar and comfortable with each technology's balance of benefits and drawbacks.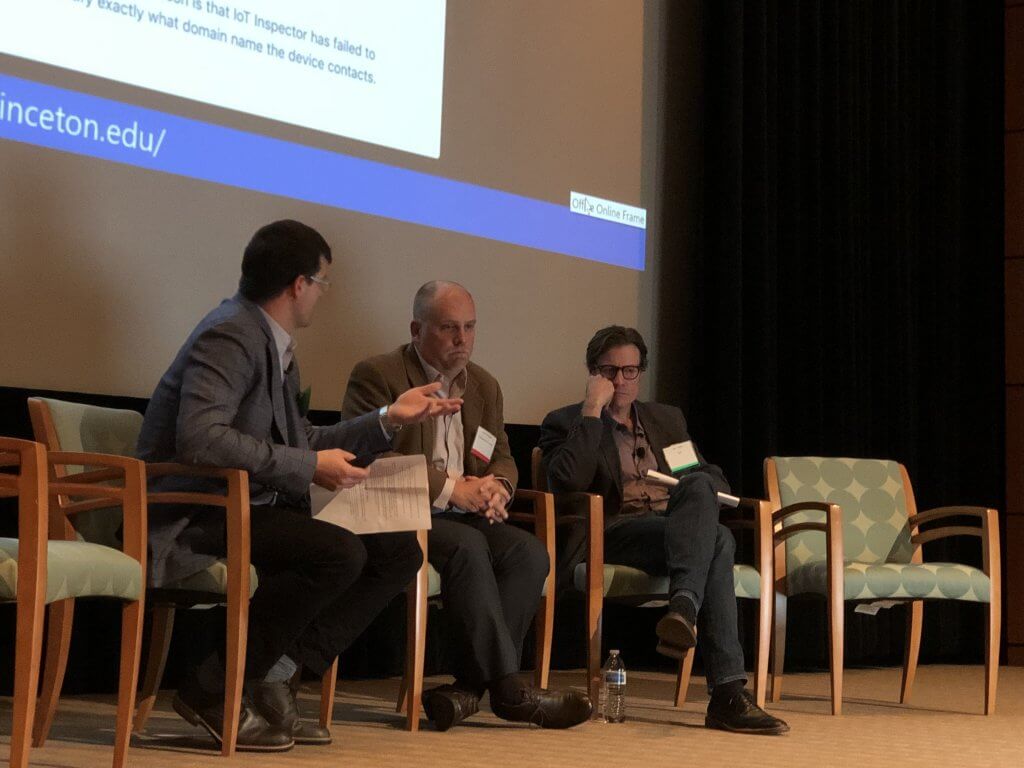 Through that lens, the panelists examined GDPR and highlighted the high associated compliance costs, from both a technical implementation and revenue perspective. Faced with these costs, many smaller publishers are choosing to cut off access to their content from covered geographies rather than trying to comply. In comparison, large Internet firms have the resources to ensure compliance even in a costly and highly fragmented regulatory environment. Until recently, the Internet has largely matured without defined geographic borders and has nearly eliminated global distribution costs for smaller publishers. However, this trend may be reversed in the face of an emerging fragmented and highly regulated environment, reducing the viability of smaller publishers and driving unintended market concentration.
Turning to emerging technologies, Huang described his research into the security and privacy implications of consumer Internet of Things (IoT). He provided an overview of a newly released research tool, Princeton IoT Inspector, that consumers can easily use to gain detailed insights into the network behaviors of their smart home IoT devices. Through this tool, consumers can gain a better understanding of how IoT devices share their personal information. He illustrated how IoT Inspector was able to identify the numerous ad networks and other domains a streaming video device communicated with while streaming a single television program; surprisingly, the streaming device communicated with more than 15 separate domains during that single streaming program.
The event closed with Phil Weiser, Colorado's Attorney General, providing keynote remarks that outlined the current state of legislative efforts, explained potential approaches that address key privacy challenges and highlighted the role of state attorneys general in developing regulatory approaches and enforcing them. Attorney General Weiser recognized that although curbing a patchwork of state laws in favor of a single federal one would be the ideal outcome, it is unlikely to happen in a reasonable timeframe, saying:
A first best solution would be a comprehensive federal law that protected consumer privacy. Such a law, like the Dodd-Frank law, should authorize State AGs to protect consumers. When Congress starts working on such a law, I will be eager and willing to support such an effort. After all, differing laws and reporting requirements designed to protect privacy creates a range of challenges for companies and those working to comply with different—and not necessarily consistent—laws.
In today's second-best world, I believe that States have an obligation to move forward. We should do so with a recognition that we need to collaborate with one another and develop approaches that recognize the challenges around compliance. We can use your help and engagement and we work towards just this end.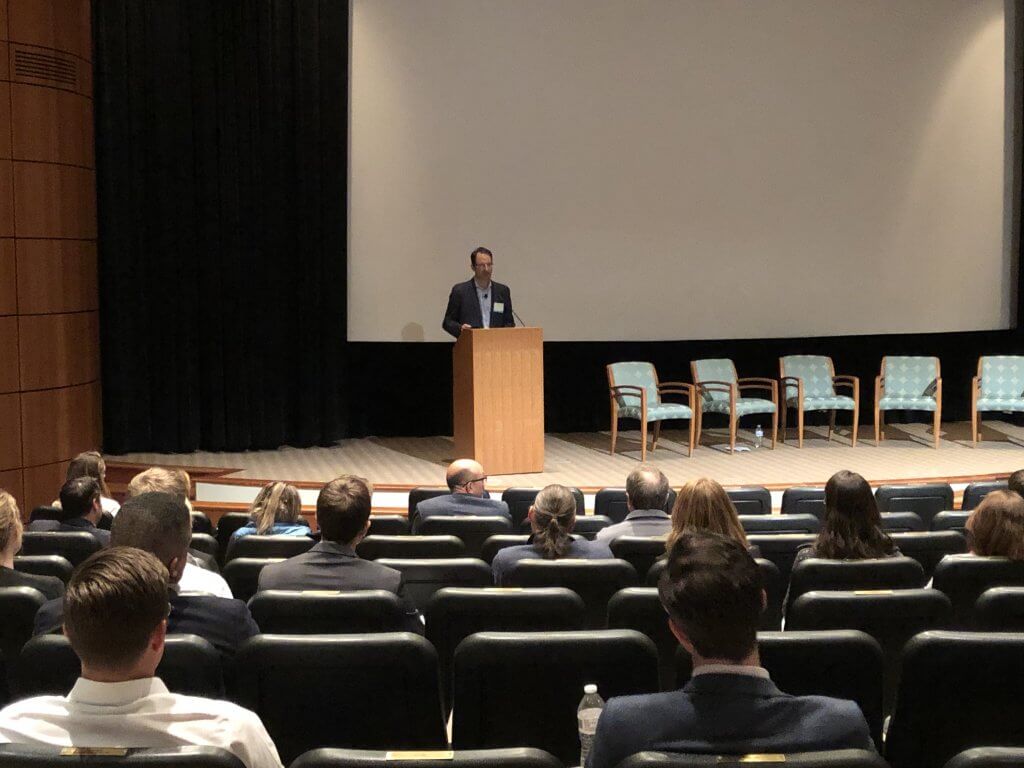 As CableLabs continues to focus on developing new and innovative network technologies, we must continue to ensure that we have a sound understanding of the rapidly evolving privacy landscape, both here and abroad. But, just as importantly, policymakers should have a sound understanding of how the various regulatory approaches may impact current and developing technologies. Events like this help bridge those gaps in understanding.
Summer Conference 2018: Register For Our Game-Changing Event
This year marks our 30th anniversary here at CableLabs. Join us at our Summer Conference 2018 August 5-8 in Keystone Co and help us celebrate while you learn, mix with your counterparts from around the world and enjoy spectacular Colorado.
We've put together a special conference this year to mark our momentous milestone with some game-changing innovations, presentations, demos and an impressive line-up of speakers. We'll discuss enormous efficiency increases, from both technical and business perspectives, to help the global cable industry join forces and become bigger, sharper and faster, together. Keynote speakers include:
Annie Duke: As a World Series Poker Champion, author and National Science Foundation Fellow, Annie leverages her experience in the science of smart decision making to excel at a variety of pursuits. She brings her background in cognitive science and poker together to understand how we make decisions, the obstacles that prevent us from making our best decisions and how to create practical solutions that make decision making more rational.
Brad Shaw: Chief Executive Officer of Shaw Communications and a 30-year veteran, Brad will share how his company has disrupted the industry and redefined how a cable company can thrive in a fast-changing environment. Brad sits on our Board of Directions and his valuable input contributes to many of our innovations.
Tim Urban: Creator of the stick figure illustrated blog, Wait But Why, Tim is one of the internet's most popular writers. Elon Musk is such a big fan that he asked Tim to interview him about his companies, resulting in the in-depth Elon Musk Blog Series. His Why Procrastinators Procrastinate presentation was the most-watched TED talk of 2016.
Agenda
We know many of you come to "take a peek at the future" and you'll be covered. Take a look at the agenda to get an idea of the hot topics, from 5G rollouts to crushing latency in networks to Micronets to Blockchain, and much more. Don't miss our CTO Roundtable, with members from Europe and the US, giving their take on technologies from DOCSIS 3.1, IP video and next-generation architectures.
CableLabs subsidiary UpRamp works with some of the brightest emerging technology companies in the world. They will introduce you to 6 such companies who are changing the landscape of our industry. We know you're a hard crowd to impress, but these 6 companies will grab your attention and get your creative wheels turning. We will also be introducing the companies in the 2018 UpRamp Cohort.
Connect with our Speakers
You told us you want to connect on a deeper level with some of our presenters, and we're introducing a new app which will allow you to set up a 15-minute meeting with anyone on our schedule. It's a great opportunity to form bonds and get all your questions answered by our expert presenters. Watch this space to get more info. Or better yet, sign up now for the conference, and get early access.
What's a Party without a BBQ?
CableLabs subsidiary Kyrio will host a Colorado-style BBQ on Monday, August 6 at Keystone Stables, with transportation provided. Come out, meet your fellow attendees and help us celebrate our 30th.
CableLabs Member? Stay the Extra Day
On August 9, we are hosting our Behind the Curtain event at our Louisville, Colorado labs. Not a part of our regular program, but this event is something extra you shouldn't miss. You'll get a chance to see and hear about the disruptive technologies we're working on behind closed doors. It's a perfect chance to view demonstrations, get involved, and collaborate with us on positioning and rollouts of these exciting new technologies.
Register now to reserve your space for our special 30th anniversary Summer Conference 2018. We can't wait to see you in Keystone!
INFORM[ED] Europe 2018: Be a Part of Shaping the Future
With the ever-increasing demand for bandwidth, driven by consumer demand for connected experiences across converged networks, one thing is abundantly clear—it's on cable to provide the integrated wired and wireless platforms of the future. On May 3-4, cable's top executives will gather together in London to discuss emerging technologies and the evolution of hyper-converged networks that will become the backbone of these technologies over the course of the next eight years. Inform[ED] Europe 2018 is a not just about what's "next"— it's about the "next-next" and how we can plan for these innovations today.
Why You Should Be There
This members-only event will be a deep dive into future technologies that will transform the way we live and work. You'll get a read on where the industry is headed, share insights and collaborate with top leaders and innovators from the European and US cable communities. By joining us, you can be a part of shaping the future.
What You'll Learn
In two days, we plan to cover a wide range of topics from next-generation DOCSIS and fiber technologies, to network and platform differentiation achieved through reliability, to 5G and mobile growth opportunities, to operational excellence. We'll examine the latest trends and how we can meet increasing consumer expectations for personalized, "uber-smart" experiences everywhere they go.
We will start off by hearing from cable's decision-makers. We've invited Vodafone Germany's Manuel Cubero and Liberty Global's Mike Fries – both members of our Board of Directors – to join our own Phil McKinney in a "fireside chat." They will present their vision for the future and how they plan on exceeding customer expectations in the years to come.
We'll have a session sharing CableLabs' innovation roadmap for the next 8 years. You'll learn more about the new technologies we're working on and get a greater understanding of the technology opportunities and interdependencies that drive our timeline.
You can explore emerging technology: access networks, 5G and more. In a world where cars are a step away from becoming smartphones on wheels and smart cities are within reach, consumer demand for new technology capabilities and more data-rich experiences is increasing. We will focus on how Cable can meet that need by driving innovation in networking, mobile and beyond.
You'll see what others are working on through our Innovation Showcase – European style. Over the years we've identified, presented and collaborated with many forward-thinking tech companies with innovations that can make a difference for our business and our customers. You will get a unique opportunity to learn how 6 young companies are ahead of the game and how their hard work is impacting the industry.
You'll hear Zanny Minton Beddows, Editor-in-Chief for The Economist and named one of the "Most Powerful Women in the World" by Forbes – and global economics expert – speak on the nexus between policy, economics and technology.
Members of our C-suites will provide a diversity of opinions on future technologies that will transform the world we live in and the competitive positioning of our networks across two sessions – one with CxOs, a second with CTOs.
Get more details on the Inform[ED] Europe 2018 agenda and register here. We hope to see you in London!
CableLabs is Excited to Participate in APOStech 2017 in Hong Kong
CableLabs is participating in the 2nd Annual APOStech conference this week (July 4-6, 2017) in Hong Kong. Hosted by Media Partners Asia (MPA) and co-sponsored by CableLabs, APOStech is one of Asia's premier technology and innovation summits. With over  180 participants from around the globe representing cable, telecom and media sectors, the event unites executives and key stakeholders across the Asia Pacific region to discuss technology innovation and trends that are defining the future of the connected consumer.
APOStech affords CableLabs the opportunity to interact with many of our members in Asia, as well as establish relationships with potential new members from countries including India, Korea, Malaysia and the Philippines. This event will introduce CableLabs to the business, strategies, technologies, operations and competition affecting cable operators in regions not currently served by CableLabs to support an increasing diversity of members across Asia.
With broadband subscribers in the region growing to over 560 million by 2021, one of this year's objectives for APOStech is to address the driving forces and challenges faced by the networks providing content and services to the connected customer. Sessions include insights from broadband network operators across China, India, Indonesia, Korea, Malaysia and Taiwan discussing how cable operators are designing their networks to keep pace with the massive amounts of video data distributed over them and how they are differentiating and monetizing their network investments.
Chris Lammers, CableLabs' COO and SVP of International Business Development, is providing an overview of Gigabit Broadband Competition in the U.S. The session will also include the technologies innovated by CableLabs and its members by which cable operators are delivering gigabit speeds globally. Chris will focus on the impact of collaboration across the global cable community in advancing broadband technologies at scale and the competitive leadership this strategy provides to cable operators and their customers by way of enhancing the user experience in the home and workplace.
CableLabs' continued expansion in Asia advances our strategy of world-wide collaboration on technology and innovation for the benefit of the global cable community and the customers they serve.  From one member in Asia five years ago, CableLabs has grown to 11 members across Asia and Australia, including : Beijing Gehua CATV Network, Chongqing Cable Networks, Guangdong Cable Network, J:COM, Jiangsu Broadcasting Cable Information Network, nbn, PT Link Net, Shenzhen Topway Video Communication, StarHub, Taiwan Broadband Communications and WASU Digital TV Media Group.
--
CableLabs is committed to expanding membership and support across Asia and beyond. With 59 members in 35 countries in Asia, Australia, Latin America, North America and Europe, CableLabs provides the opportunity for operators to collaborate with innovators worldwide. Please contact us to discover the value membership in CableLabs.