CableLabs Specifications Move From De Facto to De Jure
The Merriam-Webster online dictionary defines de facto and de jure as follows:
de facto | di-ˈfak-(ˌ)tō – actual, exercising power as if legally constituted
de jure | (ˌ)dē-ˈju̇r-ē – by right, based on laws or actions of the state
In law and government, de facto describes practices that exist in reality, even though they are not officially recognized by laws, whereas de jure describes practices that are legally recognized, regardless of whether the practice exists in reality.
De facto is commonly used to refer to what happens in practice, in contrast with de jure, which refers to things that happen according to law.
The CableLabs® DOCSIS® series of specifications have been de facto standards for the cable industry for over 20 years. In parallel, CableLabs has contributed its specifications to de jure telecommunications industry standards bodies, specifically the International Telecommunications Union (ITU-T), the European Telecommunications Standards Institute (ETSI), and the Society of Cable Telecommunications Engineers/International Society Broadband Experts (SCTE/ISBE).
In the past, creating a de jure standard was a lengthy process involving the reformatting of the specifications into the standards body's document template, proofreading the reformatting for any errors, submitting the reformatted content as a contribution, and taking it through the standards body's standardization process. These steps could take many months or even years. Because CableLabs' specifications are living documents under strict document control (and may have a certification program linked to revisions under this document control), the official de jure standards body's copy can quickly become out of date. To keep the copy up to date, the process of reformatting, proofreading, submitting, and going through the standards process, has to be repeated with every revision. This reality has led to the unfortunate result that the official de jure standards have been consistently out-of-date.
However, with the SCTE/ISBE publication of the DOCSIS 4.0 standard, now all three of the relevant de jure telecommunications industry standards bodies simply normatively reference the CableLabs specifications, either directly as is the case with SCTE/ISBE and ITU-T, or indirectly as is the case with ETSI. This simplifies the revision process to one of updating a few normative references and approving them. The process of updating these de jure standards has therefore become a much more streamlined activity and the official de jure standards can remain in sync with the CableLabs specifications.
One might ask, "Why does this matter?" Quite simply, it is a matter of law versus fact, as the definitions of de facto and de jure make clear. Regional governments ("the law") globally prefer to recognize standards that result from the due process of a de jure standards body rather than a potentially proprietary solution coming from a single manufacturer or industry consortia. The standards process will vet these solutions and typically come with an Intellectual Property Rights (IPR) policy by which all participants must abide. Now that all of the relevant de jure standards bodies have adopted this practice cable operators around the world can confidently purchase products compliant with the CableLabs specifications, knowing that they are also fully compliant with any of the official standards from the aforementioned standards bodies.
In effect, ITU-T, ETSI, and SCTE/ISBE have all recognized that the CableLabs DOCSIS specifications are not only the de facto global standard, but also the de jure global standard. There is no longer is any gap between the facts and the law.
ETSI NFV Continues to Build Momentum
Last year I blogged about ETSI NFV Industry Specification Group (ETSI NFV) progress. The ETSI NFV body of work has become firmly established as the key reference for both global standards bodies and open source communities. Last week I was in Dublin for the thirteenth ETSI NFV plenary meeting (NFV#13) hosted by Cobham Wireless and OPENET.
Why Was This Meeting Important?
NFV#13 was an important milestone for the ETSI NFV community, not only did it mark the start of the fourth year of work, but the final documents comprising 'Release 2' were scheduled for approval, plus a large body of new work was under consideration to be included in the work plan. The new work will comprise 'Release 3'. It was sure to be a very intense week.
In my mind, NFV#13 was also an important test of the continuing relevance of the ETSI NFV community in the face of accelerating progress on NFV-related standards and open source, and NFV deployments are gathering pace globally. As it turned out, 210 delegates travelled to Dublin from all over the world, a similar number or slightly more than previous meetings in Europe. Membership continues to grow and now stands at over 290 companies including government bodies and academic institutions as well as vendors and network operators. The intensity of ETSI NFV work continues unabated which confirms the relevance of this forum to the industry.
As ETSI NFV Network Operator Council (NOC) chair, I was concerned to ensure that the operator group which now consists of 39 operators (CableLabs represents MSOs) would have adequate time to review the large body of new work to ensure it would be relevant to network operator needs. Under the leadership of co-chair Klaus Martiny at Deutsche Telekom, the NOC had carried out an analysis of the proposed new work program and this was referenced by the ETSI NFV Technical Steering Committee and working groups in Dublin to help guide their planning discussions.
The five working groups broke into parallel sessions after the opening plenary on Tuesday and managed to complete work on 12 documents, 3 of which were approved for immediate publication and 9 sent for remote consensus in the next four-weeks. In addition, 17 new work items were approved but there was insufficient time to consider all of the proposals put forward for approval in Dublin and the remainder will be discussed on an ETSI NFV plenary call in April. I am confident these will be approved in time for work to begin at or soon after NFV#14 which will be hosted by AT&T in Atlanta, May 3-6, 2016.
As a founder of the ETSI NFV forum, I am particularly interested that the work is timely and that it continues to be of high value to the industry. The current mandate from ETSI expires at the end of this year and there needs to be clarity on what will be the role of the forum in continuing to build the NFV ecosystem. With this in mind, I initiated discussions in the NOC on what should be the focus for ETSI NFV in 2017 and beyond. The outcomes of these discussions will be presented at NFV#14 and I will blog about them as soon as the direction becomes clearer.
It was an exhausting week for everyone considering the unprecedented intensity of the work program. The ETSI NFV community is working well together and there is a high degree of mutual trust amongst the participants which serves the industry well. The community has proved that it can both deliver and adapt to the changing needs of the industry as the NFV transformation takes hold.
What is CableLabs Doing in this Space?
CableLabs has been working in the SDN and NFV space for over three years with work spanning the breadth of the cable network. We will continue to be actively involved in ETSI NFV and related open source activities contributing insights from our R&D and Innovation activities. And we have established Kyrio, a wholly owned subsidiary of CableLabs to provide a collaborative environment for SDN and NFV integration and testing including an OPNFV lab. which is open to participation by external organizations.
If your organization is interested in participating in the OPNFV lab. please contact Wylie Nelson
Don Clarke is a Principal Architect at CableLabs working in the Core Innovation group.
OPNFV Builds Momentum With First Code Release
Today sees the first OPNFV release known as 'Arno' (OPNFV releases are named after rivers) which OPNFV has been busily creating since the community was launched last September. In my blog celebrating the OPNFV launch I outlined the importance of open source to stimulate innovation and accelerate progress on implementation. At CableLabs we are very keen on the open source approach because it enables the industry to collaborate to build common features while avoiding duplication of effort. This enables everyone to focus on product development and service creation. We have been eagerly awaiting this first release as it provides the foundation for our virtualization projects and we will be proposing to bring in our Virtual Business CPE APIs for the next OPNFV release.
The initial scope of OPNFV is focused on the NFV Infrastructure layer of the ETSI NFV Architectural Framework as shown below: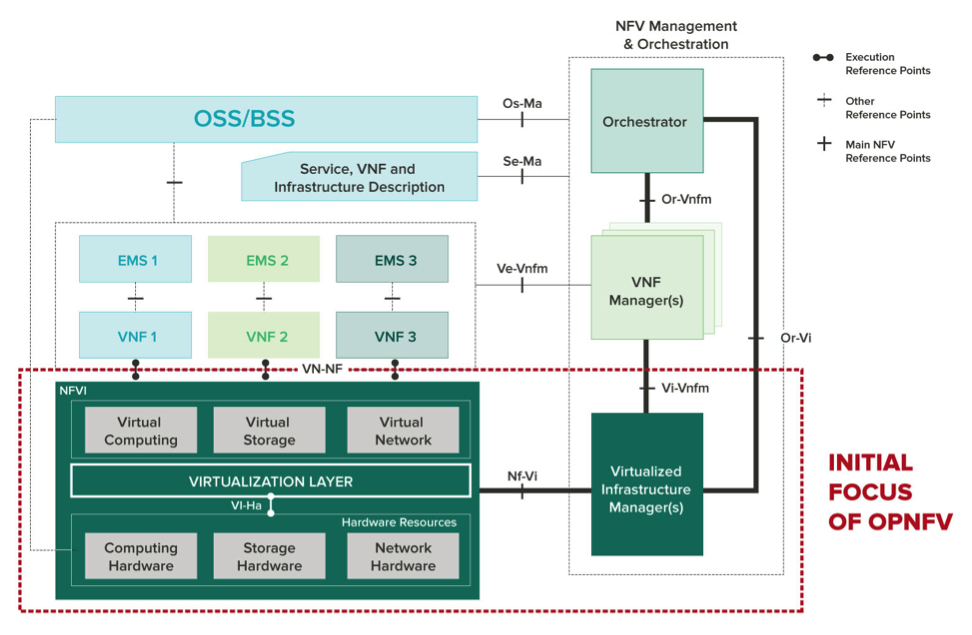 OPNFV Scope
Bounding the scope of OPNFV to the NFVI in this first phase has enabled this new global community to focus on rapidly creating a software development framework and for the participants to get to know each other and build awareness around this new topic through deeper involvement in a smaller set of projects.
We congratulate the OPNFV community on this achievement. The community has solved a lot of open source integration problems and created and debugged toolsets that would otherwise have had to be done independently and repeatedly in different labs. OPNFV is proving the value for the industry to work together to do the heavy lifting once.
There was a lively debate at the first OPNFV Hackfest in Prague on whether it was better to include more features in the initial release but to allow more time for development, or to release earlier with fewer features. We argued for early release to enable the industry to become familiar with the tools and to start to accrue learning as quickly as possible. This release will result in more developers becoming familiar with the OPNFV platform more quickly and to contribute to future OPNFV releases as well as their proprietary innovation on top of the platform.
The OPNFV Arno release enables the industry to create NFV integration platforms according to a common baseline thereby accelerating collaboration and shared learning. Full details of what's included in the Arno release can be found on the OPNFV website, but as a quick summary, it includes the base Operating System (Linux CentOS), SDN Controller (OpenDaylight Helium) and Infrastructure Controller (OpenStack Juno).
CableLabs considers open source and formal standards processes to be complementary and we are actively involved in both. We actively contributed to the OPNFV 'Pharos' Testbed infrastructure project including contributing governance documents based our vendor-neutral test and certification experience. We are involved in the new OPNFV Certification & Compliance Committee and we are building OPNFV reference platforms at our Sunnyvale-CA and Louisville-CO locations to integrate and validate our collaborative open source development on behalf of the cable industry. We will be providing feedback to OPNFV and the ETSI NFV ISG as well as contributing our own code.
The next few months are going to be very exciting as we begin to see the ETSI NFV ISG Architectural Framework brought to life through the efforts of the OPNFV community and we'll be able to share insights on NFV performance and interoperability because we'll all be using a common infrastructure configuration.
Don Clarke is a Principal Architect at CableLabs working in the Virtualization and Network Evolution group.