Liberty Global and CableLabs Join MulteFire Alliance
Today, CableLabs is taking a significant step to drive the development of next-generation wireless technology. We are excited to announce that, along with our member Liberty Global, we are joining the MulteFire Alliance, an open consortium dedicated to making mobile technologies more widely available for use in shared, unlicensed spectrum.
MulteFire is based on 3GPP License Assisted Access LTE (LAA-LTE), which uses listen-before-talk etiquette to share spectrum in a manner similar to Wi-Fi. But unlike LAA, MulteFire will place control signaling entirely in the unlicensed band, breaking the reliance on licensed spectrum and mobile networks. This is a capability that we and others have proposed several times in 3GPP, as yet without successful adoption in that body. Our hope is that pursuing this technology in the Alliance will enable its rapid integration to global standards.
We see this step as the basis for renewed collaboration on next-generation wireless technology, which will become ever more important as we move toward 5G. Reliable coexistence, full transparency, and deep engagement with partners have long been central to our work on technologies that use unlicensed, shared spectrum. These same principles will continue to apply as we work with the MulteFire Alliance, 3GPP, the Wi-Fi Alliance, IEEE, and other groups going forward.
Below is the full copy of the joint press release that was issued today:
Liberty Global and CableLabs Join MulteFire Alliance
 Next-generation wireless technology gets major boost as two leading players in cable join forces with Wireless Consortium
London, United Kingdom and Louisville, Colo. – Sept. 21, 2016 – Today, Liberty Global, the world's largest international TV and broadband company, and CableLabs, the innovation-focused R&D lab for the global cable industry, announced that they have joined the MulteFire Alliance, an independent, diverse and international member-driven consortium dedicated to developing next-generation wireless technology. Through collaboration with the Alliance, Liberty Global and CableLabs can improve the wireless experience and make the technology more widely available to consumers.
"Wireless connectivity has become critically important for consumers," said Balan Nair, CTO of Liberty Global. "By joining the MulteFire Alliance, we are driving the future of wireless for our customers."
The main focus of the MulteFire Alliance is to ensure that next-generation LTE mobile standards are compatible with shared and unlicensed spectrum. This compatibility ensures that the next generation technology is more widely available and that it can coexist alongside Wi-Fi and other technologies. What also makes this technology unique is that operators without access to the licensed spectrum still will be able to use it, breaking down barriers to entry and opening the door to greater innovation.
"This step will arm the cable industry with a new wireless technology that builds on our success in providing Wi-Fi and mobile services and complements the industry's fixed broadband technology leadership," said Ralph Brown, CTO of CableLabs.
Currently, the MulteFire Alliance is working to adapt 3GPP-based mobile wireless standards for shared and unlicensed spectrum so that the technology is broadly available and fairly coexists with Wi-Fi and other technologies. MulteFire is based on 3GPP Release 13 License Assisted Access LTE (LAA) and Release 14 enhanced LAA (eLAA), which uses Listen-Before-Talk (LBT) etiquette to share spectrum in a manner similar to Wi-Fi.
Unlike LAA, however, which is anchored to licensed spectrum and must be used in conjunction with a mobile network, MulteFire will operate entirely in unlicensed or shared spectrum, so that operators without licensed mobile spectrum can utilize it. This "standalone" functionality has been proposed in the 3GPP standards body for both LTE and 5G. By building this capability in the Alliance, its member companies will enable its adoption in global standards and the corresponding broad benefit of wireless innovation.
"We appreciate that the Alliance is committed to transparency and collaboration, given the importance of unlicensed spectrum to broadband access," said Rob Alderfer, Vice President of Technology Policy at CableLabs. "As we move toward ever greater sharing of scarce spectrum resources, reliable coexistence across technologies is essential as we continue to innovate. It's what we believe is the most critical aspect of the Alliance, and one that will be important as the industry moves toward 5G standards."
"Operators in the cable industry are ideal partners in our effort to develop new wireless technology and we are pleased to have CableLabs and Liberty Global join us," said Mazen Chmaytelli, MulteFire Alliance president. "The Alliance is open for broad, global participation, and since one of our goals is to drive our work into global standards, we are establishing liaisons with 3GPP, CBRS Alliance and IEEE to keep them apprised of our progress."
Other members of the Alliance include leading technology suppliers such as Qualcomm, Intel, Nokia and Ericsson.  A full list of members can be found here.
About Liberty Global
Liberty Global is the world's largest international TV and broadband company, with operations in more than 30 countries across Europe, Latin America and the Caribbean.
We invest in the infrastructure that empowers our customers to make the most of the digital revolution. Our scale and commitment to innovation enables us to develop market-leading products delivered through next-generation networks that connect our 29 million customers who subscribe to over 59 million television, broadband internet and telephony services. We also serve 11 million mobile subscribers and offer WiFi service across seven million access points.
Liberty Global's businesses are comprised of two stocks: the Liberty Global Group (NASDAQ: LBTYA, LBTYB and LBTYK) for our European operations, and the LiLAC Group (NASDAQ: LILA and LILAK, OTC Link: LILAB), which consists of our operations in Latin America and the Caribbean. The Liberty Global Group operates in 12 European countries under the consumer brands Virgin Media, Ziggo, Unitymedia, Telenet and UPC. The LiLAC Group operates in over 20 countries in Latin America and the Caribbean under the consumer brands VTR, Flow, Liberty, Mas Movil and BTC. In addition, the LiLAC Group operates a subsea fiber network throughout the region in over 30 markets. For more information, please visit www.libertyglobal.com
About CableLabs
CableLabs is a non-profit Innovation and R&D Lab founded in 1988 by members of the cable television industry. With a strong focus on innovation, CableLabs develops technologies and specifications for the secure delivery of high speed data, video, voice and next generation services. It also provides testing, certification facilities and technical leadership for the industry.
CableLabs' mission is to enable cable operators to be the providers of choice to their customers. Cable operators from around the world are members. For more information, please visit www.CableLabs.com
Contacts:
Liberty Global
Matt Beake
Tel: + 00 44 208 483 6300
CableLabs
Aurora Sassone
Edelman for CableLabs
Tel: +1.415.619.1555
E: aurora.arlet@edelman.com
Wayne Surdam
CableLabs
Tel: + 1.303.661.3766
E: w.surdam@cablelabs.com
Furthering CableLabs' Innovation Mission through University Research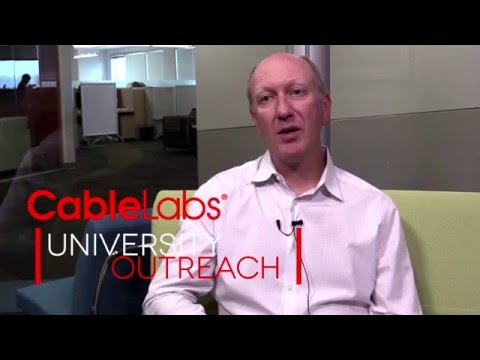 Our focus on bringing game-changing innovations to the cable industry has never been greater.   But how does a relatively small organization like CableLabs create the capability to consistently bring about great innovations?   The answer has to include leveraging  of external relationships.  Only in partnership with others will we be able to multiply our efforts and deliver on our innovation mission.   The UpRamp program and our emerging co-innovation efforts (watch for our forthcoming blog post) are important vehicles to engage budding and established commercial enterprises.   To complement these efforts and gain additional perspective, CableLabs is increasing its engagement with university research.
Engaging deeply with university research is relatively new for CableLabs.   For the last couple of years, we have set aside a small amount of resources to contribute to research in areas of interest.  We have kept the scope of our initiatives modest as we explored both new areas and new relationships.  Our objective was to plug into existing research efforts, building upon established interests and resources.
The impact of these initial forays is encouraging:
Some underpinnings of our current Full Duplex DOCSIS innovation efforts have their roots in research done at Stanford University's ON.lab, an early participant in university research program.
Relationships we have built at the University of Georgia and the University of North Carolina have allowed us to gain greater insights into broadband usage and how changing behaviors may impact access network evolution.
Work with the University of Colorado has played a key role in better understanding wireless spectrum issues and helped set that stage for opening of more Wi-Fi spectrum, which was a major win for Wi-Fi users in the US. Our continued work with the university is helping us gain more insight into new spectrum opportunities.
Work with Colorado State University has been developing new capabilities in network security.  CableLabs has specifically supported development of new ways to support rapid response by service providers by monitoring network routing information in real time.
How do we build on our efforts?
As we continue to refine our approach to university engagement, we are focused on a few key characteristics that we think can increase our odds of impactful outcomes.  At its core, we are seeking out researchers with interests and objectives that complement our own initiatives.  Without this foundation, it's unlikely to get either the university or CableLabs' teams to invest the time required to build and maintain effective working level relationships.
Much more than any funding provided, we think that investment in time and interaction is critical.  Only by investing our time in building relationships and trust can we have a healthy two-way exchange of ideas.  Of course, Cablelabs is hoping to leverage insights from researchers, but we also want researchers to consider Cablelabs as a partner that can provide cable industry perspective, targeted interaction with cable industry players, and collaboration in the research itself.   While much of our university research activities take place in the context of a specific project, we need to keep an eye on not just the project level, but in how the project contributes to building a broader and deeper relationship over time.
At CableLabs, our goal is to bring new innovation to the cable ecosystem.   By growing and deepening our university relationships we can improve our own effort and help guide others.    If done right, the result can pay dividends for years to come, creating a more powerful and robust innovation flow for the cable industry.
SCOTUS Sidesteps an Interface with APIs
On the last day of its term, the Supreme Court refused to hear an appeal from the Court of Appeals for the Federal Circuit, and thus it let stand a controversial copyright decision by the appellate court on the copyrightability of application program interfaces or APIs.
The case, Oracle v. Google, dates back to 2010 when Oracle (then Sun Microsystems) sued Google over use of certain Java APIs belonging to Sun that were used in Google's Android operating system. Both Oracle and Sun agreed that Google did NOT copy Oracle's "implementing code," but did copy verbatim Oracle's "declaring code." That is, Google copied the "method headers" from 37 Java packages with over 600 classes and over 6000 methods. Google then implemented each method with its own code.
The original trial court that reviewed the lawsuit held that APIs were not subject to copyright protection. The court reasoned "there is only one way to write" the header, and thus the "merger doctrine bars anyone from claiming exclusive copyright ownership of that expression."
OK, so what is the "merger doctrine!?"
Basically, if there is only one way to express something, say "2+2=4", then that expression "merges" with the idea itself. And, because ideas cannot be protected by copyright, the expression cannot be copyrighted. (Note, an idea might be protectable under patent law, but not copyright law). Google also argued that, of course the method headers must be the same in Android as they are in Java in order to maintain interoperability. The trial court agreed.
But wait, there's more! Copyright in computer code covers the literal code itself, but can also the non-literal "sequence, structure and organization," or SSO, so long as there is some modicum of creativity in the SSO. Here, Google argued that the SSO of the 37 Java packages, 600 classes, and 6000 methods was simply a "command structure" and excluded from copyright protection. Again, the trial court agreed.
Copyright Law Terms
Merger Doctrine
Also called the "idea-expression dichotomy." The Supreme Court stated "[u]nlike a patent, a copyright gives no exclusive right to the art disclosed; protection is given only to the expression of the idea—not the idea itself." Mazer v. Stein, 347 U.S. 201, 217.
"[C]opyright's idea/expression dichotomy 'strike[s] a definitional balance between the First Amendment and the Copyright Act by permitting free communication of facts while still protecting an author's expression." Harper & Row Publishers, Inc. v. Nation Enters., 471 U.S. 539, 556 (1985)
Sequence Structure and Organization (SSO)
SSO is an alternative way of comparing one software code base to another in order to determine if copying has occurred, even when the second work is not a literal copy of the first. Whelan v. Jaslow (1986). SSO attempts to avoid the extremes of over-protection and under-protection of software code, both of which are considered to discourage innovation.
Fair Use
Fair use was created by the courts, but is now enshrined in the Copyright Act 17 U.S.C. § 107. The Act directs courts as follows: "In determining whether the use made of a work in any particular case is a fair use the factors to be considered shall include:
"the purpose and character of the use, including whether such use is of a commercial nature or is for nonprofit educational purposes;"
"the nature of the copyrighted work;"
"the amount and substantiality of the portion used in relation to the copyrighted work as a whole; and"
"the effect of the use upon the potential market for or value of the copyrighted work."
Sounds reasonable? Well, the trial court got schooled by the appellate court.
The trial court made several key mistakes in applying the merger doctrine. The trial court focused its merger analysis on the options available to Google at the time of copying, rather than on Oracle's options at the time of creating. Looked at from the time of creation, Oracle had almost unlimited ways to determine, create, name, and express the 6000 method headers. So, as long as there are several alternative expression choices at the time of creation, the merger doctrine does not apply.
The appellate court further found the sequence structure and organization of the Java packages, classes, and methods sufficiently creative to be copyrightable. And, the court noted, Google did not need to copy verbatim the SSO to make a functionally equivalent platform, albeit not interoperable with Java. See, for example, competitive mobile platforms of Apple iOS or Microsoft Windows Phone.
The case heads back to the trial court to determine if Google's use of the APIs nevertheless falls under the "fair use" defense doctrine. The factors the trial court will use to determine fair use are: (1) "the purpose and character of the use, including whether such use is of a commercial nature or is for nonprofit educational purposes;" (2) "the nature of the copyrighted work;" (3) "the amount and substantiality of the portion used in relation to the copyrighted work as a whole;" and (4) "the effect of the use upon the potential market for or value of the copyrighted work."
Typically courts consider the "commercial nature" of the use as almost dispositive. That is, if any direct or indirect commercial gain is obtained by the use, the fair use defense does not apply. So, IMHO, I think Google will have a hard time succeeding on a fair use defense.
So, what does this mean?
The high tech sector uses, and for that matter CableLabs develops, APIs, including Java APIs, in many projects, platforms, and systems. APIs are intrinsically necessary whenever you want two software systems, platforms, or layers to communicate with each other in an interoperable manner.
The court's ruling holds that such APIs are likely copyrightable by the creator/owner of the APIs. This means the copyright owner can enforce a copyright license on users of the APIs, or choose not to license the APIs at all. We note that many projects employ an "open source" license with very few restrictions on use, and no royalty of fee. Other projects, like Oracle's Commercial Use License for Java, may impose fees, and require strict adherence to the APIs and a Certification program in order to maintain interoperability — maybe a good thing.
Similar to APIs, "data models" are widely used by the high tech sector. For example, data models are widely used in the burgeoning Internet of Things to generically represent anything from a light bulb to a refrigerator. It is unclear if data models are so similar to APIs that they too are copyrightable.
CableLabs plays an important role in establishing ownership and managing the associated copyrights of specific APIs and data models. Through our well-tested project creation, project management, and legal agreements, CableLabs ensures that copyright ownership vests with CableLabs (or, at a minimum, a joint ownership interest with the creator), and CableLabs can enforce such copyrights if needed. This disciplined role is especially key in the world of open source that can often become fragmented or "tainted" with multiple ownership rights that are difficult to later enforce. CableLabs will continue to foster collaborative work with our members, and suppliers, while also ensuring copyright ownership is made clear.
Jud Cary is the Deputy General Counsel at CableLabs.