Why Should I Care? The Value of CableLabs Certification/Qualification for Manufacturers
In my previous blog post in this series, we talked about the process of becoming CableLabs Certified or CableLabs Qualified, and why determining whether a device has been certified or qualified is valuable for cable operators. But what about for manufacturers?
In the previous blog post's example—in which a cable operator was having trouble with a cable modem termination system (CMTS) in his network—imagine that the CMTS manufacturer in question had submitted its device to Kyrio for testing and that it had become CableLabs Qualified. In that case, it's extremely likely that the problems would never have occurred. Or if a problem had occurred, it would likely be originating from a cable modem rather than the CMTS itself.
Wouldn't that knowledge have significant value for the manufacturer, rather than simply claiming that it was DOCSIS Compliant?
Enabling Sales
Which is also why many cable operators require that their devices be CableLabs Certified or Qualified before they deploy them on their network. It's important to note that CableLabs member companies aren't required to purchase only certified or qualified equipment: They can purchase whatever equipment they'd like. However, in many cases, they do see the value for their operations and therefore require devices to be CableLabs Certified or Qualified as part of their purchasing process.
There are even cases in which government regulation necessitates certification. As a result, obtaining certification or qualification can—in some cases—be a requirement for selling a particular product.
A Mark of Quality
But what if you already know your device is compliant? Why do you need someone else to test it to prove that?
Over the years, we've had numerous cases in which a manufacturer was convinced that its product was fully compliant with one of our specifications. However, there are tests that Kyrio is simply in a better position to execute; over the course of our testing processes, we've often uncovered issues that could have caused major problems once a given device was deployed in the field. Not only would that cause a problem for cable operators; it would also cause major problems for the manufacturer that supplied those devices because that manufacturer will be the one on the hook to get things fixed—and to do so quickly. Therefore, it's much more cost-effective to discover those problems early, before things are deployed, and avoid those headaches.
In fact, to the best of our knowledge, no CableLabs Certified device has ever been the subject of a hardware recall.
As a result, the CableLabs Certified and CableLabs Qualified labels have become symbols of quality, ones that have often enabled sales into new markets for manufacturers, thereby opening up new business opportunities.
Sailing through the process
All of that said, the ideal scenario would be to never find failures during certification or qualification testing so that devices sail through the process as quickly and easily as possible. In the next blog post in this series, we'll look at some of the ways CableLabs and Kyrio help to do just that, as part of our mission of getting properly functioning devices into the field as quickly as possible.
A Great DOCSIS 3.1 Achievement: Certification!
For months, many people have been asking me: "When will DOCSIS 3.1 devices get certified?"
My response has generally been something along the lines of: "When they successfully demonstrate they're ready based on the test results. The team at CableLabs will do everything we can to facilitate this process, as our goal is to see DOCSIS 3.1 devices in the field as soon as possible."
As of today, I can now say with a very big smile that CableLabs has officially certified the very first group of DOCSIS 3.1 cable modems, specifically five cable modems from Askey, Castlenet, Netgear, Technicolor and Ubee Interactive. Thanks to the efforts of the entire industry, we have quickly attained this achievement. See our press release.
Why is DOCSIS 3.1 Certification important?
DOCSIS 3.1 technology is critical to the evolution of cable networks by enabling a cost effective means of supporting ever faster speeds and improved performance, leading to new services. It does this through the incorporation of several new technologies that allow the existing cable network to operate more efficiently, and that can scale to use more of the spectrum available on a cable network. And it does this while maintaining backward compatibility with previous DOCSIS devices, which enables cable operators to conduct a smooth migration.
To assist with the rapid development of DOCSIS 3.1 devices, as has been noted in some past blog postings -- DOCSIS 3.1® Update: Get Your Engines Running…. The Engines ARE Running!, DOCSIS® 3.1 Products Are Getting Real!, DOCSIS 3.1 Technology: Spec to Product in One Year -- CableLabs has been holding a series of Interoperability and Dry Run testing events which allow manufacturers to get together on neutral ground and ensure that their devices work with one another. CableLabs has offered more of these events than with any previous specification effort, with the result that there have been near continuous testing opportunities for manufacturers of cable modems, head-end, and test equipment – a total of 27 of them – over the past number of months. The unified goal has been getting products ready for the field as rapidly as possible.
Certification of DOCSIS 3.1 devices is the next major achievement in the process of getting DOCSIS 3.1 devices ready for the field – a process that is happening rapidly as evidenced by Comcast's recent blog post – and provides a formal indication that they are ready for deployment.
What is CableLabs Certification?
CableLabs Certification is a formal testing process for verifying devices comply with one or more of our specifications. This provides a level of assurance that once deployed in the field, these devices will interoperate with one another and behave as expected.
In the specific case of DOCSIS 3.1 Certification testing, this means that cable modems comply with the DOCSIS 3.1 versions of the MAC and Upper Layers Protocol Interface (MULPI) specification, the Physical Layer Interface (PHY) specification, the Security (SEC) specification, and the Cable Modem Operations Support System Interface (CM-OSSI) specification. The full suite of DOCSIS 3.1 specifications is made publicly available on the CableLabs Website.
By achieving Certified status, these devices have demonstrated in a formal testing environment that they comply with those specifications and should be ready for use in the field. That saves our members effort in validating specification compliance, allows manufacturers to conduct testing in just one place, and therefore speeds time to market of DOCSIS 3.1 devices. It also enables a robust marketplace with healthy competition for DOCSIS 3.1 devices.
This is one of the unique things about CableLabs: we don't just develop technology and specifications, we also assist in the development and deployment of those technologies, helping to ensure that they come to market as rapidly as possible.
How did we get here so quickly?
Just as other aspects of the DOCSIS 3.1 development effort have happened faster than ever before, so too have we achieved DOCSIS 3.1 Certification faster than ever.
First and foremost, CableLabs had a commitment from the entire cable industry to make DOCSIS 3.1 technology a success. Engineers and executives from cable operators, manufacturers, and CableLabs joined forces to move things along rapidly. I cannot overstate the level of cooperation and effort that many, many people have invested in making the rapid development of DOCSIS 3.1 devices a reality.
In addition, just as with the development of the specifications, when considering our Certification program and how we could get devices into the field as quickly as possible, we asked ourselves, "What can we do better?"
In addition to the extensive Interops and the addition of Dry Run testing events, one of the resulting changes was the adoption of a "rolling wave," whereby manufacturers were able to rapidly update their devices as issues were discovered until they were able to successfully pass Certification. That cut out a lot of overhead and repetition, with the result that first generation devices were able to reach the point of being compliant with the DOCSIS 3.1 specifications unusually rapidly.
All of this was part of a deliberate approach of partnering closely with manufacturers to help to get DOCSIS 3.1 devices to cable operators as quickly as possible.
And last but not least, I want to highlight the extreme dedication and effort put forth by the entire Lab Services team and others here at CableLabs too numerous to name; without their knowledge, efforts, and a lot of late nights, none of this would have been possible.
What comes next?
While these are the first five devices to be certified for DOCSIS 3.1 compliance, they certainly will not be the last: watch for more devices to be certified over the course of the coming year. In addition, CableLabs remains committed to assisting manufacturers in preparing for DOCSIS 3.1 certification testing through continued Interops and Dry Runs over the coming months.
It's been a fast paced ride, and it's not over yet. Stay tuned!

Matt Schmitt is the Vice President of Lab Services at CableLabs, where he's worked since 2003.
Read the full press release.
DOCSIS 3.1 Technology: Spec to Product in One Year
Around this time last year, CableLabs kicked off the first DOCSIS® 3.1 interoperability event. Looking back, it is amazing how far we have come.
Over the last year, CableLabs has held seven DOCSIS 3.1 interoperability events that provide manufacturers with the opportunity to work together on interoperability, development, and compliance. A total of 27 vendors across cable modem, head-end, and test equipment manufacturers have participated so far. Over the course of these events, vendors have continued to demonstrate improvements in product maturity.
Additionally, CableLabs has completed seven dry run events which provided vendors with additional development opportunities and evaluation of product readiness for certification and field trials through joint test execution between CableLabs and the vendors. This progress has paved the way for CableLabs to officially open the door for device certification submission and for cable operators to plan their field trials. While we can't say much about what is going on in our certification labs, we can say it is like a beehive in there! CableLabs will be continuing the interoperability and dry run events in 2016 to support the industry and accelerate device availability.
One of the highlights of the year was the DOCSIS 3.1 technology demonstration day, where vendors flexed their muscles and showed the potential of the DOCSIS 3.1 technology. Demonstrations showcased the multi-Gbps capabilities of DOCSIS 3.1 technology, even while the products were still in development stage. Also, the ability to deploy DOCSIS 3.1 services in today's networks through a fluid transition was demonstrated. Some vendors even showed how some of today's cable modem termination systems, which are already deployed in the field, can be upgraded to support DOCSIS 3.1 technology while simultaneously supporting DOCSIS 3.1 and DOCSIS 3.0 devices. The state of the art in spectral efficiency was showcased with the support of 4096 QAM which is a 50% increase from what is possible in today's DOCSIS 3.0 networks. All indicators are pointing in the right direction that DOCSIS 3.1 technology, as promised, will enable the cable operator to deliver great user experience to the customer.
In addition to holding several training workshops, CableLabs has been working closely with SCTE and NCTI to develop the required training courses to educate and prepare the workforce for the deployment of DOCSIS 3.1 services.
And as the year comes to an end, Comcast puts the icing on the cake by announcing the kickoff of their DOCSIS 3.1 field trials signaling that their customers will soon be enjoying the great experiences that can be offered by DOCSIS 3.1 technology. Congratulations to Comcast for such a big achievement, and ending the year on a high note for the industry and for its customers as a whole.
Belal Hamzeh is Director of Network Technologies at CableLabs.
OPNFV Builds Momentum With First Code Release
Today sees the first OPNFV release known as 'Arno' (OPNFV releases are named after rivers) which OPNFV has been busily creating since the community was launched last September. In my blog celebrating the OPNFV launch I outlined the importance of open source to stimulate innovation and accelerate progress on implementation. At CableLabs we are very keen on the open source approach because it enables the industry to collaborate to build common features while avoiding duplication of effort. This enables everyone to focus on product development and service creation. We have been eagerly awaiting this first release as it provides the foundation for our virtualization projects and we will be proposing to bring in our Virtual Business CPE APIs for the next OPNFV release.
The initial scope of OPNFV is focused on the NFV Infrastructure layer of the ETSI NFV Architectural Framework as shown below: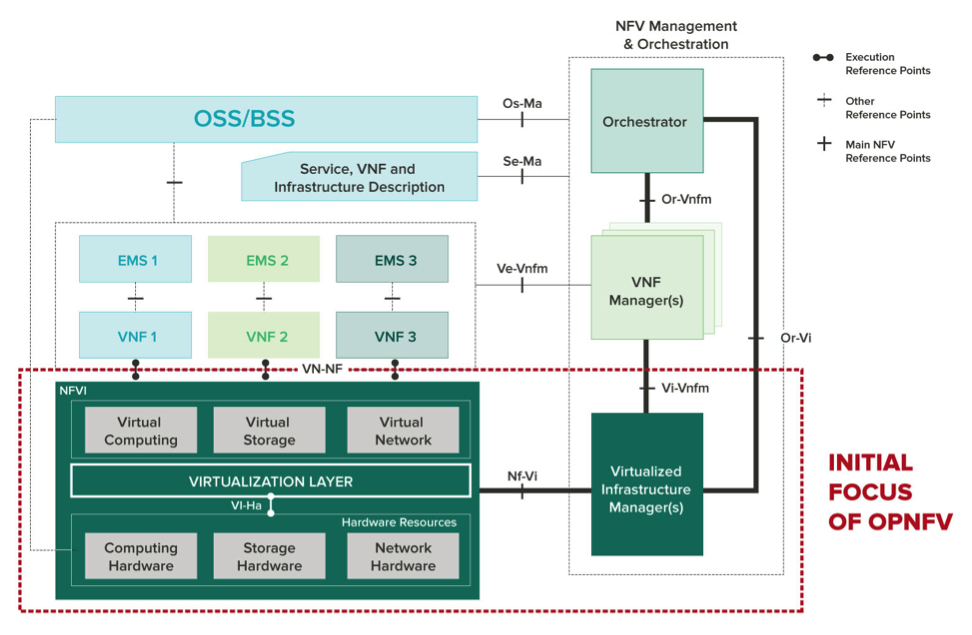 OPNFV Scope
Bounding the scope of OPNFV to the NFVI in this first phase has enabled this new global community to focus on rapidly creating a software development framework and for the participants to get to know each other and build awareness around this new topic through deeper involvement in a smaller set of projects.
We congratulate the OPNFV community on this achievement. The community has solved a lot of open source integration problems and created and debugged toolsets that would otherwise have had to be done independently and repeatedly in different labs. OPNFV is proving the value for the industry to work together to do the heavy lifting once.
There was a lively debate at the first OPNFV Hackfest in Prague on whether it was better to include more features in the initial release but to allow more time for development, or to release earlier with fewer features. We argued for early release to enable the industry to become familiar with the tools and to start to accrue learning as quickly as possible. This release will result in more developers becoming familiar with the OPNFV platform more quickly and to contribute to future OPNFV releases as well as their proprietary innovation on top of the platform.
The OPNFV Arno release enables the industry to create NFV integration platforms according to a common baseline thereby accelerating collaboration and shared learning. Full details of what's included in the Arno release can be found on the OPNFV website, but as a quick summary, it includes the base Operating System (Linux CentOS), SDN Controller (OpenDaylight Helium) and Infrastructure Controller (OpenStack Juno).
CableLabs considers open source and formal standards processes to be complementary and we are actively involved in both. We actively contributed to the OPNFV 'Pharos' Testbed infrastructure project including contributing governance documents based our vendor-neutral test and certification experience. We are involved in the new OPNFV Certification & Compliance Committee and we are building OPNFV reference platforms at our Sunnyvale-CA and Louisville-CO locations to integrate and validate our collaborative open source development on behalf of the cable industry. We will be providing feedback to OPNFV and the ETSI NFV ISG as well as contributing our own code.
The next few months are going to be very exciting as we begin to see the ETSI NFV ISG Architectural Framework brought to life through the efforts of the OPNFV community and we'll be able to share insights on NFV performance and interoperability because we'll all be using a common infrastructure configuration.
Don Clarke is a Principal Architect at CableLabs working in the Virtualization and Network Evolution group.