Building Community with CableLabs Gives
This Thanksgiving, I'm thankful that I can enjoy a nice dinner at home with my family. Others, however, don't have that luxury on Thanksgiving Day. When I first participated in some of the programs supported by CableLabs Gives, I was honestly surprised to learn how many people lack the basic necessities of a safe shelter and food, even here in Colorado.
What is CableLabs Gives?
CableLabs Gives is the umbrella program that helps with numerous charities here in Colorado. Habitat for Humanity, which advocates for affordable housing to those who need homes is one program we support. Housing costs in Colorado have risen dramatically in recent years, making it even harder for lower-income families to achieve self-reliance.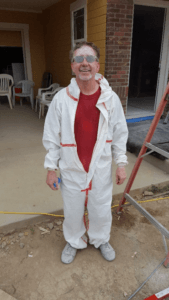 In June 2017, I organized a volunteer day with Habitat for Humanity of the St. Vrain Valley and CableLabs employees. We took a day off to work on homes at a construction site in Longmont. I even convinced my boss to come, and as you can see below, he really got into the work! Together, we cleared out nearby rocks, cut wood and painted the outsides of homes being constructed by Habitat. I organized a second event at the same site a few months later, where we painted interior portions of the house.
As most of us lead busy lives, we are fortunate that CableLabs gives its employees paid time off to volunteer. Not only does this help our community, but by empowering employees to get actively involved in charitable projects, we are more committed and proud of our work.
Other Endeavors
Other charitable endeavors supported by CableLabs seek direct contributions from employees. This past May, I championed the 23rd Annual Compete to Beat Hunger Corporate Challenge through Community Food Share. Community Food Share is an organization whose mission is to eliminate hunger in Boulder and Broomfield Counties through engagement, collaboration and leadership. The Corporate Challenge is a friendly competition among thousands of employees in Boulder and Broomfield Counties to collect food and raise money for those in need of assistance.
People are familiar with food donation bins at their grocery store, particularly around the holidays. Sometimes these are a quick, easy and maybe even a fun way to give a little to those in need. In reality, though, food banks such as Community Food Share buy food in bulk and usually get more food per dollar than what we can buy at a grocery store. Since it's sometimes a little harder to get financial donations, it was important to let our employees know about the cause and how they could support it. Employees met the challenge by providing monetary donations, as well as some important food items requested by Community Food Share.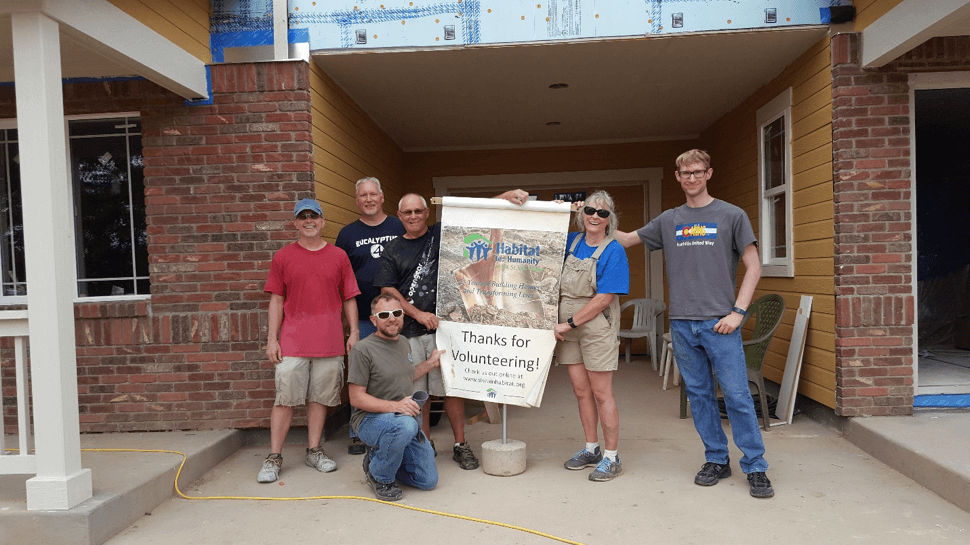 At CableLabs, we are fortunate that our company matches employee donations to charitable organizations, up to $100 per person each fiscal year. As the Corporate Challenge neared the end, it anticipated that it would not meet its community-wide goal of raising $500,000. When they extended the deadline for donations, I encouraged my co-workers to donate to the cause, ensuring they took full advantage of their matching donations for the cause. Due to this, CableLabs ended up donating $6,500 and 28 lbs of food!
Every year, we also collect new school supplies for backpacks for local school children in need. Additionally, we have yearly chili cook-offs to raise funds for United Way, which not only raises funds but gets the employees together in a fun and relaxed atmosphere - except for those hoping to win the cook-off, they take it pretty seriously! CableLabs Gives is a great way to encourage employees to participate in their community through charitable work or donations. By matching financial donations or giving workers paid time off to volunteer, CableLabs lets us know that it cares about us and our community.
Interested in a career opportunity where you can make a difference? Click the link below to see open positions. 
CableLabs Gives: Learn about our Philanthropic Program
Everyone has a story. Ask the person sitting next to you if they give to charity, and you will hear everything from "Yes I give," "I have a handful of causes I like to support," "No, I can't afford to," to "I give when I can, to things that I think are important."  Then ask what they do to help others, and the responses will be as varied as the people responding.
CableLabs endeavors to impact our community by supporting our staff in their varied responses to these two questions.  "CableLabs Gives" is the umbrella program that supports our philanthropic champions.  Through matching contributions and monetary support for volunteer projects our employees are encouraged to get involved in what they are passionate about and share that passion.
According to Network for Good, there are 14 motivators for giving and volunteering:
Someone asked me to give, and I wanted to help them
I felt emotionally moved by someone's story
I want to feel I'm not powerless in the face of need and can help (this is especially true during disasters)
I want to feel I'm changing someone's life
I feel a sense of closeness to a community or group
I want to memorialize someone (who is struggling or died of a disease, for example)
I was raised to give to charity—it's tradition in my family
I want to be "hip," and supporting this charity (i.e., wearing a yellow wristband is in style
It makes me feel connected to other people and builds my social network
I want to have a good image of myself/my company
I want to leave a legacy that perpetuates me, my ideas or my cause
I feel fortunate and want to give something back to others
I give for religious reasons—my faith teaches me to help others
I want to be seen as a leader/role model
At CableLabs, we take an active interest in our own community by supporting numerous programs:
For this holiday season, employees voted and selected the Wild Plum Center for Young Children and Families as the recipient of our holiday giving program.
Why Wild Plum?
Wild Plum Center empowers families and prepares children for the future.  The center has been providing early childhood education and development services to Longmont's low-income families offering pre-school programs for three, four and five-year-olds since 1965. In 2010 they began providing developmental services for children aged zero to three, as well as pregnant women. In addition to the pre-school programs, families are assigned a Family Education or Program Specialist that offer individualized, in-home support.
Wild Plum Center relies on contributions from the community with gifts of financial support, supplies and services to provide essential assistance to children and their families. This year's holiday program is asking employees to give materials needed to build art or literacy bags for children enrolled at Wild Plum Center. Bags will be delivered to each child so that they can build creative and quiet spaces for an "art studio" and "library" in their home.
Creating art promotes self-esteem, teaches children to use their senses, stimulates the brain and nourishes a child's creative spirit. Reading develops stronger language skills, demonstrates how communication works and helps bond parent and child. It's never too early to help shape the success of our future generations and help children creatively learn.
With the holiday season in full gear, it's natural to get into the spirit of giving. But here at CableLabs, charitable giving is always in season. Subscribe to our blog to find out more about our CableLabs Gives program and how you can help us give back to our community.