Summer Conference 2018: Register For Our Game-Changing Event
This year marks our 30th anniversary here at CableLabs. Join us at our Summer Conference 2018 August 5-8 in Keystone Co and help us celebrate while you learn, mix with your counterparts from around the world and enjoy spectacular Colorado.
We've put together a special conference this year to mark our momentous milestone with some game-changing innovations, presentations, demos and an impressive line-up of speakers. We'll discuss enormous efficiency increases, from both technical and business perspectives, to help the global cable industry join forces and become bigger, sharper and faster, together. Keynote speakers include:
Annie Duke: As a World Series Poker Champion, author and National Science Foundation Fellow, Annie leverages her experience in the science of smart decision making to excel at a variety of pursuits. She brings her background in cognitive science and poker together to understand how we make decisions, the obstacles that prevent us from making our best decisions and how to create practical solutions that make decision making more rational.
Brad Shaw: Chief Executive Officer of Shaw Communications and a 30-year veteran, Brad will share how his company has disrupted the industry and redefined how a cable company can thrive in a fast-changing environment. Brad sits on our Board of Directions and his valuable input contributes to many of our innovations.
Tim Urban: Creator of the stick figure illustrated blog, Wait But Why, Tim is one of the internet's most popular writers. Elon Musk is such a big fan that he asked Tim to interview him about his companies, resulting in the in-depth Elon Musk Blog Series. His Why Procrastinators Procrastinate presentation was the most-watched TED talk of 2016.
Agenda
We know many of you come to "take a peek at the future" and you'll be covered. Take a look at the agenda to get an idea of the hot topics, from 5G rollouts to crushing latency in networks to Micronets to Blockchain, and much more. Don't miss our CTO Roundtable, with members from Europe and the US, giving their take on technologies from DOCSIS 3.1, IP video and next-generation architectures.
CableLabs subsidiary UpRamp works with some of the brightest emerging technology companies in the world. They will introduce you to 6 such companies who are changing the landscape of our industry. We know you're a hard crowd to impress, but these 6 companies will grab your attention and get your creative wheels turning. We will also be introducing the companies in the 2018 UpRamp Cohort.
Connect with our Speakers
You told us you want to connect on a deeper level with some of our presenters, and we're introducing a new app which will allow you to set up a 15-minute meeting with anyone on our schedule. It's a great opportunity to form bonds and get all your questions answered by our expert presenters. Watch this space to get more info. Or better yet, sign up now for the conference, and get early access.
What's a Party without a BBQ?
CableLabs subsidiary Kyrio will host a Colorado-style BBQ on Monday, August 6 at Keystone Stables, with transportation provided. Come out, meet your fellow attendees and help us celebrate our 30th.
CableLabs Member? Stay the Extra Day
On August 9, we are hosting our Behind the Curtain event at our Louisville, Colorado labs. Not a part of our regular program, but this event is something extra you shouldn't miss. You'll get a chance to see and hear about the disruptive technologies we're working on behind closed doors. It's a perfect chance to view demonstrations, get involved, and collaborate with us on positioning and rollouts of these exciting new technologies.
Register now to reserve your space for our special 30th anniversary Summer Conference 2018. We can't wait to see you in Keystone!
Connect[ED] Forum 2018 is Tomorrow
On April 4, the cable ecosystem is coming together to connect, as we do once a year, for a soup-to-nuts overview of the cable industry. Cable operators, device manufacturers and providers of products or services for IoT, security, medical and network technologies are arriving in Boulder, Colorado to participate. Senior Executives from CableLabs member companies will discuss their strategic plans and directions in keynote presentations. Developers, engineers and system architects will come together to envision next-generation technology that will shape consumers lives for years to come.
Why we are hosting Connect[ED] 2018
At CableLabs, we believe no one has the power to predict the future, but if we put our minds together we can see where the trends are leading us. By collaborating and sharing information we can build upon each other's discoveries and breakthroughs toward a better, more interconnected tomorrow. It's a win-win for everyone.
Here are just a few things you can expect to take away from this year's event:
See what we are up to at CableLabs, Kyrio and UpRamp
Our research and development team will walk you through the latest technologies we have in the works. This confidential information can provide invaluable insight into the direction of the industry and help you align your business efforts with the latest trends. There will also be plenty of opportunities for input and collaboration. Learn how Kyrio and UpRamp can support your plans for products and services.
Learn about the latest in all things wireless and what it means for the cable industry
See what's next for Wi-Fi, LTE, 5G and more. As we move toward an increasingly wire-free future, innovations in this field are instrumental in building the hottest "it" products of 2018 and beyond.
Get vital updates on the latest wired access network technology including advances in fiber optics
As more and more bandwidth-hungry products hit the market, our cable networks have to become more future proof, allowing us to send and receive more information than ever before. We'll talk about Full Duplex DOCSIS® 3.1 specifications, Coherent Optics and other technologies that make that happen, including interoperability and certification. 
Check out Kyrio's state-of-the-art facilities and test house
We invite you to take a tour of our 14 000 square-foot lab designed for device and security testing, among other things. The lab features a wide array of technologies worth over $20 million, including a variety of wired and wireless networks, an anechoic chamber, a CMTS, Ixia IXChariot and IXVeriWave software and octoBox testbed.
Why this year is different
Change: We've changed the name of this conference to Connect[ED] because it's all about us – all of us – being connected to each other. We are not the same CableLabs we were four years ago or even two years ago. The cable industry is changing rapidly and as a result, CableLabs, Kyrio and UpRamp are evolving to support the cable industry. CableLabs has always encouraged a healthy ecosystem of suppliers and network operators by working together to connect the world. We've invited our members and your customers here to discuss what they are doing in both technology and strategy.
Transparency: As one step towards being better connected, we will share with you the changes at CableLabs and what that means for you. We're going to be showing you our Innovation roadmap and telling you how to get involved. We also plan to address you directly throughout the day and provide an opportunity at the end of the day for feedback based on what you've heard.  
Value: We wouldn't be here without our member companies and vendors and we look forward to working with you to build a more connected future.
The industry cannot be successful without you and we look forward to working with you to build a more connected future. We hope this gets you excited about our upcoming event and we hope to see you there! Further details can be found here. Online registration closes today at 5pm, but walk-in registrants are also accepted.
5 Ways to Raise Innovation Leadership
The need to innovate now is greater than ever. Yet, many leaders admit that they just don't have the time or they don't practice innovation consistently enough as an individual or with their team. With an accelerating stream of start-ups and popular well-funded competitors challenging the set-top box, connectivity methods, and business models of the cable industry, we must rise up together and win the innovation game! It will take our individual and collective commitment to delivering great value with our networks, entertainment &  connectivity solutions today. We also need to raise our commitment to innovation leadership in order to place the cable industry at the forefront of the connected experience with purposeful innovations for decades to come.
With all this in mind, here are 5 ways for you and your team to innovate at new heights: 
1. Check Yourself: Transformation always begins with self-awareness. Contemplate these questions as an innovator and correct any tensions that may arise:
How important is innovation in my role, my team or company?
What would another level of innovation in my role, team or company look like?
Am I or is my team regularly discovering, developing or delivering innovation to my customers inside or outside my company?
Do I really know my customer's challenges, problems, gaps or missed opportunities that are the ripest for innovation?
What idea or innovation has been on the back burner for way too long?
2. Ask better questions: Let's start with the most obvious question: "Do you know what questions need to be asked to spark game-changing innovation and influence others to see the value you see?"
Why ask better questions?  So, you can:
Help your organization make great decisions
Challenge your team to see beyond the status quo
Anticipate business challenges
Understand your customers when they are not always clear about what they want
Wondering how to start?  I invite you to formulate or seek out questions that help you challenge beliefs and assumptions about and assumptions about what's true or possible, consider the most expansive form of your idea and to empathize with others in order to solve real problems and innovate with purpose.
3. Build Innovation Grit: Coming up with breakthrough ideas is really hard. It's even harder to stay resilient when the "antibodies", or resistors, to change cut you off all your attempt. Innovation has taught us that most great ideas were first impractical, impossible or down right stupid before they became the NEXT big thing or even just the next important thing. As humans, we'd like to think we are fully adaptable, but in reality, we are comforted by the status quo and certainty overall. It requires a special mindset, commitment and a lot of perseverance (grit) to see an innovation through.
Did you know Innovation Grit must be developed consciously or your idea will be lost to the innovation graveyard, due to the antibodies AGAIN!?
4. Practice, Practice, Practice: To master anything, you must practice! So, let's check in on your innovation practice:
What are the daily, weekly, monthly, quarterly or yearly innovation practices you apply consistently, and with ever increasing competency?
Are these practices truly generating more ideas, more value or more impact?
If you were going to be 10x times more innovative 6 months from now, what practice would you need to START or re-commit to NOW?
5. Accelerate Change: If you noticed tensions, gaps or challenges in the above, and you KNOW it's time to make a change, then take action and/or find an innovation mentor, coach or training program to help you accelerate the learning curve, focus your attention and get back in the game with the kind of intensity we need right now for the Cable Industry!
I invite you to consider our upcoming Innovation Boot Camp Intensive:
At boot camp, you will learn a framework for successful innovation and how to generate breakthrough innovation, BY DOING IT, in an immersive, intimate and accelerated way. Our upcoming boot camps are October 23-27, 2017 in Boulder, CO or April 23-27, 2018 in Silicon Valley.
We keep each boot camp small, so you get plenty of time and attention with our experts. These include CableLabs CEO and renowned innovator Phil McKinney, author of "Beyond the Obvious – Killer Questions that Spark Game-Changing Innovation," as well as creator of the award winning, nationally syndicated radio show/podcast "Killer Innovations". You will leave Boot Camp with more strategic questions and the confidence when you return to work.
You will learn about the innovation myths that need to be busted and great strategies to deal with the antibodies who may kill your best ideas or slow down their progress. With a team of battle tested innovators challenging you to transform your mindset, build creative confidence, grit and ultimately innovation impact in any role.
So there you have it, 5 tangible and accelerated ways to RAISE your Innovation Game: Check in on your current state of innovation, move your attention to killer questions, find new ways to overcome "antibodies" to your innovations, commit to a regular innovation practice AND when you are ready, go DEEP at Innovation Bootcamp - or go home!
Interested in reading about what Innovation Bootcamp is really like? Check out my blog post about our previous Boot Camp here and watch the video below. Don't hesitate to contact me with any questions. Our topic area for exploration and innovation will be "Health in the Home" where we examine opportunities in home health care, wellbeing and aging in place.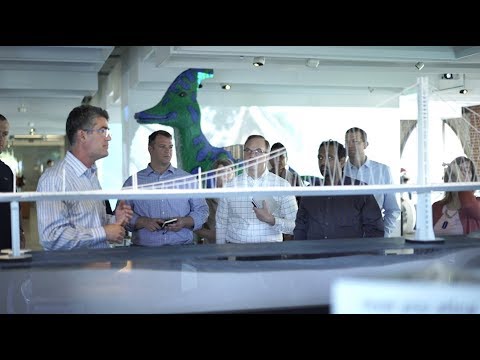 Discover how CableLabs supports the cable industry to stay on the forefront of innovation here.
NCTA & CableLabs Hosted The Near Future Conference & Delighted the Crowd
Today's event brings together innovators who will share with you the near future. A future that will build upon networks that we as an industry are already building.
- CEO and President of CableLabs Phil McKinney, The Near Future 2017
What does the near future look like? Make no mistake - it's already (virtually) here. It unfolded before our eyes on April 27, 2017, at Union Market Dock 5 in Washington DC at the first Near Future forum. Co-sponsored by NCTA (The Internet and Television Association) and CableLabs, the immersive experience was created to showcase next generation technology enabled by the cable industry.
Attended by a mix of technology professionals, visionaries, policy experts, and media leaders, the event featured a wide range of speakers and live demos. These included virtual, mixed and augmented reality, an 'intelligent agent' (AI precursor), an autonomous vehicle, and next gen (non-VR) video exhibits exploring the four pillars of human technological interconnectivity - the way we live, work, learn, and play. All of which are powered by cable broadband.
The day opened with NCTA President and co-host Michael Powell declaring it the "un-conference". Rather than scripted interviews and lengthy speeches, audience members were invited to interact with some of the awe-inspiring technologies that massive bandwidth and computational power make possible. Attendees could fly over city landscapes using their arms and legs with Birdly, explore a model of Local Motors' 3D printed self-driving shuttle bus named Olli, fly through space with Positron's egg-shaped Voyager Platform, explore 3D buildings and cities with Taqtile's 3D "HoloMaps", or interact virtually with a holographic projection of a Holocaust Survivor in real time.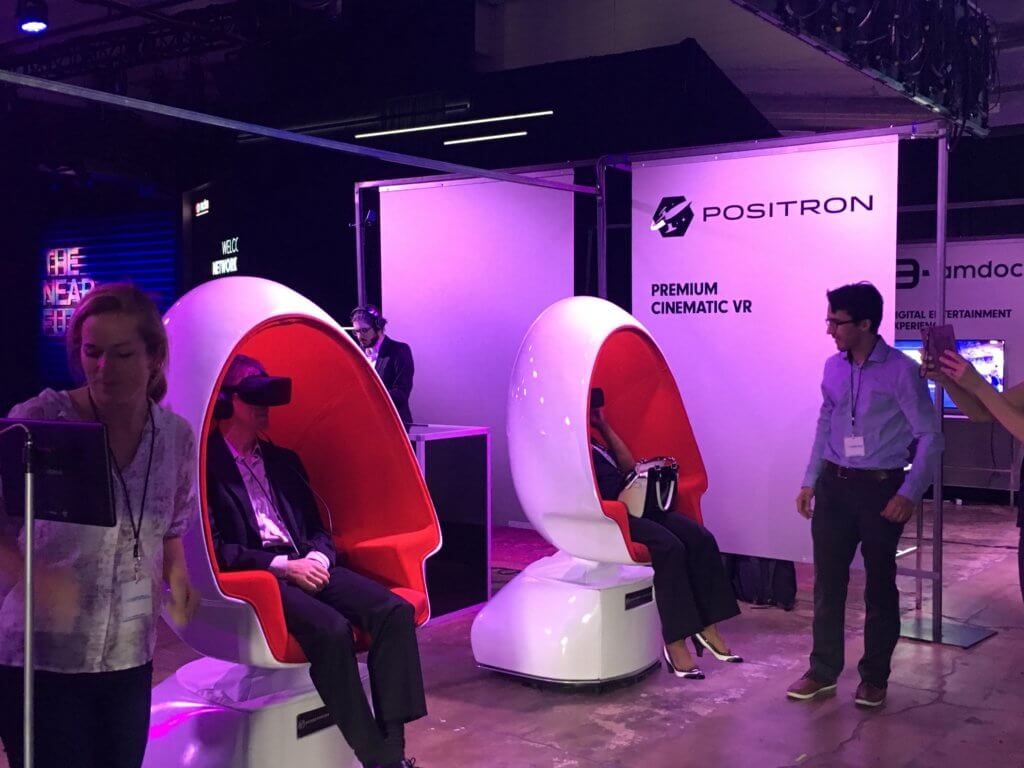 The highlights of the day included conversations with the visionary thinkers at the forefront of these emerging platforms. Beginning with PLAY, Google VR Senior Engineer Paul Debevec waxed poetic about cinematic virtual reality technology and light scanning to digitize humans. This technique was used in some of Hollywood's biggest blockbusters and the first ever 3D presidential portrait. He went on to explain that the digital faces created for movies, television, and video games are now so sophisticated that photorealistic environments in virtual reality will soon be available.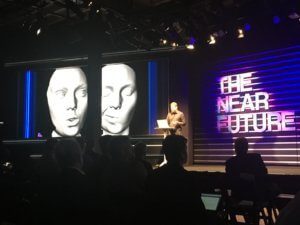 Ted Schilowitz, a futurist for 20th Century Fox, emphasized that society is more ready for VR than ever due to our reliance on smartphones for everyday tasks like memory and directions. Senior Vice President of Technicolor/MPC Timothy Dodd highlighted the potential of mixing virtual reality and game engines, changing the color of a Camaro on screen and video in real time with no latency.
Taking us to WORK, Eric Yan, CEO of Zoom, explained how VR will transform video conferencing and the remote workplace by enhancing collaboration and engagement among team members. Ricardo Poupada, CEO of 5th Wall, a virtual and augmented reality marketing studio, talked about how immersive VR will revolutionize the human experience in everything from retail to real estate to medical services to entertainment.
Chief Technology Officer of IBM Watson, Rob High, invited the audience to go back to school in the LEARN segment. He demoed a future classroom, where, through the power of AI, instructors transformed into the greatest thinkers throughout history. In the same vein, David Traum, director of Natural Language Research at USC Institute for Creative Technology, spoke about students learning history in real time from real people, using the virtual reality Holocaust survivor as an example.
In the LIVE segment, Dr. Wyatt Decker, Emergency specialist and VP at the Mayo Clinic, emphasized the need for 3D printing, virtual reality, genomics, robotics, and data mining to revolutionize the medical industry - creating low-cost patient-friendly solutions in the process. He used the examples of biomimicry of robotic limbs for amputee patients, 3D printed organs, and functional MRI's. Audience members watched in wonderment as a video was shown of a patient having brain surgery while playing the piano. This allowed surgeons to stay away from the structures involved with the piano playing while removing her brain tumor. To read more about the connection between cable and healthcare read our blog post: Cable Connects with Health Care by CableLabs CTO Ralph Brown. 
The Near Future emphasized that broadband is the catalyst for innovation in services and apps. The demos and speakers all highlighted the amazing technology we have in the present and the future possibilities of the high-speed, low latency networks that connect our homes, businesses, and mobile devices. The spirit of the forum was reiterated by host Kym McNicholas at the closing of the event: "The key is to be proactive, not reactive. Don't let what you don't know get in the way of innovation. It's this out of the box thinking that makes the impossible, possible."
This conference was based on our Near Future video. 
--
For more information on cable broadband, policy, and network innovation outpacing application innovation check out this Insights paper we wrote on the gigabit evolution and read this interview with CEO & President of CableLabs Phil McKinney. If you'd like to know more about the Near Future event visit TheNearFutureNetwork and NCTA's Twitter feed @NCTAitv. You can watch the conference in its entirety below.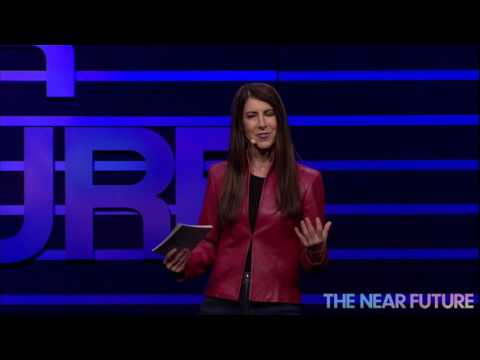 NDA Vendor Forum Takeaways: Working with Kyrio
Guest blog post by Mitchell Ashley, President and General Manager of Kyrio. Last week I had the privilege of unveiling the new Kyrio at the NDA Vendor Forum. The NDA Vendor Forum is an annual event for us to brief the supplier community on all the activities at CableLabs, Kyrio and UpRamp. It's a great opportunity to get up to speed on where the industry is headed and its priorities. As the leading innovation resource for everything networkable we provide technology solutions and enable new marketplaces for safer, better and faster ways to network. So businesses and their customers can thrive.
Join us at the CableLabs NDA Vendor Forum
Once a year CableLabs holds the NDA Vendor Forum. This is a unique opportunity for companies who are interested in developing technologies for the cable industry to get up to speed with the latest technology projects underway at CableLabs and to provide input on our technology development roadmap for the year ahead.
This year's Forum comes at an exciting time for the industry. Our member companies in the U.S. and abroad are accelerating their plans to deploy gigabit services, expand the coverage and capabilities of their Wi-Fi networks, and offer new services that benefit subscribers at home and on the go. CableLabs project roadmap for 2015-16 reflects these priorities, and our success depends on the substantial technical expertise and engineering contributions from the vendor community.
Our Forum is in San Jose, CA this year, so we hope to see some new companies who may have not had the chance to attend one of our Forums. You'll be able to network with CableLabs staff and other vendors, and get any of your questions answered with respect to technology projects at CableLabs.
If you are already an NDA vendor, register for the event. If you are interested in attending the, you'll first need to a member of our NDA community. Please refer to our tutorial on How To Engage. There is no cost to join, and benefits of NDA membership (no cost) are numerous, and include the ability to review our technical specifications before they become public.
I look forward to seeing you in San Jose on the April 23.
Event Details
Thursday, April 23, 2015
8:00am to 6:00pm
Hilton San Jose, Downtown
300 S Almaden Blvd., San Jose, CA 95110
Ralph Brown is the Chief Technology Officer at CableLabs and can be reached at r.brown@cablelabs.com