Capitalizing on Data: An Engine to Business Services Growth
Aligning a service provider's business with its drive for new services and optimized operations relies heavily on one foundational element — data. Working closely with our cable operator members, the CableLabs team recognizes that access to data provides key insights that drive business and technology innovations. Supporting the growth opportunities our members have in Business Services, CableLabs has three projects focused on helping enable our members to capitalize and realize the revenue growth.
Present Growth Opportunity: The Enterprise Market
An expanding number of business services opportunities are driving an increased focus on data. For example, enablement of B2B Ethernet services for large enterprise businesses (500+ employees) that span across multiple geographical footprints requires a common data structure to seamlessly integrate end-to-end solutions. Through incorporating existing global standards and providing necessary extensions based on our member's insight, CableLabs is designing and developing open application programming interfaces (APIs) to create a common data structure to automate the exchange of data, accelerating the sales proposal, service delivery, and ongoing service assurance processes enabling cross-service provider's ability for seamless service delivery and support for shared accounts that enterprise business locations present.
Sales Automation & Interoperability Approach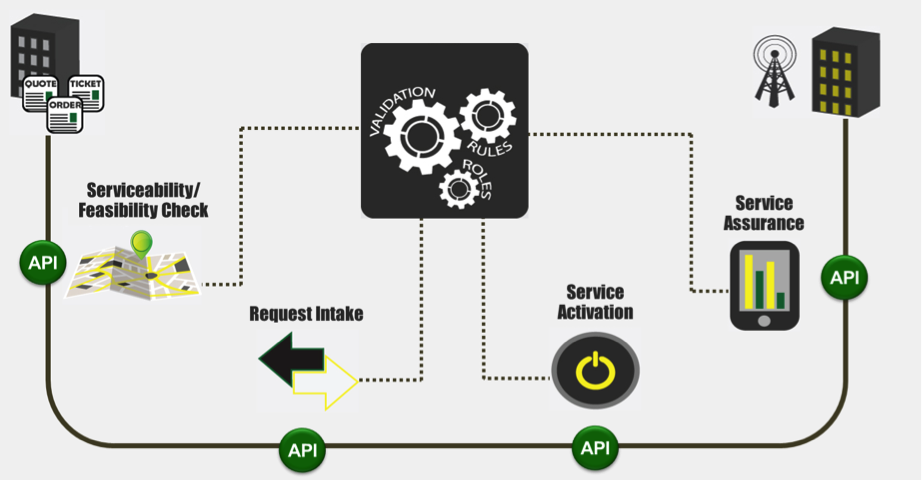 Future Growth Opportunity: Virtualized Service Delivery & Management
While Ethernet services provide the backbone, small, mid & enterprise businesses are increasing the demand for dynamic applications & managed services. Firewall, DDOS mitigation, and multi-site VPNs are a few examples of managed security services that provide an important opportunity to increase revenue per unit served. The emergence and role of virtualized service delivery and management will provide critical infrastructure support to exchange the data needed seamlessly to enable the rapid development and deployment of these solutions. The shift towards a virtualized delivery of products & services is defining the future of network enablement through software-centric solutions with a high reliance on configuration and performance data. Utilizing common data definitions and access methods to network data for reuse across applications will reduce the risk of supplier lock-in, simplify dynamic network management, and enable easy sharing of network data with peripheral applications (e.g., security, load-balancing, and analytic engines).
Industry collaboration that leads to a well-defined data framework will enable the rapid development of new services that can be easily integrated between partner companies. This flexible framework and streamlined integration will shorten new service time-to-market, elevate the cable operator's competitive positioning, and continue to attract a robust supplier community.
Open API Access & Community Engagement
These trends are driving architecture evolution and a shift away from the historical practice of housing data in a vertical format, which limits sharing across enterprise applications. CableLabs has developed an approach with a reusable library of data artifacts, which includes common APIs, data models, and entity definitions as examples (which registered users can access at diadeveloper.cablelabs.com) that aims to replace the siloed approaches of the past.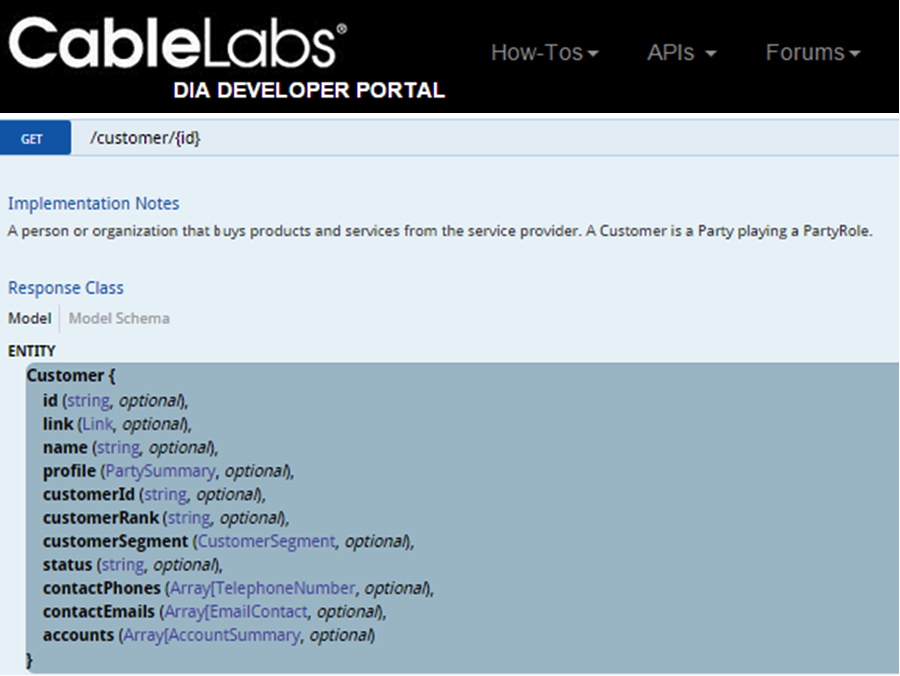 The approach strives to support CableLabs members as they begin to unlock the value of their big data reserves, adapt quickly to the shifts in technology, and move towards a software-centric and cloud networking operational world.
For more information on CableLabs projects related to Business Services, please contact Carmela Stuart, c.stuart@cablelabs.com
Carmela Stuart is the Director of Business Technologies at CableLabs.
SCOTUS Sidesteps an Interface with APIs
On the last day of its term, the Supreme Court refused to hear an appeal from the Court of Appeals for the Federal Circuit, and thus it let stand a controversial copyright decision by the appellate court on the copyrightability of application program interfaces or APIs.
The case, Oracle v. Google, dates back to 2010 when Oracle (then Sun Microsystems) sued Google over use of certain Java APIs belonging to Sun that were used in Google's Android operating system. Both Oracle and Sun agreed that Google did NOT copy Oracle's "implementing code," but did copy verbatim Oracle's "declaring code." That is, Google copied the "method headers" from 37 Java packages with over 600 classes and over 6000 methods. Google then implemented each method with its own code.
The original trial court that reviewed the lawsuit held that APIs were not subject to copyright protection. The court reasoned "there is only one way to write" the header, and thus the "merger doctrine bars anyone from claiming exclusive copyright ownership of that expression."
OK, so what is the "merger doctrine!?"
Basically, if there is only one way to express something, say "2+2=4", then that expression "merges" with the idea itself. And, because ideas cannot be protected by copyright, the expression cannot be copyrighted. (Note, an idea might be protectable under patent law, but not copyright law). Google also argued that, of course the method headers must be the same in Android as they are in Java in order to maintain interoperability. The trial court agreed.
But wait, there's more! Copyright in computer code covers the literal code itself, but can also the non-literal "sequence, structure and organization," or SSO, so long as there is some modicum of creativity in the SSO. Here, Google argued that the SSO of the 37 Java packages, 600 classes, and 6000 methods was simply a "command structure" and excluded from copyright protection. Again, the trial court agreed.
Copyright Law Terms
Merger Doctrine
Also called the "idea-expression dichotomy." The Supreme Court stated "[u]nlike a patent, a copyright gives no exclusive right to the art disclosed; protection is given only to the expression of the idea—not the idea itself." Mazer v. Stein, 347 U.S. 201, 217.
"[C]opyright's idea/expression dichotomy 'strike[s] a definitional balance between the First Amendment and the Copyright Act by permitting free communication of facts while still protecting an author's expression." Harper & Row Publishers, Inc. v. Nation Enters., 471 U.S. 539, 556 (1985)
Sequence Structure and Organization (SSO)
SSO is an alternative way of comparing one software code base to another in order to determine if copying has occurred, even when the second work is not a literal copy of the first. Whelan v. Jaslow (1986). SSO attempts to avoid the extremes of over-protection and under-protection of software code, both of which are considered to discourage innovation.
Fair Use
Fair use was created by the courts, but is now enshrined in the Copyright Act 17 U.S.C. § 107. The Act directs courts as follows: "In determining whether the use made of a work in any particular case is a fair use the factors to be considered shall include:
"the purpose and character of the use, including whether such use is of a commercial nature or is for nonprofit educational purposes;"
"the nature of the copyrighted work;"
"the amount and substantiality of the portion used in relation to the copyrighted work as a whole; and"
"the effect of the use upon the potential market for or value of the copyrighted work."
Sounds reasonable? Well, the trial court got schooled by the appellate court.
The trial court made several key mistakes in applying the merger doctrine. The trial court focused its merger analysis on the options available to Google at the time of copying, rather than on Oracle's options at the time of creating. Looked at from the time of creation, Oracle had almost unlimited ways to determine, create, name, and express the 6000 method headers. So, as long as there are several alternative expression choices at the time of creation, the merger doctrine does not apply.
The appellate court further found the sequence structure and organization of the Java packages, classes, and methods sufficiently creative to be copyrightable. And, the court noted, Google did not need to copy verbatim the SSO to make a functionally equivalent platform, albeit not interoperable with Java. See, for example, competitive mobile platforms of Apple iOS or Microsoft Windows Phone.
The case heads back to the trial court to determine if Google's use of the APIs nevertheless falls under the "fair use" defense doctrine. The factors the trial court will use to determine fair use are: (1) "the purpose and character of the use, including whether such use is of a commercial nature or is for nonprofit educational purposes;" (2) "the nature of the copyrighted work;" (3) "the amount and substantiality of the portion used in relation to the copyrighted work as a whole;" and (4) "the effect of the use upon the potential market for or value of the copyrighted work."
Typically courts consider the "commercial nature" of the use as almost dispositive. That is, if any direct or indirect commercial gain is obtained by the use, the fair use defense does not apply. So, IMHO, I think Google will have a hard time succeeding on a fair use defense.
So, what does this mean?
The high tech sector uses, and for that matter CableLabs develops, APIs, including Java APIs, in many projects, platforms, and systems. APIs are intrinsically necessary whenever you want two software systems, platforms, or layers to communicate with each other in an interoperable manner.
The court's ruling holds that such APIs are likely copyrightable by the creator/owner of the APIs. This means the copyright owner can enforce a copyright license on users of the APIs, or choose not to license the APIs at all. We note that many projects employ an "open source" license with very few restrictions on use, and no royalty of fee. Other projects, like Oracle's Commercial Use License for Java, may impose fees, and require strict adherence to the APIs and a Certification program in order to maintain interoperability — maybe a good thing.
Similar to APIs, "data models" are widely used by the high tech sector. For example, data models are widely used in the burgeoning Internet of Things to generically represent anything from a light bulb to a refrigerator. It is unclear if data models are so similar to APIs that they too are copyrightable.
CableLabs plays an important role in establishing ownership and managing the associated copyrights of specific APIs and data models. Through our well-tested project creation, project management, and legal agreements, CableLabs ensures that copyright ownership vests with CableLabs (or, at a minimum, a joint ownership interest with the creator), and CableLabs can enforce such copyrights if needed. This disciplined role is especially key in the world of open source that can often become fragmented or "tainted" with multiple ownership rights that are difficult to later enforce. CableLabs will continue to foster collaborative work with our members, and suppliers, while also ensuring copyright ownership is made clear.
Jud Cary is the Deputy General Counsel at CableLabs.