Driving Global Connectivity Well Beyond Cable Technology
CableLabs participates in more than 30 unique standards organizations, industry consortia, and open source efforts. 
CableLabs is focused on developing innovative technologies, not only in the performance of cable's hybrid fiber coax (HFC) networks, but also in many areas that extend beyond the traditional cable network, including wireless (both licensed and unlicensed), cybersecurity, network function virtualization (NFV), optical technologies for access networks, and the application of artificial intelligence (AI) and machine learning to network management and orchestration. To be successful, CableLabs recognizes that, in these areas beyond traditional cable technology, it must engage and work with the broader technology community to drive advancements. This effort is visible through CableLabs' deep commitment to leading and contributing to standards organizations, industry consortia, and open source efforts in these broader areas.  
Developing standards and industry specifications are at the core of CableLabs, which has been in the specification and standardization business since its inception over 30 years ago. In 1997, CableLabs released the initial version of the Data Over Cable Service Interface Specification (DOCSIS), the technology that enables broadband service to be provided over an HFC network. Standardization of the cable interface specification allowed the cable network operators to work at scale with the network equipment manufacturers to build the interoperable technology needed for cable to meet the exploding demand for broadband Internet access.
Ever since, CableLabs, along with its members and the vendor community, has continued to advance DOCSIS technology. Cable operators today have largely moved to DOCSIS 3.1 technology, enabling the availability of gigabit-speed broadband across nearly the entire cable footprint in the US, and driving towards a "10G" network capability. As cable has broadened its focus, CableLabs has responded by broadening its standards efforts and industry engagement.
Improving Wi-Fi and Enabling 5G through Wireless Standards Engagement
CableLabs contributes significantly to almost a dozen different standards organizations to improve wireless connectivity through standardization related mechanisms. Our work is not restricted to improvements in the traditionally separate spheres of in-home and mobile wireless and includes work toward a seamless network convergence for the future. Along those lines, CableLabs is engaged in the O-RAN Alliance, where we are leading an effort to establish an open virtualized RAN ("radio access network") fronthaul specification which will allow for low-cost small cells with DOCSIS network backhaul.
At 3GPP, CableLabs is driving the Wireless-Wireline Convergence (WWC) effort to make the operation, management, and traversal of 5G wireless networks and 10G DOCSIS networks more seamless. CableLabs is also working to bring consumers a faster and safer in-home network experience through a next-generation adaptive security platform, CableLabs ® Micronets, which enables enterprise-level smart security at home. Beyond making home networks safer, we're working to make them more powerful; exhibited by our role in achieving recent milestones with carrier-grade Wi-Fi certification through the Wi-Fi Alliance's VantageTM and launch of the new EasyMeshTM certification program.
Driving Increased Performance of Optical Technologies in the Access Network through Broad Industry Collaboration
As cable drives its fiber infrastructure deeper into the HFC network, CableLabs has developed new technology for use of fiber in the access portion of the network and has promoted standardization of such technology. We are involved at several global standards development bodies—including IEEE, ESTI, O-RAN, and SCTE where we work to level-up all aspects of the fiber network. These efforts combine our internal specification development— work (such as Coherent Optics specifications) with broad industry collaboration in order to deliver dramatic improvements to the access network across all areas. This means that while working toward ever faster speeds through developing the next generations of PON protocols, the whole network ecosystem needs to be addressed, which includes innovation in network operations with projects such as Proactive Network Maintenance (PNM).
Building a Common, Secure, Foundation for IoT Devices of the Future
CableLabs envisions a future empowered by technologies that improve our lives—a future where augmented reality (AR)/ virtual reality (VR) head-mounted displays, video walls, AI-enabled media, ubiquitous Internet of Things (IoT) devices, light field holodecks and displays (as seen in our latest Near Future video) are just the beginning. However, in order for AR/VR devices to be populated with high-quality content, for video walls to connect seamlessly, or for our IoT devices to assist us securely, we will first need high-quality, secure, industry-driven standards on which the technology and applications can be built. This belief has led to our involvement in the Open Connectivity Foundation (OCF), an industry effort to develop a secure interoperability specification for IoT.
Catalyzing the Future of Immersive Media Experiences
Recognizing the importance of building consensus throughout the ecosystem, even beyond the broadband network, CableLabs is significantly involved in and contributing technical expertise toward a number of emerging technology areas, including significant projects in video, VR/AR, and immersive media. Essential to the actual adoption of standards, we recently played a founding role in establishing Media Coding Industry Forum (MC-IF) to address patent licensing of future MPEG codecs. In addition, we announced a new collaboration called IDEA (Immersive Digital Experiences Alliance) to establish and promote end-to-end delivery of immersive content, including light fields, over broadband networks.
To learn more about our work in standards, open source, and industry consortia please see our members-only (login required) Standards Strategy Update (April 2019) on current engagements.
Inform[ED]™ Wireless Tackles Spectrum Policy with FCC Commissioners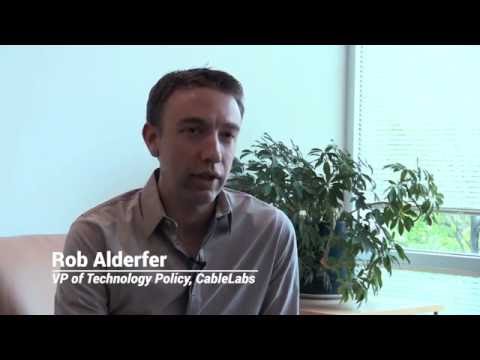 Last month in New York, CableLabs hosted its inaugural Inform[ED] Wireless conference, where we gathered leaders and luminaries to chart the evolution of wireless networks. Consumers' appetite for wireless continues to grow, and fixed networks - like cable and its Wi-Fi assets - become ever more important to satisfying their needs.
The program was holistic, touching on business strategy, technology, and of course policy, which is fundamental to the future of wireless. Spectrum is the key enabler of our wireless future, and we were fortunate to hear what the FCC has in store from Commissioners Jessica Rosenworcel and Michael O'Reilly, in a conversation facilitated by NCTA Executive Vice President James Assey.
Unlicensed Spectrum, Past and Future
Commissioner Rosenworcel began by grounding the group in some history, noting that Wi-Fi as we know and love it today is, essentially, a happy policy accident. In liberalizing the 2.4 GHz frequency band for wider unlicensed uses in the 1980s, the FCC could not imagine the industry-driven innovation that would take place in what were then considered 'junk bands'.
Now that Wi-Fi has become consumers' on-ramp to digital opportunity, the FCC is much more intentionally building on that success. Commissioner O'Reilly noted the substantial opportunity to usher in next-generation gigabit Wi-Fi by opening new bandwidth in the critical 5 GHz frequency band. A portion of 5 GHz is used by Wi-Fi today; by expanding the spectrum available there, consumers would win big through improved broadband speed and capacity.
To make that happen, the FCC is considering how Wi-Fi should share spectrum with another service, known as Dedicated Short Range Communications (DSRC). DSRC received a 5 GHz spectrum allocation in 1999, and is envisioned by the auto industry to provide vehicle-to-vehicle communications. Since it has not yet been deployed, it is the perfect time to determine spectrum sharing regime.
CableLabs has written on this topic, providing the technical foundation for the progress that is possible here, just as we have driven forward Wi-Fi spectrum opportunities previously. Working together, with outspoken leaders like the Commissioners Rosenworcel and O'Reilly, we should be able to turn that possibility of progress on 5 GHz into reality.
Growing the Pie Through Sharing
There are no easy wins in spectrum policy. As demand for wireless grows across sectors and services, sharing the spectrum more efficiently becomes increasingly important. By enabling more dynamic use of the spectrum – particularly in frequencies used by the Federal government, according to Commissioner O'Reilly – we can grow the pie for new uses, instead of trying to carve up smaller, unsatisfying slices.
Commissioner Rosenworcel noted that the FCC is moving forward with an approach that would do just that. In the 3.5 GHz frequency band, new commercial uses will be enabled later this year, which will share the spectrum with U.S. Naval radar systems through a database-driven access architecture. When the Navy isn't sailing nearby, consumers will be able use the spectrum.
CableLabs is doing research in this area under an experimental license from the FCC. We are also helping to build the all-important access database architecture through the industry body that is leading the effort, known as the WinnForum.
To the Next Frontier
There is much buzz in the industry about '5G' – the next generation of mobile technology – which is likely to use spectrum in higher frequencies than have been typical to date. These are the 'spectrum frontiers', where no mobile system has yet ventured, but will be integral to network densification and capacity augmentation, and will drive fixed/mobile convergence.
Commissioners O'Reilly and Rosenworcel both expressed a desire for the US to take a leadership role in 5G development, which the FCC will assist by making new 'spectrum frontiers' available – including the 28 GHz, 37 GHz, 39 GHz, and 60 GHz bands – as early as this summer.
Research in this area is progressing apace, and 3GPP, the mobile standards body in which CableLabs participates, is beginning to specify the details of what 5G will look like. But ultimately, progress toward 5G will depend on spectrum availability, in the US and abroad. The International Telecommunications Union is gearing up to address this in 2019. By the sound of it, the FCC will be well down the path toward these new frontiers by then.
Non-traditional Stakeholders in 5G Network Developments
With the growth of mobile data consumption, the mobile industry is embarking on its next evolution of technology, dubbed 5G referring to fifth generation mobile networks.  The global wireless community has high expectations from 5G networks in terms of end user experience.   Goals include achieving lower latencies and increased capacities by at least one order of magnitude in addition to radically new use cases for the technology.
3GPP, the standard development organization (SDO) that drives mobile wireless standards development, has been leading global efforts for the first four generations of wireless networks. The developments in 3GPP have focused on addressing the requirements of mobile networks who have been the primary beneficiaries of these technology evolutions.
CableLabs Participates in 3GPP Discussions
CableLabs has been actively involved with 3GPP because 5G networks will require tighter integration between fixed and mobile networks.  The cable industry will play a role in the success of 5G network deployments.
More than half of the global vendors, mobile network operators and research entities who contributed to the 3GPP RAN 5G Workshop in September 2015 indicated that an efficient M2M/IOT support, coexisting with other forms of high capacity traffic, are expected to be a major use case for 5G networks.  Specifically, CableLabs' contribution to the this meeting outlined a "one user, one network" paradigm which allows the user to seamlessly roam between the fixed/pedestrian home/office environment and outdoor mobile environments.      Additionally, it is crucial that the cable industry be involved, given the criticality of 10+ Gbps  backhaul support of 5G.
Examples of M2M/IoT use cases that are expected to bring non-traditional players to the 5G development table span:
Small appliances vendors
Local, provincial and federal/national governments, employing different security, traffic and city wide monitoring operations
Car manufacturers
Utilities (water, hydro, gas)
Industries employing sensor nodes on a large scale (energy, chemical etc)
The vast majority of the participants expected that the spectrum expansion into millimetric wave-bands is expected to be the main focus of 5G development.
The Advantages of 5G
In addition to the large bandwidths (1-4 GHz) made available in the new FCC  allocated cm/mm spectra, 5G networks are expected to make effective use of large hybrid beam-forming / MIMO technologies, new modulations and coding schemes. Harnessing these technologies will allow the 5G base stations to transmit in multiple Gbps.  This level of performance will require significant backhaul capabilities.  For example, technologies like Coordinated MultiPoint can optimize the inter-cell interference at the cell edge and improve a user's throughput. In return, such an implementation would require the backhaul/fronthaul to carry 10+ Gbps of data, at very low latency.
The cable industry, with its deep fiber and HFC networks capable of supporting large capacities, is well positioned to leverage 5G technologies and drive a new level of mobile experience.  In return for the "one user, one network" environment,  requirements might include:
A re-usable access network (between the fixed and wireless networks)
A distributed core network capability such as the example shown in Figure (1).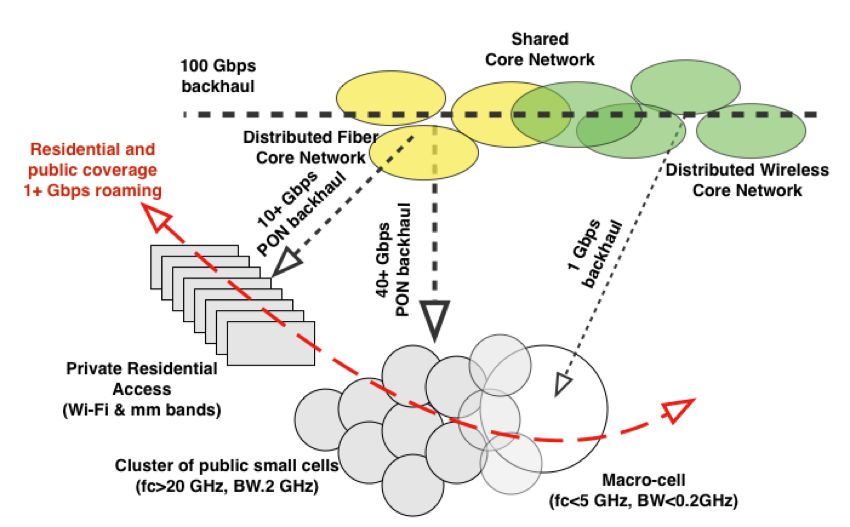 Figure 1. Example of a distributed core network architecture backed by a re-usable access network.
All of the above point to the fact that 5G networks will require multiple stake-holders closely collaborating to deliver the targeted promises of 5G.  This collaboration could be across various areas such as the convergence of fixed and wireless networks, and efficient support of M2M/IOT use cases.
Based on the above, for 5G networks to be able to deliver the targeted requirements across various industries, it is reasonable to expect changes in the technology development landscape of 5G in comparison to previous generations of mobile wireless standards. Traditional mobile industry players will need to work hand in hand with non-traditional players in the development of 5G networks' technologies and standards.  For these reasons, CableLabs is contributing to the ongoing formation of 5G network architectures.
Attend our Inform[ED] Wireless Conference to Learn More
We will be continuing the discussion of the role that the cable industry will play in 5G networks' future at our Inform[ED] Wireless Conference in New York City on April 13.
Dorin Viorel is a Principal Wireless Architect at CableLabs.
Belal Hamzeh, VP of Wireless Technologies, CableLabs, also contributed to this article.
Harmonizing NFV Information Modeling Through Industry Collaboration
Last week CableLabs hosted a ground-breaking industry workshop to encourage harmonization of Information Modeling for network function virtualization. The event was organized by the ETSI NFV Industry Specification Group and brought together the leading Standards Development Organizations (SDOs) and Open Source communities. Participating organizations included 3GPP, ATIS, Broadband Forum, DMTF, ETSI NFV, IETF, ITU-T SG15, MEF, OASIS/TOSCA, Open Cloud Connect, ONF, OpenDaylight, OPNFV and TM-Forum. Over 90 of the world's key experts participated.
Each organization outlined its work on information modeling and its relevance to the NFV goals. A collaboration plan was agreed to address the challenges and opportunities identified with a goal of achieving harmonization by the end of this year. CableLabs will be actively involved in this collaboration effort via our leadership roles in ETSI NFV and open source communities.


Some of the participants in the workshop
What is the benefit of NFV information modeling harmonization?
Harmonization of NFV information modeling enables consistent and open APIs for efficient evolvable integration across the entire ecosystem including software defined networks (SDN) and NFV. The motivation for NFV is to realize significant business benefits including rapid service deployment, CAPEX/OPEX reduction, service elasticity, and multi-vendor inter-operability. It is very important to ensure end-to-end network service automation because different groups own different parts of the overall model leading to the potential for fragmentation and increased complexity if automation cannot be applied efficiently and without manual intervention.
Service providers need to deploy the software on top of a distributed cloud environment as their end goal and timeline is important. To accelerate NFV realization and demonstrate model validation through the whole lifecycle management of virtualized network functions (e.g. virtual CPE), it will be helpful to collaborate with open source communities.
What is CableLabs doing in this space?
CableLabs has been working in the open networking and virtualization space for about three years and we have a number of NFV and SDN R&D projects in progress on behalf of our cable operator stakeholders. In particular, we are working on information models and data models for virtualizing the Converged Cable Access Platform (CCAP) and customer premises equipment (CPE). We are also looking at how virtualization can be applied in the home network to simplify operations, reduce costs and improve customer experience. As part of those projects, we have a number of our own developers actively developing prototypes which we are contributing to open source projects such as OPNFV and OpenDaylight.
The vendor-agnostic, non-profit environment at CableLabs is unique and ideally suited to collaborative R&D, especially open source development. We have implemented software-based network platforms at our Sunnyvale and Louisville locations and we will continue to be actively involved in both open source communities including OPNFV and OpenDaylight, and the ETSI NFV through our R&D activities and vendor-neutral testing.
Tetsuya Nakamura is a Principal Architect in the Strategy and Innovation Group at CableLabs.
Can LTE-U Forum Specification Provide Fair Coexistence?
At CableLabs, we have been deeply engaged in ensuring that Wi-Fi and other technologies continue to thrive as LTE mobile technology is newly brought in to unlicensed spectrum. We have participated in the international standards process at 3GPP, and we are glad to say that there has been some progress by that body to lay the groundwork for reliable coexistence with Wi-Fi.
But unfortunately, when it comes to development of LTE-U – a different form of unlicensed LTE being developed outside of international standards for the US market – we haven't been in the "club" -- and a small club it is. Back in 2014, Verizon created the LTE-U Forum along with Alcatel-Lucent, Ericsson, LG Electronics, Qualcomm, and Samsung. The goal of this ad-hoc group is to develop a form of unlicensed LTE, using different, and lesser, coexistence features than are required to protect European and Japanese broadband consumers.
Let's recap: We know that there are different approaches to enabling LTE in the unlicensed band. Licensed-Assisted Access (LAA) is the version that the cellular industry standards body (3GPP) has been working on for the past year, and is nearing completion. Its coexistence measures start with the most fundamental coexistence procedure, "listen before talk", or LBT. LBT refers to the 20+ pages of very specific algorithmic channel access contained in the nearly 3,000 page IEEE standard for Wi-Fi, which ensures that diverse users of shared spectrum do not talk over one another, and that all have equal and fair chance of accessing the spectrum. Many companies with a stake in the ground are participating; work is currently going on at the 3GPP to attempt to achieve a consensus-driven, fair coexistence protocol. Though work remains in the final stretch to realize win-win outcomes, it appears that 3GPP is headed toward adopting Wi-Fi-like coexistence features, as the IEEE urged at their recent presentation to the group in Beijing. If realized, that would ensure compatibility between LAA and Wi-Fi – at least in Europe and Japan. We welcome the collaborative process within 3GPP, and would encourage active collaboration with outside stakeholders as well, since this is shared unlicensed spectrum, after all. In particular, 3GPP should work more closely with the IEEE in order to ensure the 3GPP LAA specifications incorporate fair coexistence when completed.
In contrast, LTE-U, the non-standard US version, is taking a wholly different approach – both in process, and in substance. LTE-U is being developed outside of the 3GPP standards process, even though the same companies in the LTE-U Forum are also active in 3GPP. And it is taking an entirely different approach to coexistence, using a carrier-controlled on/off switch known as "duty cycling" instead of reliably fair listen-before-talk. Here, LTE turns on to transmit for some time determined by the wireless carrier, then switches off for some period of time, again determined by the carrier. It is during this "off" period that other users such as Wi-Fi can have the chance to access the channel, illustrated in Figure 1.

Figure 1
Earlier this year, the LTE-U Forum published a set of technical reports and specifications, including a document known as the "coexistence specification" (SDL Coexistence Specification v1.2, henceforth referred to as the "coexistence spec"), which governs the behavior of LTE-U. One might expect that the coexistence spec would contain requirements consistent with the various features that the LTE-U Forum has talked about on numerous occasions, such as their July presentation to the IEEE, or their recent letter to the FCC. But unfortunately, it contains none of this detail.
This is confusing, since we hear so much from LTE-U Forum companies about specific features that they envision and tests that have been run against parameters that they desire. So, to make things clear, Figure 2 below was taken directly from the LTE-U Forum spec, and contains the entirety of the coexistence requirements for LTE-U.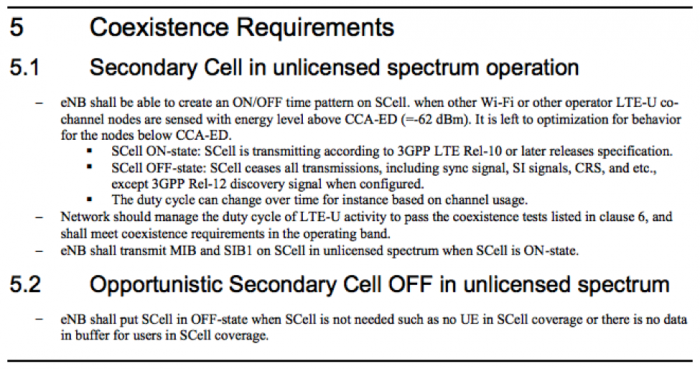 Figure 2
 LTE-U Forum coexistence requirements simply entail an ability to duty cycle when it senses other operators are present. There is no requirement to share fairly in time, to avoid interrupting Wi-Fi transmissions mid-stream, or to adapt to different levels of Wi-Fi usage and traffic. And note that, in the 'off' state, LTE-U may still send discovery signals that can also interfere with Wi-Fi.
The LTE-U Forum coexistence specification does contain several test cases that envision configurations that are more specific. They are limited, however, and fail to reflect the range of circumstances in which LTE-U will be deployed, such as crowded street corners. But more importantly, these test cases in no way dictate how LTE-U will actually be deployed in the market, since that is how loosely the coexistence requirements are written. To quote directly, "Network should manage the duty cycle of LTE-U activity to pass the coexistence tests…". It should. But it apparently isn't required.
To ensure fair coexistence, the test cases should verify the amount of Wi-Fi performance impact due to LTE-U is limited and fair, based on the traffic demands on the channel. A few test cases check for Wi-Fi performance to be ≥ 4Mbps. But let's be realistic, the 4Mbps performance target rather lowballs what Wi-Fi can do today. The latest generation of Wi-Fi is designed for gigabit speeds.
There are no requirements for determining or limiting duty cycle parameter values, and no rationale or method indicated to select these duty cycles in the test cases. Instead, the specification leaves the configurability of the duty cycle parameters to the discretion of the network operator or vendor, and an LTE eNodeB (the base station used in LTE networks) can pass the coexistence evaluation if it can simply show that it can manage the duty cycle. Consequently, whoever gets to control the duty cycle effectively controls the use of the channel. Now how is that for fairness?
We Need "Listen-Before-Talk"
The premise of LTE-U à la LTE-U Forum is to duty cycle the LTE in unlicensed bands in order to coexist with Wi-Fi. The fundamental problem here is that LTE-U does not "listen before talk," a most basic politeness protocol; instead, LTE-U "listens and talks anyway" regardless of whether somebody else is talking or not. Put another way, once the LTE-U node determines the duty cycle parameters, the coexistence spec allows the node to transmit uninterrupted for an undefined period of time regardless of other network traffic on the channel.
There seems to be consensus all over the world that LBT is a fundamental coexistence requirement. The cellular industry itself (3GPP) has explicitly rejected non-LBT based approaches to the LAA standard, and regulations in the EU and Japan require LBT.
CableLabs encourages the LTE-U Forum to follow the 3GPP's lead. The open standards development process has been successful in vetting new innovations and producing broadly supported solutions. True collaboration with IEEE and others will ensure that the unlicensed bands can continue their successful framework of self-regulation. Shared spectrum requires shared responsibility. The Wi-Fi industry is working to ensure unlicensed LTE is developed in a manner that maximizes use of spectrum and ensures win-win outcomes for consumers. Our goal is to continue the progress of wireless broadband, in all its forms.
Bernie McKibben, Distinguished Technologist, and Rob Alderfer, VP Technology Policy also contributed to this article.
Jennifer Andreoli-Fang is a Principal Architect at CableLabs.