Technology in Your Everyday Life: Why You Should Pay Attention to Innovation
If you were around 30 years ago, you may recall using a payphone, writing a check, or strolling down the street with your Walkman. All of those conveniences of 30 years ago don't seem all that convenient today. In just three decades, the span of CableLabs' entire existence, we went from analog to digital, from payphones to smartphones, from libraries to the internet. Now we wake up every day ready for the next big thing.
While you may get excited about the latest new device or app you probably don't give much thought about what lies behind the next big thing. So long as the device or app works why should you care?
Reason #1: Cybersecurity
Like it or not, your life is online. This comes with many benefits, like convenience and accessibility, but also a few risks.
When CableLabs was formed in 1988, a huge chunk of our innovation efforts focused on television and improving the viewing experience. Fast forward to today: your TV is now connected to your network, just like your phone and a myriad of other smart devices you can't live without. Many of them have digital eyes and ears, a.k.a. cameras and microphones, that aren't secure. That's why a lot of our work today centers on cybersecurity. Whether you're streaming a YouTube video or making an online payment, it's very important to use secure devices.
Cable operators have a long history of successfully defending against attackers seeking to steal your service, customer data and video content. We've enabled cable-based security technologies to be leveraged in the wider internet ecosystem, including in Wi-Fi hotspots, smart grid devices and medical communications through our subsidiary Kyrio. The cable industry also provides broad-based technology thought leadership on security through substantial contributions to the Internet Engineering Task Force (IETF), the Messaging, Malware and Mobile Anti-Abuse Working Group (M3AAWG), Wi-Fi Alliance and the Broadband Internet Technical Advisory Group (BITAG), among other leading technical bodies.
Reason #2: Networks
You may not realize it, but bandwidth and network speed have become just as important as your other utilities. You can't have the next big thing without them.
Just like we don't care about electricity unless the lights go out, we don't pay attention to how much data we use until it's gone. We download and upload all day long without giving it much thought unless there is congestion somewhere on the network. As new bandwidth-hungry technologies, such as VR/AR, AI, and autonomous vehicles, become more mainstream, the demands on network bandwidth will increase. One of CableLabs' main focus areas is building better and faster networks capable of supporting these new and future technologies.
Reason #3: Sustainability
Technology and its byproducts affect our planet, so how we innovate and use technology is just as important as the benefits it provides.
Recycling is great, but we can all do more. CableLabs' unique position within the communications industry gives us an opportunity to drive policy priorities that focus on greener, more energy-efficient products. Through technological development and voluntary energy agreements with manufacturers, our industry has achieved rapid energy efficiency gains—proof that we can drive sustainability. That's great for business and even better for our planet.
These are just a few of the many reasons to stay on top of technology and innovation trends. We've been doing it for the last 30 years! Please watch our Near Future videos and click below to visit our 30th Anniversary site to learn more about CableLabs and how our technology affects your everyday life.
5 Things You (Probably) Didn't Know About CableLabs
No matter if you work for or with CableLabs (or just thinking about it), we bet there are some things on this list that'll impress you.
Half a billion individuals (and counting) use CableLabs' technology every single day.
Over the last 30 years, CableLabs has been releasing a steady stream of innovative technologies into the world. Today its projects span multiple industries, everything from medical equipment to cybersecurity to VR gaming and beyond, so chances are you or someone you know is using CableLabs technology. Not bad for a 30-year-old company.
Today, 345 million homes are serviced by cable technology. Guess how many homes had cable in 1988 when CableLabs was formed? Check your answer here.
The modem in your house probably has Cablelabs' stamp of approval.
Remember the dial-up days when your internet browsing sessions were routinely halted by someone picking up the house phone? You can thank CableLabs for rescuing you from that particular loop of disappointment. CableLabs' DOCSIS® specifications have helped the industry develop cheaper, reliable and way more convenient cable modems that most of us have in our homes today. In fact, nearly 2.3 billion DOCSIS cable modems were shipped since 2000.
Do you know the year the first DOCSIS specification was launched? Find the answer here.
Without CableLabs, you probably would still be stuck watching the same 10 channels.
Most people agree that the current variety of 500 or so digital cable channels is nice to have. This wouldn't be possible without MPEG, the digital video encoding standard, enabled by CableLabs in 1996 and still used today. It allowed broadcasters to put 20 channels inside of one, so in a way, you can thank CableLabs for your channel surfing habits.
CableLabs won an Emmy for DOCSIS.
Did you think the red carpet is rolled out only for the Hollywood elite? After the release of DOCSIS 3.0 in 2010, CableLabs won its first Technology & Engineering Emmy Award for enabling "the delivery of television via broadband data systems." And that's not all. Many cable companies are planning to launch Full Duplex DOCSIS 3.1, the latest iteration that allows the use of the same spectrum for upstream and downstream traffic at the same time, by 2020.
CableLabs is in the matchmaking business.
Over the years, CableLabs has helped transform the cable industry from video entertainment to broadband, digital delivery, wireless and fiber technologies. But it doesn't have a monopoly on great ideas. Through unique programs like UpRamp, CableLabs can now seek out innovative startups and put them in touch with their bigger, more established counterparts to help bring more state-of-the-art technologies to market. Since the start of the program, CableLabs has introduced over 500 startups to the cable industry.
Unlike any other company out there, CableLabs splits its budget between R&D and long-term innovation. Find out why here.
For a more complete look at CableLabs' history, be sure to click below and check out our brand new 30th Anniversary. It chronicles CableLabs' contributions to the industry and offers a glimpse of what's to come.
A Journey Back in Time: CableLabs 30th Anniversary Documentary
It's our 30th anniversary and half a billion people have a reason to celebrate with us—that's how many people depend on our technology every single day. But since we can't throw a party for that many people, we've decided to put away the confetti and celebrate another way—by creating a documentary about CableLabs that we can all enjoy and share with the world.
Since CableLabs first opened its doors in 1988, we have always looked ahead, trying our best to predict the world's technological destiny. This documentary gave us an opportunity to take a look back at how we got where we are today. In the process, we spoke to many individuals whose lives were touched by CableLabs throughout the years, including some of the former and current members of the senior leadership team. We hope their stories inspire a new generation of technologists and innovators who are working on shaping the future at this very moment.
We hope you enjoy our documentary as much as we enjoyed making it.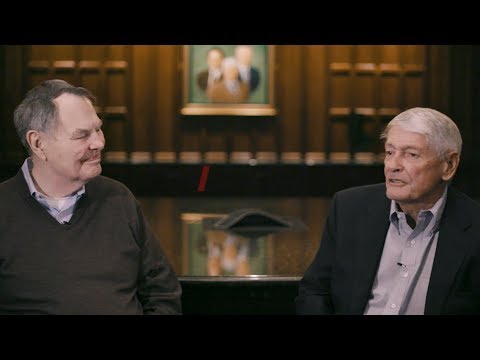 Big thanks to the folks who took the time to share their memories with us. Our documentary would not have been possible without them.
Click below to find out more. 
CableLabs is Celebrating the Big Three-O
Happy anniversary, CableLabs!
Thirty years is a respectable milestone. So what makes it so special? While gathering material for the CableLabs anniversary site, we were fortunate to spend some time with the people who know it best— its founders, employees and members. Their leadership helped grow CableLabs into a global innovation powerhouse and laid a strong foundation for its future. Let's look at the last 30 years through their eyes.
The CableLabs Pitch
Dick Leghorn came forth and said, "Look, this is silly. We've got an industry where proprietary standards are largely driven by manufacturers and suppliers, who are making it subscale."
– Dr. John Malone, Founder, CableLabs
In 1988, the cable industry was experiencing a rapid, but poorly controlled growth. At one point there were 11,000 cable providers dividing the country into tiny markets. While the bigger players may have been able to afford some R&D work internally, the little guys didn't stand a chance. If cable were to remain competitive against telcos and broadcasters, something needed to be done. CableLabs provided a way to plan and fund critical R&D projects and bring together the scale needed to drive the industry standards. Plus, it facilitated the transfer of relevant technology to its member companies. This kind of collaboration was unheard of in the United States and a critical turning point for the cable industry.
Defining and Driving Industry Standards
"It started with the agreement that we would all get together and use a digital compression standard and that CableLabs guys would be defining and driving that standard. We were really, at that point, taking over television technologically in America."
– Dr. John Malone, Founder, CableLabs
The nineties brought in a tsunami of innovation. Breakthroughs like hybrid fiber coax boosted Cable's bandwidth capacity and laid the groundwork for the expansion of the internet. Around the same time, compression technology came into play. Suddenly, cable companies could put 20 channels inside of one, bringing the total number of channels to a whopping 500! CableLabs was instrumental in defining and driving MPEG, the video encoding standard still used around the world. This marked a pivotal point in time when broadcasters finally conceded technological leadership to CableLabs.
Bringing the Industry Together Like Never Before
"CableLabs pulled the industry together—the vendors and the operators—and came up with a standard, the DOCSIS standard, that really drove us to be able to scale our cable modem business."
– Nomi Bergman, Former Member of CableLabs Board of Directors Technology Committee, Former President of Bright House Networks
Before DOCSIS (Data Over Cable Service Interface Specification), cable modems were launched in a proprietary fashion, lacking the scale to make them affordable to the average consumer. DOCSIS changed all that. It was a true shining moment for CableLabs. Not only did DOCSIS help bring the scale and the price of cable modems to where they needed to be, it turned the cable industry into a digital machine. This would not have been possible without the kind of collaboration CableLabs facilitated.
Adapting to Change
"The meeting that really turned the industry, in my opinion, was the one with Bill Gates. Bill had told us that he was ready to have me drag people up there [Silicon Valley] and tell them that he could build a digital set-top box that would fully comply with the standards that we were looking for in volume for under 300 bucks."
– Dr. John Malone, Founder, CableLabs
As the industry matured, skeptics emerged. Cable could not wait any longer—it needed to make a digital set-top box. There was just one major hurdle: the price. Today, $300 seems like an astronomical number, but back then, creating a digital box at this price was a herculean task. Most manufacturers quoted double this amount. Despite the sticker shock, CableLabs heeded Gates' advice and moved ahead with the project. Microsoft's involvement gave cable the additional credibility it needed to transition to digital delivery and quiet the skeptics for good.
Bringing Everyone to the Table
"One of the more memorable CableLabs meetings was about 15 years ago. Ted Rogers, then the CEO of Rogers, was telling us with great passion that it was critical that every operator in this room embraced wireless and got into wireless. I really do think he might've stood up on the table. I caught that bug from Ted Rogers and had been passionate about it ever since."
– Nomi Bergman, Former Member of CableLabs Board of Directors Technology Committee, Former President of Bright House Networks
By providing a platform for lively discussion, CableLabs was able to facilitate collaboration among a wide range of member companies of different size, interest, scale, and circumstance. Some of them hardly did anything technical without consulting CableLabs or collaborating with other industry members through CableLabs. This exchange of ideas and knowledge was and still is instrumental to CableLabs' success.
Spreading Out to Other Industries
"Kyrio's mission is to help expand and bring the technologies of CableLabs to other industries. We've worked with the smart goods industry. We've worked with the medical industry. We've worked with IOT lighting manufacturers. As the technology evolves, we will continue to bring our expertise and our knowledge to those other industries as well as cable."
-Mitch Ashley, President & GM, Kyrio
As a nonprofit, CableLabs' main purpose is to serve the interests of its members within the Cable industry. But a few years ago, CableLabs' leadership decided it was time to think bigger. The launch of Kyrio marked a monumental shift in strategy, allowing CableLabs to take its innovations and expertise to other industries beyond cable. It provided a path to commercialization and quick deployment of cutting-edge technologies that impact millions of lives all around the world.
So, why is CableLabs special?
In the words of John Malone, "CableLabs is a unique animal." Not many companies are able to respond and adapt to rapid change while still staying true to their mission. Even fewer can serve the interests of an entire industry and unify it in a way CableLabs has. Over the last 30 years, CableLabs has solidified its reputation as the engine of innovation. Let's keep this engine running for the next 30 years and beyond.
To learn more about CableLabs' history and its impact on billions of people around the world, please visit our 30th Anniversary website.
A Letter to our Members on our 30th Anniversary
Dear CableLabs Members,
Beginning this week and throughout the rest of this year, CableLabs is celebrating 30 years of innovation and we wouldn't be here without you.
On June 9, 1988, John Malone sent a memorandum to all U.S. cable operators inviting them to be founding members of Cable Television Laboratories, Inc. with the following objectives:
To provide a central source of timely, evaluated information about technical developments of interest to the industry
To plan and fund critical R&D projects that are likely to be supported only on a cooperative basis, and
To facilitate the transfer of relevant technology to member companies and suppliers to the industry.
In a memorandum written 30 years ago, Malone outlined the need for a Cable Industry R&D Consortium, saying:
"The cable industry needs a sustained, long-range, integrated R&D effort to exploit technological opportunities, to avoid being overwhelmed by technological challenges, and to attract supplier initiatives to cable's needs in the face of competing demands. This kind of strategic R&D must be supported on a cooperative basis because no single company can fund a comprehensive R&D effort. In addition, the industry needs a central clearinghouse for monitoring, evaluating and reporting current and prospective technological issues."
In the 1990s, we developed technology that is now instrumental for the Mobile LTE industry. Fifteen years ago, we were laying the groundwork for technology that now enables high-speed fiber around the world. For three decades, we've shaped the conversation around technology, from strategy and innovation to policy and industry standards. From DOCSIS, Coherent Optics and facilitating the MPEG standard to developing more secure networks around the world, we work on technologies that have become the bedrock for the entire industry.
After 30 years of research, development and innovation we have already created technology required to support people and networks years from now. Through our innovation funnel, we will continue to identify needs ahead of the market to help create technology that not only disrupts the industry but becomes the foundational basis for the future.
Over half a billion people are touched by CableLabs technology every day.
More than 200 patents have been granted to CableLabs employees.
Over 50% of U.S. households have at least one CableLabs technology in their home today.
Over 500 startups have been introduced to the cable industry via CableLabs' accelerator UpRamp. 
CableLabs subsidiary, Kyrio, works with some of the world's largest companies and provides exclusive access to the newest technologies in R&D, innovative ideas, product testing and competitive intelligence.
Over 700 million devices are now sporting the CableLabs logo
When CableLabs started in 1988 the World Wide Web was just a concept, cell phones were the size of bricks, the first T1 backbone was added to ARPANET, MS DOS 4.0 was released, Linksys was founded, personal computers had found their way into about 15 percent of U.S. households and CompuServe dial-up started at about $6 per hour for 300 baud rate.
What are things going to be like in 30 years? Nobody really knows, but our job at CableLabs is to conceive and design the future. The work we do has global impact, not just for our members but for the lives of their customers. We are researchers, scientists and innovators who are looking to the future and collectively we are a key piece of the fabric of society.
With participation and collaboration from our members, we're looking forward to shaping the future of the industry in the next 30 years and beyond. To our 60 members across the globe, thank you for being a part of the CableLabs team. 
Click below to read more about our global impact.