New Release of Wi-Fi Certified Vantage™ Continues to Improve the Wi-Fi User Experience
Wi-Fi CERTIFIED Vantage™ is a certification program created within the Wi-Fi Alliance® that makes it easy to select devices that provide an enhanced Wi-Fi experience in managed Wi-Fi networks. The latest release is now available (as of September 2020). This is the culmination of over a year's worth of collaboration within the Wi-Fi ecosystem under CableLabs' leadership that delivers feature-rich devices to improve Wi-Fi user experience.
The primary goal of the Wi-Fi Vantage certification program is to provide a more reliable and higher-performance user experience than unmanaged best-effort Wi-Fi networks can provide. The Wi-Fi Vantage certification program designates a highly developed set of Wi-Fi technologies optimized for managed Wi-Fi networks that directly address Wi-Fi managed network operator needs.
Wi-Fi Vantage bundles pertinent Wi-Fi Alliance certifications that improve overall network performance, deliver the latest in Wi-Fi security and encryption standards, and alleviate congestion on mobile data networks. Wi-Fi Vantage delivers a more reliable and consistent connectivity experience for users when they're establishing network access, onboarding devices, accessing services and traversing Wi-Fi networks.
Wi-Fi Vantage will continue to be available for Wi-Fi 5 generation devices, and Wi-Fi Vantage certification for Wi-Fi 6 will now include advanced features: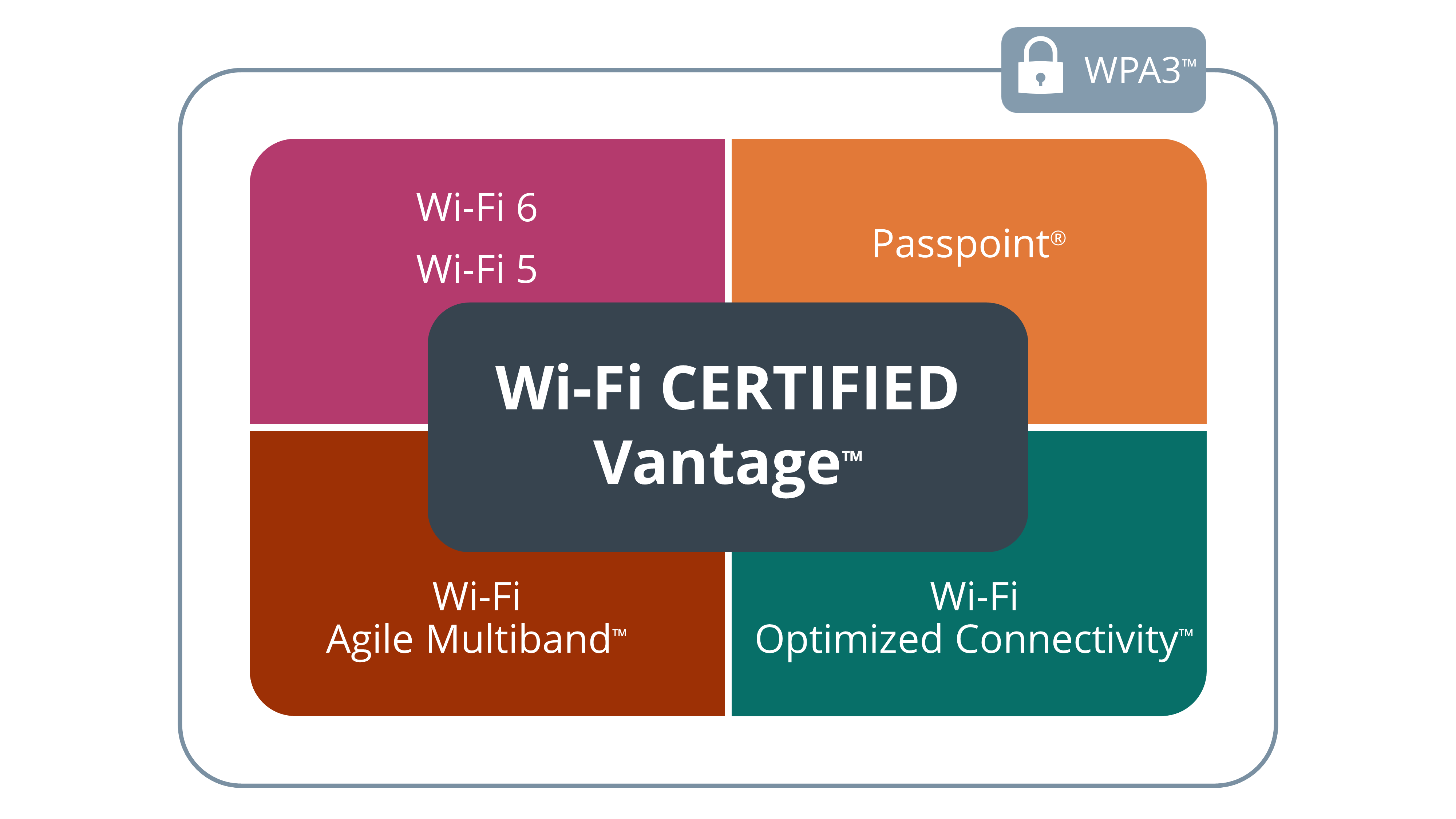 Source: Wi-Fi CERTIFIED Vantage™
Vantage Evolution
The newest generation of Wi-Fi Vantage Release 3 includes newly developed IEEE 802.11 features and state-of-the-art Wi-Fi technology that can be used in a broader base of operator-managed environments, including public, residential and enterprise. Vantage Release 3 adds Wi-Fi 6, Wi-Fi and WPA 3, and Enhanced Open certifications that deliver higher data rates, less congestion, more user capacity and superior security.
Wi-Fi Vantage will continue to evolve incorporating the latest technologies, giving users the most enhanced Wi-Fi experience available. Each new generation of Wi-Fi Vantage devices will provide improved device performance and reduced network connection times when customers access managed Wi-Fi networks.
As Wi-Fi data usage and user applications continue to grow, those factors introduce strain on the Wi-Fi network that impacts user experience and Wi-Fi network operation. Strains such as maintaining connection, reliable service delivery and spectrum interference/management are some of the common challenges Wi-Fi operators are trying to overcome.
The collective feature set of Wi-Fi Vantage was built to address these strains. For example, the Wi-Fi Vantage features of enhanced network discovery and advanced roaming have been trialed and demonstrated to improve performance in network connection by decreasing setup times by 76 percent and reducing management frame and beacon congestion an average of 70 percent compared with the performance of non-certified Wi-Fi Vantage devices. This is just one example of how Wi-Fi Vantage devices use unique features to overcome Wi-Fi network strains on managed networks.
Streamlined product procurement decisions
Improved network performance and resource management
Consistent coverage across network
Ability to influence client roaming behavior
AP load balancing
Latest Wi-Fi security and encryption standards
Quality user experiences
Data offload
Simpler, light or no-touch access
Secure onboarding
Faster speeds
Consistent, reliable coverage
Seamless transitions from Wi-Fi to cellular
The Wi-Fi Vantage feature set definition is driven by the operator community within the Wi-Fi Alliance that consists of Wi-Fi industry experts who have a pragmatic understanding of operator needs. A dedicated task group, led by CableLabs, was created in the Wi-Fi Alliance to address and develop certifications to meet these needs. CableLabs will continue to work with the Wi-Fi ecosystem to identify common Wi-Fi operator network strains and develop collaborative solutions in the form of standards certification.
Read more about Wi-Fi Vantage, including an animation and WFA overview papers: Wi-Fi CERTIFIED Vantage Enhancing the managed Wi-Fi network experience and Wi-Fi CERTIFIED Vantage™ Technology Overview.
Now Announcing Wi-Fi CERTIFIED Data Elements™—Inventing the Standard in Wi-Fi PNM
Last year we announced that we're working with the Wi-Fi Alliance to develop a standard for Key Performance Indicator (KPI) capture in a Wi-Fi network—now officially called Wi-Fi CERTIFIED Data Elements. Optimized and reliable residential Wi-Fi will be critical to deploying 10G and this standard addresses many of the major Wi-Fi PNM-related pain points identified by members of the cable community, such as the following:
Lack of visibility into customers' Wi-Fi networks: Often, MSOs must rely on their customers to report Wi-Fi problems after they've occurred, leading to customer dissatisfaction and retention issues.
Exorbitant cost associated with Wi-Fi troubleshooting: The cable industry wastes more than over a billion dollars per year troubleshooting residential Wi-Fi and two thirds of customer complaints are related to Wi-Fi.
Lack —or overabundance—of data: There's currently no global standard for the collection of key actionable data on Wi-Fi network performance in residential, small and midsize businesses, and operator-managed enterprise systems. Data Elements offers a data model focused on what is important for troubleshooting.
Lack of good options: Although proprietary Wi-Fi PNM solutions exist, they require deployment of costly proprietary technology on customers' equipment and are too restrictive in terms of analytic capabilities.
The Ins and Outs of Wi-Fi CERTIFIED Data Elements™
Setting Up the Platform
Now that the Wi-Fi CERTIFIED Data Elements code has been released to the open source community, anyone can use it. There's no proprietary equipment or other restrictions. Cable Internet providers can work with their vendors to get the code implemented on customers' equipment (CPEs) and certified by the Wi-Fi Alliance. Once the equipment is in place and appropriate cloud servers have been set up, providers can begin to collect and analyze the incoming data.
Collecting the Data
Due to the dynamic nature of Wi-Fi, Wi-Fi CERTIFIED Data Elements focuses on a rapid collection of a few KPIs that are responsible for the majority of customers' Wi-Fi issues. It supports scheduled and asynchronous data transmission that gives operators unprecedented visibility into customer Wi-Fi network performance without adversely affecting the quality of the connection.
Using the Data
In many cases, operators will be able detect and quickly fix Wi-Fi related issues remotely before customers even notice there's a problem—saving both time and money that would otherwise be wasted on troubleshooting efforts later on. For example, if a Wi-Fi channel in an apartment building serviced by one MSO becomes too crowded, the system will have the data to automatically recommend a better channel distribution among all the apartments, proactively improving the experience for all the residents before they notice a "slowdown" in the connection.  If a customer does report an issue, the support representative will be able to quickly pinpoint the source and offer actionable insights based on the data. For example, if the customer complains about "slow Internet," the rep will be able to detect whether there's a coverage problem in the home or whether the customer's Wi-Fi device can actually support the Internet speed he or she is paying for.
What's Next
Wi-Fi CERTIFIED Data Elements is a long-awaited solution to many Wi-Fi related issues. Not only will it significantly reduce the barrier to entry for any MSO looking to implement an effective Wi-Fi PNM system, it will also help cut troubleshooting costs and provide a better, more reliable Wi-Fi experience for residential and business customers. We are very excited about sharing this new technology with our members and vendors and are looking forward to its release later this year. Please stay tuned for updates!
Better Home Networks: How EasyMesh™ Delivers Intelligent Wi-Fi
Today, many people view Wi-Fi as an essential component in their home. However, people routinely experience connectivity issues because networks aren't capable of broadcasting their Internet signal adequately and uniformly throughout their home or business. CableLabs is working with the Wi-Fi Alliance (WFA), and its new EasyMesh™ certification program, to solve this problem and provide extended, uniform coverage throughout your entire home.
Watch our video below to learn about the benefits of Wi-Fi EasyMesh™ and how the certification program will create better home networks by bringing network intelligence to multiple access point (multi-AP) deployments.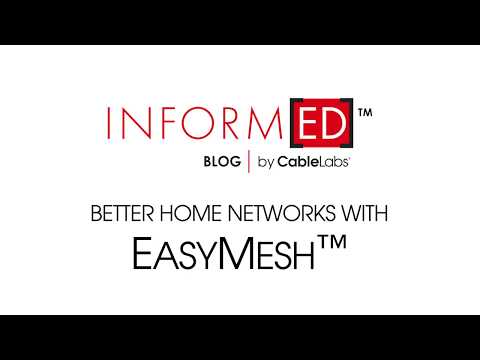 Wi-Fi Alliance members are now able to submit their products for testing. Interested in learning more? Read my blog "EasyMesh™ Brings Super Connectivity to Home Networks" and subscribe to our blog.
EasyMesh™ Brings Super Connectivity to Home Networks
How many times have you been enjoying an HD video in your home and right at the most thrilling point, the movie stops and throws you into endless buffering hell? Or, maybe you're working from home, on an important Skype call with an overseas client, and your connection drops 2 or 3 times because your Wi-Fi connection gives precedence to your daughter, downloading a Game of Thrones episode in her upstairs bedroom.
Innovative, game-changing advances in home networking will change all that. CableLabs is working with the Wi-Fi Alliance (WFA), and it's new EasyMesh™ certification program to solve these problems and provide extended, uniform coverage throughout your entire home.
Home Networks Today Lacking
Homeowners routinely experience home connectivity problems because home networks aren't capable of broadcasting their internet signal adequately and uniformly throughout ever-larger houses as many networks were installed to deal with smaller homes. But the fact is, home sizes in the USA have grown over 60% in the last 40 years. Outdated networks, designed to handle smaller footprints, can't meet the demands of these larger homes, with more devices running more bandwidth-hungry devices, present them.
Consider the typical layout in many home networks today. One access point (AP), typically a router located near the cable modem serving the home, is expected to broadcast its signal to all points in the home where users need access. When it becomes apparent a single AP won't handle the load, the logical answer is to add more APs, but many houses lack the wired infrastructure to add additional APs.
Wi-Fi becomes the easy and cost-efficient way to add and connect these APs. Two technologies predominate today to accomplish this: Mesh APs (MAPs) and repeaters or extenders. While wireless mesh networking has been in the market for more than ten years, only recently has it been able to connect multiple APs, but these networks often lack the advanced intelligence to offer more than basic connectivity.
Intelligent EasyMesh™ Banishes Network Contention
 Wi-Fi EasyMesh™ is a standards-based certification program developed by the Wi-Fi Alliance and marks a leap forward in wireless networking. It defines multiple access point networks for homes and small offices. Easy setup, with automatic device onboarding and configuration, and easy use are just the beginning. EasyMesh™ offers much more:
Network intelligence. Intelligent controllers enable smart communication between multiple APs, sharing information which allows dynamic response to network conditions, such as client and band steering, and maximizes performance. This is huge. In the past, APs not only didn't communicate, they actually contended and competed for bandwidth, resulting in the all-too-familiar buffering and agonizingly slow page loads.
Multi-vendor interoperability in networks. EasyMesh's™ standardization frees customers from reliance on a single vendor's technology. They will have the flexibility to choose the latest and best solution when adding APs, without having to replace all other network APs, as they do today.
Load balancing. Controller intelligence guides devices to seek out the best connection, avoiding interference.
Flexible design and scalability. Add multiple APs from any vendor, enhancing placement to accomplish use-specific AP functionality.
CableLabs' Early and Continuing Involvement
Wi-Fi connectivity is key for CableLabs' members, and CableLabs worked closely with the Wi-Fi Alliance from the start on this project. We were chosen to be the editor of the WFA test plan and worked with WFA staff to develop the certification program based on the test plan.
Early tests are encouraging. CableLabs Lead Architect, Wireless Technologies, John Bahr, reports impressive coverage results obtained in a 5000+ sq. ft. test house running two streaming videos, at HD bitrates, while simultaneously delivering over 50Mbps throughput throughout the house and even to some areas 20' outside the house.
As Neeharika Allanki, Wireless Architect at CableLabs, points out, CableLabs continues to conduct research, working with vendors and MSOs on AP coordination, improved client steering and defining coordination protocol, all vital elements which will strengthen and enrich EasyMesh™. "AP coordination is a really important topic of research not only for the cable industry but for the Wi-Fi industry as a whole. And with really good AP coordination protocols in place, I think it's going to be a really good experience for the consumer."
On June 18, 2018, Wi-Fi Alliance announced that members may now submit their products for testing for the Wi-Fi CERTIFIED EasyMesh™ certification program. Watch for more press releases and blog posts to follow the progress of this new wireless technology by subscribing to our blog. 
A Step Towards Better Wi-Fi
CableLabs is excited about the publication of the Wi-Fi Multi Access Point (AP) Specification draft by Wi-Fi Alliance®. With the release of this draft specification, the Wi-Fi industry is moving towards greater interoperability and coordination between APs from different vendors. The Wi-Fi Multi Access Point (AP) Specification defines the control protocol, as well as the underlying data objects, that will allow access points to talk to each other using a common language. This topic is near and dear to our hearts, so we at CableLabs helped develop this specification and are contributing to the forthcoming Multi-AP certification program.
Need for Multiple APs in the Home
As my previous blog post, Multiple Access Point Architectures and Wi-Fi Whole Home Coverage explains, Wi-Fi is an integral part of just about every home today. As consumers, we expect ubiquitous high-speed coverage wherever we are in our home. However, as both home sizes and client device counts increase, the traditional Wi-Fi setup using a single AP in a home, is increasingly incapable of meeting these expectations. This is especially true for buildings that contain signal interfering materials in the walls, floors and/or ceilings (e.g. HVAC metal ducts, mesh wire supported plaster, brick, and concrete).
To address this problem, many people try to build their own high-performance network in their home by deploying multiple access points.
An access point is a device that creates a wireless local area network, or WLAN, usually in an office or large building. An access point connects to, or is packaged together with, a wired router, switch, or hub via an Ethernet cable or via another Wi-Fi signal, and projects Wi-Fi to a location in your home or business. (How large this location is depends on many factors, but is called the coverage area).
One drawback to the solutions currently available is vendor lock-in. Once you've chosen a brand, you're stuck with that brand and its proprietary chatter between APs. This is because, until now, there has been no standard AP coordination protocol. As the idea has grown in popularity in recent years, moving from the enterprise networks we use at work to the APs we use in our homes, vendors have created their own protocols along the way.
To help standardize the interface between APs, the Wi-Fi Alliance Multi-AP specification defines procedures for:
Onboarding and automatic configuration of new APs
Control and management of the APs
Client steering mechanisms that allow the system to move Wi-Fi clients to the best AP and band (2.4 GHz or 5GHz) to ensure fast connection speeds
These standard procedures enhance the capabilities of the APs, allow vendors to innovate and focus on other cool features and enables a better customer experience. To the end user, this means:
Adding new APs to enhance coverage in your house is easier
Your cable operator can help remotely ensure that the system is working correctly
Your devices seamlessly move from one AP to another as you move around your house, maintaining the highest quality connection
Specifications move the industry forward
Standard interfaces are great; they make the internet work. As an idea gains popularity, to help keep the industry from splintering, defining a standard way of doing it becomes more and more valuable. Standards do just that - they provide a common way to do things, a reference to certify equipment against and help grow new technology ecosystems. CableLabs contributes to specifications in many standards development organizations, including Wi-Fi Alliance, Wireless Broadband Alliance, Broadband Forum, IEEE and MoCA.
Along with the release of the new Wi-Fi Multi-AP draft specification, Wi-FI Alliance is working toward introducing a certification program based upon the specification. To take a deeper dive, you can download the draft Multi-AP Technical Specification on the Wi-Fi Alliance Specifications page here.
CableLabs has been working on multiple APs in the home solutions since 2015 with numerous R&D projects. Subscribe to our blog to stay current with our work on Multi APs.
Carrier Wi-Fi is now Wi-Fi CERTIFIED Vantage™
The recent announcement by the Wi-Fi Alliance of the new certification designation, Wi-Fi CERTIFIED Vantage™, is a significant step for the industry. It is the culmination of years of collaboration within the Wi-Fi ecosystem and the result of incorporating industry established Carrier Wi-Fi requirements into industry certified Wi-Fi devices.
Wi-Fi Vantage devices will provide improved performance to users in managed Wi-Fi networks and make it easier to maintain quality connections in high usage environments including stadiums, airports, offices, campuses and home networks.  Wi-Fi Vantage leverages current technologies that include Wi-Fi Alliance-certified Wi-Fi ac and Passpoint and will use subsequent releases to build upon using upcoming technologies and features.  Ultimately, this accomplishment provides a mechanism for Wi-Fi operators to harden their networks to evolve from 'best effort' networks to operator-managed networks that will approach the reliability and functionality of mobile networks.
CableLabs is pleased to be part of the process to build this framework for Wi-Fi Vantage with Wi-Fi industry partners.  We look forward to continued success in building upon the framework to benefit cable and mobile operators, the vendor community and, most importantly, consumers.
Collaboration Brings New Capabilities
Establishing solutions to the largest challenges faced by Wi-Fi operators, including cable operators, in the form of industry certifications has been the focus of CableLabs and many industry organizations.  Some of the significant challenges collectively include: sticky client, secure and seamless access and connection, device provisioning, fast AP to AP handoffs in a secure SSID environment, load balancing across bands, and RF performance characterization for APs and clients.
Wi-Fi Vantage certified devices will be capable of resolving several of these challenges such as improved secure on-boarding of new clients, better customer experience when moving on a secure network, automatic discovery and attachment to roaming partner networks per operator driven network selection policy, and fast transitions across APs on secured networks to ensure subscribers receive the best performance available in the area.
Key Features of the First Release of Wi-Fi Vantage™
Wi-Fi Vantage is the technology suite operators will employ to deliver an exceptional user experience and help create the Wi-Fi preferred generation. More specifically, Wi-Fi Vantage delivers superior performance on global networks without intervention or effort from subscribers. Wi-Fi users are up and running on reliable networks with their favorite applications anywhere they roam simply by powering on their device. Wi-Fi Vantage will be the preferred service of a new generation of wireless data users by employing a number of superior service benefits including:
Performance: Wi-Fi Vantage addresses the problem of inconsistent performance of Wi-Fi networks. Wi-Fi Vantage employs 802.11ac for the fastest throughput available on Wi-Fi technologies. Multi-band operations at 2.4 GHz, 5.0 GHz and future unlicensed bands ensure that all available spectrum is employed to deliver a superior subscriber experience.
Device Provisioning and Operator Policy: Wi-Fi Vantage devices and provisioning systems support a single, standard interface for operators to provision and maintain user subscriptions, secure SSID profiles and network selection policy.
Guest Network and Online Sign Up: Operators can provision and enforce policy for guest access on Wi-Fi Vantage networks and allow visitors to access guest networks without requiring visitors to sign up each time they enter a network. Operators can dynamically establish new user accounts, and create policy and customized accounts (ie. 1-day, 30-days, etc).
Roaming: Wi-Fi Vantage will make pervasive, ubiquitous wireless connectivity a reality for users in major cities around the world.
Improving the Wi-Fi Experience
Cable operators are deploying millions of Access Points (APs) with public Service Set Identifiers, (SSID)s in their networks and linking their networks together into roaming consortiums in order to meet accelerating wireless data service demand. Wi-Fi Vantage brings the scale required to support roaming onto hundreds of roaming partner networks throughout the world with a single subscription. Wi-Fi operators can share their networks without having to provide and manage subscriptions separately. Wi-Fi devices automatically discover and attach to roaming partner networks per operator driven network selection policy.
Roaming starts at home and extends its reach to local, domestic and international networks. Cable operators and others are deploying public SSIDs in residential and small business APs to provide extensive Wi-Fi coverage for their subscribers. Wi-Fi Vantage provides network selection intelligence to help subscribers move onto their private networks while at home, and then roam onto neighborhood networks via public SSIDs on residential gateways. This roaming then extends to large operator managed outdoor metro networks, and finally, to Wi-Fi networks across nations and continents. Wi-Fi users will see their operators providing them with an integrated, extensive global Wi-Fi service.
Wi-Fi Vantage technologies provide a number of superior service elements for operators including performance, policy and provisioning and roaming. By delivering this exceptional user experience, Wi-Fi Vantage will be the preferred service of a new generation of wireless data users.
Mark Poletti is Director of Wireless Technologies at CableLabs.