The Gigabit Internet Dream Continues to Expand
Cable gigabit service availability continues to expand – as of June 2018, 63% of U.S. housing units – 74% of the cable broadband footprint – had gigabit service or better available from their local cable operator. This is up seven percentage points in just three months and has expanded by 16X in 18 months. Cable is making the gigabit Internet dream a reality. Coincident with this update of the cable industry's gigabit deployment data, we are also releasing a new installment in our Inform[ED] Insights series that explains the technology that enables these gigabit networks.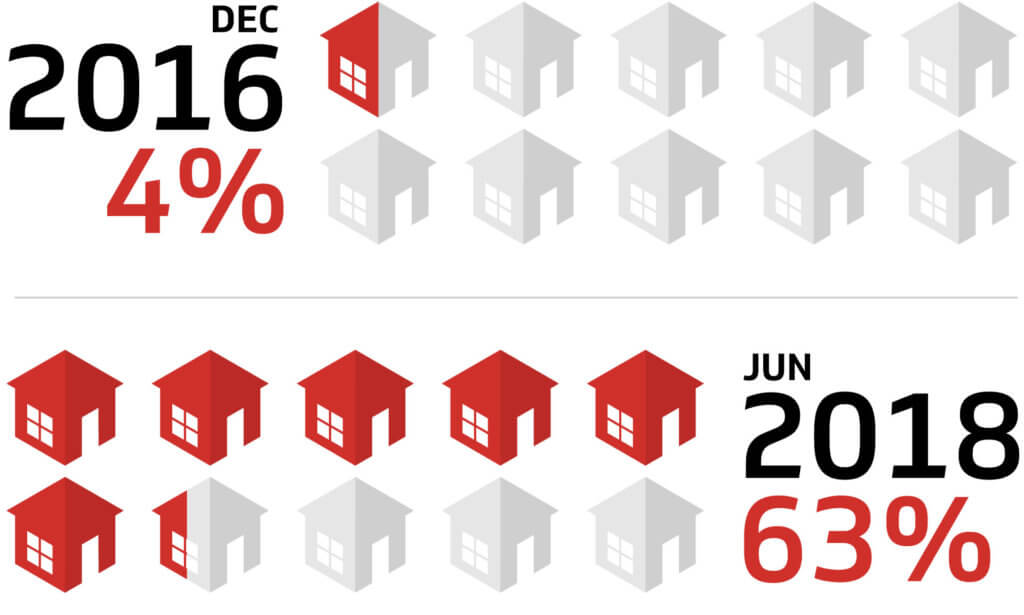 Cable's deployment of high-capacity broadband networks is enabling the gigabit services of today and the symmetric multi-gigabit services of tomorrow. With the wide availability of gigabit service and beyond, the broadband infrastructure is in place to power emerging technologies that will transform and enhance our lives through immersive entertainment, next-generation healthcare and a reimagination of education and work.
CableLabs and the cable industry are continuing to advance the capacity and performance in each segment of the cable broadband network to remain well-ahead of consumer demand. We are focused on developing innovative network technologies in the areas of coax (e.g., DOCSIS 3.1 and full duplex DOCSIS), fiber (e.g., coherent optics in the access network), and wireless (e.g., Wi-Fi and 5G), as well as defining optimal network architectures to provide the necessary capacity and performance in each segment of the network for today's gigabit services and those anticipated in the future.
Ready to see how the cable industry is driving gigabit speeds from the lab to the consumer? Click on the link below to download our new Inform[ED] Insights white paper.
DOCSIS Technologies for Mobile Backhaul: Download our White Paper
As the small cell densification wave is becoming a reality, mobile operators are faced with the complex task of searching for suitable backhaul solutions. This is where the hybrid fiber coaxial (HFC) networks rise up to the challenge.
DOCSIS networks provide three main elements critical to backhaul solutions; location, power and capacity. Mobile operators are faced with the challenge on deciding whether DOCSIS networks can meet the backhaul requirements (such as capacity, latency and synchronization) of future mobile technologies.
These are the questions we address in our recently published white paper "DOCSIS Technologies for Mobile Backhaul," coauthored by me and my colleague Belal Hamzeh. In the paper, we provide an overview of recent advances in the DOCSIS technology that CableLabs, in collaboration with some of our industry partners, have been working on to support backhauling 4G, 4.5G and 5G mobile technologies.
Of course, there is a lot more to writing specifications and designing architectures when it comes to deploying a high-quality backhaul. To that end, we are establishing a Mobile Backhaul R&D Lab to support the industry in the development of mobile backhaul over DOCSIS networks.
Click below to download your copy of our white paper. 
vRAN Over DOCSIS: CableLabs Making it a Reality
In November, CableLabs announced the opening of our new Telecom Infra Project (TIP) Community Lab. Today, CableLabs joins TIP in releasing a whitepaper, making public deeper insights into the vRAN fronthaul interface under development in the TIP vRAN Fronthaul project group. With this new interface, the addressable market for virtualized RAN (vRAN) deployment architectures can grow significantly. This increased market is evidenced by the diverse set of use cases being sponsored by the growing set of operator-based TIP Community Labs.
With the release of the white paper, the project group highlights key milestones which have been reached, including agreements further defining the open API and a set of interoperability metrics to be used in validating the interface in multi-vendor configurations.
As the project continues, work on the CableLabs DOCSIS network vRAN fronthaul use case will take place at the CableLabs TIP Community Lab. We look forward to sharing more as we continue to check milestones off our list, so check back soon for updates.
You can find the whitepaper "Creating an Ecosystem for vRANs Supporting Non-Ideal Fronthaul v1.0." here.