Mobility Lab Webinar Recap and Q&A: CBRS Neutral Host Network using Multi-Operator Core Network
Last week, we hosted the first webinar in our mobility lab series "CBRS Neutral Host Network using Multiple Operator Core Network." In case you missed it, you can read about the webinar in this blog or scroll down for the links to the video and Q&A.
Background: CableLabs Mobility Lab Webinar Series
The FCC established Citizen's Broadband Radio Service (CBRS), a 3.5GHz shared spectrum, to alleviate the shortage of frequencies available for wireless communication services. From an operator perspective, propagation characteristics of the CBRS band are a good fit with low-powered small cells, which can provide a capacity boost and fill in the coverage holes for both indoor and outdoor scenarios. With CBRS General Authorized Access (GAA) deployments on the verge of seeing the light by early 2019, wireless operators are investigating ways to utilize newly allocated CBRS band.
Neutral Host Network (NHN) is a CBRS use case which is attractive for mobile operators, cable operators and new entrants because it:
Lowers expenses of buying licensed spectrum
Lowers investments in building network infrastructure
Lowers initial roll-out costs of operating and managing new deployments
With NHN deployments operating in shared spectrum, such as CBRS, there is no need to coordinate radio frequency network planning between the multiple operators sharing the neutral host access network.
Mobility Lab Webinar #1: CBRS NHN Use Case Using Multi-Operator Core Network (MOCN)
Leveraging our in-house mobility lab, we built test setups for several CBRS use cases. The first webinar demonstrates a CBRS use case which utilizes a 3GPP deployment model, called Multi-Operator Core Network (MOCN), where an operator shares its access network and spectrum with other operators. This use case can be a viable alternative to conventional single operator owned network infrastructure.
The webinar provides:
An overview of Network Sharing, Active Network Sharing, MOCN and CBRS
Description of CBRS NHN use case and its deployment scenarios
Lab demonstration of CBRS NHN use case
Our upcoming webinars will showcase the various mobility lab projects we are working on. For any questions, please feel free to reach out to Wireless Architect Omkar Dharmadhikari. You can view the first webinar here and click the link below to download a copy of the Q&A.
Webinar Recap: Enabling Cable Networks for Mobile Backhaul
Last week, Craig Cowden (Charter), John Chapman (Cisco) and I jointly presented a webinar on improving latency for mobile backhaul over DOCSIS. Moderated by CableLabs' Rob Alderfer, we:
Discussed cable's wireless strategy and business case for mobile backhaul
Did a deep dive into the technical details on how our Bandwidth Report (BWR) proposal can reduce the DOCSIS latency to ~1ms to enable mobile backhaul.
More background on the BWR protocol and the joint development project between CableLabs and Cisco can be found in my blogs "Powering the Future of Mobile Backhaul" and "Enabling the Cable Networks for Mobile Backhaul."
The webinar was attended by a record number of audiences from operators, equipment suppliers and members of the public. With a large amount of interest building from cable operators, we have gathered a group of CMTS and LTE vendors this week and began the standardization work on the BWR protocol. Please contact me if you are interested in joining the standardization group.
You can watch the replay of the webinar below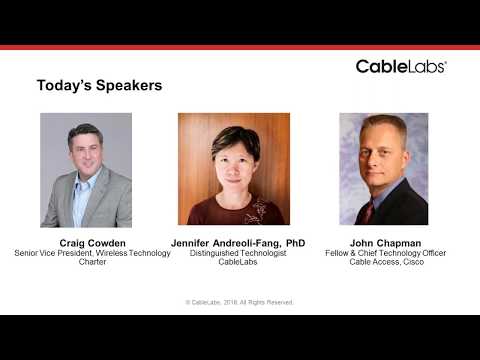 For those of you attending the Mobile World Congress, stop by the CableLabs booth 5J81, Hall 5. I am also holding a joint demo with John Chapman at the Cisco booth number 3E30, Hall 3.