Canada Launches a Small Network Equipment Voluntary Agreement
CableLabs is pleased to announce that an energy efficiency voluntary agreement for Small Network Equipment (SNE) was launched today in Canada. This is the second category of equipment in the Canadian Energy Efficiency Voluntary Agreement (CEEVA) program, which was initiated in 2017 to improve the energy efficiency of Set-Top Boxes (STB).
The new CEEVA SNE, which was developed in partnership with Natural Resources Canada (NRCan), provincial governments and utilities, commits leading service providers and manufacturers to improving the energy efficiency of devices like Internet modems and routers by 2021. It is based on the highly successful SNE Voluntary Agreement in the US that was established in 2015 and has achieved an average 66 percent improvement in energy efficiency of the SNE purchased and deployed by its signatories since its launch.
The CEEVA SNE signatories to date are:
Bell Canada
COGECO Connexion Inc.
CommScope, Inc. of North Carolina
Rogers Communications Canada Inc.
Shaw Communications Inc.
Vidéotron LTD
Technicolor Connected Home USA LLC
In CEEVA SNE, the service providers commit that 90 percent of their new SNE purchased will meet the energy efficiency levels beginning in 2021. The levels will align with the more rigorous Tier 2 levels that were established in the US SNE VA when it was extended last year, so Canada is skipping Tier 1 and going right to Tier 2. (In the US, Tier 2 will go into effect in 2020.) As with CEEVA STB, compliance is determined through independent testing and auditing, and the service providers will also publicly post the power consumption of all models purchased after January 1, 2020.
Programs such as CEEVA and the US Voluntary Agreements are very important to keep energy efficiency a design priority, yet provide the agility required to rapidly innovate on these platforms.  A voluntary approach to improve energy efficiency has been proven to be an effective alternative to regulation. This is even more important as we head into a 10G world.
Four of the five CEEVA service provider signatories are cable operators and CableLabs members, and CableLabs provides significant leadership in the CEEVA program. In addition, Kyrio is ISO-17025 accredited to conduct the energy testing for set-top boxes and small network equipment, and supports the CEEVA signatories with their testing expertise.
Internet services provided by the CEEVA signatories also help to save energy by enabling e-commerce, telecommuting, smart thermostats and lighting. By standing up this new voluntary agreement, these companies are further advancing their commitments to Canada's shared energy efficiency and climate change objectives.
Getting Better Every Year!
Last week, the Pay-TV Industry released two very important Annual Reports related to Energy Efficiency initiatives in the United States.  And the results were very good!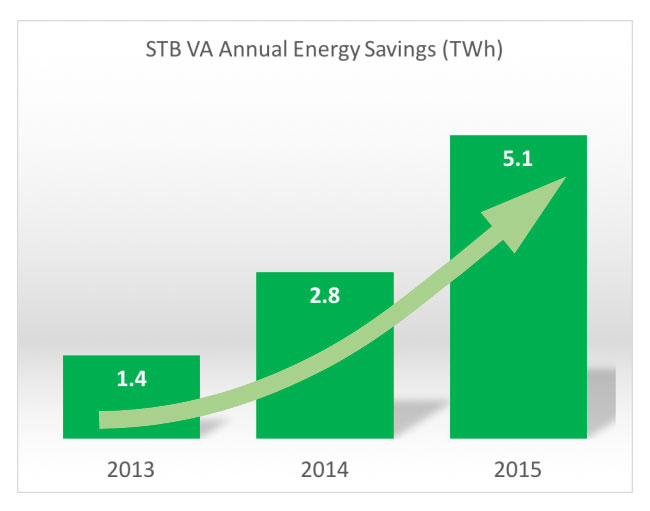 The Set-Top Box Voluntary Agreement released its third Annual Report.  In 2015, the report estimated that the Voluntary Agreement reduced national set-top box annual energy consumption by 5.1 TWh when compared to the 2012 baseline case, saving consumers approximately $646 million dollars and preventing 3.6 million metric tons of CO2 emissions during 2015.  But the more impressive statistic is the trend, shown in the graph above.  The savings are getting better every year!  Over the three years that the STB VA has been in place, consumers have saved nearly 1.2 billion (with a 'B') dollars, and avoided nearly 6.5 million metric tons of CO2 emissions!  As stated in the annual report, the energy saved over the first three years is the equivalent of the energy used by all the homes in both Washington, DC and San Francisco combined for one year!

The Small Network Equipment Voluntary Agreement released its first Annual Report, and the results are promising.  Although in the first year the signatories were not obligated to meet their 90% procurement or sales commitments, seven of the 11 signatories required to report already met them.  And the data provided by the signatories reinforces the estimates that the SNE VA will save between 10 and 20% in energy consumption once the commitments are in place.
Along with the release of these reports, the signatories also stood up a consolidated web site at www.energy-efficiency.us, where you can learn more about the voluntary agreements and find the annual reports.
The manufacturers and service providers are continuing to make great strides in energy savings even as they innovate and deploy exciting new features and services.  And these energy savings also translate to higher reliability and reduced truck rolls for the service providers.  The voluntary agreements are proving to be a win for service providers, consumers, and the environment.
Read more about the energy efficiency voluntary agreements.
Industry Set-Top Box Voluntary Agreement Initiative Wins Environmental Leader Top Project of the Year Award
Last week, at the 2016 Environmental Leader Conference, the Set-Top Box Voluntary Agreement (STB VA) received special recognition to reduce energy consumption related to set-top boxes in consumers' homes.  The Environmental Leader Top Project of the Year Award is a program recognizing excellence in projects that provide companies and consumers with environmental, sustainability and energy management benefits.  The winners are selected by a panel of distinguished judges with experience in environmental management, headed by an unbiased judging coordinator from an outside Environmental Leader.
This is a team win for all the participants in the Voluntary Agreement:  service providers  - AT&T, Cablevision, CenturyLink, Charter (including Time Warner Cable and Bright House Networks), Comcast, Cox, DirecTV, DISH, Verizon; manufacturers – Arris, Echostar Technologies, and Technicolor; energy conservation advocates – ACEEE, ASAP, and NRDC; and supporting organizations – CableLabs, CTA, and NCTA.
Established in 2012 and expanded in 2013, the STB Voluntary Agreement (VA) includes many commitments.  First and foremost, each service provider commits to ensuring that at least 90% of their STBs purchased each year will consume less energy than the allowances set forth in the VA.  The VA enlists an Independent Administrator to evaluate annual reports from each signatory to ensure compliance, and aggregates the information into a public annual report.  Every year, an independent auditor tests STBs in nearly 100 homes across the United States to verify the service providers' reported values.  And, for consumers, each service provider must publicly report the energy usage of each STB model purchased since the beginning of 2014.  In addition, service providers are deploying whole-home DVR solutions and upgrading software on fielded models to enable light sleep to further reduce the energy usage.
CableLabs is proud to be a part of this historic initiative and to support all the signatories in the agreement.  CableLabs runs technical working groups to update the VA with new features and energy allowances, and works with specification teams and manufacturers to identify new ways to reduce energy consumption. The CableLabs Energy Lab supports testing and reporting of STB energy consumption, and CableLabs hosts the required public information for all of the cable signatories.  CableLabs also works on advanced home networking solutions to reduce the complexity and number of STBs required in a home.
The STB VA has already saved consumers over a billion dollars in energy costs and avoided over 6 million metric tons of CO2 emissions.  We are honored to receive this prestigious award and will continue to strive to make a difference in this industry.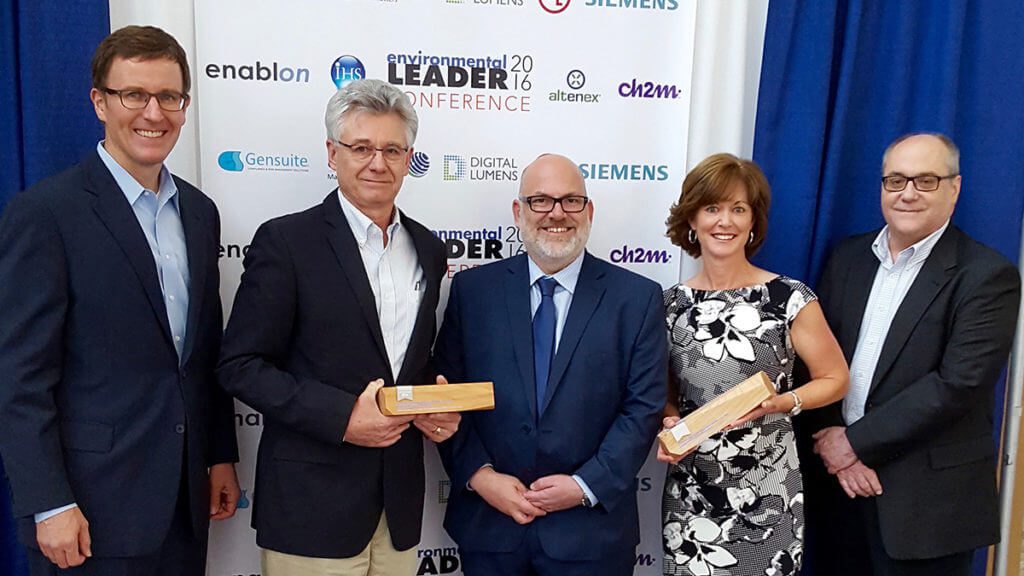 Receiving the awards at the Environmental Leader 2016 conference are, from left to right: Doug Johnson (CTA), Gary Langille (DISH/Echostar Technologies), Paul Nastu (Environmental Leader), Debbie Fitzgerald (CableLabs), and Steve Mace (NCTA)
A New Voluntary Agreement for Energy Efficiency: Home Internet Equipment
For a couple of years now, cable operators, along with other pay-tv service providers and manufacturers, have been working diligently to improve the energy efficiency of set-top boxes in the home through the set-top box (STB) Voluntary Agreement. And they have already demonstrated energy savings, even in the first year.
But set-top boxes are not the only devices that service providers install in our homes. Other typical devices include high-speed data modems, gateways that provide phone service, and even wireless home routers. Now the service providers are working on reducing the energy footprint of those devices as well.
Today, 10 service providers and 8 manufacturers just announced the Small Network Equipment Voluntary Agreement (SNE VA), modeled after the successful STB VA. This Voluntary Agreement is expected to improve the energy efficiency of SNE by 10 to 20 percent and cover more than 90 percent of U.S. broadband households. The service providers are: AT&T, Bright House Networks, Cablevision, CenturyLink, Charter Communications, Comcast, Cox Communications, DIRECTV, Time Warner Cable, and Verizon; and the manufacturers are: Actiontec, ARRIS, Cisco, D-Link, EchoStar Technologies, Pace, NETGEAR, and Ubee Interactive.
Similar to the STB VA, the SNE VA commits service providers to purchase at least 90% of their SNE products that meet energy consumption targets outlined in the SNE VA. But in addition, manufacturers that sell products into retail (such as home WiFi routers) also commit that at least 90% of their products sold into retail will meet the targets. Service providers are also required to publicly report SNE energy use and submit to an annual verification audit. CableLabs will likely host the SNE public energy use information for the cable operator signatories, similar to this site that contains STB energy use.
CableLabs is proud to have played a significant role in the development of the SNE VA. CableLabs led the technical working group that developed the energy consumption targets mentioned above. The energy consumption targets are defined for devices under test that are connected, able to communicate, but operating in a state with "no user-generated traffic". It was determined that this was the best state to characterize the energy targets, because as device manufacturers strive to reduce consumption in this "idle" state, the active consumption is also reduced. In addition, most network devices always need to be on and ready to transmit within milliseconds, but are often in this idle state throughout the day and especially at night. And, "idle state" can be consistently tested across devices.
In addition to defining the technical components of the SNE VA, CableLabs was actively involved in the development of the ANSI/CEA 2049 test procedure that is cited in the VA as the mechanism to determine the energy consumption.
As consumers are adding more and more "Internetworked things" and small networking equipment to their homes every day, it is important to get out in front of the energy consumption concerns in all development phases of these products. As already demonstrated with the STB VA, a Voluntary Agreement approach is a great way to make low energy consumption a priority while maintaining the ability to rapidly innovate in this fast-paced environment.
Debbie Fitzgerald is the Director of Client Application Technologies at CableLabs.