Bringing Wi-Fi Security to the Next Level
WBA PKI Framework Enables RadSec Connection Security
In 2020, the COVID-19 pandemic nearly eliminated travel. Today, as restrictions are lifted, we're seeing travel levels increase—particularly locally. Soon, we should all be able to return to the world of far-reaching travel.
Whether for trips across town or journeys around the globe, Wi-Fi accessibility is a critical necessity in the 21st century. Using various Wi-Fi roaming technologies such as Passpoint®, Wireless Broadband Alliance (WBA) WRIX and OpenRoaming™, we can enjoy the Wi-Fi connected broadband experience wherever we go. And as we move about, there are many Wi-Fi networks available to us from various operators; most are secured by some level of security, whether a shared secret, captive portal or Extensible Authentication Protocol (EAP), also known as 802.1x.
Many service providers are moving to EAP for user authentication, a tactic that not only simplifies access to their own Wi-Fi network but also enables a secure roaming experience for their users. To allow users to be authenticated and gain access to roaming Wi-Fi networks, user credentials need to be routed to the home service provider. This interconnection between the roaming partner and the home service provider has typically been over IPSec tunnels. The introduction of RadSec is changing the method of interconnection. RadSec offers a full end-to-end secure path and the ability to use dynamic interconnections.
RadSec interconnection security is based on the mutual exchange of certificates between the two operators, enabling authentication of the operators and encryption of the information exchanged. To standardize these certificates, WBA members (under the leadership of CableLabs) undertook the creation of a solid RadSec PKI framework.
The WBA team led by CableLabs are proud to have completed the PKI framework and have made it available for deployment and use by all members of the WBA, marking the closure of the WBA Roaming Evolution Working Group. The PKI framework includes the PKI Certificate Policy (CP), Trust Root Certificate Authority (CA) agreement, Policy Intermediary CA (I-CA) agreement, Issuing I-CA agreement, End-Entity agreement, Operator Deployment Guidelines and End-Entity Deployment Guidelines.
The completion of the PKI framework is ready to advance and make Wi-Fi roaming simpler. There are several roaming implementations that will benefit from the PKI framework, including specific inter-operators' roaming deployments, the WBA Wireless Roaming intermediary eXchange (WRiX) and OpenRoaming.
The WBA PKI framework is currently available to WBA members and PKI certificates by Kyrio®, a wholly owned subsidiary of CableLabs. Moving forward, the WBA Roaming Work Group will continue to manage the PKI framework and documentation including the new project, "Profiles & RCOIs Prioritization".
For more information about the WBA PKI framework contact pmo@wballiance.com and to get your RadSec certificates, contact PKIOPS@kryio.com.
WBA OpenRoaming™ to Enable Global Wi-Fi Roaming
On May 28, 2020, the Wireless Broadband Alliance (WBA) announced the launch of OpenRoaming. OpenRoaming is a cloud federation–based framework that will open Wi-Fi roaming to a broad community of Identity Providers (IDPs) and Access Network Providers (ANPs). OpenRoaming is a cyber-secured, seamless connection and automatic RADIUS router all rolled into one global multi-provider ecosystem. The fundamental makeup of OpenRoaming spans multiple technologies: Passpoint, DNS Discovery, RadSec and components of the Wireless Roaming Intermediary eXchange (WRIX).
OpenRoaming works by using Roaming Consortium Identifiers (RCOIs) to allow Passpoint-driven ANP selection. The RCOIs are identified by two major categories, Settlement Free and Settlement, followed by two sets of subcategories. The subcategories define roaming consortium types and service levels. The roaming consortium types span from general consortiums to industry-specific consortiums. Service levels include none, silver and gold, each defining the level of network Quality of Service (QoS) and the rate of reporting QoS information.
Current roaming platforms are based on the use of specific realms, 3GPP network identities or roaming consortiums for the selection of the Wi-Fi networks with static peer-to-peer interconnections over an IPSec tunnel for RADIUS traffic. OpenRoaming, which Figure 1 shows, established ANPs to support multiple consortiums coupled with dynamic RadSec interconnections, eliminating the need for static peer-to-peer interconnections. An additional benefit is the use of RadSec, a RADIUS client/server connection using TLS for security, which not only eliminates the need for an IPSec peer-to-peer tunnel but also encrypts the RADIUS traffic from RADIUS client to RADIUS server, which secures traffic deeper into the providers' networks.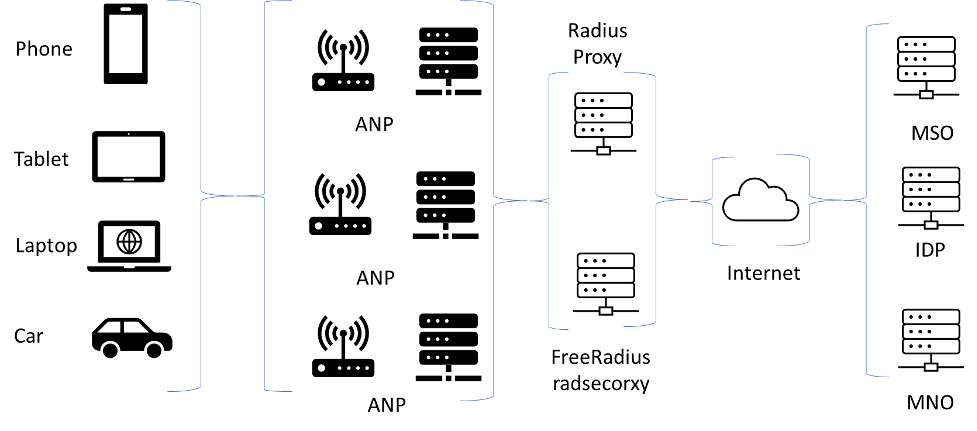 Why OpenRoaming?
OpenRoaming allows the cable industry to easily establish an inter-roaming partnership across the industry while reducing the overhead of a networking setup. With the defined cable industry-specific RCOI, ANPs can be targeted as part of the cable consortium.
OpenRoaming provides users a seamless Wi-Fi connection beyond the subscriber's home service area, reducing the need to rely on a cellular data connection. Beyond the operators that provide Wi-Fi services, OpenRoaming is a tool that can be used by Mobile Virtual Network Operators (MVNOs) to assist with Wi-Fi connectivity, enabling cellular data to offload. This would broaden the data offload from a local network to a global network.