Introducing the DOCSIS Synchronization Techniques Specification
It's been nearly a year since the Mobile Backhaul vendor and operator team that I lead started working on techniques to improve DOCSIS® technology to provide better backhaul for mobile. One of the team's main and most pressing issues was to solve the problem of how to provide precision synchronization and timing.
Today, I am happy to announce that we have published the first draft release of the Synchronization Techniques for DOCSIS Technology Specification. This spec is the first under a new category of DOCSIS specs designed for Mobile Applications.
Synchronization service is fundamental to any mobile deployment
You can read all about the technical details in the SCTE white paper that I co-authored last year. Traditionally, macrocell sites use GPS for synchronization. But as small cells are being deployed on a large scale, GPS may not be an economic solution, and may not be feasible in deployment scenarios, such as instances when there isn't a clear view of the sky outdoors or indoors. This is why the transport and the backhaul networks will need to provide timing services.
The Solution? DOCSIS Time Protocol
With the varying network architectures that our mobile operator members have, how do we approach the solution? Turns out the common denominator is DOCSIS Time Protocol (DTP). One of the most significant challenges DOCSIS technology faces in providing precision timing service is the differences in delay in forward and reverse paths due to network asymmetry. This means standard protocols such as Precision Time Protocol (PTP) cannot be carried over the DOCSIS network directly.
DTP was introduced back in 2012 as part of DOCSIS 3.1 specs, in order to solve the asymmetry issue. In this draft release of the mobile sync spec, the team specified the performance requirements on the DOCSIS equipment when running DTP, in order to meet an end-to-end timing performance budget that the mobile operators require for LTE and LTE-A deployments.
Future Plans
My team will be working on a second draft release that focuses on a different set of transport network requirements.
At the same time, we will be setting out to prove the performance capabilities of the DOCSIS equipment by establishing a Mobile Backhaul lab here at CableLabs, turning specs into a reality. We mentioned this in a previous blog in May, and we will be providing more updates later.
I hope the ability to provide reliable and precision timing services will make it easier for the mobile operators to choose DOCSIS backhaul as a high performing and economic solution.
The draft spec is available to CableLabs operator members and NDA vendors only at this time on InfoZone. As an NDA vendor with CableLabs, you get early and exclusive access to:
Spec information,
Technical papers and documentation,
Software code and more
You can find more information here. Don't have an InfoZone account? Register here.
A big round of applause goes to my colleagues that did a lot of the heavy lifting in the spec work: Yair Neugeboren (ARRIS), John Chapman (Cisco), Peter Meyer (Microsemi), and Alvaro Simon (Vodafone).
DOCSIS Technologies for Mobile Backhaul: Download our White Paper
As the small cell densification wave is becoming a reality, mobile operators are faced with the complex task of searching for suitable backhaul solutions. This is where the hybrid fiber coaxial (HFC) networks rise up to the challenge.
DOCSIS networks provide three main elements critical to backhaul solutions; location, power and capacity. Mobile operators are faced with the challenge on deciding whether DOCSIS networks can meet the backhaul requirements (such as capacity, latency and synchronization) of future mobile technologies.
These are the questions we address in our recently published white paper "DOCSIS Technologies for Mobile Backhaul," coauthored by me and my colleague Belal Hamzeh. In the paper, we provide an overview of recent advances in the DOCSIS technology that CableLabs, in collaboration with some of our industry partners, have been working on to support backhauling 4G, 4.5G and 5G mobile technologies.
Of course, there is a lot more to writing specifications and designing architectures when it comes to deploying a high-quality backhaul. To that end, we are establishing a Mobile Backhaul R&D Lab to support the industry in the development of mobile backhaul over DOCSIS networks.
Click below to download your copy of our white paper. 
Webinar Recap: Enabling Cable Networks for Mobile Backhaul
Last week, Craig Cowden (Charter), John Chapman (Cisco) and I jointly presented a webinar on improving latency for mobile backhaul over DOCSIS. Moderated by CableLabs' Rob Alderfer, we:
Discussed cable's wireless strategy and business case for mobile backhaul
Did a deep dive into the technical details on how our Bandwidth Report (BWR) proposal can reduce the DOCSIS latency to ~1ms to enable mobile backhaul.
More background on the BWR protocol and the joint development project between CableLabs and Cisco can be found in my blogs "Powering the Future of Mobile Backhaul" and "Enabling the Cable Networks for Mobile Backhaul."
The webinar was attended by a record number of audiences from operators, equipment suppliers and members of the public. With a large amount of interest building from cable operators, we have gathered a group of CMTS and LTE vendors this week and began the standardization work on the BWR protocol. Please contact me if you are interested in joining the standardization group.
You can watch the replay of the webinar below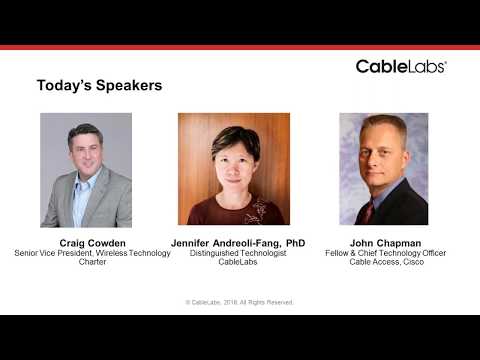 For those of you attending the Mobile World Congress, stop by the CableLabs booth 5J81, Hall 5. I am also holding a joint demo with John Chapman at the Cisco booth number 3E30, Hall 3.
Enabling the Cable Networks for Mobile Backhaul
With 5G and small cell densification on the near horizon, mobile networks need economically viable backhaul solutions. Cable operators are well positioned with fixed networks to bridge that gap, and many operate mobile networks themselves. Could we be on the verge of fixed-mobile network convergence? Things seem to be pointing in that direction, but it won't happen without technology developments to make DOCSIS and LTE networks compatible.
A big element of this compatibility is aligning the typical network latency between DOCSIS and what is required for backhauling LTE. Today's DOCSIS upstream access latency is higher than the allocated budget (Fig 1) and solving the latency problem is key to enabling cable networks for mobile backhaul.
Our solution: together is better
About a year ago, a lightbulb moment led to a solution which led to a joint project between CableLabs and Cisco that I wrote about last October. You can read about it here.
To recap, instead of operating as two independent networks, we want to coordinate the DOCSIS channel access procedure with information made available by LTE, so that the DOCSIS process can start while the LTE transactions are still going on. When two systems work hand-in-hand, we achieve better end-to-end latency. (Fig 2)
With the CableLabs team supplying expertise in mobile and John Chapman's (Cisco Fellow and CTO Cable Access) team developing the pipelining API on the CMTS, we jointly built a proof-of-concept (PoC) using open source LTE small cells and the Cisco cBR-8 CMTS.
What we have been working on
Since my blog last October, we have been working on characterizing DOCSIS latency with increasing load on the DOCSIS channel. Using the pipelining method, the series of ping packets we sent from the User Equipment (UE) achieved an upstream latency of ~1-2 ms on the DOCSIS link (Fig 3). The latency remained consistent when we loaded up the DOCSIS link with other upstream traffic of up to ~60% of the channel capacity. Above this loading point, the latency gain with our pipelining method became more significant compared to no pipelining, albeit creeping above the 1-2 ms range.
At this point, skeptical readers might be wondering, what's the penalty for sending the LTE scheduling information across the DOCSIS link? We coded our LTE scheduler to send a "Bandwidth Report" (BWR) messages every 1 ms. A 80-byte BWR message, therefore, incurs 640 kbps, a minute amount compared to DOCSIS speeds that are now in the multi-Gbps range.
On the other hand, it is possible that the data predicted by the LTE scheduler might not actually arrive at the DOCSIS link, causing under-utilization of the DOCSIS grants. So, how many DOCSIS grants are issued by the CMTS but are not used with the BWR method? We performed tests and observed a respectable number. We will be reporting more on the upcoming webinar (details see below).
We have also been working on a fronthaul setup. Initial results showed that more latency gains can be expected with BWR compared to backhaul. More on that later.
What's next
We have been demonstrating the proof of concept to CableLabs members since last summer. CableLabs and Cisco will once again hold a joint demo at the upcoming Mobile World Congress.
The joint team is wrapping up the PoC work. We worked together on perfecting the pipelining operation and designing the new BWR message. We will take this baseline design to the CableLabs Mobile Backhaul Working Group that I am currently leading. Given the interest from CableLabs members, my goal is to get LTE and CMTS vendors together to agree on protocol and message details, so that cable operators can get the latency benefit regardless of which LTE and CMTS equipment they choose to deploy.
Additionally, in building the PoC, we have accumulated expertise on how to perfect the BWR algorithm to optimally predict the amount of data and time egressed from the LTE side. We will pass this knowledge on to the LTE implementers during the specification work.
I am holding a webinar with John Chapman on Thursday, February 15th at 8am Pacific / 11am Eastern / 5pm Central European Time. It is open to the public and we hope to see you there.
For those of you attending Mobile World Congress, I am holding a joint demo with John Chapman at the Cisco booth number 3E30, Hall 3 Hybrid Hall.
Meet Mobile Innovator Dr. Jennifer Andreoli-Fang
Distinguished Technologist and superwoman, Dr. Jennifer Andreoli-Fang has over 15 years of experience in the development of state-of-the-art broadband technologies. Through her work at CableLabs, she is recognized as a DOCSIS® and mobile wireless thought leader. Spearheading many highly impactful projects including the development of Data Over Cable Service Interface Specification (DOCSIS) 3.1 and Full Duplex DOCSIS, Dr. Andreoli-Fang's efforts have been critical to the success of the cable industry.
Contributions to our community
In 2016, Jennifer's work in unlicensed mobile technologies led to the mobile industry's international standardization of fair coexistence mechanisms for LTE. As a vocal supporter of Wi-Fi, her contributions have enabled 20 million cable, public, home and enterprise Wi-Fi networks worldwide. In the past year, Jennifer has been working on the Low Latency Mobile Backhaul Project, developing an innovative solution that unites LTE and DOCSIS, improving the latency on cable data networks, enabling gigabit-per-second mobile traffic.
Before joining the CableLabs team in 2007
Jennifer received her Ph.D. in electrical and computer engineering from the University of California, San Diego. She is frequently consulted by the cellular and cable industries for her expertise and has served as the vice chair of the Wi-FI Alliance (WFA) Coexistence Task Group since January 2016. Additionally, Jennifer organized and served as the chairwoman of the IEEE International Conference on Communications LTE-U in 2015 and was a keynote speaker at the IEEE Globecom Conference in December 2015. She holds 49 patents with several pending in the U.S. and internationally.
We are excited to announce that on November 18, 2017, Jennifer won a Silver Stevie Award in the category of "Most Innovative Woman of the Year in Technology." 
Watch the video below to learn more about Jennifer's bold vision for the future of mobile: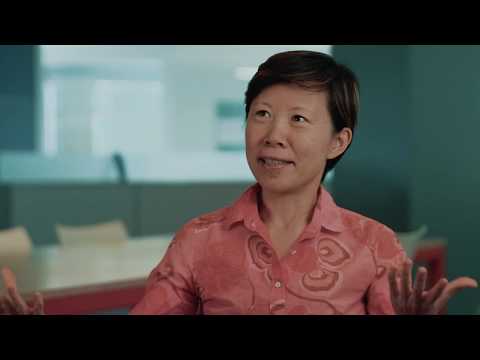 --
Interested in learning more about mobile backhaul? Jennifer is holding a webinar with CTO of Cable Access at Cisco, John Chapman, in early 2018. You can find more information here.
Powering the Future of Mobile Backhaul
The wireless ecosystem is a rapidly moving marketplace, and the next milestone is the large-scale deployment of small cells to augment network capacities and to support 5G deployments. There are three main elements required to deploy small cells:
Location
Power
Backhaul
These requirements put cable operators, many of whom are also mobile operators, in an advantageous position for deploying mobile small cells.
According to the NCTA, 93% of US households are reachable via the hybrid fiber coaxial (HFC) network. While the HFC provides the necessary elements for deploying small cells, the cable infrastructure can further extend its capabilities by offering low latency mobile backhaul. Reducing latency in the DOCSIS® network will unlock that additional potential for cable operators.
Backstory
Small cells are deployed to provide capacity or coverage augmentation for the macrocell network. This results in overlapping coverage areas between the various cells (between small cells and small cells, as well as between small cells and macrocells). There is significant interference generated in these overlapping areas, as the user can hear multiple cells' transmissions. In order to provide a good quality experience for these users, the mobile operator needs to deploy advanced interference management techniques that are currently supported by LTE-Advanced and LTE-Advanced Pro. But, for these techniques to work well, adjacent cells need to be able to talk to each other quickly - at a latency of generally no more than 5 milliseconds. And because these cells talk to each other through the DOCSIS backhaul network, the DOCSIS round-trip latency must be 5 ms or less. This is not achievable today. See Fig. 1:
Searching for Solutions
We found that traditional cable equipment suppliers were also innovating in this space and working on enabling DOCSIS to provide better mobile backhaul. Together with my colleague John Chapman, Cisco Fellow and CTO Cable Access, we came up with a simple solution that reduces the DOCSIS upstream latency to 1-2 ms consistently. We developed a proof-of-concept (PoC), each supplying expertise and resources in the mobile and CMTS space.
Looking closely, LTE and DOCSIS are two independent systems – their operations occur in serial. The overall latency is the sum of the two system latencies. The two technologies have similar mechanisms to access the channel, and that is through a request-grant-data transfer loop.
Here comes the lightbulb moment: The LTE loop is much longer than DOCSIS, resulting in much higher latency than DOCSIS. This presents a hidden opportunity for DOCSIS. Rather than waiting for the LTE transaction to complete and then start the request process on the DOCSIS side as it is today, we proposed that LTE tell DOCSIS about the data that is on its way so that the DOCSIS request process can start earlier and in parallel with the LTE transaction. This will lead to much lower overall system latency. This is illustrated in Fig. 2:
Industry Partnership
Our joint team worked together on perfecting the pipelining operation and designing a new message called the "bandwidth report," or the "BWR." This simple solution reduces the DOCSIS upstream latency to a consistent 1-2 ms.
To build the proof-of-concept (PoC), we inserted a minimal amount of code into an open source LTE small cell and added an API on the Cisco cBR-8, enabling the CMTS to optimize its scheduling and to align it with the small cell transmissions in real time. We demonstrated the PoC to cable operators and received very positive feedback. See Fig. 3:
Our proof-of-concept was also demonstrated recently in the Cisco booth at SCTE Cable-Tec Expo 2017, as Cisco explains here. The next step for this is to make the solution available industry-wide by standardizing it through CableLabs and have it ready for the HFC network to be at the forefront of the mass deployment of small cells.
I will be holding a webinar with John Chapman in early 2018. You can find more information here.