CableLabs Member, Telia Norge, Launches the Fastest Broadband Service in Norway
There's more great news from across the pond! Just a month after Vodafone Germany surpassed the 21 million gigabit homes passed milestone, another European telecommunications company and CableLabs® member, Telia Norge (Telia Norway), is launching the fastest broadband service in Norway for its customers, operating under the GET brand it acquired in 2018.
Now, Telia Norway's GET customers have access to as much as 1,250 Mbps download speed and either 500 Mbps or 50 Mbps upload speed, depending on the package they choose. Either option gives them unprecedented freedom to surf, stream and share on multiple devices at the same time. In addition to much higher speeds, customers will also enjoy the benefits of a significant increase in network capacity and reliability. These improvements are a direct outcome of Telia Norway's ongoing commitment to modernize and future-proof its hybrid fiber-coax (HFC) network in preparation for the next generation of high-speed digital products and services. By upgrading its network to CableLabs DOCSIS® 3.1 technology, Telia Norway will be able to not only greatly improve the broadband experience for its current customers but also ensure that it stays ahead of their broadband needs for years to come.
"This is a large and important program for us, where we will invest a lot in the years ahead," said Pål Rune Kaalen, Telia Norway Director of the Private Market. "Through the program, we are greatly expanding the speed, capacity and stability of today's network—something our new broadband product is a good example of. For us, this technology represents the broadband of the future."
As part of this large-scale modernization push, Telia Norway plans to continue investing in its HFC infrastructure with a goal of upgrading more than 300,000 homeowners to the new DOCSIS technology by 2023. The inherent flexibility of the DOCSIS technology will allow for a cost-effective upgrade without digging new trenches and negatively impacting the environment—or the bottom line. And that's what the broadband of the future is all about.
Check out the full press release on Telia's news site (Norwegian).
CableLabs Member Vodafone Germany Surpasses 21 Million Households with Access to Gigabit Speeds
Today we are shining a spotlight on another monumental achievement in the European cable community. Our CableLabs member with the largest gigabit network in Germany, Vodafone, has just surpassed 21 million households with access to gigabit speeds, bringing blazing-fast internet to over 50 percent of German households.
As a leading provider, Vodafone Germany recognizes the importance of expanding its Hybrid-Fiber-Coax (HFC) network and combining it with innovative multi-layer technology to meet the rising demand for high-speed services. From Aachen to Zwickau, and from the North Sea to the Zugspitze, in the first quarter of this year, more than half of Vodafone's new customers are opting in for a connection of 400 Mbps or faster and every third customer chooses 1 Gpbs service. It's very clear: an ultra-high-speed cable connection is the digital future and Vodafone intends to deliver. Aside from adding new infrastructure to accommodate its growing customer base, Vodafone has been using CableLabs DOCSIS® 3.1 technology to significantly increase both download and upload speeds and expand network capacity. Right now, there is an average of 8 gigabytes passing through every Vodafone customer's connection every day, allowing businesses and individuals to work, learn and enjoy multi-gig services.
Twenty-one million is a significant milestone, but while we are taking a minute to celebrate, Vodafone Germany is already working toward the next one: 25 million households in the Vodafone network by 2022! As soon as the first prototypes of the new hardware generation are available, Vodafone is planning initial field tests. These are to take place within the next two years.
"Vodafone, with its hybrid fiber coax network, is the main driver for the expansion of high-speed networks in Germany. With today's expansion step, we and above all our customers have well over 20 million reasons to celebrate," says Vodafone Germany CEO Hannes Ametsreiter and adds: "The upgrading of our hybrid fiber coax cable network continues and the end of the line in terms of speed is still a long way off. With each technology evolutionary step, we are making our cable internet even faster and even better by bringing more fiber optic into the network and pushing ahead with capacity expansion."
Vodafone is a shining example of the true power of an HFC network in delivering the future we are all dreaming of. As more multi-gigabit innovations become part of our lives, Vodafone and other cable providers will be ready to not only meet the increasing demand but to stay well ahead of it—many years into the future.
Implementing CableLabs Global Strategy
Recently CableLabs held a signing ceremony in its Louisville, Colorado headquarters for Chongqing Cable Networks Co., Ltd. (CCN) its 55th cable operator member. CCN, located in southwest China, is one of China's leading cable operators providing service to over five million digital subscribers, including HDTV, interactive video and broadband Internet services. China represents a significant and growing market for the adoption of CableLabs technologies, including DOCSIS®, advanced network architectures, wireless, virtualization and others, in a market with nearly 250 million video subscribers and 15 million broadband subscribers.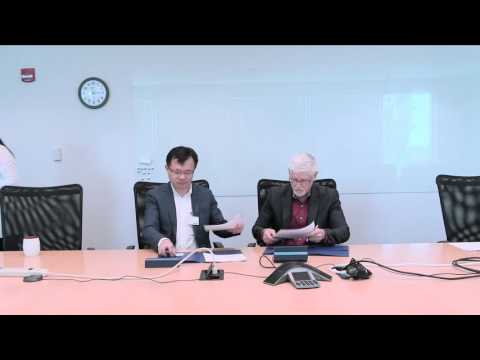 CCN's CableLabs membership is the latest step in CableLabs ongoing effort to provide value to the cable industry on a global basis. Over the past two years, we have added new members across Europe, Latin America, and Asia, increasing total membership today to 55 members representing over 150 million video subscribers. This continued expansion is an important evolution for CableLabs and the cable industry. It provides CableLabs the scale to globally collaborate on technology standards and strategies, as well as to accelerate the development of truly innovative technologies that can be brought to market faster and more cost effectively on a global scale.
Our global expansion also benefits the entire value chain, from cable operators, product suppliers, component manufacturers — all the way to subscribers who are able to experience improved services in their homes and businesses.
Another key benefit is the opportunity for members to learn from each other.
We can point to many examples of innovation and success from our global members over the past two years:
The accelerating international roll-out of gigabit services over the DOCSIS 3.1 platform.
The incorporation of specifications for the Chinese market (known as C-DOCSIS) into the DOCSIS 3.1 platform, making the DOCSIS specifications a unified standard for all markets.
The deployment of low cost DOCSIS CMTS solutions for high-density residential markets in China.
An accelerated roll out of Community Wi-Fi by members in the U.S. and Europe.
The deployment of 4K/UHD VoD services.
Cable/mobile wireless integration in Europe and Canada.
A full list of our members can be accessed here.
We look forward to continued expansion in the PRC, bringing onboard additional Chinese cable operators, as well as in Korea, India, Thailand, Australia, and Latin America.
We have expanded support in Europe for CableLabs members, and implemented a CableLabs European Certification Board and testing program. We have also developed an international certification program to allow certification results in one region to be submitted for consideration in another.
Moving forward, we plan to increase support in Asia with the addition of resources located in this region, as well as increase our collaboration with regional cable laboratories: JLabs (Japan) and Klabs (Korea).
At the heart of all our efforts at CableLabs is our desire to foster innovation across a global industry. In many areas, including advanced network architecture, SDNs & NFV, wireless (including Wi-Fi), UHDTV and security, CableLabs is playing a strategic and a visionary role for the industry as whole.