A Great DOCSIS 3.1 Achievement: Certification!
For months, many people have been asking me: "When will DOCSIS 3.1 devices get certified?"
My response has generally been something along the lines of: "When they successfully demonstrate they're ready based on the test results. The team at CableLabs will do everything we can to facilitate this process, as our goal is to see DOCSIS 3.1 devices in the field as soon as possible."
As of today, I can now say with a very big smile that CableLabs has officially certified the very first group of DOCSIS 3.1 cable modems, specifically five cable modems from Askey, Castlenet, Netgear, Technicolor and Ubee Interactive. Thanks to the efforts of the entire industry, we have quickly attained this achievement. See our press release.
Why is DOCSIS 3.1 Certification important?
DOCSIS 3.1 technology is critical to the evolution of cable networks by enabling a cost effective means of supporting ever faster speeds and improved performance, leading to new services. It does this through the incorporation of several new technologies that allow the existing cable network to operate more efficiently, and that can scale to use more of the spectrum available on a cable network. And it does this while maintaining backward compatibility with previous DOCSIS devices, which enables cable operators to conduct a smooth migration.
To assist with the rapid development of DOCSIS 3.1 devices, as has been noted in some past blog postings -- DOCSIS 3.1® Update: Get Your Engines Running…. The Engines ARE Running!, DOCSIS® 3.1 Products Are Getting Real!, DOCSIS 3.1 Technology: Spec to Product in One Year -- CableLabs has been holding a series of Interoperability and Dry Run testing events which allow manufacturers to get together on neutral ground and ensure that their devices work with one another. CableLabs has offered more of these events than with any previous specification effort, with the result that there have been near continuous testing opportunities for manufacturers of cable modems, head-end, and test equipment – a total of 27 of them – over the past number of months. The unified goal has been getting products ready for the field as rapidly as possible.
Certification of DOCSIS 3.1 devices is the next major achievement in the process of getting DOCSIS 3.1 devices ready for the field – a process that is happening rapidly as evidenced by Comcast's recent blog post – and provides a formal indication that they are ready for deployment.
What is CableLabs Certification?
CableLabs Certification is a formal testing process for verifying devices comply with one or more of our specifications. This provides a level of assurance that once deployed in the field, these devices will interoperate with one another and behave as expected.
In the specific case of DOCSIS 3.1 Certification testing, this means that cable modems comply with the DOCSIS 3.1 versions of the MAC and Upper Layers Protocol Interface (MULPI) specification, the Physical Layer Interface (PHY) specification, the Security (SEC) specification, and the Cable Modem Operations Support System Interface (CM-OSSI) specification. The full suite of DOCSIS 3.1 specifications is made publicly available on the CableLabs Website.
By achieving Certified status, these devices have demonstrated in a formal testing environment that they comply with those specifications and should be ready for use in the field. That saves our members effort in validating specification compliance, allows manufacturers to conduct testing in just one place, and therefore speeds time to market of DOCSIS 3.1 devices. It also enables a robust marketplace with healthy competition for DOCSIS 3.1 devices.
This is one of the unique things about CableLabs: we don't just develop technology and specifications, we also assist in the development and deployment of those technologies, helping to ensure that they come to market as rapidly as possible.
How did we get here so quickly?
Just as other aspects of the DOCSIS 3.1 development effort have happened faster than ever before, so too have we achieved DOCSIS 3.1 Certification faster than ever.
First and foremost, CableLabs had a commitment from the entire cable industry to make DOCSIS 3.1 technology a success. Engineers and executives from cable operators, manufacturers, and CableLabs joined forces to move things along rapidly. I cannot overstate the level of cooperation and effort that many, many people have invested in making the rapid development of DOCSIS 3.1 devices a reality.
In addition, just as with the development of the specifications, when considering our Certification program and how we could get devices into the field as quickly as possible, we asked ourselves, "What can we do better?"
In addition to the extensive Interops and the addition of Dry Run testing events, one of the resulting changes was the adoption of a "rolling wave," whereby manufacturers were able to rapidly update their devices as issues were discovered until they were able to successfully pass Certification. That cut out a lot of overhead and repetition, with the result that first generation devices were able to reach the point of being compliant with the DOCSIS 3.1 specifications unusually rapidly.
All of this was part of a deliberate approach of partnering closely with manufacturers to help to get DOCSIS 3.1 devices to cable operators as quickly as possible.
And last but not least, I want to highlight the extreme dedication and effort put forth by the entire Lab Services team and others here at CableLabs too numerous to name; without their knowledge, efforts, and a lot of late nights, none of this would have been possible.
What comes next?
While these are the first five devices to be certified for DOCSIS 3.1 compliance, they certainly will not be the last: watch for more devices to be certified over the course of the coming year. In addition, CableLabs remains committed to assisting manufacturers in preparing for DOCSIS 3.1 certification testing through continued Interops and Dry Runs over the coming months.
It's been a fast paced ride, and it's not over yet. Stay tuned!

Matt Schmitt is the Vice President of Lab Services at CableLabs, where he's worked since 2003.
Read the full press release.
CableLabs® New Remote PHY Specifications expand DOCSIS® Network deployment options
DOCSIS technology continues to extend the usefulness of the hybrid fiber coaxial network and increase its global adoption. Distributed Architectures for DOCSIS networks are emerging that provide significant scale advantages and flexible deployment options supporting for both DOCSIS 3.0 and DOCSIS 3.1 networks. Distributed DOCSIS deployments are beginning today in some markets based on the earlier C-DOCSIS specifications.
New Specification Release
CableLabs is documenting several different Distributed CCAP Architectures (including Remote PHY and Remote MAC-PHY) and will release the set of technical reports and specifications throughout this summer.
Last month, CableLabs publicly issued the Remote PHY family of specifications. Theses specifications are also known as MHAv2 as these are an evolution from the original Modular Headend Architecture specifications.
The Remote PHY technology allows for an integrated CCAP to be separated into two components: the CCAP Core and the Remote PHY Device (RPD) and describes the interfaces between them. One of the common locations for an RPD is the optical node device that is located at the junction of the fiber and coax plants, while the CCAP Core stays at the headend. A CCAP core can control and setup data paths with multiple RPDs situated in multiple fiber nodes.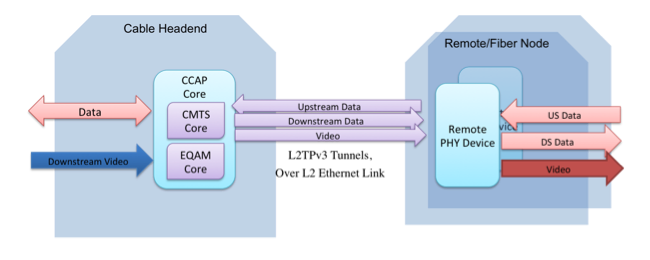 What is Remote PHY?
The Remote PHY technology uses pseudowires between a CCAP Core and a set of RPDs. The CCAP Core contains both a CMTS Core for supporting DOCSIS data transport and an Edge QAM Core for supporting video transport. The CMTS Core contains the DOCSIS MAC (signaling functions, downstream and upstream bandwidth scheduling, and DOCSIS framing) and the upper layer protocols. Remote PHY supports both DOCSIS 3.0 & 3.1 Specifications. The EQAM Core contains all the video processing functions that an EQAM provides today.
The RPD contains mainly PHY related circuitry, such as downstream QAM and OFDM modulators, upstream QAM and OFDM demodulators, together with pseudowire logic needed to connect to the CCAP Core. The RPD platform is a physical layer converter device whose functions are to convert downstream DOCSIS data, MPEG video and out-of-band (OOB) signals received from a CCAP Core over a digital fiber network such as Ethernet or passive optical network (PON) to analog RF for transmission over the coaxial cable; and to convert upstream RF DOCSIS, and OOB signals received over the coaxial cable to digital for transmission over Ethernet or PON to a CCAP Core.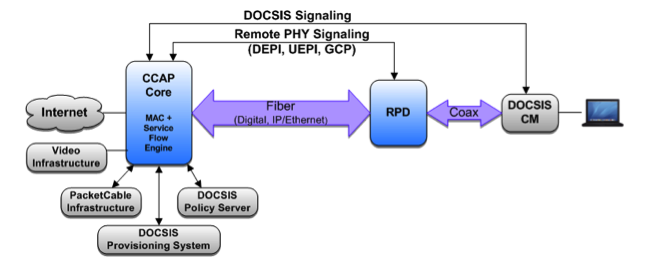 The CableLabs Remote PHY technology is detailed by six specifications and one technical report (describing the overall architecture) including:
The System Specification that describes System level requirements such as initialization sequences and security.
The R-DEPI and R-UEPI specifications that describe the downstream and upstream pseudowires and the L2TPv3 control plane.
The GCP specification that defines a protocol used for configuration of Remote PHY Devices (RPD).
The R-DTI specification that defines the timing interface between the CCAP-Core and RPD.
The R-OOB specification that defines support for the SCTE55-1 and 55-2 out of band data for video applications.
What's Next?
These specifications define the technology to provide guidance to vendors building solutions for the Remote PHY architecture. Vendors have begun architecting ASIC designs, device platforms and software to implement the RPD and CCAP-Core devices. The OSS requirements for managing these devices are also being specified at CableLabs and will be released as an additional specification later this summer. These distributed architectures of course support standard DOCSIS 3.0 and 3.1 modems and gateways no differently than integrated architectures.
The main options under the umbrella of Distributed CCAP Architectures are the Remote PHY and the Remote MAC-PHY technologies. CableLabs' work is in progress to document the Remote MAC-PHY architecture. This work will culminate in a technical report which will also be released this summer.
Investigating Distributed CCAP Architectures
The work around Distributed CCAP architectures (DCA) is of interest to many CableLabs members in North America, Europe and Asia. Cable operators are investigating DCA for the various gains they bring including:
Maximizing DOCSIS 3.1 Channel capacity
Simpler operations with digital fiber/Ethernet transport
Higher Efficiency of Digital Optics vs. Analog Optics (wavelengths, reach, cost)
Helps hub/headend facilities issues around space, power, and cooling as operators move towards Fiber Deep architectures or consider further Node Splits
Consistency with FTTx deployments which will include remote architectures for reach and wavelength management
Fits with the SDN/NFV initiatives operators are considering across access networks
These integrated & distributed HFC technologies have parallels, and similar features and benefits, to wireless infrastructure architectures such as Macro-cells, small-cells, Distributed Antenna Solutions, and Cloud-RAN with Remote Radio Units. These Distributed CCAP Architectures fit well in different deployment scenarios and all work cohesively together to support the varying capacity and demand in the areas where their deployments provide the best solution.
As operators look to optimize their network deployments in each of their cable plants in each of their markets it will be very interesting to see how and where these distributed CCAP technologies will be deployed in each operator's HFC networks. It is indeed an exciting time to be working on the access network technologies and being part of the evolution it is going through.
Karthik Sundaresan is a Principal Architect at CableLabs, responsible for the development and architecture of cable access network technologies. He is primarily involved in the DOCSIS family of technologies and their continued evolution.