5 Reasons Why Your Internet Has Slowed Down and How You Can Fix It
As most of the world is now under stay-at-home orders and social isolation guidelines, this makes the internet more popular than ever. While we all do our part to work and learn from home, you may be wondering if the internet can handle this much traffic? Fortunately, the answer is a resounding YES! Our members are working round the clock to provide superior network performance and are committed to keeping us all connected. However, you may still be questioning why your connection sometimes appears to be slow. We are here to help! These five common problems, suggested by our engineers, may help you pin down the cause: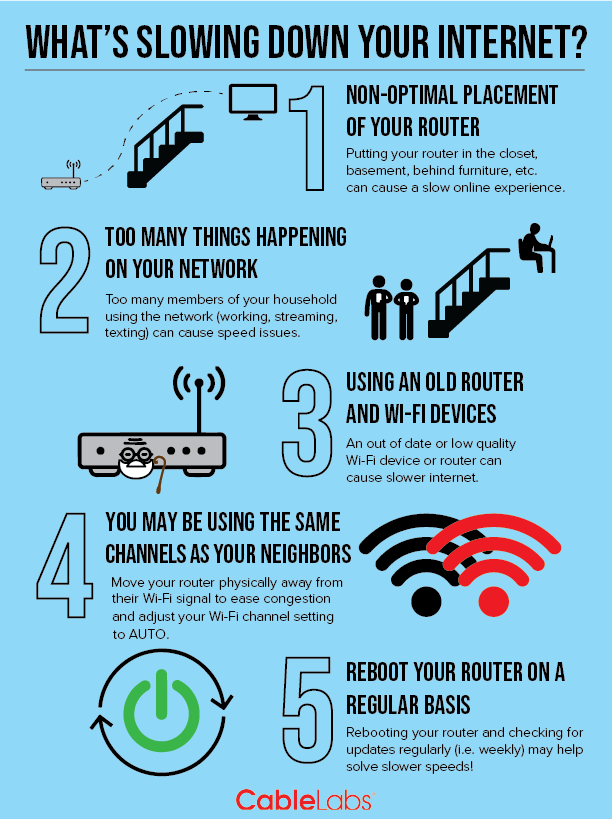 Consider sharing the infographic above with your friends and family to help those of us who are less tech savvy. An image on the fridge can be a great reminder! Overall, just remember to hang in there and breathe; with a good setup, you can turn your home into a productive workplace and fun learning environment for the kids. On the bright side, you have a very short commute from the bed to the kitchen, and your fuzzy slippers don't violate the office dress code.
You can find more information about the cable industry's response to COVID-19 on NCTA's COVID-19 dashboard. If you are interested in learning more tips and tricks to improve your Wi-Fi performance, check out our blog post. Subscribe to our blog to keep up to date with COVID-19 news and the communications industry.
DOCSIS 3.1® Update: Get Your Engines Running…. The Engines ARE Running!
The original title for this blog was supposed to be "DOCSIS® 3.1 Update: Get your engines running," but in reality, the engines ARE already running!  In fact, the DOCSIS 3.1 engines have been running hot since the start of the year. With the technology rapidly maturing, vendors have accelerated their product development. Let's take a look at some of the milestones we have hit over the past year as the DOCSIS 3.1 ecosystem evolved.
Progress
Last December we held the first official DOCSIS 3.1 equipment interoperability event (interop). Since then, four more interops have been successfully completed. The next one is scheduled for September. All the interops have been very successful, with strong vendor participation, including CM (cable modem) vendors, CMTS (cable modem termination system) vendors, and test equipment vendors. In the initial interops, we saw visible signs of how DOCSIS 3.1 technology will change the industry including the delivery of multi-Gbps performance, and high order modulation densities never seen before in other technologies – both showcasing the capabilities of DOCSIS 3.1 networks even before the equipment has been deployed.
It is also exciting to see how the ecosystem is collectively working to ensure that DOCSIS 3.1 technology is ready for deployment in cable networks. Along with the progress made by the CM and CMTS vendors, we have also seen excellent progress from test equipment vendors, who are preparing the right tools to support DOCSIS 3.1 field deployments. We are very excited that cable network operators are now priming their networks for DOCSIS 3.1 readiness through field testing and trials. Early results show that the utilization of high order DOCSIS 3.1 modulation schemes will significantly increase network efficiency.
With the great strides in product development, CableLabs® has also opened the door for DOCSIS 3.1 product certification submissions. We expect to see product submissions for certification in the near future.
Based on what we have learned, and all the excitement from the vendors and operators, we expect the upcoming DOCSIS 3.1 deployments to drive the next evolution in broadband connectivity.
Stay tuned for further updates ….
Belal Hamzeh is the Director of Broadband Evolution at CableLabs.
A Look at CableLabs, from CEO Phil McKinney
Phil McKinney, CEO at CableLabs, recently wrote an article for Cablefax highlighting the history and work of CableLabs within the cable industry.  Here is a snippet, and be sure to follow the link to read the entire article:
"Today's cable industry is a far cry from what it was twenty years ago when the Internet was in its infancy, the cloud did not exist, and mobile devices were not in everyone's pocket. Slowly at first, and then with an almost voracious momentum, sophisticated networks have grown up to support the rapid transfer of data and information that feed our financial, educational, social, and entertainment infrastructures.
For many consumers and small businesses around the world, it is a cable network, built on the foundational efforts of an independent entrepreneur, that delivers the services linking them to the ever expanding global web—services that today we routinely take for granted: high speed broadband Internet, WiFi, high quality video (pay TV), and increasingly, the infrastructure for connected devices to communicate with each other — 'the Internet of things.'
None of this happened by magic. It was the hard work of many individuals across many companies, standards bodies and research organizations that created the cable service infrastructure we have today. And hard work continues—focused on building out a cable infrastructure for a next generation of services targeting the needs of a global market. CableLabs has been at the core of these efforts from the start."