HFC Network
Facts You May Not Know About the Cable Industry
The cable industry has been around since 1948, first delivering broadcast TV channels, then cable TV channels starting in the 1970s and finally—cable broadband internet in 1996. The introduction of fast-speed, "always-on" cable internet changed everything. It accelerated innovation across multiple industries and created whole new markets. Just take a moment to think: how many times a day do you do something that requires an internet connection and where would you be without it?
The cable broadband industry now serves over 200 million households—and counting—around the world. Even if yours is one of them, you probably don't give too much thought to what cable internet is or how it works. Internet has become an important part of modern life enabling us to learn and work from home, watch in 4K, schedule telemedicine appointments, play online multiplayer games, remote control our home security systems and so on. In fact, cable industry is the leader in delivering next-generation broadband services, with cable gigabit services available to over 80% of U.S. homes. Plus, roughly half of global cable operators are also mobile providers, so you can take your modern conveniences on the go.
While it might seem like an overnight success, building a super-fast and reliable broadband platform for millions of everyday users required a lot of collaboration and around $290 billion dollars in infrastructure and network investments over the past 20 years in the U.S.. Earlier this year, CableLabs released the DOCSIS® 4.0 specification, the latest version of the technology that governs how a broadband internet signal is transmitted over cable. When widely adopted, DOCSIS 4.0 technology will quadruple network upload capacity to up to 6 Gbps, that will support a new wave of innovative experiences and much more. But we're not stopping here. This is only a stepping stone toward cable's 10G vision.
Along with speed, capacity, latency and other network performance metrics, the cable industry also improved the energy efficiency of its equipment by reducing energy consumption through voluntary commitments. All these ongoing improvements, together with cable's expansive network footprint and unwavering commitment to meeting the needs of broadband customers, are the perfect recipe for building the super network of the future. Stay tuned!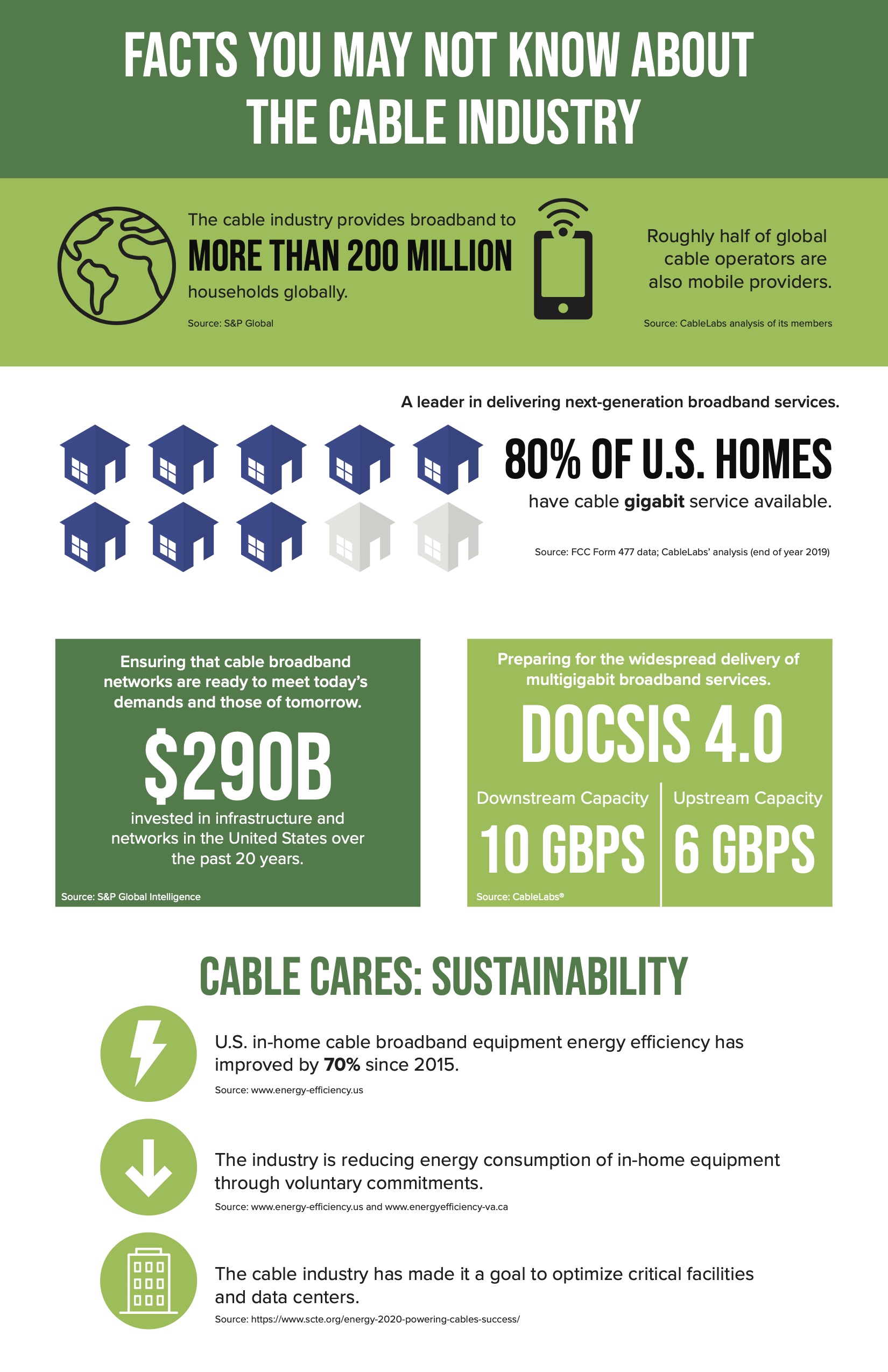 You can download the infographic
here
.
DOCSIS
CableLabs Completes Full Duplex DOCSIS Specification
"In the United States, more than 90 percent of households are connected to an HFC (hybrid fiber-coaxial) network, and consumers typically have higher download speeds than upload speeds. By enabling Full Duplex DOCSIS (now a part of DOCSIS 4.0 technology), the upstream can flow up to 6 Gbps and downstream traffic can flow at up to 10 Gigabits concurrently, enabling the efficiency of spectrum use." -- Phil McKinney, president and chief executive officer of CableLabs
The number of connected devices and bandwidth-hungry online experiences are expected to increase exponentially in the next decade. Also, with the continuous development of new applications that enable new experiences, such as augmented reality and virtual reality, an increase in upstream capacity demand is a matter of "when" and not "if." Operators are continuously challenged to find cost-effective solutions to meet this growing demand for faster broadband speeds. With a focus on solving this challenge of the future, CableLabs recently completed the Full Duplex DOCSIS® (now a part of DOCSIS 4.0 technology) specification.  
Full Duplex DOCSIS (now a part of DOCSIS 4.0 technology) technology builds on the successful completion of CableLabs' DOCSIS 3.1 specification, which made deployments of 10 Gbps downstream and 1 Gbps upstream broadband possible. Full Duplex DOCSIS technology (now a part of DOCSIS 4.0 technology) improves upon the DOCSIS 3.1 standard by:
Significantly increasing upstream capacity
Enabling symmetric multi-gigabit services over existing hybrid fiber-coaxial (HFC) technology
Ensuring that cable operators are ready to meet future usage needs for technologies, such as virtual and augmented reality - although widespread consumer demand for high speed upstream is not yet here, operators need to be prepared when the time comes
Current DOCSIS networks have to juggle available upstream and downstream traffic. Full Duplex DOCSIS technology (now a part of DOCSIS 4.0 technology) supports multi-gigabit symmetric services by enabling concurrent transmissions in the same spectrum, providing the ability to increase the upstream capacity without sacrificing downstream capacity. This has the potential to greatly improve network efficiency and, in turn, customer experience.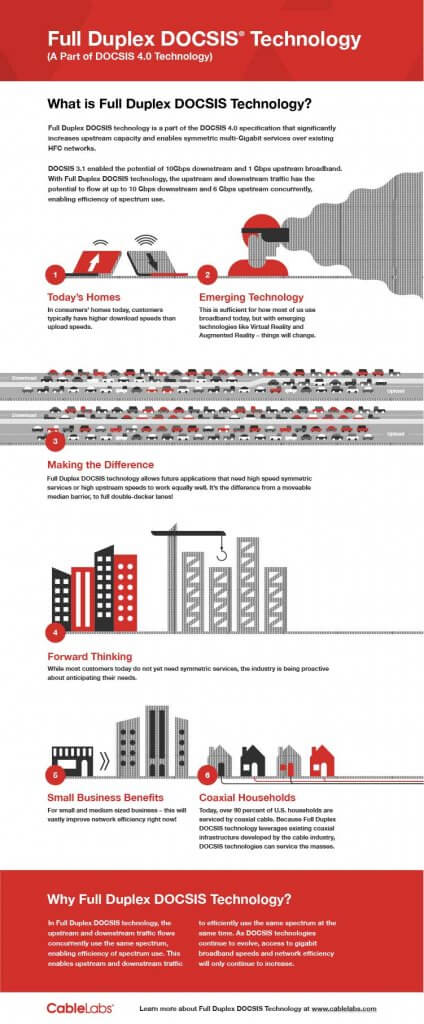 Starting from Full Duplex DOCSIS (now a part of DOCSIS 4.0 technology) as an internal innovation, CableLabs developed this solution in collaboration with our members and industry partners, enabling cable operators to deliver multi-gigabit symmetric services. Full Duplex DOCSIS technology (now a part of DOCSIS 4.0 technology) offers high speeds over the existing infrastructure and is less expensive to deploy than fiber, while still maintaining backwards compatibility with previous generations of DOCSIS technology.
You can read more about our Full Duplex DOCSIS (now a part of DOCSIS 4.0 technology) specification effort in my article "Full Duplex DOCSIS Technology: Raising the Ante with Symmetric Gigabit Service." Make sure to check our website later this month for the complete Full Duplex DOCSIS (now a part of DOCSIS 4.0 technology) specification.
DOCSIS
Full Duplex DOCSIS® Specification Effort Launches
During the CableLabs 2016 Winter Conference, CableLabs announced the Full Duplex DOCSIS (now a part of DOCSIS 4.0 technology) specification project that will significantly increase upstream speeds on the DOCSIS network. The announcement of the Full Duplex DOCSIS (now a part of DOCSIS 4.0 technology) extension of the DOCSIS 3.1 specification, and its potential of offering multi-Gbps symmetric services over the HFC network, created a lot of excitement in the industry. Since then a lot has been going on behind the scenes.
CableLabs has been actively collaborating with the vendor community to further refine the concept and system architecture of a Full Duplex DOCSIS (now a part of DOCSIS 4.0 technology) system. The ecosystem support for the Full Duplex DOCSIS technology (now a part of DOCSIS 4.0 technology) has been staggering, with many vendors collaborating and contributing to the development of the technology. A recent example is Cisco's contribution of a new silicon reference design of a digital echo canceler that maximizes the use of HFC capacity to provide a scalable multi-gigabit return path.
In June, CableLabs officially launched the Full Duplex DOCSIS (now a part of DOCSIS 4.0 technology) project, transitioning it from the innovation phase to the R&D phase focused on specification development. Our first face-to-face meeting held in Louisville last month featured strong participation from CableLabs members and the vendor community including several new participants. Working group meetings will be held on a regular basis until the specification development is complete.
Full Duplex DOCSIS technology (now a part of DOCSIS 4.0 technology) will radically change the art-of-the-possible on the HFC network by delivering an unparalleled experience to cable customers.
Networks
Cable Makes Its Mark at FTTH Connect
Over the past two years, members of the CableLabs Optical Technologies team had the privilege to speak at the Fiber-To-The Home (FTTH) Council's yearly FTTH Connect event. FTTH Connect annually attracts many thought leaders from both the vendor and service provider communities.
One observation we made while attending FTTH Connect was the growing appetite of FTTH Connect attendees to learn more about cable industry initiatives and solutions. Not only were the presentations well attended, but in one instance the Q&A session lasted for 30 minutes past the allotted time. Presentations provided FTTH perspective in a cable network, motivation for fiber deployments to complement the HFC network, PON traffic modeling, and supporting cable's triple play services with fiber home run implementations. This appetite for more cable knowledge was somewhat surprising but welcome.
The impetus for CableLabs' involvement was not only to show the world that the cable industry is pushing FTTH solutions, but also to introduce the FTTH community to CableLabs as a leader of innovation and R&D solutions. CableLabs has introduced several solutions to provide a means and support strategies of operators for pushing fiber deeper into the HFC network, including FTTH. These solutions include DOCSIS Provisioning of EPON (DPoE), Triple Play over PON and the group of specifications based on the Distributed CCAP Architecture.
Based on the show in 2015, we set out to increase our contributions at the 2016 FTTH Connect event. We proposed an entire cable track to the FTTH Council and were unanimously approved. We then set out to offer cable's story at this year's conference. It begins with Guy McCormick, Senior Vice President at Cox Communications, who will be one of the shows keynote speakers. Cox Communications is one of the most forward-thinking cable companies in the world, and they have an aggressive strategy around FTTH deployments. Jon Schnoor will discuss how we achieve fiber parity with cable services to that of the HFC access network. Steve Burroughs will present how to move beyond technology specific provisioning and work toward an access network agnostic infrastructure through virtualization. Curtis Knittle will explore next generation PON solutions that will establish 100 Gbps EPON and include an operator's perspective on their transition to FTTH including challenges, technology tradeoffs, operational challenges and solutions. Curtis Knittle is also hosting a panel regarding FTTH in cable, that will explore an operator's perspective.
If you're planning to attend FTTH Connect 2016, be sure to attend the cable industry sessions to see what is cool and interesting!