Innovation Boot Camp May 2017: Is This Really a Boot Camp or an Innovation Cruise Ship?
Last week 12 brave souls embarked on a journey to learn the ways of innovation, push themselves to generate breakthrough ideas, and pitch those ideas to a panel of professional investors - all in less than 5 days!! The experience is called Innovation Boot Camp and only occurs 2 times per year, typically in the Denver Area or Silicon Valley. The theme of this Boot Camp was Wireless Mobile Services: Taking Innovation from Theory to Reality. CableLabs hosts this one-of-a-kind hands-on experience with the help of battle-tested innovators who share the strategies, structure, and secrets of going beyond the obvious....or is it more than that?
The unknowing recruits
The brave 12 entered the boot camp strangers, but with a common desire to learn and BE innovators. One of us was even back for a 2nd time ready to take his practice to a new level. Through our shared experience and the challenges of going beyond our comfort zones, we became fast friends, had fun, and are now part of a growing "innovation boot camper community" from within the Cable/Wireless industry and beyond. (Did I mention the all-inclusive nature of the event?  Whoa!) We enjoyed great meals and were transported by Limo Vans to San Francisco for amazing visits to Autodesk & Salesforce to learn not only HOW these iconic companies innovate, but also to get a glimpse of the all-important mindset of an innovator.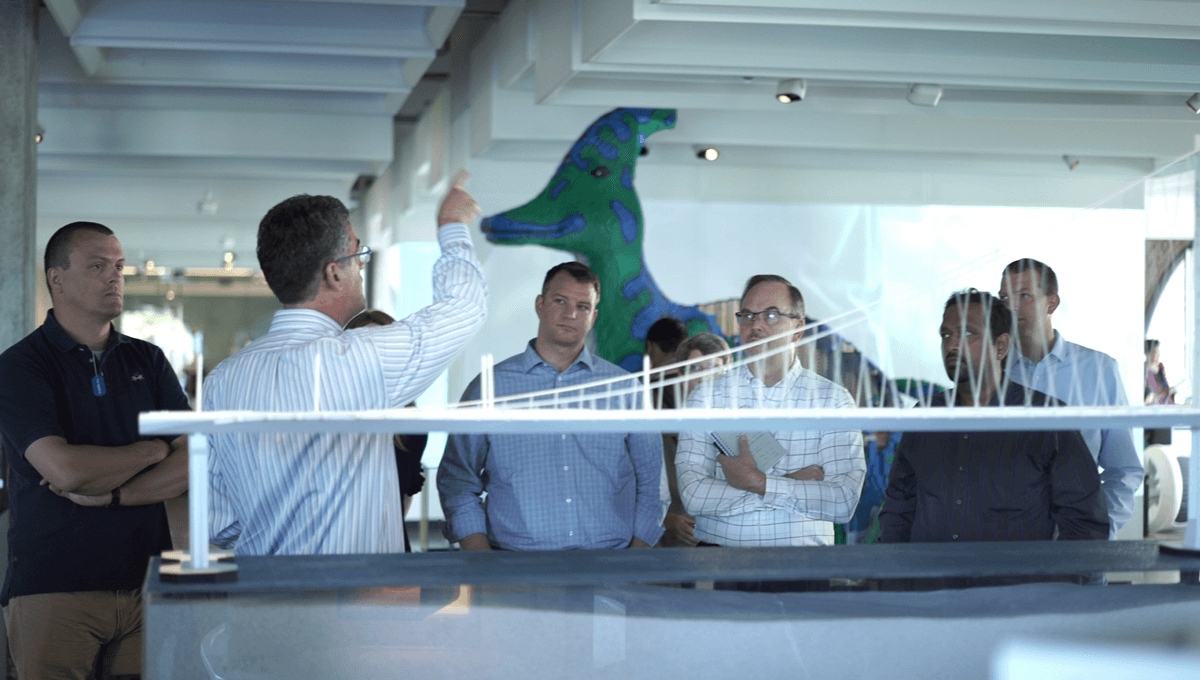 The teachers arrive when the student is ready
The boot camp staff was impressive. They challenged and cheered us along doing the work and practicing breakthrough innovation each day. Our Top Gun instructor was the renowned innovator, best-selling author, and CEO of CableLabs, Phil McKinney. He shared his FIRE framework, his daily innovation practices, and stories that would curl your toes. He also did strategic flybys all week that gave us the opportunity to easily connect with and observe a great role model.
Next, we got to work with Phil's team of experts (directed by Christian Pape, CableLabs VP Innovation) and immediately applied new skills in FOCUS, IDEATION, RANKING, and EXECUTION in a well-orchestrated set of exercises and drills. (This was NOT a simulation!!!) We focused on "Mobile Wireless Services" and received a precision briefing from Industry Expert, Vijay Venkateswaran of Viventum. Within hours we were dining with real consumers validating the big problems we sensed needed to be solved — for those who rarely speak to customers, this was a rare treat.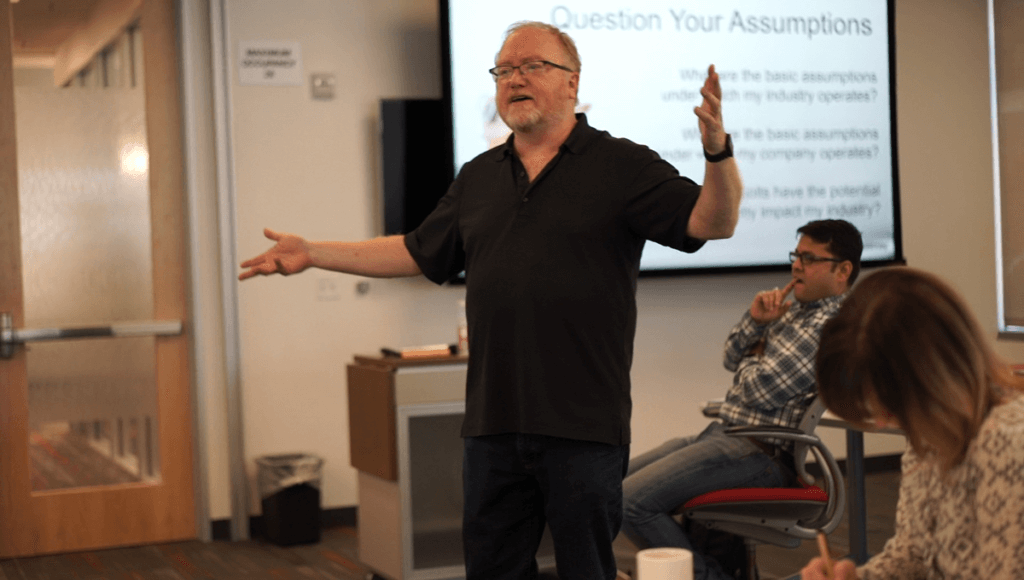 The transformation
Many of us could barely sleep that night with visions of invention dancing in our heads.  (That's a good thing!)  The transformation had officially begun.  The next day, we ideated and ranked until our brains were ready to explode.
We were placed into squads (smaller teams) and had to learn fast how to give our best, collaborate, and help each other generate success. It was both intense and exhilarating at times. Later that night we attended a public pitch night (one of many that occur nightly here in Silicon Valley). It was kind of like watching Shark tank, but LIVE! We saw four interesting companies practice the "Art of the Pitch" to a panel of seasoned investors. After witnessing this, we knew what we were in for — the next stage of our journey, developing our chosen breakthrough idea far enough to pitch it to actual investors and innovation mentors.
But not to worry, our boot camp leaders ensured we were well equipped for the challenge. With additional briefings from a Design Thinking Expert Scott Underwood, Intrapreneur extraordinaire Harry Sang and Pitch Meister/CEO of UpRamp, Scott Brown we became clear, creative, and confident. On the LAST day, our four squads delivered impressive pitches and answered thoughtful questions from a savvy panel. It was a remarkable experience watching people go from strangers to visionaries. All I can say is — Wow!!
What was that??
So, is Innovation boot camp truly a boot camp of intense training with top guns OR a cruise ship on an all-inclusive voyage for the innovation experience of your life.? I think it's a bit of both. Once you innovate this way, you can NEVER go back to the status quo! And, you build relationships that are memorable, as you do get to know people a lot better than in a typical conference setting. To learn more about past Innovation Boot Camps, see our blog posts Innovation Starts Now and Learning to Innovate: The Innovation Boot Camp.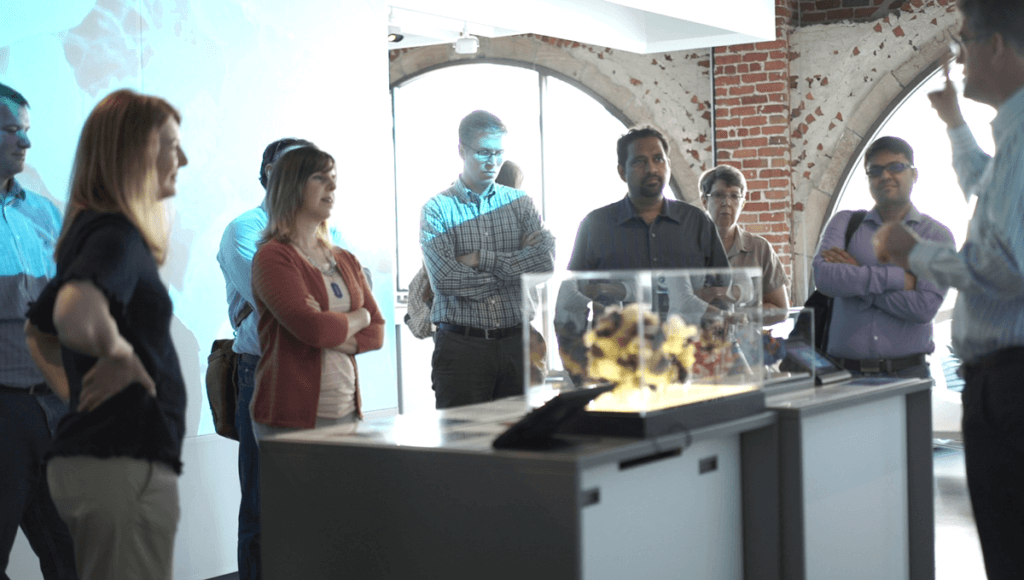 Please plan to join a future "Innovation Boot Camp," so you can bring the innovation mindset and practice back to your world, and join our innovative community.  Stay tuned for Fall 2017 dates in the Denver/Boulder area of Colorado.
Michelle Vendelin just joined CableLabs last month and was tossed almost immediately into Boot Camp.  She is the Director of Innovation Services working with CableLabs and the member community to take Boot Camp and future Innovation Services to new heights. She is eager to hear ideas, feedback or interests, so please don't hesitate to reach out directly or share your questions/comments. 
Innovation Starts Here and Now
From ideation to pitch, CableLabs' Innovation Boot Camp is an immersive learning experience that will boost your ability to achieve repeatable, scalable innovations that differentiate your organization in a highly competitive world.
Innovation Boot Camp will be held May 1-5 at CableLabs' Silicon Valley location in Sunnyvale, CA, hosted by Phil McKinney and the CableLabs' Innovation Team.
Focus, Ideate, Rank and Execute
You will learn an effective framework for transforming your ideas into value while engaging customers, and experienced innovators as you gain hands-on experience.  Along the way, you'll hone your ability to develop a customer-centric understanding of a problem and ask the essential questions to help your team generate disruptive new ideas.  This unique experience includes:
exercises to practice the essential skills for successful innovation
overcoming innovation obstacles (internal and external)
presenting your idea to get it adopted
Past Innovation Boot Camp participants have praised this event for equipping them to address real-world innovation challenges more effectively and develop the skills to overcome the obstacles that they and their teams faced.
"Innovation Boot Camp gave me the structure I needed to move from idea to implementation"
"…an excellent way to immerse yourself in a truly innovative experience"
During the course of the event, participants will identify and interact with target customers and peers, engage with and hear from innovation leaders/practitioners, and participate in a tour of Silicon Valley companies whose innovations have made them leaders in their respective markets.
Join us May 1-5 in Silicon Valley to learn how you can build on your existing skills, and add to your toolbox. Application and more details are available here.
Contact Christian Pape with any questions about this event or your innovative practices.
By Christian Pape, Innovation Office, Vice President, CableLabs —
OPNFV Builds Momentum With First Code Release
Today sees the first OPNFV release known as 'Arno' (OPNFV releases are named after rivers) which OPNFV has been busily creating since the community was launched last September. In my blog celebrating the OPNFV launch I outlined the importance of open source to stimulate innovation and accelerate progress on implementation. At CableLabs we are very keen on the open source approach because it enables the industry to collaborate to build common features while avoiding duplication of effort. This enables everyone to focus on product development and service creation. We have been eagerly awaiting this first release as it provides the foundation for our virtualization projects and we will be proposing to bring in our Virtual Business CPE APIs for the next OPNFV release.
The initial scope of OPNFV is focused on the NFV Infrastructure layer of the ETSI NFV Architectural Framework as shown below: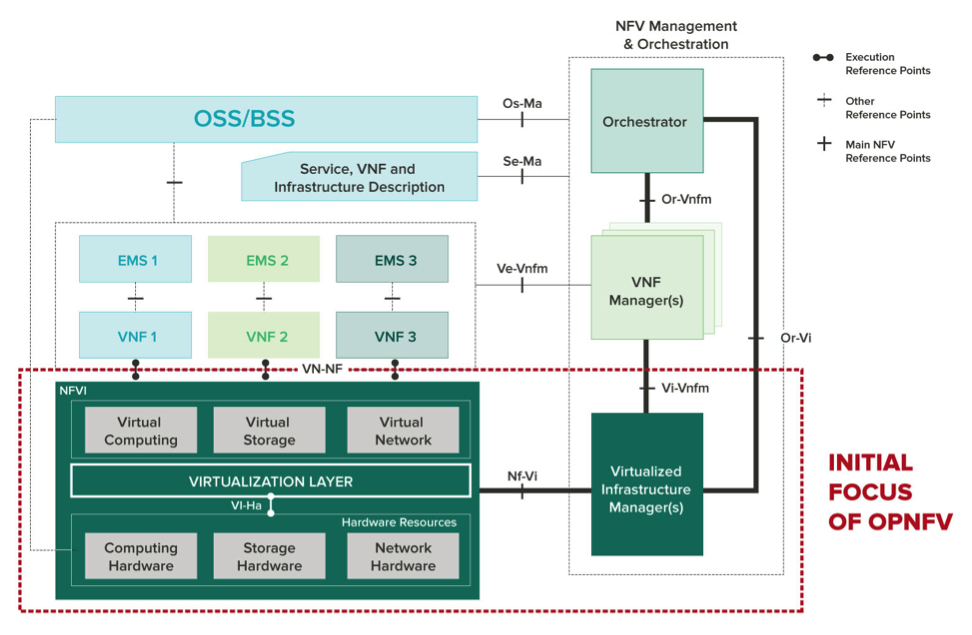 OPNFV Scope
Bounding the scope of OPNFV to the NFVI in this first phase has enabled this new global community to focus on rapidly creating a software development framework and for the participants to get to know each other and build awareness around this new topic through deeper involvement in a smaller set of projects.
We congratulate the OPNFV community on this achievement. The community has solved a lot of open source integration problems and created and debugged toolsets that would otherwise have had to be done independently and repeatedly in different labs. OPNFV is proving the value for the industry to work together to do the heavy lifting once.
There was a lively debate at the first OPNFV Hackfest in Prague on whether it was better to include more features in the initial release but to allow more time for development, or to release earlier with fewer features. We argued for early release to enable the industry to become familiar with the tools and to start to accrue learning as quickly as possible. This release will result in more developers becoming familiar with the OPNFV platform more quickly and to contribute to future OPNFV releases as well as their proprietary innovation on top of the platform.
The OPNFV Arno release enables the industry to create NFV integration platforms according to a common baseline thereby accelerating collaboration and shared learning. Full details of what's included in the Arno release can be found on the OPNFV website, but as a quick summary, it includes the base Operating System (Linux CentOS), SDN Controller (OpenDaylight Helium) and Infrastructure Controller (OpenStack Juno).
CableLabs considers open source and formal standards processes to be complementary and we are actively involved in both. We actively contributed to the OPNFV 'Pharos' Testbed infrastructure project including contributing governance documents based our vendor-neutral test and certification experience. We are involved in the new OPNFV Certification & Compliance Committee and we are building OPNFV reference platforms at our Sunnyvale-CA and Louisville-CO locations to integrate and validate our collaborative open source development on behalf of the cable industry. We will be providing feedback to OPNFV and the ETSI NFV ISG as well as contributing our own code.
The next few months are going to be very exciting as we begin to see the ETSI NFV ISG Architectural Framework brought to life through the efforts of the OPNFV community and we'll be able to share insights on NFV performance and interoperability because we'll all be using a common infrastructure configuration.
Don Clarke is a Principal Architect at CableLabs working in the Virtualization and Network Evolution group.
Cable Information Architecture
Rethinking Data Integration: What Got You Here Won't Get You There
The modern-day cable industry is represented by a complex framework of legacy data systems.   Problems arise in the integration of these systems.
Traditionally, the industry has relied on project-based integration approaches, which are often architected in isolation and removed from a more holistic enterprise view. Cable operator business owners and technology partners are often in a situation to implement solutions that solve their immediate needs in the most pragmatic way possible, without consideration for a larger enterprise-centric strategy.  Project-based integrations provide a simple and quick solution, but at the expense of long-term negative impacts on future integration attempts. These isolated solutions pile up and eventually create a data integration monster that hinders flexibility for future development and creates on-going future costs. The worst part is that every new project feeds the monster a little bit more leading to delays, increasing development costs, and a growing number of headaches.
The landscape is changing as the demand for new products, interconnected systems, and the concept of network virtualization becomes a reality. Cable operators' product offerings are evolving and extending through configuration and personalization. Opportunities to innovate, rising consumer expectations and new competition are driving an increase in service provider system integration activity. Effective operational support requires more integration, more interfaces, and more data exchange than ever before.   The solution lies in using technologies in conjunction with a shared information framework to create unity across projects, people, and data sources
Technology paired with a cable-centric information framework, which provides an enterprise view of data integration, can put the cable industry on a path to not only stopping the rising cost of point-to-point integration, but also overcoming the on-going cost incurred from past project-based integrations and stepping into the future with a holistic view on data integration.
Taking a Different Integration Approach
Rather than taking the approach of point-to-point project-based integration, greater scale can be achieved through new integration approaches.
Cable operators have an opportunity to move away from building interfaces on a per-project basis and start developing from an industry-wide specification—enabling agile data integration at the enterprise level and across the industry.
CableLabs, in collaboration with our members and leading industry suppliers, has developed a cable information framework that allows cable operators to move away from the previous approaches, and move towards an enterprise view of data integration.
Utilizing a common data architecture, the cable information framework leverages existing standards, foundational data models (customer, products, location, resources, etc.) and agile software methodologies, working directly with cable operators in production environments to build a rich, highly reusable API library.
Impact of a New Approach
With an enterprise information integration approach, similar to those utilized by Google, Apple and Netflix, the systems and the business get the data they need and technology groups are able to provide greater value. Technology teams are able to deploy data services that can be easily reused for all applications without rework, resulting in:
Faster Time-to-Market: Increased business agility from delivering data faster
Reduced Costs: Improved efficiency from cutting development and maintenance costs
Increased Productivity: Lowered risk and improved data quality
Leveraging the cable information framework can accelerate the transition to a more agile view of data exchange. Eliminating point-to-point integrations in favor of a hub-and-spoke architecture will provide greater agility, more reuse, faster product launches, a data-driven business, and ultimately a better customer experience. With an enterprise approach to information architecture, each system can exchange information in a common format comprehensible to all applications. This loosely-coupled architecture will minimize the impact of change by avoiding the per-project approach. Using a cable information architecture will enable rapid prototyping and development and provide agility and reuse.
By Julie Rachel -