NFV License Management: The Missing Piece of the Puzzle
Ever experienced the annoyance of trying to install or reinstall licensed software on your PC only to find that you lost the license key? Imagine the challenge of managing software licenses in a large complex organization such as a telecommunications operator with hundreds, if not thousands or even tens of thousands, of licenses spread across many critical systems. How many licenses are in use at any given moment? How many are expired or technically in breach of commercial agreements with vendors?
I could go on, but you get the gist. Software license management in the telecommunications environment is about to become an order of magnitude more complex as NFV emerges from the shadows to become the technology of choice for future telecommunications network infrastructures!
Physical network appliances, purchased with a packet of software licenses, wrapped up in a commercial agreement with a single vendor and fixed for several years are about to be displaced by racks of servers running thousands of ephemeral instances of Virtual Network Functions (VNFs) and other types of critical software originating from a myriad of diverse sources - and changing minute by minute according to changing demands on the network.
Welcome to the brave new world of NFV.
How Software Licensing Underpins the Economic Viability of NFV
As one of the leaders of the group of network operators who introduced the NFV concept in 2012, I have been aware since the very beginning of the critical role that software licenses will play in the economics of NFV. Once a rack of servers is installed, software licensing becomes a significant recurring cost, as anyone who purchases software will know all too well. It might seem obvious, but there shouldn't be any technical barriers to the implementation (and enforcement) of any type of commercial licensing agreement between network operators and software providers.
The ability to negotiate and concurrently implement different software licensing regimes with different software providers is a very important competition dynamic for NFV. Interoperability for automated license management transactions between software providers and network operators will be crucial and we want to level the playing field for innovative small software vendors to engage with the cable industry by specifying standardized approaches.
Leveling the Playing Field for Small Software Vendors
I hadn't thought much more about NFV License Management until the summer of 2015 when I was approached at a Silicon Valley conference by the marketing director of a small independent software vendor. He said his company was very concerned that they might be excluded from NFV procurement contracts because network operators would not be motivated to implement proprietary license management arrangements with more than a few predominantly large players. I was very concerned about this because the whole point of NFV was to open the telecommunications ecosystem to small innovative software players. A vibrant and open telecommunications ecosystem is something I feel passionately about, and I resolved to do something about it.
Why do we need standards for NFV License Management?
Today there is huge diversity of license management mechanisms across the software industry which is reflected in the product offerings from Virtual Network Function (VNF) providers. Each network operator and VNF provider has a different licensing and enforcement process and the rate of change for software is increasing. Clearly, this will make service provisioning and license renewal operations more complex, error-prone and time-consuming. How will VNF providers know that their software is being used according to the license terms? And network operators need to ensure that any failure in license acquisition or enforcement does not lead to service outage.
These issues can be resolved by establishing a standard NFV license management architecture which, in addition to facilitating software vendors creating their own, independent, commercial licensing terms, would have many benefits, including:
Avoiding the need to customize the license management procedure for each VNF type and VNF provider.
Simplifying acquisition of VNF license usage information, this is particularly important when dynamically scaling VNF instances to support service demand.
Reducing licensing errors which might otherwise lead to service outages.
Massively simplified license management operations which are independent of the underlying VNF solution. This, in turn, may result in savings from the ability to optimize actual usage, reducing the waste of digital assets like software licenses.
Enabling a competitive ecosystem for NFV software providers.
A guiding principle is to minimize the impact on the existing NFV specifications by identifying the minimum features needed to implement any commercial license management framework typically residing in a separate or higher layer system (e.g. OSS/BSS). I think of this as identifying and specifying the minimum set of operations necessary to be executed by the NFV Management & Orchestration (MANO) system to acquire VNF software licenses and monitor their usage.
Addressing the NFV License Management Challenge
I encouraged discussion on this topic in the ETSI NFV Network Operator Council and there were notable contributions from BT, Korea Telecom and others which raised global awareness.
Peter Willis at BT summed up the network operator requirements for NFV license management very nicely in an influential contribution:
All VNFs should use the same methods, mechanisms and protocols.
Processes should be fully automated requiring no manual intervention and scalable to 10's of Millions of VNF instances.
There should be no common mode failure mechanisms.
Networks should be able to bootstrap in all possible scenarios.
Customers should not lose service due to administrative errors (i.e. VNFs should default to running).
All commercial VNF licensing models should be supported without requiring VNFs to be re-written or upgraded.

Peter provided some interesting examples: Perpetual, pre-pay, post-pay, pay-per-use, pay-per-GByte, pay-per-Gbit, pay-by-maximum-instances, pay-per-day, pay-per-month, pay-per-minute, etc.

VNF "usage" accounting should be independent of "billing" (i.e. it should be possible to turn "usage" data into a "bill" using a third-party application).
"Usage" data should be authenticated & auditable (a key concern for VNF providers).
With the network operators fully on board, an ETSI NFV Work Item was initiated to study the topic and to publish a set of recommendations that the industry could sign off on. Abinash Vishwakarma at NetCracker volunteered to lead the work which started in the autumn of 2016.
Recommendations Published
I am really pleased that just as everyone was heading home for the holidays, ETSI NFV delivered the Report on License Management for NFV. This work took months of collaborative effort and is a very important step for the industry. It documents the features required to be implemented within the NFV Architectural Framework to support NFV License Management. These features will enable any combination of commercial license management regimes without implementing proprietary license management mechanisms.
The ETSI NFV work is complemented by work in TM Forum on NFV License Management addressing the higher layer requirements.
Next Steps
The next step will be to specify the necessary features within the ETSI NFV Architectural Framework and associated APIs that may be required to support License Management. This work is targeted to be completed in time for Release 3 of the ETSI NFV specifications in the summer of 2018.
Meanwhile, I am in dialogue with software providers to encourage them to get involved in this critical next stage of ETSI NFV work and to begin developing product road-maps to support NFV license management with the features and scalability required for telecommunications-grade operations.
What is CableLabs doing in this space?
CableLabs has been working on SDN and NFV for over four years. We have studied the impact of NFV in the cable environment, including the home environment and the access network. We are also making a significant contribution to the collaborative industry effort on NFV. We hold leadership positions in ETSI NFV and our NFV & SDN software stack – SNAPS is part of OPNFV. We actively encourage interoperability for NFV and SDN solutions and CableLabs' subsidiary Kyrio operates SDN-NFV interoperability labs at our Sunnyvale-CA and Louisville-CO locations, which enable vendors and operators to work together to validate interoperability for their solutions.
ETSI NFV has created the foundation standards to deliver carrier-grade virtualization capabilities for the global telecommunications industry. You can find more information at ETSI NFV Industry Specification Group. To stay current with what CableLabs is doing in this space, make sure to subscribe to our blog.
--
Don Clarke is a Principal Architect at CableLabs working in the Core Innovation Group. He chairs the ETSI NFV Network Operator Council and is a member of the ETSI NFV leadership team.
Hosting ETSI NFV in Mile High City
The global telecommunications industry is undergoing an unprecedented transformation to software-based networking driven by the emergence of Network Functions Virtualization (NFV). Last week in downtown Denver, CableLabs welcomed over 130 delegates from all over the world to the 19th plenary session of the ETSI NFV Industry Specification Group. With over 300 member companies including 38 global network operators, ETSI NFV is the leading forum developing the foundation international standards for NFV.
In 2013 ETSI NFV published the globally referenced Architectural Framework for NFV and over the past four years has been working intensively to specify the interfaces and functionality in sufficient detail to enable vendors to bring interoperable products to the market.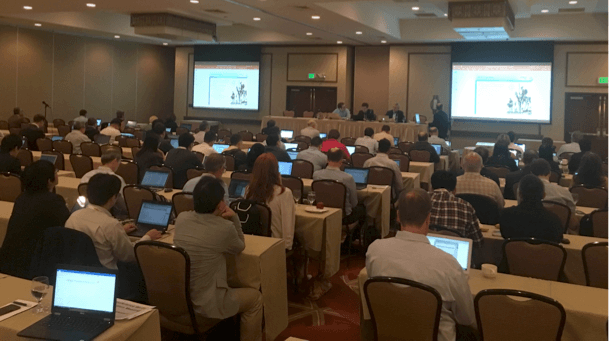 Recently I calculated that over 90,000 individual-contributor hours have been spent in the ETSI NFV face-to-face plenary meetings to date - and this doesn't include working group interim face-to-face meetings and conference calls. In a typical week, there are at least seven different working group calls timed to enable participation by delegates located around the globe.
ETSI NFV has openly published over 60 specifications which define the functional blocks needed to deliver carrier-grade network performance in the telecommunications environment. Taking a page out of the open source playbook, ETSI NFV maintains an Open Area where draft specifications which are still being worked-on can be downloaded to enable the wider industry to see where the work is heading, and for developers to begin writing code.
Why is the ETSI NVF work critical?
The ETSI NFV work enables telecommunications operators to use cloud technologies to implement resilient network solutions able to deliver the rigorous service levels which underpin critical national infrastructures. The ETSI NFV work also enables domain-specific standards bodies such as 3GPP, Broadband Forum, IETF, MEF etc. to call out common foundation specifications which will enable their solutions to co-exist on the same virtualization platform. Open source communities also need to reference common specifications to ensure their solutions will be interoperable. The need for open source communities to reference the ETSI NFV work to avoid fragmentation is a topic I've become quite vocal about in recent contributions to international conferences.
Encouraging interoperability within an open ecosystem has been a key objective for ETSI NFV since it was launched. To drive this forward, ETSI NFV recently completed specifications which detail the REST APIs between key elements of the NFV Architectural Framework. Additional specifications, including the APIs exposed to Operations Support Systems (OSS), will be completed by the end of this year. This is a key piece of the puzzle to realize our vision for NFV. Bruno Chatras at Orange who chairs this work has blogged on this so I won't cover it in detail here.  Suffice to say; this new direction will massively accelerate progress on NFV implementation and interoperability.
Tutorial and Hands-on Demo Session
As many of the world's key experts on NFV were present for the ETSI NFV plenary sessions we organized an NFV tutorial and hands-on demo session on Monday afternoon which I called a 'SpecFest'. This enabled local technology people to meet and interact with the experts. I think the term 'Hackfest' is overused and I wanted to promote the idea that demonstrations of running code centered on adherence to detailed specifications could also be exciting. We sent invites to local cable operators, startups and Colorado University at Boulder to help broaden awareness of the ETSI NFV specification work. I wasn't disappointed, over 70 delegates turned up and over 50 participants joined remotely. The tutorial and demo materials are freely available for download. The event exceeded our expectations, not only in the level of participation but also Nokia stepped up with the first public demonstration of running code implementing the ETSI NFV specs run live from their center in Hungary. It was truly a 'SpecFest'!
Joining up with Open Source
Coincidently there was an OpenStack Project Teams Gathering (PTG) meeting taking place in Denver, and it was too good an opportunity to miss to join up the two communities for a mutual update. The OpenStack Glare Project intends to implement interfaces based on the ETSI NFV specifications, and ETSI NFV has just completed a gap analysis in relation to OpenStack. The opportunity to get together to share technical perspectives, build the relationship and figure out how to collaborate more closely, was timely. The CableLabs NFV software platform is centered on OpenStack and we are committed to open standards, so this type of collaboration is something we are very keen on.
Excellent Progress on ETSI NFV Releases
The ETSI NFV working groups met in parallel throughout the week with over 230 contributions to work through. Release 2 maintenance is close to being completed and new features for inclusion in Release 3 went forward for more detailed analysis including Network Slicing, License Management, Charging and Billing, Policy Management, etc. Excellent progress was made on specifying the Network Service Descriptor (NSD) and Virtual Network Function Descriptor (VNFD) with TOSCA. This augments the REST APIs I mentioned earlier.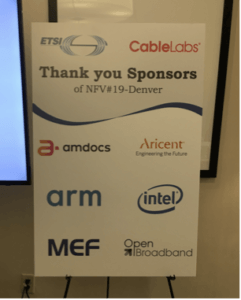 As a member of the ETSI NFV leadership team, I've been a keen advocate for ETSI NFV to strictly focus on work that is high value to the industry. Quality is critically important, we want to avoid work that burns time but doesn't move us towards our goals. With this in mind, I was pleased to see new work items approved that address genuine gaps. These included Connection-based Virtual Services led by Verizon, NFV Identity Management and Security led by BT and NFV Descriptors based on YANG led by Cisco, amongst others.
The next ETSI NFV plenary will be held in Sophia-Antipolis December 5-8, 2017 and we are planning ahead for the second ETSI NFV Plugtests to be held at the ETSI Center for Testing and Interoperability (CTI) January 15-19, 2018. The first Plugtests were over-subscribed, so participating companies will need to register early!
CableLabs was extremely proud to host this event and we'd like to thank Amdocs, Aricent, arm, Broadband Forum, Intel and MEF for their sponsorship.
What is CableLabs doing in this space?
CableLabs has been working on SDN and NFV for over 4-years. We have studied the impact of NFV in the home environment and developed insights which smooth the way for virtual provisioning in the Access Network. We are a leading contributor to ETSI NFV and our NFV & SDN stack – SNAPS is part of OPNFV. We are keen to encourage interoperability for NFV and SDN solutions, CableLabs subsidiary Kyrio operates SDN-NFV interoperability labs at our Sunnyvale-CA and Louisville-CO locations which enable vendors and operators to work together.
--
ETSI NFV has created the foundation standards to deliver carrier-grade virtualization capabilities for the global telecommunications industry. You can find more info at ETSI NFV Industry Specification Group. Don't forget to subscribe to our blog to find out more about ETSI NFV in the future. 
Don Clarke is a Principal Architect at CableLabs working in the Core Innovation Group. He chairs the ETSI NFV Network Operator Council and is a member of the ETSI NFV leadership team.
ETSI Security Week: Securing Networks Requires a Global Perspective
Cyber attacks are on the rise and a threat to critical infrastructure around the globe. CableLabs along with other service providers and vendors are collaborating through European Telecommunications Standards Institute (ETSI) to ensure best practices are consistently deployed in regards to these attacks.
Take a look at any cyber attack and consider where the attacks come from and who their victims are. You'll find that almost all attacks are international in scope, with both attackers and victims found across a transnational field devoid of boundaries. Securing our networks and services requires a global response and our evolving practices and strategies must have an international perspective. CableLabs does this by participating in multiple international organizations working hard to evolve our cyber security defenses. Last week, the ETSI hosted a series of focused workshops on network security at ETSI Security Week. CableLabs helped plan this event, and we contributed our insights in presentations and panels.
This annual event is attended by nearly 300 industry professionals and opens a dialogue to develop a common understanding in the industry of best practices. Workshops included public policy impacts on security practices, Machine to Machine/Internet of Things security challenges, securing Network Function Virtualization (NFV) architectures, and, no event is complete without some discussion of 5G. (For more information on 5G see Tetsuya Nakamura's blog post here.) I presented our experiences in implementing NFV proof-of-concepts and Brian Scriber participated in a panel discussing operator perspectives. Materials shared at the event are available after registration on the ETSI portal here.
As shared here last fall, as well as introducing new security challenges, NFV also presents opportunities to improve the security of future networks relative to legacy infrastructure. Benefits of a well implemented NFV infrastructure enables:
More consistent security processes and controls
Easier and more rapid security upgrades and patching as threats evolve
Improved support for pervasive encryption
More cost-effective security and performance monitoring
With the correct implementation, NFV enhances security operations by enabling pervasive monitoring and more agile and flexible responses as cyber threats evolve.
NFV coupled with Software Defined Networking (SDN) enables the creation of an open and distributed architecture which enables operators to create "network factories". Network factories are fully automated network architectures that are entire supply chains for exciting new services. We need to secure the network infrastructure, as well as secure the software supply chain from code creation to delivery as running code on the platform. This requires a different orientation from today's operations. Fortunately, NIST has provided a framework for approaching the cyber security aspects of supply chains and it applies well to open and distributed architectures.
ETSI is a leader in providing foundational standards for NFV and is the single most influential body on NFV security best practices today. The ETSI NFV Architectural Framework sets the stage for what most other standards bodies and open source code projects are attempting to achieve. ETSI's NFV reference architecture does not currently adequately identify all the supply chain cyber security aspects.  Consequently, we haven't yet defined a comprehensive approach to establishing security associations between all of the components (which may be hardware or software).
Every connection in the network should be considered as a security association. Certain security functions must be implemented for each security association. Each security association should be:
Based on strong identity: This means there needs to be a persistent private key associated with a unique identifier and attested (signed) by a certificate or equivalent
Authenticated: Using some form of cryptographic challenge
Authorized: For both network and process access control and based on a network-wide policy
Isolated: From other sub-networks and workloads on virtualized servers
Confidential: Including encryption
Attested: The infrastructure and communications links are proven to be untampered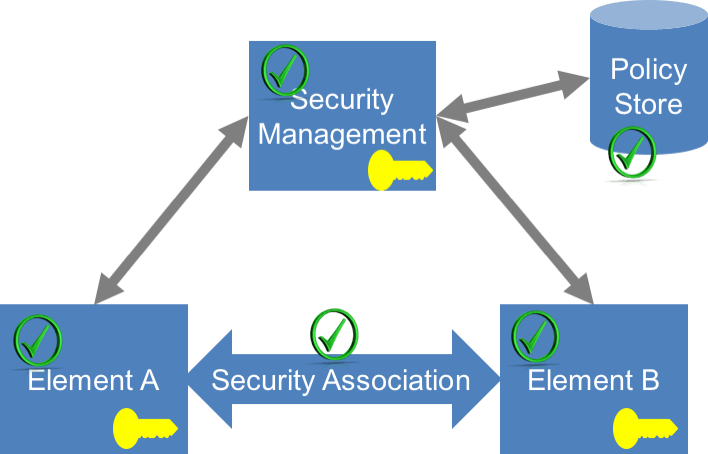 Providing a basis for strong identity is proving to be challenging. CableLabs has used PKI-based certificates for strong identity for DOCSIS network now for 17 years with over 500M certificates issued. Yet, achieving consensus to replicate this success amongst the evolving solutions in NFV, IoT, and medical devices are taking time.
Security identity requires three components:
The first element is a secret, which is usually a private key to support authentication and encryption.
The second element is a unique identifier within the ecosystem. DOCSIS network security uses the MAC address for this purpose, but that is not applicable to all other domains.
Thirdly, the identity must be attestable. This means creating a certificate or profile that is signed, which binds the certificate to the secret.
The path to success in implementing globally effective cyber security is to document best practices through specification or standardization with supporting code bases which actually implement those practices. CableLabs is proud to be a major contributor to ETSI's NFV project. We lead both the ETSI NFV Operator Council and the Security Working Group and we are collaborating with other industry leaders to address these gaps. Further, we work closely with open source code groups such as OpenStack, OSM, OpenDaylight, OPNFV, and we watch emerging initiatives such as FD.io and ONAP. Through our SNAPSTM initiative, we are reinforcing standards work with practical experience.  If these initiatives mature, we will adapt the practices to cable specific solutions.
--
CableLabs is hosting the next ETSI NFV plenary meeting in Denver,CO from September 11-15, 2017. Participation is open upon signing the ETSI NFV participant agreement. Leave a comment below if you'd like to connect with the CableLabs team. We'd love to meet you there!
Network Operator Perspectives on NFV priorities for 5G
Today, twenty-three network operators published a white paper to guide the industry on priorities for NFV to deliver the industry vision for 5G systems: "Network Operator Perspectives on NFV priorities for 5G". The network operator co-authors include Bell Canada, BT, CableLabs, CenturyLink, China Mobile, China Unicom, Colt, Deutsche Telekom, KDDI, KT, NTT, NTT DOCOMO, Orange, Portugal Telecom, Rogers, SK Telecom, Sprint, STC, Swisscom, Telecom Italia, Telefonica, Telenor, and Vodafone. As managing editor for this white paper, I worked closely with colleagues from these leading organizations to document some key consensus requirements that we want the 5G standards community to take into account in their upcoming specification work.
We believe the evolved 5G network will be characterized by agile resilient converged fixed/mobile networks based on NFV and SDN technologies and capable of supporting network functions and applications encompassing many different networks and services domains. The breadth of foreseen 5G use cases and environments implies high scalability, ultra-low latency and ability to support a massive number of concurrent sessions, as well as ultra-high reliability and security. To achieve these ambitious goals, Network Slicing, Cloud-native design principles, End-to-end Service Management, Edge Computing, RAN Cloudification, Multi-site/domain Services, NFV License Management, Security, Reliability, and Scalability are important enablers as outlined in some detail in this paper.
In an era of increasingly stretched resources, it is vitally important for standards development organizations and open source communities to avoid re-invention and wasteful duplication of effort. Hence, an important message is to encourage reference to the extensive body of foundational NFV specification work already published by the ETSI NFV Industry Specification Group over the past four years as the basis for 5G.
As managing editor, I believe this white paper should be used as guidance for the wider industry on how NFV should be used to realize 5G use cases.
What is CableLabs Doing in this Space?
The cable network will provide an ideal foundation for 5G because it is ubiquitous and already supports millions of Wi-Fi nodes in places where the majority of wireless data is consumed. It has high capacity for both Access and Backhaul. It is highly reliable and has low intrinsic latency because it is based on optical fiber which penetrates deep into the access network feeding wideband coaxial cables reaching all the way to the end-user premises. Moreover, it is a multi-node remotely powered access topology ideally suited to support the connection of the large number of small cells close to homes and businesses that will be needed for 5G.
A multi-faceted CableLabs R&D program is addressing the key technologies required for 5G around NFV and SDN that we are executing on behalf of our cable operator stakeholders. For example, CableLabs is progressing an intensive study of virtualized provisioning of the cable access network to enable programmability, our NFV/SDN reference platform is based on OPNFV and we are looking ahead to support 5G using an end-to-end virtualized architecture that includes low latency edge compute nodes located at the cable head-end. In addition, we are seeking to accelerate NFV/SDN interoperability through CableLabs' Kyrio subsidiary which has built an interoperability lab where vendors can work together with operators to toward their NFV and SDN solutions.
By Tetsuya Nakamura, Principal Architect, Strategy & Innovation, CableLabs
Network and Service Management – The Missing Piece for NFV
Network Functions Virtualization (NFV) enables telecommunications networks to be implemented in software running on high volume industry standard servers as outlined by network operators in a seminal white paper published in 2012. NFV standards have been under development in the ETSI NFV Industry Specification Group since the early part of 2013. The ETSI NFV work provides the foundation for NFV and is being referenced by standards organizations globally, and new open source software communities have sprung up to accelerate NFV implementation. I've written about industry progress on NFV in previous blogs but we still have some way to go before NFV is commonplace in telecommunications networks.
The key pieces of NFV, notably Virtual Network Functions (VNFs) run on industry standard compute platforms – basically datacenters; and must be dynamically configured and connected at scale to deliver tangible value; automation is absolutely vital for success. Cloud players such as Amazon and Facebook have mastered automation within the confines of their proprietary datacenters, and as a result their operations require orders of magnitude fewer people. New products and services appear at the speed of code, and customer self-service is taken for granted. Concepts that exploit automation such as Machine Learning are being applied which is supercharging the ability of cloud operators to optimize their systems and create cool new stuff. We in the telecoms industry need to also become masters of automation or we will be left behind in the inexorable march to a software defined future.
While the ETSI NFV Industry Specification Group has worked very hard on the "nuts and bolts" of NFV with a keen eye on automation (in my book the most important benefit of NFV), the industry hasn't made much headway on the key pre-requisite: automation of the Operations environment. Collaboration to address this essential capability is vitally important for the industry to remain competitive and deliver what our customers need in the future.
Information Modeling and Network Automation
Two very important industry initiatives are underway that will accelerate progress. The first initiative is to harmonize information modeling approaches across the telecoms industry (standards and open source). Unless Standards Development Organizations (SDOs) in the different network domains align their information modeling approaches, network operators will have to deal with an ever increasing degree of complexity as they seek to create new networks and services based on NFV. The second is a new industry-wide effort to foster collaboration on Networks and Service Management.
Towards achieving these goals, in January 2016, CableLabs hosted the first multi-SDO and Open Source workshop on Information Modeling which was widely regarded as the moment when the industry realized the value of harmonization. Aligning Information Modeling approaches is a critical first step to achieving network automation (see the blog by my colleague Tetsuya Nakamura). Information models are the "templates" needed to orchestrate compute resources into a meaningful configuration. In the cloud environment, these templates are used routinely, and we need to use them as well, but unlike cloud operators who work in a proprietary, mostly homogeneous environment, telecoms network operators work in a heterogeneous environment spanning many different network domains and referencing standards coming from many different SDOs. Applying cloud technologies in such an environment is extremely complex. Fortunately, SDOs and Open Source communities have recognized this challenge and an unprecedented era of cross-industry collaboration is getting underway.
Multi-SDO Collaboration is not simple, or it would be routine. The first barrier is the focus of individual SDOs on a narrow domain. Other barriers are culture and modus-operandi, and leadership teams motivated by agenda and timelines specific to their domain. Not to mention the dreaded IPR which can stymie even the most worthy of collaborations.
Second Multi-SDO Information Modeling Workshop
To build and maintain momentum, Deutsche Telekom hosted the second Multi-SDO Information Modelling workshop in Bonn-Germany last month. I co-chaired the event with Klaus Martiny at Deutsche Telekom and Michael Brenner at GigaSpaces, and my CableLabs colleague Tetsuya Nakamura played a key role in organization. The workshop dovetailed with another milestone event, the first cross-industry workshop on Networks and Service Management organized by Deutsche Telekom which addressed the broader challenges for automating telecoms networks.
Participants from the following organizations presented their views on harmonizing information modeling:  3GPP (SA5), ARIA, Broadband Forum, ETSI NFV, IETF, IISOMI, ITU-T, MEF, NGMN, OASIS/TOSCA, ONF, OSM, OPEN-O, ON.Lab/CORD, and TM-Forum.
The discussions were intense and extremely positive. Clearly the spirit of collaboration and a sense of common purpose are as strong now as they were after the CableLabs hosted first workshop which bodes well for maintaining momentum on alignment. Follow-up collaborative activities are structured around a set of key topics which we identified as high priority to be addressed with named owners from different organizations who will be accountable for progress. A public WiKi has been created for anyone to follow progress. Activities include:
Looking at Federated Information Models as a way to get to a Common Information Model.
Aligning nomenclature amongst the different organizations in relation to Information Modeling and Data Modeling.
Collecting Use Cases and Business Requirements as a way to bind the effort towards a practical goal.
Creating and maintaining central repositories for the numerous information models and data models in use across the industry together with descriptive meta-data and open source tooling.
Achieving harmonization is vitally important for the industry to enable automation of the NFV operations environment so we are setting an aggressive timescale to build momentum through 2017.
What CableLabs is doing in this space
We have a number of activities around NFV and SDN that we are executing on behalf of MSOs. For example, CableLabs is progressing an intensive study of virtualized provisioning of the cable access network to enable programmability, our NFV/SDN reference platform is based on OPNFV and we are looking ahead to support 5G using an end-to-end virtualized architecture that includes low latency edge compute nodes located at the cable head-end. In addition, we are seeking to accelerate NFV/SDN interoperability through our subsidiary Kyrio which has built an interop lab where vendors can work together with operators to validate interoperability for their SDN and NFV solutions.
The NFV journey is only just beginning and 5G will be the first new wave of technology to be designed from the ground up using NFV and SDN technologies. The cable industry, with our low latency access network, is in a leadership position to advance these technologies for the benefit of MSOs and their customers globally.
Harmonizing NFV Information Modeling Through Industry Collaboration
Last week CableLabs hosted a ground-breaking industry workshop to encourage harmonization of Information Modeling for network function virtualization. The event was organized by the ETSI NFV Industry Specification Group and brought together the leading Standards Development Organizations (SDOs) and Open Source communities. Participating organizations included 3GPP, ATIS, Broadband Forum, DMTF, ETSI NFV, IETF, ITU-T SG15, MEF, OASIS/TOSCA, Open Cloud Connect, ONF, OpenDaylight, OPNFV and TM-Forum. Over 90 of the world's key experts participated.
Each organization outlined its work on information modeling and its relevance to the NFV goals. A collaboration plan was agreed to address the challenges and opportunities identified with a goal of achieving harmonization by the end of this year. CableLabs will be actively involved in this collaboration effort via our leadership roles in ETSI NFV and open source communities.


Some of the participants in the workshop
What is the benefit of NFV information modeling harmonization?
Harmonization of NFV information modeling enables consistent and open APIs for efficient evolvable integration across the entire ecosystem including software defined networks (SDN) and NFV. The motivation for NFV is to realize significant business benefits including rapid service deployment, CAPEX/OPEX reduction, service elasticity, and multi-vendor inter-operability. It is very important to ensure end-to-end network service automation because different groups own different parts of the overall model leading to the potential for fragmentation and increased complexity if automation cannot be applied efficiently and without manual intervention.
Service providers need to deploy the software on top of a distributed cloud environment as their end goal and timeline is important. To accelerate NFV realization and demonstrate model validation through the whole lifecycle management of virtualized network functions (e.g. virtual CPE), it will be helpful to collaborate with open source communities.
What is CableLabs doing in this space?
CableLabs has been working in the open networking and virtualization space for about three years and we have a number of NFV and SDN R&D projects in progress on behalf of our cable operator stakeholders. In particular, we are working on information models and data models for virtualizing the Converged Cable Access Platform (CCAP) and customer premises equipment (CPE). We are also looking at how virtualization can be applied in the home network to simplify operations, reduce costs and improve customer experience. As part of those projects, we have a number of our own developers actively developing prototypes which we are contributing to open source projects such as OPNFV and OpenDaylight.
The vendor-agnostic, non-profit environment at CableLabs is unique and ideally suited to collaborative R&D, especially open source development. We have implemented software-based network platforms at our Sunnyvale and Louisville locations and we will continue to be actively involved in both open source communities including OPNFV and OpenDaylight, and the ETSI NFV through our R&D activities and vendor-neutral testing.
Tetsuya Nakamura is a Principal Architect in the Strategy and Innovation Group at CableLabs.
SDN & NFV: Moving the Network into the Cloud
Cisco recently predicted that Internet traffic will reach 1.4 zettabytes per year by 2017. This traffic explosion is putting pressure on service providers to rein in costs while increasing capacity.  Enter Software Defined Networking (SDN) and Network Function Virtualization (NFV).  In much the same way that virtualization and Cloud have changed computing, the combination of these two technologies have the potential to lower costs, decrease customer provisioning time, and accelerate new service introduction. SDN and NFV will also allow increased automation and customer self-service, thereby reducing trouble tickets and operating costs.
Generally speaking, SDN describes an open architecture comprising a set of APIs, and control protocols such as OpenFlow, Forwarding and Control Element Separation (ForCES), and SNMP that allow for dynamic, distributed provisioning and automation. To this list, CableLabs is adding a PacketCable MultiMedia (PCMM) plugin – check out our interview on SDN Central, where we talk about using SDN to control DOCSIS links. Using SDN, service providers can use DevOps tools such as Puppet and Chef to provision network devices, replacing error-prone manual processes.
NFV decouples network functions such as firewalls, deep packet inspection, caching, etc., from proprietary hardware so that they can be run in software on generic (e.g., x86) servers.   This allows service providers to use standard IT virtualization software to dynamically instantiate, move, or scale network functions. While not reducing the overall computational load, service providers have flexibility to decide where to put the load, e.g., moving it from a crowded hub site to a headend or regional data center.
While either SDN or NFV can be used by itself, there is synergy in combining the two technologies.  Taken in combination, NFV provides the 'what' (virtualization architecture) and SDN provides the 'how' (APIs and control protocols) to enable service providers to embrace network virtualization.  These technologies also accelerate new service deployment, as they can be developed as software-based 'cloud' applications--disconnected from the underlying hardware--that can be tested, and deployed at scale using MSOs' internal cloud infrastructures. As part of CableLabs' Open Networking assessment, we determined that by 2018 the combined technologies have the potential to significantly reduce OpEx and CapEx, while increasing revenue in the form of new dynamic services provided to consumers.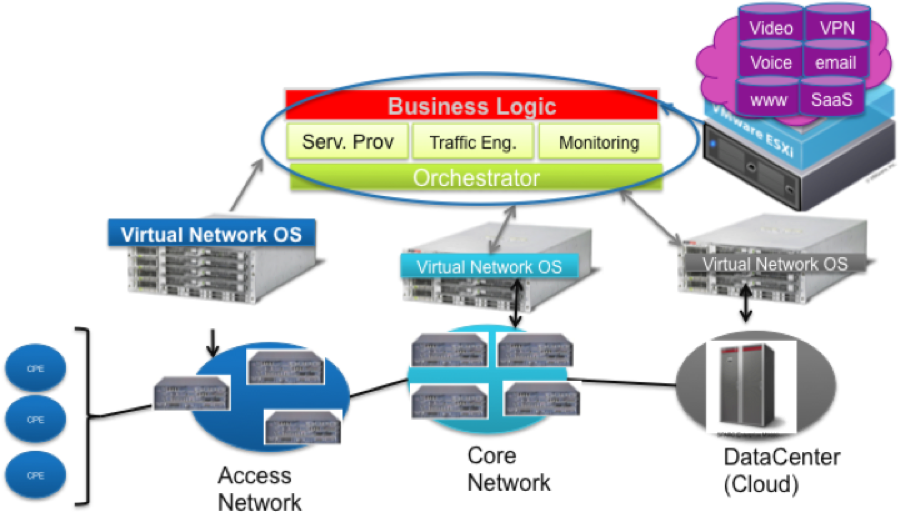 The revolution in networking, heralded by SDN and NFV, has profound implications for MSOs. As networks become part of the 'cloud', MSOs can sell Network-as-a-Service to enterprise customers and other MSOs. In addition, these technologies will allow MSOs to sell dynamic, mass-customized services.  As we have seen with smartphones, customers will be able to condition their service by selecting from a curated selection of 'apps' (e.g., optimized over-the-top video, optimized gaming, de-optimized peer-to-peer file transfers, etc.).  I'm personally looking forward to network-based parental controls and firewall services to simplify my home network, so I don't have to maintain policies on all my devices.  Also analogous to cell phones, we will see more services residing in the cloud and device-independent access to services, whether accessing them from home, CableWiFi, or a hotel across the country.
At CableLabs, we are bringing SDN and NFV to the cable industry through two projects.  Our Open Networking project is exploring how to virtualize cable access network hardware elements, particularly focusing on head-end devices such as the CMTS.  This project is focused on rapid prototyping using emerging SDN toolkits. This will enable us to develop a scalable architecture, roadmap, and requirements for broad application of virtualization in the network.   Our second project involves developing a Virtual CPE prototype to demonstrate the applicability of these technologies on very low-end devices.  We are also engaged with the ETSI NFV Industry Specification Group, where we sit on the Network Operators Council (NOC).
By Chris Donley