Testing Bandwidth Usage of Popular Video Conferencing Applications
This year we have seen a shift toward working and learning from home and relying more on our broadband connection. Specifically, most of us use video conferencing for work, school and everyday communications. With that in mind, we looked at how much video conferencing a broadband connection can support.
In the U.S., the Federal Communications Commission (FCC) defines broadband to be a minimum of 25 Mbps downstream and 3 Mbps upstream. So, we started there. The investigation looked at how many simultaneous conferencing sessions can be supported on the access network using popular software including Google Meet, GoToMeeting, and Zoom. The data gathering used typical settings and looked at both upstream and downstream bandwidth usage from and to laptops connected by ethernet cable to a modem connected to a wired broadband connection. To avoid any appearance of endorsement of a particular conferencing application, we have not labeled the figures below with the specific apps under test.
Since this is CableLabs, we used DOCSIS® cable broadband technology. A Technicolor TC8305c gateway was used, which is a DOCSIS 3.0 modem supporting 8 downstream channels and 4 upstream channels. Note that this modem is several years old and not the current DOCSIS 3.1 technology. The modem was connected through the cable access network to a CommScope E6000 cable modem termination system (CMTS).
Laptops used ethernet wired connections to the modem to ensure no variables outside the control of the service provider would impact the speeds delivered, and conferences were set up and parameters varied while traffic flow rates were collected over time. Various laptops were used, running Windows, MacOS and Ubuntu – nothing special, just laptops that were around the lab and available for use.
Most broadband providers over-provision the broadband speeds delivered to customers' homes – this is for assorted reasons including considering protocol overhead and ensuring headroom in the system to handle unexpected loads. For this testing, the 25/3 service was over-provisioned by 25%, a typical configuration for this service tier.
At a high level, we found that all three conferencing solutions could support at least five concurrent sessions on five separate laptops connected to the same cable modem with the above 25/3 broadband service and with all sessions in gallery view. The quality of all five sessions was good and consistent throughout, with no jitter, choppiness, artifacts, or other defects noticed during the sessions.
This research doesn't take into account the potential external factors that can affect Internet performance in the home, from the placement of Wi-Fi routers, to building materials, to Wi-Fi interference, to the age and condition of the user's connected devices, but it does provide a helpful illustration of the baseline capabilities of 25/3 broadband.
The data is presented below where samples were collected every 200 milliseconds using tshark (the Wireshark network analyzer).
Conferencing Application: A
The chart below (Figure 1) shows access network usage for the five concurrent sessions over 300 seconds (five minutes) for one of the above conferencing applications. The blue line is the total downstream usage, and the orange line is total upstream usage. Note that the upstream usage stays below 2 Mbps over the five minutes.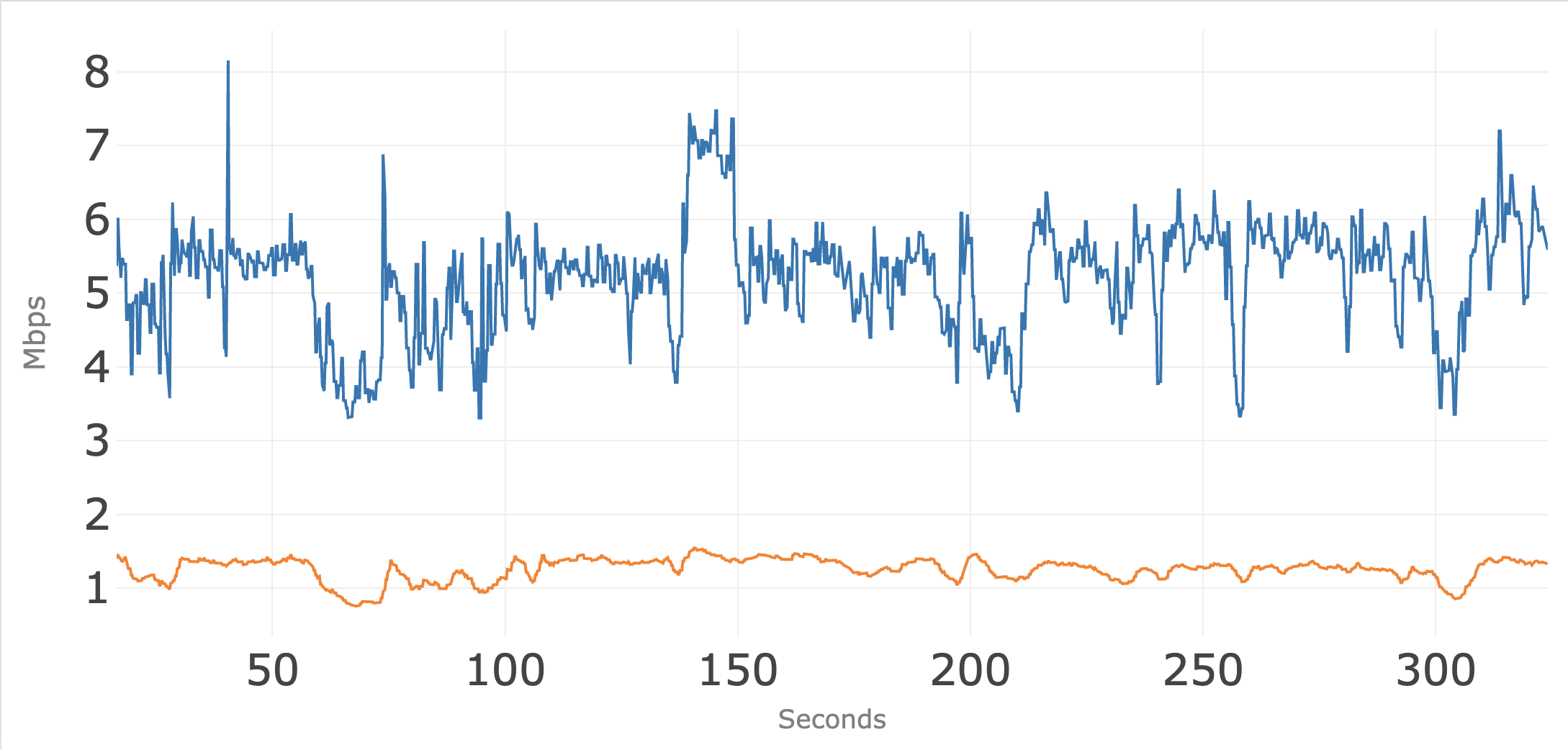 Figure 2 shows the upstream bandwidth usage of the five individual conference sessions where each is below 0.5 Mbps.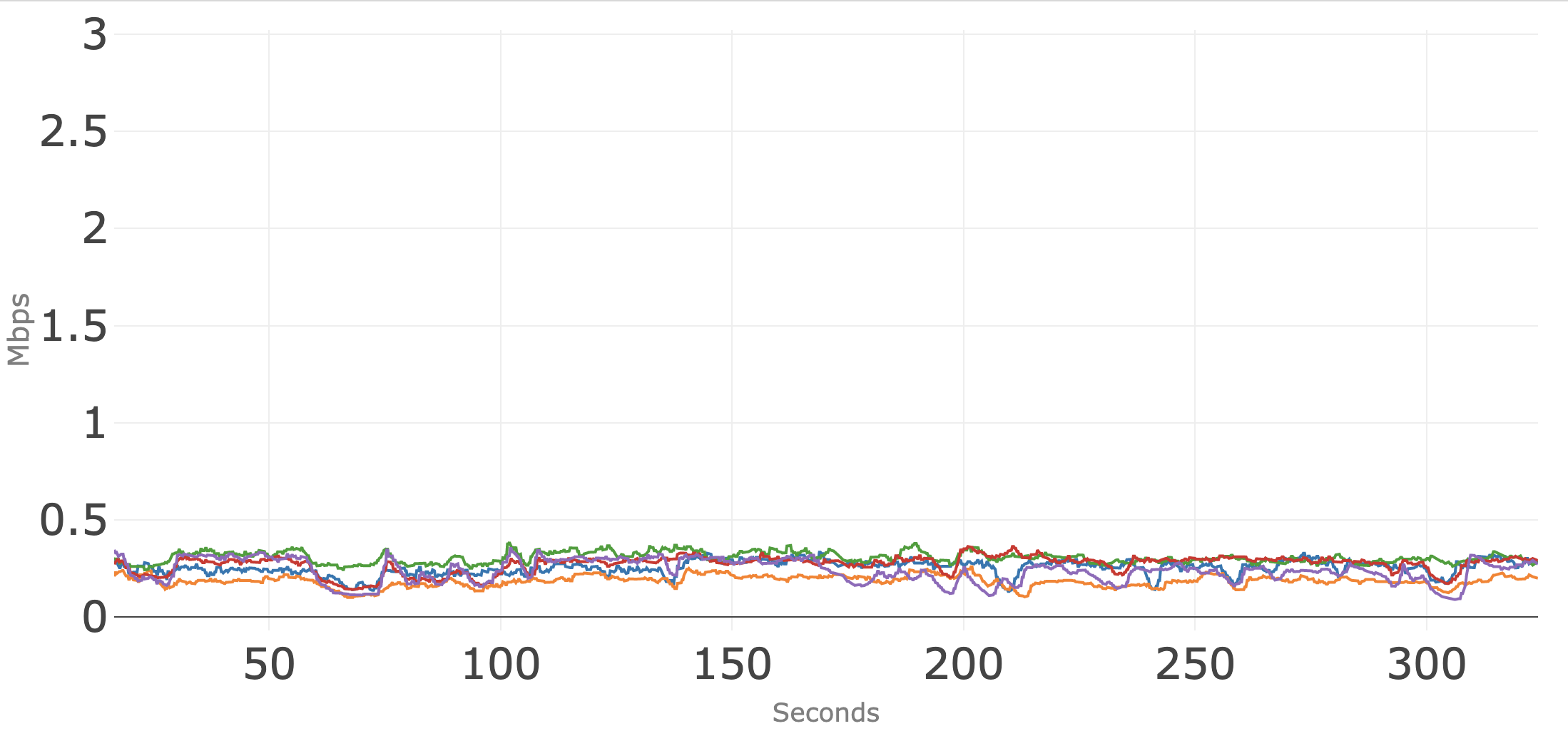 Figure 3 shows the downstream bandwidth usage for the five individual conference sessions.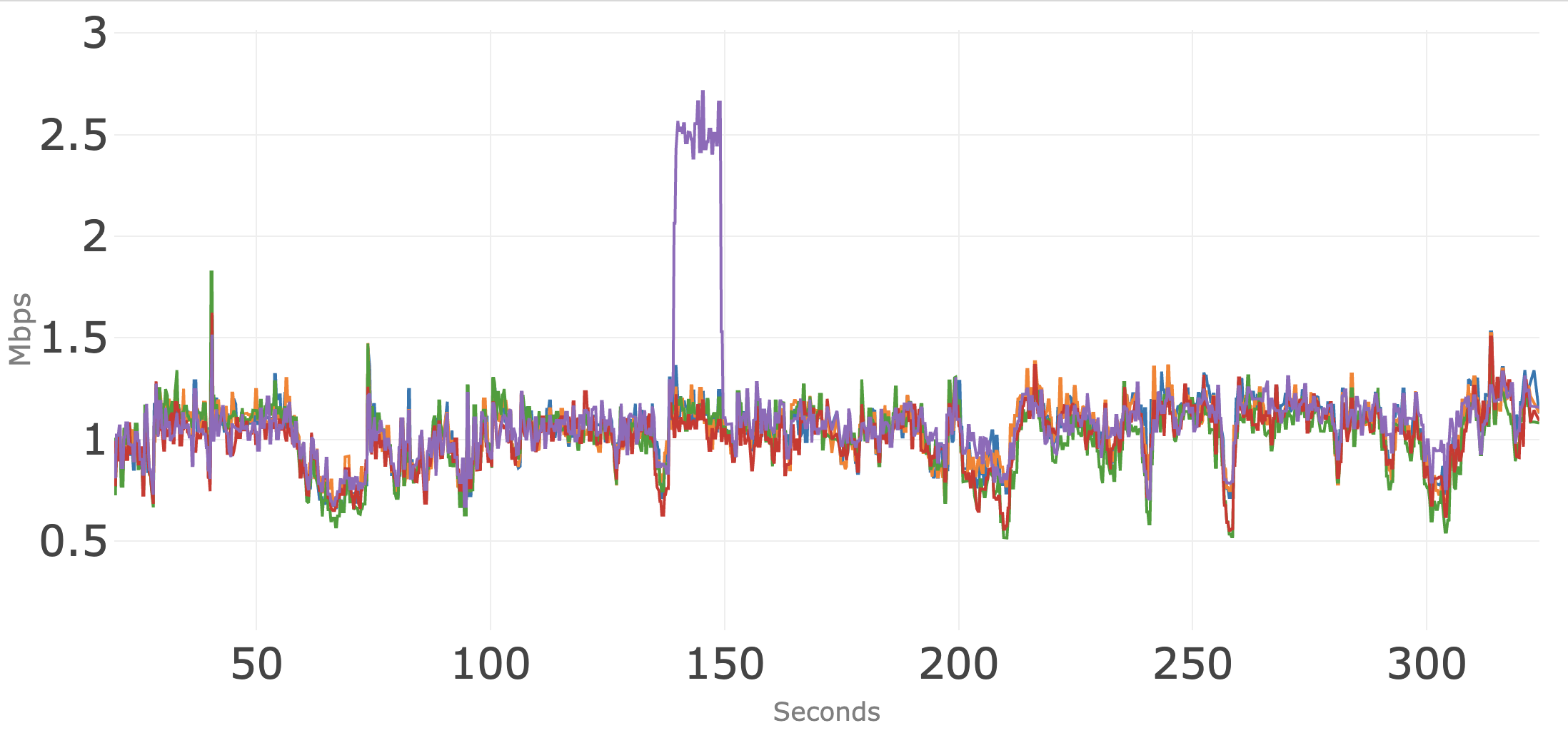 Conferencing Application: B
Figure 4 shows access network usage for five concurrent sessions over 300 seconds (five minutes) for the next conferencing application tested. The blue line is the total downstream usage, and the orange line is total upstream usage. Note that the upstream usage hovers around 3 Mbps as each conference session attempts to use as much upstream bandwidth as possible.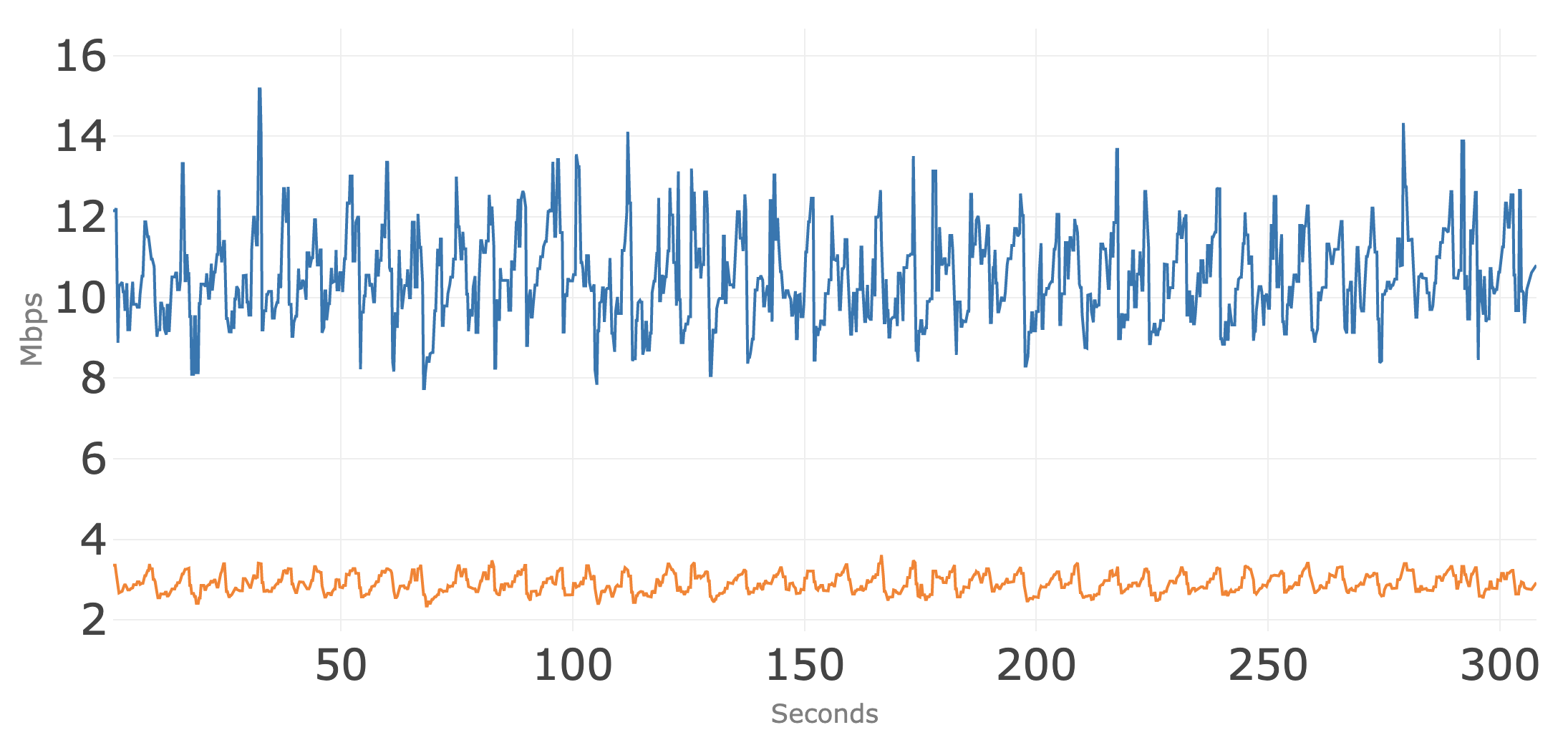 Figure 5 shows the upstream bandwidth usage of the five individual conference sessions where each is below 1 Mbps, though the individual sessions sawtooth up and down as the individual conference sessions compete for more bandwidth. This is normal behavior for applications of this type, and did not have a negative impact on stream quality.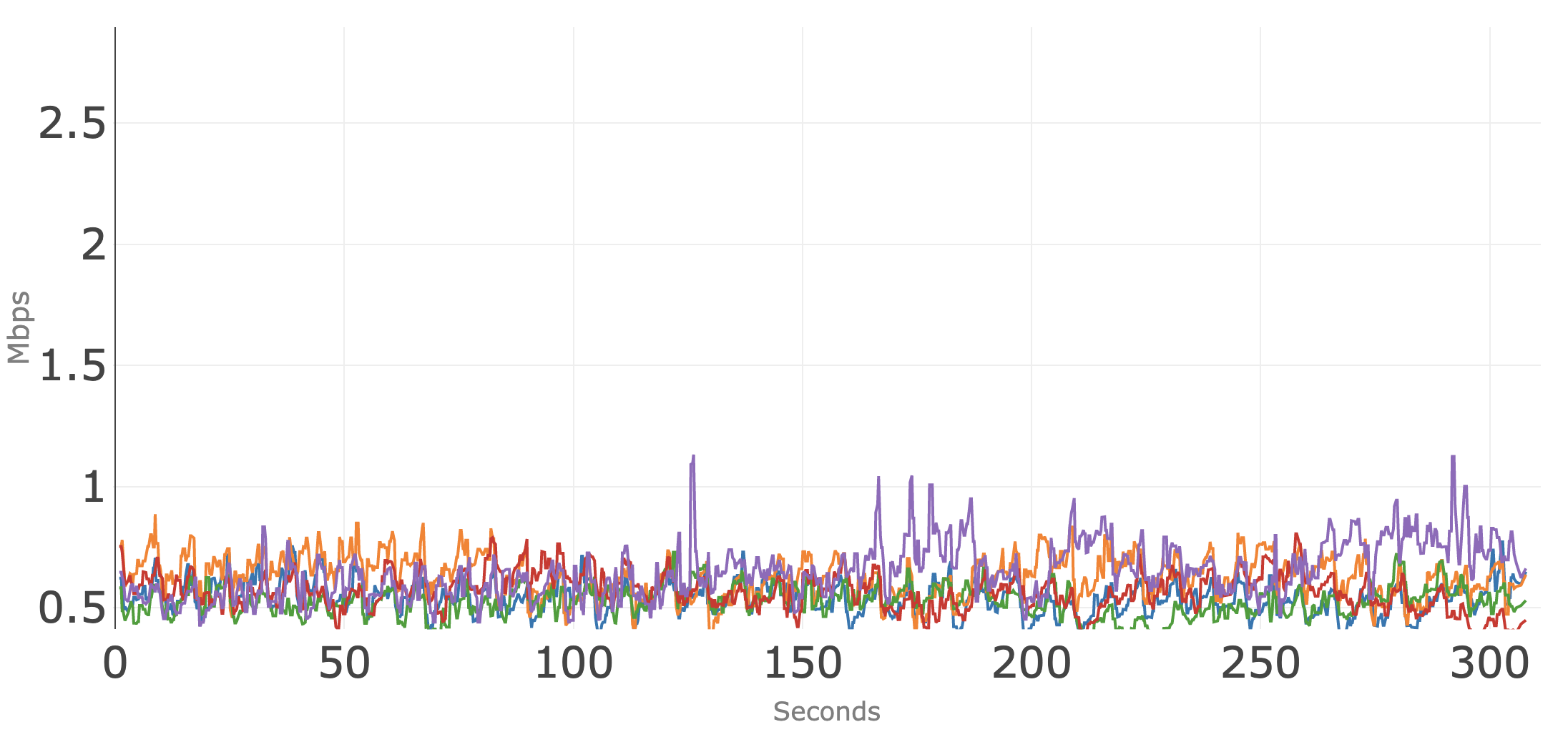 Figure 6 shows the downstream bandwidth usage for the five individual conference sessions.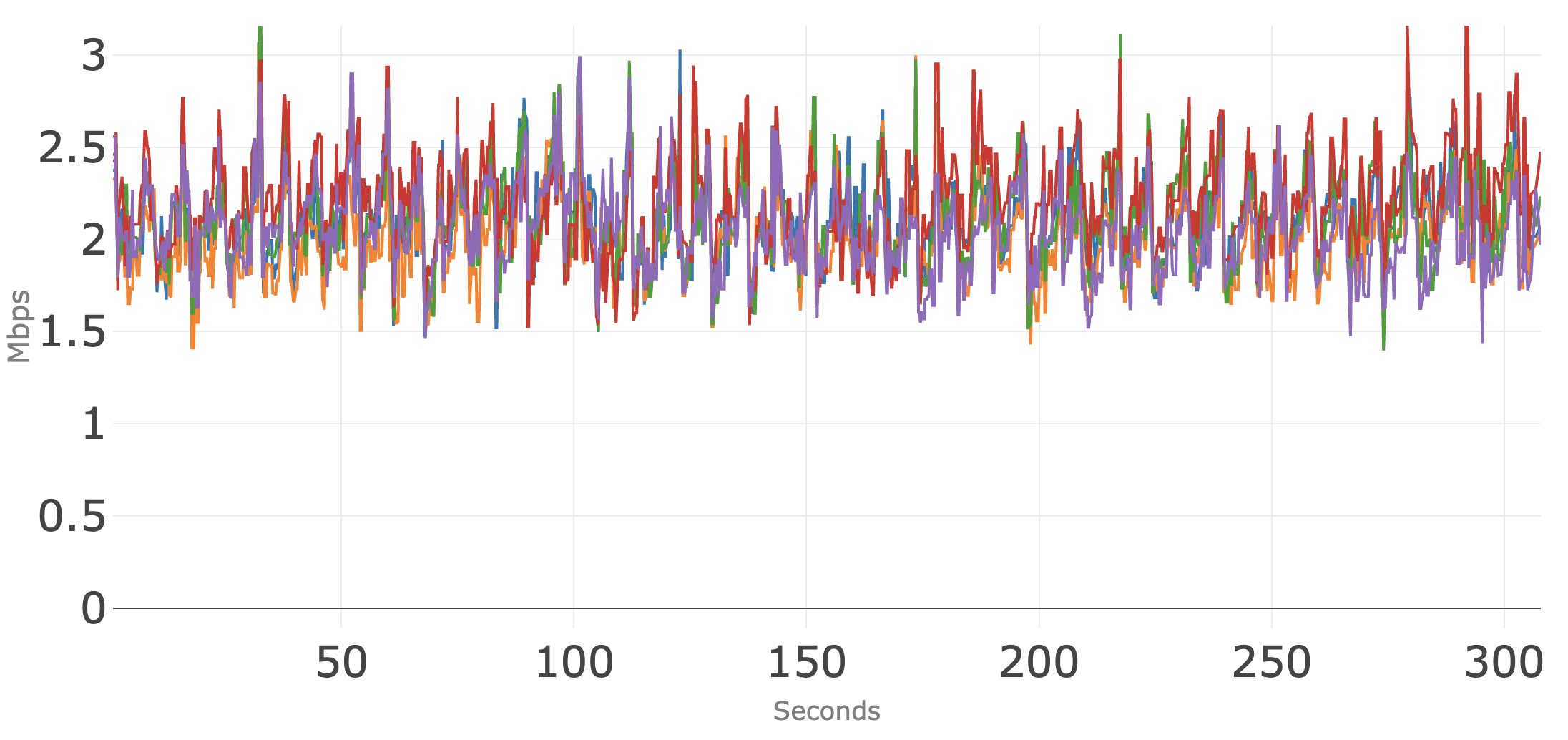 Conferencing Application: C
Figure 7 shows access network usage for the five concurrent sessions over 300 seconds (five minutes) for the third of the applications tested. The blue line is the total downstream usage, and the orange line is total upstream usage. Note that the total upstream usage hovers around 3 Mbps over the five minutes.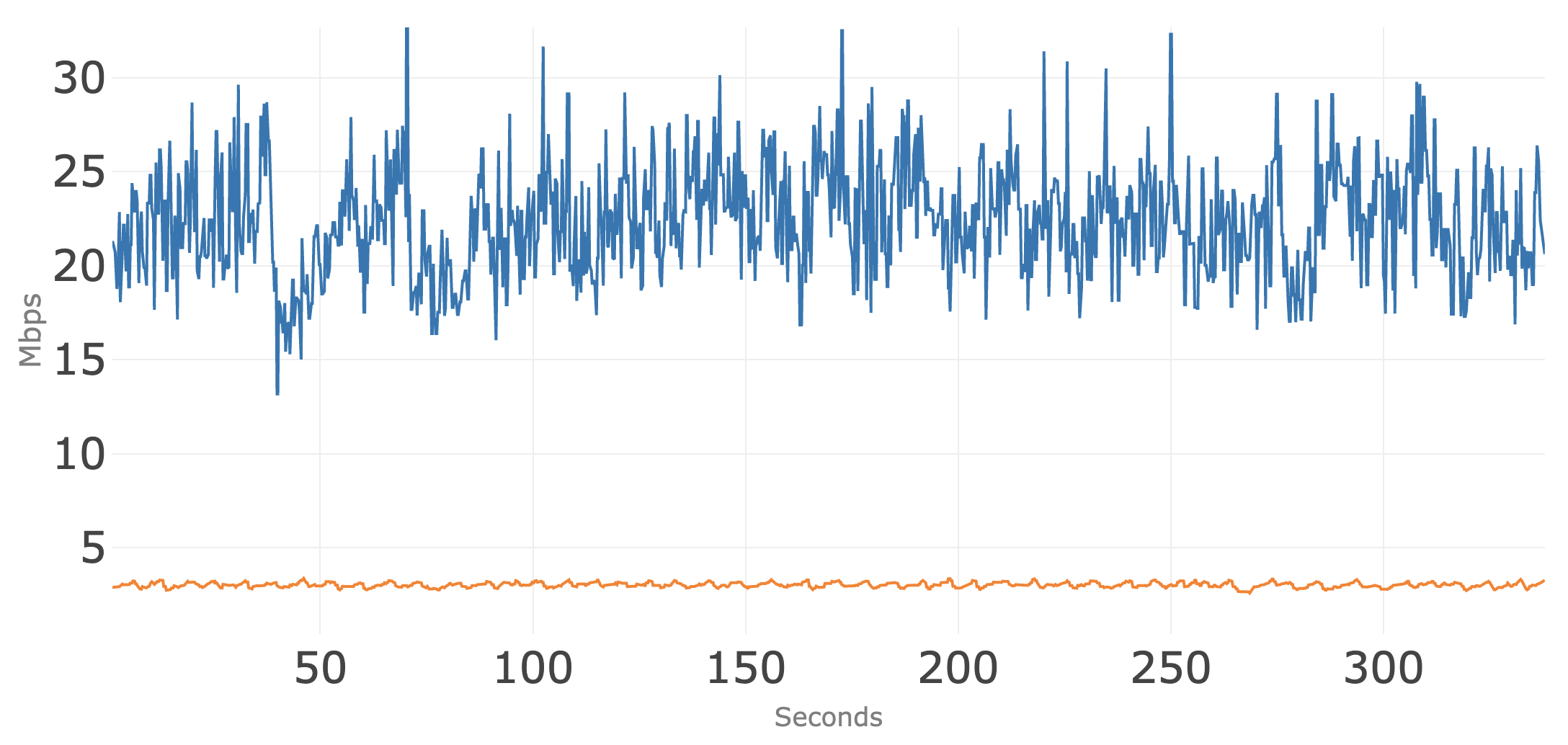 Figure 8 shows the upstream bandwidth usage of the five individual conference sessions where each is below 1 Mbps, though the individual sessions sawtooth up and down as the individual conference sessions compete for more bandwidth. This is normal behavior for applications of this type, and did not have a negative impact on stream quality.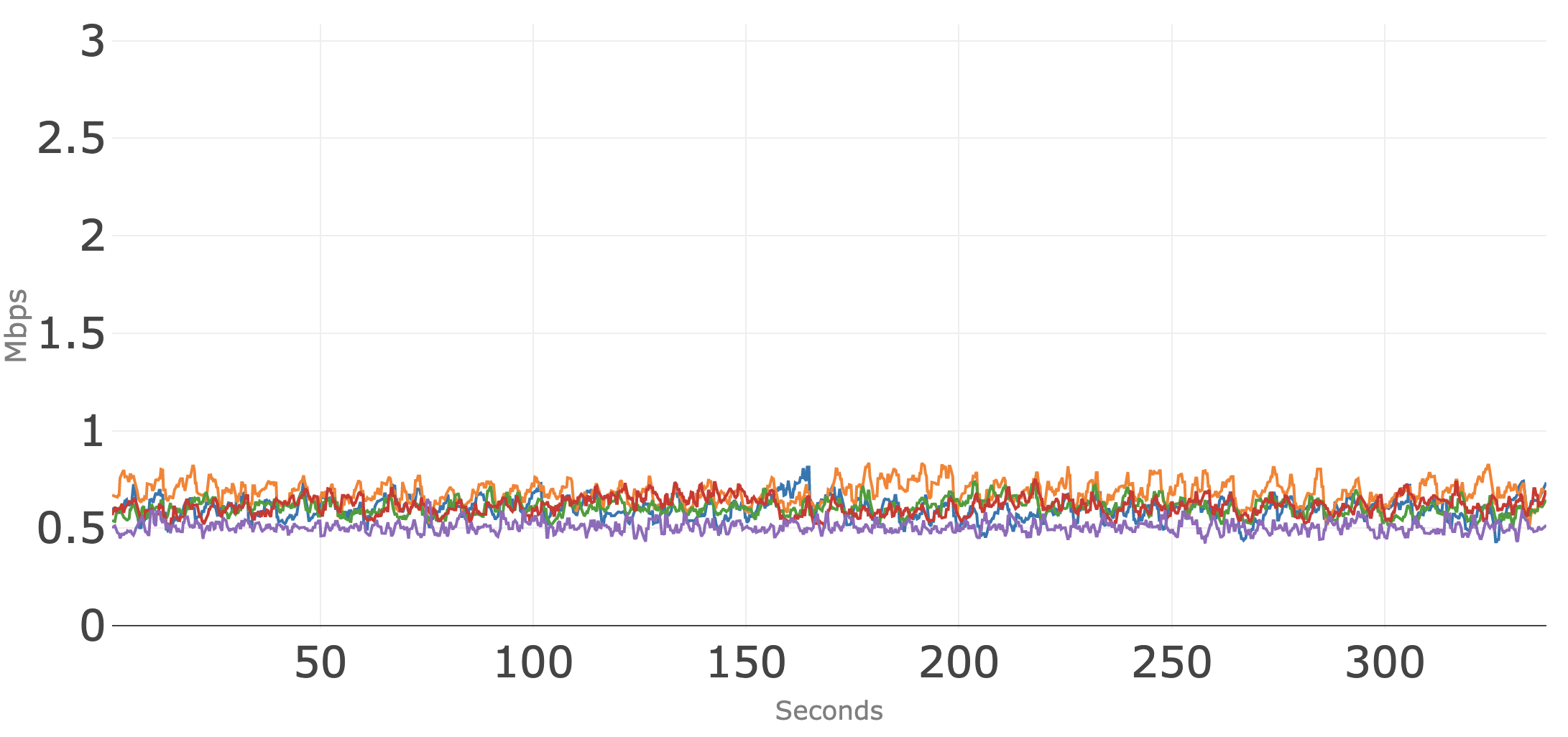 Figure 9 shows the downstream bandwidth usage for the five individual conference sessions. Note the scale of this diagram is different because of higher downstream bandwidth usage.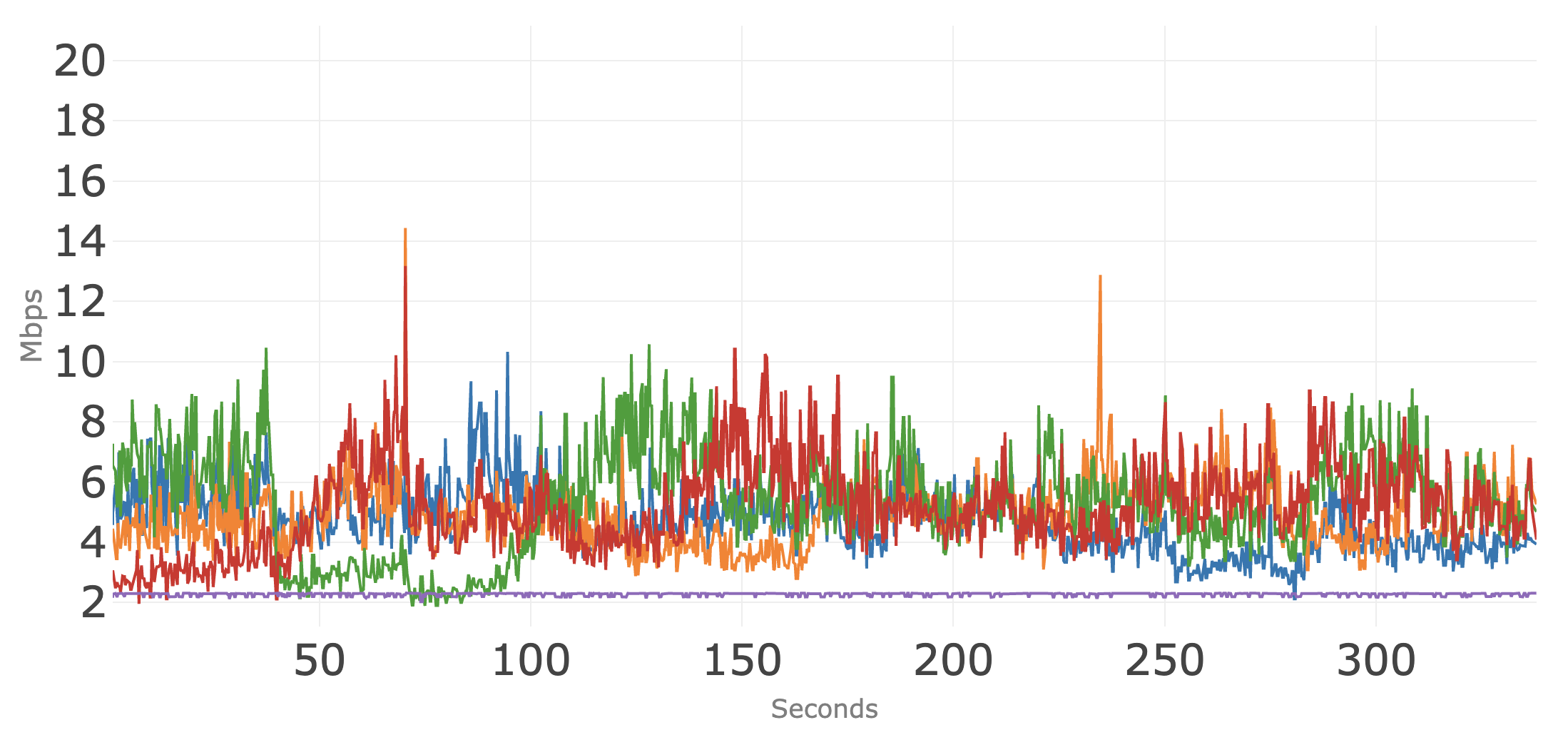 In summary, each of the video conferencing applications supported at least five concurrent sessions over the 25/3 broadband connection. The focus of this analysis is upstream bandwidth usage, and all three video conferencing technologies manage the upstream usage to fit within the provisioned 3 Mbps broadband speed. For at least two of the conferencing applications, there was also sufficient available downstream speed to run other common applications, such as video streaming and web browsing, concurrently with the five conferencing sessions.
Areas of Future Study
Conferencing services have enhanced modes that allow for higher definition video but that also uses more bandwidth. These modes place additional load on the broadband connection and may reduce the number of simultaneous conferences.
An interesting finding is that upstream bandwidth usage out of a home can depend on how other conference participants choose to view the video. Gallery mode uses lower bit rate thumbnail pictures of participants and is the most efficient for a conference. "Pinning" a speaker's video can cause higher bandwidth out of a home. In addition, users that purchase add-on cameras that provide higher definition video than the camera included with their laptop may see higher upstream usage.
Network Capacity Management Using Proactive Network Maintenance
You probably know that Proactive Network Maintenance (PNM) is about finding and fixing problems before they impact the customer. But the other side of PNM is about managing the capacity or bandwidth available in the network. PNM may have started with the former concept in mind, but the latter is becoming more important as we rely on higher amounts of capacity at the edge. As the world adjusts to life under the COVID-19 pandemic, access network capacity is becoming even more critical. PNM is an important tool set for network capacity management, and CableLabs is helping operators manage network quality and capacity together.
Network condition impacts network capacity. Network impairments, a broad class of failures and flaws in the ability of a network to carry data, have to be addressed before they lead to service failure. The DOCSIS® protocol is a method for sending data over multiple radio frequencies in hybrid fiber coax networks, and comes with several resiliency mechanisms that help service continue in spite of impairments, to a point[1]. These impairments in the cable plant may impact a few or all frequencies. Impairments that impact specific frequencies may or may not be able to be compensated for, on those frequencies. If severe, the impairment may impact the data carried on those frequencies entirely, leading to correctable or even uncorrectable data errors. If not severe, profiles may be able to adjust to lower modulation orders to allow less data to be reliably carried than otherwise. Impairments that impact a larger amount of frequencies of course have a greater impact on the bandwidth the network can carry. In any case, impairments impact the capacity that the operator can get from the access network.
This is why PNM, which is an important set of tools for network operators to manage network condition, becomes even more important as we depend more on our network capacity and move toward higher utilization of the access network capacity. As demand for bandwidth increases at the edge, PNM becomes an important network capacity management tool for network providers. The difference between a perfect network and one with flaws felt by customers begins to shrink. PNM begins to be an imperative; it is "table stakes" for maintaining communications services and managing the capacity of the network.
CableLabs has been working with these issues in mind for some time. In July of 2019, I wrote on the subject of 10G and reliability, pointing out that higher bandwidth solutions closer to the customer will be required for 10G. Then, in August, I wrote on the subject of reliability from a cable perspective and pointed out that the impairments addressed through PNM impact capacity. So, we see that reliability and network capacity are closely coupled. As we move toward higher bandwidth services, expand the utilization of frequencies and further push the limits of technology, reliable and sufficient bandwidth become highly coupled. Therefore, so do the tools that network providers use to manage these service qualities. CableLabs is working on solutions to help operators succeed in this reality.
Recently, CableLabs announced the release of a new capability in our Proactive Operations (ProOps) platform that uses RxMER per subcarrier and profile information to inform the selection of PNM opportunities. Also, our PNM working group announced the release of our DOCSIS 3.1 PNM primer of engineering practices, which we intend to develop toward best practices for the industry. If you are an operator or vendor interested in this subject, contact us for more information and to help us develop this solution for the industry.
______________________________________________________________________________________
[1] Because of the resiliency of DOCSIS® technology, impairments in the network have an impact on the capacity available in the network for serving customers, even when service remains functional, and even when customers may not notice right away or always. Without resiliency, an impairment leads to failure. Network resiliency is what keeps service running over impairments, which lets operators fix problems before they become severe and provide highly reliable services.
DOCSIS® Network vs. Fiber Backhaul for Outdoor Small Cells: How Larger Footprint of DOCSIS Networks Lowers TCO in the Outdoor Use Case
In our recent blog post, we talked about how, from a total cost of ownership (TCO) perspective, DOCSIS networks triumph as either backhaul or fronthaul over traditional fiber backhaul for the indoor use case. In this blog, we bring that TCO analysis to a more intuitive, outdoor use case: a head-to-head comparison between TCO of DOCSIS backhaul and fiber backhaul, both of which serve the same set of outdoor small cells.
The basic idea here is: leverage the existing real estate of DOCSIS networks for additional use cases beyond residential/business services. This approach applies to the markets where DOCSIS networks already have a larger footprint than the fiber on the ground. We have seen data points suggesting that there typically is 3~5X more coax cable than fiber in major North American metro markets. This enables a large subset of small cells to be deployed on cable strands or at a short distance from the cable strands, using short drops.
Through primary research, one of our members with dual operations (cable + wireless) confirmed that from a small cell radio planning perspective, they exhaust all cable strand mounting options first, before looking into the gaps for additional sites. This is the key differentiator for DOCSIS technology vs. fiber, where most of the backhaul connections require either new build or premium lease rates.
In this TCO analysis, we showed >50% reduction in TCO for an outdoor use case of backhauling small cells when served by DOCSIS networks compared to a more traditional deployment served by fiber. 
But, Is DOCSIS Network the Right Solution for Small Cell Backhauling?
The short answer is – YES.
There are two major requirements associated with any small cell deployment –
Site acquisition/preparation/construction/powering
Backhaul with certain capacity/latency/timing synchronization
These two requirements are intertwined since we need to choose a site where backhauling option/s are available and, to the extent possible, cost-effective.
In terms of site (1st requirement) with ready access to backhaul, MSOs have 2 offers on the card:
Firstly, co-siting small cells with existing MSO owned/operated WiFi hotspots which are already served by DOCSIS backhaul.
Secondly, leveraging existing cable infrastructure, and in particular aerial plant i.e., cable strands, that takes out a lot of steps (and cost) from the small cell deployment process. Using existing infrastructure eliminates/lightens the need for permitting and site acquisition, preparation/construction and also powering. Along with site access (typically covered by existing pole-line attachment agreements) and power, cable strand deployments also come with readily accessible DOCSIS links as backhaul.
Figure 1 below shows a typical strand-mount small cell installation, consisting of a small cell gateway and a 4G/LTE-A small cell as reported in the technical paper prepared for SCTE-ISBE 2018 Fall Technical Forum by Dave Morley from Shaw Communications Inc./Freedom Mobile. The small cell gateway here contains a DOCSIS 3.1 cable modem and power supply.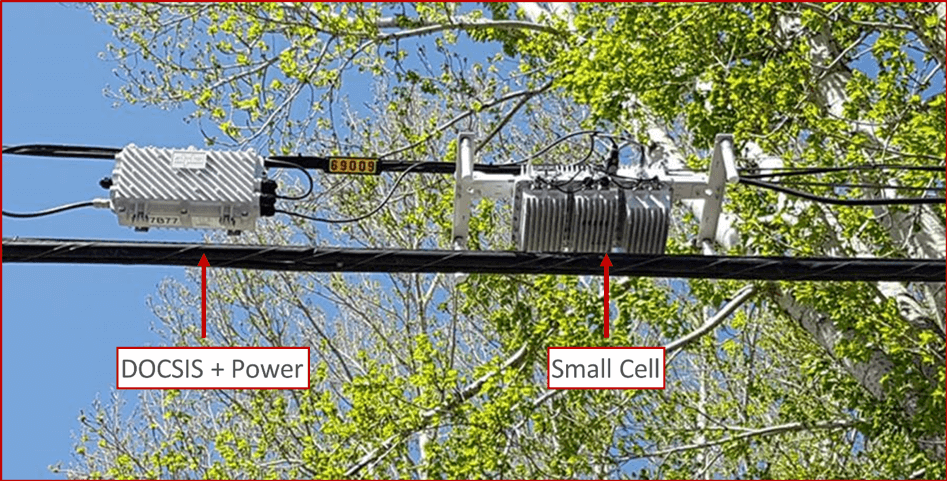 Figure 1: Typical Strand Mount Small Cell @ Shaw Communications Inc./Freedom Mobile
In terms of backhaul specifications (2nd requirement), Belal Hamzeh and Jennifer Andreoli-Fang from CableLabs® have articulated how DOCSIS technologies, with recent developments, fulfills all three fundamental backhaul needs around capacity, latency, and timing in the technical brief titled DOCSIS Technologies for Mobile Backhaul (CableLabs members only). In that paper, the authors have argued that, depending on the mobile operator's defined SLA, even DOCSIS 3.0 can support backhaul capacity needs. And, significant downstream capacity improvement can be added with DOCSIS 3.1 and significant upstream capacity improvement can be added with Full Duplex DOCSIS.
Regarding latency, control and user plane latency is expected to improve significantly, achieving ~1-2ms latency with the pipelining/Bandwidth Report (BWR) technique across DOCSIS and mobile technologies. Finally, DOCSIS 3.1 already has the mechanism to natively distribute IEEE-1588 timing over the network. With recent CableLabs work on a DOCSIS synchronization specification, DOCSIS 3.1 will also be able to achieve the stringent phase precision as required in LTE TDD/5G networks.
Therefore, in summary, DOCSIS meets the requirements associated with small cell deployment, triggering the need to compare its TCO with traditional fiber based TCO when either one can provide the backhaul for a set of newly deployed small cells in a target market. 
Deployment Scenarios We Looked At
For TCO analysis, we considered a hypothetical market covering 100 sq.km. with 290K housing units (HU) and ~700K people in it. There will be 640 outdoor small cells deployed in the market with 150Mbps/50Mbps max DL/UL throughput per cell (20MHz 2*2 LTE cell). For simplicity, using 1:1 mapping between radio and backhaul throughput, we considered peak backhaul capacity of 150Mbps/50Mbps per small cell.
However, since the peak data rates are required/achieved only under ideal conditions, the average DL/UL throughput during the busy hour is much lower, typically 20-25% of the peak rates. We considered the average throughput to be 20% of the peak, thus forming a small cell cluster comprised of 5 small cells that results in 128 total small cell clusters in our market. Each of these clusters is served by a single cable modem capable to handle 150Mbps/50Mbps.
We have 2 identical scenarios: Scenario A, with fiber backhaul and Scenario B, with DOCSIS backhaul, both serving the same market with 128 clusters i.e. 640 total small cells.
TCO Analysis and Key Takeaways
In this analysis, for both scenarios, we assumed the need for 3 types of backhaul connectivity to bring the small cells online – new build (both scenarios), existing cable strand/MSO WiFi Hotspots (scenario B only), and short drop (~300ft) to site/pole from nearby network (both scenarios).
In our base case, for the 2 scenarios, we applied the following breakdown among types of backhaul connectivity required:
The distribution of backhaul connectivity type used in our base case is informed based on primary research and market observations. Obviously, there is no one size fits all and this is a key area to assess when an operator analyzes potential TCO savings in a target market. Scenario B's attractiveness largely depends on the ratio (2/3rd in our base case) of existing cable strand/WiFi hotspots that an MSO can leverage to deploy small cells.
The cost difference between new build and short drop does not come from site acquisition/ preparation/ installation because that need will be identical for both types. However, backhaul lease amount (/month) is different for these two types in our 100% Opex based model for backhaul cost.
Though configurable in our model, our default TCO term is 7 years. Also, we calculated the TCO per user passed and focused on the relative difference among scenarios to de-emphasis the overall cost (in dollars), which will differ by markets, the scale of deployment and supplier dynamics among other things.
According to our base case assumptions, we see the following:
TCO in DOCSIS BH scenario has the potential to be >50% cheaper than the TCO in fiber BH scenario
The major difference in TCO between the two scenarios come from Opex. This is because, all 3 key Opex contributors – site lease, site utility cost, and backhaul lease are significantly higher (3~5X) in scenario A than in scenario B.
There also is a major difference in Capex between the two scenarios. This is largely because, site acquisition/preparation in scenario A costs more (2~2.5X) than the same category of Capex in scenario B, due to the advantage DOCSIS holds for leveraging more existing sites.
We allocated 20% of DOCSIS network upgrade (from low split to mid split) cost to the DOCSIS scenario. If we take this out (since DOCSIS network upgrades will happen anyway), the Capex associated with plant upgrade cost in scenario B will be gone, making it even more attractive from TCO perspective.
As mentioned earlier in Table 1, the TCO analysis outcome is primarily dependent on base case assumptions for the distribution of BH connectivity types. If existing cable strand/WiFi hotspots can handle 80% of small cell sites, then, instead of ~50%, the TCO for scenario B will be reduced by ~60%. On the contrary, if that ratio drops down to 50%, then TCO reduction in scenario B will also come down to ~40%.
In an upcoming strategy brief (CableLabs member operators only), we intend to share more details on our methodology, assumptions and breakdown of observed results (both Capex and Opex) along with a full sensitivity analysis.
Conclusion
As we also mentioned in our previous blog (on indoor use case), it's self-evident that a DOCSIS network-based deployment would have favorable economics compared to a fiber-based model just by virtue of its larger footprint/incumbency alone. When we throw in additional advantages such as lower power requirement/utility charges, that gap only widens. Our TCO model introduced here quantifies that perceived benefit and numerically shows the cost savings in serving outdoor small cells via DOCSIS. This sort of use case strengthens our view that DOCSIS technology has a huge role to play in 5G deployments.
Subscribe to our blog and stay tuned as we continue to explore how to leverage DOCSIS network for mobile deployments. In our next blog post of this series, we intend to look at the DOCSIS networks' ability to support advanced features such as CoMP.
The Profile Management Application: Optimizing DOCSIS® 3.1 Networks
Cable operators are broadly deploying DOCSIS 3.1 technology around the world. Operators in North America and Europe have announced gigabit service offerings that use the technology across their footprint. In this blog, I focus on techniques by which operators can boost the capacity and robustness of their existing DOCSIS 3.1 network.
Introducing Toolsets for Optimizing the DOCSIS 3.1 Network
DOCSIS 3.1 specifications introduced orthogonal frequency division multiplexing (OFDM) technology to the access network. In DOCSIS 3.0 and prior technologies, a single-carrier downstream channel (6 MHz) would be configured with just the one modulation order (say, 256-QAM). The DOCSIS 3.1 technology divides a wider (e.g. 192 MHz) channel into a number of small subcarriers spaced at 25 kHz or 50 kHz apart, creating up to 7600 subcarriers. These subcarriers can be individually configured to operate at a different modulation order, anywhere from 256-QAM, to 1024-QAM, all the way to 4096-QAM.
A specific configuration of modulation orders for every subcarrier in the OFDM channel is known as a "profile." A cable modem termination system (CMTS) can use multiple profiles on a channel; profiles differ in the modulation orders assigned to each subcarrier.

Different modems experience the network in different ways. Some modems may have a noisier environment, whereas others see a relatively clean plant. The figure shows an example of the interference seen by a modem in part of the OFDM channel.
Profiles allow the channel to operate at a higher modulation order in clean parts of the spectrum and then go down to more robust modulation orders when there is any interference present. The idea with multiple profiles is to have the CMTS use different profiles for such different groups of cable modems. This allows the operator to reach two goals:
minimize transmission errors on the network and
maximize network capacity.
The same concept applies to upstream OFDMA channels, where one can create upstream profiles for the channel, to increase reliability and throughput.
The Profile Management Application (PMA) Solution
If there are say 4 OFDM channels per port, 10 ports per line-card, and 10 line-cards on a CMTS, then there could be easily over a couple of million subcarriers requiring a specific configuration! This represents an immense configuration challenge which cannot be solved manually. This problem is made more difficult because profiles are not typically "one size fits all," but rather they need to be tailored to the set of cable modems on the channel, the interference on the channel, and they also need to adjust to plant changes over time. The question then becomes: What is the most efficient method for automating the creation of multiple profiles to maximize robustness and capacity?
I am pleased to announce that CableLabs has met this tremendous challenge with the introduction of the Profile Management Application (PMA). The PMA creates a set of optimal profiles for each channel and assigns profiles to modems. And the PMA accomplishes this dynamically by proactively reading data collected from the network. The PMA can create optimized modulation profiles periodically, as well as backup profiles in case of errors. It can also intelligently decide when to roll out profile changes to the network. A single PMA instance can create and configure profiles for a number of CMTSs in a short period of time and help the operator understand the data capacity of each channel.
How It Works—PMA Architecture and Algorithms
CableLabs released a PMA Technical Report that describes the PMA architecture, use cases, and interface definitions. We also developed data models (YANG) and protocols to facilitate the design of a software application to configure and manage modulation profiles.
Determining the optimal set of modulation profiles to use on a DOCSIS 3.1 channel is a task for intelligent software, given the number of modems, the number of subcarriers and the differences in signal quality across the channel each modem experiences. This CableLabs paper on profile management algorithms describes methods to optimally compute the profiles. The paper also introduces a metric indicating the capacity gain a set of profiles obtains compared with running all traffic at 256-QAM. The key idea is to use clustering algorithms to group modems that have similar signal-to-noise signatures across the channel and then design a profile for each group. The PMA algorithm searches for the best set of profile definitions to maximize the overall capacity and at the same time keeps the individual profiles robust to observable interference patterns.
Some of the information that a PMA needs to compute the profiles includes the channel information from a CMTS, list of modems and network signal quality metrics (mainly, each modem's per subcarrier RxMER data). Also using performance data (e.g., codeword error rates), a PMA can further refine the profiles.
How It Works—Deployment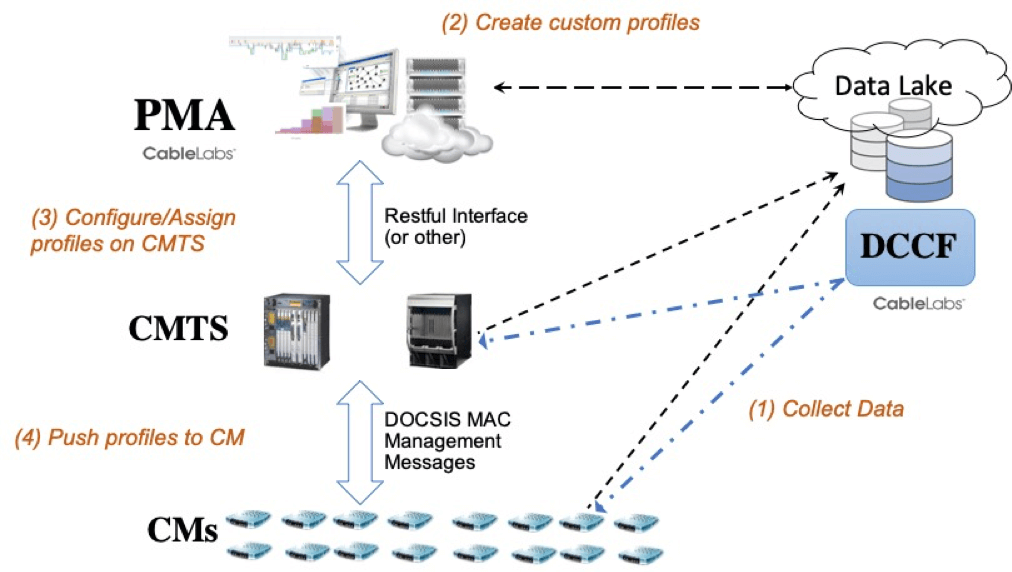 A PMA field deployment would include the following:
Data Collection: A centralized server is needed for modems and CMTSs to upload signal quality data. Operators can use the CableLabs DOCSIS Common Collection Framework (DCCF) to implement this.
PMA: Using the data collected, this application creates optimized profiles per channel. It configures these profiles on the CMTS, assign CMs to profiles and can initiate performance tests.
CMTS: Configures profiles for the individual channels, assigns the modulation profiles to CMs and ultimately sends/receives data using the profiles.
CMs: Cable Modems use the profiles defined and assigned by the CMTS to receive/send data.
What's Next? PMA Software Available
CableLabs has developed network-deployable software that operators can integrate and use within their DOCSIS 3.1 access network. This PMA solution can use the data generated by the network devices and create optimized OFDM/OFDMA profiles while considering different capabilities supported across CMTS platforms. The software is capable of calculating profiles for a channel with around 200 CMs in ~30 msecs using a single CPU process, so it is easily scalable across an operator's network. Many operators are testing and planning PMA deployment using this solution framework. PMA is available via CableLabs C3. Contact us to try it out. (Watch for an upcoming video blog on this topic.)
Gains from PMA
A PMA will help increase the throughput per cable modem and maximize network capacity by optimizing the bit-loading of the subcarriers within a channel. Designing profiles around noisy areas in the plant make the system operation more robust. The bandwidth gains in running a well-designed set of profiles can be anywhere from 15% to 40% capacity increase on a channel, compared with running the whole channel at 256-QAM. This can translate to a solid 200 to 400 Mbps extra capacity on each OFDM channel! This enables an operator to match growing bandwidth demands and defer potential node-splits and new equipment costs.
With this profile management technology, operators can realize the full potential of their DOCSIS 3.1 network, by minimizing transmission errors and maximizing the data capacity of the OFDM/OFDMA channels.
Subscribe to our blog to learn more about PMA in the future.
Innovation From All Corners: The Role of Vendors in the Innovation Ecosystem
So far we've covered the cycle of innovation and commercialization in Transforming Ideas into Solutions and how CableLabs helps turn innovative ideas into reality through startup collaboration and creative licensing agreements. This next part of the Innovation Ecosystem Series focuses on vendors and their role in moving our industry forward.  
CableLabs has a long history of vendor community collaboration, teaming up to bring new, innovative ideas to reality. Vendors' research, unique vantage point and expertise helps shape our innovation roadmaps, inform our members' business decisions and bring new cutting-edge technology products to market faster and more cost-effectively.
We could cite many examples of successful vendor collaboration, but let's look at one that has had a widespread and significant market impact: DOCSIS® technology. Its role in the evolving cable modem sector is a great example of how vendor contributions drive the innovation cycle in the industry.
DOCSIS Technology: A Vendor Collaboration Success Story
DOCSIS technology, well established and universally adopted today, was revolutionary at the outset, establishing a telecommunications standard that permitted the addition of high-bandwidth data transfer to an existing cable TV (CATV) system. This meant users could finally experience true interoperability, regardless of the cable vendor they chose.
The Problem
Prior to the creation of the original DOCSIS specifications, many vendors brought proprietary cable modems to market. Each of these proprietary solutions had its own unique, innovative approach to offering broadband internet over a cable network. Some offered solutions for carrying downstream traffic but were weaker in the area of carrying upstream traffic. Some had better Media Access Control (MAC) layer protocols but did not offer great RF performance. Few addressed the issue of security and privacy. None of them individually had the best fix, and none of them captured sufficient market share to make the economics work for truly mass deployment. In short, neither suppliers nor cable customers were finding the optimum resolution.
The Solution
Together with our member companies and industry suppliers, we embarked on an exhaustive process to select the "best of breed" innovations proposed by the vendors. This process involved testing a multitude of different solutions to determine which ones would eventually make it into DOCSIS technology. With each successive generation of DOCSIS technology, innovative contributions to the specifications enable greater speed, lower latency and higher reliability. Now, thanks to our continued collaboration with our vendors, DOCSIS 3.1 technology supports phenomenal speeds of up to 10 gigabits per second downstream and 1 gigabit per second upstream—an amazing achievement that allows our cable operators to stay very competitive in today's markets. 
The Industry Impact
DOCSIS technology catapulted the cable industry into a new service arena, providing broadband internet access to many homes across the country and beyond. Bruce Leichtman, president and principal analyst for Leichtman Research Group, relates the results: "At the end 2Q 2017, cable had a 64% market share. The broadband market share for cable is now at the highest level it has been since the first quarter of 2004."
Thanks to DOCSIS technology, consumers can now enjoy ultra-high definition 4K television, artificial reality (AR), advanced gaming options, IoT and many other benefits of internet connectivity. This, coupled the soon-to-be-delivered 5G, is a very exciting time for broadband innovation.
How We Engage With Our Vendors
Over the last 30 years, we've worked hard to develop close working relationships with vendors through various programs and collaboration opportunities. Here are just some of the ways our vendors can engage with us and our member community.
Working Groups: As Working Group members, vendors get the opportunity to participate in the creation of new specifications and collaborate with other industry professionals.
Visiting and Contributing Engineer Programs: Vendors can work on-site in our labs as Visiting Engineers or remotely—as Contributing Engineers. They get access to our tools and workspace in exchange for their expertise.
Draft Specification Reviews: Vendors can get access to draft specifications not yet available to the public. This gives them an opportunity to comment and submit change requests 30 to 60 days prior to issuance.
Co-innovation Opportunities: Just like with DOCSIS technology, we invite all members and vendors to join us in tackling a specific problem facing the industry and are open to many co-innovation opportunities. 
Events & Showcases: Vendors have multiple opportunities to show off their inventions and connect with cable operators throughout the year. Some of our free events, like the Envision Forum (formerly Connect[ED] Forum), are geared specifically to vendors.
Kyrio Product Certifications: In our industry, interoperability is key. Through Kyrio, vendors can test their products to make sure they meet all the industry specifications.
Vendors' work is crucial to our industry on both the innovation and commercialization side of the spectrum. These companies are some of the most prolific sources of great ideas and it's part of CableLabs' mission to make sure they are heard by the right people at the right time in the innovation cycle. By working together with both our members and vendors, we can continue to reach our collective goals as an industry and discover new possibilities.
Learn more about vendor collaboration by clicking below. 
CableLabs Hosting a Free Full Duplex DOCSIS® Technology Seminar
CableLabs is hosting a free Full Duplex (FDX) DOCSIS® technology (now DOCSIS 4.0 technology) seminar , April 17–18, 2018 that will be attended by both cable operators and DOCSIS suppliers. The seminar will take place at a private events center to provide attendees with a comfortable and professional setting to learn all about Full Duplex DOCSIS technology (now DOCSIS 4.0 technology).
Scheduled speakers will be technologists who developed the FDX DOCSIS (now DOCSIS 4.0 technology) specifications, . Most have been involved with DOCSIS technology since the beginning, all are accomplished speakers who possess a wealth of knowledge to share not only about FDX DOCSIS (now DOCSIS 4.0 technology) but also about how the technology integrates into the family of DOCSIS generations.
FDX DOCSIS 3.1 technology (now DOCSIS 4.0 technology) allows cable operators to offer symmetric gigabit-speed data services over their existing Hybrid Fiber/Coax (HFC) networks, building on the core DOCSIS 3.1 orthogonal frequency-division multiplexing (OFDM)/orthogonal frequency-division multiple access (OFDMA) technology. This additional set of features significantly increases upstream capacity and allows for the same spectrum to be simultaneously used for both downstream and upstream.
The technology seminar will cover a wide range of topics, including:
The physical layer: The physical layer topic includes how both OFDM and OFDMA have been extended to allow full duplex operation. This also includes how FDX DOCSIS (now DOCSIS 4.0 technology) fits into the channel plan, and how the system is expected to operate.
The Media Access Control (MAC) layer: This topic includes both how the cable modem termination system (CMTS) manages the full duplex spectrum and how today's FDX (now DOCSIS 4.0 technology) modems initialize and communicate with the CMTS for full duplex operation.
Link Budgets and System Performance: This topic will discuss how to manage both signal levels and loss throughout the system in order to maintain peak operating performance.
FDX DOCSIS support of existing DOCSIS modems: This topic concerns how FDX DOCSIS (now DOCSIS 4.0 technology) modems will be tested for backward compatibility with earlier versions of DOCSIS modems; they will all operate on the same cable plant with no need to upgrade older modems.
Fiber Node changes: What will change in the Fiber Node, which now supports a Distributed Access Architecture (DAA) solution to distribute part (or all) of the CMTS to the fiber node?
Node+0 Tips: These tips and considerations will focus on Node+0 (passive coax) plant construction to support FDX DOCSIS (now DOCSIS 4.0 technology).
The technology seminar has been designed to foster interactive discussion with the audience. FDX DOCSIS (now DOCSIS 4.0 technology) is an extension of the DOCSIS 3.1 technology and now involves the HFC network to create a system that offers symmetric capacity. Presentations will offer critical insights into these aspects of the architecture and technology. Attendees will come away with a greater appreciation and understanding of FDX DOCSIS's (now DOCSIS 4.0 technology) underlying mechanisms.
Seminar Details
The FDX DOCSIS technology (now DOCSIS 4.0 technology) seminar is free to attend and is open to all CableLabs members and DOCSIS NDA suppliers. The audience is intended to be composed of technology leaders involved with the early deployments of DOCSIS, including not only the DOCSIS engineers but also experts in outside plant and construction as FDX DOCSIS (now DOCSIS 4.0 technology) uses a Node+0 HFC network.
This technology seminar overlaps with an FDX DOCSIS (now DOCSIS 4.0 technology) interop being held at CableLabs the week of April 16. All CableLabs members and suppliers participating in the interop have the opportunity to tour the interop and witness FDX DOCSIS technology (now DOCSIS 4.0 technology) in operation, viewing—for perhaps the first time—the same spectrum carrying simultaneous upstream and downstream traffic.
With the CableLabs membership spanning five continents, the seminar will provide a unique opportunity for networking, as well as connecting or reconnecting with colleagues involved with the introduction of new DOCSIS technology. The seminar will offer a diverse set of deployment scenarios, and the discussions will include how FDX DOCSIS (now DOCSIS 4.0 technology) can support the needs of cable operators.