CableLabs' Latest Advancements on the Path to 10G
At CableLabs, staying at home during the COVID-19 pandemic has resulted in new ways of collaborating that have helped us continue to build technologies that will deliver internet speeds 10 times faster than today's networks. The trek to 10G started in 2019, as we began working with our members to create the technologies that build the 10G network.
This week, we announced significant advancements made in 2020 toward the realization of 10G. A sampling of our technical achievements over this past year includes DOCSIS® 4.0 technology, Intelligent Wireless Network Steering (IWiNS), Flexible MAC Architecture specifications, our leadership in the development of the IEEE 802.3ca standard and increased Wi-Fi reliability and performance. Plus, some of our members have started testing and delivering 1.25 Gbps service.
Our digital future will stall without a platform that can meet our needs. Although we don't know what the next trend will be, we do know that the Internet will be central to its development. By advancing device and network performance to stay ahead of consumer demand, 10G will provide myriad new immersive digital experiences and other emerging technologies that will revolutionize our lives.
It's a new year, and we're hyper-motivated to continue working on advancements in network reliability, security, speed and latency. Check out this chart to see how the latest 10G achievements map to these four areas.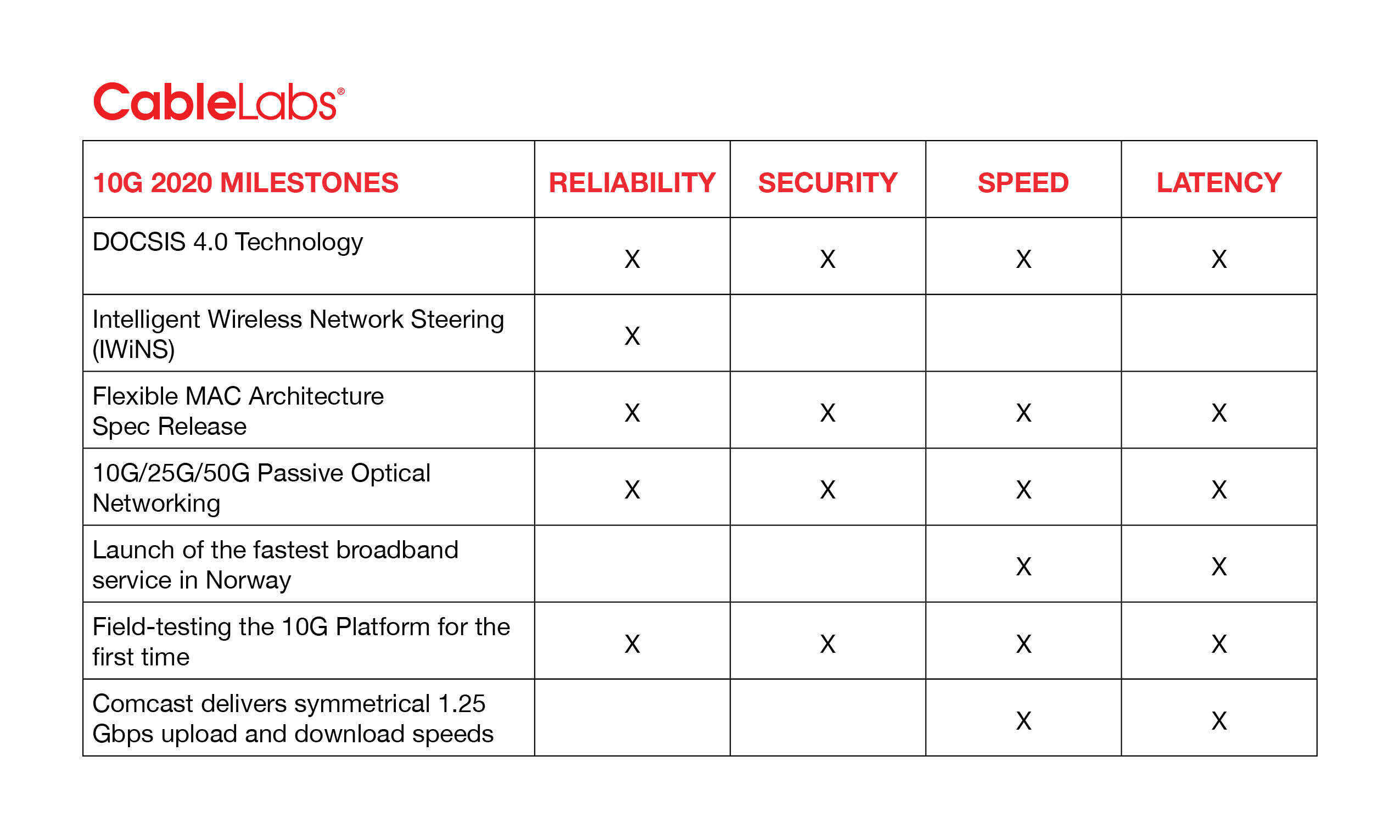 Cable Broadband: From DOCSIS 3.1® to DOCSIS 4.0®
In 1997, CableLabs released the very first version of Data Over Cable Service Interface Specification (DOCSIS ® technology) that enabled broadband internet service over Hybrid Fiber-Coaxial (HFC) networks.  Ever since, we've been making improvements, greatly enhancing network speed, capacity, latency, reliability and security with every new version. Today, cable operators use DOCSIS 3.1 technologies to make 1 Gbps cable broadband services available to 80% of U.S. homes, easily enabling 4K video, seamless multi-player online gaming, video conferencing and much more. Although there is still a significant runway for DOCSIS 3.1, CableLabs has been hard at work developing the next version – DOCSIS 4.0, which was officially released in March of 2020 and further advances the performance of HFC networks. Let's take a look.
First, let's talk about upstream speeds. DOCSIS 4.0 technology will quadruple the upstream capacity of HFC network to 6 Gbps—compared to the 1.5 Gbps that is available with DOCSIS 3.1. While current cable customers still download significantly more data than they upload, upstream data usage is on the rise. In the near future, advanced video collaboration tools, VR and more, will require even more upstream capacity. DOCSIS 4.0 also provides more options for operators to increase downstream speeds, with up to 10 Gbps of capacity. It has been designed to support the widespread availability of symmetric multigigabit speed tiers through full-duplex and extended-spectrum technologies that move us closer to our 10G goal.
In addition to faster speeds, DOCSIS 4.0 will also deliver stronger network security through enhanced authentication and encryption capabilities and more reliability due to the Proactive Network Maintenance (PNM) improvements. It is a great leap toward 10G, setting the stage for a series of subsequent enhancements that will all work together to help us build the future that we always dreamed of.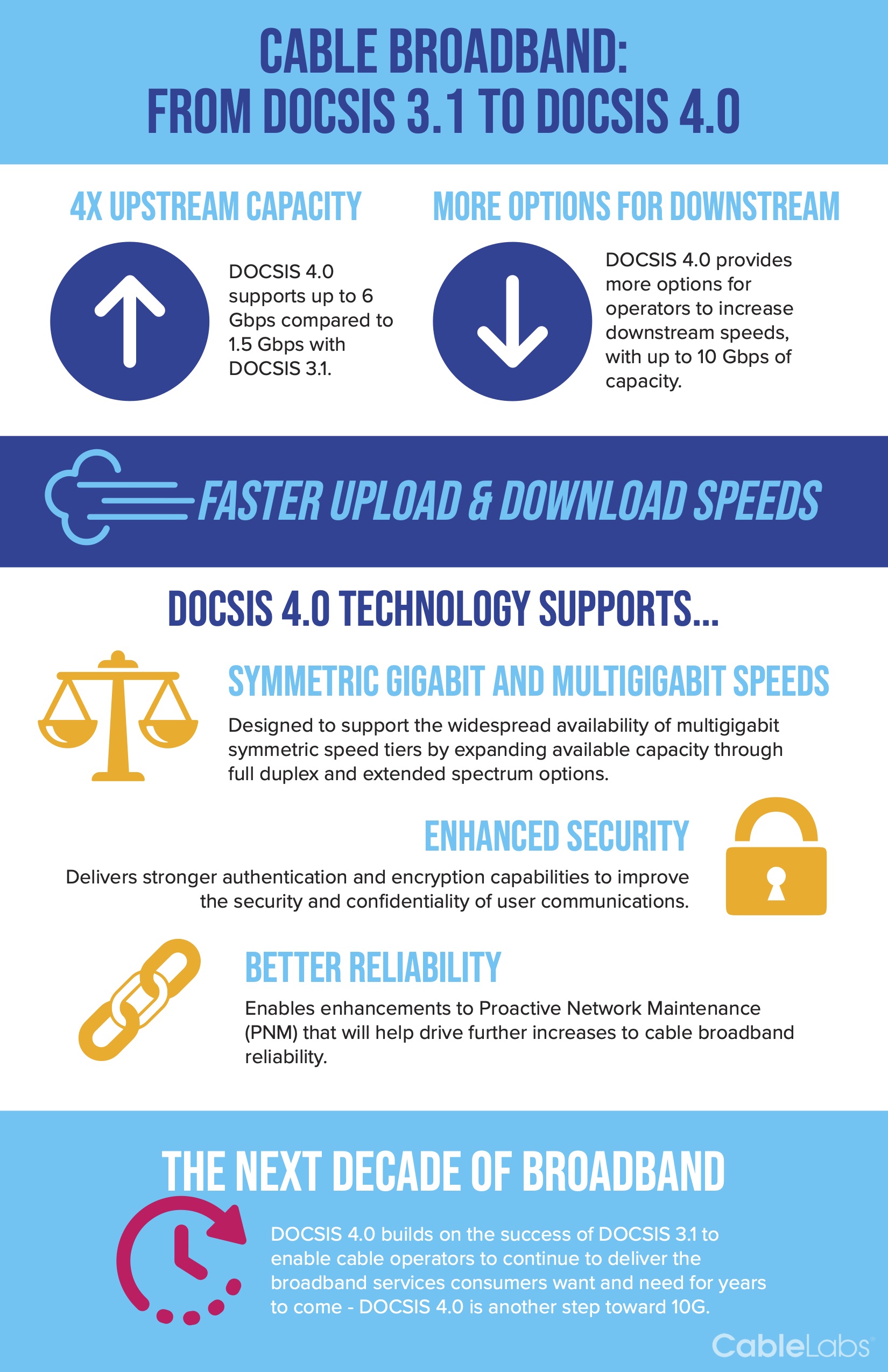 On the Path to 10G: CableLabs Publishes DOCSIS® 4.0 Specification
Today we are pleased to announce the release of the DOCSIS 4.0 specification, which incorporates both full duplex and extended spectrum capabilities. A part of the suite of technologies that support the 10G platform, DOCSIS 4.0 technology achieves a downstream speed of up to 10 Gbps (doubling the maximum download speed available with the implemented DOCSIS 3.1 technology) and an upstream speed of up to 6 Gbps - quadrupling what DOCSIS 3.1 technology could do. These speed increases build on the ample capacity deployed by cable operators today–with gigabit services nearly saturating the US cable footprint–and will enable cable broadband to deliver symmetric multigigabit services, with significantly enhanced upstream capabilities. As cable operators respond to the evolving connectivity needs of customers in our current public health crisis, remote work, learning, and health services stand to benefit from upstream broadband enhancements as DOCSIS 4.0 technology is deployed. 
Specification development started in August 2016. The full duplex capabilities were described in an October 2017 blog post, and now the extended spectrum capabilities have been completed as described in a September 2019 blog post.  
With these speed increases, we intend to change the consumer broadband industry by ushering in a new era of application development. Although speed numbers are important, broadband is about so much more than speed: it's about changing the way we collaborate to make the world a better place. We have more devices, and our experiences increasingly rely on connectivity. Streaming video continues to explode. We're video-chatting instead of making calls, we're playing music off the web instead of our own media, and we're playing games with people around the world. As technology continues to advance, we don't know what the next trend will be, but we do know that the Internet will be central to whatever it is.
DOCSIS 4.0 Technology Increases Upstream Speed
A key piece of this story is the DOCSIS 4.0 multigigabit upstream capability, which greatly increases how fast information can be uploaded from your computer. Traditionally, businesses have required faster upload speeds to move large files around or to perform in-house web hosting. Now consumers are expecting more upstream speed as they work and learn from home. In addition, upstream speed is important to do things such as the following: 
Hard drive backups
Uploading videos and pictures
Cloud applications
Video conferencing
Smart homes and IoT devices
Home security cameras
Distance learning and visual classrooms
These applications are just the beginning. The higher speeds available with DOCSIS 4.0 technology will serve as a catalyst for the next wave of innovations.
The 10G Platform
The DOCSIS 4.0 specification takes to heart the four pillars of the 10G platform initiative. Below are quick descriptions of these pillars, and links to more information. 
Speed is addressed in this blog post. Multigigabit symmetric speeds raise the bar for consumer broadband.
Lower latency was incorporated into the DOCSIS 3.1 specification and has been brought forward into the DOCSIS 4.0 specification. Lower latency will provide a better experience for consumers on applications such as online gaming and multimedia.
Increased security comes with every new DOCSIS release. Our security experts are constantly monitoring network threats to the network and taking measures to increase the confidentiality, integrity and availability of communications.
Higher reliability must be planned into the network and DOCSIS technology takes this to a new level by including methods to proactively identify and address network issues before consumers are even aware of them.
CableLabs continually makes advances in these areas and others, bringing state-of-the-art breakthroughs to cable broadband. 
Mapping Out the Next Steps for DOCSIS Technology 
Delivery of the specification is the first step of a three-part DOCSIS lifecycle. The second step includes interoperability events and the final step is certification, which will be discussed in future blog posts. These three steps—specification, interoperability and certification—have been part of the DOCSIS process for over 20 years and constitute a time-proven method to deliver high-speed, low-cost, interoperable cable modems to consumers. 
A Major Leap Toward 10G: CableLabs to Complete DOCSIS® 4.0 Specification in Early 2020
In a continuing effort to meet the industry's recently announced 10G goal, CableLabs is wrapping up the first major update to its DOCSIS specification since DOCSIS 3.1. DOCSIS 4.0 technology will enable the next generation of broadband over cable's existing hybrid fiber coax (HFC) networks, delivering symmetrical multi-gigabit speeds while supporting high reliability, high security and low latency.
What is DOCSIS 4.0 Technology?
Building on the success of DOCSIS 3.1 technology, which the cable industry is leveraging globally to deliver 1 Gbps services to end users, DOCSIS 4.0 technology supports a rich and flexible feature set of capabilities. The technology will enable multiple system operators (MSOs) to deliver on the 10G vision and includes support for Extended Spectrum DOCSIS (ESD) and Full Duplex DOCSIS (FDX) capabilities. These are complementary technologies that jointly or individually represent key elements to deliver on the 10G promise. By supporting these technologies, cable operators can deliver a richer feature set of capabilities and facilitate a cost-effective upgrade to a better, faster and more efficient network.
Full Duplex DOCSIS Capabilities
FDX DOCSIS technology allows for concurrent use of spectrum for both upstream and downstream traffic, thus doubling the network efficiency by leveraging the HFC network characteristics, self-interference cancellation technology and intelligent scheduling. DOCSIS 4.0 technology is also backwards compatible with previous generations of DOCSIS technologies.
With ESD, operators can leverage a lot more usable spectrum on their existing HFC networks—up to 1.8GHz. That's 600MHz more than the 1.2GHz available to them under the current DOCSIS 3.1 standard. The DOCSIS 4.0 working groups are in full swing, focusing on developing and adding the ESD requirements to the DOCSIS 4.0 specifications.
This boost in capacity provided by DOCSIS 4.0 technology will enable MSOs to provide multi-Gbps symmetric services to residential and business customers, and support the next generation of user experiences such as immersive media experiences in addition to serving as a catalyst for a new wave of innovations.
Toward 10G
DOCSIS 4.0 technology is a major step toward reaching the industry's 10G goal. You can learn more about the road to 10G and its technologies here. If you're near New Orleans or attending the SCTE Cable-Tech Expo next week, register for our vendor forum, Envision, to get the exclusive opportunity to learn about the technologies the industry is working on. At Envision, which will take place on September 30, you can expect to hear updates about DOCSIS 4.0 technology and 10G, including how 10G will enable mobile and wireless networks.