Cable Broadband: From DOCSIS 3.1® to DOCSIS 4.0®
In 1997, CableLabs released the very first version of Data Over Cable Service Interface Specification (DOCSIS ® technology) that enabled broadband internet service over Hybrid Fiber-Coaxial (HFC) networks.  Ever since, we've been making improvements, greatly enhancing network speed, capacity, latency, reliability and security with every new version. Today, cable operators use DOCSIS 3.1 technologies to make 1 Gbps cable broadband services available to 80% of U.S. homes, easily enabling 4K video, seamless multi-player online gaming, video conferencing and much more. Although there is still a significant runway for DOCSIS 3.1, CableLabs has been hard at work developing the next version – DOCSIS 4.0, which was officially released in March of 2020 and further advances the performance of HFC networks. Let's take a look.
First, let's talk about upstream speeds. DOCSIS 4.0 technology will quadruple the upstream capacity of HFC network to 6 Gbps—compared to the 1.5 Gbps that is available with DOCSIS 3.1. While current cable customers still download significantly more data than they upload, upstream data usage is on the rise. In the near future, advanced video collaboration tools, VR and more, will require even more upstream capacity. DOCSIS 4.0 also provides more options for operators to increase downstream speeds, with up to 10 Gbps of capacity. It has been designed to support the widespread availability of symmetric multigigabit speed tiers through full-duplex and extended-spectrum technologies that move us closer to our 10G goal.
In addition to faster speeds, DOCSIS 4.0 will also deliver stronger network security through enhanced authentication and encryption capabilities and more reliability due to the Proactive Network Maintenance (PNM) improvements. It is a great leap toward 10G, setting the stage for a series of subsequent enhancements that will all work together to help us build the future that we always dreamed of.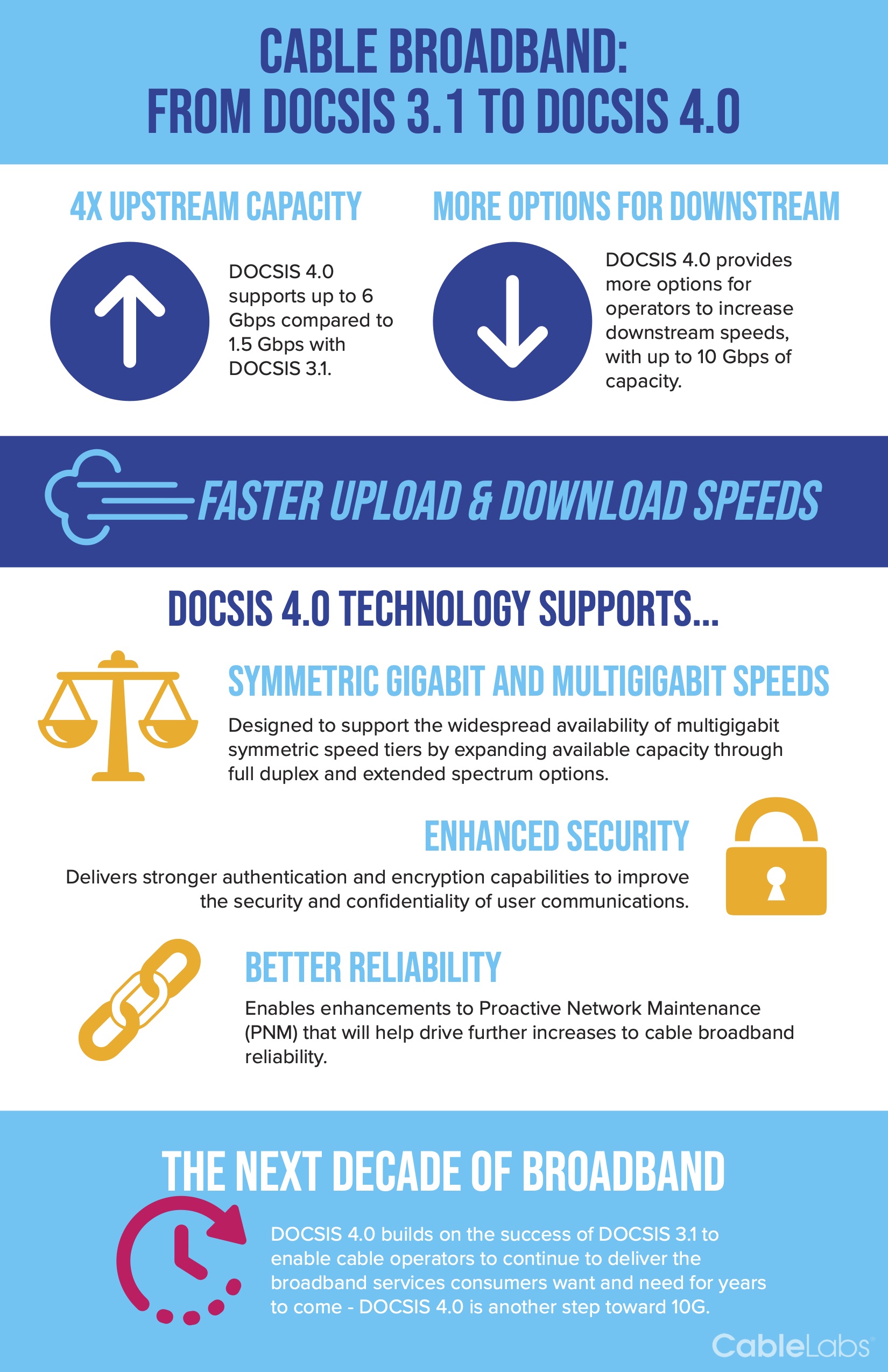 CableLabs Completes Full Duplex DOCSIS Specification
"In the United States, more than 90 percent of households are connected to an HFC (hybrid fiber-coaxial) network, and consumers typically have higher download speeds than upload speeds. By enabling Full Duplex DOCSIS (now a part of DOCSIS 4.0 technology), the upstream can flow up to 6 Gbps and downstream traffic can flow at up to 10 Gigabits concurrently, enabling the efficiency of spectrum use." -- Phil McKinney, president and chief executive officer of CableLabs
The number of connected devices and bandwidth-hungry online experiences are expected to increase exponentially in the next decade. Also, with the continuous development of new applications that enable new experiences, such as augmented reality and virtual reality, an increase in upstream capacity demand is a matter of "when" and not "if." Operators are continuously challenged to find cost-effective solutions to meet this growing demand for faster broadband speeds. With a focus on solving this challenge of the future, CableLabs recently completed the Full Duplex DOCSIS® (now a part of DOCSIS 4.0 technology) specification.  
Full Duplex DOCSIS (now a part of DOCSIS 4.0 technology) technology builds on the successful completion of CableLabs' DOCSIS 3.1 specification, which made deployments of 10 Gbps downstream and 1 Gbps upstream broadband possible. Full Duplex DOCSIS technology (now a part of DOCSIS 4.0 technology) improves upon the DOCSIS 3.1 standard by:
Significantly increasing upstream capacity
Enabling symmetric multi-gigabit services over existing hybrid fiber-coaxial (HFC) technology
Ensuring that cable operators are ready to meet future usage needs for technologies, such as virtual and augmented reality - although widespread consumer demand for high speed upstream is not yet here, operators need to be prepared when the time comes
Current DOCSIS networks have to juggle available upstream and downstream traffic. Full Duplex DOCSIS technology (now a part of DOCSIS 4.0 technology) supports multi-gigabit symmetric services by enabling concurrent transmissions in the same spectrum, providing the ability to increase the upstream capacity without sacrificing downstream capacity. This has the potential to greatly improve network efficiency and, in turn, customer experience.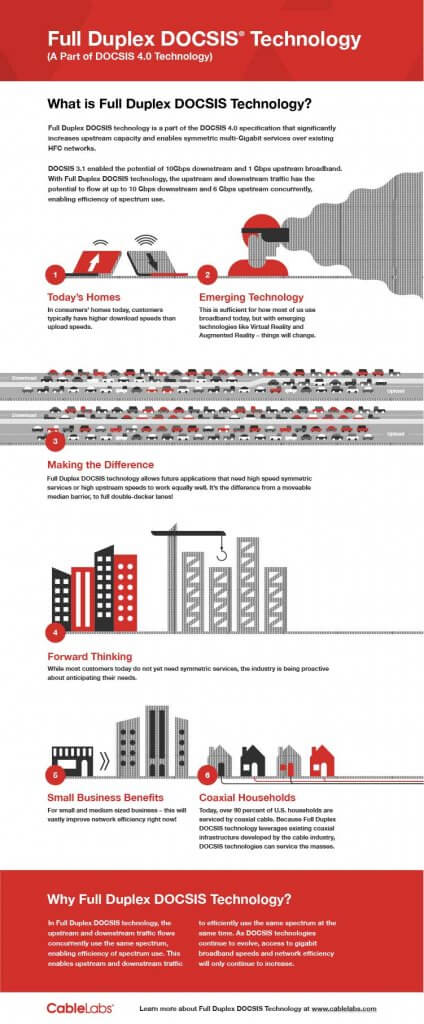 Starting from Full Duplex DOCSIS (now a part of DOCSIS 4.0 technology) as an internal innovation, CableLabs developed this solution in collaboration with our members and industry partners, enabling cable operators to deliver multi-gigabit symmetric services. Full Duplex DOCSIS technology (now a part of DOCSIS 4.0 technology) offers high speeds over the existing infrastructure and is less expensive to deploy than fiber, while still maintaining backwards compatibility with previous generations of DOCSIS technology.
You can read more about our Full Duplex DOCSIS (now a part of DOCSIS 4.0 technology) specification effort in my article "Full Duplex DOCSIS Technology: Raising the Ante with Symmetric Gigabit Service." Make sure to check our website later this month for the complete Full Duplex DOCSIS (now a part of DOCSIS 4.0 technology) specification.
Full Duplex DOCSIS® Specification Effort Launches
During the CableLabs 2016 Winter Conference, CableLabs announced the Full Duplex DOCSIS (now a part of DOCSIS 4.0 technology) specification project that will significantly increase upstream speeds on the DOCSIS network. The announcement of the Full Duplex DOCSIS (now a part of DOCSIS 4.0 technology) extension of the DOCSIS 3.1 specification, and its potential of offering multi-Gbps symmetric services over the HFC network, created a lot of excitement in the industry. Since then a lot has been going on behind the scenes.
CableLabs has been actively collaborating with the vendor community to further refine the concept and system architecture of a Full Duplex DOCSIS (now a part of DOCSIS 4.0 technology) system. The ecosystem support for the Full Duplex DOCSIS technology (now a part of DOCSIS 4.0 technology) has been staggering, with many vendors collaborating and contributing to the development of the technology. A recent example is Cisco's contribution of a new silicon reference design of a digital echo canceler that maximizes the use of HFC capacity to provide a scalable multi-gigabit return path.
In June, CableLabs officially launched the Full Duplex DOCSIS (now a part of DOCSIS 4.0 technology) project, transitioning it from the innovation phase to the R&D phase focused on specification development. Our first face-to-face meeting held in Louisville last month featured strong participation from CableLabs members and the vendor community including several new participants. Working group meetings will be held on a regular basis until the specification development is complete.
Full Duplex DOCSIS technology (now a part of DOCSIS 4.0 technology) will radically change the art-of-the-possible on the HFC network by delivering an unparalleled experience to cable customers.
Keeping Pace with Nielsen's Law
The telecommunications industry typically uses Nielsen's Law of Internet Bandwidth to represent historical broadband Internet speeds and to forecast future broadband Internet speeds. Mr. Nielsen predicted many years ago the high-end user's downstream connection speed grows by approximately 50% compound annual growth rate (CAGR). In reality, actual peak service tiers offered by service providers over the years may be following something closer to 60% compound annual growth rate, as shown in the figure below.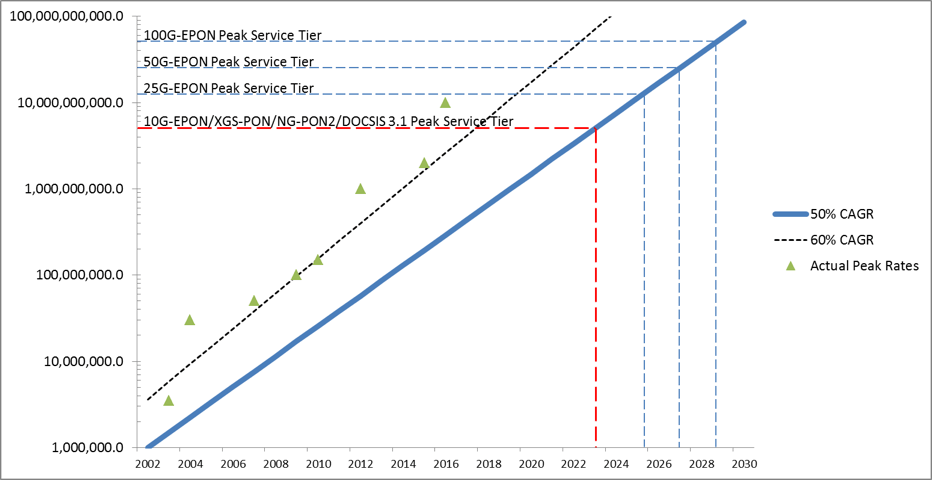 The point of this blog is not to debate whether the growth rate is 50% or 60%, but rather if the growth rate continues, how do we evolve our networks to keep pace?
For point-to-multipoint networks there is a general rule of thumb for determining the peak service tier given a particular peak network capacity. This capacity-to-peak-tier ratio of 2:1 isn't necessarily based in scientific fact, but comes from years of experience that a 2:1 ratio allows service providers to have a reasonable level of confidence that speed test measurements will accurately reflect a user's subscription level. For example, for a particular access network technology, if the network supports 2 Gbps transmission rates to/from the access termination device (i.e., a cable modem) then the peak service tier typically won't exceed 1 Gbps.
The present state of the art access network technology peaks at 10 Gbps[1]. The IEEE 802.3 10 Gbps Ethernet Passive Optical Network (10G-EPON) has been deployed in China and the United States. ITU-T has recently consented XGS-PON, another 10 Gbps symmetric PON standard that uses the physical layer of XG-PON (ITU-T G.987.2) and 10G-EPON. Even the ITU-T's NG-PON2 standard, which uses multiple wavelengths to increase network capacity, only defines a single wavelength per optical network unit (ONU), which puts NG-PON2 on par with 10G-EPON and XGS-PON in terms of meeting peak service tier rates. Finally, CableLabs is now certifying DOCSIS 3.1 devices which are capable of 10 Gbps downstream, and soon will certify 10 Gbps symmetric devices based on Full Duplex DOCSIS technology. What does this mean for accommodating Nielsen's Law? Assuming the peak service tier trends continue, and given the 10 Gbps peak network capacity of current solutions, the maximum peak service tier will level off at approximately 5 Gbps (see red dashed line in chart above) until technology advances to allow higher rates. The telecommunications industry needs a technology roadmap beyond the current state of the art which allows for peak service tiers to exceed 5 Gbps.
CableLabs and its members, along with other service providers and the IEEE, are determined to stay ahead of the trends displayed in the graph above by contributing to the world's first 100 Gbps EPON solution as part of the IEEE 802.3ca Task Force. The prevailing sentiment of the 802.3ca Task Force is to create a generational standard that allows for growth of peak network capacity (and corresponding peak service tiers) if and when such growth becomes necessary, without creating a new standard. This growth is expected to be achieved through defining four wavelengths, with each wavelength supporting 25 Gbps. Initial product developments will revolve around a single wavelength to provide a 25 Gbps EPON solution. When market conditions demand it, using two wavelengths along with a channel bonding solution will allow an ONU to transmit and receive at up to 50 Gbps. Similarly, with four wavelengths and channel bonding the ONU will transmit and receive at up to 100 Gbps. Examining the chart above, and assuming historical trends continue, the reader can see the 100G-EPON standard will support peak service tiers out to approximately 2030, give or take a couple years, assuming the 50% CAGR predicted by Nielsen continues.
One of the interesting facets of the 802.3ca Task Force activities relates to the improvement in efficiencies in the media access control (MAC). Previously, the IEEE 802.3 standard did not allow frame fragmentation, but recently with the completion of the IEEE 802.3br Interspersing Express Traffic Task Force, frame fragmentation is now allowed in networks based on the 802.3 standard. The 802.3ca Task Force plans to leverage fragmentation to make transmission more efficient in a multi-wavelength, channel-bonded environment. Additionally, contributions to the 802.3ca Task Force will improve the efficiency of the upstream bandwidth allocation process by allowing multiple service flow queue depth reporting and upstream granting in a single message pair. Considering the ITU-T SG15/Q2 is also investigating 25 Gbps per wavelength, the more promising and exciting aspect of these 802.3ca Task Force decisions is that the next generation of IEEE EPON and ITU-T GPON standards could be more closely aligned than ever before in the very near future! This makes a converged optical access solution closer to reality. (see a previous blog regarding a converged optical access initiative)
In his role as Vice President Wired Technologies at CableLabs, Curtis Knittle leads the activities which focus on cable operator integration of optical technologies in access networks. Curtis is also Chair of the IEEE 802.3ca Task Force.

[1] I'm ignoring point-to-point fiber solutions such as Active Ethernet because these are not typically residential solutions.
A Sneak Peek of SCTE Cable-Tec Expo
CableLabs and Kyrio will be hosting a booth at the SCTE Cable-Tec Expo 2016.  To provide you with a sneak peek of what we plan to show at the event, below are highlights of six demonstrations:
Full Duplex DOCSIS® 3.1 Technology
With Full Duplex DOCSIS 3.1 technology, the HFC network can support 10 Gbps Downstream x 6 Gbps Upstream symmetrical capacities in 1.2 GHz of spectrum.  Multi-Gbps symmetric services will meet user demands and support future applications. Learn more about the next evolution of DOCSIS technology.
3.5GHz Shared Spectrum and Wi-Fi Traffic Aggregation
3.5 GHz (3.55 – 3.7GHz) shared spectrum offers the potential democratization of LTE. Cable operators can deploy LTE-based solutions within homes, offices and even in public environments to create low cost mobile networks.  See how CableLabs multi-path TCP technology can help cable operators aggregate IP traffic from both 3.5 GHz spectrum and existing Wi-Fi access points to provide their customers with great wireless speeds.
Energy Efficiency of CPE (Consumer Premises Equipment)
CableLabs provides technical leadership to the industry through influencing energy efficiency voluntary agreements for set-top boxes and small network equipment as well as other energy efficiency initiatives.  CableLabs also works closely with SCTE Energy 2020 to address end-to-end energy efficiency in the cable infrastructure.  Learn more about the voluntary agreement initiatives and see CPE energy efficiency in action!
Automated Leakage Detection and Time Domain Reflectometer (TDR)
Cable operators can automatically gather their own leakage data for use as a diagnostic tool. This new detection method employs GPS and a continuous wave test signal and can pinpoint leakage sources. The leakage data can be used to make Proactive Network Maintenance (PNM) map overlays to speed problem resolution and to prevent LTE interference.  The TDR uses standing waves on digital signals to accurately calculate the distance to reflections without interrupting service.  Learn more about how these methods can improve network performance.
DOCSIS® 3.1 Profile Management Application (PMA)
The Profile Management Application implements a software application that can configure and manage DOCSIS 3.1 OFDM subcarrier modulation profiles on a DOCSIS 3.1 CMTS. This demonstration shows how PMA interacts with CMTSs, CMs, and other network elements to monitor, create, modify and then assign specific profiles to specific DOCSIS 3.1 CMs to optimize and maximize the capacity on a DOCSIS 3.1 OFDM Channel.
Real World Testing
In a world of constant change and innovation, the need for agility and assurance is crucial. Learn how Kyrio Testing Services provides their customers with the ability to adapt to new requirements, accelerate change, and assure quality of product performance and usability from the end user perspective.
We look forward to meeting you at the SCTE Cable-Tec Expo, Booth # 1424, September 26 – 29 in Philadelphia.
Li-Fi – A Bright Future for Home Networks
At CableLabs, we are continually researching new methods of in-home wireless network distribution, and one exciting new contender is Li-Fi.
What is Li-Fi?
Li-Fi is the modulation of a free-space beam of light in order to transmit a signal. It can be thought of as analogous to Wi-Fi, just in a much higher frequency band (430 – 770 THz vs. 2.4 GHz). We've actually been using this same basic concept for over 100 years, in the form of Morse code being transmitted from ship to ship via signal lamps.
The Shannon–Hartley theorem allows us to calculate the maximum bitrate of a communications channel with a specific bandwidth. Since capacity increases with bandwidth, we can immediately see the vast potential of Li-Fi, which has ~340 THz to work with in the visible light frequencies. Compare that with Wi-Fi, which has less than 1 GHz available and is able to provide over a gigabit per second, and you can see the potential for ultra-high speed in-home networks. As virtual and augmented reality achieve widespread adoption, these ultra-high speeds will become mandatory.
To give you an idea of just how large a difference this increase in bandwidth is, it's close to the same difference between the mass of the Earth and the Sun!

Where are we going?
The ideal product is a Li-Fi enabled light bulb in the same form factor that consumers are used to now – and with the same ease of installation. Li-Fi could be a viable solution to improving the coverage and reliability of a home network by reusing existing light fixtures. Just screw the bulb in and you've expanded your network.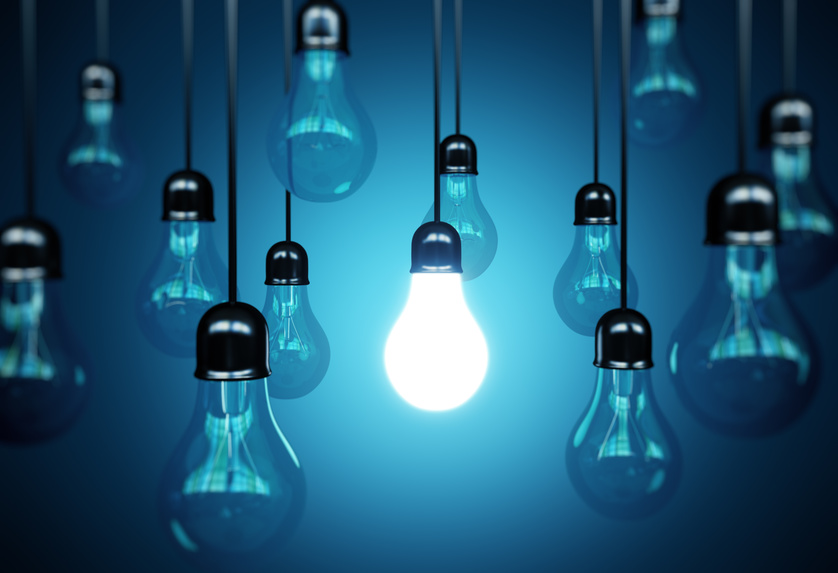 The other side of the connection is the endpoint device, and a number of consumer device manufacturers are beginning the process of integrating Li-Fi. Apple is exploring adding Li-Fi to their mobile devices, which is a natural product evolution, as the majority of smartphones already contain the two things needed for Li-Fi, a light detector (the camera) and a light emitter (the camera flash).
Where are we today?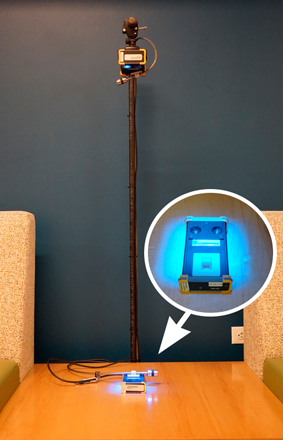 CableLabs has fully functioning prototypes of a single-channel Li-Fi system, which have proved to achieve data rates of around 300 Mbps. It is free from Wi-Fi interference and simple to use. Currently the devices need to be directly in-line with each other, so research into improving the signal-to-noise ratio (SNR) is needed for us to achieve omnidirectional Li-Fi.
We've also done extensive research into the necessary backhaul systems that will make Li-Fi a useful reality, such as next-generation powerline networking, which uses your existing home electrical wiring as a network. By networking the Li-Fi bulbs together, you can achieve seamless, whole-home coverage. Anywhere there is light, there is connectivity.
The cable industry, with the introduction of DOCSIS 3.1 and beyond, continues to increase Internet connection speeds. These speeds are currently beyond what any current-generation in-home wireless system can handle, so research into technologies like Li-Fi will play a vital part in ensuring customers are able to fully utilize their connection.
Josh Redmore is the Lead Architect in Wireless Network Optimization group at CableLabs.
Follow him on Twitter.
Full Duplex DOCSIS® Technology: Raising the Ante with Symmetric Gigabit Service
Building on state of the art technology, ongoing DOCSIS 3.1 technology deployments have squarely set the cable industry on the path to deliver Gigabit services over HFC networks.
But there's more to come! A newly unveiled project at CableLabs illustrates how DOCSIS 3.1 technology provides the basis for continued evolution of system capacities by supporting symmetric multi-Gigabit service over the cable network. During its recent 2016 Winter Conference, CableLabs unveiled a Full Duplex DOCSIS technology (now a part of DOCSIS 4.0 technology) which applies emerging techniques from wireless networks to achieve a breakthrough increase in the upstream speeds for DOCSIS delivered broadband service. A Full Duplex DOCSIS (now a part of DOCSIS 4.0 technology) network is a prime example of the CableLabs 2.0 vision using its rich innovation funnel of technologies to transform the industry.
How is full duplex different from existing technologies?
Existing technologies mostly use either Frequency Division Duplexing (FDD) or Time Division Duplexing (TDD). In FDD, upstream and downstream (or uplink and downlink in the terms of the wireless world) traffic operate separately in dedicated parts of the spectrum. In current DOCSIS network deployments, the lower part of the spectrum is dedicated for upstream traffic and the upper part of the spectrum is dedicated for downstream traffic. In TDD, the upstream and downstream traffic share the same spectrum, but take turns in using the spectrum, similar to how Wi-Fi, or DSL, operate. In Full Duplex communication, the upstream and downstream traffic use the same spectrum at the same time, doubling the efficiency of spectrum use. A DOCSIS 3.1 Full Duplex network (now a part of DOCSIS 4.0 technology) provides the peak speeds and flexibility of TDD solutions, but one-ups both TDD and FDD with double the capacity.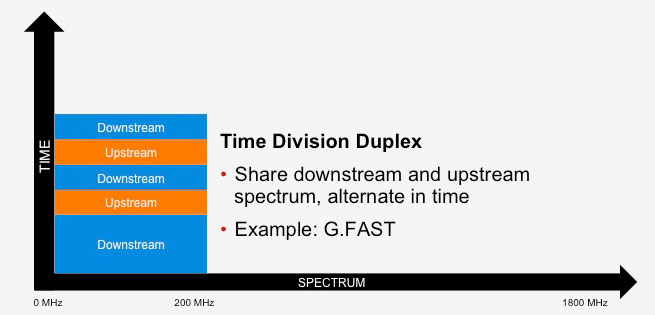 Today's Technology Duplex: Time Division Duplex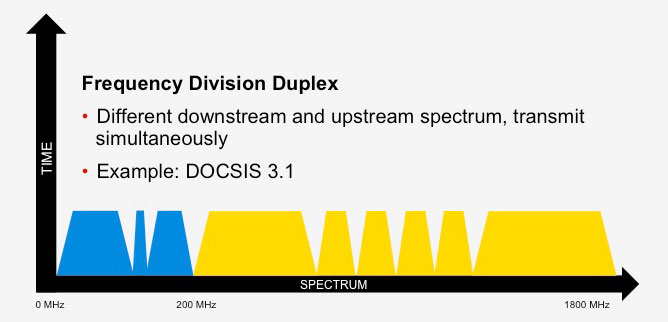 Today's Technology Duplex: Frequency Division Duplex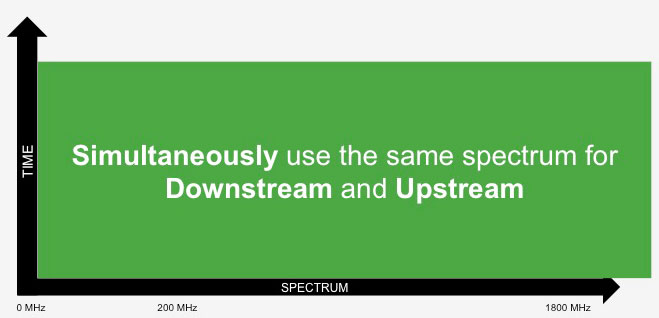 Full Duplex DOCSIS (now a part of DOCSIS 4.0 technology)
Using a combination of Passive HFC and the self-interference cancellation and intelligent scheduling of DOCSIS 3.1 technology, CableLabs has built a solution that proves the viability of full duplex communication. Its approach significantly increases upstream data capacity in order to enable symmetric multi-Gigabit broadband data services for consumers and the enterprise. These developments are expected to yield DOCSIS 3.1 network performance of up to 10 Gbps symmetrical on 1 GHz HFC networks, with the potential for even higher performance by utilizing spectrum that is currently available for future expansion above 1 GHz.
One of the compelling attributes of a Full Duplex DOCSIS 3.1 network (now DOCSIS 4.0 technology) for the next evolution in HFC delivery is the strong foundation DOCSIS 3.1 technology provides. Our design and analysis shows that the existing Physical and MAC layer protocols in DOCSIS 3.1 technology can largely support this new symmetric service. The evolution to a DOCSIS 3.1 Full Duplex network (now a part of DOCSIS 4.0 technology) is an incremental evolution of DOCSIS 3.1 technology and will support both backward compatibility and coexistence with previous generations of DOCSIS network deployments.
So what's next for the Full Duplex DOCSIS 3.1 technology (now a part of DOCSIS 4.0 technology)?
Over the next few months, we will engage with a team composed of our members and vendors who can help us further validate and mature the technology. Following which, if all signs remain positive, the project will transition from an innovation effort into an R&D project, open to all interested participants.
We are excited about this development effort, and look forward to its further evolution. Stay tuned to this blog for more exciting news from CableLabs.
Dan Rice also contributed to this article.
Belal Hamzeh is Vice President of Research & Development in Wireless Technologies group at CableLabs.
A Great DOCSIS 3.1 Achievement: Certification!
For months, many people have been asking me: "When will DOCSIS 3.1 devices get certified?"
My response has generally been something along the lines of: "When they successfully demonstrate they're ready based on the test results. The team at CableLabs will do everything we can to facilitate this process, as our goal is to see DOCSIS 3.1 devices in the field as soon as possible."
As of today, I can now say with a very big smile that CableLabs has officially certified the very first group of DOCSIS 3.1 cable modems, specifically five cable modems from Askey, Castlenet, Netgear, Technicolor and Ubee Interactive. Thanks to the efforts of the entire industry, we have quickly attained this achievement. See our press release.
Why is DOCSIS 3.1 Certification important?
DOCSIS 3.1 technology is critical to the evolution of cable networks by enabling a cost effective means of supporting ever faster speeds and improved performance, leading to new services. It does this through the incorporation of several new technologies that allow the existing cable network to operate more efficiently, and that can scale to use more of the spectrum available on a cable network. And it does this while maintaining backward compatibility with previous DOCSIS devices, which enables cable operators to conduct a smooth migration.
To assist with the rapid development of DOCSIS 3.1 devices, as has been noted in some past blog postings -- DOCSIS 3.1® Update: Get Your Engines Running…. The Engines ARE Running!, DOCSIS® 3.1 Products Are Getting Real!, DOCSIS 3.1 Technology: Spec to Product in One Year -- CableLabs has been holding a series of Interoperability and Dry Run testing events which allow manufacturers to get together on neutral ground and ensure that their devices work with one another. CableLabs has offered more of these events than with any previous specification effort, with the result that there have been near continuous testing opportunities for manufacturers of cable modems, head-end, and test equipment – a total of 27 of them – over the past number of months. The unified goal has been getting products ready for the field as rapidly as possible.
Certification of DOCSIS 3.1 devices is the next major achievement in the process of getting DOCSIS 3.1 devices ready for the field – a process that is happening rapidly as evidenced by Comcast's recent blog post – and provides a formal indication that they are ready for deployment.
What is CableLabs Certification?
CableLabs Certification is a formal testing process for verifying devices comply with one or more of our specifications. This provides a level of assurance that once deployed in the field, these devices will interoperate with one another and behave as expected.
In the specific case of DOCSIS 3.1 Certification testing, this means that cable modems comply with the DOCSIS 3.1 versions of the MAC and Upper Layers Protocol Interface (MULPI) specification, the Physical Layer Interface (PHY) specification, the Security (SEC) specification, and the Cable Modem Operations Support System Interface (CM-OSSI) specification. The full suite of DOCSIS 3.1 specifications is made publicly available on the CableLabs Website.
By achieving Certified status, these devices have demonstrated in a formal testing environment that they comply with those specifications and should be ready for use in the field. That saves our members effort in validating specification compliance, allows manufacturers to conduct testing in just one place, and therefore speeds time to market of DOCSIS 3.1 devices. It also enables a robust marketplace with healthy competition for DOCSIS 3.1 devices.
This is one of the unique things about CableLabs: we don't just develop technology and specifications, we also assist in the development and deployment of those technologies, helping to ensure that they come to market as rapidly as possible.
How did we get here so quickly?
Just as other aspects of the DOCSIS 3.1 development effort have happened faster than ever before, so too have we achieved DOCSIS 3.1 Certification faster than ever.
First and foremost, CableLabs had a commitment from the entire cable industry to make DOCSIS 3.1 technology a success. Engineers and executives from cable operators, manufacturers, and CableLabs joined forces to move things along rapidly. I cannot overstate the level of cooperation and effort that many, many people have invested in making the rapid development of DOCSIS 3.1 devices a reality.
In addition, just as with the development of the specifications, when considering our Certification program and how we could get devices into the field as quickly as possible, we asked ourselves, "What can we do better?"
In addition to the extensive Interops and the addition of Dry Run testing events, one of the resulting changes was the adoption of a "rolling wave," whereby manufacturers were able to rapidly update their devices as issues were discovered until they were able to successfully pass Certification. That cut out a lot of overhead and repetition, with the result that first generation devices were able to reach the point of being compliant with the DOCSIS 3.1 specifications unusually rapidly.
All of this was part of a deliberate approach of partnering closely with manufacturers to help to get DOCSIS 3.1 devices to cable operators as quickly as possible.
And last but not least, I want to highlight the extreme dedication and effort put forth by the entire Lab Services team and others here at CableLabs too numerous to name; without their knowledge, efforts, and a lot of late nights, none of this would have been possible.
What comes next?
While these are the first five devices to be certified for DOCSIS 3.1 compliance, they certainly will not be the last: watch for more devices to be certified over the course of the coming year. In addition, CableLabs remains committed to assisting manufacturers in preparing for DOCSIS 3.1 certification testing through continued Interops and Dry Runs over the coming months.
It's been a fast paced ride, and it's not over yet. Stay tuned!

Matt Schmitt is the Vice President of Lab Services at CableLabs, where he's worked since 2003.
Read the full press release.
DOCSIS 3.1 Technology: Spec to Product in One Year
Around this time last year, CableLabs kicked off the first DOCSIS® 3.1 interoperability event. Looking back, it is amazing how far we have come.
Over the last year, CableLabs has held seven DOCSIS 3.1 interoperability events that provide manufacturers with the opportunity to work together on interoperability, development, and compliance. A total of 27 vendors across cable modem, head-end, and test equipment manufacturers have participated so far. Over the course of these events, vendors have continued to demonstrate improvements in product maturity.
Additionally, CableLabs has completed seven dry run events which provided vendors with additional development opportunities and evaluation of product readiness for certification and field trials through joint test execution between CableLabs and the vendors. This progress has paved the way for CableLabs to officially open the door for device certification submission and for cable operators to plan their field trials. While we can't say much about what is going on in our certification labs, we can say it is like a beehive in there! CableLabs will be continuing the interoperability and dry run events in 2016 to support the industry and accelerate device availability.
One of the highlights of the year was the DOCSIS 3.1 technology demonstration day, where vendors flexed their muscles and showed the potential of the DOCSIS 3.1 technology. Demonstrations showcased the multi-Gbps capabilities of DOCSIS 3.1 technology, even while the products were still in development stage. Also, the ability to deploy DOCSIS 3.1 services in today's networks through a fluid transition was demonstrated. Some vendors even showed how some of today's cable modem termination systems, which are already deployed in the field, can be upgraded to support DOCSIS 3.1 technology while simultaneously supporting DOCSIS 3.1 and DOCSIS 3.0 devices. The state of the art in spectral efficiency was showcased with the support of 4096 QAM which is a 50% increase from what is possible in today's DOCSIS 3.0 networks. All indicators are pointing in the right direction that DOCSIS 3.1 technology, as promised, will enable the cable operator to deliver great user experience to the customer.
In addition to holding several training workshops, CableLabs has been working closely with SCTE and NCTI to develop the required training courses to educate and prepare the workforce for the deployment of DOCSIS 3.1 services.
And as the year comes to an end, Comcast puts the icing on the cake by announcing the kickoff of their DOCSIS 3.1 field trials signaling that their customers will soon be enjoying the great experiences that can be offered by DOCSIS 3.1 technology. Congratulations to Comcast for such a big achievement, and ending the year on a high note for the industry and for its customers as a whole.
Belal Hamzeh is Director of Network Technologies at CableLabs.
DOCSIS® 3.1 Products Are Getting Real!
Is the cable industry ready to deliver multi-gigabit broadband? Can the industry effectively compete in the market against fiber? Can the existing HFC plant scale to support the spectrum requirements of next generation services? The answer to all these questions is a resounding YES! as shown at CableLabs during a DOCSIS 3.1 demonstration day held late last month in Colorado.
A healthy ecosystem of twenty-two vendors came together to demonstrate the capabilities and readiness of DOCSIS 3.1 technology on a range of products including cable modems, Converged Cable Access Platforms (CCAPs), and test and measurement equipment.
Demonstrations included
Multi-Gbps Speeds
Multiple vendors demonstrated the ability of DOCSIS 3.1 devices to deliver Multi-Gbps speeds, showcasing downstream capacities up to 4.6 Gbps on the downstream and 800 mbps on the upstream using various combinations of bonded OFDM (OFDMA for upstream) and SC-QAM channels.
Fluid Transition – Backward Compatible, Upgradable, Flexible
ARRIS showcased the capability of DOCSIS 3.1 CCAPs to support both DOCSIS 3.1 and DOCSIS 3.0 cable modems using their E6000 platform, which is currently deployed in the field for DOCSIS 3.0 and can be upgraded via a software update to support DOCSIS 3.1 services.
Casa Systems also showcased their CCAP, which is also currently deployed in the field and can be upgraded via a software update to support DOCSIS 3.1 services.
Vendors showcased a variety of spectrum configurations including downstream OFDM transmissions spanning from 96 to 384 MHz, and upstream transmissions operating with different upstream plant configurations including 5-42 MHz, 5-85 MHz and 5-204 MHz.
Greater Spectral Efficiency
Futurewei and Broadcom showcased DOCSIS 3.1 downstream signals operating at 4096 QAM increasing efficiency by 50% compared to DOCSIS 3.0 technology at 256 QAM, and also showcased 4096 QAM upstream signals increasing efficiency by 100% compared to DOCSIS 3.0 technology at 64 QAM.
Cisco showcased the ability of a DOCSIS 3.1 CCAP to support multiple modulation profiles, which highlights the ability of DOCSIS 3.1 technology to maximize spectral efficiency based on HFC network characteristics.
Future Scalability
Futurewei showcased the optional feature of DOCSIS 3.1 devices to support 16384 QAM, increasing downstream efficiency by 75% compared to DOCSIS 3.0 technology at 256 QAM.
CableLabs is now open for DOCSIS 3.1 device certification testing
The success of the DOCSIS 3.1 demonstrations was not a surprise. CableLabs has been running a series of DOCSIS 3.1 interoperability events (interops) since last December. These events provide the opportunity for manufacturers to work together on interoperability, development, and compliance; and over the course of these events, manufacturers have continued to demonstrate increases in product maturity.
In addition, CableLabs has been holding DOCSIS 3.1 technology dry run events since June to provide additional development opportunities and to evaluate product readiness for certification and field testing through joint test execution.
As was previously announced, CableLabs is now open for DOCSIS 3.1 device certification testing: as soon as products demonstrate readiness through the Dry Run process, certification testing can begin. CableLabs certification programs provide verification of specification compliance; and in the interest of advancing DOCSIS 3.1 device readiness as rapidly as possible, CableLabs will work with device manufacturers in the DOCSIS 3.1 device certification testing process until they can demonstrate this compliance.
The advances in DOCSIS 3.1 device maturity are also born out by the fact that Cable operators have also announced field deployments of DOCSIS 3.1 services as early as Q4 2015.
This is good news for all concerned: DOCSIS 3.1 technology with its support for up to 10 Gps downstream and up to 1 Gps upstream, along with improved network and spectrum efficiency, will enable a new generation of services and applications including advanced video technologies, virtual and augmented reality, tele-existence, etc. DOCSIS 3.1 technology also reduces network latency, and so dramatically improves responsiveness for sophisticated applications such as gaming and rich web experiences.
For cable operators, DOCSIS 3.1 technology provides a flexible migration path for their current HFC deployments since it is backward compatible with legacy DOCSIS devices.
DOCSIS 3.1 technology is living up to its promise to deliver best-in-market speeds to the broadest population of consumers.
DOCSIS 3.1 Demonstration Day Vendor Participation
Arris
Askey
Averna
Broadcom
Casa Systems
Castlenet
Cisco
Comsonics
Excentis
Futurewei
Humax
Intel
Keysight Technologies
Netgear
Pace
Rohde and Schwarz
Sagemcom
ST Microelectronics
Technicolor
Trilithic
Ubee
Viavi
Comcast's DOCSIS 3.1 Gateway was also included in the demonstrations.
Matt Schmitt, Vice President of Lab Services, CableLabs, also contributed to this article.
Belal Hamzeh is Director of Network Technologies at CableLabs.