Remote PHY 101: Why the Industry Is Working Together to Take Things Apart
In our previous CableLabs 101 post about Distributed Access Architecture (DAA), we discussed the benefits of distributing key network functions throughout the cable access network to optimize its performance. Today, we delve deeper into Remote PHY—one of the earliest DAA solutions that cable operators are deploying to increase their network's bandwidth and more.
What Is Remote PHY?
PHY stands for "physical radio frequency (RF) layer," which delivers voice, video and data via the DOCSIS® protocol over the hybrid fiber-coax (HFC) network. Media Access Control (MAC) is an example of another CCAP layer that we'll cover in our next CableLabs 101 post.
Prior to the introduction of the DAA concept, all CCAP functions, including PHY and MAC, were integrated at the Internet provider's cable modem termination system (CMTS)—typically located at the headend or hub site—which sends and receives data to and from the modem in your home. This data exchange is the basis for how DOCSIS technology on HFC networks works. However, the integrated CCAP approach does not maximize the potential of the cable access network.
Once we figured out how to split the PHY and MAC functions, we were then able to distribute PHY closer to the end user, resulting in increased network capacity and greater speeds. You can refresh your memory about the benefits of DAA and Distributed CCAP Architecture (DCA) here.
Remote PHY was the first documented DCA specification that we officially released in 2015, followed by Flexible MAC Architecture (FMA), released in September 2020. These solutions are complementary and have similar benefits, giving cable operators the flexibility to architect their networks the way they see fit to support future high-bandwidth services. The specifications provide guidance to our industry vendors who are manufacturing Remote PHY–compatible equipment. Just like the other DOCSIS and Coherent Optics technologies, Remote PHY and the other DCA approaches are part of the 10G toolset.
How Does Remote PHY Work?
The Remote PHY specification defines ways to separate the physical RF layer from the MAC layer that remains at the headend and describes the interfaces between them. Let's take a closer look at how it's done.
The PHY layer of the CCAP system is placed in something called a Remote PHY Device (RPD). An RPD is a piece of equipment usually produced by a third-party cable vendor that contains all the PHY-related circuitry, as well as the pseudowire logic that connects back to the CCAP Core, which supports full DOCSIS functionality. In other words, all this rerouting on the back end is completely hidden from customers like you. Your network will function the same as before, only much faster because the PHY layer is now located much closer to where you live.
Speaking of location, the beauty of the Remote PHY architecture lies in its flexibility to place RPDs anywhere, including optical nodes closer to the network "edge"—a cable insider's way of saying "closer to customers' homes." A single node can serve just a few blocks or even a single building; therefore, each customer modem connected to that node gets a bigger chunk of the bandwidth pie, so to speak. And, of course, more available bandwidth means better customer experience!
How Does This Technology Affect Me and My Future?
You might think that it makes no difference to you how your Internet provider's CCAP is designed—and you would be right. What does matter, however, is the noticeable difference in your Internet quality, including how fast your apps work, how quickly you can download your movies or how much lag (or lack thereof) you experience when you play an online game with your friends. Looking forward to the near future, you may be using applications that utilize holographic displays, artificial intelligence, virtual rooms, 360° fully immersive entertainment experiences and other innovative technologies that require multi-gigabit bandwidth to function seamlessly.
This is why CableLabs and our partners in the cable industry are continuously inventing new ways to mine more bandwidth out of the available RF spectrum. Thanks to specifications like Remote PHY, FMA and others, we have all the pieces in place to deliver 10G symmetrical speeds—and more—to support future innovations. Now it's just a matter of putting it all together.
Coherent Optics 101: Coming at You at 0.69c
Welcome back to the CableLabs 101 series! In our previous post, we discussed the basic components of a typical hybrid fiber-coax (HFC) cable network infrastructure and the role of DOCSIS® technology in data transmission over the coaxial portion of the network. Today, we'll focus on the fiber portion of the HFC network, as well as the coherent optics technology that's widely considered to be the hyper-capacity future of internet connectivity.
What Is Coherent Optics Technology?
Cable's HFC networks are "fiber-rich," which means they're composed mostly of fiber—a bundle of very thin, hair-like strands of glass or plastic wire. Fiber is light, durable, and most importantly, capable of transmitting a lot of data over very long distances incredibly quickly. Light travels through a vacuum at 186,282 miles per second, a universal constant that scientists denote as "c." Although light traveling through fiber optic cable moves a little slower than that (69 percent of the speed of light in a vacuum, or 0.69c), it's still incredibly fast at over 128,000 miles per second. That's fast enough for a single burst of light to circle the earth more than five times in a single second.
Until recently, signals in a typical HFC network were transmitted over fiber using analog technologies: an electrical radio frequency signal would be converted to an analog optical signal, transmitted over fiber optic cables, and then converted back to an electrical signal at the fiber node. With the advent of Distributed Access Architecture technologies, which will help cable operators cost-effectively add more capacity to their networks, that same fiber is being re-used to carry digital signals rather than analog ones.
The digital fiber technology being deployed today in access networks uses an "on-off keying" approach, in which a transmitter rapidly turns the laser on and off to send a signal; each pulse can signal a single bit of digital information (a 1 or a 0). Coherent optics adds further dimensions to the optical signal to carry more information simultaneously: rather than just pulsing the light on and off, it uses other properties of light (e.g., amplitude, phase and polarization) to carry multiple bits with each burst of information rather than just one bit. That can increase the data-carrying capacity of a single fiber by as much as 70 times, compared with non-coherent technology.
How Has This Technology Evolved?
Coherent optics technology is not new. It's been used for over 10 years in long-haul fiber networks that span thousands of miles between cities and countries. More recently, as the cost of coherent optics technology has come down and speeds have gone up (from forty to now hundreds of gigabits per second) it has seen growing deployment in metropolitan or regional networks. The one remaining frontier has been the access network—such as in a cable HFC network, which has a large number of relatively short links, requiring a very low-cost solution.
It was for this reason that CableLabs embarked on an effort to define the use of coherent optics for cable access networks: to define requirements specific to access networks, thereby promoting interoperability, scale and competition. All this reduces the cost of this technology to the point at which it could be used widely to grow the capacity of cable operator fiber networks.
This vision was realized with the publication of our initial Point-to-Point (P2P) Coherent Optics specifications (released in June 2018), which defined how to send 100 Gigabits per second (Gbps) on a single wavelength, and how to send up to 48 wavelengths on a single fiber. That was followed by our version 2 specifications (released in March 2019), which defined interoperable operations at 200 Gbps per wavelength, doubling the capacity of the network. And both specifications included support for another key technology called Full Duplex Coherent Optics, which doubles the capacity of each fiber yet again while enabling the cost-effective use of a single fiber rather than the normal fiber pair.
How Does This Technology Affect Me and My Future?
When you think about current technology trends and predictions for the future, you'll notice a common thread. Future innovations—like holograms, 360° virtual reality (VR), artificial intelligence and so on—will all require super high-capacity, low-latency networks that can transmit a ton of data very, very quickly. We're not talking about just long-haul networks between cities and countries, but everywhere.
This is why cable companies started investing in the expansion of their fiber infrastructure and fiber optic technology decades ago. By focusing on "fiber deep" architectures—a fancy term for bringing fiber closer to subscribers' homes—and using technologies such as coherent optics to mine even more bandwidth out of the fiber that we already have in the ground today, we can ensure that our cable networks continue meeting the requirements of current and future innovations. Thanks to those efforts, you'll be able to one day enjoy your VR chats in "Paris," work in a "holo-room" and much, much more.
Everything You Want to Know About Coherent Optics for Access Networks (But Were Afraid to Ask)
The cable industry has been well served by its extensive fiber deployment that took place during the initial hybrid fiber-coax (HFC) buildout. Even though cable operators have answered capacity demand through fiber node-splits in specific high demand scenarios, only recently have operators embarked on deeper-fiber roll-out strategies as part of a comprehensive long-term evolution plan.
The exponential growth in demand for capacity prompted CableLabs to explore how to best use cable's optical infrastructure resources. This exploration led to research activities for the introduction of coherent optics in the access environment. We're delighted to announce the publication of the book "Coherent Optics for Access Networks" by CRC Press (Taylor & Francis Group), highlighting many of CableLabs' research activities.
The book discusses how coherent optics in the access network is re-engineered to simultaneously achieve lower complexity and higher performance afforded by the generous link margins characteristic in shorter links. This instantiation of coherent optics is not only suitable for cable access but also for telco and cellular fiber access networks.
Recent developments in the field of coherent optics for access network applications that will support point-to-point (P2P) aggregation use cases and point-to-multipoint (P2MP) fiber to the user's passive optical network are examined. Optical industry trends as well as the conventional intensity modulation and direct detection (IM-DD) systems and newly developed advanced direct-detection architectures leveraging four-level pulse amplitude modulation format, Stokes receivers and Kramers–Krönig receivers are also presented.
This book focuses on how to adapt coherent optics technology to the access environment in ways that address major cost challenges, such as simplified transceiver design and photonic integration. An example, is the introduction of full-duplex coherent optics, which enables simultaneous bidirectional transmission on the same wavelength thereby doubling fiber's capacity. Full-duplex coherent optics is an approach that is feasible to implement in the shorter-link-length access environment.
The book provides economical modeling for aggregation uses cases in comparison with traditional 10G IM-DD DWDM based solutions. Implementation requirements, unique to the access environment, are also provided when introducing coherent optics into access scenarios, including coexistence with existing services and security challenges. Progress on recent-specification development activities is reviewed for many industry organizations that focus on short-distance coherent optics interoperability.
In writing this book, the authors have benefitted from the numerous interactions with experts within the optical telecommunication components and systems community, in particular with the vendor and operator members that contributed to CableLabs' point-to-point coherent optics specification. This book represents a first look of technological advances in coherent optics, in the interest of future proofing of our access networks.
Favorable coherent component cost-reduction trends are expected to continue, technological advancements will enable higher performance and simpler implementations will make coherent technology more pervasive in the access network so that exponential growth in capacity is achieved. Given the headway gained in specification generation bodies and the development progress of optical component and transceiver manufacturers focusing on shorter link distances, a future with coherent optics in the access network is upon us.
OFC: A Third of a Mile of Next-Gen Optics
0.0000026 seconds.
For the more technically inclined, that's 2.6 microseconds. Which is how long it would take light to travel a third of a mile through fiber optic cable. It was also the length of the show floor at OFC: The Optical Networking and Communications Conference and Exhibition, held in March in San Diego, California.
Of course, it took me considerably longer – 115,384,615 times longer, or about 5 minutes – to walk that same distance at the show. And that's assuming I maintained a fast pace and avoided stopping for the entire distance – a feat that proved essentially impossible, given the amazing assortment of next-generation optical technology on display, as well as a large number of familiar faces around me!
CableLabs Represented
The show floor hosted 683 exhibitors – too many to take in over such a short time. Among them were many of the companies that have been involved in the CableLabs P2P Coherent Optics effort, helping to blaze the trail for the use of coherent optics technology in the cable access network, in turn enabling our 10G vision. In those booths, many were showcasing products that support 100G speeds based on our PHYv1.0 specification, as well as their roadmap and plans for devices supporting 200G speeds based on our PHYv2.0 specification. Roaming the show floor, checking out exhibited products or enjoying key sessions, I kept running into many of the direct participants in our efforts, despite the fact that 15,400 people were in attendance.
It didn't seem that I could go very far without encountering someone from a significant CableLabs contingent or one of our members, reflecting the importance of next-generation optics to the cable industry, as well as CableLabs' strong commitment to developing new optical technologies. Our Optical Center of Excellence has been at the forefront of developing innovative approaches for applying optical technology to cable networks, such as Full Duplex Coherent Optics.
CableLabs on Display
Although CableLabs wasn't an official exhibitor, beyond having a contingent of people present, CableLabs and cable definitely had a presence at this year's OFC. The importance of the cable industry was mentioned during a keynote speech; Curtis Knittle participated on a panel on "Action in the Access Network" as a part of the OIDA Executive Forum, and one of our interns presented a poster as part of a collaboration with CableLabs' Bernardo Huberman and Lin Cheng.
Another presentation from our own Mu Xu also illustrated how CableLabs is pushing the boundaries of optical technology. This presentation – titled "Multi-Stage Machine Learning Enhanced DSP for DP-64QAM Coherent Optical Transmission" and co-authored by other CableLabs thought leaders including Junwen Zhang, Haipeng Zhang, Jing Wang, Lin Cheng, Zhensheng Jia, Alberto Campos, and Curtis Knittle – was particularly noteworthy because it brought together multiple areas of next-generation technology and research going on at CableLabs.
This was my first year attending OFC, and I feel like I barely scratched the surface of what was there. More than anything else, I came away impressed by the impact that the CableLabs team is making on the optical industry, one that will be critical for enabling our 10G future. I'm greatly looking forward to next year.
Forward Error Correction (FEC): A Primer on the Essential Element for Optical Transmission Interoperability
Forward error correction (FEC) has been a powerful tool in the cable industry for many years. In fact, perhaps the single biggest performance improvement in the DOCSIS 3.1 specifications was achieved by changing the FEC being used in previous versions – Reed-Soloman (RS) – to a new coding scheme with improved performance: low-density parity check (LDPC). Similarly, FEC has also become an indispensable element for high-speed optical transmission systems, especially in current coherent optical transmission age.
FEC is an effective digital signal processing method that improves the bit error rate of communication links by adding redundant information (parity bits) to the data at the transmitter side so that the receiver side then uses the redundant information to detect and correct errors that may have been introduced in the transmission link. As the following figure shows, the signal encoding that takes place at the transmitter has to be properly decoded by the receiver in order to extract the original signal information. Precise definition and implementation of the encoding rules are required to avoid misinterpretation of the information by the receiver decoding the signal. Successful interoperability will only take place when both the transmitter and receiver follow and implement the same encoding and decoding rules.

As you can see, FEC is the essential element that needs to be defined to enable the development of interoperable transceivers using optical technology over point-to-point links. The industry trends are currently moving toward removing proprietary aspects and becoming interoperable when the operators advocate more open and disaggregated transport in high-volume short-reach applications.
When considering which FEC to choose for a new specification, you need to consider some key metrics, including the following:
Coding overhead rate­— The ratio of the number of redundant bits to information bits
Net coding gain (NCG)— The improvement of received optical sensitivity with and without using FEC associated with increasing bit rate
Pre-FEC BER threshold— A predefined threshold for error-free post-FEC transmission determined by NCG
Other considerations include hardware complexity, latency, and power consumption.
One major decision point for FEC coding and decoding is between Hard-Decision FEC (HD-FEC) and Soft-Decision FEC (SD-FEC). HD-FEC performs decisions whether 1s or 0s have occurred based on exact thresholds, whereas SD-FEC makes decisions based on probabilities that a 1 or 0 has occurred. SD-FEC can provide higher NCG to get closer to the ideal Shannon limit with the sacrifice of higher complexity and more power consumption.
The first-generation FEC code, standardized for optical communication, is RS code. RS is used for long-haul optical transmission as defined by ITU-T G.709 and G.975 recommendations. In this RS implementation, each codeword contains 255 code word bytes, of which 239 bytes are data and 16 bytes are parity, usually expressed as RS (255,239) with the name of Generic FEC (GFEC).  Several FEC coding schemes were recommended in ITU-T G. 975.1 for high bit-rate dense wavelength division multiplexing (DWDM) submarine systems in the second-generation of FEC codes. The common mechanism for increased NCG was the use of concatenated coding schemes with iterative hard-decision decoding. The most commonly-implemented example is the Enhanced FEC (EFEC) from G.975.1 Clause I.4 for 10G and 40G optical interfaces.
At the 100 Gbps data rate, CableLabs has adopted Hard-Decision (HD) Staircase FEC, defined in ITU-T G.709.2 and included in the CableLabs P2P Coherent Optics Physical Layer v1.0 (PHYv1.0) Specification. This Staircase FEC, also known as high-gain FEC (HG-FEC), is the first coherent FEC that provides an NCG of 9.38 dB with the pre-FEC BER of 4.5E-3. The 100G line-side interoperability has been verified in the very first CableLabs' Point-to-Point (P2P) Coherent Optics Interoperability Event.
At the 200 Gbps data rate, openFEC (oFEC) was selected in CableLabs most-recent release of P2P Coherent Optics PHYv2.0 Specification. The oFEC provides an NCG of 11.1 dB for Quadrature Phase-Shift Keying (QPSK) with pre-FEC BER of 2E-2 and 11.6 dB for 16QAM format after 3 soft-decision iterations to cover multiple use cases. This oFEC was also standardized by Open ROADM targeting metro applications.
Although CableLabs has not specified 400G coherent optical transport, the Optical Interworking Forum (OIF) has adopted a 400G concatenated FEC (cFEC) with soft-decision inner Hamming code and hard-decision outer Staircase code in its 400G ZR standard; this same FEC has been selected as a baseline proposal in the IEEE 802.3ct Task Force. This 400G implementation agreement (IA) provides an NCG of 10.8 dB and pre-FEC BER of 1.22E-2 for coherent dual-polarized 16QAM modulation format specially for the Data Center Interconnection (DCI).
The following table summarizes performance metrics for standardized FEC in optical fiber transmission systems.

CableLabs is the first specification organization to demonstrate 100G coherent optics interoperability with a significant level of participants. Please register for our next coherent optics interoperability testing.
The P2P Coherent Optics Specification of the Future, Available Today
Today, CableLabs is announcing another addition to our family of Point-to-Point Coherent Optics specifications:  The Physical Layer 2.0 (PHYv2.0) specification. This new specification defines interoperable point-to-point (P2P) coherent optics links running at 200 Gbps (200G) on a single wavelength.
Just 9 months ago, in July of 2018, CableLabs announced the release of the P2P Coherent Optics Physical Layer 1.0 (PHYv1.0) specification, which defines operation at 100 Gbps (100G) on a single wavelength. The PHYv1.0 specification is designed to support rapid product development, ensuring the availability of interoperable products quickly. That quick availability was born through the interoperability event we held this past December, in which 9 different suppliers participated and demonstrated 100G interoperability.
In other words, the specification of the Now
The PHYv2.0 specification, on the other hand, is designed to leverage an emerging new generation of silicon and the resulting devices, which are anticipated to arrive by 2020. Those new devices will double the capacity of the cable access network, consume less power, and lower the cost per bit delivered. All on the network that already exists today.
This is the specification of the Future: A future that's coming very quickly
Further, this new specification is a key part of another future that's coming soon: the 10G future recently unveiled by the cable industry. P2P coherent optics running at 100G – and now 200G – allows cable operators to leverage the fiber they've already deployed to support that future vision as cost effectively as possible by greatly increasing the capacity of their existing hybrid fiber coax (HFC) networks. That, in turn, enables the enhanced services and experiences envisioned as a part of the 10G future.
Whether the connection to the customer is wired or wireless, at some point all of those network connections need to be aggregated together. The CableLabs suite of coherent optics specifications – now highlighted by the PHYv2.0 specification, defining interoperable 200G operation – will serve as a critical piece of enabling our interconnected future. Fill out the form below for more information.
Something Old, Something New: CableLabs Holds First P2P Coherent Optics Interop
No, it wasn't a wedding—but it was a major gathering of great importance! Nine prominent manufacturers participated in the very first CableLabs Point-to-Point (P2P) Coherent Optics Interoperability Event.
The highly successful Interop·Labs event took place at the CableLabs offices in Louisville, Colorado, December 4–6. Participants included nine manufacturers from the coherent optics space, including both silicon and module/system makers, each of whom brought a coherent optics transceiver:  Acacia Communications, ADVA Optical Networking, Ciena, Finisar, Fujitsu Optical Components, Inphi, Lumentum, NeoPhotonics, and NTT Electronics. The event was focused on testing interoperability between coherent optics transceivers designed to be compliant with the CableLabs P2P Coherent Optics PHYv1.0 specification (issued in June of this year), which defines requirements for interoperable devices operating at 100 Gbps on a single wavelength.
A Common Goal
If you've been following CableLabs and this blog for some time, you're aware that we've been holding interoperability events at CableLabs for many years—for example, for each successive generation of DOCSIS® technology. For those of us who've been around CableLabs for a while, in some ways this was something old: an event we've done many times before.
But this was something new: this was the first time CableLabs held an interoperability event for P2P coherent optics devices—an entirely different class and type of device from those we've held events for in the past. As a result, this event included a set of companies and engineers that have never been a part of such an event before; it was definitely something new for them!
This fact was highlighted by some feedback I received during the event. One participant remarked, "This was a great session, and everyone involved worked together for a common goal, which doesn't happen much with competitors." This comment was mirrored by other messages I received during the event: attendees praised the open and collaborative environment we created for the interop, allowing engineers from companies that otherwise compete to collaborate one-on-one to address interoperability and get their devices working together.
Working Together
By the end of the event, all nine companies had an opportunity to work with one another, and all of them reported successful interoperability running at 100G. This is particularly significant given how many manufacturers were involved, and that it's been less than 6 months since the specifications were issued. The event represents a major milestone in making this technology available to the cable industry.
During a recent company meeting, our President and CEO Phil McKinney advised us to avoid getting into a rut and to instead look at things with fresh eyes. This event reminded me of the same: seeing people participate together like this for the first time, and hearing about the immense and immediate value they were getting from their participation, helped me to see this event with fresh eyes and reminded me just how special it is for all of us to be able to work—as one—toward common goals that benefit the industry as a whole.
Till Next Time
I'm looking forward to the next event with fresh eyes and a desire to do even more to move this technology forward. Please keep an eye on the CableLabs Events page for an announcement of our next event, and if you'd like to get involved with our efforts to make coherent optics technology available to the cable industry, please get in touch to learn more.
Inform[ED] Video: Full Duplex Coherent Optics over Fiber Networks
Last week, CableLabs Distinguished Technologist Steve Jia posted a blog "Doubling up on Fiber Capacity: A Winning Strategy for Full Duplex Coherent Optics." In that blog, Steve describes how the CableLabs Full Duplex Coherent Optics innovation doubles the bi-directional capacity of each cable access network fiber, multiplies the capacity of each existing access network fiber by over 200 times and simultaneously makes Coherent Optics technology well suited for deployment in many more cable access network fibers.
Watch our Inform[ED] video below to learn more about this groundbreaking technology.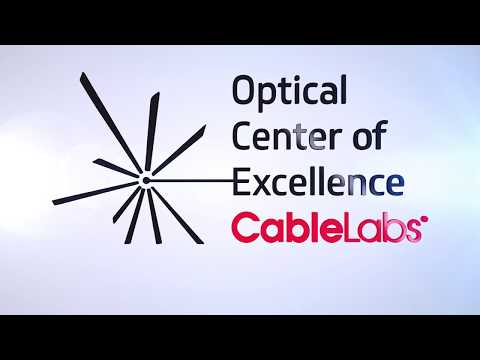 Full Duplex Coherent Optics has the potential to have a huge impact on operator networks. Don't forget to subscribe to our blog to learn more about coherent optics in the future.
Doubling up on Fiber Capacity: A Winning Strategy for Full Duplex Coherent Optics
During our 2017 Winter Conference, CableLabs announced the launch of the point-to-point (P2P) Coherent Optics specification project, potentially multiplying the capacity of each existing cable access network fiber by over 100 times and possibly indefinitely deferring new fiber builds on existing routes. Now, a new CableLabs innovation, Full Duplex Coherent Optics:
Doubles the bi-directional capacity of each fiber
Multiplies the capacity of each existing access network fiber by over 200 times
Simultaneously makes Coherent Optics technology well suited for deployment in many more cable access network fibers
Why CableLabs Began the Coherent Optics Project
Most cable operators have a somewhat limited fiber count between the headend and the fiber node, so maximizing the capacity provided by this scarce resource has real economic advantages for cable operators.  Getting more capacity out of the existing fibers can eliminate the need to dig more trenches to lay more fiber. This allows operators to best leverage the existing fiber infrastructure to withstand the exponential growth in capacity and services for residential and business subscribers.
Transport Methodologies
There are two fundamental topologies to achieve bidirectional P2P coherent transport:
According to a recent operators survey, 20 percent of existing cable access networks use a single-fiber topology. That means that downstream and upstream transmission to nodes takes place on a single strand of fiber. It is estimated that over the next 5 years, this number will grow to 60 percent. Therefore, bidirectional transmission over a single fiber is needed for coherent signals to support single-fiber topologies and to facilitate the redundancy of optical links.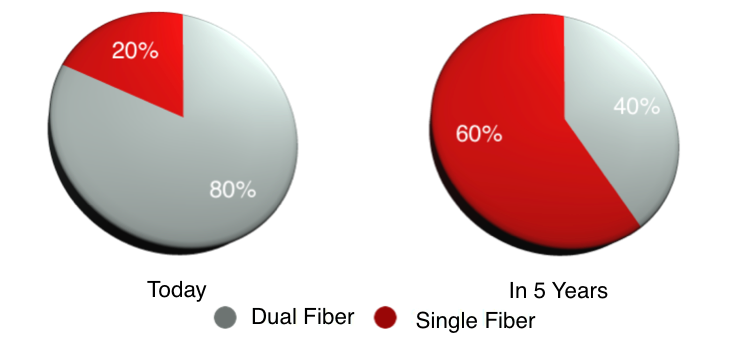 The Dual-Fiber Approach
Today, achieving bidirectional transmission in an optical domain with a single laser requires two fibers. This is the standard practice using today's coherent optical technology. One laser in a transceiver performs two functions:
as the optical signal source in the transmitter
as the reference local oscillator signal in the receiver
Because of the use of the same wavelength from the same laser, a second fiber must be available for the other direction—one fiber for downstream and a second fiber for upstream.

The Single-Fiber Approach
The second typical approach is to use a single fiber but transmit at different frequencies or wavelengths, similar to the upstream and downstream spectrum split that we implement in our HFC networks. To accomplish this frequency/wavelength multiplexing approach, two lasers operating at different wavelengths are needed. Wavelength multiplexers and demultiplexers following a wavelength management and allocation strategy are needed to combine these different wavelengths over the same fiber. The second laser ends up costing a lot more than money—increasing power consumption, operational complexity, and transceiver footprint.

CableLabs' Full Duplex Coherent Optics Approach
CableLabs proposes an alternative method to achieve full duplex coherent optics. We leverage two optical circulators on each end in a special configuration. The circulator is a low-cost, passive, but directional device—much like a traffic roundabout for cars, but this is an optical roundabout. Instead of using two fibers, a single fiber is connected for bidirectional transmission. Most importantly, instead of using two lasers, a single laser is employed for single-fiber coherent systems.

How Does It Work in a Cable?
Many scenarios in cable focus on the access environment with limited transmission distances. Unlike backbone and metropolitan coherent optical networks, access networks don't require multiple directional optical amplifiers in cascade. By definition, the introduction of directional components hampers bidirectional transmission.
When dealing with coherent signals, we have much higher Optical Signal to Noise Ratio (OSNR) sensitivity and higher tolerance to the impairments from the spontaneous Rayleigh backscattering than intensity-modulated systems. In addition, the threshold of the stimulated Brillouin scattering (SBS) nonlinear effect is much higher because of the nature of phase-modulated signals on the reduction of optical carrier power and the increase of effective linewidth.
With this new dimension of direction-division multiplexing (DDM) in the optical domain, any coherent wavelength can be used twice, once in each direction, thus doubling the whole fiber system capacity. This full duplex implementation is not bandwidth-limited. It works for 100G, 200G and future 400G. It is also not wavelength-selective. It works for short wavelengths and for long wavelengths, and it would cover not only the entire C-Band but, with different optical sources, the entire fiber spectrum. All these features have been experimentally verified in CableLabs' Optical Center of Excellence (OCE) over distances of up to 100 kilometers.
Impacts/Benefits of Full Duplex Coherent Optics
Full duplex coherent optics will significantly increase the value of the currently-deployed fiber infrastructure. It has been implemented in an elegant way, without the requirement of redesigning new chips for digital signal processing. This scheme can be seamlessly incorporated into the ongoing CableLabs' P2P Coherent Optics specification effort, which will be issued in mid-2018.
Dr. Alberto Campos, a CableLabs Fellow, also contributed to this article.
--
Interested in learning more about our point-to-point (P2P) Coherent Optics specification project? A follow-up video containing more information on the technology will be posted next week. Click below to join our working group.
Future Proofing Cable's Optical Access Network: "A Coherent Story"
The demand for data network capacity has been growing exponentially year after year with no sign of stopping. If the past is a guide to the future, the cable industry must come up with radically more efficient use of the existing cable infrastructure in order to meet demand.
Today, the most constrained part of the network, and the most costly to upgrade, is the fiber infrastructure between the headend and the fiber node, to the wireless cell radio or to large business customers.  Avoiding costly fiber re-trenching requires a fundamentally new approach to this part of the network. This is where coherent technology provides an opportunity.
If you are familiar with coherent optics, then you are aware that the technology has been used in long-haul fiber optic networks for decades. CableLabs has adapted that technology for use in short-haul access networks, and simplified it to reduce the cost. And it has much higher capacity for future growth than the analog optics that are used in many of today's HFC networks – possibly more than 1,000 times more capacity! We have already demonstrated 50 times more capacity than analog optics can achieve today by using coherent optics on 80 kilometers of fiber, and more improvements are on the way.
Using traditional analog optics, to achieve that high transport medium quality requires increasing the optical transmit power level, which unfortunately reduces the number of optical analog carriers the fiber can support due to fiber non-linearity effects.  Figure 1 shows a representation of fiber's wavelength spectrum with 4 analog optical carriers.


Figure 1 – Fiber spectrum with 4 analog carriers
This limitation on analog optical transport has prompted the cable industry to look into other architectural evolution approaches. One approach that solves the analog limitation problem, while also tackling space limitations that may exist in certain hubs, is the distributed architecture approach. In a distributed architecture no radio frequency (RF) is transported through the optical link. The optical link does not contribute to distortion of the DOCSIS® RF signal, only the coaxial portion of the network is responsible for the degradation of the RF signal.
Today, this digital optical link uses intensity modulated direct detection systems such as the ones found in 10 Gigabit Ethernet links and in passive optical networks (PON). In these non-coherent systems, the signal modulation used is On-Off Keying (OOK). OOK is achieved by simply switching the laser source off and on. Non-coherent systems operate at lower power than analog optics and can therefore make better use of the wavelength spectrum in fiber. Figure 2 depicts the wavelength spectrum of fiber with several non-coherent OOK optical carriers. 


Figure 2 – Fiber spectrum with intensity modulated non-coherent carriers
A high-capacity non-coherent (but digital) optical link can carry 100 Gbps using 10 wavelengths (optical carriers) carrying 10 Gbps each. Non-coherent systems are a suitable near term approach, but there are additional fiber resource challenges that have to be considered when evaluating a long-term strategy.
HFC Networks have been typically designed with 6 to 8 fibers connecting the hub to the fiber node. Two of these fibers are used for primary downstream and upstream connection and in some cases two additional fibers are used for redundancy purposes. The rest of the fibers were left for future use. Unfortunately, a large amount of these 'future use' fibers, because of an ever-increasing demand for bandwidth, have since been repurposed for business services, cell backhaul, node splits and fiber deep architectures. In some cases, only the two primary fibers that are feeding the fiber node remain available for access transport. 
In fact, the architecture migration toward Full Duplex DOCSIS, which strives towards a more symmetric transport, relies on a node plus zero amplifiers (N+0) architecture. A typical node in today's HFC networks will supply services to 500 households. When converted into an N+0 architecture, the result is the creation of 12 to 18 deeper N+0 nodes. The challenge for the optical portion of the access network becomes supplying enough bit rate capacity to 12-18 N+0 nodes, each capable of supplying 10 Gbps to residential subscribers.
This fiber shortage problem will only intensify as fiber demand for business services and wireless backhaul increases. Assuming that costly fiber re-trenching from hub to original fiber node is to be avoided, a different solution must be found to provide the required capacity. This is where coherent technology provides an opportunity!
Coherent technology has been used to achieve higher speeds than any other optical technology. In coherent optics, both amplitude and phase modulation are used to put information onto an optical carrier. This enables the generation of Quadrature Phase Shift Keying (QPSK) and Quadrature Amplitude Modulation (QAM) constellations carrying information. The nature of the coherent signal also allows the separation of the optical signal in two orthogonal polarizations. Each polarization can independently carry the two-dimensional constellations mentioned above. The signal processing used in coherent systems facilitates shaping of the spectrum of the signal to avoid interference with adjacent optical carriers. Along with the much lower power requirements, coherent technology allows for efficient multiplexing of the optical carriers within the wavelength spectrum of fiber. Figure 3 shows the wavelength spectrum of fiber with coherent optical carriers over 2 polarizations. 


Figure 3 – Efficiently packed coherent optical carriers over orthogonal polarizations
Coherent optics has been used in the long-haul environment for over 30 years. The long-haul environment is a harsh environment that consists of very long distances, sometimes up to 3000 km. In a long-haul environment, significant channel compensation is employed to correct the long distance related impairments, making long haul solutions expensive.
The access network environment is very different from long haul networks in one key respect, optical links in access networks are typically no longer than 30 km. That is two orders of magnitude shorter than long haul. The complex and expensive system implementation that long haul is known for no longer applies to access implementation. The shorter fiber lengths result in minimal dispersion of the optical signal. Furthermore, since no in-line amplification is needed, non-linear distortion and noise are significantly reduced. This increases the link margin and enables much lower implementation costs. It is NOT your father's coherent implementation!
Here at CableLabs® we have re-engineered the coherent link to meet the special conditions of the access network. We have developed technology that is higher performance and much lower cost when compared to long-haul or metro environments.
In the laboratory, we have achieved 256 Gbps over 80 km on a single wavelength with minimal dispersion compensation. That is ~26 times the capacity of what can be achieved over an analog optical carrier fully loaded with 1.2 GHz worth of DOCSIS 3.1 signals. We have achieved that using a symbol rate of 32 GBaud (32 GHz), using 16QAM modulation (4 bits per symbol) over 2 polarizations (32*4*2=256 Gbps). In addition, we have multiplexed eight of these wavelengths to achieve 2048 Gbps. That is 50 times more than what can be achieved over 4 analog optical carriers each with 10 Gbps of DOCSIS 3.1 payload!
The optical access environment could lend itself to further improvement in capacity per wavelength by further increasing symbol rate and/or modulation order. A future achievement of 64 QAM modulation could represent the pinnacle in efficiency and capacity per wavelength of our optical access environment. One can only dream of such transport efficiencies in the long-haul environment.
Coherent optics is extremely flexible. Capacities per wavelength greater than 256 Gbps may not be needed at each target end-point in the near future. Maybe 100 or 200 Gbps will do. The fact that modulation order, polarization and symbol rate can be varied enables significant flexibility in the type of supported services. Lower symbol rates allow for multiplexing 100 or 200 Gbps wavelengths to end points. In the access network, it makes sense to dedicate a single wavelength to a target end point (subscriber). In the access, since wavelength spectrum is a precious commodity, higher speed should not be wasted on multiple wavelengths but used to reach a greater diversity of target end-points. This avoids retrenching from the hub to original fiber node in order to lay additional fiber strands. Ideally, operators would only have to deploy more fiber from the original fiber node to deeper end-points in their networks.
As the industry evolves toward Node+0 architectures, the volume of optical connections to intelligent nodes will increase substantially compared to traditional architectures. Interoperability and a robust vendor ecosystem are therefore key to providing a low-cost solution using coherent optics.
With key goals being interoperability and vendor diversity, CableLabs intends to develop specifications which leverage the aforementioned benefits of coherent optics in the access network. Similar to previous specification development efforts, the coherent optics specifications will focus on interface requirements, signal integrity requirements, configuration, and management. As usual, CableLabs welcomes involvement from the vendor community to develop these specifications. In the near future, look for announcements related to the establishment of a coherent optics working group to develop the specifications.
At CableLabs, we are developing and specifying technology that allows the cable industry to support the growing requirements of broadband access. Come and join us in developing tomorrow's high capacity network solutions!
Dr. Curtis Knittle, VP of Wired Technologies, also contributed to this article.