Millicom, Cablevideo and Schurz Communications Join the CableLabs Family
Welcoming a new company to the CableLabs family always makes for an exciting day here at the office. Today, we'd like to introduce you to not one but three of our newest members:
Millicom, one of the leading providers of cable, mobile and high-speed broadband services in Latin America
Cablevideo, a local Argentinian TV and Internet provider
Schurz Communications, a privately held company that owns a variety of regional U.S. broadband and cloud service providers
Millicom: A Company on a Mission to Help Growing Economies Reach Their Full Potential
Millicom operates under the TIGO brand in nine Latin American countries—Bolivia, Colombia, Costa Rica, El Salvador, Guatemala, Honduras, Nicaragua, Panama and Paraguay—building the digital highways that connect people, improve lives and develop communities. Millicom is driving connections that matter through the rapid expansion of its Hybrid Fiber Coax (HFC) and mobile networks with more than 147,000 km of fiber and a reach of 30 million households.
Passing more than 11 million homes today, Millicom's 3.3 million HFC customers enjoy a variety of digital video services, including advanced personalization and viewing recommendations, together with high-speed broadband.
On the mobile front, Millicom's 4G/LTE networks serve 37.2 million mobile customers. The company is now focused on converging its cable and mobile services, which would allow Millicom to deliver more compelling data-centric products to its rapidly growing customer base.
Cablevideo: Small Company with a Big Heart
Cablevideo began servicing the Santa Fe area of Argentina in the mid-1980s and has since expanded to Santo Tomé, Coronda, and other neighboring provinces. For the majority of Santafesinos, Cablevideo is synonymous with cable television, offering hundreds of channels, including on-demand and premium channels like HBO, as well as high-quality, reliable broadband Internet to local homes and businesses. Cablevideo also owns and produces content for three local channels that enjoy very high viewership among local residents.
Recently, Cablevideo has started to expand its operations outside Santa Fe and its provinces, laying fiber in areas such as Recreo that have never had cable or Internet. Because it is a local provider, Cablevideo is deeply embedded in local communities. Besides providing a variety of entertainment options, Cablevideo also offers job opportunities to local residents and free services to neighboring schools, nursing homes and hospitals. In June 2018, in preparation for the first winter cold in Argentina, Cablevideo joined forces with a local radio station to gather 5,000 blankets for 1,650 families who live in tin huts—proof that business is not always just about the bottom line.
Schurz Communications: A Family Business That Values Meaningful Connections 
Schurz Communications can trace its roots to 1872, when Alfred B. Miller and Elmer Crockett founded a local Indiana newspaper called the South Bend Tribune. Schurz got into the cable business in 1968 in Hagerstown, Maryland, and owns four other locally operated broadband companies in Arizona, Iowa, Minnesota and Vermont that offer video, high-speed Internet and voice services to neighboring communities. Operating HFC, GPON and EPON networks, Schurz is providing advance digital services to more than 200,000 revenue-generating units (RGUs).
In addition to its highly successful broadband operations, Schurz is focused on the technology of information sharing, which safely facilitates human and geographic connections on a global scale. Through Otava, Schurz provides world-class cloud, colocation, data protection, disaster recovery, security and other professional services solutions to thousands of customers around the world. Schurz understands the value of data and is committed to protecting it in the cloud.
CableLabs Membership: Where Local Meets Global
Now that Millicom, Cablevideo, and Schurz have joined our ranks, they have access to our global CableLabs community that strives to achieve alignment and adoption of common technologies. Plus, they can take advantage of many members-only resources, such as:
Exclusive access to our quarterly R&D reports, competitive assessments of innovation focus areas and more
An invitation to members-only global events, plus other industry conferences, such as CES, where members share insights and best practices
A behind-the-curtain look at the latest innovative research not yet available to the general public
An opportunity to participate in working groups that drive industry standards in fiber, security, mobile, virtual networking and other innovative fields
Access to state-of-the-art development and testing facilities for next-generation technologies
If you're interested in becoming a CableLabs member and would like more information, please contact us by clicking the link below.
Today marked the beginning of the 2018 Consumer Electronics Show (CES) in Las Vegas, Nevada. Owned and produced by the Consumer Technology Association (CTA), with over 170,000 attendees from 150 countries and more than 3,900 exhibiting companies, CES is one of the world's largest tech trade shows and serves as the global stage for next-generation innovations. Showcasing jaw-dropping technology in areas like VR and smart homes, most of the products or marketplaces at CES 2018 are serviced or impacted by the cable industry: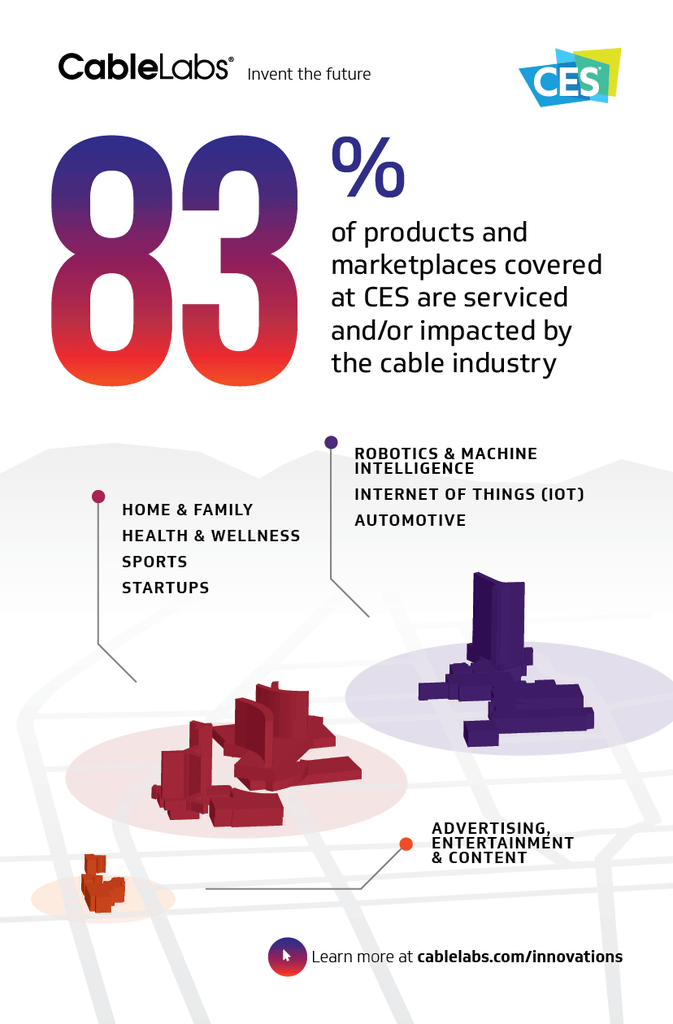 Follow us on twitter to catch up on the latest news and highlights from CES 2018.
--
Want to know more about the technology trends of 2018? Watch CableLabs President and CEO Phil McKinney's "2018 Tech Innovation Predictions."
CableLabs Extends its Global Reach with the Addition of Four New Member Companies
In its continued commitment to the international cable community, CableLabs welcomes four new companies to its membership: GCable and Henan Cable (both situated in China), together with Nowo (Portugal) and Stofa (Denmark).
Guangdong Cable Network (aka Gcable)
Gcable serves Guangdong Province located in southeast China. Guangdong Province is one of the most highly industrialized provinces in China, with major technology centers in Guangzhou (served by Gcable) and Shenzhen (served by Topway, a CableLabs member). Gcable, which is the largest MSO in Guangdong Province, serves 13 million television subscribers and 1.7 million broadband subscribers.
Henan Cable
Henan Cable serves Henan Province. The company is 49% owned by CITIC Limited, China's largest conglomerate with diverse global businesses focused on financial services, resources and energy, manufacturing, engineering contracting, real estate and telecommunications. CITIC Limited also has similar ownership interests in two other CableLabs members – Chongqing Cable Networks (originally located in Sichuan Province) and JSCN (located in Jiangsu Province). Henan Cable serves 11 million television subscribers and 400 thousand broadband subscribers.
Nowo
Nowo provides cable service in Portugal to 172 thousand television subscribers and 144 thousand broadband subscribers. Nowo is the second largest cable operator in Portugal. Nowo launched in September 2016. with a strategy focused on a disruptive "build your own bundle" which includes mobile voice and data together with fixed line video, broadband and voice services.
Stofa
Stofa is a Danish cable company affiliated with SE Group, a customer-owned, energy and telecommunications group. Stofa, began in 1959 serving antenna, housing and land associations across Denmark, and now provides fixed and mobile services to 344 thousand television subscribers, 323 thousand broadband subscribers, 84 thousand digital voice subscribers and 10 thousand mobile subscribers. Stofa is the second largest cable operator in Denmark.
These four members join 55 other cable operators from 5 continents bringing CableLabs' total membership to 59 – representing over 180 million video subscribers worldwide.
In its global reach, CableLabs is focused on achieving several objectives:
Alignment: Assure alignment with CableLabs technologies across the global cable community.
Adoption: Achieve global scale – and therefore low-cost solutions – through the adoption of common technologies by cable operators worldwide.
Collaboration: Collaborate with global partners to share experiences, exchange best practices and advance innovation throughout the cable industry.
We look forward to bringing on more members in the future to foster innovation worldwide. You can find more information about CableLabs' global strategy here. Please contact us to discover the value of membership in CableLabs.
RDK Training Summit 2015: A Full House at CableLabs
I was admiring the crisp look of our training room the night before opening day of the RDK Training Summit 2015 - a first time co-production by CableLabs and RDK Management (RDKM), LLC hosted at the CableLabs facility. A surge of angst began to well up inside of me. We needed to handle a load of eighty 250MB Yocto build images being siphoned from the cloud simultaneously with full IP provisioning without a hiccup. Countermeasures were taken to mitigate the risk by installing an additional circuit at our lab and configuring a dedicated network for the event. We executed dry runs. We had back-up plans. - I was still edgy.
So – what's the RDK buzz all about? If you are in the business of deploying and maintaining a feature rich install base of customer-premise equipment (CPE) such as set top boxes and gateways, it may benefit you to have some knowledge of the Reference Design Kit (RDK). Simply stated, the RDK is a standardized, pre-integrated software stack that enables multichannel video programming distributors (MPVDs) to deploy next generation video services with speed and agility. And, RDK has the support of a fast growing RDK community worldwide. Moreover, RDK licensees have full transparency to the code which fosters community wide innovation for new feature contributions and simplified firmware deployments on their own schedules – and the reference implementation source code is $0--royalty free.
The Summit Opens
Opening morning brought over seventy participants from thirty companies to CableLabs for the three day technical training summit. I welcomed smiling faces from around the world that appeared eager to dive in.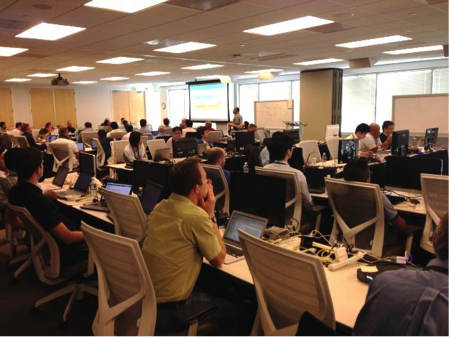 Highlights of the first day included a course where attendees focused on working with the RDK emulator. The emulator provides the ability to run RDK on the comfort of a PC platform where users can try out new technologies and develop/integrate new features without having to work directly on CPE. Attendees participated in a hands-on walk through on how to use the emulator and the RDK Media Framework (RMF) app to playback and stream media from gateway devices.
The RDK emulator uses the Yocto build framework to create images. Another popular session on Yocto (developed and presented by CableLabs) was featured that included lectures on various topics and hands-on building of the emulator image from scratch. The Yocto Project, an open source collaboration project initiated by the Linux Foundation in 2010, helps developers create custom Linux-based systems for embedded products by providing tools, templates, and methods.
The first day concluded with an evening reception and demo sponsored by Alticast, a contributing RDK developer on a variety of devices from STBs to Gateways, who showcased their RDK application framework running multiple HTML5 UIs.  In addition, Alticast demonstrated their work with a large North American operator currently deploying RDK 1.3 and in the process of migrating to RDK 2.1.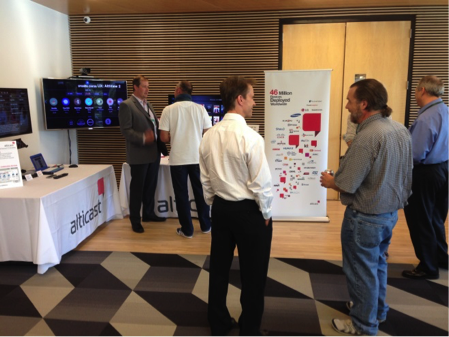 Day Two
On the second day we broke out into two separate sessions, Application Development Track and System Development Track. The Application Development Track introduced RDK usage with courses on Inter-Application Resource Manager (IARM) Bus – a platform agnostic inter-process communication (IPC) interface. It allows applications to communicate with each other by sending events or invoking remote procedure calls. The common programming APIs offered by the RDK IARM-Bus interface is totally independent of the operating system or the underlying IPC mechanism. Other RDK subsystem topics included Device Settings, Service Manager, RDK Media Framework (RMF), and Streaming Mechanisms.
Alticast also developed and led the course Integrating RDK with back-end subsystems & Application Framework, which provided attendees with real world lessons learned and best practices for integrating the Application Frameworks layer with the User Interfaces, RDK components and back-end systems.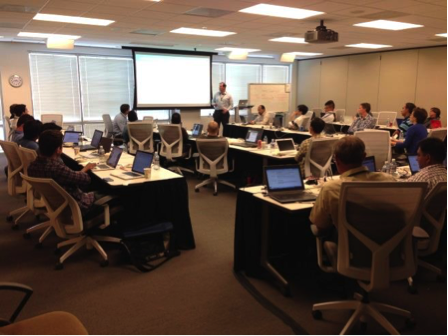 The System Development Track introduced RDK implementation details for the benefit of system programmers from SOC/OEMs and System Integrators. Attendees learned the underpinnings of the Gstreamer architecture and requirements. GStreamer is an open-source multimedia framework from which elements (plugins) are configured in a pipeline to establish data flow for audio playback, audio and video playback, recording, streaming and editing. The System Track also included several courses on RDK Media Framework (architecture, network and conditional access integration, etc.).
The Summit Concludes
Everyone was back together the next morning on the final day for a brief lecture on Digital Rights Management (DRM) & Security followed by Debugging & Triage which delved into the RDK debugging methodologies and triage process / best practices. RDK logging schemes and how to leverage logs was also discussed along with lectures on RDK TR-069 Diagnostics, Boot-up Procedures, and Closed Caption.
The summit wrapped-up with Test Development course which outlined the architecture, deployment and usage of the Test Development Kit (TDK). Attendees learned the benefits of the TDK as it provides a test kit for automated testing of generic RDK components and end-to-end scenarios facilitated by a web based user interface for configuration, test creation, execution and result aggregation. The web based UI is complemented by command line interfaces to power test automation from third party test and continuous integration tools. This was followed by an open work shop session that provided more hands on experience with the emulator and Q&A with the experts.
The RDK Training Summit 2015 was a successful event with attendees responding with a high rate of satisfaction. It was a great opportunity for CableLabs, in collaboration with RDKM, to provide valuable educational opportunities for the RDK community and to our members. I would like to thank all of the attendees, trainers, RDKM, TATA, itass/Cognizant, and CableLabs staff who contributed to the Training Summit. Also, a special thanks to Alticast, our reception sponsor.
Planning will begin soon for the next RDK Training Summit so stay tuned for future events. If you are a cable CPE OEM, system integrator, app developer, or SoC vendor - and new to RDK, I encourage you to check out RDK on the web.
John Cernazanu is R&D Program Manager, Application & Security Technologies at CableLabs.
Cable Information Architecture
Rethinking Data Integration: What Got You Here Won't Get You There
The modern-day cable industry is represented by a complex framework of legacy data systems.   Problems arise in the integration of these systems.
Traditionally, the industry has relied on project-based integration approaches, which are often architected in isolation and removed from a more holistic enterprise view. Cable operator business owners and technology partners are often in a situation to implement solutions that solve their immediate needs in the most pragmatic way possible, without consideration for a larger enterprise-centric strategy.  Project-based integrations provide a simple and quick solution, but at the expense of long-term negative impacts on future integration attempts. These isolated solutions pile up and eventually create a data integration monster that hinders flexibility for future development and creates on-going future costs. The worst part is that every new project feeds the monster a little bit more leading to delays, increasing development costs, and a growing number of headaches.
The landscape is changing as the demand for new products, interconnected systems, and the concept of network virtualization becomes a reality. Cable operators' product offerings are evolving and extending through configuration and personalization. Opportunities to innovate, rising consumer expectations and new competition are driving an increase in service provider system integration activity. Effective operational support requires more integration, more interfaces, and more data exchange than ever before.   The solution lies in using technologies in conjunction with a shared information framework to create unity across projects, people, and data sources
Technology paired with a cable-centric information framework, which provides an enterprise view of data integration, can put the cable industry on a path to not only stopping the rising cost of point-to-point integration, but also overcoming the on-going cost incurred from past project-based integrations and stepping into the future with a holistic view on data integration.
Taking a Different Integration Approach
Rather than taking the approach of point-to-point project-based integration, greater scale can be achieved through new integration approaches.
Cable operators have an opportunity to move away from building interfaces on a per-project basis and start developing from an industry-wide specification—enabling agile data integration at the enterprise level and across the industry.
CableLabs, in collaboration with our members and leading industry suppliers, has developed a cable information framework that allows cable operators to move away from the previous approaches, and move towards an enterprise view of data integration.
Utilizing a common data architecture, the cable information framework leverages existing standards, foundational data models (customer, products, location, resources, etc.) and agile software methodologies, working directly with cable operators in production environments to build a rich, highly reusable API library.
Impact of a New Approach
With an enterprise information integration approach, similar to those utilized by Google, Apple and Netflix, the systems and the business get the data they need and technology groups are able to provide greater value. Technology teams are able to deploy data services that can be easily reused for all applications without rework, resulting in:
Faster Time-to-Market: Increased business agility from delivering data faster
Reduced Costs: Improved efficiency from cutting development and maintenance costs
Increased Productivity: Lowered risk and improved data quality
Leveraging the cable information framework can accelerate the transition to a more agile view of data exchange. Eliminating point-to-point integrations in favor of a hub-and-spoke architecture will provide greater agility, more reuse, faster product launches, a data-driven business, and ultimately a better customer experience. With an enterprise approach to information architecture, each system can exchange information in a common format comprehensible to all applications. This loosely-coupled architecture will minimize the impact of change by avoiding the per-project approach. Using a cable information architecture will enable rapid prototyping and development and provide agility and reuse.
By Julie Rachel -