Interop·Labs for DOCSIS® 4.0 Technology
On behalf of CableLabs, Kyrio will be hosting upcoming DOCSIS 4.0 interoperability events! 
DOCSIS 4.0 technology is the next evolution of the HFC network, moving the industry towards the 10G vision and offering multigigabit symmetric services as well as low latencies over the network.  
As vendors work to create the development of DOCSIS 4.0 products, CableLabs and Kyrio are busy preparing for the next phase of technology development: conducting interoperability events. CableLabs has established a rigorous process for technology development starting with DOCSIS 1.0 technology and ultimately leading to the robust ecosystem that exists today. The company's proven approach has worked successfully at CableLabs for the past 24 years: 
Phase 1                               Phase 2                              Phase 3

Phase 1 is the specification stage, when CableLabs, members and vendors come together to collaborate on defining the DOCSIS technology. Phase 1 for DOCSIS 4.0 was completed in 2019, when the specifications were written and suppliers have began implementation.
Phase 2 is when interoperability events (aka interops) occur at CableLabs in Louisville, Colorado to make sure that systems work together. As the term implies, interops are held to ensure that components of a DOCSIS system — including the base technology, security and support — are interoperable for easy installation and proactive customer care.
For DOCSIS 4.0 technology, CableLabs will be prepared to host the first interop event this year after  SCTE Cable-Tec Expo 2021 in Atlanta, where the show floor promises to hold several DOCSIS 4.0 technology demonstrations.
At this time, 12 DOCSIS 4.0 interoperability events are planned to begin in October 2021 and will run through December 2022. This near-monthly spacing will give suppliers the opportunity to attend, learn and then run a sprint to add new functionality for the next interop.
The early interops focus on basic functionality of the DOCSIS chipsets. As the schedule progresses, the focus will shift to adding more software functionality. Always, the emphasis will be on interoperable solutions, including the cable modem, cable modem termination system (CMTS) and software support systems. Going forward, the interops will include Remote PHY and Remote MACPHY devices.
Interoperability gives operators the confidence to plan large installations and the certainty that the equipment they purchase today will also work tomorrow. Customers can buy a modem and take it with them if they move into a new cable territory, worldwide. Interoperability provides a larger market in which suppliers can compete, which, in turn, allows for healthier ecosystems and varying strategies.
Phase 3, the certification stage, will happen naturally as the interoperability process produces more mature products and systems. We'll talk more about this phase when that time approaches.
The interop phase can be a fun, invigorating time. Some of us have been working on the DOCSIS project for two decades, and there are always new entrants. As we shift back to working in our offices post-pandemic, we're all looking forward working face-to-face in the lab—all in the effort to bring forward the next generation of cable broadband and deliver on the 10G promise.
Interoperability is paramount to the DOCSIS ecosystem. The DOCSIS community is encouraged to once again come together for these upcoming interoperability events, contributing and collaborating to keep the DOCSIS 4.0 ecosystem healthy and sustainable. This fall, CableLabs will be ready!
CableLabs' Latest Advancements on the Path to 10G
At CableLabs, staying at home during the COVID-19 pandemic has resulted in new ways of collaborating that have helped us continue to build technologies that will deliver internet speeds 10 times faster than today's networks. The trek to 10G started in 2019, as we began working with our members to create the technologies that build the 10G network.
This week, we announced significant advancements made in 2020 toward the realization of 10G. A sampling of our technical achievements over this past year includes DOCSIS® 4.0 technology, Intelligent Wireless Network Steering (IWiNS), Flexible MAC Architecture specifications, our leadership in the development of the IEEE 802.3ca standard and increased Wi-Fi reliability and performance. Plus, some of our members have started testing and delivering 1.25 Gbps service.
Our digital future will stall without a platform that can meet our needs. Although we don't know what the next trend will be, we do know that the Internet will be central to its development. By advancing device and network performance to stay ahead of consumer demand, 10G will provide myriad new immersive digital experiences and other emerging technologies that will revolutionize our lives.
It's a new year, and we're hyper-motivated to continue working on advancements in network reliability, security, speed and latency. Check out this chart to see how the latest 10G achievements map to these four areas.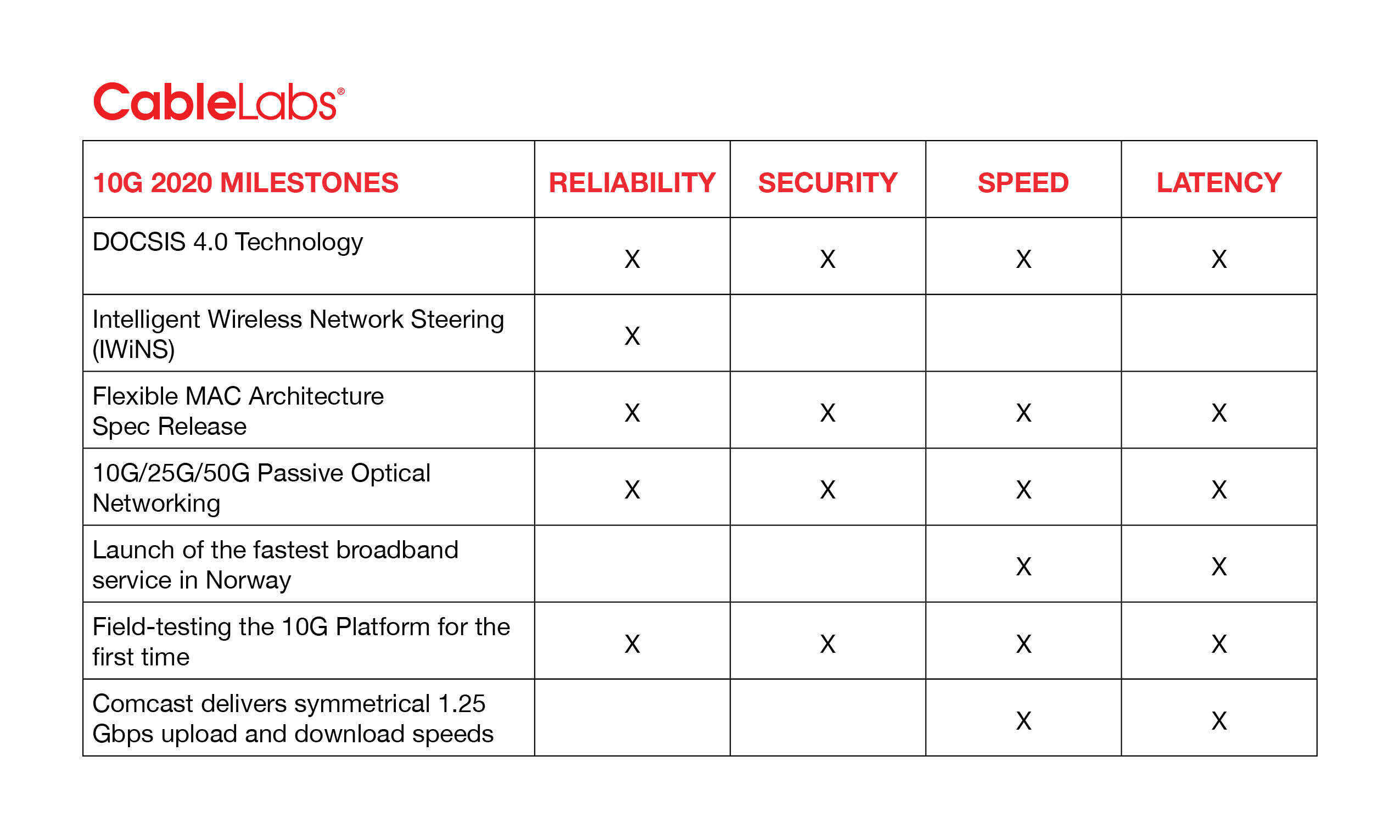 10G: Enhancing the Power of Human Connection
If 2020 has taught us anything, it's that connectivity is essential to our wellbeing and happiness. It fosters a sense of belonging—whether it's to our family, our school, our company or just a random group of like-minded souls. And it's not so much about the internet or the devices we use—it's about experiences and staying connected to what matters most. That's the ultimate goal of 10G.
In the last three decades, cable connection speeds increased from 9600 bps to 1 gig—now available to over 80% of U.S. homes! This has transformed our lives, giving us unparalleled access to the information we need, restructuring the way we conduct our businesses and communicate with others, anytime, anywhere around the world. And still, we're nowhere near maximizing our networks' potential. In the near future, 10G networks that are up to 100 times faster than what we have today will open doors to a whole new era of innovation, including autonomous vehicle fleets, holographic media, in-home telehealth solutions, immersive entertainment experiences and much more.
What will that mean for us? Will the seamless inner workings of our networks and smart devices help us lead healthier, happier and more fulfilling lives? Will this technology be able to take care of mundane and time-consuming tasks so we can focus on ourselves and our loved ones? We bet it will! We are now standing on the brink of an exciting new frontier, powered by super-fast, reliable and secure HFC networks.
To see more about what this means for changing people's connected lives, check out this video: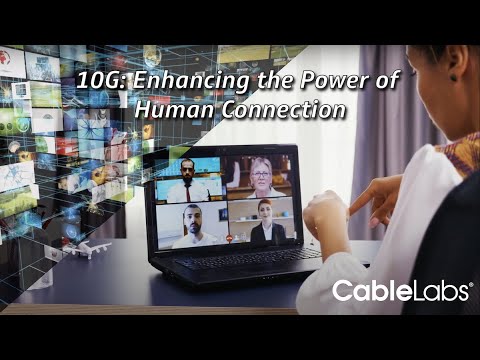 Latency 101: Getting From There to Here
Welcome back, once again, to the CableLabs 101 series! In our most recent post, we discussed the fiber portion of the hybrid fiber-coax (HFC) network, as well as the coherent optics technology that's widely considered to be the hyper-capacity future of internet connectivity. Today, we'll focus on a topic of growing importance for many of the new applications in development—a topic that significantly impacts the user experience even if it's not well known. That topic is latency.
What Is Latency?
Simply put, latency means delay.
In our post about coherent optics technology, we pointed out how quickly light can travel through a piece of fiber-optic cable: an astonishing 128,000 miles per second. However, as incredibly fast as that is, it still takes time for light to carry information from one point to another.
Imagine for a moment that you're reading this blog post on a computer in New York City. That would mean you're about 1,600 miles away from the CableLabs offices here in Colorado. If we assume that the entire network between you and our offices is made of fiber (which is close enough to true for our purposes), it would take a minimum of 0.0125 seconds—or 12.5 milliseconds (12.5 ms)—for the text to travel from our server to your computer.
That's not a lot of time, but distance is not the only source of delay—and those delays can add up.
For example, to read this post, you had to click a link to view it. When you clicked that link, your computer sent a request to our server asking for the article. That request had to travel all the way to Colorado, which also took the same minimum of 12.5 ms. If you put the two times together, you get a round-trip time (the time it takes to go somewhere and back), which in our case would be a minimum of 25 ms. That's a longer amount of time, but it's still pretty small.
Of course, the server can't respond instantly to your request. It takes a moment for it to respond and provide the correct information. That adds delay as well.
In addition, these messages have to traverse the internet, which is made up of an immense number of network links. Those network links are connected by a router, which routes traffic between those links. Each message has to hop from router to router, using the Internet Protocol to find its way to the correct destination. Some of those network links will be very busy, and others won't; some will be very fast, and some might be slower. But each hop adds a bit more delay, which can ultimately add up and become noticeable—something you might refer to as lag.
Experiment Time
Let's try a little experiment to illustrate what we're talking about.
If you're on a Windows computer, select Start, Programs, Accessories, Command Prompt. Doing so will open up a window in which you can type commands.
First, try typing the following: ping www.google.com
After you hit Enter, you should see some lines of text. At the end of each line will be a "time" in milliseconds (ms). That's the amount of time it took for a ping request to get from your computer to Google's server and for a response to come back, or the round-trip latency. Each value is likely different. That's because each time a ping (or any message) is sent, it has to wait a small but variable amount of time in each router before it's sent to the next router. This "queuing delay" accumulates hop-by-hop and is caused by your ping message waiting in line with messages from other users that are traversing that same part of the internet.
Next, try typing the following: tracert www.google.com
You should see more lines of text. The first column will show a hop number (the number of hops away that point is), the next three will show times in milliseconds (since it checks the latency three times) and the final column will show the name or the address of the router that's sending you the message. That will show you the path your request took to get from you to the Google server. You'll notice that even as close as it is (and as low as your latency might be), it had to hop across a number of routers to get to its destination. That's how the internet works.
(Note that you might have some fields show up as an asterisk [*]. That's not a problem. It simply means that the specific device is configured not to respond to those messages.)
If you're on a Mac, you can do the same thing without needing a command prompt: Just search for an application on your computer called Network Utility. To send a ping in that app, click on the Ping tab, type in www.google.com and click the Ping button. Similarly, to check the route, click on the Traceroute tab, type in the same website name and click the Trace button.
What Is Low Latency?
A term you might have heard is low latency. This term has been getting more and more attention lately. In fact, the mobile industry is touting it as an essential aspect of 5G. But what exactly is low latency, and how does it relate to our definition of latency?
The reality is that there's no formal definition of what qualifies as low latency. In essence, it simply means that latency is lower than it used to be, or that it's low enough for a particular application. For example, if you're watching a streaming video, low latency might mean having the video start in less than a second rather than multiple seconds.
However, if you're playing an online game (or perhaps using a cloud gaming service), you need the latency to be low enough so that you don't notice a delay between moving your controller and seeing the resulting movement on your screen. Experiments have shown that anything above about 40ms is easily noticeable, so low latency, in this case, might mean something even lower than that.
How Do We Achieve Low Latency?
Reducing latency requires us to look at the sources of latency and try to figure out ways to reduce it. This can include smarter ways to manage congestion (which can reduce the "queuing delay") and even changing the way today's network protocols work.
Reducing latency on cable networks is something CableLabs has been working on for many years—long before it became a talking point for 5G—and we're always coming up with new innovations to reduce latency and improve network performance. The most recent of these efforts are Low Latency DOCSIS, which can reduce latency for real-time applications such as online gaming and video conferencing, and Low Latency Xhaul, which reduces latency when a DOCSIS network is used to carry mobile traffic.
How Does Low Latency Affect Me and My Future?
Achieving low latency opens the door to do things in near real-time: to talk to friends and family as if they were close by, to interact in online worlds without delays and to simply make online experiences quicker and better. In the long term, when combined with the higher-capacity networks currently in development, low latency opens the door to new technologies like immersive interactive VR experiences and other applications that have not been invented yet.
The future looks fast and fun.
A "101" on DOCSIS® Technology: The Heart of Cable Broadband
Welcome to the first installment of our CableLabs 101 series about a suite of breakthrough technologies that are instrumental in the path toward the cable industry's 10G vision—a new era of connectivity that will revolutionize the way we live, work, learn and play. These technologies work together to further expand the capabilities of cable's hybrid fiber coaxial (HFC) network by increasing connection speeds and capacity, lowering latency and enhancing network reliability and security to meet cable customers' needs for many years to come.
Let's begin with the DOCSIS specification that started it all. Without DOCSIS technology, cable broadband would look much different.
What Is DOCSIS?
Initially released by CableLabs in 1997, DOCSIS—or Data Over Cable Service Interface Specification—is the technology that enables broadband internet service over an HFC network, now used by hundreds of millions of residential and business customers around the globe. It is essentially the set of specifications that allows different cable industry vendors to design interoperable cable modems (the piece of network equipment that sits in the home) and cable modem termination systems (CMTSs—the network equipment that sits in the cable operator's hub site). The CMTS is a head-end traffic controller that routes data between the modem in the home and the internet.
DOCSIS technology helped usher in the era of broadband and "always on" internet connections, enabling a wave of innovation that continues to this day.  With DOCSIS technology, internet customers were no longer forced to use dial-up solutions that tied up home phone lines and probably caused a significant spike in family feuds. The DOCSIS solution changed everything. Not only did it allow for an "always-on" cable connection (no dial-up required!), it was also significantly faster than dial up.  We'll talk about connection speed—along with capacity, latency and other network performance metrics—and how they affect you a little later in this article.
How Does It Work?
DOCSIS technology governs how data is transmitted over the HFC network. To understand how it works, we need to start with the HFC network—the physical infrastructure that most cable companies use to provide high-speed internet connectivity to their customers. As the name suggests, the HFC network is composed of two parts: the fiber optical network and the coaxial network. HFC networks are predominantly fiber, as illustrated in our recent blog post. The remaining portion of the HFC network is coaxial cable. The coaxial network is connected to the optical fiber network at a "fiber node," where the (fiber) optical signals are converted to radio frequency electrical signals for transmission over the coaxial network to the subscriber's home. The HFC network seamlessly transmits data from the CMTS to your cable modem (we call this "downstream" or "download" traffic) or from your modem back to the CMTS ("upstream" or "upload"). In turn, the CMTS is connected to the internet via a set of routers in the service provider's network.
Think of the HFC network as a "highway" and the data as traffic moving in "lanes" in either direction. In the downstream direction, DOCSIS devices translate the data from the internet into signals carried on the fiber optic portion of the HFC network and then down the coaxial network to your modem. On the upstream, the data that you upload is sent back up the network on a separate upstream "lane." Traditionally, this "highway" has had more lanes dedicated to the downstream traffic than upstream, which matches current customer traffic patterns. All of this is about to change with the 10G vision, which strives toward symmetrical upstream and downstream service speeds.
How Has This Technology Evolved?
DOCSIS technology has come a long way since 1997. Over the years, it has undergone a few iterations, through versions 1.0, 1.1, 2.0 and 3.0 to 3.1. As DOCSIS has evolved, it has gotten faster by adding more lanes in each direction and it has become more energy-efficient as well. Along the way, several additions to the base technology have been continuously added. These include enabling lower latencies, increased security of the traffic, and tools to make the network more reliable. Today's cable networks leverage DOCSIS 3.1 technology, which has enabled the widespread availability of 1 Gbps cable broadband services, allowing us to easily enjoy services like 4K video, faster downloads, seamless online gaming and video calls.
DOCSIS 4.0, released in March 2020, is another stepping stone toward that 10G vision. It will quadruple the upstream capacity to 6 Gbps, to match changing data traffic patterns and open doors to even more gigabit services, such as innovative videoconferencing applications and more. DOCSIS 4.0 equipment is still in the process of being developed and is seeing great progress each day toward device certification. Once certification is complete, cable vendors will start mass-producing DOCSIS 4.0-compatible equipment. With the widespread deployment of DOCSIS 4.0 technology, cable operators will have the ability to offer symmetrical multigigabit broadband services over their HFC networks.
How Does This Technology Affect Me and My Future?
All this talk about connection speeds, low latency, reliability and other performance metrics matter to us technologists because it's how we gauge progress. But it's so much more than giga-this and giga-that. These metrics will directly impact your future in a real, tangible way.
Over the past two decades, high-speed internet connectivity went from an obscure tech geek novelty to an important part of modern life. We are now streaming in 4K, collaborating on video chat, playing online games with people around the world, driving connected cars and so on. Continuous advancements in DOCSIS technologies are helping make this reality possible by increasing download and upload speeds, lowering latency—or lag—for a more seamless experience, and improving reliability and security to protect our online information.
DOCSIS 4.0 technology will enable symmetrical multigigabit services, ushering in a new wave of innovation across industries and applications, including healthcare, education, entertainment, collaboration technologies, autonomous vehicles and many more. In the near future, we will see advanced health monitoring services, immersive learning and work applications, visually rich VR/AR, holodecks, omnipresent AI assistants and other game-changing innovations that we haven't even thought of yet. In many ways, the reach and flexibility of cable's HFC infrastructure is the backbone of our 10G future, and DOCSIS—in combination with other advanced network technologies—is key to helping us reach this Near Future.
On the Path to 10G: CableLabs Publishes Flexible MAC Architecture Specification
Today we are pleased to announce the release of the Flexible MAC Architecture (FMA) library of specifications. Along with the FMA System specification, we are also releasing the FMA MAC Manager Interface (MMI) and the FMA PacketCable Aggregator Interface (PAI) specs. This is the culmination of thousands of hours of work across the cable industry, on a global scale.
The FMA project is a part of the larger Distributed Access Architecture program at CableLabs. This program includes Remote PHY (R-PHY) as well as other projects like DOCSIS 4.0, Coherent Optics and others. FMA defines the standardization of the complete disaggregation of the CCAP management, control and data planes. The specification provides standard interfaces between OSS/NMS/Orchestration and the FMA management and control planes as well as a standard interface abstraction layer to cable access equipment. All of this allows for vendor independence and equipment interoperability.
As a part of the suite of technologies that support the 10G platform, FMA is a key disaggregated access network architecture that supports DOCSIS 4.0 requirements to achieve downstream speeds up to 10 Gbps and upstream speeds up to 6 Gbps. The FMA technology is complementary to the R-PHY technology and together complete a toolset of disaggregated technologies to support an operator's next-generation data services.
FMA specification work started in late 2017 and was described in a February, 2018 video blog post. When this project kicked off at the behest of the cable industry, CableLabs and its partner vendors worked with an operator steering committee to define the scope of the project that set the wheels in motion for the development of the specification and issued release today.
What's Next For FMA
The issuance of the specification is the initial step in a comprehensive process in order for CableLabs vendor partners to develop products and ultimately for operators to deploy those products and provide 10G services. We will continue to develop the specifications and it is our plan to begin FMA in-depth interoperability events in 2021.
If you would like to participate in the FMA working group activities, please make your request via workinggroups@cablelabs.com.
With Great Bandwidth Comes Great Responsibility
Cable's next generation, 10G networks, holds the promise to deliver symmetrical multi-gigabit speeds that are 100 times faster than what some consumers are currently experiencing today. This great leap forward will enable services and experiences that will drive internet innovation for years to come. It is our mutual responsibility to assure that devices we connect to these blazing 10 gigabit internet connections, are updated and patched, free from default passwords and use proper authentication and authorization.
The lack of following basic cyber-security principals surfaced in the late Fall of 2016, when many popular sites such as Twitter, Amazon, Reddit and Netflix, were unreachable for several periods, lasting hours. The cause was a massive distributed denial of service (DDoS) attack coming from hundreds of thousands of compromised internet of things (IoT) devices. Traffic from these devices overwhelmed the DNS service provider dyn.com and effectively blocked customers and users from reaching these popular Internet locations for hours at a time.
As we approach a world where households are connected at gigabit and greater speeds, building secure devices and getting them in the hands of consumers is essential. Over the last several years CableLabs has been engaged with standard organizations such as, the Consumer Technology Association (CTA) and the Open Connectivity Foundation (OCF), to draft specifications and guide security baselines for IoT devices. This work has culminated in the release of OCF's international ISO\IEC specification for IoT interoperability.
The OCF specification brings together over 450 member companies and work that spans half a decade to apply cyber-security best practices to the IoT. This specification, combined with an open source reference implementation, seven approved global testing and certification labs and an active community of practitioners and member companies (from device vendors, network device venders and network operators), is uniquely positioned to be the secure standard that unites the industry.
With the OCF specification a consumer can buy a certified device from Vendor A and be confident in the knowledge that not only will it work with their certified appliance from Vender B, but it will do so in a way that is encrypted and authenticated. OCF can work with many cloud services but does not inherently need the cloud, promising consumers a good balance between the convenience of the cloud and the privacy and availability of their local networks.
The OCF specification's security-first approach brings it into close alignment with several of the security guidelines from government and industry, including:
The road ahead for 10G and IoT is bright. Ultra-fast networks and connected devices have the potential to change every aspect of daily life, making our surroundings aware and interactive to our presence and able to predict and adjust to our needs. Work, entertainment and social interaction will happen whenever and wherever we are, dynamically and organically. Education and healthcare will be forever changed as sensors and ubiquitous devices allow us to interact in ways never before possible. Yes, the future is bright, but it also must be secure.
CableLabs Honored with a New Technology Emmy
This awards season, CableLabs won a Technology and Engineering Emmy Award for enabling development and deployment of the Hybrid Fiber Coax (HFC) Network Architecture—the suite of technologies responsible for the razor-sharp broadband video, high-speed Internet you enjoy today.
These Emmy awards aren't easy to snag—although we previously received one in 2010 for DOCSIS 3.0 technology. They're awarded only once per year to individuals and companies whose technologies have made an extensive and significant impact on the transmission, recording and reception of television. Essentially, the awards recognize technologies that have revolutionized the industry. That's inarguably true of HFC and, specifically, the AM laser technology that replaced the very long and unreliable amplifiers in cable distribution plants. AM lasers substantially reduced noise and distortion and increased the plants' bandwidth, paving the way for high-capacity digital services such as HDTV, Video on Demand, high-speed Internet connectivity and more. In just a few decades, cable operators have universally adopted HFC technology, deploying more than 500,000 miles of optical fiber worldwide.
CableLabs' Contribution: A Little Bit of History
In many ways, what's known today as HFC technology is a joint effort to improve the reliability of cable technologies devised in the early 1980s. Prior to 1985, cable systems had long cascades of amplifiers, the failure of which affected service to large populations. In search of a solution, Time Warner—and later, Ortel—began experimenting with using fiber deep in the system with much shorter legs of coax and only a few amplifiers in each leg. The results were very promising—much better picture, reduced noise and greater overall system reliability.
After the initial test trials, the challenge was to make this technology economically viable for larger-scale commercial deployments. This is where CableLabs has played a monumental role. In 1988–89, newly formed CableLabs (led by Dick Green) drove the effort to standardize the application of HFC technology and facilitate collaboration between cable operators and industry vendors, resulting in rapid performance improvements and reduced cost.  It is this collaboration across cable operators, industry vendors and CableLabs – and other industry partners – that remains the hallmark of CableLabs' continued success today.
What's Next for HFC: The Road to 10G
HFC technology has been around for over 30 years and is still going strong, providing the platform for countless gigabit data services, like Ultra HD and more. It's also the basis for the cable industry's 10G platform, which aims to provide faster speed, lower latencies, enhanced reliability and better security in a scalable manner. Achieving this goal will open the door to a whole new wave of innovations, such as full-immersion virtual reality (VR) gaming, artificial intelligence (AI) applications and other technologies that will revolutionize the way we live in the near future.
One of the major advantages of HFC architecture is its ubiquity, which allows the cable industry to make quick performance improvements without any major, expensive overhauls to the system. And although we at CableLabs are deeply honored to receive recognition for our contribution, our work on HFC is far from over. We'll continue working with our members and partners to unleash HFC's full potential, building on our existing foundation to deliver a fast, reliable and secure network of the future.
The 72st Annual Technology and Engineering Emmy Awards will take place in partnership with the National Association of Broadcasters (NAB), at the NAB Show at the Wynn Encore Hotel and Spa on Sunday, April 19th, 2020 in Las Vegas, NV.
Acknowledgment of Significant Individual and Corporate Contributors:
CableLabs
Dick Green
Time Warner / ATC
Jim Collins, Jim Chiddix, Louis Williamson, Dave Pangrac, Don Gall, John Walsh, Jim Luddington, Jay Vaughn
TCI
John Malone (who was also Chairman of CableLabs), J.C. Sparkman, Richard Rexrote
Ortel
Hank Blauvelt, Larry Stark
ANTEC / AT&T Bell Laboratories
ANTEC – John Egan

AT&T Bell Laboratories – Bob Stanzione, Carl McGrath, Gerry Fenderson

Jerrold / General Instrument
David Grubb, Steve Frederick, Geoff Roman
Scientific Atlanta
Dave Fellows, Lee Thompson, Frank Little, Rezin Pigeon
A Major Leap Toward 10G: CableLabs to Complete DOCSIS® 4.0 Specification in Early 2020
In a continuing effort to meet the industry's recently announced 10G goal, CableLabs is wrapping up the first major update to its DOCSIS specification since DOCSIS 3.1. DOCSIS 4.0 technology will enable the next generation of broadband over cable's existing hybrid fiber coax (HFC) networks, delivering symmetrical multi-gigabit speeds while supporting high reliability, high security and low latency.
What is DOCSIS 4.0 Technology?
Building on the success of DOCSIS 3.1 technology, which the cable industry is leveraging globally to deliver 1 Gbps services to end users, DOCSIS 4.0 technology supports a rich and flexible feature set of capabilities. The technology will enable multiple system operators (MSOs) to deliver on the 10G vision and includes support for Extended Spectrum DOCSIS (ESD) and Full Duplex DOCSIS (FDX) capabilities. These are complementary technologies that jointly or individually represent key elements to deliver on the 10G promise. By supporting these technologies, cable operators can deliver a richer feature set of capabilities and facilitate a cost-effective upgrade to a better, faster and more efficient network.
Full Duplex DOCSIS Capabilities
FDX DOCSIS technology allows for concurrent use of spectrum for both upstream and downstream traffic, thus doubling the network efficiency by leveraging the HFC network characteristics, self-interference cancellation technology and intelligent scheduling. DOCSIS 4.0 technology is also backwards compatible with previous generations of DOCSIS technologies.
With ESD, operators can leverage a lot more usable spectrum on their existing HFC networks—up to 1.8GHz. That's 600MHz more than the 1.2GHz available to them under the current DOCSIS 3.1 standard. The DOCSIS 4.0 working groups are in full swing, focusing on developing and adding the ESD requirements to the DOCSIS 4.0 specifications.
This boost in capacity provided by DOCSIS 4.0 technology will enable MSOs to provide multi-Gbps symmetric services to residential and business customers, and support the next generation of user experiences such as immersive media experiences in addition to serving as a catalyst for a new wave of innovations.
Toward 10G
DOCSIS 4.0 technology is a major step toward reaching the industry's 10G goal. You can learn more about the road to 10G and its technologies here. If you're near New Orleans or attending the SCTE Cable-Tech Expo next week, register for our vendor forum, Envision, to get the exclusive opportunity to learn about the technologies the industry is working on. At Envision, which will take place on September 30, you can expect to hear updates about DOCSIS 4.0 technology and 10G, including how 10G will enable mobile and wireless networks.
Gearing Up for 10G: Download the Technical Brief on CableLabs' Low Latency Technologies for DOCSIS Networks
If you've been following our blog and our recent 10G announcement, you know that one of the main areas of focus for us is latency. Achieving a near-zero latency on DOCSIS networks is one of the goals of the 10G initiative and is just as important as increasing speed or bandwidth. The success of future 10G networks that can support seamless communication and next-level interactive experiences like holodecks and 360° video is heavily dependent on finding technological solutions that decrease latency to imperceptible levels, delivering consistent, real-time responsiveness that our customers desire.
The good news is we are well on our way to getting there. So far we've released a number of specifications, including Low Latency DOCSIS (LLD) and Low Latency Mobile Xhaul (LLX), aimed at reducing latency in the DOCSIS networks that provide residential services and also serve as backhaul, midhaul and fronthaul (collectively known as xhaul) for mobile traffic.
Low Latency DOCSIS (LLD)
In modern households, there are often multiple applications and devices connected to the same network at the same time, sending and receiving a variety of traffic. Some, like streaming video and large file downloads, send repeated large bursts of data and expect the network to buffer and play-out those bursts, while others, like online gaming and voice chat, send traffic smoothly. Ordinarily, the traffic from the smooth senders is subjected to the widely varying buffering latency caused by the bursty senders.  LLD technology is optimized for these two different types of traffic behavior, and decreases delays for smooth sending applications (many of which are latency-sensitive) without affecting the other traffic. Low Latency DOCSIS technology can support a consistent sub-1ms latency round-trip for the smooth sending applications, resulting in a much better network performance overall.
Low Latency Mobile Xhaul (LLX)
LLX leverages collaboration between the mobile network scheduler and the DOCSIS scheduler to provide a low latency xhaul solution that achieves a consistent DOCSIS upstream delay of just 1 to 2 milliseconds. LLX also defines a common quality of service framework for both mobile and DOCSIS so that the relative priorities of different traffic streams are maintained across the two systems. In the foreseeable future, deploying LLX technology will help solidify DOCSIS cable networks as the xhaul transport of choice, capable of supporting the latency requirements of 5G and beyond.
For more detail, please download the following member-only technical brief on Low Latency Technologies for DOCSIS Networks which includes information about sources of latency, how we address them, implementation strategies and more.
If you're not yet a CableLabs member, find out how you can become one here.