Reliability
Network Capacity Management Using Proactive Network Maintenance
You probably know that Proactive Network Maintenance (PNM) is about finding and fixing problems before they impact the customer. But the other side of PNM is about managing the capacity or bandwidth available in the network. PNM may have started with the former concept in mind, but the latter is becoming more important as we rely on higher amounts of capacity at the edge. As the world adjusts to life under the COVID-19 pandemic, access network capacity is becoming even more critical. PNM is an important tool set for network capacity management, and CableLabs is helping operators manage network quality and capacity together.
Network condition impacts network capacity. Network impairments, a broad class of failures and flaws in the ability of a network to carry data, have to be addressed before they lead to service failure. The DOCSIS® protocol is a method for sending data over multiple radio frequencies in hybrid fiber coax networks, and comes with several resiliency mechanisms that help service continue in spite of impairments, to a point[1]. These impairments in the cable plant may impact a few or all frequencies. Impairments that impact specific frequencies may or may not be able to be compensated for, on those frequencies. If severe, the impairment may impact the data carried on those frequencies entirely, leading to correctable or even uncorrectable data errors. If not severe, profiles may be able to adjust to lower modulation orders to allow less data to be reliably carried than otherwise. Impairments that impact a larger amount of frequencies of course have a greater impact on the bandwidth the network can carry. In any case, impairments impact the capacity that the operator can get from the access network.
This is why PNM, which is an important set of tools for network operators to manage network condition, becomes even more important as we depend more on our network capacity and move toward higher utilization of the access network capacity. As demand for bandwidth increases at the edge, PNM becomes an important network capacity management tool for network providers. The difference between a perfect network and one with flaws felt by customers begins to shrink. PNM begins to be an imperative; it is "table stakes" for maintaining communications services and managing the capacity of the network.
CableLabs has been working with these issues in mind for some time. In July of 2019, I wrote on the subject of 10G and reliability, pointing out that higher bandwidth solutions closer to the customer will be required for 10G. Then, in August, I wrote on the subject of reliability from a cable perspective and pointed out that the impairments addressed through PNM impact capacity. So, we see that reliability and network capacity are closely coupled. As we move toward higher bandwidth services, expand the utilization of frequencies and further push the limits of technology, reliable and sufficient bandwidth become highly coupled. Therefore, so do the tools that network providers use to manage these service qualities. CableLabs is working on solutions to help operators succeed in this reality.
Recently, CableLabs announced the release of a new capability in our Proactive Operations (ProOps) platform that uses RxMER per subcarrier and profile information to inform the selection of PNM opportunities. Also, our PNM working group announced the release of our DOCSIS 3.1 PNM primer of engineering practices, which we intend to develop toward best practices for the industry. If you are an operator or vendor interested in this subject, contact us for more information and to help us develop this solution for the industry.
______________________________________________________________________________________
[1] Because of the resiliency of DOCSIS® technology, impairments in the network have an impact on the capacity available in the network for serving customers, even when service remains functional, and even when customers may not notice right away or always. Without resiliency, an impairment leads to failure. Network resiliency is what keeps service running over impairments, which lets operators fix problems before they become severe and provide highly reliable services.
Reliability
Data Elements and TR-181 – Connect to the PNM Data You Need
Remote Wi-Fi troubleshooting is the keystone of good customer experience and reduced support costs. The ultimate iteration of this is a fully automated proactive network maintenance system, where Wi-Fi issues are resolved before they impact your customer. When Wi-Fi becomes self-healing, customers enjoy seamless access to your services. The first steps to enable this bright future have already been taken.
Wi-Fi CERTIFIED Data Elements™ Extends TR-181
Earlier this year, CableLabs led the effort in the Wi-Fi Alliance to build and launch Wi-Fi CERTIFIED Data Elements, which established a standardized data model to capture those key performance indicators necessary for remote Wi-Fi troubleshooting. Certifications are now available through Wi-Fi Alliance authorized test labs, and we anticipate the first Data Elements capable customer presence equipment in early 2020. But capturing this data is meaningless without a way to transport it out of the home. In September, the Broadband Forum helped us take the next major step by adopting Data Elements into TR-181.
TR-181 is a device data model that encompasses a variety of CPE configuration and monitoring parameters and has been very successful in the remote configuration of cable modems. Data Elements extends TR-181 to the Wi-Fi domain with meaningful, actionable information that is specifically targeted at remote troubleshooting. This includes layer 1 & 2 information from attached client devices and neighboring networks, giving you an unprecedented view deep into your customer's network and beyond. Normally, we think of remote troubleshooting data as covering only the gateway's perspective. By capturing and analyzing the behavior of the attached clients, you can identify and resolve long distance issues such as hidden nodes or external interference sources.
TR-181 with Data Elements is now available for both the widely-deployed TR-069 and USP – the next-generation advanced remote management utility.
Please contact Josh Redmore (j.redmore@cablelabs.com) for more information on how to get involved with Data Elements and TR-181.
Reliability
Cable-centric Reliability
No doubt our cable industry has a unique culture of working and innovating together to solve technical issues. But there are best practices from other communities which we can build from; these practices inform how we can continue to develop toward more reliable services. By "reliable," as it relates to service, I mean reliable, available, and resilient services, which result from reliable, available, resilient, repairable, maintainable, and highly performing cable networks, not to mention operations focused on the customers' needs. On the other hand, specifically used, reliability refers to the probability of not experiencing failure, whereas availability refers to the expected proportion of time that something is working as intended. These are very related, but very different things. You can read more here. But when we speak generally about reliability, often many of these like concepts are relevant.
What is Unique About Cable Relating to Reliability Concepts?
For one thing, DOCSIS® networking is unique. Each version of DOCSIS technologies improved performance, but also increased the robustness of the services it supports. Error correction, profile management, pre-equalization, echo cancelers, and other technologies have enabled this performance extension, but also these advantages create separation from the impairment and service failures, allowing for maintenance before service is impacted.
Another unique advantage is Proactive Network Maintenance (PNM). The advantages of DOCSIS technologies are what make PNM possible. We use data to find impairments in the network that, left untreated, will eventually impact service. This capability affords operators the opportunity to find and remove impairments early, before the network is further damaged by degradation, and service is impacted severely. Networks can be maintained well, but also services remain available while the network is experiencing failure.
Cable operators and vendors in cable have analog radio frequency (RF) expertise with a digital mindset. The cable industry knows RF, and that knowledge has helped it get the most out of the physical layer of the network. That deep understanding of the network's physical layer is why mitigating network failure modes is second nature, and the industry has the needed skills.
Then there's the industry's "laser focus." Pushing fiber out deeper into the network can improve reliability and availability, but current technology does lack some of the PNM advantages. There is work to do, but the capabilities are there for us to develop.
What Are the Best Practices We Can Re-use?
Designing communication networks for reliability carries many best practices and experience.
The ability to understand and mitigate failures before deployment – We have defined PNM use cases based on the measurements we've been able to define in the DOCSIS specifications. Now, we must extend that work to link to failure modes, effects, and criticality analysis, and root cause analysis, to inform technology choices, measurements for management, and design for reliability.
Condition based maintenance – Maintenance optimization research is clear that in any practical situation it is almost always more cost efficient to base maintenance on condition information rather than age information.
Prognostics and Health Management (PHM) – A newer field of reliability, PHM is a lot like our PNM. PHM is a research field of study using data sources (e.g., vibration in mechanical systems, or charge time in batteries) to determine the remaining useful life of a component or system. PNM is a clear cousin to that field, so we can certainly share and gain benefit from that work.
Certification testing – Certifying cable modems (CMs) has improved the PNM responsiveness of CMs, and the same can be true about cable modem termination systems (CMTSs) as that part of the network begins to align.
Maintenance optimization – Service reliability and availability, in addition to network reliability and availability and robustness, are important focuses for the industry; they relate, but are distinct and important in their own. The network can fail while service continues to perform at a high level, so maintenance can be better planned in this situation.
Thoughts for the Future of Cable
More options mean more standardization – Adding more options to the technology choices allows operators to better meet the unique needs of their customer base. However, keeping it all standardized increases operability and repairability so that service is highly reliable and available.
Each feature needs measurements – As we add options and features to cable technologies, each option needs special measurements to assure that the feature can be managed properly. DOCSIS 4.0 technology is full of options, so we'll need a critical eye on each to make sure those options can be operated reliably.
Pushing the limits of technology requires more diligence on PNM – As we rely on tighter tolerances and more complexity on issues like upstream noise, echo cancelation, and error correction, we need more information about how those perform, and more diligent PNM practice relating to them.
Impairments relate to capacity and network resilience – As capacity becomes a stronger focus, the impact of impairments on that capacity becomes more important, so cable network reliability is entwined.
As we push higher capacity to the edge, redundancy must come with it – With more capacity comes more critical services, and more impact to the lives of customers. A failure becomes more impactful as a result. Then, as the cost of a failure increases, large failures become more expensive, driving the need for more network resiliency, and thus more redundancy.
Strong Foundation, Strong Future
Building on a strong foundation of PNM and DOCSIS technologies, the cable industry has the right culture and technology foundation to take communications to a reliable future. We have lots of work to do, but we're on the right path to do it. Here we go!
The 10g platform is going to provide reliable service. As the cable industry embarks on the development of 10G services, there is a lot of work ahead, but we already have a strong foundation of experience and technology to build upon.
The 10 Gbps goal is about performance. But it must come with low cost, high quality, and sufficient reliability. 10G services have to be easy to install reliably, remain stable and robust against cable plant variations and conditions, and provide a wealth of service flexibility so that services remain reliable under a broad set of use cases.
The Road to 10G…
At CableLabs, we've taken big leaps toward 10G with DOCSIS® 4.0, including Full Duplex DOCSIS, and with cable modems (CMs) which will be capable of 5 Gbps symmetrical service in the near future. To fully arrive at 10G, we need to enable 10 Gbps downstream speeds. To accomplish that, we'll need to expand our use of available spectrum, and we'll likely need to use that spectrum in a highly efficient manner. Pushing higher bandwidth solutions deeper into the network and closer to the edge customers will be required, too. We have a lot of innovation ahead of us to get to the 10G future.
…Is Paved with Innovation
Invention often begins with an initial solution that is later repeated for verification, then validated further. That initial solution then needs to be scaled; in other words, it needs to be made repeatable, at a low cost, and with sufficient reliability.
Fortunately, DOCSIS networking is a technology with many reliability traits integrated. Data are delivered reliably due to Forward Error Correction. Profile management can control the data rate to allow the best performance possible, but not push performance to low reliability. Adjustments to the connection between the cable modem termination system (CMTS) and CM assure reliable transmission continues under constant environmental and network changes. And Proactive Network Maintenance (PNM) assures that plant conditions are discoverable, and that they can be translated into maintenance activities that can further assure services stay reliable at low cost. The cable industry is starting on a solid foundation.
Consider one possible direction we could take on the road to 10G. As we begin to expand the frequencies that DOCSIS uses, we may need improved error correction, better profile management, or better CMTS-to-CM coordination to assure reliable services continue at expected levels. However, pushing these limits might also mean new failure modes in the plant, or greater service sensitivity to existing failure modes, thus increasing the importance of PNM. Operators should up their PNM game now, understanding that it will be an even more important element to assure a reliable 10G future.
A Super Highway in Many Directions
Because of this strong reliability foundation in cable technologies, particularly DOCSIS, we can build our 10G future with reliability in mind. Rather than simply extending our boundaries and hoping that our existing methods to assure reliable services will be sufficient, we can define solutions that bring reliability with them. By focusing simultaneously on increased performance, lower operational costs, and reliable services, we can evolve into an effective, desirable 10G future for the world.
Also, by thoughtfully choosing the technologies to develop, we can create degrees of freedom and opportunities to enhance reliability while developing 10G. This is the right approach for the industry to take because reliability can only be built into a service, not added later. By choosing to develop solutions now that expand our options for reliable services, we can enable operators to have full control of their services. To make it work reliably, PNM will be there, and so will a few other advantages to come.
Reliability
Now Announcing Wi-Fi CERTIFIED Data Elements™—Inventing the Standard in Wi-Fi PNM
Last year we announced that we're working with the Wi-Fi Alliance to develop a standard for Key Performance Indicator (KPI) capture in a Wi-Fi network—now officially called Wi-Fi CERTIFIED Data Elements. Optimized and reliable residential Wi-Fi will be critical to deploying 10G and this standard addresses many of the major Wi-Fi PNM-related pain points identified by members of the cable community, such as the following:
Lack of visibility into customers' Wi-Fi networks: Often, MSOs must rely on their customers to report Wi-Fi problems after they've occurred, leading to customer dissatisfaction and retention issues.
Exorbitant cost associated with Wi-Fi troubleshooting: The cable industry wastes more than over a billion dollars per year troubleshooting residential Wi-Fi and two thirds of customer complaints are related to Wi-Fi.
Lack —or overabundance—of data: There's currently no global standard for the collection of key actionable data on Wi-Fi network performance in residential, small and midsize businesses, and operator-managed enterprise systems. Data Elements offers a data model focused on what is important for troubleshooting.
Lack of good options: Although proprietary Wi-Fi PNM solutions exist, they require deployment of costly proprietary technology on customers' equipment and are too restrictive in terms of analytic capabilities.
The Ins and Outs of Wi-Fi CERTIFIED Data Elements™
Setting Up the Platform
Now that the Wi-Fi CERTIFIED Data Elements code has been released to the open source community, anyone can use it. There's no proprietary equipment or other restrictions. Cable Internet providers can work with their vendors to get the code implemented on customers' equipment (CPEs) and certified by the Wi-Fi Alliance. Once the equipment is in place and appropriate cloud servers have been set up, providers can begin to collect and analyze the incoming data.
Collecting the Data
Due to the dynamic nature of Wi-Fi, Wi-Fi CERTIFIED Data Elements focuses on a rapid collection of a few KPIs that are responsible for the majority of customers' Wi-Fi issues. It supports scheduled and asynchronous data transmission that gives operators unprecedented visibility into customer Wi-Fi network performance without adversely affecting the quality of the connection.
Using the Data
In many cases, operators will be able detect and quickly fix Wi-Fi related issues remotely before customers even notice there's a problem—saving both time and money that would otherwise be wasted on troubleshooting efforts later on. For example, if a Wi-Fi channel in an apartment building serviced by one MSO becomes too crowded, the system will have the data to automatically recommend a better channel distribution among all the apartments, proactively improving the experience for all the residents before they notice a "slowdown" in the connection.  If a customer does report an issue, the support representative will be able to quickly pinpoint the source and offer actionable insights based on the data. For example, if the customer complains about "slow Internet," the rep will be able to detect whether there's a coverage problem in the home or whether the customer's Wi-Fi device can actually support the Internet speed he or she is paying for.
What's Next
Wi-Fi CERTIFIED Data Elements is a long-awaited solution to many Wi-Fi related issues. Not only will it significantly reduce the barrier to entry for any MSO looking to implement an effective Wi-Fi PNM system, it will also help cut troubleshooting costs and provide a better, more reliable Wi-Fi experience for residential and business customers. We are very excited about sharing this new technology with our members and vendors and are looking forward to its release later this year. Please stay tuned for updates!
Reliability
A Better Wi-Fi Experience with Dual Channel Wi-Fi™
At least 15 percent of customer service calls are Wi-Fi related, ranging from poor connections to video playback issues, translating to more than $600 million in annual support costs for the cable industry (in North America alone). As the Wi-Fi industry looks for ways to increase speed, coverage and support for more devices in the Wi-Fi ecosystem, one critical element has been overlooked: the need to have the necessary airtime to send data to all end devices in a timely manner. Even with faster Wi-Fi connections, if there is no available airtime to send the data, the connection is useless. CableLabs realized this shortfall and addressed it with the development of Dual Channel Wi-Fi technology.
What Is Dual Channel Wi-Fi?
Dual Channel Wi-Fi delivers an efficient and more reliable wireless connection.
The wireless networking technology that we commonly refer to as Wi-Fi is based on the 802.11 standard developed by the Institute of Electrical and Electronics Engineers (IEEE). The 802.11 standard, in turn, has its origins in a 1985 ruling by the U.S. Federal Communications Commission (FCC) that made the Industrial Scientific Medical (ISM) unlicensed radio frequency bands available for public use.
Wi-Fi is often referred to as "polite" because it uses a procedure called Listen-Before-Talk (LBT). LBT is a contention-based protocol that requires data-transmitting devices to listen and wait for a given frequency band to be clear before sending data. If the device (access point [AP] or station) does not detect transmissions, it proceeds to send data. If the device does detect transmissions, it waits for a random period of time and listens again for a clear frequency or channel before commencing transmission.
Wi-Fi has become ubiquitous over the years and is the primary method by which we connect devices in the home, at work and in public places to reach the internet. Multiple Wi-Fi devices in a typical broadband home can cause contention for available frequencies. Dual Channel Wi-Fi addresses Wi-Fi congestion issues by providing one or more channels for downstream-only data in addition to the primary bi-directional channel. The primary channel is used for upstream and small downstream packets and the others channel(s) are used for large downstream and time-critical data, like video. By offering operators configurable tools to intelligently redirect Wi-Fi traffic, better air-time utilization is achieved for all traffic, resulting in fewer interruptions and a much better Wi-Fi experience for everyone.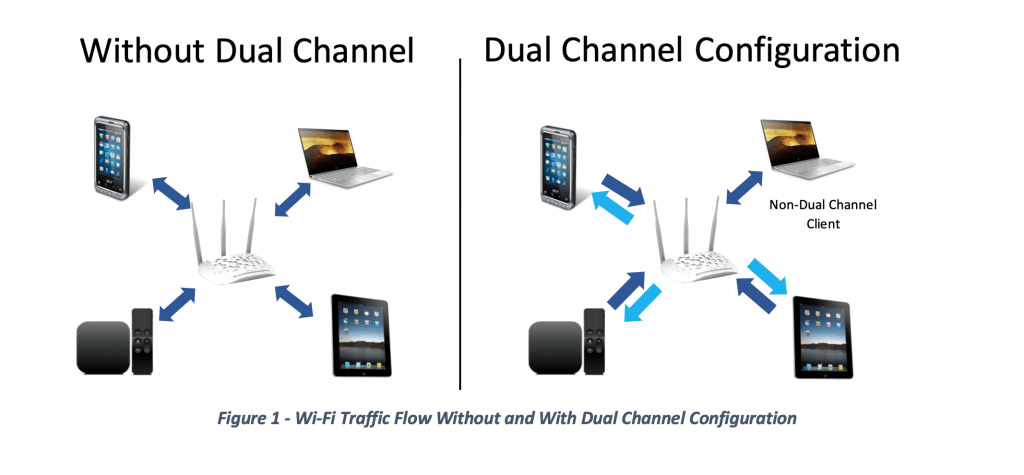 Benefits of Dual-Channel Wi-Fi
Dual Channel Wi-Fi benefits more than just downlink-only clients:
A better overall multi-user experience: As demonstrated in our performance testing, without Dual Channel Wi-Fi, tests using two standard Wi-Fi channels show issues with video streams, gameplay delays, download buffering and slower throughput to individual devices. By moving data off the standard Wi-Fi channel, it effectively clears traffic from the channel, allowing both the AP and other clients more opportunities to send data.
A radically improved multi-user experience: By virtually eliminating hesitation and pixilation of video delivery, Dual Channel Wi-Fi enables smooth gameplay without delays and faster overall delivery of data to both Dual Channel Wi-Fi and non-Dual Channel Wi-Fi devices. In our tests, depending on the application download speeds, data transfer speeds increased up to 12 times while airtime efficiency (by reducing the need for retransmissions) increased by 50 percent.
Reduction of downlink data packet errors and packet retries: The AP's ability to send data to clients without contention interference has reduced downlink data packet errors and packet retries, resulting in a reduction in uplink retry messages. This, in turn, allows the AP to send more TCP segments at a time, further reducing the amount of uplink traffic.
These improvements in data delivery over the Wi-Fi network as a whole are an example of user experience improvements that can be achieved by technologies that complement the cable industry's 10G initiative. As the cable industry drives towards faster speeds, lower latency and increased reliability, Dual Channel Wi-Fi helps ensure that those benefits are experienced all the way to end user devices.
Because Dual Channel Wi-Fi is not limited to one downlink-only data channel, deployments in venues such as stadiums, airports or outdoor arenas can also benefit. Dual Channel Wi-Fi's configurable filters can selectively assign, move or remove devices from individual downlink-only data channels. The mechanism to determine which downlink-only channels that different devices should be assigned is open to vendor development. This ability will allow operators and vendors to perform load balancing across the downlink-only data channels. The result is the management of the network to ensure the best user experience.
Dual Channel Wi-Fi is compatible with all Wi-Fi releases, including Wi-Fi 6. Dual Channel Wi-Fi has been developed and tested on various AP and client platforms. These include RDK-B, RDK-V, Ubuntu, Windows, MacOS and OpenWrt, which was co-implemented by Edgewater Wireless. Both CableLabs and Edgewater Wireless are excited about the opportunity to improve Wi-Fi for users around the world and look forward to working with standards bodies, internet service providers and device manufacturers of video set-tops, streaming devices, laptops, tablets and gaming consoles.
For more information about Dual Channel Wi-Fi, test results and implementation guides, click below.