Reliability
Now Announcing Wi-Fi CERTIFIED Data Elements™—Inventing the Standard in Wi-Fi PNM
Last year we announced that we're working with the Wi-Fi Alliance to develop a standard for Key Performance Indicator (KPI) capture in a Wi-Fi network—now officially called Wi-Fi CERTIFIED Data Elements. Optimized and reliable residential Wi-Fi will be critical to deploying 10G and this standard addresses many of the major Wi-Fi PNM-related pain points identified by members of the cable community, such as the following:
Lack of visibility into customers' Wi-Fi networks: Often, MSOs must rely on their customers to report Wi-Fi problems after they've occurred, leading to customer dissatisfaction and retention issues.
Exorbitant cost associated with Wi-Fi troubleshooting: The cable industry wastes more than over a billion dollars per year troubleshooting residential Wi-Fi and two thirds of customer complaints are related to Wi-Fi.
Lack —or overabundance—of data: There's currently no global standard for the collection of key actionable data on Wi-Fi network performance in residential, small and midsize businesses, and operator-managed enterprise systems. Data Elements offers a data model focused on what is important for troubleshooting.
Lack of good options: Although proprietary Wi-Fi PNM solutions exist, they require deployment of costly proprietary technology on customers' equipment and are too restrictive in terms of analytic capabilities.
The Ins and Outs of Wi-Fi CERTIFIED Data Elements™
Setting Up the Platform
Now that the Wi-Fi CERTIFIED Data Elements code has been released to the open source community, anyone can use it. There's no proprietary equipment or other restrictions. Cable Internet providers can work with their vendors to get the code implemented on customers' equipment (CPEs) and certified by the Wi-Fi Alliance. Once the equipment is in place and appropriate cloud servers have been set up, providers can begin to collect and analyze the incoming data.
Collecting the Data
Due to the dynamic nature of Wi-Fi, Wi-Fi CERTIFIED Data Elements focuses on a rapid collection of a few KPIs that are responsible for the majority of customers' Wi-Fi issues. It supports scheduled and asynchronous data transmission that gives operators unprecedented visibility into customer Wi-Fi network performance without adversely affecting the quality of the connection.
Using the Data
In many cases, operators will be able detect and quickly fix Wi-Fi related issues remotely before customers even notice there's a problem—saving both time and money that would otherwise be wasted on troubleshooting efforts later on. For example, if a Wi-Fi channel in an apartment building serviced by one MSO becomes too crowded, the system will have the data to automatically recommend a better channel distribution among all the apartments, proactively improving the experience for all the residents before they notice a "slowdown" in the connection.  If a customer does report an issue, the support representative will be able to quickly pinpoint the source and offer actionable insights based on the data. For example, if the customer complains about "slow Internet," the rep will be able to detect whether there's a coverage problem in the home or whether the customer's Wi-Fi device can actually support the Internet speed he or she is paying for.
What's Next
Wi-Fi CERTIFIED Data Elements is a long-awaited solution to many Wi-Fi related issues. Not only will it significantly reduce the barrier to entry for any MSO looking to implement an effective Wi-Fi PNM system, it will also help cut troubleshooting costs and provide a better, more reliable Wi-Fi experience for residential and business customers. We are very excited about sharing this new technology with our members and vendors and are looking forward to its release later this year. Please stay tuned for updates!
Reliability
A Better Wi-Fi Experience with Dual Channel Wi-Fi™
At least 15 percent of customer service calls are Wi-Fi related, ranging from poor connections to video playback issues, translating to more than $600 million in annual support costs for the cable industry (in North America alone). As the Wi-Fi industry looks for ways to increase speed, coverage and support for more devices in the Wi-Fi ecosystem, one critical element has been overlooked: the need to have the necessary airtime to send data to all end devices in a timely manner. Even with faster Wi-Fi connections, if there is no available airtime to send the data, the connection is useless. CableLabs realized this shortfall and addressed it with the development of Dual Channel Wi-Fi technology.
What Is Dual Channel Wi-Fi?
Dual Channel Wi-Fi delivers an efficient and more reliable wireless connection.
The wireless networking technology that we commonly refer to as Wi-Fi is based on the 802.11 standard developed by the Institute of Electrical and Electronics Engineers (IEEE). The 802.11 standard, in turn, has its origins in a 1985 ruling by the U.S. Federal Communications Commission (FCC) that made the Industrial Scientific Medical (ISM) unlicensed radio frequency bands available for public use.
Wi-Fi is often referred to as "polite" because it uses a procedure called Listen-Before-Talk (LBT). LBT is a contention-based protocol that requires data-transmitting devices to listen and wait for a given frequency band to be clear before sending data. If the device (access point [AP] or station) does not detect transmissions, it proceeds to send data. If the device does detect transmissions, it waits for a random period of time and listens again for a clear frequency or channel before commencing transmission.
Wi-Fi has become ubiquitous over the years and is the primary method by which we connect devices in the home, at work and in public places to reach the internet. Multiple Wi-Fi devices in a typical broadband home can cause contention for available frequencies. Dual Channel Wi-Fi addresses Wi-Fi congestion issues by providing one or more channels for downstream-only data in addition to the primary bi-directional channel. The primary channel is used for upstream and small downstream packets and the others channel(s) are used for large downstream and time-critical data, like video. By offering operators configurable tools to intelligently redirect Wi-Fi traffic, better air-time utilization is achieved for all traffic, resulting in fewer interruptions and a much better Wi-Fi experience for everyone.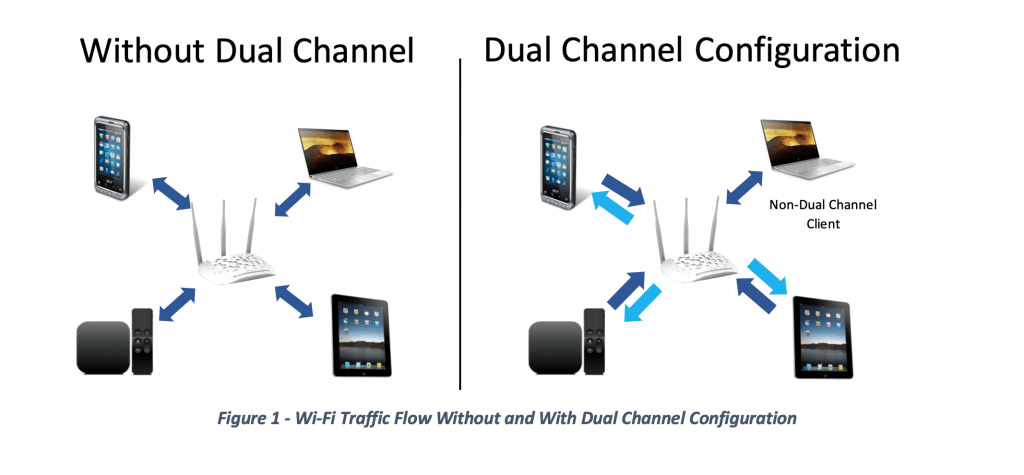 Benefits of Dual-Channel Wi-Fi
Dual Channel Wi-Fi benefits more than just downlink-only clients:
A better overall multi-user experience: As demonstrated in our performance testing, without Dual Channel Wi-Fi, tests using two standard Wi-Fi channels show issues with video streams, gameplay delays, download buffering and slower throughput to individual devices. By moving data off the standard Wi-Fi channel, it effectively clears traffic from the channel, allowing both the AP and other clients more opportunities to send data.
A radically improved multi-user experience: By virtually eliminating hesitation and pixilation of video delivery, Dual Channel Wi-Fi enables smooth gameplay without delays and faster overall delivery of data to both Dual Channel Wi-Fi and non-Dual Channel Wi-Fi devices. In our tests, depending on the application download speeds, data transfer speeds increased up to 12 times while airtime efficiency (by reducing the need for retransmissions) increased by 50 percent.
Reduction of downlink data packet errors and packet retries: The AP's ability to send data to clients without contention interference has reduced downlink data packet errors and packet retries, resulting in a reduction in uplink retry messages. This, in turn, allows the AP to send more TCP segments at a time, further reducing the amount of uplink traffic.
These improvements in data delivery over the Wi-Fi network as a whole are an example of user experience improvements that can be achieved by technologies that complement the cable industry's 10G initiative. As the cable industry drives towards faster speeds, lower latency and increased reliability, Dual Channel Wi-Fi helps ensure that those benefits are experienced all the way to end user devices.
Because Dual Channel Wi-Fi is not limited to one downlink-only data channel, deployments in venues such as stadiums, airports or outdoor arenas can also benefit. Dual Channel Wi-Fi's configurable filters can selectively assign, move or remove devices from individual downlink-only data channels. The mechanism to determine which downlink-only channels that different devices should be assigned is open to vendor development. This ability will allow operators and vendors to perform load balancing across the downlink-only data channels. The result is the management of the network to ensure the best user experience.
Dual Channel Wi-Fi is compatible with all Wi-Fi releases, including Wi-Fi 6. Dual Channel Wi-Fi has been developed and tested on various AP and client platforms. These include RDK-B, RDK-V, Ubuntu, Windows, MacOS and OpenWrt, which was co-implemented by Edgewater Wireless. Both CableLabs and Edgewater Wireless are excited about the opportunity to improve Wi-Fi for users around the world and look forward to working with standards bodies, internet service providers and device manufacturers of video set-tops, streaming devices, laptops, tablets and gaming consoles.
For more information about Dual Channel Wi-Fi, test results and implementation guides, click below.