Culture
Meet Kyrio President and General Manager Mitch Ashley
"Kyrio's future is not just innovating on the technology, but innovating on the business model—how we think about partnering with other companies." – Mitch Ashley
Mitch Ashley is the President and General Manager of Kyrio, a CableLabs subsidiary. He directs Kyrio's strategy, business development and operations across its multiple lines of business. Formerly CableLabs Vice President of Information Technology for 5 years, Mitch sees his transition to Kyrio as a natural fit, and he is particularly excited to be part of a company that is playing a key role in bringing new technologies to market in the fast-changing communications world. Mitch's move to leading Kyrio exemplifies the close working relationship Kyrio has with CableLabs and our worldwide cable industry members.
Kyrio was established in 2012 with the purpose to serve CableLabs members, as well as to work with manufacturers inside and outside the cable industry. Kyrio now has over 60 employees with a focus on various technologies based on CableLabs innovations and has also significantly expanded its device and interoperability testing into wireless, Remote-PHY and IoT device certification testing for Open Connectivity Foundation's (OCF) compliance. In 2016, Kyrio initiated a new lab focused on interoperability testing of Software-Defined Networks and Network Function Virtualization (SDN NFV).
Prior to joining CableLabs and Kyrio, Mitch held several leadership positions in the security, internet, telecommunications and banking industries. Mitch was co-founder, CTO, CIO and VP of Engineering at StillSecure, a leading provider of award-winning network security products to the U.S. Department of Defense, federal civilian government agencies and large and medium-sized enterprises. As CIO and VP of Engineering at Jato Communications, Mitch led the creation of a national broadband network. At US West, he spearheaded the creation of early internet online services and led the development and deployment of video-on-demand, home shopping and other services. His expertise has earned him features in numerous industry publications such as NetworkWorld, ComputerWorld, CIO Magazine, InformationWeek, CRN and USA Today. 
Now, watch the video below and meet the man creating better experiences through technology.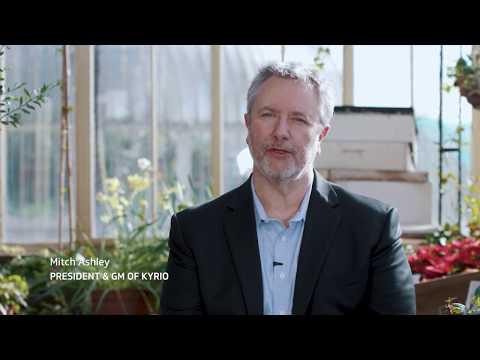 For those whose business is connecting people, places and devices, Kyrio is the trusted and secure source for everything networkable. Interested in learning more? Visit the Kyrio site by clicking below.