4Front 2020: Introducing a New Cross-industry Event for Leaders Building the Future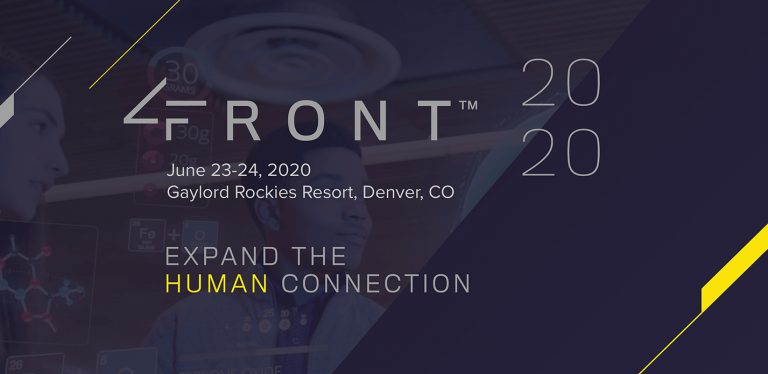 At CableLabs, we think about the future every day. Our Near Future series offers a glimpse of how people might live, work, learn and play 3 to 8 years from now, but it doesn't address how we'll get there. The development of the 10G cable network that will power the innovations depicted in these films is already well underway; however, a network alone isn't enough.
Building the future will require a whole new level of cross-industry collaboration and input from the brightest minds in healthcare, gaming, automotive, education, consumer tech, sustainability, financial technology, AI, security and other fields that will develop consumer products and applications for the new era. This is why we need 4Front.
What Is 4Front?
4Front is a 2-day conference that will take place June 23-24, 2020, at the Gaylord Rockies Resort & Convention Center in Denver, Colorado. We invite all industries and ecosystems to join us and answer the question: What kind of future do we want to build?
Tackling that question might result in a wide array of answers, but we know there will also be unique, industry-specific challenges that we won't know about until we get everyone in the same room. And that's the type of information we need to be able to move forward. Less about execution or any one type of technology, 4Front is devoted to expanding the human connection, aligning visions and discovering how to build a better tomorrow for all mankind—together.
This event will be structured around four separate tracks: live, work, learn and play. Each track is designed to explore the technological dependencies and accelerate progress in that particular area. For example, a "Live" track may focus heavily on healthcare, biotech and automotive industries, whereas a "Play" track will delve into gaming, fitness and entertainment. Attendees will be able to showcase their thought leadership, share their vision and exchange ideas about how to move forward. Inspirational talks and discussions in both free-form and facilitated formats have the potential to create new partnerships, launch new market ventures or look at today's problems with a "vuja de" mentality to discover opportunity.
Why You Should Attend
Meet all the right people: We're bringing together more than 1,500 visionaries and innovators who hold the power to make decisions on behalf of their companies. You will be among senior executives, founders and entrepreneurs who understand the unique challenges of their field and are willing to share the goals and requirements for what they want to accomplish.
Identify new opportunities: Because 4Front brings together top decision makers who probably wouldn't otherwise meet, the connections you make here will help you identify interdependencies across various industries, gain a deeper understanding of your company's role within the global ecosystem and potentially forge new synergistic business partnerships that can contribute to your ROI and ultimately result in a better experience for everyone.
Find real solutions to real problems, faster: Innovation doesn't happen in a vacuum. If you're trying to solve a problem of the future, chances are someone from another industry might be looking at it from a different angle or working on a new technology that can potentially accelerate your progress. 4Front gives you an opportunity to have conversations with people who are as eager to move forward as you are. And though we can't guarantee that you'll find solutions to all your problems in 2 days, we can create an environment that's conducive to the type of innovative ideas that can lead to a breakthrough down the road.
 Why Is CableLabs Launching 4Front Now?
 The world is on the brink of the so-called fifth industrial revolution, where humans and technology will intersect in ways we never thought possible. Even if you don't buy into the hype, one fact is undeniable: The pace of innovation is accelerating at a staggering rate. Entire industries are being disrupted with predictable regularity, and inventions that would have once taken decades to saturate the market are becoming global sensations in months, or even days, thanks to our ubiquitous digital devices.
The effects of technology on markets and labor are astonishing. The World Economic Forum estimates that 65 percent of children now entering elementary school will hold jobs that don't exist today. McKinsey determined that over 50 percent of current work activities are automatable. There are hundreds of other statistics pointing to the same thing: Our world is about to change.
AI, VR, light field panels, holodecks and other emerging broadband-based technologies are tools that can be used across many different industries to create better connected experiences for everyone. By bringing all the relevant players to the table now, we can maximize the potential of all these emerging innovations and chart a course for the future we want to build.
There are two ways to handle a wave of change: Let it wash over you or steer it where you want it to go. Choose the latter! Join us at 4Front 2020.