2014 Summer Conference Demonstration Opportunities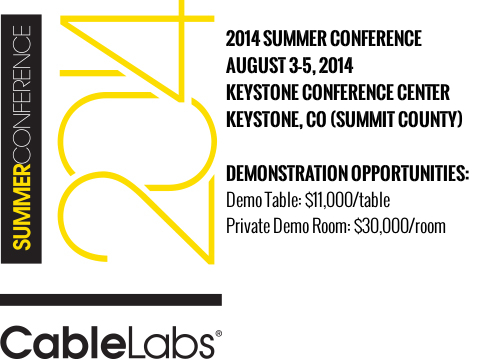 The application deadline has passed. Contact Ben Lusz at b.lusz@cablelabs.com or 303-661-3331 to discuss opportunities for Summer Conference '14.   The Application process for Winter Conference will open in October.
Summer Conference is designed and attended by approximately 350 cable operators representing CableLabs members. Join us as a Demonstrating Vendor to engage these members, and promote your products!
CableLabs encourages industry vendors to participate fully in our Summer Conference by attending sessions and functions, engaging attendees, and building your network. Please share contact information, invite attendees to demo your products, and interact with CableLabs staff.
Some new additions to this year's conference are:
Mobile app that will offer a quick and easy way to make connections and book appointments with cable operators
Digital demo guide
Opportunity for your 30 second video to be displayed outside the demo floor
C-Level dinner with one C-Level person from your company, hosted by Phil McKinney – CableLabs CEO and the CableLabs executive team (limited to 25 participants)
Opportunity to host a daily raffle/give-away contest at your demo table – gather business cards for your drawing
CABLELABS PROVIDES:
One [1] 6-ft. x 30-in. table.
One [1] company sign with demonstrating vendor's logo.
Power for demo table
Shared Internet connectivity via Ethernet line to demo table
Comcast video feed to demo table
All décor for demo space – carpet, table cover and skirt – no service order required
Listing in Digital Demo Guide
Conference badges: six [6] per demo table, or twelve [12] per private demo room; additional badges available for a fee
Registered vendor staff – access to all conference sessions, meals and receptions
DEMO FLOOR SCHEDULE:
Sunday (8/3)
8:00 am – 6:00 pm

Demo Floor Move-In and Demo Set-Up

10:00 am – 6:00 pm

On-Site Registration
Monday (8/4)
7:00 am – 7:00 pm

On-Site Registration

11:30 am – 7:00 pm

Demo Floor Open
Tuesday (8/5)
7:00 am – 7:00 pm

On-Site Registration

11:30 am – 12:30 pm

Private Cable Operator CTO Tour

11:30 am – 7:00 pm

Demo Floor Open

7:00 pm – 10:00 pm

Demo Floor Move-Out
QUESTIONS?
If you have any questions, please email b.lusz@cablelabs.com.