Networks
Network Operator Perspectives on NFV priorities for 5G
Today, twenty-three network operators published a white paper to guide the industry on priorities for NFV to deliver the industry vision for 5G systems: "Network Operator Perspectives on NFV priorities for 5G". The network operator co-authors include Bell Canada, BT, CableLabs, CenturyLink, China Mobile, China Unicom, Colt, Deutsche Telekom, KDDI, KT, NTT, NTT DOCOMO, Orange, Portugal Telecom, Rogers, SK Telecom, Sprint, STC, Swisscom, Telecom Italia, Telefonica, Telenor, and Vodafone. As managing editor for this white paper, I worked closely with colleagues from these leading organizations to document some key consensus requirements that we want the 5G standards community to take into account in their upcoming specification work.
We believe the evolved 5G network will be characterized by agile resilient converged fixed/mobile networks based on NFV and SDN technologies and capable of supporting network functions and applications encompassing many different networks and services domains. The breadth of foreseen 5G use cases and environments implies high scalability, ultra-low latency and ability to support a massive number of concurrent sessions, as well as ultra-high reliability and security. To achieve these ambitious goals, Network Slicing, Cloud-native design principles, End-to-end Service Management, Edge Computing, RAN Cloudification, Multi-site/domain Services, NFV License Management, Security, Reliability, and Scalability are important enablers as outlined in some detail in this paper.
In an era of increasingly stretched resources, it is vitally important for standards development organizations and open source communities to avoid re-invention and wasteful duplication of effort. Hence, an important message is to encourage reference to the extensive body of foundational NFV specification work already published by the ETSI NFV Industry Specification Group over the past four years as the basis for 5G.
As managing editor, I believe this white paper should be used as guidance for the wider industry on how NFV should be used to realize 5G use cases.
What is CableLabs Doing in this Space?
The cable network will provide an ideal foundation for 5G because it is ubiquitous and already supports millions of Wi-Fi nodes in places where the majority of wireless data is consumed. It has high capacity for both Access and Backhaul. It is highly reliable and has low intrinsic latency because it is based on optical fiber which penetrates deep into the access network feeding wideband coaxial cables reaching all the way to the end-user premises. Moreover, it is a multi-node remotely powered access topology ideally suited to support the connection of the large number of small cells close to homes and businesses that will be needed for 5G.
A multi-faceted CableLabs R&D program is addressing the key technologies required for 5G around NFV and SDN that we are executing on behalf of our cable operator stakeholders. For example, CableLabs is progressing an intensive study of virtualized provisioning of the cable access network to enable programmability, our NFV/SDN reference platform is based on OPNFV and we are looking ahead to support 5G using an end-to-end virtualized architecture that includes low latency edge compute nodes located at the cable head-end. In addition, we are seeking to accelerate NFV/SDN interoperability through CableLabs' Kyrio subsidiary which has built an interoperability lab where vendors can work together with operators to toward their NFV and SDN solutions.
By Tetsuya Nakamura, Principal Architect, Strategy & Innovation, CableLabs
Security
Cybersecurity Improving the Customer Experience
Most of the time businesses view cybersecurity as a burden on their product line or enterprise operations.   There is a general acceptance that security is a high-risk area that the businesses cannot ignore but is viewed by many managers and business leaders as not adding value to their bottom line; a cost akin to regulatory compliance.  However, by taking this view, leaders may be losing an opportunity. Visionary executives consider cybersecurity as an area that can benefit their business through improving the customer experience.
When a cybersecurity event affects customers, usually it degrades the customer experience.  This can happen in a number of ways.  For example, a banking customer may not be able to access the bank's website to perform on-line banking.  This was the premise for the attacks against US banks that were attributed to  Izz ad-Din al-Qassam Cyber Fighters.   For ISP subscribers, infected home devices send email spam, are used in Distributed Denial of Service (DDoS) attacks, steal sensitive customer information, and the customer's data can be held hostage in ransomware attacks.  Recent examples include loss of privacy from baby monitors that can be viewed and controlled by strangers outside the home and DVR that were used to take down major services on the Internet.
For cable operators, the most common types of cybersecurity attacks degrade customer video, phone or Internet services.  Cable operator owned infrastructure, operator-supplied equipment, or third party purchased equipment can all be adversely impacted.  For example, if a customer's computer becomes infected with malware, the customer's Internet experience from that device is degraded along with other devices on the same network.  In addition, the infection drives a higher rate of calls to the cable operator's call centers, can increase the number of truck rolls to customer premises due to misdiagnosed problems, and can lead customer dissatisfaction.
This is not to say that ISPs should be primarily responsible for the cybersecurity security of their customers.  ISPs have and will continue to play a role in protecting customers, but as a member of the larger Internet ecosystem.  The proliferation of insecure Internet of Things (IoT) devices pollutes the Internet with malicious traffic in addition to risking theft of sensitive customer information.  Addressing the problem requires the involvement of stakeholders from all across the ecosystem, not just one industry.  CableLabs is helping lead the effort of improving the security of IoT devices through the Open Connectivity Foundation (OCF).  We are a vocal advocate for strong device security that improves the customer experience for the device and the network ecosystem.
CableLabs has been working on a model to describe different levels of cybersecurity and the impact they have on customer experience.  It is based on Maslow's Hierarchy of Needs and is modified from work Microsoft commissioned based on cybersecurity and reaching the full potential of the Internet.  In our case, the model describes the user experience that cybersercurity plays on different types of network connected devices.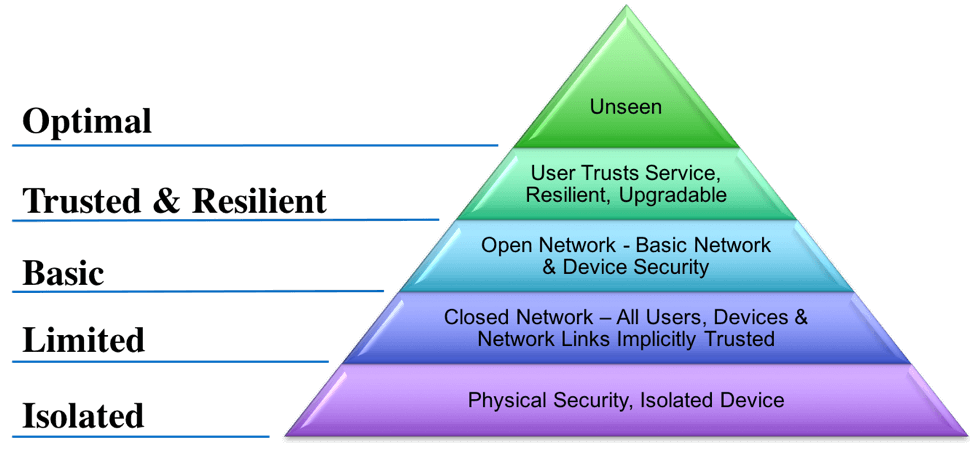 The model starts at the bottom with isolated devices.  It moves up to closed networks and then to basic security on open networks.  This "Basic" layer is where most home computers have operated until recently.  The "Trusted and Resilient" layer is where good cybersecurity principles are considered in the product design.  The device or service is resilient to attacks, upgradable and most importantly, the user has long term trust in the product.  Finally, at the "Optimal" top layer, designers of products incorporate strong security controls that provide a more ideal customer experience where the security controls become less intrusive through good design but still provide high levels of protection.
Users should not have to remember passwords as the dominant authentication method.  Placing secure PKI certificates in devices provides many benefits.  Devices can connect automatically to authorized Wi-Fi access points and adjust to load demands.  Device spoofing is dramatically reduced or eliminated.  Secure end to end encryption with mutual authentication is facilitated.  Software can be automatically upgraded using cryptographically validated downloads with smart defaults for end users for the design life of the product.
In connected homes, residents can centrally manage smart devices, and when the house is sold, the seller can reset the devices to remove their personally identifiable information. Software "keys" to the home can be securely transferred from the seller to the buyer without worry that the seller still has access to the devices or the home.  Product designers leverage security to improve the customer experience rather than bolting it on at the end in a cumbersome manner.
Soon, consumers will have tens and hundreds of connected devices in the home and mobile networks.  Unfortunately, security issues will likely get worse before they get better due to the large influx of new devices.  Work needs to be done quickly to not only mitigate the damaging effects of insecure devices but to dramatically improve the security of these devices.  Smart designs and architectures can leverage both good security practices and improve the user experience at the same time.
The cybersecurity system hierarchy is complex, and CableLabs is facilitating discussions with cable operators and other Internet ecosystem players in this space.  Please join CableLabs on April 12-13 in NYC at our Inform[ED] Conference to continue this discussion on IoT security.
Wired
Future Proofing Cable's Optical Access Network: "A Coherent Story"
The demand for data network capacity has been growing exponentially year after year with no sign of stopping. If the past is a guide to the future, the cable industry must come up with radically more efficient use of the existing cable infrastructure in order to meet demand.
Today, the most constrained part of the network, and the most costly to upgrade, is the fiber infrastructure between the headend and the fiber node, to the wireless cell radio or to large business customers.  Avoiding costly fiber re-trenching requires a fundamentally new approach to this part of the network. This is where coherent technology provides an opportunity.
If you are familiar with coherent optics, then you are aware that the technology has been used in long-haul fiber optic networks for decades. CableLabs has adapted that technology for use in short-haul access networks, and simplified it to reduce the cost. And it has much higher capacity for future growth than the analog optics that are used in many of today's HFC networks – possibly more than 1,000 times more capacity! We have already demonstrated 50 times more capacity than analog optics can achieve today by using coherent optics on 80 kilometers of fiber, and more improvements are on the way.
Using traditional analog optics, to achieve that high transport medium quality requires increasing the optical transmit power level, which unfortunately reduces the number of optical analog carriers the fiber can support due to fiber non-linearity effects.  Figure 1 shows a representation of fiber's wavelength spectrum with 4 analog optical carriers.


Figure 1 – Fiber spectrum with 4 analog carriers
This limitation on analog optical transport has prompted the cable industry to look into other architectural evolution approaches. One approach that solves the analog limitation problem, while also tackling space limitations that may exist in certain hubs, is the distributed architecture approach. In a distributed architecture no radio frequency (RF) is transported through the optical link. The optical link does not contribute to distortion of the DOCSIS® RF signal, only the coaxial portion of the network is responsible for the degradation of the RF signal.
Today, this digital optical link uses intensity modulated direct detection systems such as the ones found in 10 Gigabit Ethernet links and in passive optical networks (PON). In these non-coherent systems, the signal modulation used is On-Off Keying (OOK). OOK is achieved by simply switching the laser source off and on. Non-coherent systems operate at lower power than analog optics and can therefore make better use of the wavelength spectrum in fiber. Figure 2 depicts the wavelength spectrum of fiber with several non-coherent OOK optical carriers. 


Figure 2 – Fiber spectrum with intensity modulated non-coherent carriers
A high-capacity non-coherent (but digital) optical link can carry 100 Gbps using 10 wavelengths (optical carriers) carrying 10 Gbps each. Non-coherent systems are a suitable near term approach, but there are additional fiber resource challenges that have to be considered when evaluating a long-term strategy.
HFC Networks have been typically designed with 6 to 8 fibers connecting the hub to the fiber node. Two of these fibers are used for primary downstream and upstream connection and in some cases two additional fibers are used for redundancy purposes. The rest of the fibers were left for future use. Unfortunately, a large amount of these 'future use' fibers, because of an ever-increasing demand for bandwidth, have since been repurposed for business services, cell backhaul, node splits and fiber deep architectures. In some cases, only the two primary fibers that are feeding the fiber node remain available for access transport. 
In fact, the architecture migration toward Full Duplex DOCSIS, which strives towards a more symmetric transport, relies on a node plus zero amplifiers (N+0) architecture. A typical node in today's HFC networks will supply services to 500 households. When converted into an N+0 architecture, the result is the creation of 12 to 18 deeper N+0 nodes. The challenge for the optical portion of the access network becomes supplying enough bit rate capacity to 12-18 N+0 nodes, each capable of supplying 10 Gbps to residential subscribers.
This fiber shortage problem will only intensify as fiber demand for business services and wireless backhaul increases. Assuming that costly fiber re-trenching from hub to original fiber node is to be avoided, a different solution must be found to provide the required capacity. This is where coherent technology provides an opportunity!
Coherent technology has been used to achieve higher speeds than any other optical technology. In coherent optics, both amplitude and phase modulation are used to put information onto an optical carrier. This enables the generation of Quadrature Phase Shift Keying (QPSK) and Quadrature Amplitude Modulation (QAM) constellations carrying information. The nature of the coherent signal also allows the separation of the optical signal in two orthogonal polarizations. Each polarization can independently carry the two-dimensional constellations mentioned above. The signal processing used in coherent systems facilitates shaping of the spectrum of the signal to avoid interference with adjacent optical carriers. Along with the much lower power requirements, coherent technology allows for efficient multiplexing of the optical carriers within the wavelength spectrum of fiber. Figure 3 shows the wavelength spectrum of fiber with coherent optical carriers over 2 polarizations. 


Figure 3 – Efficiently packed coherent optical carriers over orthogonal polarizations
Coherent optics has been used in the long-haul environment for over 30 years. The long-haul environment is a harsh environment that consists of very long distances, sometimes up to 3000 km. In a long-haul environment, significant channel compensation is employed to correct the long distance related impairments, making long haul solutions expensive.
The access network environment is very different from long haul networks in one key respect, optical links in access networks are typically no longer than 30 km. That is two orders of magnitude shorter than long haul. The complex and expensive system implementation that long haul is known for no longer applies to access implementation. The shorter fiber lengths result in minimal dispersion of the optical signal. Furthermore, since no in-line amplification is needed, non-linear distortion and noise are significantly reduced. This increases the link margin and enables much lower implementation costs. It is NOT your father's coherent implementation!
Here at CableLabs® we have re-engineered the coherent link to meet the special conditions of the access network. We have developed technology that is higher performance and much lower cost when compared to long-haul or metro environments.
In the laboratory, we have achieved 256 Gbps over 80 km on a single wavelength with minimal dispersion compensation. That is ~26 times the capacity of what can be achieved over an analog optical carrier fully loaded with 1.2 GHz worth of DOCSIS 3.1 signals. We have achieved that using a symbol rate of 32 GBaud (32 GHz), using 16QAM modulation (4 bits per symbol) over 2 polarizations (32*4*2=256 Gbps). In addition, we have multiplexed eight of these wavelengths to achieve 2048 Gbps. That is 50 times more than what can be achieved over 4 analog optical carriers each with 10 Gbps of DOCSIS 3.1 payload!
The optical access environment could lend itself to further improvement in capacity per wavelength by further increasing symbol rate and/or modulation order. A future achievement of 64 QAM modulation could represent the pinnacle in efficiency and capacity per wavelength of our optical access environment. One can only dream of such transport efficiencies in the long-haul environment.
Coherent optics is extremely flexible. Capacities per wavelength greater than 256 Gbps may not be needed at each target end-point in the near future. Maybe 100 or 200 Gbps will do. The fact that modulation order, polarization and symbol rate can be varied enables significant flexibility in the type of supported services. Lower symbol rates allow for multiplexing 100 or 200 Gbps wavelengths to end points. In the access network, it makes sense to dedicate a single wavelength to a target end point (subscriber). In the access, since wavelength spectrum is a precious commodity, higher speed should not be wasted on multiple wavelengths but used to reach a greater diversity of target end-points. This avoids retrenching from the hub to original fiber node in order to lay additional fiber strands. Ideally, operators would only have to deploy more fiber from the original fiber node to deeper end-points in their networks.
As the industry evolves toward Node+0 architectures, the volume of optical connections to intelligent nodes will increase substantially compared to traditional architectures. Interoperability and a robust vendor ecosystem are therefore key to providing a low-cost solution using coherent optics.
With key goals being interoperability and vendor diversity, CableLabs intends to develop specifications which leverage the aforementioned benefits of coherent optics in the access network. Similar to previous specification development efforts, the coherent optics specifications will focus on interface requirements, signal integrity requirements, configuration, and management. As usual, CableLabs welcomes involvement from the vendor community to develop these specifications. In the near future, look for announcements related to the establishment of a coherent optics working group to develop the specifications.
At CableLabs, we are developing and specifying technology that allows the cable industry to support the growing requirements of broadband access. Come and join us in developing tomorrow's high capacity network solutions!
Dr. Curtis Knittle, VP of Wired Technologies, also contributed to this article.
Education
Security Infrastructure Enhances Student Privacy, Data Protection, and Can Make Life Easier
In the days of typewriters and post offices, students knew that their educational data, everything in that mysterious file ominously referred to as "your permanent record," could only be read if someone went into a school's file room or someone made a copy and mailed it to someone else. For a long time, there were no state and federal laws that read directly on student academic privacy. Eventually, both state and federal laws were enacted which provided increased and detailed protections. While these laws protect each student's data, complying with the details of each federal and state privacy law can result in a legal minefield for those that need to access a student's data. As student privacy rules and regulations become more complex, there is an increasing need to leverage a more modern approach to privacy controls and data security.  Such an approach would enable automation of regulatory compliance as well as increased protections for student records.
The Legal Landscape
Student privacy laws began with the federal Family Education Rights and Privacy Act (FERPA) in 1974. Additional state and federal laws have added restrictions and complexity to the safeguarding of student records.  These laws have followed the arc of the internet and now often include provisions that arise out of schools using online services such as a focus on parental notification and consent when student data is released to third parties.  In the U.S., issues such as how data is collected and how it will be used have become hotly debated topics among parent advocates, school administrators, online service providers, and legislatures.
Digital Tools to Manage Academic Privacy Requirements
While the intention of each federal and state student privacy law is good, it is easy to see how all of the laws, taken together, can lead to confusion as to who is to be allowed access to what student data, when is access allowed, and when parental consent is necessary. There is the additional demand that the schools provide sufficient data security.  This regulatory complexity paired with the need for sufficient data security can stretch resources for school officials. In addition, the fragmented nature of regulation may stifle any company or institutional innovation due to uncertainty as to what may be legally permissible.
A possible solution lies in automating compliance with privacy requirements through the adoption of modern cryptography techniques that inherently limit access.  This approach provides more refined access control beyond ensuring that only the educational institution's faculty and staff have access to student records. Additionally, cryptography will make school records much more difficult to hack, thereby protecting the integrity of the records and the privacy of the student (such as: grade tampering at the University of Iowa reported on 1/23/17 and extortion hacking at Michigan State).
For example, with the appropriate digital security in place, a high school senior may electronically authorize a school to permit certain universities to receive the student's academic record. Using security such as a Public Key Infrastructure (PKI), the high school may transmit an encrypted student's academic transcript to the universities that the student has authorized to receive those records and only those universities would have the necessary key to decrypt the record. PKI also authenticates the student and the transcript.  Because the student's electronic record is encoded with the appropriate legal access controls, only the student's academic transcript is sent. Other records, such as household income or medical records, are not transmitted. Similarly, in the event a health care provider needs a student's medical records, the appropriate digital security would ensure that only the student's medical records are sent. More granular security controls also mean that student data can be de-identified and aggregated to enable researchers and third parties working with educators to improve the educational process.
CableLabs and Kyrio's research and experience managing digital security for cable, wireless, and the electrical grid have demonstrated the value in using cryptographic access control. Using cryptography to automate privacy controls through a digital security infrastructure means less legal confusion for administrators, enhanced privacy and data security for students, and room for greater educational innovation.  Additional benefits can occur by adding blockchain technology in addition to cryptography, topics addressed in these previously published blogs.
Blockchains and the Cable Industry
Hello Blockchain . . . Goodbye Lawyers?
By Simon Krauss, Deputy General Counsel, CableLabs
Energy
Canada Launches STB Energy Efficiency Voluntary Agreement
CableLabs is excited about a new initiative announced today in Canada to address energy efficiency of set-top boxes, much like the voluntary agreements that have been established in the US and Europe.  The Canadian Energy Efficiency Voluntary Agreement (CEEVA) for Set-top boxes includes the 5 largest Pay TV service providers and covers over 88% of the Pay TV market in Canada.  Modeled after the successful Voluntary Agreement (VA) in the US, the Canadian service providers signed up to a very similar set of commitments:
Beginning in 2017, at least 90% of all new set-top boxes purchased must meet ENERGY STAR version 3 levels (referred to as Tier 1 in the agreement).
Beginning in 2018, at least 90% of all new set-top boxes purchased must meet more stringent Tier 2 levels as defined in the agreement.
Signatories are required to submit an annual report by April 1 following each calendar year reporting period to a third-party data aggregator including STBs purchased and received during the reporting period along with their energy consumption.
All service providers must provide public-facing energy information for the STB models within the scope of the agreement.
Like the US VA, CEEVA also allows for innovation in the marketplace through a new feature process.
This agreement was the result of collaboration among competitors in the Pay TV space encompassing the cable, satellite, and telco markets, as well as manufacturers, regulators, and utilities.  The signatories to date are:
Bell
Cogeco Communications Inc.
Rogers Communications
Shaw Communications Inc.
Vidéotron
Arris
EchoStar Technologies
As mentioned, regulators and utilities were also involved in the discussions and negotiations.  This was initially driven by Natural Resources Canada (NRCan), and also included the Ontario Ministry of Energy, the BC Ministry of Energy and Mines, Quebec's Ministère de l'Énergie et des Ressources naturelles, and Manitoba's Department of Growth, Enterprise and Trade.  Provincial utilities included BC Hydro, Independent Electricity System Operator, Manitoba Hydro, SaskPower, and Hydro Québec.  It was a full house!
Four of the five service provider signatories are cable operators and CableLabs members, and CableLabs provided significant input and support into making this voluntary agreement come to fruition.  We were able to contribute our experience with the highly successful Voluntary Agreement Programs in the US, as well as align CEEVA with the US VA to realize an even larger overall benefit to the environment on both sides of the border.
In the first three years of the STB VA in the US, CableLabs has been instrumental in helping the US Pay TV industry reduce energy consumption by 9.3 TWh and avoid 6.5 million metric tons of CO2, and we look forward to helping CEEVA succeed as well!
More information about CEEVA can be found at www.energyefficiency-va.ca.
Press releases
Voluntary Agreement Will Reduce Total Annual Energy Consumption and Avoid over 100,000 Tonnes of CO2 Annually
Annonce d'un accord relatif à l'efficacité énergétique des décodeurs des fournisseurs de service de télévision par abonnement et des fabricants
Debbie Fitzgerald is a Principal Architect in the Technology Policy department and leads the Energy Efficiency program at CableLabs.  You can read more blogs about the Energy Efficiency initiatives at http://www.cablelabs.com/category/energy/. 
Virtualization
Network and Service Management – The Missing Piece for NFV
Network Functions Virtualization (NFV) enables telecommunications networks to be implemented in software running on high volume industry standard servers as outlined by network operators in a seminal white paper published in 2012. NFV standards have been under development in the ETSI NFV Industry Specification Group since the early part of 2013. The ETSI NFV work provides the foundation for NFV and is being referenced by standards organizations globally, and new open source software communities have sprung up to accelerate NFV implementation. I've written about industry progress on NFV in previous blogs but we still have some way to go before NFV is commonplace in telecommunications networks.
The key pieces of NFV, notably Virtual Network Functions (VNFs) run on industry standard compute platforms – basically datacenters; and must be dynamically configured and connected at scale to deliver tangible value; automation is absolutely vital for success. Cloud players such as Amazon and Facebook have mastered automation within the confines of their proprietary datacenters, and as a result their operations require orders of magnitude fewer people. New products and services appear at the speed of code, and customer self-service is taken for granted. Concepts that exploit automation such as Machine Learning are being applied which is supercharging the ability of cloud operators to optimize their systems and create cool new stuff. We in the telecoms industry need to also become masters of automation or we will be left behind in the inexorable march to a software defined future.
While the ETSI NFV Industry Specification Group has worked very hard on the "nuts and bolts" of NFV with a keen eye on automation (in my book the most important benefit of NFV), the industry hasn't made much headway on the key pre-requisite: automation of the Operations environment. Collaboration to address this essential capability is vitally important for the industry to remain competitive and deliver what our customers need in the future.
Information Modeling and Network Automation
Two very important industry initiatives are underway that will accelerate progress. The first initiative is to harmonize information modeling approaches across the telecoms industry (standards and open source). Unless Standards Development Organizations (SDOs) in the different network domains align their information modeling approaches, network operators will have to deal with an ever increasing degree of complexity as they seek to create new networks and services based on NFV. The second is a new industry-wide effort to foster collaboration on Networks and Service Management.
Towards achieving these goals, in January 2016, CableLabs hosted the first multi-SDO and Open Source workshop on Information Modeling which was widely regarded as the moment when the industry realized the value of harmonization. Aligning Information Modeling approaches is a critical first step to achieving network automation (see the blog by my colleague Tetsuya Nakamura). Information models are the "templates" needed to orchestrate compute resources into a meaningful configuration. In the cloud environment, these templates are used routinely, and we need to use them as well, but unlike cloud operators who work in a proprietary, mostly homogeneous environment, telecoms network operators work in a heterogeneous environment spanning many different network domains and referencing standards coming from many different SDOs. Applying cloud technologies in such an environment is extremely complex. Fortunately, SDOs and Open Source communities have recognized this challenge and an unprecedented era of cross-industry collaboration is getting underway.
Multi-SDO Collaboration is not simple, or it would be routine. The first barrier is the focus of individual SDOs on a narrow domain. Other barriers are culture and modus-operandi, and leadership teams motivated by agenda and timelines specific to their domain. Not to mention the dreaded IPR which can stymie even the most worthy of collaborations.
Second Multi-SDO Information Modeling Workshop
To build and maintain momentum, Deutsche Telekom hosted the second Multi-SDO Information Modelling workshop in Bonn-Germany last month. I co-chaired the event with Klaus Martiny at Deutsche Telekom and Michael Brenner at GigaSpaces, and my CableLabs colleague Tetsuya Nakamura played a key role in organization. The workshop dovetailed with another milestone event, the first cross-industry workshop on Networks and Service Management organized by Deutsche Telekom which addressed the broader challenges for automating telecoms networks.
Participants from the following organizations presented their views on harmonizing information modeling:  3GPP (SA5), ARIA, Broadband Forum, ETSI NFV, IETF, IISOMI, ITU-T, MEF, NGMN, OASIS/TOSCA, ONF, OSM, OPEN-O, ON.Lab/CORD, and TM-Forum.
The discussions were intense and extremely positive. Clearly the spirit of collaboration and a sense of common purpose are as strong now as they were after the CableLabs hosted first workshop which bodes well for maintaining momentum on alignment. Follow-up collaborative activities are structured around a set of key topics which we identified as high priority to be addressed with named owners from different organizations who will be accountable for progress. A public WiKi has been created for anyone to follow progress. Activities include:
Looking at Federated Information Models as a way to get to a Common Information Model.
Aligning nomenclature amongst the different organizations in relation to Information Modeling and Data Modeling.
Collecting Use Cases and Business Requirements as a way to bind the effort towards a practical goal.
Creating and maintaining central repositories for the numerous information models and data models in use across the industry together with descriptive meta-data and open source tooling.
Achieving harmonization is vitally important for the industry to enable automation of the NFV operations environment so we are setting an aggressive timescale to build momentum through 2017.
What CableLabs is doing in this space
We have a number of activities around NFV and SDN that we are executing on behalf of MSOs. For example, CableLabs is progressing an intensive study of virtualized provisioning of the cable access network to enable programmability, our NFV/SDN reference platform is based on OPNFV and we are looking ahead to support 5G using an end-to-end virtualized architecture that includes low latency edge compute nodes located at the cable head-end. In addition, we are seeking to accelerate NFV/SDN interoperability through our subsidiary Kyrio which has built an interop lab where vendors can work together with operators to validate interoperability for their SDN and NFV solutions.
The NFV journey is only just beginning and 5G will be the first new wave of technology to be designed from the ground up using NFV and SDN technologies. The cable industry, with our low latency access network, is in a leadership position to advance these technologies for the benefit of MSOs and their customers globally.
Consumer
Insights from the 50th Consumer Electronics Show #CES2017
This year's CES was another record breaking event and was well attended by cable industry representatives. The event staff reports over 177,000 people attended to view nearly 2.5 million square feet of exhibit space. Over the next several weeks, analysts and pundits will contemplate the trends and shifts that are ongoing in the industry. In the meantime, here are some thoughts on a few key areas.
Everything is being connected in dozens of ways. Connected everything is going to drive huge bandwidth consumption while also presenting interesting challenges. Wireless connectivity options abound, from traditional WiFi and Bluetooth to a plethora of ecosystem scale consortia options such as ZigBee, ZWave, Thread, and ULE Alliance. Cellular based connectivity is expanding with companies using lightweight modems to easily connect new products such as health device hubs and pet monitors to cloud services. With so many options, however, providing a consistent and securable home and business environment will remain challenging — no one hub will seamlessly connect all the devices and services that are out there, and no one security appliance will keep consumer networks safe.
There is a huge focus on health and wellness, with several hundred companies exhibiting in the Health & Wellness and Fitness & Technology Marketplaces. These focus areas were well exhibited by the large manufacturers such as Samsung, Sony, Intel, and Qualcomm as well. In discussions with product managers, however, it's clear that we might not have learned too many lessons about the need to secure medical and fitness devices and services. Many vendors continue to integrate minimal security, relying on unsecured Bluetooth connectivity to a hub that often does not leverage any form of strong identity for authentication. Fortunately, the Open Connectivity Foundation will continue to provide a path for addressing this shortfall, and membership in the Foundation significantly increased this week. Moreover, several vendors are leveraging IoTivity which will provide clean paths to secure implementations for connected environments.
Smart, highly connected homes were also a major theme, again with hundreds of vendors showing completely integrated solutions, hubs, and thousands of end devices. Connected lightbulbs remained a continuous and omnipresent idea, as were security systems. However, it's clear there is not any winning market strategy here yet. With dozens of vendors offering complete solutions and even more offering different controllers, it seems the market is fragmented! On the other hand, Brian Markwalter of CTA advises they expect to see 63% CAGR for the smart home market in 2017. It seems this is a great opportunity for service providers to pave the way to some convergence and integration simplification for home owners.
It's hard to go to CES and not leave very optimistic about the future. There is so much good stuff coming that is going to impact all of us. From better screens to more agile and secure health care devices to safer cars to anything else you can imagine. And, there are so many ways to add value to mundane items just by connecting them to a network. Given Metcalfe's law ("the value of a telecommunications network is proportional to the square of the number of connected users of the system"), the value of the cable network appears to be headed for much higher with the growth of so many connected devices. And, it's clear that we're going to need all the bandwidth to the home that DOCSIS can bring! Our challenge is ensuring easy and flexible use through good strategies and standards for interoperability and security.
As a member of the
Open Connectivity Foundation
, CableLabs is guiding the interests of the cable industry with major manufacturers whose devices will connect to the cable network. Additionally,
Kyrio
 provides OCF certification testing services, making it possible for companies to securely connect IoT ecosystems in an interoperable manner.
Consumer
2017 Innovation Predictions
It's that time of year for me to give my innovation predictions.
My top three predictions for 2017 are:
Mixed Reality
IoT Security
Flexible Displays
Please take a look at the video where I elaborate on these three predictions.
Best wishes for a great year.
-----Video Transcript
It's that time of year for me to give the predictions of the top three innovations coming in 2017. Now, I've been doing these predictions for many many years and actually have a pretty good track record. I've made most, I've missed a few.  But also, I like to go out on a limb and give some predictions that kind of, maybe, push the envelope a little bit.
What's the number one prediction for 2017? It's around augmented reality, virtual reality, but more importantly, mixed reality. Mixed reality is really this combination of AR and VR where you actually see data and information that you can act upon. This kind of an experience is going to be really mind-blowing for people. It's really a great opportunity for content creators to think differently about the content they produce but also about the storytelling, the way of telling stories, and the way of making information interesting and actionable. So stay tuned, this is going to be a very exciting area. The first part of the year we're going to see more work in the hardware technologies. As we get into the latter half of the year, it's really going to be exciting to see some of this new content that is going to become available.
What's the second prediction? Second prediction is IoT: the Internet of Things is going to continue to be the hot area for 2017. Now, we've seen this introduction of IoT devices really explode in 2016. But one of the concerns that's really come out is security. The ability for hackers or people who are not friendly to be able to access IoT devices in consumers' homes has really become front-page news. So the question I have is, the technology is there, it's going to continue to expand, it's continued to be interesting. But as an industry, the security area has to be addressed before I predict broad consumer adoption of IoT devices. We're going to see IoT in everything from home security, home monitoring, heating, air conditioning, home appliances. We're also going to see some IoT devices and interesting areas like home health: healthcare devices that allow your doctors to monitor your healthcare, maybe after procedures or whatever, in your home and that just reinforces this one critical area which is around security to make this technology broadly available.
The third area is around display devices. Now, if you go back and you look at my predictions in previous years, I've talked about 3D the year it became a hot issue at some of the trade shows. We've talked about 4K. 4K high dynamic range (HDR) which is broadly going to be just a boon area for this year. In fact in 2016, in going into the holiday season, it became really very prevalent for people to buy these new kinds of TVs. What is left to be done in display technologies? What's left to be done is around flexible displays. Flexible displays being built on new kinds of materials such as this mylar, which is the backing material that's being used in some of the flexible displays that you'll see come available in the first part of 2017. This allows for displays to be manufactured that are one millimeter thick that literally you can attach to your wall as if it were wallpaper. What does this mean for the broad marketplace? When you have that kind of technology -- very low-cost but very flexible -- from the standpoint of how it gets used, we will see flexible displays on TVs as obvious, but also transforming things like whiteboards, collaboration technologies, technologies used in the classroom, advertising displays in retail and billboards. You'll be able to get these kinds of displays at such a low cost that you can literally transform every flat surface you see and turn that into a new kind of display for use of all kinds of ways.
So those are the three predictions for 2017. We have everything from the AR/VR/mixed reality, the Internet of Things, and these new kinds of displays.
Thank you!
Education
Re-Imagining the Classroom Experience
The typical school day is evolving with new advances in technology, much of which depends on broadband connectivity.  For many children and young adults, their school day begins in a classroom at a local school; for others, a school day may begin in their living room or sitting at their kitchen table. Wherever a school day begins, imagine having the opportunity for it to end in a different state, in a foreign country, or maybe even on a distant continent.
As a part of the Education Initiative Team at CableLabs and as a parent of children in public schools, I have spent time re-imagining how technology could transform our classrooms. What if we used technology to create a borderless, or even boundless educational experience? What impact could we have? What challenges would we face? What solutions might be possible?
Technology Enables Alternative Learning Experiences
By maximizing the use of technology in the classroom and beyond, endless opportunities and vast educational experiences are possible. Technology can enable traditionally schooled, homeschooled, and remote learners to join in on classroom lessons. Video communication, and potentially newer experiences offered by augmented and virtual reality solutions, can offer the ultimate virtual field trip for classrooms and schools of any size.  Instead of the required reading assignments that we are all used to, e.g. read this book, write this essay, imagine high school classrooms where an alternative learning experience is assigned to supplement the required reading.  For example, a teacher could coordinate a live video conference session with an author as an engaged interactive experience for students.
Newer technology and broadband connectivity, including next generation solutions such as DOCSIS® 3.1 and Full Duplex DOCSIS® 3.1, can leverage multi-location learning and collaboration. Students in the United States can participate in the global community with students from other countries, thus creating opportunities to gain knowledge of other cultures, economic strata, and quality of life. By expanding the scope and perspective of knowledge students gain from alternative learning experiences, we can develop capacity for compassion.  Could the use of this technology allow us to provide a broader frame of reference for education and gear outward focus for the next generation to be successful on a global level?  Could a greater international perspective in the classroom administer opportunities to solve real world issues and ultimately empower our children through project based learning and problem solving?
Utilization of video conferencing in schools is not a new concept.  In fact, many schools have embraced the technology to create alternative learning situations.  For example, through Skype Collaborations, teachers in Kansas learned about a water crisis in Nairobi that prevents students from coming to school. Within their science, math, and social studies classes, students in Kansas learn about the Nairobi community, the living conditions, and the resources needed to fix the water crisis faced by the school. Shortly after hearing about their circumstances, the students and teachers of the Kansas school set a goal to help the children of Nairobi get back to their classroom.  By Skyping with representatives from Life Straw, the students learned about water filtration systems and how to build them with common household items. Then the students created awareness of the crisis by fundraising to obtain Life Straw Filtration systems for the Nairobi school. After watching students describe their project, it's clear to see the passion they have gained while working towards providing a sustainable solution for those in need. Through this example, there is no question that technology, often enabled through broadband connectivity, is capable of being used for a variety of purposes.
The Role of the Cable Industry
Introducing alternative learning experiences is an opportunity for the cable industry. As an already strong partner for education, the cable industry is in a position to promote meaningful change. One idea would be to design and develop trusted solutions and enable educators to structure lesson plans outside of the normal classroom activities, take advantage of highly-trusted networks, and introduce new media types.  This will enable the teachers to focus on the content of the lesson, and the tech to be more easily accessed to support learning objectives.
Appropriate use of technology within the classroom can accelerate learning while simultaneously developing empathy and altruistic perspectives that would not have been possible even ten years ago. We have the opportunity to develop a generation of individuals who are more empathetic and outwardly focused.   By promoting learning without limiting the experiences in our own backyards, we can create dialogue to teach compassion, appreciation, and authenticity.
Wireless
Carrier Wi-Fi is now Wi-Fi CERTIFIED Vantage™
The recent announcement by the Wi-Fi Alliance of the new certification designation, Wi-Fi CERTIFIED Vantage™, is a significant step for the industry. It is the culmination of years of collaboration within the Wi-Fi ecosystem and the result of incorporating industry established Carrier Wi-Fi requirements into industry certified Wi-Fi devices.
Wi-Fi Vantage devices will provide improved performance to users in managed Wi-Fi networks and make it easier to maintain quality connections in high usage environments including stadiums, airports, offices, campuses and home networks.  Wi-Fi Vantage leverages current technologies that include Wi-Fi Alliance-certified Wi-Fi ac and Passpoint and will use subsequent releases to build upon using upcoming technologies and features.  Ultimately, this accomplishment provides a mechanism for Wi-Fi operators to harden their networks to evolve from 'best effort' networks to operator-managed networks that will approach the reliability and functionality of mobile networks.
CableLabs is pleased to be part of the process to build this framework for Wi-Fi Vantage with Wi-Fi industry partners.  We look forward to continued success in building upon the framework to benefit cable and mobile operators, the vendor community and, most importantly, consumers.
Collaboration Brings New Capabilities
Establishing solutions to the largest challenges faced by Wi-Fi operators, including cable operators, in the form of industry certifications has been the focus of CableLabs and many industry organizations.  Some of the significant challenges collectively include: sticky client, secure and seamless access and connection, device provisioning, fast AP to AP handoffs in a secure SSID environment, load balancing across bands, and RF performance characterization for APs and clients.
Wi-Fi Vantage certified devices will be capable of resolving several of these challenges such as improved secure on-boarding of new clients, better customer experience when moving on a secure network, automatic discovery and attachment to roaming partner networks per operator driven network selection policy, and fast transitions across APs on secured networks to ensure subscribers receive the best performance available in the area.
Key Features of the First Release of Wi-Fi Vantage™
Wi-Fi Vantage is the technology suite operators will employ to deliver an exceptional user experience and help create the Wi-Fi preferred generation. More specifically, Wi-Fi Vantage delivers superior performance on global networks without intervention or effort from subscribers. Wi-Fi users are up and running on reliable networks with their favorite applications anywhere they roam simply by powering on their device. Wi-Fi Vantage will be the preferred service of a new generation of wireless data users by employing a number of superior service benefits including:
Performance: Wi-Fi Vantage addresses the problem of inconsistent performance of Wi-Fi networks. Wi-Fi Vantage employs 802.11ac for the fastest throughput available on Wi-Fi technologies. Multi-band operations at 2.4 GHz, 5.0 GHz and future unlicensed bands ensure that all available spectrum is employed to deliver a superior subscriber experience.
Device Provisioning and Operator Policy: Wi-Fi Vantage devices and provisioning systems support a single, standard interface for operators to provision and maintain user subscriptions, secure SSID profiles and network selection policy.
Guest Network and Online Sign Up: Operators can provision and enforce policy for guest access on Wi-Fi Vantage networks and allow visitors to access guest networks without requiring visitors to sign up each time they enter a network. Operators can dynamically establish new user accounts, and create policy and customized accounts (ie. 1-day, 30-days, etc).
Roaming: Wi-Fi Vantage will make pervasive, ubiquitous wireless connectivity a reality for users in major cities around the world.
Improving the Wi-Fi Experience
Cable operators are deploying millions of Access Points (APs) with public Service Set Identifiers, (SSID)s in their networks and linking their networks together into roaming consortiums in order to meet accelerating wireless data service demand. Wi-Fi Vantage brings the scale required to support roaming onto hundreds of roaming partner networks throughout the world with a single subscription. Wi-Fi operators can share their networks without having to provide and manage subscriptions separately. Wi-Fi devices automatically discover and attach to roaming partner networks per operator driven network selection policy.
Roaming starts at home and extends its reach to local, domestic and international networks. Cable operators and others are deploying public SSIDs in residential and small business APs to provide extensive Wi-Fi coverage for their subscribers. Wi-Fi Vantage provides network selection intelligence to help subscribers move onto their private networks while at home, and then roam onto neighborhood networks via public SSIDs on residential gateways. This roaming then extends to large operator managed outdoor metro networks, and finally, to Wi-Fi networks across nations and continents. Wi-Fi users will see their operators providing them with an integrated, extensive global Wi-Fi service.
Wi-Fi Vantage technologies provide a number of superior service elements for operators including performance, policy and provisioning and roaming. By delivering this exceptional user experience, Wi-Fi Vantage will be the preferred service of a new generation of wireless data users.
Mark Poletti is Director of Wireless Technologies at CableLabs.